3D Poker Online
Even though we're a few years into the 21st century and online gaming has reached an astounding graphical level, 3D poker software has mostly been left out in the cold. While there are a number of competent software packages from the big online poker players, the visuals are often overly basic and utilitarian. While graphics certainly take a backseat to the quality of the games, it would be nice if a few more poker sites would get with the times and create a more realistic gaming experience.
Fortunately, there are at least a couple of online poker rooms that offer 3D poker. The obvious top choice would be PKR for players outside of the US as they really feature brilliant graphics and extensive customizations to avatars. True Poker is an option for US players who want to play 3D poker as they offer a realistic table with detailed backgrounds and a number of avatars. For those of us who play online poker not only for profit but also as an enjoyable way to relax at home, a good visual presentation can add to the overall experience. Read on below for our top choices for online 3D poker.

TOP CHOICE
The 3D poker software package at PKR is, without a doubt, the best online. Besides having highly-advanced graphics that look more like a big-budget video game than an online poker site, the PKR 3D poker site  allows players to fully customize their avatar at the table. Online poker software doesn't have to be just about flop percentages and hands per hour. For those of us who value a good visual experience, PKR is truly revolutionary.
Visit PKR.
Not open to U.S. players.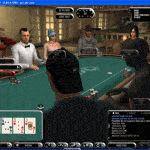 The 3D poker software at PKR allows players to customize their clothing, render their appearance down to minute facial details, and perform chip tricks at the table. The 3D poker games are available for real money play and new users are eligible for a $2,000 bonus through our site. You can read more about this site and view more screenshots in our PKR review.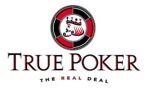 #2 CHOICE
True Poker would have to be the 3D poker choice for US players. While they may not have massive traffic, True Poker has been around for years and does have a unique 3D poker software engine and a community feel to it. The graphics are sharp, animations are smooth, and players look at the 3D poker table through their avatar's eyes. A number of backgrounds helps to change up the environment.

Available to U.S. Players.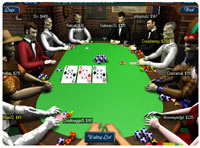 True Poker players are able to choose from numerous 3D poker avatars to represent themselves at the table. Selections include a robot, an alien, a James Bond-like character, a cowboy, and many others. The graphics have no consequence to the game, but it makes everything feel a bit more personal and realistic.

True Poker is open to US players.