Best Poker Sites with Loose and Easy to Win Games
For a variety of reasons including marketing tactics, demographics, software, and game structure some online poker sites tend to have looser tables, feature more reckless play, and are easy to beat on the whole compared to their counterparts. Other times, specific poker rooms offer generally wild tables for no apparent reason. Perhaps easiest to beat are ring games with a high flop percentage (indicating a loose gambling style of play) and low incidence of raises (indicating weak or passive play). Below we aim to rank the top easy-to-win poker sites based mostly on ring game play.
TOP CHOICE
Sportsbook Poker is one of our newest US poker rooms with perhaps the worst collection of poker players online. The block-free credit card deposits seem to make the games especially loose with players simply not playing safe with their bankrolls

Visit Sportsbook Poker.

Available to U.S. Players.


Another casino/sportsbook crossover site, Sportsbook Poker likely is comprised of sportsbettors and casino gamblers carrying over their playing style to the poker room. Our players also receive a 100% bonus and an extra 10% instantly. You can read more about the site in our full review.

Visit Bodog Poker.

Available to U.S. Players.
#2 CHOICE
Most likely due to spillover from their casino and sportsbook, Bodog attracts mainly young sports fans with more ego than poker sense. Because of their top Fish Rating, consistently easy-to-beat games, and overly loose, fast games Bodog is one of our favorite sites for ring games. They also offer our players an increased 100% bonus. For more details view our full Bodog review.
#3 CHOICE
Mansion Poker is quickly working on expanding their traffic, which would make them one of the top poker sites. Their sponsored Poker Dome Challenge airing on FSN has brought in an influx of inexperienced players and Mansion Poker offers loose low-stakes no-limit ring games that are easy to consistently beat.

Not available to US players.
#4 CHOICE
While Pacific Poker has traditionally had one of the easiest to beat player databases online, they have lost traffic due to recent US legislation. Still, if you are an international player Pacific Poker is one of the loosest and wildest poker rooms online with a 25% instant cash bonus from our site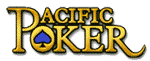 Visit Pacific Poker.
Not available to US players.
Raises are frequently called with substandard hands so patient and aggressive players should have an easy time winning here.
• View all of our top poker pages.
• Read our full poker reviews.