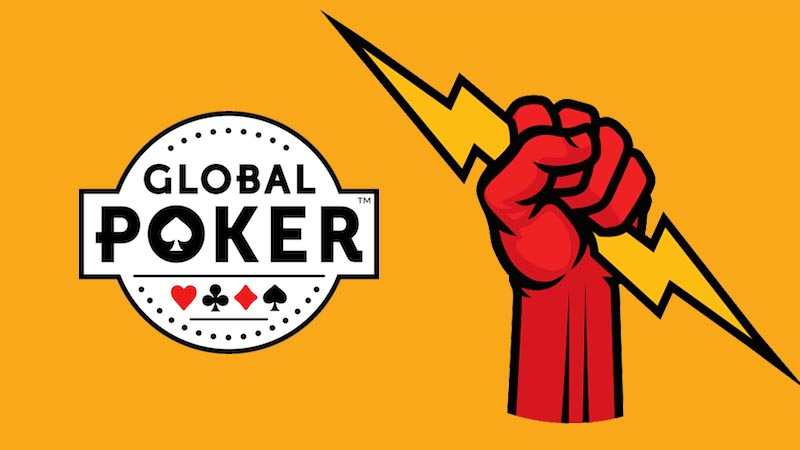 Have you ever wanted to take part in a juicy online poker series – but, just don't have a big bankroll to join in events like 888's XL or partypoker's Powerfest? Global Poker has just the series for you, having brought back Micro Thunder, a series designed for low-stakes online poker players.
SC Events
Sweeps Coins have a monetary value and can be redeemed for cash. They come along with your purchase of Gold Coins, and you can use them to buy into 26 events over the course of the Micro Thunder series
All three main events will take place on Sunday, September 26th. There are three, giving players with all sizes of bankrolls the opportunity to take part:
The Thunderclap Main Event has a 3.3SC buy-in with a 2000SC guarantee
The Thunderbolt Main Event has a 5.5SC buy-in with a 3,500SC guarantee
The Thunderstorm Main Event has an 11SC buy-in and a 10,000SC guarantee
Over the course of the entire series, Global Poker has a total of 48,450SC guaranteed.
GC Events
The GC tournament schedule is made up of events that you can play using Gold Coins. These are the coins that you purchase from the Global Poker cashier, and have no cash value.
However, there are some pretty impressive GC guarantees on offer – all the way up to 3,000,000SC! Limited edition merch is also offered to winners of these events, including t-shirts, hats and enamel pins.
Gods of Thunder Tournaments
On October 3rd at 4:30pm (ET), the Gods of Thunder tournament will be held. All players who made the final table all previous GC and SC Micro Thunder events will be invested to take part.
Players in winning positions of the SC and GC Gods of Thunder events will win limited-edition merch from Global Poker. The overall winner of the SC Gods of Thunder tournament, however, will earn 2,000SC.
A Primer on Sweeps Coins and Gold Coins
To play in poker games and tournaments at Global Poker, you'll need to buy Gold Coins – and, Sweeps Coins come along with every purchase. While the Gold Coins are play-money the Sweeps Coins can be redeemed for cash.
The more Gold Coins you buy, the more Sweeps Coins you get. So, if you're considering taking part in a number of events on the SC Micro Thunder schedule, it's best to go for one of the purchase options that provides more value for money.
For example, 25,000GC costs $5 ,and you get 4SC with the purchase. That will get you into plenty of SC Micro Thunder events, but if you want to enter the Thunderstorm or Thunderbolt events, a better option might be the $10 purchase of 50,0000GC (which comes with 9SC) or the $20 purchase of 100,000GC (which comes with 20GC).
You can read more about the ins-and-outs of the coins system in our Global Poker review.