PokerHost Review – Is It Really Closed?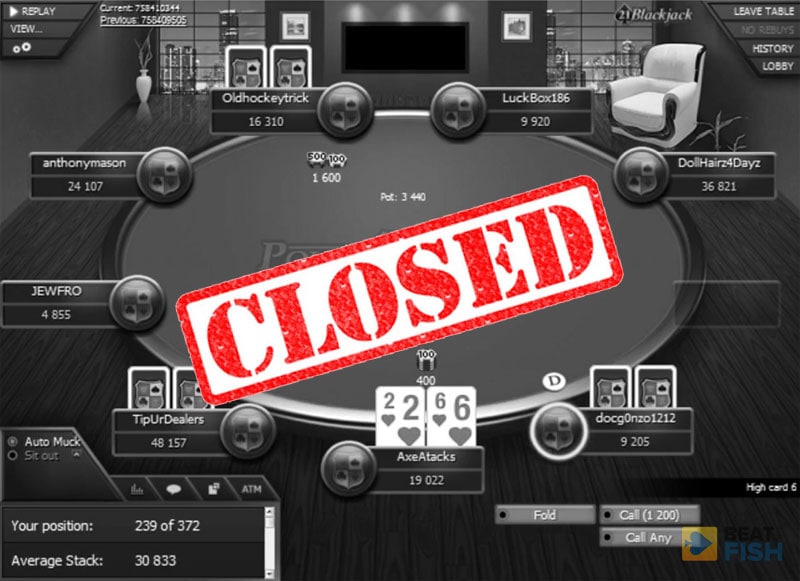 PokerHost is a name that you'll hear often in the online poker world. It comes up fairly frequently but, when you visit its actual website, you'll find that you can no longer download the software or play any games there.
The site was active on a handful of poker networks over the years, including Microgaming, Winning Poker Network, and Merge. PokerHost faced challenges with network stability, but maintained a loyal player based until its closure in 2018.
How did PokerHost, a site that hopped from network to network manage to stay active for over a decade in the web's highly competitive online poker market? What finally caused it to shut down? I'll delve deep into these queries and review what made PokerHost tick.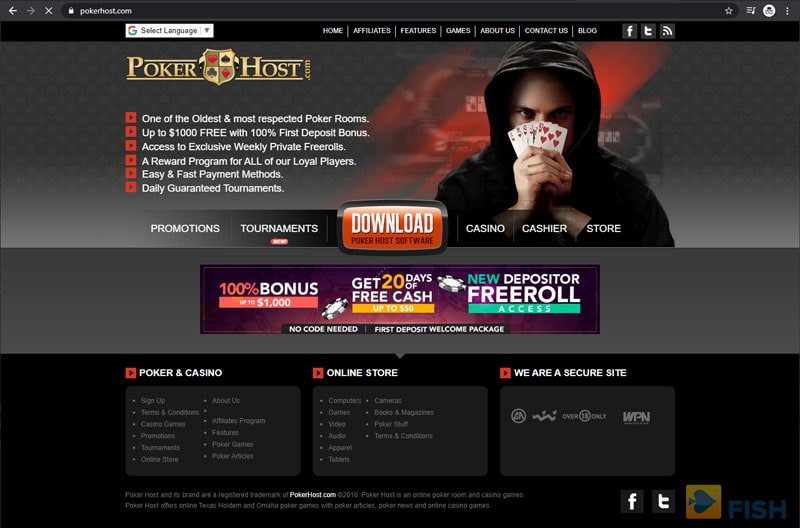 Why Did PokerHost Shut Down?
When PokerHost announced its closure in 2018, it came as a shock to players. The site didn't have a particularly huge player base but its members were loyal and there was always plenty of activity.
So, it left players wondering what would cause such a small but consistent poker site to shut its doors.
The owners of PokerHost never made an official statement confirming the exact reason why the site was closed. This didn't stop players from speculating, though.
One theory is that PokerHost's independent cashier ended up doing more harm than good. While the site was part of the Winning Poker Network , PokerHost used its own cashier to process payments were able to provide players with more promotions and better perks and, and it was suspected that PokerHost was unable to compete.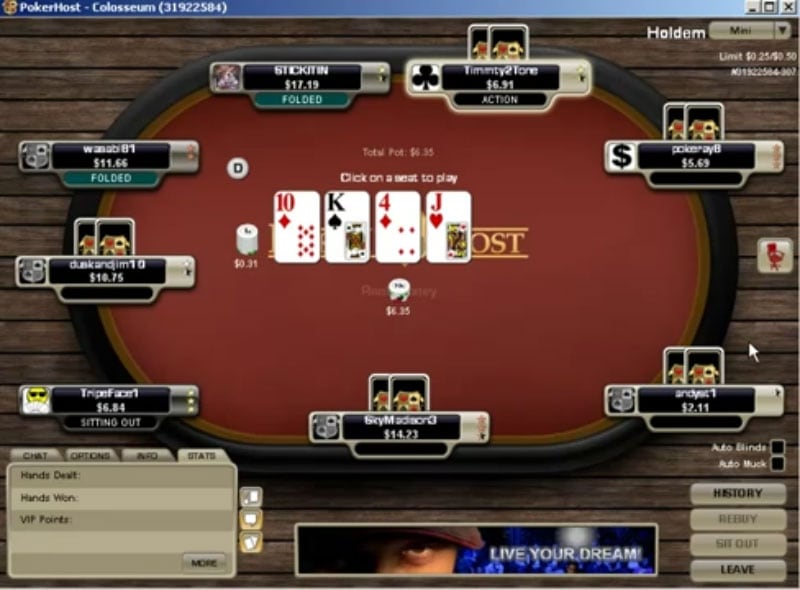 At one point, PokerHost tried to start a sponsorship program. Players were offered the chance earn extra loyalty points and exclusive offers by wearing a PokerHost patch while playing in live tournaments.
This attempt to spread the word didn't really take off, so the site stayed quite small and never really managed to become a household name like the largest online poker brands (think partypoker or PokerStars).

Speculation on PokerHost Bots
While the network issue is commonly considered the reason for PokerHost's closure, some players believe that the site had an issue with bots that resulted in it being shut down. The site did work hard to shut down bot accounts quickly, but it is believed that it soon became too much of a problem.
Whatever the reason, PokerHost officially closed on July 31, 2018.
Players were advised to make their withdrawals before that date. There seemed to be no issues with payouts, and players were able to receive their funds in order to play at other online poker sites.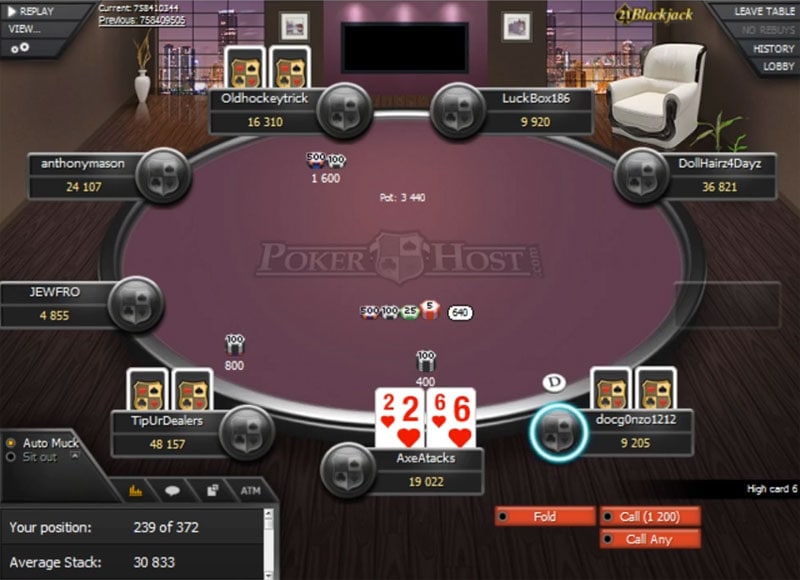 Overall Reputation of the PokerHost Site
In the online poker world, PokerHost was generally well-regarded. After all, the site survived in the highly competitive online poker world for over a decade. Players enjoyed being part of the site's small community, despite the high 27% rake, and were satisfied with the selection of games available.
Frequently Asked Questions
✅ Is PokerHost still online?
PokerHost closed in 2018 and is no longer open. You can no longer download the poker software or sign onto it to access any games. I currently recommend other trusted poker sites, which are legitimate and still fully functional.
✅ What poker network was PokerHost on?
PokerHost never developed its own software, content to be a skin on other poker networks. Unfortunately, that meant that it had to switch networks every few years, ending its run on the Winning Poker Network.
✅ Did PokerHost scam players by shutting down?
No, PokerHost didn't disappear with player funds and gave existing players time to withdraw their money before the software was taken offline. Until the end, PokerHost maintained a favorable reputation from players.
✅ What was the PokerHost software like?
PokerHost had some attractive features over its time on several networks. The older Merge client had unique features such as rabbit hunting and showing one card whereas the WPN client had numerous visual customizations.
Since it wasn't a huge name in the poker world like PokerStars or Global Poker, it wasn't uncommon for new players to be dubious about the site when signing up. So, a lot of search results for PokerHost will include forums where players are asking about the site's legitimacy.
The overall sentiment among the online poker populous usually remained the same: PokerHost was a reputable online poker provider.
If you go quite far back in the site's history, complaints were made in 2005 and 2006. Players did experience issues with withdrawals, but it seems that PokerHost rectified the issue by moving to a new network. Over the years, the site was on the Merge network, MPN (Microgaming Poker Network) and, finally, Winning Poker Network.
On these networks, PokerHost was able to provide a high standard of customer service. The frequency of complaints whittled out, and it was widely accepted that PokerHost was a safe place to play poker online.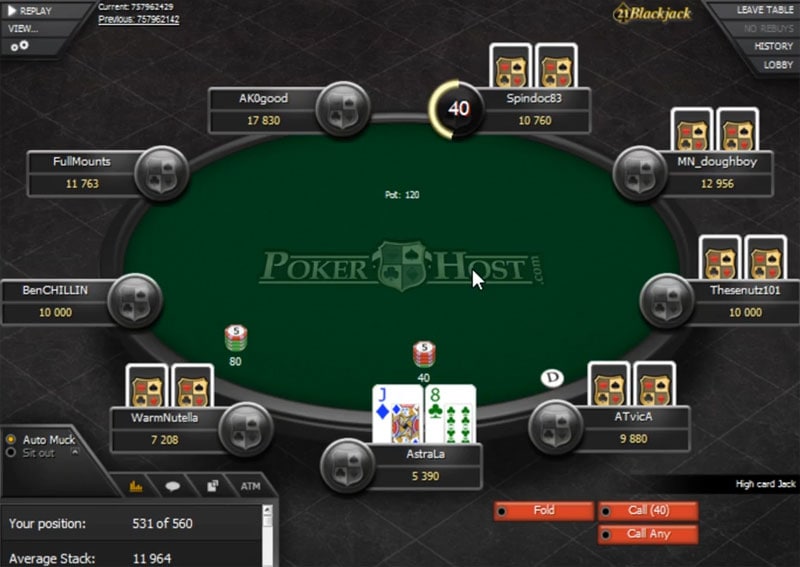 Review of The PokerHost Experience
When you visit PokerHost's website nowadays, it looks as though you can still sign up to the poker room and download its software. However, clicking the "Download" button will simply take you to page that confirms the site has ceased operations. You're the redirected to America's Cardroom.
So, while you can't play at the site anymore, we can give you some insight on what PokerHost was like while it was still active.

Game Selection and Traffic
At PokerHost, players could look forward to a large selection of NLHE and PLO games. Other, more niche games had little action, so it was primarily a site for players who enjoy more mainstream games.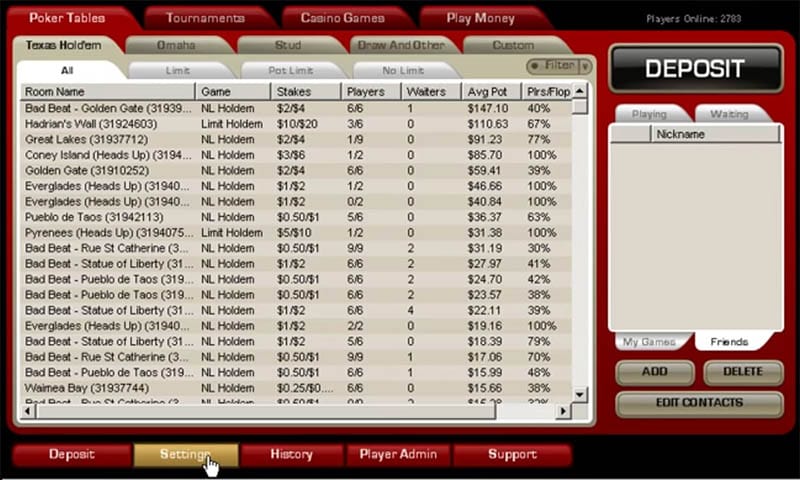 Most of the action was concentrated at lower stakes. You woudn't normally find a large selection of games at stakes lower than .50/$1, so PokerHost wasn't a site that was frequented by high rollers.
Banking
Players at PokerHost were offered a wide range of deposit options. Inside the United States, players could use credit cards, cash transfers, and Bitcoin. Players outside of the country could use e-wallets as well. Most players were limited to depositing $1,000 with credit and debit cards while Bitcoin offered a $10,000 maximum.
When it came to withdrawing money from PokerHost, players received their payouts in a timely manner. The site was around for over a decade, so it had to maintain a positive reputation. Consistent payout activity was one of the ways that it did.
Software
Things get a little bit complicated when it comes to PokerHost's software. During its lifetime, the poker room was hosted on a number of different networks, which means that it wasn't always powered by the same software.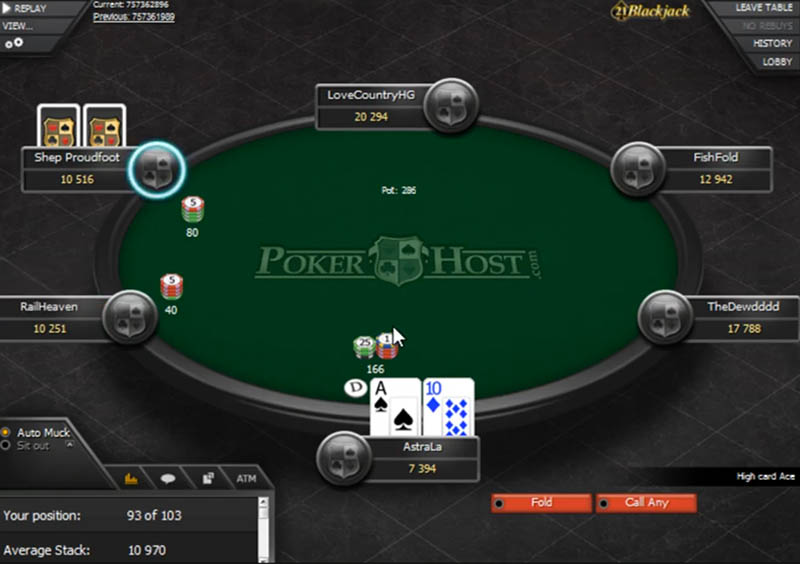 On Merge, Microgaming, and WPN, different software options were available to players. The different features that you would have access to depended on exactly when you were a member of PokerHost. For example, when PokerHost was on the Merge Network, players were offered a "Deal it Twice" option, however, this wasn't an available feature once the site moved to WPN.
Tournaments
There were plenty of tournaments for players to take part in while playing at PokerHost, with buy-ins ranging from $1 to over $200. The site hosted $1 million tournaments every year, which will always well-attended by the online poker community.

Every week, $150,000 guaranteed tournaments were held on Sundays. The buy-in was $215 but there were plenty of satellites available throughout the week.
The Super Series was another popular set of tournaments from PokerHost. It was held every quarter, and prize pools would often exceed more than $10 million.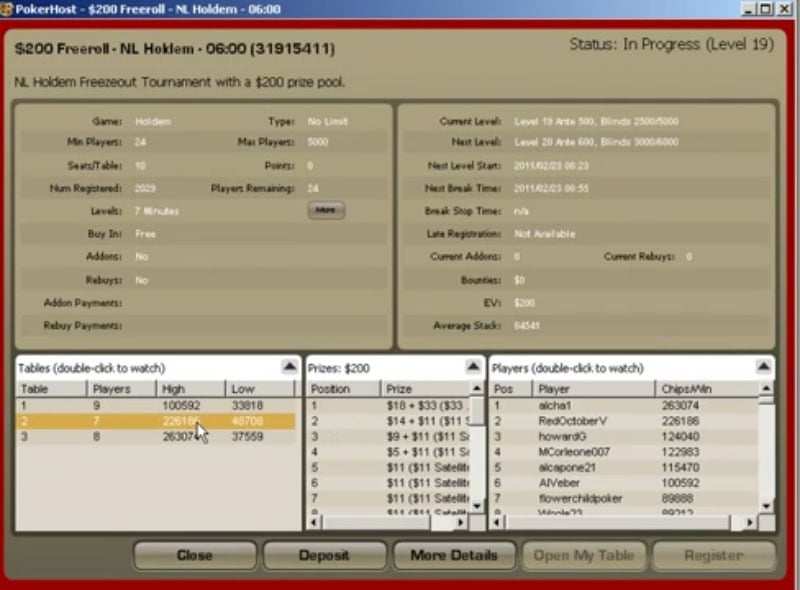 Bonuses
One of the main factors that kept PokerHost afloat for so long was its collection of bonuses. It was certainly one of the most generous poker sites out there.
Not only would you find the usual welcome offers;  you would also have access to a wide range of other promos. Birthday bonuses were available to players, as well as an ongoing 75% reload bonus.
The VIP program was particularly tempting. Players would receive 10 VIP points for every dollar of rake they generated (not a tall order with the site's 27% rake), which could be cashed in at a rate of $5 for every 375 VIP points. So, it definitely paid to be a loyal player at PokerHost.
Closing the Book on PokerHost
It has now been years since PokerHost has departed from the online poker world. While its most loyal players certainly miss being part of its community, there are plenty of other options available on the Winning Poker Network, so we're sure they have all found new homes on sites like America's Cardroom and Black Chip Poker.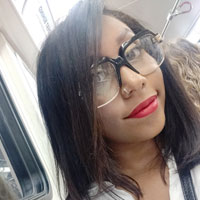 Bethany graduated from York University with a degree in Professional and Creative Writing in 2009, and quickly jumped into life as a blogger. With a passion for all things gaming, she has worked as a writer in the casino market for almost 10 years. Bethany joined the Beat The Fish team in 2018, contributing comprehensive reviews, cryptocurrency features, and gaming news.