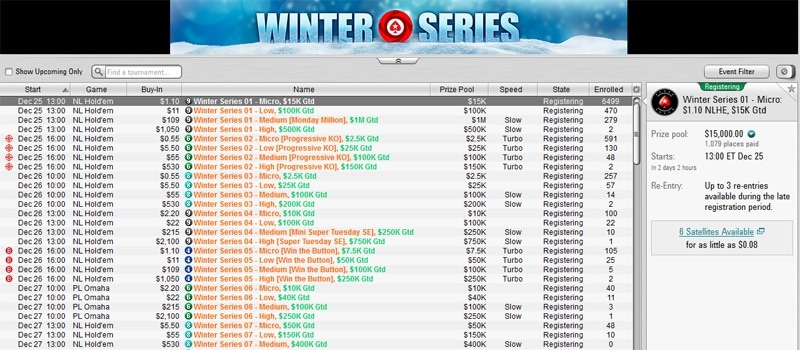 Although winter holidays are usually a very busy time of the year for most, there is always a bit of time for some poker. For those who enjoy a good tournament, there'll be plenty of reason to fire up your PokerStars client as the Winter Series is set to kick off in a couple of days' time.
Set to start on the December 25, the Christmas day, the Winter Series will run through the first week of January of the next year and will offer plenty of action for players across different stakes alongside extra prizes on top of what should be pretty hefty prize pools.
Four different buy-in levels for the Winter Series
In an effort to cater to players with different bankrolls, PokerStars will do what they tend to do with most of their tournament series. There will be four different buy-in levels, and this applies to all events on offer.
With $25 million in guaranteed prizes and events featuring different games and formats, the series will cover No Limit Hold'em, Omaha, Zoom tournaments, Knockouts, Turbo events, and much more.
Main Events with added prizes
Just like with the rest of the tournaments in the Winter Series, there will be four different Main Events to wrap things up on January 7, 2018. All four tournaments will start at 13:00 ET and feature buy-ins of $2.20, $22, $215, and $2,100.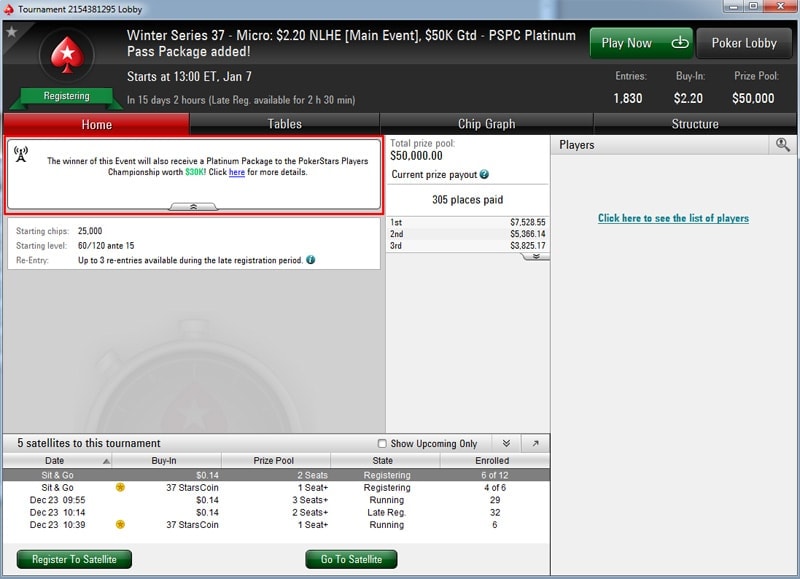 It goes without saying that all players are welcome to play in one, two, three, or all four of these tournaments if their bankroll permits it. This year, even the high-rollers will have an incentive to try their luck in all of these because of extra prizes for the winner.
4 Platinum Pass packages for Winter Series Champions
PokerStars has announced their Players No Limit Championship, with $8,000,000 in added prizes being distributed to the winners of major online events. The Winter Series will be a great opportunity to grab one of these $30,000 Platinum Pass packages.
Namely, winners of all four different Main Events will get one Platinum Pass package each, which will see them take their seat at the table in the Bahamas in January. Apart from the $25,000 buy-in, package winners will also receive accommodation and $2,000 spending money.
One additional Platinum Pass will be given out to the winner of the special All-In Shootout Freeroll on January 8, open to all the players who participated in the Winter Series.
Plenty of ways to qualify
For those with smaller bankrolls and everyone who'd like to try their luck in an event that's outside their usual buy-in range, there are several ways to qualify for the Winter Series. The first one is through special $35 Spin & Go events with added tournament tickets:
$2,100 tickets (2,500 in 1,000,000 odds)
$1,050 tickets (5,000 in 1,000,000)
$215 tickets (85,000 in 1,000,000)
$55 tickets with and without extra cash for the second place
There is also a special New Year's Eve Freeroll, taking place on December 31, where there'll be $15,000 worth of tickets to the Winter Series awarded randomly to hundreds of players at the tables.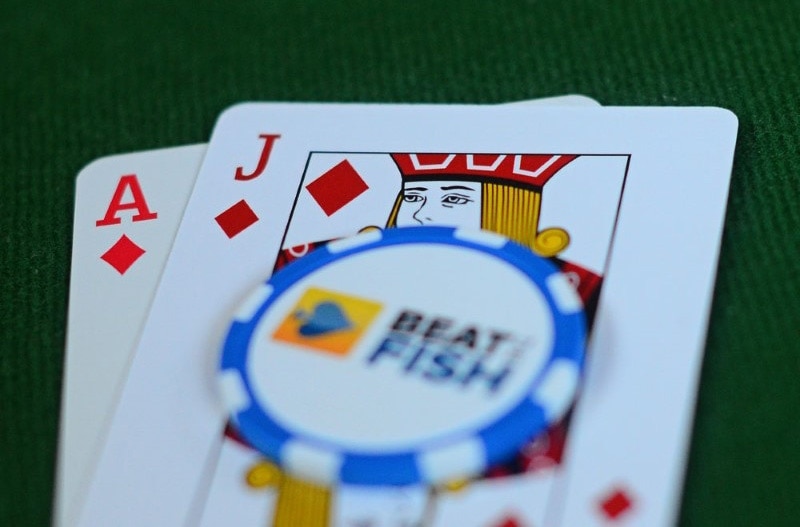 Of course, on top of all these, there are always good, old-fashioned satellites running around the clock and there is still plenty of time left to earn your seats and get involved in what promises to be yet another hugely successful online tournament series.