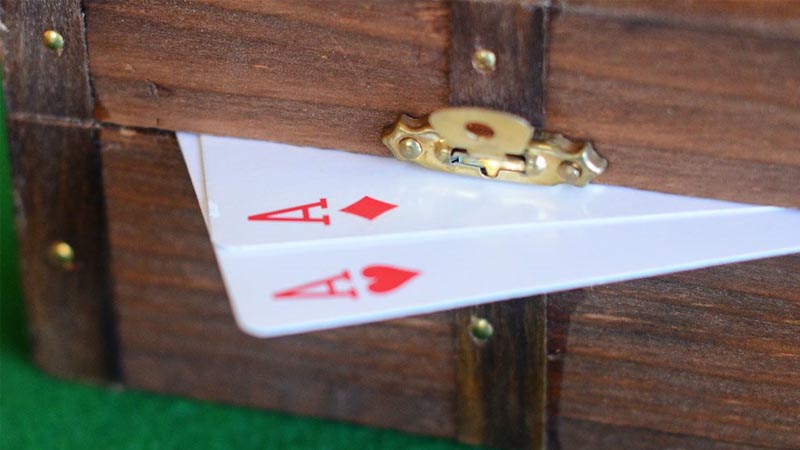 It's that time of year – we're all picking names out of a hat to see who we're buying for in the annual Secret Santa gift exchange.
Most of the time, when you search for Poker Player Gifts, you'll come up with a mish-mash of items – many of which are just too expensive for a Secret Santa budget, or just plain tacky.
So, after scouring Etsy and eBay, we've compiled a list of the best Secret Santa Christmas gifts. Everything listed here, you can buy for under $20 and they're the kind of gifts that a poker fan will actually use.
Books
Poker books are a great gift for any player, whether they're very into reading about strategy or not. Here are a couple of suggestions, depending on the type of poker player they are:
For the Casual Player
There are some great poker biographies out there, which make for fascinating reads. One of my favourites is "One of a Kind: The Rise and Fall of Stuey "The Kid" Ungar". It's a great book that provides an honest look into his life both on and off the felt.
Other great biographies that I would suggest are:
Check Raising the Devil by Mike Matusow
Life's a Gamble by Mike Sexton
Forty Years a Gamble by George Devol
The Godfather of Poker by Doyle Brunson
For the Strategic Player
If you know that the poker player you're buying for is always looking to improve their game, a strategy book is the best choice of gift. The books that most players swear by are:
Super/System and Super/System 2 by Doyle Brunson
Every Hand Revealed by Gus Hansen
The Mental Game of Poker by Barry Carter
So, firstly, you'll want to make sure that they don't already have those on their bookshelf. If they do, here are some books that are a little bit lesser known:
Kill Everyone by Lee Nelson
Play Optimal Poker by Andrew Brokos
Poker's 1% by Ed Miller
Socks
That's it. Socks. You can never have enough socks.
I'd say it's one of the few poker-themed fashion items that makes a good gift – because they're not in-your-face. And, when it comes to poker, there are many different patterns and colours so you can pick out something fun that your friend will enjoy.

Household Items and Tools
When it comes to getting Secret Santa gifts, I love having items that I can actually use around the house. T-shirts, posters and other decorative items will just go into the back of my closet – and it's normally the case for most novelty items.
So, I'd recommend getting gifts that your poker playing friend will put to good use. These are some items that I, personally, would enjoy getting as a poker fan:
A Playing Card Bottle Opener
A bottle opener is one of those items that you'll always have a use for – which is why they're such popular souvenirs. Whether your friend drinks beer or not, they'll will definitely use this item at some point.
Mugs and Glasses
I don't think it's possible for anyone to have too many mugs or glasses. Depending on who you're buying for, you can go for something loud like a mug with a corny saying on it or something a little more subtle like some pint glasses engraved with poker suits.
A Set of Poker Suit Cookie Cutters
If you're poker fan friend also enjoys baking or just has a sweet tooth, get them a set of poker cookie cutters. These can be shaped like playing card suits, cards or even poker chips.
Whiskey Stones
You can get whiskey stones with embossed with either poker suits or ones that are designed to look like dice. Both are great options for someone who enjoys the odd tipple.
Costume Jewellery
If the poker player in your life enjoys quirky jewellery, I'd recommend getting them a cute pair of poker-themed earrings. There are tons of options available on Etsy.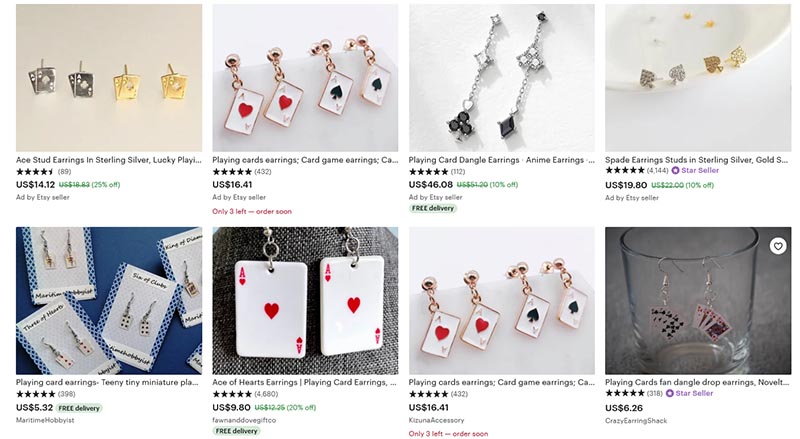 You can go for a more over-the-top look with dangle earrings shaped like cards, if the person you're buying for likes to go big. However, if they prefer a more subtle look, I'd suggest a pair of stud earrings either shaped like poker cards, spades or clubs (if you go for diamonds or hearts, they might get the wrong idea).
A Cameo
Cameos are a fun little gift that have gained popularity in recent years. It would be great for any poker fan to get a message from a professional in the field.
Some players have quite high fees – so, maybe not the best idea for a Secret Santa gift. For example, Phil Hellmuth and charges about $300 for a message.
Here's an example of a Cameo by Antonio Esfandiari, giving the recipient a pep talk:
There are a few options that are less than $20, like:
Jeff Gross: $10
Cedric Trevino aka The Poker Traveller: $15
Jonathan Little: $19
Novelty Cards
A deck of cards is one few novelty poker gifts that I would actually recommend buying for a poker player. Most serious players will have high-spec KEMs or Copags – but, they'll always have room for a fun deck that corresponds with their other interests.
You can get playing cards that feature imagery of films, movies, video games, musicians, animals, art movements and even different cuisines. There are very few items that there hasn't been a deck of cards based on – so, you can really let your imagination run wild.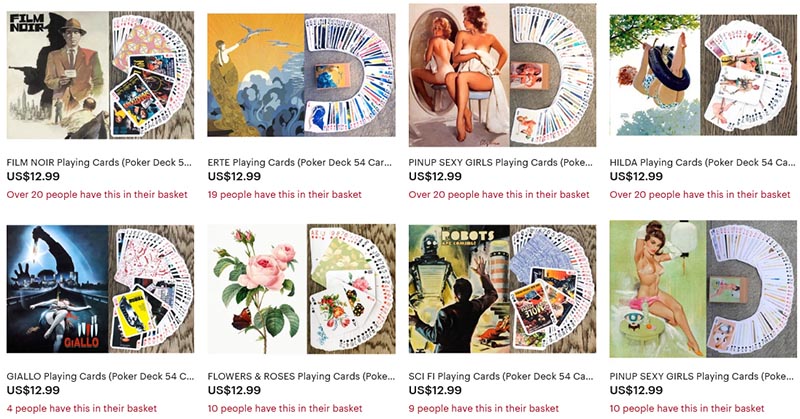 The more obscure the reference, the better. I've seen cards featuring the period table, 52 different varieties of sushi, Jane Austen quotes and Fraggle Rock characters. So, there is no shortage of gift inspiration down this rabbit hole.
What Not To Get A Poker Player
These are gift ideas that are on every "gifts for poker players" list that I would highly recommend against getting. I have personally received these items, and I know people who have received them – and, they never get used:
T-Shirts: Have you ever received a t-shirt with a 'funny' phrase on it that you've actually worn? Probably not.
A Set of Chips: A good quality set of chips can be very expensive and, chances are, your friend already has a set. So, you'll either be shelling out way too much money or getting them something they really don't need.
Home Décor: Any poker-themed lamps, throw pills or posters are incredibly unlikely to be stylish and will probably be stashed away. I'd say the only exception is if they have a "man cave" or games room where tacky items will fit in.
What are the best and worst Secret Santa presents you've ever received? Leave us a comment and let us know!