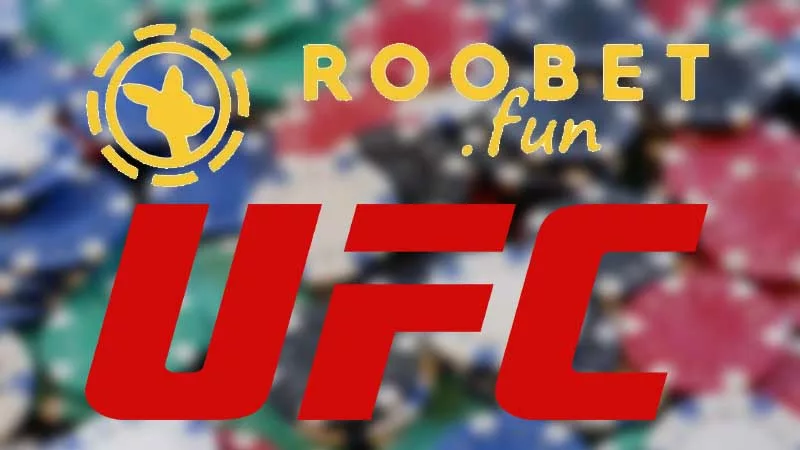 Gambling sponsorships are all over the sports world, with betting brand logos across all sorts of venue banners and player equipment. Sportsbooks, poker rooms and casinos are usually the most common partners of sporting leagues and teams, but UFC is doing something a little bit different by appointing Roobet.fun as its official social casino partner.
UFC's Deal with Roobet.fun
The new deal between Roobet.fun and UFC will span multiple years. Roobet.fun advertising will be prominently displayed across The Octagon, and the brand will be featured in various episodes of UFC's online video content. The two brands will also work together on different types of unique, engaging content that will appeal to both social gaming fans and sportsfans.
If you're a regular UFC viewer, the name sounds familiar, that's because Roobet.fun has already backed several fighters already. Alex Pereira, Brandon Moreno and Charles Oliveira have all been sponsored by Roobet.fun. The social gaming brand has also produced a few mixed martial arts podcasts, including Champions Corner.
About Roobet
Roobet.fun is a relatively new name in the online gaming world. Although the site is a newcomer in a very crowded market, it has quickly developed a large following, due to its innovative gaming format.
"Roobet.fun is an innovative online gaming platform that offers an incredibly compelling user engagement experience via a free-to-play social casino. It's a forward-thinking approach to gaming we believe UFC fans will enjoy." – says Grant Norris-Jones, the Senior Vice President of Global Partnerships at UFC.
On the site, players are able to take part in tournaments where they play different casino games for the chance to win cash prizes. All competitions are completely free to enter, and prizes range from $20 to $250 per tournament.
This differs from the original Roobet crypto casino site, which operates as a more traditional casino but is not available to players in the USA. On that site, players in locations like Germany and Australia can access a wide range of gaming activities, including slots from top-rated manufacturers like Play'n GO and Pragmatic Play, as well as crypto games like Crash and a comprehensive sportsbook.
Other Crypto Casino Sponsorships in Sports
Crypto casino sponsorships are not yet as commonplace and sports betting sponsorships, but the trend certainly is growing. In 2020, Sportsbet.io signed a $5 million three-year deal with Arsenal, and more recently, Stake.com entered into a partnership with both UFC and Everton football club.
In the same way that online gambling operators slowly took over sporting sponsorships in the 2010s, it's very likely that crypto casinos will begin to follow suit.