Americas Cardroom Freerolls Coming Up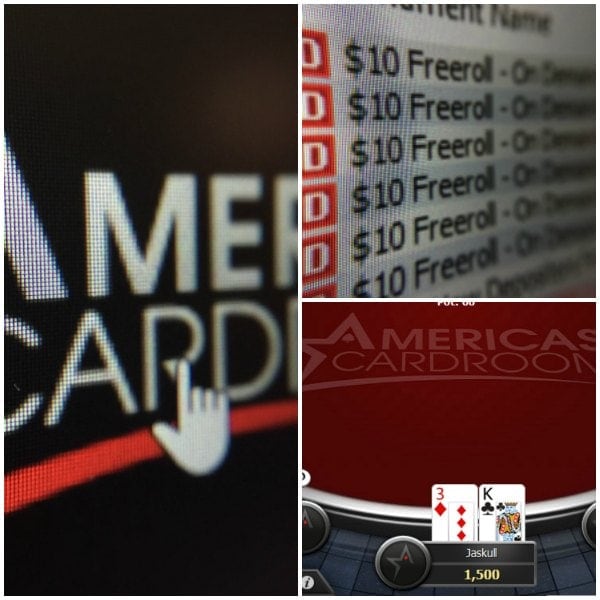 America's Cardroom, often known by its acronym ACR, is one of the biggest US-friendly online poker sites in the world.
They offer plenty of cash game tables and tournament action at all levels, which includes freerolls.
If you're looking to play without risking your own money or want to start your online poker career but don't have the bankroll, America's Cardroom freerolls might be a good place to start.
This is not just the case if you are a US player, as America's Cardroom is a very decent choice for new players from all over the globe.
America's Cardroom Freeroll Chart
| Freeroll Name | Prize pool | Time (GMT) | Places paid | Open to all players | Average players | Freeroll Link |
| --- | --- | --- | --- | --- | --- | --- |
| $10 On Demand Freerolls | $10 | Around the clock | 10 | Yes | 300+ | Register |
| $250 New America's Cardroom Depositors Freeroll | $250 | Saturdays at 6:10 P.M. | TBD | No (deposit required) | 500+ | Register |
How to Play a Freeroll at America's Cardroom
Step 1
Visit America's Cardroom, download the poker software, and register for an account by clicking the "Create New Account" button.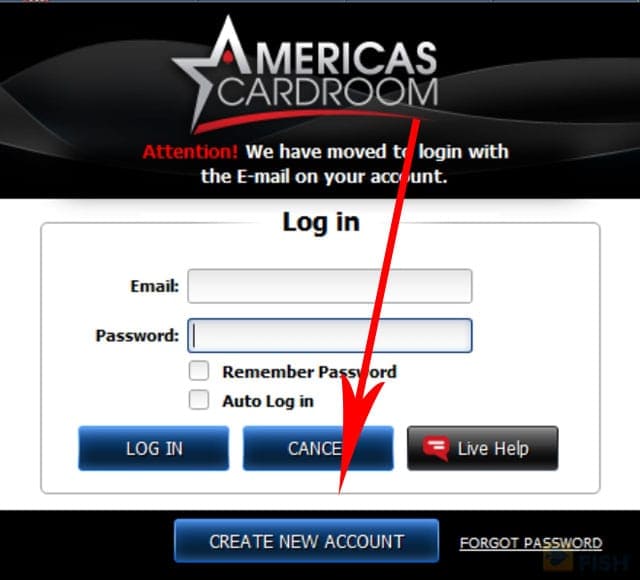 Step 2
Fill in the required details, and don't use ACRBTF as your bonus code to make sure you receive every offer if you go on to deposit at America's Cardroom.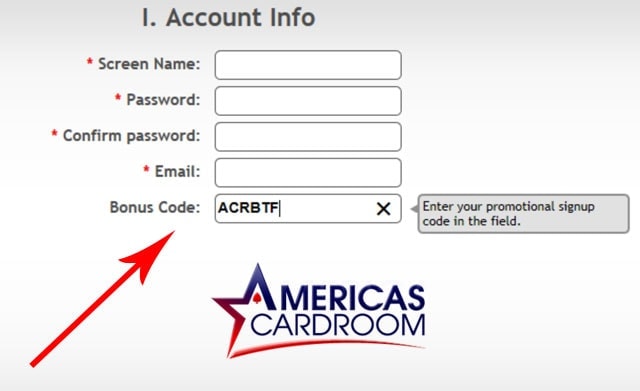 Step 3
Navigate to the Tourney lobby. Once there, click on the "Freeroll" tab like in the picture below.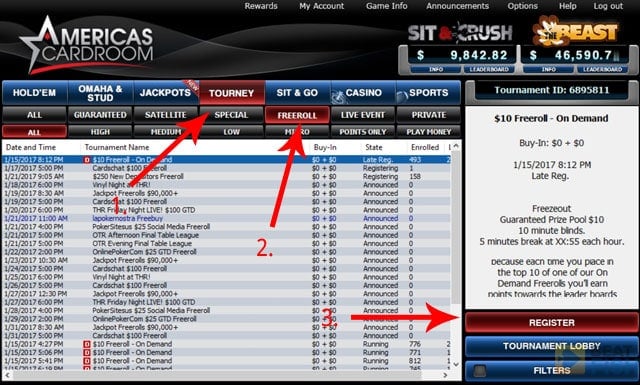 Step 4
Find a freeroll that is in the registering stage, double click it to open the lobby, and register.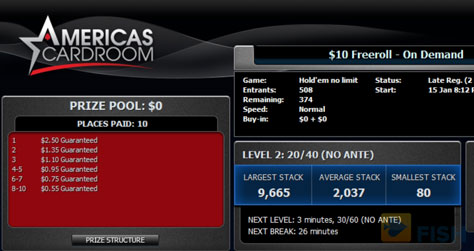 Step 5
Once the freeroll starts, you'll be taken to your table automatically and you can start playing.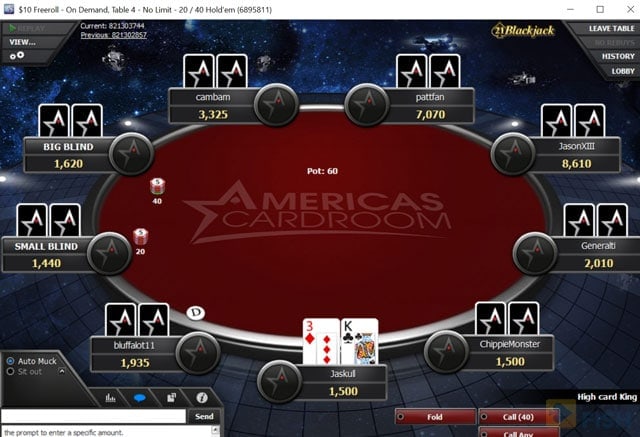 $10 ACR On-Demand Freerolls
We'll start with an interesting concept introduced by America's Cardroom, called On Demand Freerolls. These tournaments run around the clock and kick off as soon as 10 players have registered. The registration then continues for the next 30 minutes and all who get their seat battle it out for the $10 prize pool.
This may not seem like a lot, but there is at least one $10 On-Demand Freeroll running at all times. This means you can play as many of them as you like.
If you're intent to kick-start your bankroll without risking any cash, these are actually a pretty good choice. By the time the registration ends, there are usually a few hundred entrants.
[column-quarter-1]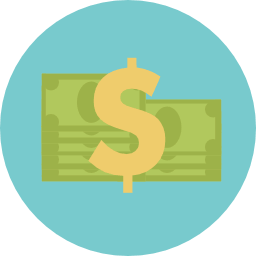 [/column-quarter-1]
[column-quarter-2-3-4 background="92A8D1″]
Open only to players who made deposit during the past week
Taking place on Saturdays at 10:30 and 19:00
Prize pool: $1,000
Fields: around 500 players
[/column-quarter-2-3-4]
The free real money prizes are reserved for the top finishers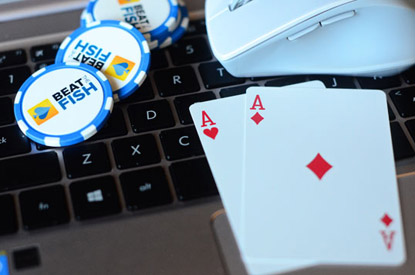 A good thing about America's Cardroom freerolls is that the prize pool is not watered down. Regardless of how many players enroll, only the top ten get paid, with the winner receiving $2.50.
Featuring a very decent structure for a freeroll, with 10-minute levels, these are great to get your feet wet and earn some money in the process.
On top of it all, there is also a weekly freeroll leaderboard awarding a $215 tournament ticket for the winner and entry to the Sit & Crush Tournament for all top ten finishers.
Every time you place in the top ten in an America's Cardroom On-Demand Freeroll, you'll score points for the weekly leaderboard.
All things considered, America's Cardroom On-Demand Freerolls actually offer some really nice opportunities even for more serious players who can easily include a few of them to fill up their schedules.
$250 New Depositors Freerolls
Although not completely free to enter, America's Cardroom New Depositors Freerolls can help you grow your bankroll faster.
All you need to do to qualify is make a minimum deposit at America's Cardroom. Players receive four entries to $250 New Depositors Freerolls and get to compete for their share of a total of $1,000 in prizes.
Depositing at America's Cardroom also brings with other benefits like:
a generous bonus up to $1,000
at least $50 in free Jackpot Poker entries
Access to the Elite Benefits loyalty program
There is really no downside if you're even semi-serious about your poker endeavors. You could even first build up your bankroll using On-Demand Freerolls and only make the deposit when you've accumulated enough real money.
America's Cardroom freerolls usually have a few hundred entries, but not as many as On-Demand events. This means you'll have better chances at making money and adding to your online poker bankroll.
[column-quarter-1]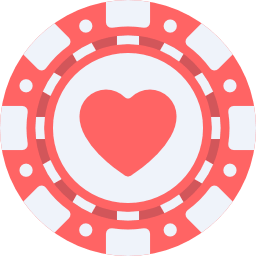 [/column-quarter-1]
[column-quarter-2-3-4 background="92A8D1″]
Starting time: Every Sunday at 12:05 pm EST
Prize pool: $250 (at least around $50 for the winner)
Fields: between 200 and 400 players
Open to newly depositing players only
[/column-quarter-2-3-4]
Other America's Cardroom Freerolls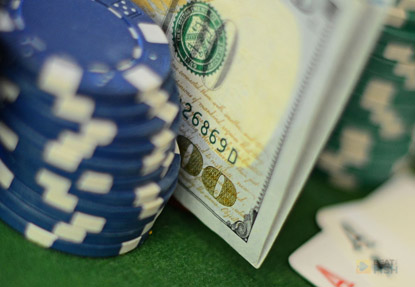 You'll find many more freerolls at America's Cardroom, but most of these are restricted in some way. Don't let this discourage you.
If you're serious about building your bankroll, you can easily locate the sites connected to respective freerolls (they are usually displayed with the tournament description) and see how you can participate.
While some are restricted only to players who registered at America's Cardroom through certain sites, other require only a password, which is given out to all or most site members.
There's no reason to be shy about it. Ask around and see if you can get into some of these private events.
The upside of playing in these is the fields are smaller and prize pools are between $25 and $100. If you can become a regular in a few of these, you could see your bankroll increase much faster than you could have imagined.
America's Cardroom Freeroll Rating
Summary
America's Cardroom "On-Demand" freerolls represent a great opportunity for all players looking to build their bankroll from scratch. Although the prize pools aren't huge ($10), you can play in as many as you like a day, and fields aren't that big.
Additionally, the America's Cardroom freeroll prize distribution is top-heavy, meaning that if you win a couple of them, you'll have enough to get involved with real money games.
$10 On-Demand Freerolls

$250 Depositors Freerolls

Private Freerolls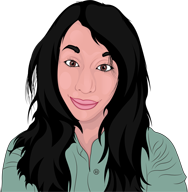 Bethany has been working in online gambling for over 13 years. She got her start in the industry as her first job after graduating from the Professional Writing Program at York University. Having written for many online gaming publications and worked with top casino operators, she has unique insight into the gambling market. Bethany maintains a personal interest in iGaming as she continues to play poker online as a hobby.