The Ultimate Ignition Poker Review
| | Ignition Casino Poker Room |
| --- | --- |
| | |
| | Yes, from 45 states. Players are not allowed from New York (NY), New Jersey (NJ), Delaware (DE), Maryland (MD), or Nevada (NV). |
| | |
| | |
| | 150% up to $1,500 for poker + 150% up to $1,500 for casino (for Bitcoin deposits); 100% up to $1,000 for poker + 100% up to $1,000 for casino (for credit card deposits) |
| | |
| | |
| | |
| | |
| | |
| | Windows, Mac, iOS, Android |
| | Bitcoin (BTC), Bitcoin Cash (BCH), Bitcoin SV (BSV), Tether (USDT), Ethereum (ETH), Litecoin (LTC), MatchPay, Visa, Mastercard, Voucher |
| | Bitcoin (BTC), Bitcoin Cash (BCH), Bitcoin SV (BSV), Tether (USDT), Ethereum (ETH), Litecoin (LTC), MatchPay, Visa, Mastercard, Voucher, Player Transfer |
Ignition Poker
Bonus

Fish Rating

Deposits

Payouts

Tournaments

Software

Player Traffic

Player Support

Mobile Software

Rake Levels
Pros
Largest US network by traffic
Mobile software now has every game mode
New no-download instant play option
Live chat player support added
Increased bonus to 150% if using Bitcoin
Very high Fish Rating
Browser-based poker works on any device
Bitcoin and many cryptocurrencies supported
Bitcoin payouts in as little as 15 minutes
Very quick bonus clearing if playing Zone
Does not support HUDs
Cons
New ownership is likely tied to Bovada, but is still a mystery
Servers occasionally freeze during games
Increased rake levels
Ignition Poker Overall
I've waited years for Ignition Poker, the low-key king of US online poker to take its place back on the throne and I'm genuinely excited to get to share it with you again.
It's Ignition Poker, which probably has a lot of you scratching your heads.
Who is Ignition Poker?
How can Ignition Poker be the market leader if no one's heard of them and they're brand new?
Here's how:
While the Ignition brand name is new, under the hood it's the Bovada poker wing rebranded. Perhaps you've heard of them or one of their other iterations over the years.
Bodog. New Bodog. Bodog Life. Bovada. Calvin Ayre. Costa Rica. Nose-thumber of the Feds. Those guys. Now they're Ignition Poker.
Their deep roots
The upstart online sports/casino brand launched their poker room under Bodog during the heart of the poker boom in 2004.
I found them that same year, which happened to also be the first year I moved my poker game online.
It was the thing to do for any gaming brand of the time: capitalize on the pop culture darling that was poker and catch the schools of sardines rushing to win the WSOP by lighting their chips on fire. It was a beautiful time.
Ignition was always my cult favorite
In an era where Americans had poker selections like PokerStars, Party Poker, and Full Tilt Poker, the early Ignition Poker (then Bodog) was always a cult favorite of mine.
Bodog had a different attitude that translated into incredibly loose tables, personalized attention, and a banking system that only an online gaming pioneer could dare to provide.
I use the term "cult" because it seemed like no one else gave Ignition their due. Those of us who did couldn't get enough of those cash games.
Little did anyone know that the ancestors of Ignition Poker were laying the foundation for one of the most successful online poker brands in history.
Why they're the best now
However, none of my nostalgia-tinted praise means a darn thing to you as a new player now.
History means nothing in an industry that can turn on a dime and extinguishes old flames faster than players can click "cash out".
I couldn't say a thing for 2 years
The last 2 years have been so difficult to give players an accurate view of the US market because Ignition Poker and Bovada had strictly enforced a media embargo.
No poker media was allowed to even acknowledge the existence of the poker room, which made for an incredibly difficult position to be in.
The biggest and best US-facing poker room was out there, doing its thing, spreading profitable games, Zone Poker, and the only legit mobile client, but I couldn't tell you about it.
It was maddening.
Don't get me wrong:
BetOnline provided for a nice stand-in and I still recommend them, but they aren't quite at the caliber of Ignition Poker.
Alas, the embargo is no more. My lips (and fingertips) have been unsealed. The king is back to reclaim his throne. King Richard has nothing on Ignition Poker.
Why I'm so excited
Why am I so excited to get to talk about Ignition Poker again?
My personal 14-year history with them means absolutely nothing if they fail players today.
Ignition Poker simply does just about everything better than any other online poker room open to Americans.
Here's a sampling of their resume that no one else can touch:
Ignition Poker is the largest US poker network by far, trailing only PokerStars and 888 Poker for the largest in the world.
They're one of the only US sites offering mobile gameplay. This is such an essential feature and they're one of the only ones doing it.
Ignition is the only US site with quick-fold poker. It's been my favorite form of poker for years.
Ignition's payout reputation is unmatched. Ignition Poker has gotten US players check withdrawals in about a week for more than a decade. With Bitcoin, that's now down to less than 4 hours.
The games are still softer. They always have been and that's more important than ever these days. Expect flop percentages 5-10% higher than the competition at Ignition Poker.
Those factors almost line up identically to what's important these days to most US players.
Sick of tight games, payout worries, and bare tables? Ignition Poker is probably going to be the answer unless you live in Delaware, Maryland, Nevada, New York, or New Jersey. Ignition does not allow players from those states and enforces it heavily, including trying to detect if you're using a VPN to get around the rule.
Ignition Poker is also one of the only online poker sites to accept players from Australia.
Frequently Asked Questions
✅ Is Ignition Poker legal in the US?
Ignition Poker has been deemed legal for operation by its home government of Costa Rica. It can be considered legal for most US players because very few states have laws designed to go after players themselves. One notable exception to that is the state of Washington.
✅ Which network is Ignition Poker on?
Ignition Poker is a part of the PaiWangLuo online poker network, which also includes Bovada Poker. It is currently the market leader in terms of player traffic for poker sites open to Americans.
✅ Does Ignition Poker have rakeback?
Ignition Poker does not support rakeback in any fashion and their substantial player traffic says they don't need to. Instead of rakeback, Ignition does give players Poker Points, which are used to clear bonuses and can be converted to cash.
✅ Are Ignition and Bovada the same?
Although technically Ignition Casino and Bovada are separate entities, their poker rooms share the same network. That means that players on both sites sit at the same cash game tables and tournaments.
✅ What is the bonus for Ignition Poker?
Ignition Poker offers a first deposit bonus of up to $2,000 if you use a credit card. You can get 100% up to $1,000 for poker play and 100% up to $1,000 for casino play. Ignition increases the bonus offer to $3,000 if you deposit using Bitcoin. You get 150% for the poker room and 150% for casino games.
✅ What is the quality of the software used by Ignition Poker?
The software is free to use and doesn't require a download. The software is developed and maintained internally by Ignition Casino. You can launch poker from any Windows, Mac, or other desktop using a browser. Ignition is also available for both iOS and Android mobile devices. No app download is required. The software is simple to use and has a user-friendly interface. Unique features include rabbit hunting, anonymous tables, and quick-fold tables.
✅ What are the rake fees associated with playing on Ignition Poker?
Rake fees at Ignition Poker are generally 5% of the pot. That means the rake is $0.01 for every $0.20 in the pot. The maximum rake per pot depends on if you're playing Fixed Limit or Not Limit as well as how many seats the table holds. For Ignition No Limit tables seating at least 6 players with stakes higher than $0.10/$0.25, the maximum rake fee is $4. Maximum rake falls to $1 or less for Fixed Limit and micro-stakes games.
✅ How does Ignition Poker compare to other online poker sites?
Ignition Poker is technically one of the newest online poker sites, launching in 2016, but it has quickly become one of the most popular. There are a number of reasons why players have flocked to this site, but the three most often cited are anonymous tables, fast-fold poker, and quick payouts.
✅ Who do I contact if I have problems with Ignition Poker?
If you have problems with Ignition Poker, you can contact the customer support team via email, telephone, or live chat. The customer support team is available 24/7. Emails will take 24-48 hours for a response. Chat support will connect you to an agent within a few minutes.
Ignition poker has an official license again
The days of running with a dubious "self-licensing" scheme are over. Ignition Poker is officially licensed by the government of Curaçao. Their poker games and casino games are regulated by the Curaçao eGaming brand, which has been popular among online gaming companies for years.
Although a gaming license doesn't guarantee a poker site is running an above board, it shows a commitment by Ignition to at least obtain one.
Along with related site Bovada, there's no one else in online poker I trust more than Ignition. They're the largest in the US market, I've been playing with them the longest, and they've never had an issue with payouts.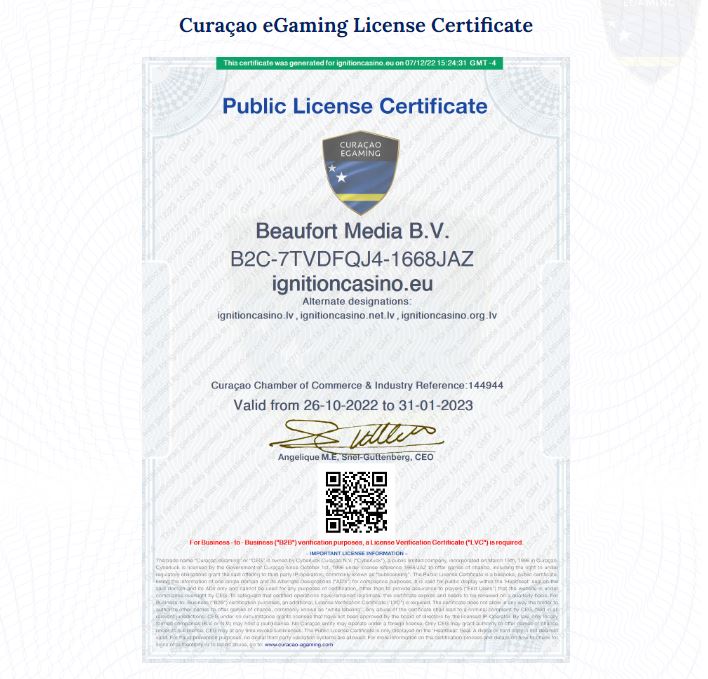 Ignition Poker isn't perfect
I don't think that a perfect online poker room exists. Every player is going to have their own definition on what "perfect" even is, and rightfully so.
I'm certainly not trying to paint Ignition Poker as infallible.
The poker-centric promotions can use some work, they don't quite offer the largest tournament guarantees, and their software has been known to act up from time to time.
However, I think almost every US player is willing to put up with those issues for the significant upside at Ignition Poker.
Those nitpicks are more akin to potholes in a US market filled with sinkholes.
Really, I think it all boils down to this:
Ignition Poker is the closest outfit to making me feel like it's 2004 all over again and that couldn't be a higher compliment.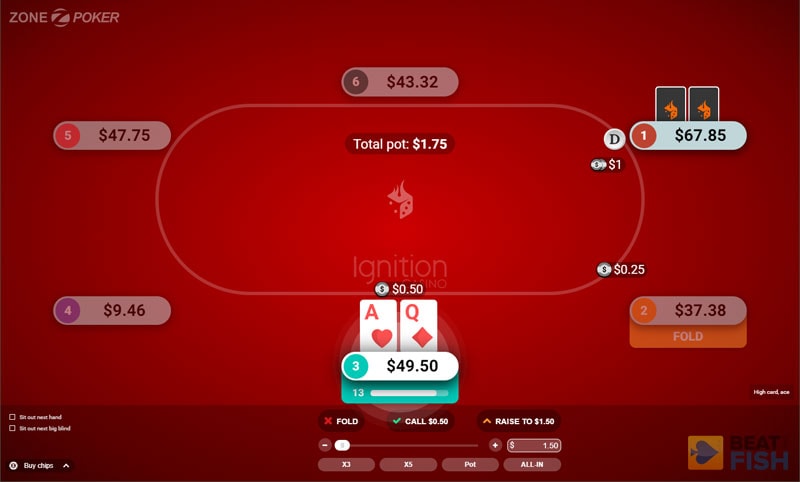 The Biggest Ignition Poker Cons
Software quirks are frustrating
Igintion Poker really needs to clean up these legacy software issues. On my powerful Windows 10 desktop, the Ignition Poker software still launches and loads a blank lobby at times. The only way to resolve it is to close and reopen the software.
In addition, I have experienced occasional freezing at Ignition Poker both in the middle of hands and in between hands both on mobile and desktop. I simply have to wait until the software becomes responsive and starts moving again. It hasn't happened to me yet, but I can imagine scenarios where that could be catastrophic.
That being said, I really like what Ignition Poker did with the latest software update. No download is required anymore, which helps alleviate a lot of the old legacy software glitches.
Increased their rake levels
This seems to be an effect of online gaming sites increasingly showing their disdain for the thin margins of online poker. In late 2016, the news came that Bovada, Bodog, and Ignition Poker would be increasing rake levels, resulting in some tables seeing up to a 33% rake increase.
Under the new rules at Ignition, the maximum rake per hand is now $4.00 as opposed to the previous $3,00, and there are now more rake tiers, meaning more points at which it goes up.
Increased fees and rake may be par for the course in online poker these days, but it's no less frustrating.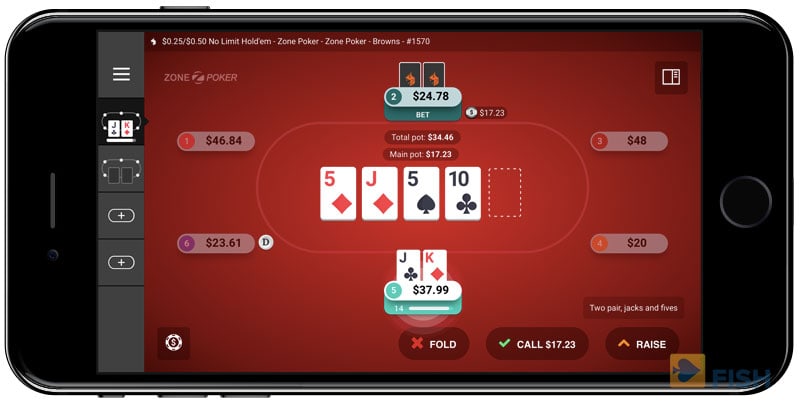 Ignition Poker Game Limits
| Game | Minimum Limit | Maximum Limit |
| --- | --- | --- |
| Zone (Fast-Fold) | .02/.05 | .50/$1 |
| No-Limit Hold'em | .02/.05 | $30/60 |
| Fixed-Limit Hold'em | .05/.10 | $30/60 |
| Omaha | .02/.05 | $30/60 |
Poker no longer requires a download
Ignition seems to be entirely phasing out their actual desktop software entirely. I've only been playing using a browser on my computer or mobile for so long that I hadn't even noticed.
Whether you're on desktop, mobile, or a tablet, you just go to the Ignition Poker website, go to Poker, and you can play right away.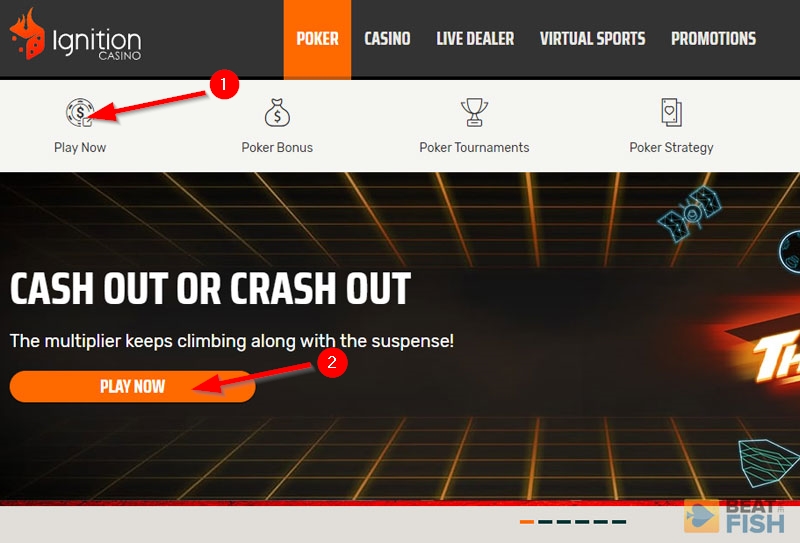 I tried loading up the actual Ignition poker software from my computer and, sure enough, it failed to connect to the update server.
That's poor form from Ignition. Even though I'm perfectly fine with just using a browser, I'm sure there are a lot of other old-school players like myself who still have the Ignition software sitting around on their computer. A lot of older players may not have marched on with time and gotten used to playing from a phone.
As far as I know, Ignition never sent out a notice to players that the software was being shut down and guide players that they would now need to play at the website.
I'm not a fan of making poker players, or a customer of any service, guess that something is wrong and look for a solution themselves. It's alienating to their most loyal players who have been around for years.
Browser-based poker interface is less glitchy
To be clear, I really like playing from the Ignition website. I haven't encountered as many glitches as the old software, you never have to update it, and it makes it even tougher for players to use third-party tracking software.
Best of all, it's super easy to play on mobile or a tablet. Ignition should just make it more clear that the software no longer works.
Ignition Poker Mobile
They're the only ones who "get" mobile
It's remarkable how blatantly clueless the US-facing poker market has been on the whole about mobile poker for a decade now.
Ignition Poker is currently one of the only ones who gets it and it's a significant reason why I rate them so highly.
We use our phones more than our computers
Smartphones aren't a new invention that developers can choose to support or not. We all now do everything from them.
In fact, we're years past the point where mobile computing surpassed desktop computing.
That's right: the world uses their phones and tablets more than their computers.
Poker players aren't any different
Why should poker players be any different? They aren't and, again, Ignition Pokers seems to be the only legit site paying attention to that.
Why official apps are out
The challenges are obvious. Neither Google nor Apple (i.e. the owners of the only app stores that matter) are going to allow apps from unregulated US-facing sites.
They don't want to risk the wrath of the structured bribes, I mean "fines", demanded by the US government.
Official apps are out unless you live in the regulated states of Delaware, New Jersey, or Nevada, and the stats say that 96% of you don't.
Ignition Poker found a way
Smart motivated US poker rooms find a way. You make a non-downloadable interface that works on any browser. Period. You just do it.
The only other 2 poker site selections that are worth playing at in the US – BetOnline and America's Cardroom – have been nothing short of boneheaded not to. It's absolutely moronic to ignore mobile play in this day and age.
Ignition Poker has been offering mobile play without an app for years now, giving them a stranglehold by default on the US mobile populace.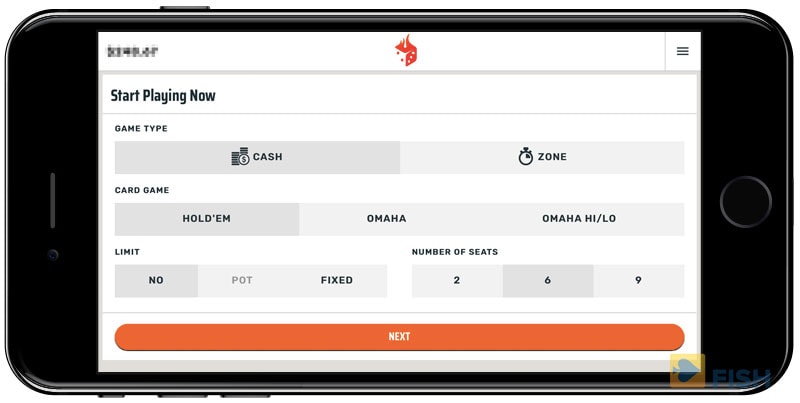 Playing on mobile is easy
I'm a member of the iOS ecosystem and the process for playing Ignition Poker mobile is extremely simple. See my full screenshots and guide below.
Log in at Ignition Poker
Tap the Poker section
Turn your phone sideways
Instantly play any cash game or tournament
Zone Poker + mobile = Poker's Holy Grail
Really, that's it. Once you're logged in, you'll see icons for Zone Poker, Jackpot Sit & Go's, and for normal cash games.
Zone Poker works flawlessly over mobile, whisking you to new hands just as quickly and smoothly as it does on the Ignition Poker desktop software.
In fact, I would venture to say that Zone Poker plus a mobile client creates the Holy Grail for US poker players.
Play a bunch of real-money poker hands any time you can use your phone for a few minutes or more. You might as well just set it up on an IV drip now.
Waiting in a cold doctor's office? Zone time.
Kids fell asleep on your lap? Zone-a-roo.
Chewing bites of cereal? Z to the one.
Wife fell asleep before you? Zoooooone.
Seriously, it's the perfect pocket pair. That pun was the nuts. I'll stop now.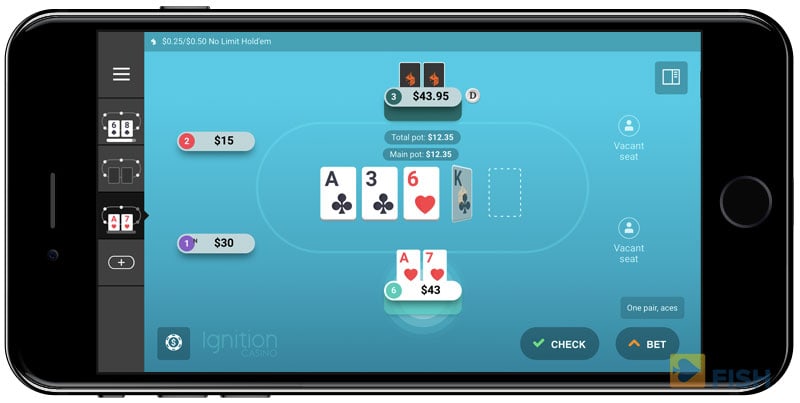 Normal cash game mechanics
The other option is to play a normal cash game, which includes the entire table list at every level.
Cash games on Ignition Poker mobile look like a facsimile of the desktop software, with the exception of more advanced things like hand replays, resizing, and table colors.
Limitations of mobile
The only major limitation for cash games is the lack of multi-table ability and the fact that you can't use your phone for anything else at the same time.
You can't be notified when it's your turn to act as you can on desktops with forced focus or a flashing taskbar.
Since you can only have one window open, it's why I almost always play Zone Poker over standard cash games on Ignition Poker mobile.
If you're playing a classic cash game, be sure it's at a high enough level to keep your interest or use it as a second leisure activity like I know some of you have the brain capacity to do.
Let's hope you set the bathroom as the limit, but who am I kidding?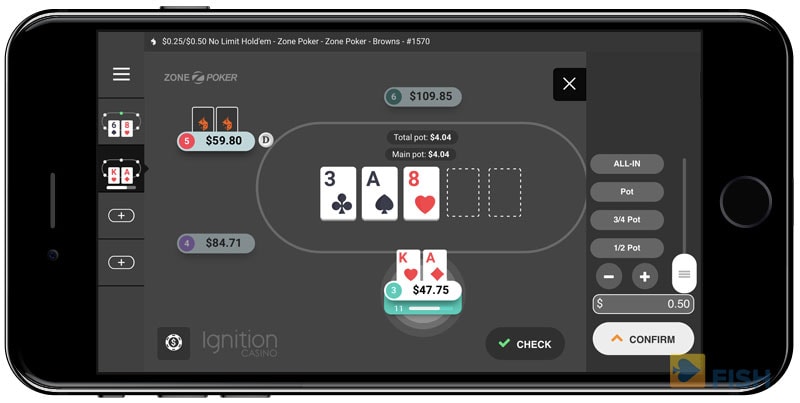 Tournaments used to not be available on mobile
The one big feature Ignition Poker could add in the future is a multi-table tournament or standard Sit and Go function, with the latter seeming more appealing to me.
I think a multiple-hour multi-table tournament is probably still the realm of desktops, but it would still be nice to have on offer.
Note that since the last software update, Ignition Poker now added Sit and Go and multi-table tournaments to mobile. Just click the navigation menu in the top-right corner to switch game modes.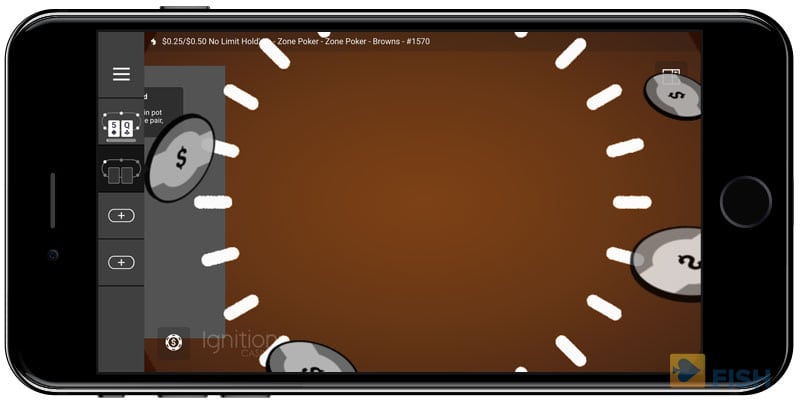 Why Ignition's mobile offering is so important
I spend a lot of time discussing the mobile section of Ignition Poker, but that's because it's so essential.
In a US market where everyone else is clueless, this is the only legit mobile option you'll find. Fortunately, it's an excellent first and last option.
How To Play Ignition Poker on Mobile
Note that Ignition Poker has now simplified this process with the latest major software update. You no longer need to bookmark them to your home screen. Just go to the Poker section of the Ignition Casino website and you'll get right into the lobby. Ignition also added the ability to play any tournament or Sit and Go on mobile, which wasn't available before.
The Ignition Poker mobile client works incredibly well for both cash games and quick-fold Zone Poker.
The only drawbacks are the lack of multiple tables and tournaments, but it's ideal if you just want to play a single cash game or Zone.
There is no app download required, but the Ignition mobile client still gets stored on your phone for easy access later.
Getting set up with the mobile client is quite simple and straightforward, but here's all you need to know.
I did it on my iPhone 6s Plus, but the process is almost identical for Android. This also works on tablets.
If you already have an Ignition Poker player account, you can skip to step 3.
Visit Ignition Poker and click "JOIN" to create a player account. You can do this from your PC, phone, or tablet.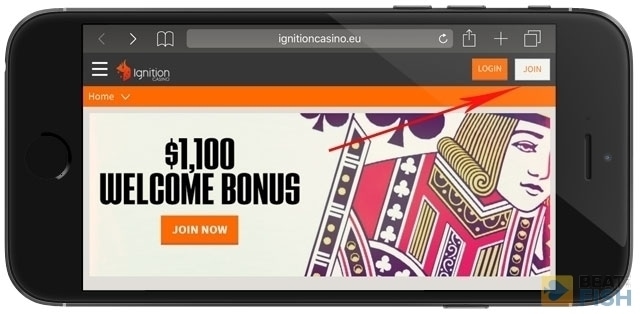 Fill out the registration form and sign in to your player account using your phone or tablet.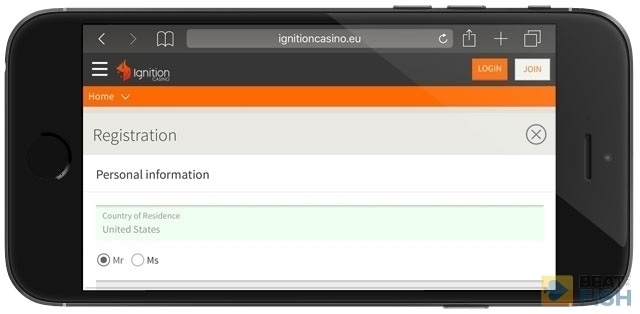 Click the hamburger navigation menu in the top-left corner and tap the poker section.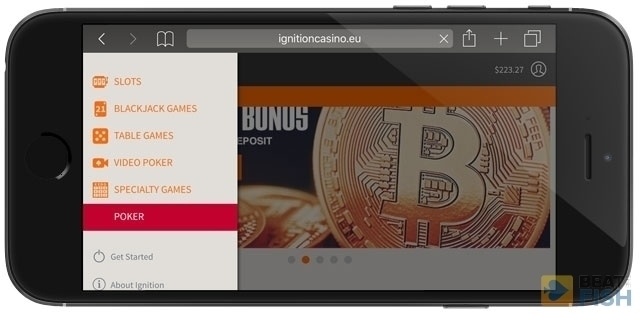 You'll see this screen load: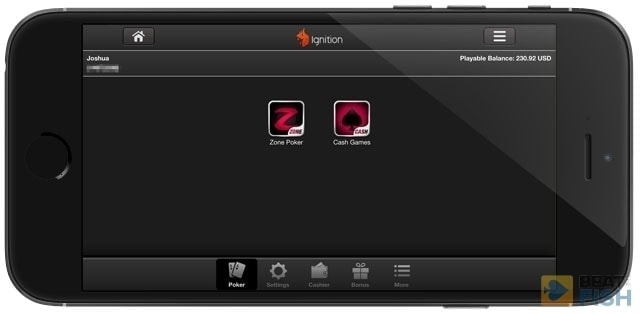 Tap on "Zone Poker" or "Cash Games" and you'll get this dialog box. Tap the share icon, which is a rectangle with an arrow on iOS.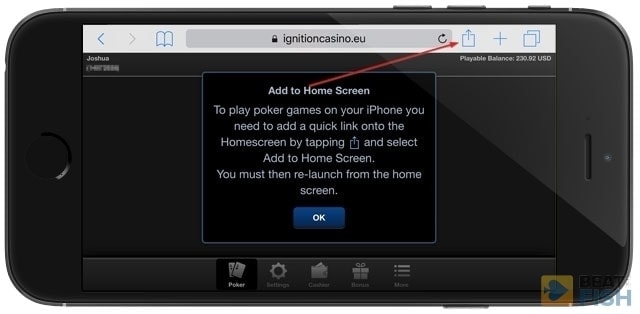 Tap on "Add to Home Screen".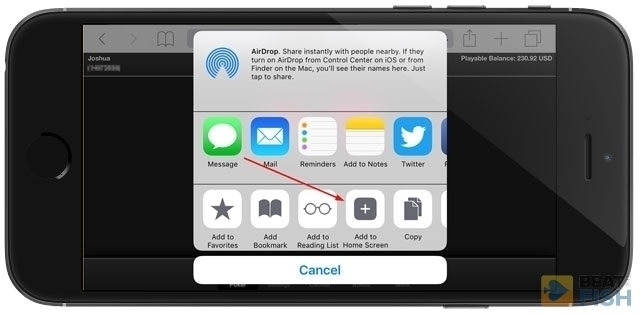 Name the shortcut whatever you'd like and tap "Add".
You now have Ignition Poker saved to your phone just like an app. You'll now find the Ignition icon on your home screen. Tap its icon to launch the poker room and log in.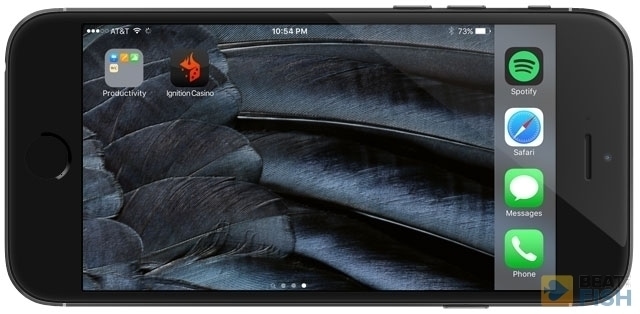 Choose a Zone Poker or a normal Cash Game. You can also now choose any tournament as well. The same tables available on the desktop client are shown here.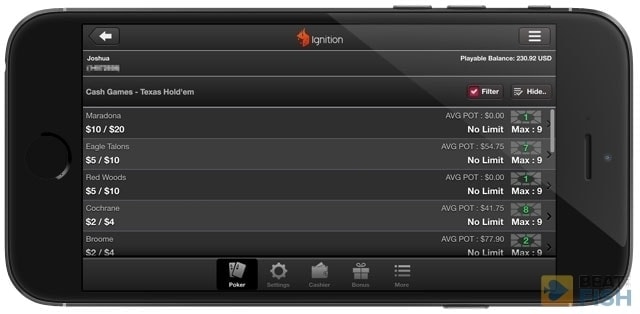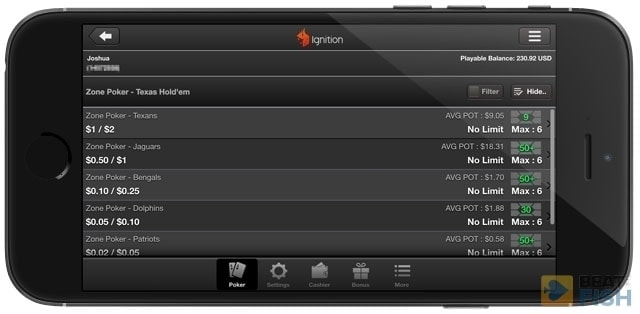 At a Zone Poker table you can fold at any point in a hand…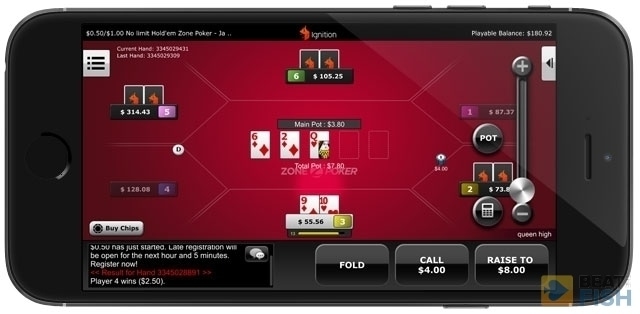 …and you're whisked away…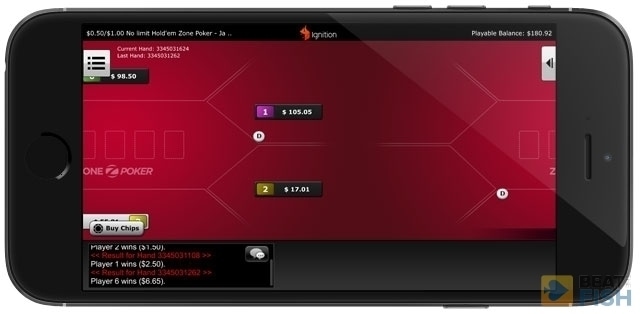 …to a brand new hand with new players instantly.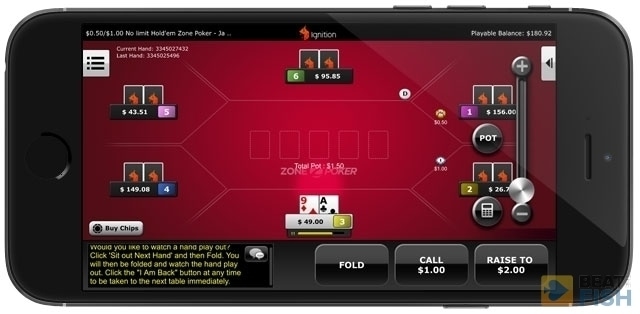 You're set.
Play tables on mobile just like you would on desktop with taps replacing clicks. Fliptroniks also has some very good video tutorials about the Ignition Poker app.
Use the slider on the right to make custom bets or tap the calculator icon to manually type in your bet amount.
Now you just have that little challenge of winning to go. Fortunately, that's going to come a bit easier at Ignition Poker thanks to the overall quality (or lack thereof) you'll encounter from this player base.
Exclusive Features at Ignition Casino
Zone Poker
If you aren't familiar, Zone Poker is what Ignition Poker brands its quick-fold poker iteration. Zone Poker uses software magic that allows you to play 200-300 hands per hour in rapid-fire format.
The first time I ever played quick-fold poker back in 2009 at the old non-Ponzi Full Tilt Poker, I was hooked in about -7 minutes.
Without a doubt in my mind, quick-fold poker is the best and most original development in online poker since the Sit and Go.
In fact, I would venture to say it's even better.
What is Zone?
Zone Poker improves on the quick-fold formula with anonymous tables, completely guaranteeing that you can't be tracked by opponents even across a single session.
The total player count for each limit is pooled together as a single entity, rather than tie everyone to a single table.
As soon as you fold at any stage in your hand, you're brought to a new table full of 5 other players who have also just folded.
I would love to see Zone Poker available in a 9-seat format, but Ignition Poker currently only offers it in 6-seat format.
Anonymous tables are brilliant
Anonymous tables is an ingenious feature that was introduced in 2011 by Ignition ancestor Bovada to combat players armed with stat tracking programs. It also rendered websites keeping historical data on players useless.
The timing couldn't have been more perfect, as interest in poker has waned over the past decade and the rush of new recreational chip-donators has slowed to a trickle.
With poker game fields becoming tighter and tougher, Ignition Poker took action to make sure their perennially-soft games stayed inviting to inexperienced players.
How does it work?
Unlike many other poker rooms, you never see the screen names of other players at the table. Never.
Each player is simply identified by their chip stack and their seat number. It's a brilliant idea.
This still allows the genuine and human-powered data-collection that poker players have been doing for centuries: actually watching how the other players play.
If you're only playing a single table, you can still pick up tendencies by watching player "1" or player "5". That's going to carry you through the rest of your session until that player leaves the table.
Anonymous tables are a huge reason the games are loose here
What anonymous tables decisively eliminate is the software-driven data collection and heads-up displays that some experienced players swear by.
You can't look up a player's history with your tracking software because there's no way to identify players across multiple sessions.
This applies to Zone Poker, cash games, and tournaments. What this means is that new players can:
Sit down at a table and not be afraid they're being followed by someone who has their number
Not be embarrassed about a previous loss showing up on their record
Not have their playing tendencies revealed before they even play a hand
In the end, this gives Ignition Poker tables a 5-10% higher flop percentage over their peers and that's an enormous draw.
If grinders complain you know they're doing it right
Isn't a friendly environment to new recreational players what we truly want?
I've seen caterwauling about the Ignition Poker anonymous tables over the years by elitist grinders who can't use their favorite hidden advantage.
Do you know what I say to them?
Good. Please stay away and congregate on your favorite single-digit flop poker site.
Here's the bottom line:
Isn't it a good sign if the better players don't like it?
New Official Instant Play at Ignition Poker
Along with the more modern software design introduced in the latest update, the no-download option is another smart modern improvement by Ignition Poker. With how far browsers have come, there's no real reason you should have to download anything to play something simple like online poker.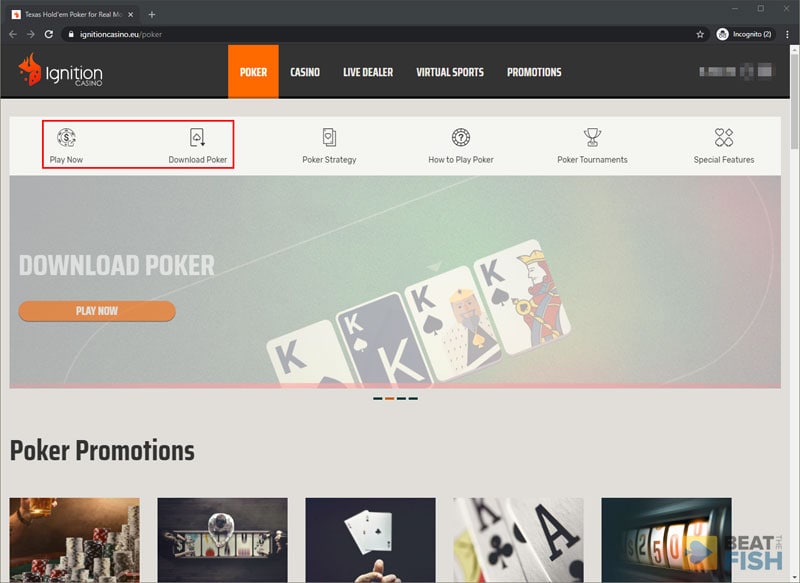 Poker sites like Global Poker and Nitrogen Sports, which debuted after Ignition Poker launched, don't require or even offer a download. Instant play within your web browser that scales for mobile is the future of online poker.
Because there's nothing to download, you can play up to 4 tables at Ignition Poker on any device or operating system, including Windows, Mac, iPhone, iPad, Android, or even something too cool for school like Linux. All you need is a web browser.
Once you log in to Ignition Poker, all you have to do now is click Poker, Play Now, and then choose your game options. All cash games, Zone Poker, and tournaments are available on the web-based software.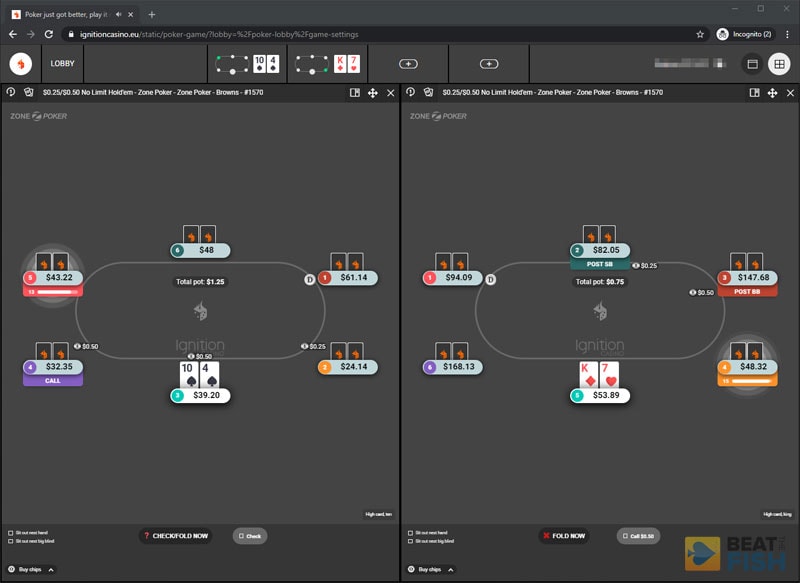 You can now multitable without downloading software
The biggest concern I have with no-download poker software is how it handles multiple tables. Fortunately, Ignition Poker does it very well for up to 4 tables.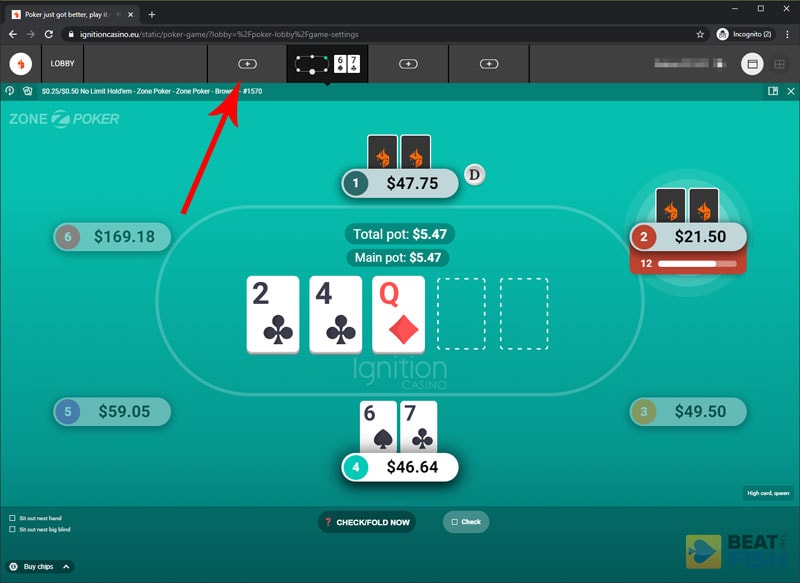 Along the top of your window, you'll see a grid that allows you add more tables. When you have more than one open, you'll see your cards and position right up there in each tiny rectangle. Even easier is the grid option that Ignition Poker added.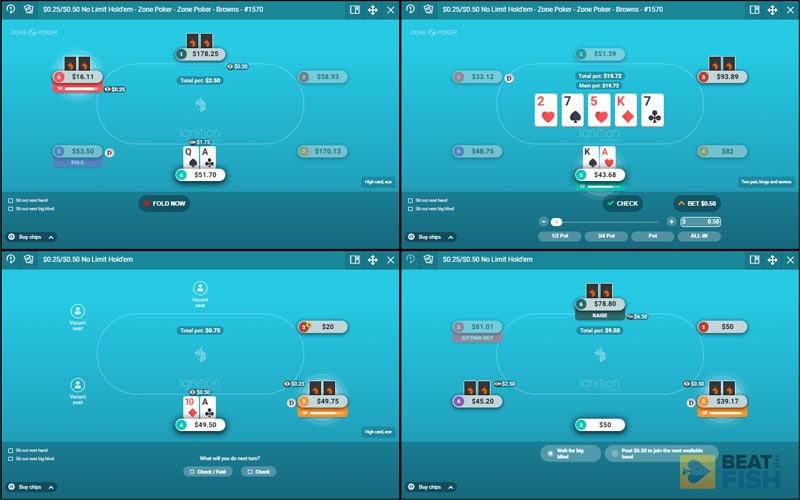 When you open a second table, you'll see your browser window split in half if you're playing at 2 tables, or into quarters if you're at 3 or 4. On a desktop, our screens are big enough and resolution high enough that you can easily see all the action at every table in one browser window.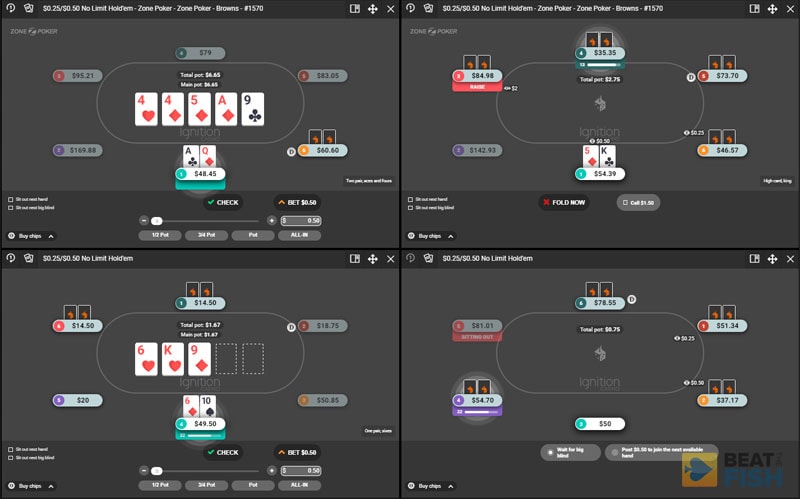 Ignition Poker still caps your Zone Poker tables at 2, which is a wise move. I think you'd have to be Johnny 5 to play more than that at once.
The internal dilemma of a tech-jaded individual
"Do I actually have to type in the website and take 4 seconds to download the software and install it?"
"Do I really have to confirm with Windows that, yes, I really do mean to install something that runs the risk of wrecking my computer, destroying the Internet, and starting World War III?"
"Once I finally get to open it, do I really have to watch that bar fill up in such a painfully slow way to make sure it has the latest update?"
"Do I really have to do all that just to uninstall it all over again so I don't look like a degenerate who can't go an hour without playing online poker?"
"Do I really have that 5 minutes to spare?!?!"
Yes, it's absolutely a shameful first-world problem and, yes, you probably think the same thoughts.
This hack used to be required for web-based poker games
Before the latest update, I discovered a little "hack" that lets you play on Ignition Poker right away. You can play some quick cash games from your computer without hurting your brain deciding if it's really worth it.
Ignition Casino has a great, albeit limited, mobile client that instantly puts phone and tablet users in games without downloading a thing.
I was frustrated that desktop players wouldn't have that same luxury, so I tried something.
How to play right away using no-download instant play
Visit Ignition from any computer. Your operating system won't matter as long as you're using a capable browser.
Log in or sign up for a new account.
You can deposit via the website as well if you still need to do that.
Manually type m.ignitioncasino.eu/poker/ into your browser.
You'll then see the poker lobby appear right away, allowing you to join any cash or Zone Poker game within your browser.
You're basically playing the mobile client on your desktop, but who cares? It works if you just want to grab some quick cash hands on a computer that you don't want to download software on. If you're on a Chromebook or a crazy non-standard OS, this works, too.
The only big limitation is the lack of any tournament play, which is a boneheaded oversight that I hope Ignition fixes at some point.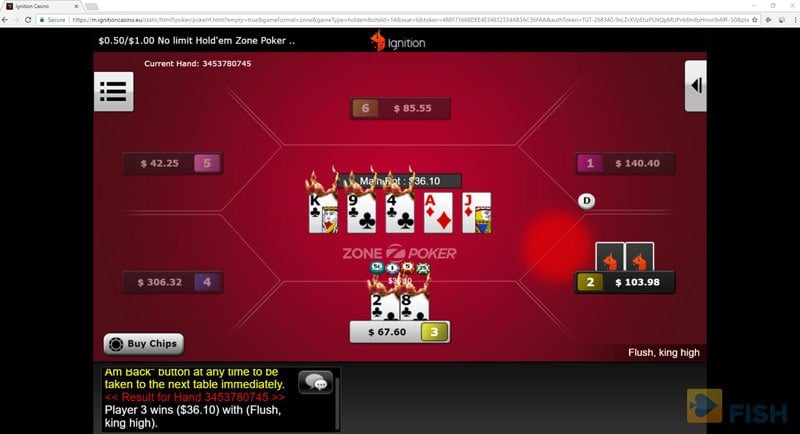 Note that Ignition Poker recently updated the software to officially support web-based instant play. You no longer have to download anything to play poker and it's glorious.
Ignition Poker and Bitcoin
As you start spending some time around Ignition Poker, there's one word you won't be able to ignore: Bitcoin. And for good reason.
The world's first viable cryptocurrency started trading in 2009, but only recently have better poker sites caught on to just how valuable it is.
Bitcoin is the best we've ever seen. Ever.
Unfortunately, most players have yet to take the time to get set up with Bitcoin.
As a fellow player who's had years of experience with payments before Bitcoin, I can tell you with certainty that you're making your online poker career more difficult by skipping it.
I hate to go into hyperbolic street peddler mode, but Bitcoin is the best system for online poker deposits and withdrawals we've ever seen.
It's simply better in every way than anything anyone in any country has used before. It's almost like it was invented simply for the online gaming market.
I just finished an incredibly detailed guide on everything you need to do to get set up with Bitcoin for every online poker room.
A few benefits of Bitcoin:
A linked bank account at your exchange to directly receive your money
No declined transactions. Ever.
Your bank will only know that you're sending and receiving money from a Bitcoin exchange
You'll get lower deposit minimums and lower payout minimums everywhere
Ignition Poker does not charge fees going either way for Bitcoin
Perhaps best of all, Bitcoin payouts are processed faster everywhere. At Ignition Poker, it's usually within 6-24 hours.
What does it take to get set up?
I'm sure that all sounds great, but you're probably wondering what exactly is necessary to get set up on the Bitcoin side?
I have an overly-thorough (as I usually like to be) guide to Bitcoin here, but, really, this is the bare minimum:
Make an account at a reputable Bitcoin exchange. I personally have used Kraken and Gemini for several years with no issues at all.
Verify your identity and link a bank account.
Deposit however much you'd like and it will be converted into Bitcoin.
Install a Bitcoin wallet on your desktop or phone. I use Bitpay or Electrum on my desktop and Bitpay or Bread on my phone.
Send your Bitcoin from the exchange to your Bitcoin wallet.
Follow the poker room's instructions for sending them a Bitcoin deposit.
Your funds are now instantly available for play.
Seriously, that's all that you need to do.
How about Bitcoin payouts?
When you're ready to withdraw, just give Ignition Poker your latest Bitcoin receiving address from your wallet.
Sell it at the exchange for money deposited back into your bank account.
We've never seen anything this private, easy, and successful for poker deposits.
Spread the word and don't ever bother with another method again.
Ignition Poker Bitcoin Options
| | Minimum | Maximum | Fees | Frequency allowed | Timeframe |
| --- | --- | --- | --- | --- | --- |
| Deposits | $25 | $5,000 | None | No limit | Instant |
| Withdrawals | $20 | $5,000 | None | Every 3 days | 24-48 hours |
How to Deposit With Bitcoin at Ignition Poker
By its nature, Bitcoin is so simple to use that you'll eventually be confident enough to switch windows and copy-paste huge alphanumeric strings like a pro.
The first few times, however, it can feel a little intimidating.
I'm also assuming you've bought Bitcoin at an exchange such as Kraken and have downloaded a Bitcoin wallet.
Let's walk through it:
From your Ignition Poker software, visit the cashier and click "MAKE A DEPOSIT". You can also do this from the mobile client.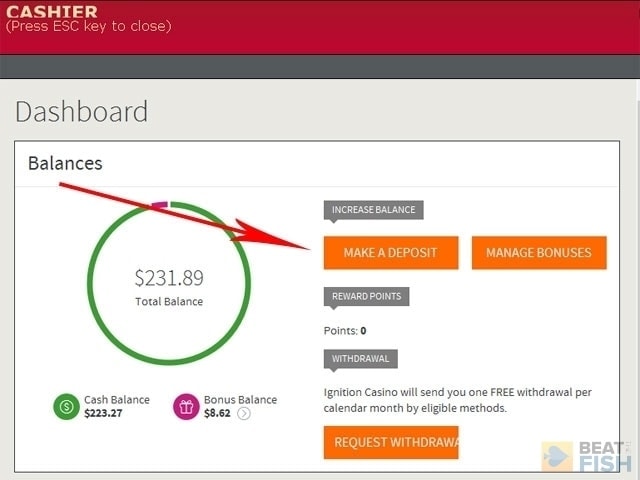 Choose Bitcoin as the deposit method.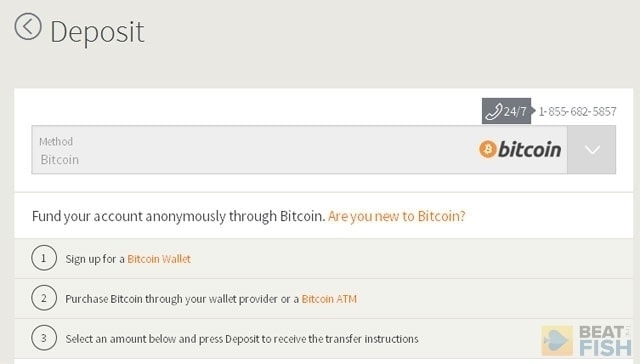 Choose a deposit amount. I did $100 here. For me, there was a field to give the last 4 digits of my SSN, but I didn't see it on future cashier visits.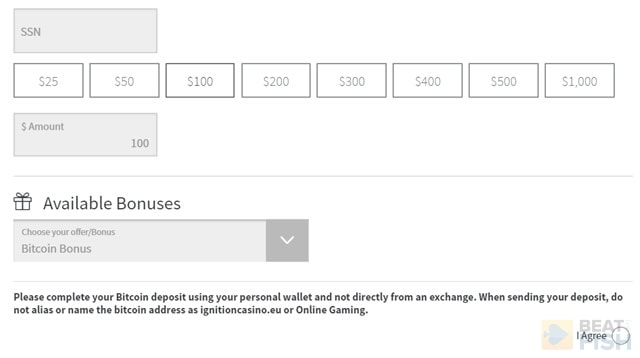 After you click "DEPOSIT" you'll see this key screen. Copy the wallet address like I did.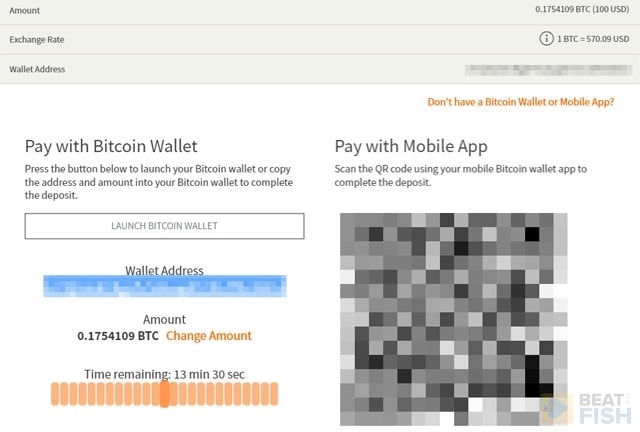 Open your Bitcoin wallet and click "Send". Here is where you'll paste in the address you copied from the Ignition cashier. You must send the exact BTC amount shown in the Ignition cashier. $100 happened to be 0.1754109 BTC on the day I did it.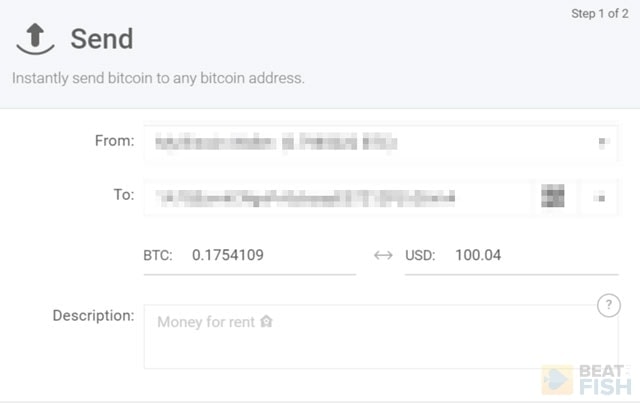 Confirm the transaction by clicking "Send". You'll see a tiny fee added, which is required by the Bitcoin ecosystem.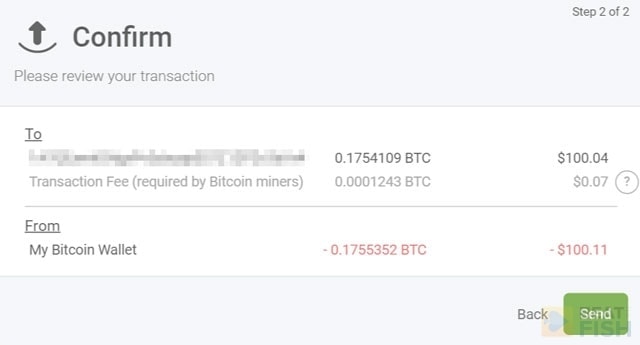 Return to the Ignition Poker cashier and you'll receive a success message within 5-10 seconds.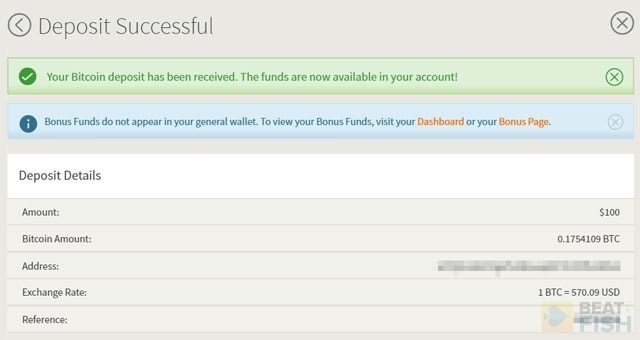 That's it! Your deposit will be added to your cash balance anywhere from instantly to about 30 minutes.
Be proud that you just executed a private hassle-free poker deposit using cryptocurrency.
Ignition now just gives you a deposit address
Ignition Poker has recently updated their Bitcoin deposit system, with a subtle but convenient change. Instead of having to select your deposit amount, Ignition now just gives you a Bitcoin address and you send in what you'd like.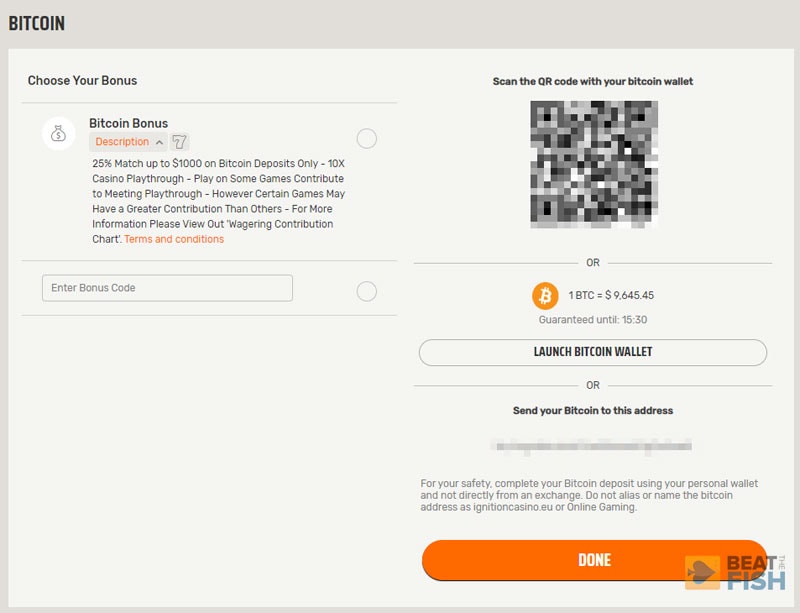 The only drawback to this new Bitcoin deposit system is it looks like Ignition Poker is no longer crediting your account with the money right away. For my latest Bitcoin deposit, I still had to wait the requisite Bitcoin network confirmation time (24 minutes in this case) to see it in my Ignition account balance.
How To Withdraw Using Bitcoin at Ignition Casino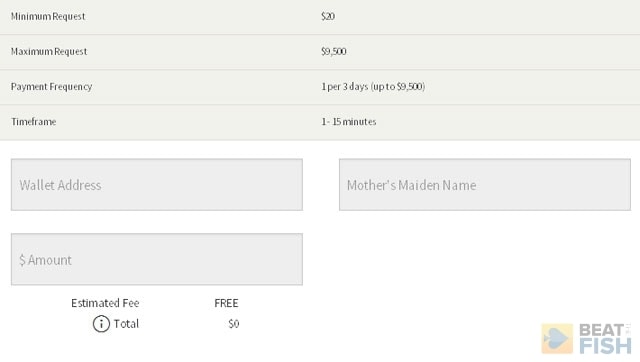 Open you wallet such as Bitpay, Electrum, or Bread and copy your wallet's receive address.
Click "REQUEST WITHDRAWAL" in the Ignition Casino cashier.
Paste in the wallet address you copied, fill in your mother's maiden name, and the amount you'd like to withdraw. Ignition Casino doesn't charge any Bitcoin fees going either way.
Wait 24-48 hours and you'll receive your payout directly to your Bitcoin wallet.
That's it!
List of what you can do next with your Bitcoin
Sell it back to an exchange and have money transferred to your bank account
Let it sit and ride the Bitcoin market
Make a purchase somewhere that accepts Bitcoin
Deposit it at another poker site
Ignition Poker Deposit Bonus
Ignition Poker has increased their poker bonus cap 15x, meaning it's now 150% up to $1,500 if you deposit using Bitcoin. You'll also receive an extra 150% bonus that unlocks through casino play. That makes the total Bitcoin bonus value at Ignition $3,000.
If you deposit using a credit card, Ignition Poker gives you a 100% bonus up to $1,000 for poker and another 100% up to $1,000 for casino play. That's a total bonus of $2,000. You can check for current Ignition Casino bonus codes as well.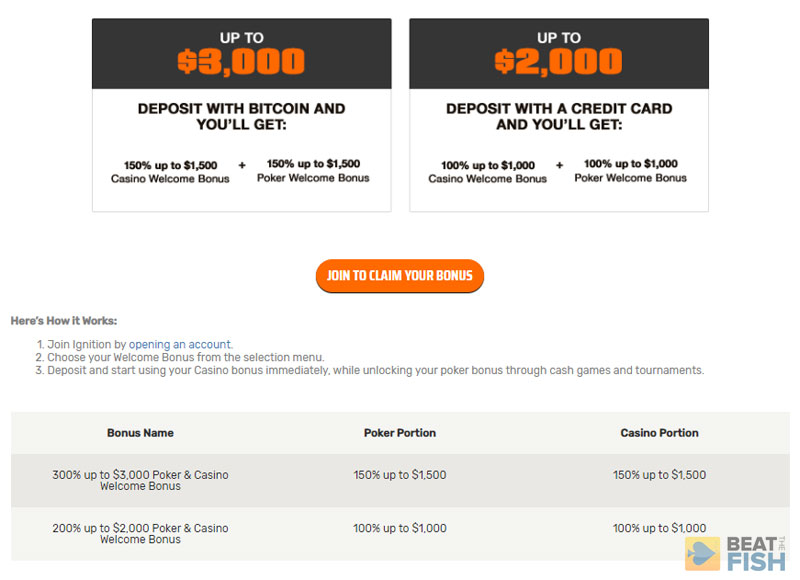 PSA: If you're a poker-only player and Ignition Poker gives you the option to choose your bonus, especially when depositing using Bitcoin, only choose the Ignition Casino Welcome Bonus.
It doesn't sound like the right offer, but it is if you want the 150% up to $1,500 through poker play.
If you choose the Bitcoin Bonus or the Weekly Boost you can only unlock it through casino play.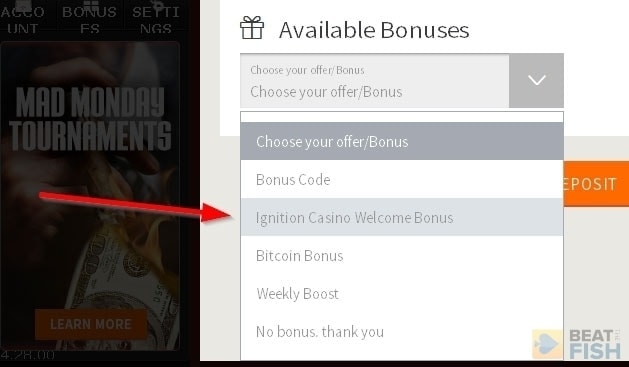 Ignition Poker quickly corrected its weakest area
When I first reviewed Ignition Poker at its launch, one area stood out as a missed opportunity: the weak poker-only bonus with a $100 cap.
While I still feel like the vast majority of online poker players won't earn more than $100 in bonuses anyway, it seemed unnecessarily stingy.
They corrected that weakness very quickly and have now increased the cap to 150% up to $1,500, surpassing many of their competitors' offers.
If you play Zone Poker at all (as I do a majority of the time), you'll also clear it at an excellent rate.
Too many promos for casino players only
Many of the promotions, including the entire Ignition Rewards program, are geared entirely to casino players and exclude poker as a qualifying game.
Over time, I hope that Ignition Poker realizes the value of appealing directly to poker-only players, as they have been a significant part of the Bovada clientele for years.
Why bonuses just aren't that important
That being said, my overall philosophy of rating an online poker site places less significance on flashy deposit bonuses and promotions than most.
Those things are great for ads and distracting players away from more important issues, but in today's poker world players generally have other priorities.
As the poker industry has shrunk and dependable fish-filled sites have become the exception rather than the rule, bonuses and promotions have become more stingy, convoluted, and the exclusive domain of full-time grinders.
The bonus is big and straightforward
Few bonuses come easy these days, which is why there's something to be said for the simplicity of the offer at Ignition Poker.
The actual poker-only bonus has been increased to 150% up to $1,500 if using Bitcoin. You've got 30 days to clear it and Zone Poker is your best bet to do so.
Easy bonus release rules
Besides the large $1,000 cap, what I like about this bonus is that it's very straightforward.
It's released in these stages:
Ignition Poker Bonus Chart
| Total Poker Points Required | Bonus Released | Total Bonus Earned |
| --- | --- | --- |
| 15 | $5 | $5 |
| 85 | $20 | $25 |
| 185 | $25 | $50 |
| 400 | $50 | $100 |
| 1,000 | $100 | $200 |
| 2,500 | $200 | $400 |
| 5,000 | $250 | $650 |
| 10,000 | $350 | $1,000 |
That boils down to $100 free for earning your first 400 Poker Points.
However, as I always preach, the release rate number is so much more important than the eye-popping PR-friendly bonus cap number.
My bonus release data
My bonus release tests on standard cash games were done at $.50/1 NL Hold'em, which seems like a nice median game limit that many players frequent.
Here's what I found:
Standard cash games earned me about 3-5 Poker Points per hour per table. That equates to about $1-1.65 of bonus released per hour per table.
That is about par for the course and unremarkable.
Zoom is perfect for Ignition Poker's bonus
However, the hidden bonus value lies in Zoom Poker, of which Ignition Poker is the only to offer in the US.
Using Zoom Poker at $.50/1 NL Hold'em, I earned up to 40 Poker Points per hour per entry, which is up to $10 in bonus release per hour.
That's a phenomenal rate.
If you're comfortable with Zoom Poker at all, you'll clear your bonus at an excellent clip.
Release rate changes as you get to the higher tiers
The release rate is excellent for your first $100 of bonus cleared, but Ignition is a little sneaky in that they require more poker points per dollar if you're entitled to more than that.
How much tougher is it? Let's take a look:
Ignition Poker Bonus Release Rate Chart
| Bonus Release Tier | Average Bonus Per Hour |
| --- | --- |
| 1 | $13.33 |
| 2 | $11.42 |
| 3 | $10 |
| 4 | $9.30 |
| 5 | $6.66 |
| 6 | $5.33 |
| 7 | $4 |
| 8 | $2.8 |
Note: Average release rate was calculated at Zone Poker $.50/1 NL. Adjusting the stakes will alter your release rate.
Averaged out, you would get $100 for 10 hours of play ($10 per hour), and if you're clearing a full $1,000 that would take a whopping 250 hours ($4 per hour).
All of those numbers are much better than I've seen at other poker sites.
The bottom line on the Ignition Poker bonus
Ignition Poker now has one of the top-tier bonus offers after they increased the cap to $1,000.
Personally, I care very little for what the bonus offer numbers look like and more about how easy they actually are to earn.
The bottom line is that if you're playing Zone for a decent amount of time at medium stakes or higher, you're very likely to clear all of your bonus funds in the 30 days you're given.
Even though it is progressively a little tougher to unlock as you clear more, the overall release rate is still excellent.
Other promotions
The other 3 poker promotions come around very infrequently, but you still need to keep them in mind.
The Royal Flush bonus
Ignition Poker has a Royal Flush bonus that awards you 50x the big blind of the table you were sitting at for hitting that pinnacle of poker hands.
It can't be on a heads-up table and it doesn't have to go to showdown, but you had to stay in long enough to actually hit the Royal. Folded hands that would have hit it don't count.
You actually have to submit the hand number manually to the poker room, so you should keep in mind that this exists.
The Bad Beat bonus
There's also a Bad Beat bonus that, again, can't be won on heads-up tables. You need to lose with Aces full of Kings or better and you'll get 100x the big blind.
Again, you have to submit the hand number to the poker room afterwards.
Points exchange
Finally, there is a Poker Points exchange system, but it can only be done for tournament tickets and not direct cash.
The exchange rate had me snickering a bit as it's 200 Poker Points per $1 of tickets, or 2% of the deposit bonus rate.
Your Poker Points also expire every year on June 1. Not a particularly generous system.
Parting shots on promotions
As you see, the promotion section could use some work as Ignition Poker matures. Or maybe it doesn't need it.
They increased the bonus cap 10 times to $1,000, which was a nice touch and done very quickly after player feedback.
Everything else this poker room has going for it speaks for itself. Maybe they're smart to save the PR money for things for things that matter, like quick free payouts and new software development.
Ignition Casino Bonus Codes
| Deal | Offer Type | Description | Bonus Code |
| --- | --- | --- | --- |
| Ignition Casino Welcome Bonus | Coupon | 100% up to $1,000 on first deposit. 25x rollover in casino only. | Get voucher |
| Ignition Poker Welcome Bonus | Coupon | 100% up to $1,000 on first deposit. Earn Poker Points to clear. | Get voucher |
| Bitcoin Bonus | Coupon | Unlimited offer for Bitcoin deposits. 25% up to $1,000. 10x rollover in casino only. | Get voucher |
| Cash Bonus | Coupon | 10% extra on unlimited credit card deposits. 50x rollover in casino only. Not valid on first deposit. | Get voucher |
| Tell a Friend | Promotion | 200% of their first deposit, up to $100. 25x casino rollover. 3x Poker Points per $1 cash. | None needed |
| No-Deposit Casino Chip [EXPIRED] | Promo Code | Instant $5 in real money to use in the casino. | REVFREE5 |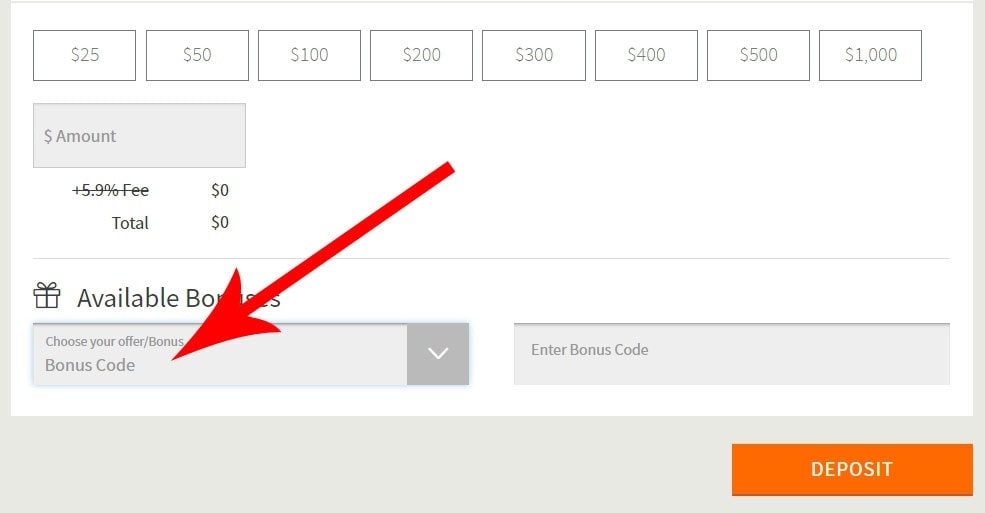 Ignition Poker No-Deposit Bonus
Note: This offer has now expired. It's unknown if it will return in the future, but it was extremely restrictive and required an insane rollover. It won't be missed.
However modest in size, any poker site that shows enough faith in their product to give players something extra without a guarantee they'll ever earn it back stands out to me.
888 Poker has a great (albeit somewhat misleading) $88 no-deposit offer, but, of course, they don't accept US players.
BetOnline has over $100 in free bets, but they it requires a deposit first.
Instant $5 no-deposit bonus chip
Ignition Poker? They actually have a $5 no-deposit bonus – for trying out their slots, keno, and scratch cards. Cue the crickets.
As a poker-only player myself, I can hear my fellow Brothers and Sisters of the Green Felt groaning. I apologize for the anticlimax.
Sure, it's small and not directly poker-related, but it's worth mentioning since it's completely free and you don't have to make a deposit to get it.
How to get it
To get the $5 free you'll need to:
Ignition does this to get you to put their casino games in front of your eyeballs. This is the same group that operates casino-only sites like Slots.lv and Cafe Casino.
Think of it as free entertainment with the slim chance of turning it into winnings you can withdraw or transfer over to poker.
Strategy for actually making this usable
Let's take a look at the key Terms for this offer for some clues on how to build it up into something useful:
There is a 100x playthrough requirement
Only play on slots, scratch cards, and keno count towards the playthrough
Seriously? Seriously.
What you'll probably need to do is go on a serious slots run with the $5, because who wants to bet $500 on keno and scratch cards?
Bet the smallest you can per slot line if you want it to last longer. Fortunately, total bets can add up fairly quickly with slots, even if your balance doesn't move much.
You'll need to bet $500 in total to clear it for withdrawal or transfer to the poker room. If your free money survives that long, you'll probably be ahead a fair amount anyway.
You might as well claim it
Just know this is available if, you know, you want to throw some shade on Cleopatra and Zeus with spinning reels to blow off some rec-fueled bad beat steam.
For no-deposit offers in the US, this is sadly the best you're going to get.
Ignition Poker Deposits
The banking game stays the same
The cashier has remained the same with the transition from Bovada to Ignition Poker, and I couldn't be happier about that.
This group has impressed me with their banking prowess since I joined them in 2004.
In those days, they were one of the online sites that allowed direct checking account deposits and then withdrawals sent right back where they came.
Still one of the best
While those days have come and gone, Ignition Poker's deposit options remain one of the best in the business.
I think the financial connections the Bodog lineage has built over their 20 years in business gives them a major advantage.
Ignition Poker has 2 deposit methods?
At first glance, it seems like something is missing in the Ignition Poker cashier.
Two US deposit methods? It may be simplistic, but they've streamlined it to the two most efficient methods so players aren't intimidated.
Bitcoin deposits
Firstly, you have Bitcoin, of which I can't sing the praises of enough.
I've personally made several Bitcoin deposit at Ignition Poker, and it's always been extremely simple.
Select the Bitcoin option in the cashier, get the unique payment address, and send over the exact amount the Ignition Poker cashier tells you to.
It's then registered to your poker balance within about 20-30 minutes and usually much sooner.
The minimum Bitcoin deposit is very low at $25 and Ignition Poker does not take any fees.
Credit/debit card deposits
The other alternative is using a credit or debit card, of which you probably have a half-dozen in your wallet right now.
I would estimate at least 4 (or 80%) of them will work at Ignition Poker
While BetOnline probably holds the crown for highest US credit card success rate, Ignition Poker is likely second.
For added privacy, they use third-party processors so it's unlikely to be tagged as gaming. That means you may have success even with pre-paid gift cards.
The minimum is very low at $25 and, while Ignition Poker has shown a field for a 4.9% fee for years, it's always had a strikethrough and said "FREE" for me whenever I've checked.
Maybe it's a clever marketing technique?
Other alternatives
If you're hoping for some of the more popular US deposit alternatives like cash transfer, wire transfer, cashier's check, or money order, I'm almost positive you can use them if you actually call the poker room first and ask for details.
They just don't like to advertise banking options that aren't commonly used by players.
Ignition Poker Deposit Methods
| | Minimum deposit | Maximum deposit | Fees | Approx. success rate |
| --- | --- | --- | --- | --- |
| Bitcoin | $25 | $5,000 | None | 100% |
| Credit card | $25 | $1,500 | 4.9% (usually waived) | 80-90% |
Ignition Poker Payouts
Payouts are the key to their long-term success
I think that, despite whatever bonus, Fish Rating, or software advance has brought players to this brand, over the years the payouts are what has really allowed their reputation to reach a cut above other US sites.
They've never had a payout scandal, with the closest thing I can remember being slight delays after the UIGEA in 2006-2007.
They've always had quicker payouts than their US competition
They do not pass processing costs on to players
Minimizing fear
Often overlooked, but never straying far from the back of a US player's mind, is the fear that their bankroll will vanish one day as their chosen unregulated poker home will be shut down or the operators will just disappear with player funds.
Ignition Poker and their previous brand names have managed to minimize that fear by coming through over and over again since the early 2000's. I've seen it personally with countless payouts over the past 14 years.
Ignition Poker's Payout methods
Payouts are streamlined to a few proven methods, which seems to be the prevailing theme of the cashier. You can request a maximum of 3 payouts per month.
That limit is a little annoying, but I would estimate 95% of players don't need to cash out more than once every 10 days.
Bitcoin
Bitcoin is unquestionably what you should turn to first and, really, you're doing yourself a disservice if you don't bother to learn how to use it.
With Bitcoin you'll get the fastest payouts at Ignition Poker and the lowest minimums.
You can request Bitcoin payouts for as little as $20 with no fees. Ignition also decreased the processing time to as little as 6 hours. No other method can say that.
Paper check
The next option you'll go for is paper check and I like how Ignition Poker handles them.
First of all, you'll get one free withdrawal each calendar month by any method, which is a nice touch and not offered by many competing sites.
Most US poker sites have both high minimums and/or possible fees, which is designed to limit payout requests and pass on costs to players.
Ignition Poker only sends checks out via courier so you get them quicker and they can be tracked. You'll have it within about 10 days – often sooner.
Wire transfer
Finally, Ignition Poker offers wire transfers, which is fairly rare in the US market. These can only be used for payouts over $1,500, but you receive your funds directly to your bank account.
The big sacrifice for wires is in privacy, as your bank will see that you're receiving an international payment and who exactly it's from.
Gaming sites use third-party intermediaries of course, but it can still invite intrusive conversations when dealing with American banks. Ignition Poker is one of the only other USA poker sites doing direct bank transfers, along with Global Poker.
A little better and a little faster
I still trust every US-facing poker site I list on Beat The Fish to deliver when it comes to payouts.
I've dealt with each of them for a minimum of 5 years and wouldn't link to them if I had any form of payout trouble.
However, Ignition Poker just does it a little better and a little faster. What it all comes down to is this:
If I had to trust one American-facing site with my bankroll, it's going to be Ignition Poker every time.
Ignition Poker Payout Methods
| | Minimum withdrawal | Maximum withdrawal | Fees | Allowed frequency | Approx. time to delivery |
| --- | --- | --- | --- | --- | --- |
| Bitcoin | $20 | $5,000 | None | Every 3 days | 24-48 hours |
| Check via courier | $100 | None | 1 per month free; $75 | Every 7 days | 5-10 business days |
| Wire transfer | $1,500 | $1,000,000 | 1 per month free; $50 | Every 7 days | 5-10 business days |
Ignition Poker Fish Rating
They've always been softer than the pack
When I think back on my many years at the ancestors of Ignition Poker, one of the most enduring positive feelings is about how loose the cash games have been compared to their peers.
Back in the golden years, that would mean 9-seated tables with flop percentages of 40-45% and average pots of 30-40x the big blind.
Yes, really. I always attributed it to the bleed-over from the gamble-centric cocky sports players that largely dominated the clientele.
It seemed to go hand in hand with old (still?) owner Calvin Ayre.
Ignition is still different than most of what's out there
These days, online poker is a different beast where the tight-fisted sharks often outnumber the fish.
The biggest poker room in the world – PokerStars – spreads games that sometimes literally offer single-digit flop percentages.
Fortunately, Ignition Poker still beats out just about everyone when it comes to beatable games.
They've tightened up in the past half-decade just like the game has worldwide, but they're still the loosest.
You just have to grade on a curve.
9-seated tables do still exist
Ignition Poker has popular cash games with both 6 and 9 seats, with the former outnumbering the latter about 4 or 5 to 1 until you reach the upper limits, where it's about an even split.
Your preference for shorthanded or full-table cash games is going to be individual, but personally, I'm glad that full-table games still have a large player pool Ignition Poker. They're sometimes on the endangered species list at other sites.
The numbers
Here are the usual numbers you'll run into for game selection:
For 9-seated tables:
Flop percentages usually range from about 25-30% with the occasional wild game at 40-45%
Average pots are about 15-20x the big blind with occasional games up to 30-35x
For 6-seated tables:
Flop percentages usually range from about 35-40% with the occasional wild game at 50+%
Average pots are about 10-15x the big blind with occasional games up to 20-25x
All of those numbers are about 5-10% above the median across the industry. That tells you that more players are seeing the flop and for larger pots.
These are the kinds of poker games you want
Although the variance is going to be higher, that's the ideal type of table you want if you have a skill advantage.
You're going to be paid off more often simply by betting for straightforward value.
My personal evidence shows that this is one of my most profitable sites, allowing me to play at even lower limits than I would elsewhere simply because my expected value is higher thanks to the higher action given.
Zone Poker is a special beast
One segment where you'll see slightly tighter games is Zone Poker, which is logical and follows the pattern of every other quick-fold version elsewhere.
As Zone participants can literally see a new hand at any time, there is much less incentive to play bad hands simply out of boredom or an itch for some kind of action.
Zone Poker only offers 6-seated tables and the flop percentage hovers at about 25-30%. Sometimes that climbs to the lower 30's. That's 10-15% less than the average 6-seated cash games.
Shift your play
Zone games can certainly still be profitable and they're exhilarating to play, but your style should probably shift into a more straightforward mode with fewer bluffs and more value bets.
Clever plays aren't necessary and are often counterproductive when you're facing off against new players every hand.
Ignition Poker Tables
| | Typical flop % range | Outlier flop % | Typical average pot | Outlier average pot |
| --- | --- | --- | --- | --- |
| 9-player tables | 25-30 | 40-45 | 15-20x the big blind | 30-35x |
| 6-player tables | 35-40 | 50-55 | 10-15x the big blind | 20-25x |
| Zone Poker (6-player) | 25-30 | 30-35 | 10-15x | 20x |
Ignition Poker Tournaments
I've never felt like tournaments were a big focal point at Ignition Poker, but the past couple of years of immense growth that has seen it grow to the #3 poker room in the world may change my mind.
Why I like Ignition Poker more than ACR for tournaments
There's no question that Ignition Poker is in the top 2 in terms of tournaments at US-facing sites, with their only competition being America's Cardroom.
After spending some time specifically evaluating their tournaments, however, I've found myself greatly preferring Ignition.
Here's why I like the tournament fields at Ignition better than ACR:
More events per hour, averaging 10+ during peak hours
More players, with everyday guarantees drawing 500-600
A full overnight tournament schedule
Lack of rebuys/add-ons!
They had me at the lack of rebuys
A quick note on rebuys/add-ons just in case they're as detestable to you as they are to me: Rejoice! Ignition Poker seems to agree.
Whereas many poker sites are embracing the trends of eternal late registration and nearly unlimited get out of jail free card rebuys, Ignition Poker offers very few events with rebuys.
They do offer a fairly long late registration of 14 levels (about 90 minutes), but I would say at least 90% don't offer any rebuys or add-ons.
Gimmicks favor lucky people
Sites like America's Cardroom love rebuys, as they collect extra tournament fees from recreational players and it boosts the prize pool numbers they can advertise.
For as much as I love to tear down barriers for recs in cash games, I get particularly annoyed when any player is given unlimited chances for re-entry.
It allows them to change the entire nature of the early rounds and places a greater emphasis on luck over skill.
The player fields at Ignition Poker is key for tournaments
Ignition Poker doesn't need to offer gimmicks to boost their numbers. They have so many players at this point that they can simply offer straightforward formats that regulars will appreciate.
As for the actual tournament schedule, it features about 10-12 events every hour during the peak weekday times of 5 P.M. to midnight EST. About 80% of them are guarantees, which is great.
The typical number of entrants can vary greatly, with Omaha events (about twice per hour) drawing less than 100 and the most popular nightly events like the $10k guarantee for $10 drawing about 1,000.
Most average Hold'em event turnouts are very good at 400-600 players.
Prize pool
Ignition Poker's Sunday events have the biggest prize pool money, with a $100,000 guaranteed tournament for a $150 buy-in and the $50,000 tournament for $50. Both draw about 1,000 players with the latter sometimes giving a slight prize pool overlay.
Because the $100k often is more like $125-150k with a lower buy-in, I greatly prefer it to the big ones at other US sites.
Top daily tournament selection at Ignition Poker
Some of my daily highlights include:
$8k guarantees twice a day. $10 and $20 buy-ins often with big overlays.
Daily $25k guarantee for $50.
$2k guarantees twice a day. Buy-ins $3-10 with 10-50k variants.
$10k guarantees twice daily for $10. Turbo and deep stack variants.
Popular Sit and Go's
Sit and Go's are straightforward and fill up quickly all the way up to the $200 level. The most popular variations are:
Hyper turbo with 500 chips
Omaha turbo
Double up
Triple up
The Triple Up isn't found at a whole lot of other sites yet and is a fun variation. These are 9-seated Sit and Go's that award 3 players triple their buy-in.
Due to the excellent player volume, you'll probably only wait for 1-2 minutes for any Sit and Go under $50 to fill up and about 5 minutes for the upper echelons of $100-200, which is the highest buy-in Ignition Poker offers for Sit and Go's.
There is also a steady stream of heads-up players at every limit up to and including $200.
It's like the olden days
Ignition Poker tournaments are the closest thing you'll find to the olden days: straightforward formats with no rebuys and lots of players vying for lots of guarantees.
In other words, nearly perfect.
Ignition Poker's Jackpot Sit & Go
It's kind of surprising, but Ignition Poker was the last of the major US-facing poker rooms to add the Jackpot Sit & Go. Ignition Poker also added Jackpot Sit and Go's to mobile, making it the only tournament type available on the mobile client.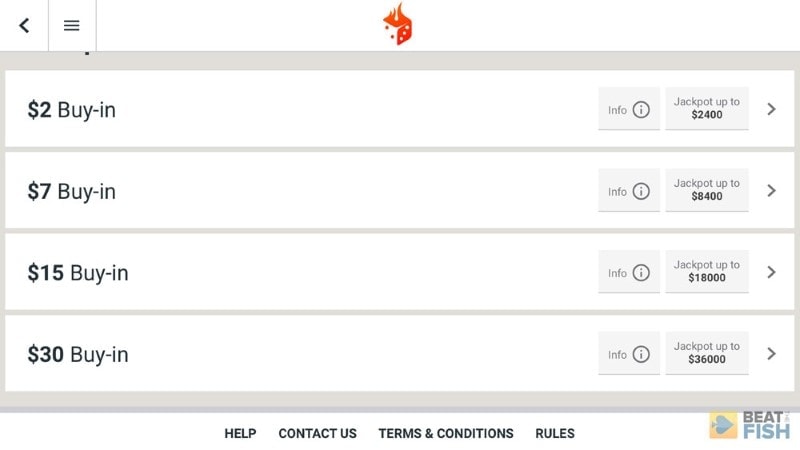 What is a Jackpot Sit and Go?
Jackpot Sit & Go tournaments combine elements of a normal Sit and Go with a random lottery-style prize pool.
They're open to 3 players and the blinds are hyper turbo style, meaning they're bumped up every 3 minutes. The winner takes the whole prize pool, except for the highest prize multipliers, which have an 80/10/10 split.
Players also only start on a short 500 chip stack, which makes the action devolve to all-in fests often.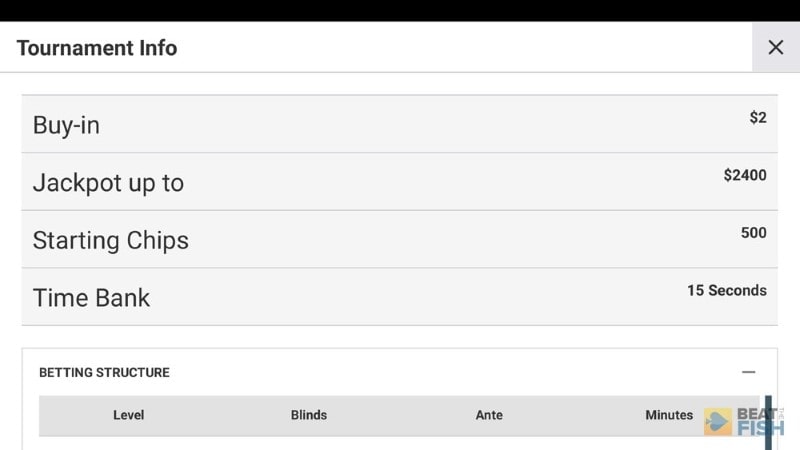 You'll rarely spend more than 10 minutes in a Jackpot Sit & Go unless you end up heads-up with someone who gives a care about strategy.
These are dumb, fast-paced Sit and Go's filled with gamble-happy shovers.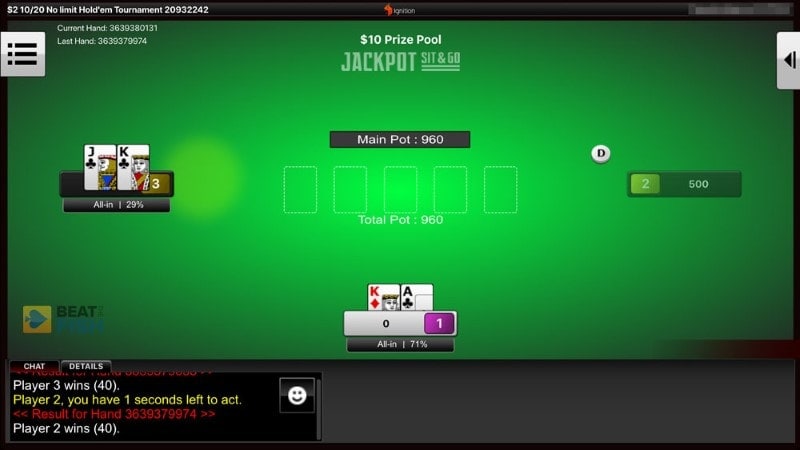 How the Jackpot prize pool is determined
You'll see a spinning reel settle on the prize pool before every tournament starts. There's about a 75% chance of 2x the buy-in and about a 25% chance of 5x the buy-in.
The hype Ignition Poker and every other poker site puts on their Jackpot Sit & Go's is in the potential lottery prize pool: up to 1,200 times your buy-in. Unfortunately, there's also a 1 in 100,000 chance of that happening.
Here's what you'll see before you start: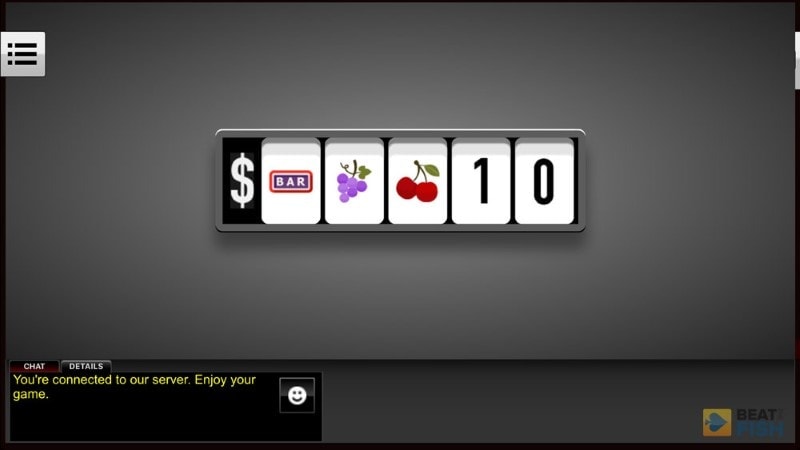 There are also infinitesimal chances to get 120 and 240 times the buy-in.
Most of the time you'll be irritated at getting the 2x and having to fight off two players just to double your money. However, the 5x does come around fairly frequently and can help soothe the frustration.
My verdict on Jackpot Sit & Go's
Jackpot Sit & Go's are fun on occasion when you just want some quick action that doesn't take long and feel like a gambling element of a potentially-massive prize. Ignition Poker likes to push them to mobile players, and that seems about right.
I'm glad they added some sort of mobile tournament function. For more strategic players, the novelty of Jackpots will probably wear off quickly. You'll probably get frustrated by the lack of strategy that quick blinds and a short stack afford.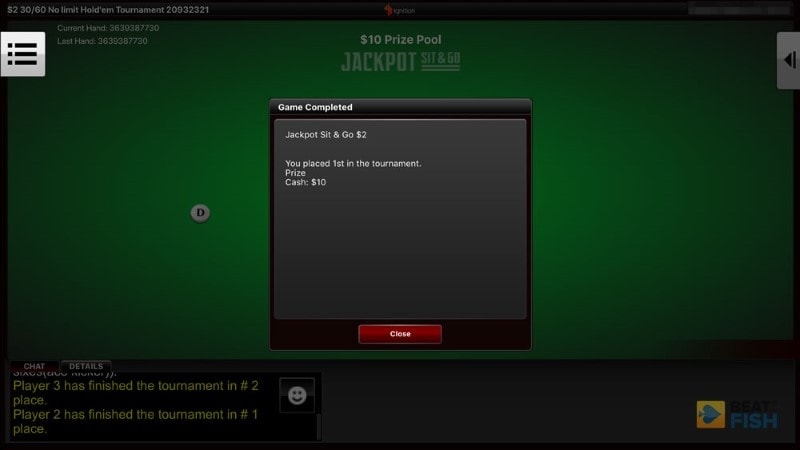 Ignition Poker Traffic
The third-largest in the world
As I was restricted by their management from discussing Ignition Poker for the past couple of years, I wasn't able to report on their meteoric rise in traffic.
I can't say enough about the resiliency of American poker players when an unregulated site that can't freely promote themselves is actually ranked #3 in the world in terms of player traffic.
They're also #1 in the US market by a wide margin.
They're more populated than massive European sites like Party Poker or Titan Poker.
How Ignition Poker did it
They've done it based on longevity and reputation. The people behind Ignition Poker has offered poker since 2004 and because of the trustworthy product, players stay loyal to them.
Real-world numbers behind the traffic
Their daily peak usually reaches about 2,500 players, with their cash game players taking up a large portion of that.
Cash games
Ignition Poker is unique in that they don't show you full tables of all things, so it's tough to gauge how many tables are active at each limit.
However, I can easily say that there are probably 10-20 tables full at each limit up to about the $1/2 NL level, 5-10 tables up to the $5/10 NL level, and scattered games up to the nosebleed $30/60 NL level, which is remarkable.
Even fixed-limit and Omaha fill up
Some fixed limit games still fill up to the $30/60 level, with about 25+ active tables during peak hours.
Even Omaha and Omaha H/L up to the $10/20 level, with probably 50+ active tables at peak times.
Zone Poker
Ignition Poker also offers quick-fold poker called Zone Poker, which is busy at all times.
There are more than 50 players (the software only ever lists the total players as 50+) at each limit up to the $.50/1 NL level around the clock, which is enough to keep the next hand instantaneous.
Tournaments
Tournament traffic is very good with almost every guaranteed event drawing 400 players. The largest guarantees like the Sunday $100K draw almost 1,000 players.
Sit and Go's fill up within a minute or two up to the $200 level.
A remarkable feat for a US site
Simply put, the traffic at Ignition Poker is excellent and unmatched in the US. You'll never be left wanting for available games or tournaments.
Dare I say it's the only US-facing poker room that non-US players would have a reason to play at.
The Ignition Poker Software
If Ignition can fix the occasional glitches, this is in my top 3 of poker software clients worldwide.
Anonymous tables, a download-free mobile client, Zone Poker, and easy on the eyes? That's how they earned my favor.
Major software update adds new features
Ignition Poker updated their poker software client with its most significant changes to date. The most noticeable updates are in the graphics. Gone are the skeuomorphic poker table textures, replaced with a completely flat design and as few lines as possible.
Simply put, the new Ignition Poker software now looks just like every other flat modern app, which is fine. It's clean and simple without the old table and carpet design.
Ignition Poker also added mobile play for every multi-table tournament, Sit and Go tournament, and Jackpot Sit and Go. This is a nice addition as you could previously only play cash games or Zone Poker on mobile.
Multiple tables on mobile and no-download play
The biggest development with the new Ignition Poker software update is that you can play immediately from any browser. You can still download the standalone software for Windows or Mac if you want, but it isn't required.
On mobile, this update actually makes an even bigger impact. Whereas Ignition Poker didn't used to allow mobile players to play at more than one table, you can now play up to 4.
Ignition Poker requires you to turn your device into landscape mode for mobile play, which gives a lot of width to work with. When you tap the plus to open a new table, you see a new bar appear on the left side with small icons to represent tables, position, and hands. Just like on desktop, you can see what you have on every table with one window.
The 3 most important parts
Right off the bat, it's worth noting that Ignition Poker offers 3 major software features that I'm a big fan of:
Anonymous tables
A mobile client that allows tournaments and multiple tables
Zone Poker via mobile
You can read more about those specific aspects above.
Windows and Mac native clients
Even though it isn't novel anymore, I appreciate that Ignition Poker does have a native Mac download.
In fact, they beat most of their US brethren by launching it back in 2012.
Along with mobile, offering native support for Mac when others weren't was one of the other foolish mistakes Ignition Poker fixed in the US market.
Of course, there's a native Windows desktop client as well, which works well with Windows 10.
Lobby quirks
The lobby is sorted by games and limits just as you've found at every poker site over the past decade.
The lobby does have a couple of unique quirks worth nothing, however.
No full tables
Full tables are not displayed, which is a first to me. There are also no waiting lists, which, again, is probably tied in to Ignition Poker wanting to keep the games loose.
How does displaying less information help keep games loose? At every other poker site showing table metrics, experienced players can scout out potential tables and wait for only those with softer flop/average pot numbers.
You have to take what you can get here.
No hands per hour
Average hands per hour is also not shown, although it has always felt snappy enough in my time with it.
Again, I would assume that Ignition Poker doesn't want to display any metrics that could stop players from joining.
The table experience
As for the actual table experience, I find Ignition Poker extremely intuitive and attractive. You're only identified by number so there are no custom avatars.
The felt and carpet can be changed to a half-different colors and the table shape from racetrack (think old Full Tilt if you were around back then) to one big segment with line dividers.
Each player falls under the spotlight when it's their turn to act and is allowed a full 30 seconds for each decision in addition to a time bank. That's a bit too long in my opinion.
Ignition Poker software customizations
There are a number of customizations, from a special alert when you're down to 5 seconds left to act, preferred seat placement, all-in percentages, hand strength, and folded hand display.
Stand-out features
Two options stand out here, which aren't found at many other poker sites.
One is the rabbit card, which shows the next card that would have been dealt if a hand ends before the river.
The other is the ability to show only one card after a hand ends, which is always vastly entertaining to me.
More software features
Each window can be resized from the default size, which is fairly low in total resolution.
I kind of like that as you can easily use the Tile functionality to see several full tables easily, even on a default 1920×1080 screen.
The hand history is also in an excellent graphical format that plays out like a video.
You can watch hands play out move by move, which shows you exactly how the hand played out. It's perfect for sharing screenshots, like I did under this section.
Glitches need to get fixed ASAP
The only knock that I have on the software that brings the score down a bit is the occasional connection glitch.
It doesn't happen often, but I've been in the middle of a cash game when the window becomes unresponsive or I receive an alert along the lines of the game being "unavailable".
Other players have reported similar random lapses. For me, closing and reopening the software was the only way to resolve it.
I'd like to think that this is due to the server transition from Bovada to Ignition Poker, but we just won't know until more time passes.
For now, it's an obnoxious, albeit fairly rare, quirk. I haven't had it interrupt a pivotal hand yet, but if I did, you'd better believe I would let their support team know about it and expect restitution.
Software summary: one of the best
Not a whole lot has changed graphically for the Ignition Poker software in the past several years, but I've always felt very comfortable with it.
Graphics are sharp, you've got plenty of advanced features, and the mobile version works flawlessly. Anonymous tables put it over the top.
New Feature: Quick Seat
Ignition Poker recently made another change that should be the last piece of the puzzle in deterring advanced table-finding tactics.
Even though bum hunting (following players identified as weak from previous sessions and sitting at their tables) was already foiled way back in 2011 via anonymous tables, smart players could still hunt the lobby for open tables with better metrics.
No more, as the software now only allows you to pick your game, stakes, and table size. The seating is left to to the Ignition Poker software algorithms. This is a trend that's taking off at most poker sites these days and count me as a fan, even as someone who's always taken advantage of table metrics.
The Goal
What Quick Seat prevents is an uneven "spread of the wealth" where learned players gang up on the looser tables while the tighter ones are left to languish even further. Players can no longer target tables with better metrics, namely higher flop percentages and average pots.
Theoretically, every table should now play about the same, since they're each seating a random sampling of players.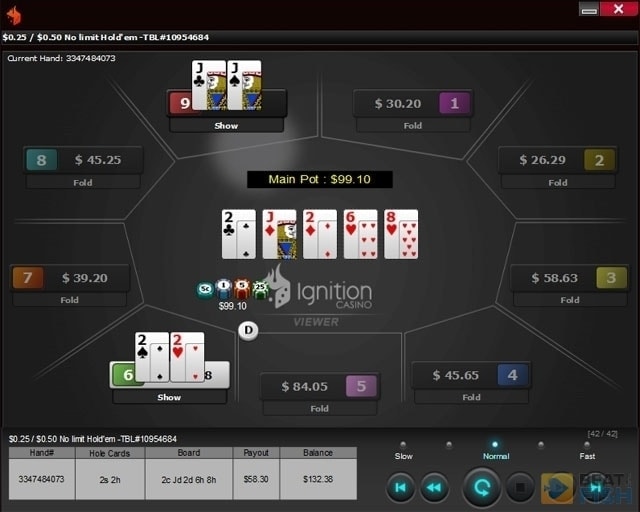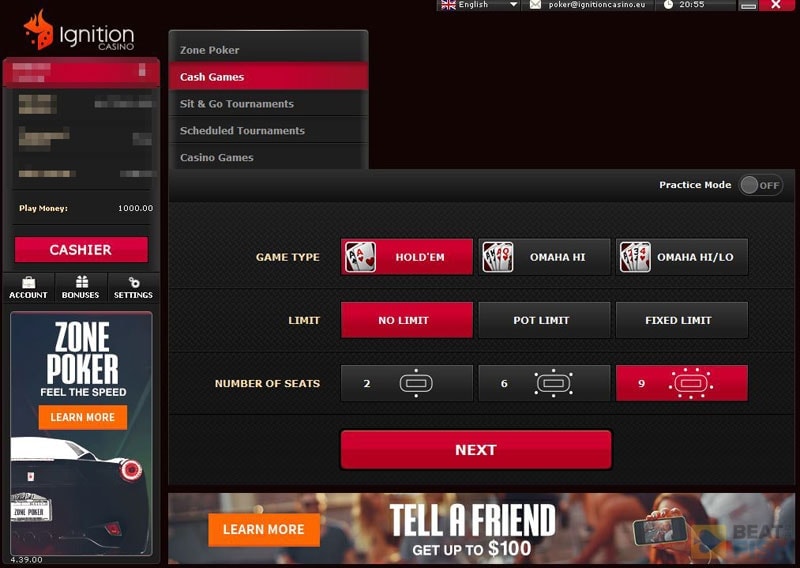 Ignition Customer Support
Email: poker@ignitioncasino.eu
Phone number: 1-855-370-0600
For some reason, most online gaming outfits try to get away with not providing a telephone number.
Really, they're just following the trend of companies around the world dodging customers with e-mail forms, recorded voices, and FAQ gates that don't even allow you to send an e-mail until you've searched their inadequate stock answers first.
They've always given you their number
Maybe that's why I've always respected Ignition Poker (while under their former names) for clearly providing their toll-free phone number at every turn. Phone support is open 24-hours every day of the year.
While the voice on the other end may have a distinctly un-American accent, they're generally very helpful and it seems as though they actually work at the poker room rather than an outsourced call center.
Secret telephone features
Actually calling Ignition Poker will unlock some features you just can't get on the website, such as specific deposit instructions for unlisted methods.
I also always highly recommend trying to negotiate a better bonus with a poker site that what's advertised online.
It won't always work, but especially if you're depositing more than a couple hundred dollars, the 50% or so of the time that it will work makes it worth the effort.
Live chat and e-mail are very good
Live chat has recently been added, which is a must from this spoiled antisocial player.
The e-mail address support is very-good-to-excellent. I sent in several test questions and had delays of: 2 hours, 1 hour, and 20 minutes before I received an adequate reply.
Is Ignition Poker Rigged?
Although I've received a lot of positive feedback from real players on the Ignition Casino Poker Room, I still get a few of these illogical rants trickling in.
I figured I would get all this out there before I received the next one.
If you've visited any website about online poker over the past 15 years, you've seen them before. This is the most popular one:
"Ignition Poker is rigged! The algorithms are biased to reward bad players to keep the action up!"
How about this one?
"Don't dare to cash out from Ignition or you'll get hit by the cashout curse! Dead cards and bad beats are in your future."
This argument has been lobbed at every poker site ever
I've been at this now for over a decade, and I'm dead serious that I've seen every single online poker site ever accused of this by players who have recently suffered bad beats.
You could literally copy-paste those complaints and fill in another poker site's name.
A poker site's reputation and longevity is irrelevant as you see these same fervent claims slung at the likes of PokerStars and 888 Poker, who have even been judged fair enough to operate in US states now.
The problem is there isn't really any evidence
The fact is that none of the casual claims of Ignition Poker being rigged (or any other poker site for that matter) are backed up by actual evidence.
Just low-stakes players with sob stories about how some guy made a ridiculous call and sucked out on their pocket Aces with 3-2 offsuit.
The samples you're getting are players behaving exactly as they're supposed to
I get the frustration. I absolutely do and I don't mean to talk down to low-stakes players, but you're talking about one of the loosest poker sites online at levels that don't feature a lot of good players.
You do remember that poker still has luck involved, right? If it didn't, there wouldn't be much of a game left, would there?
I trust Ignition personally
The short answer is that, no, I've played at the ancestors of Ignition Poker for more than a decade and it's never struck my mind that the games could be rigged.
I've won plenty of money here and cashed out plenty of times.
I've seen nothing in hundreds of thousands of hands that stands out to me as any different than what you'll find everywhere else.
Any site I recommend I trust, but that's especially true with this one. I would put my entire bankroll in their hands without a second thought.
Do what feels right to you
I'm also not trying to convince people who are angry and skeptical to trust Ignition. What's the point of getting so worked up?
If you're miserable and think Ignition Poker is rigged, then you shouldn't be playing there. If you think all online poker is rigged, then why play anywhere?
Do what feels right to you. I absolutely feel good about Ignition Poker, but if you don't, I'm not going to argue with you.
The most common Team Rigged howl: "Poker sites are designed to reward bad players!"
While anything is possible, I would put custom algorithms that reward bad players just under "Phil Hellmuth will sing the national anthem for the next WSOP," and "the US government hates online gaming because the software secretly contains the truth about alien abductions" on the scale of probability.
And this is coming from someone who believes at least half of the episodes of The X-Files are entirely plausible.
Let's start with the assumption that the end goal of every online poker site is to make money. I don't think that's really a stretch.
1. Skewing the game towards bad players doesn't actually make the poker sites more money
It would be a -EV move.
Why? Well, think about the psychology behind different types of players. Players who make better decisions are likely to be longer-term players than those who rely on sucking out.
Recreational players aren't actually more profitable
A recreational player there for the heck of it and just gambling it up isn't likely to stick around the game.
Even if Ignition Poker cheats and allows recs to win more than they should, eventually they're going to lose, because skill simply wins out over luck long-term in the game of poker.
Once a rec loses, he's much less likely to deposit again than a grinder who makes the right decisions and knows he has a skill edge.
Recreational players are less profitable for online poker sites like Ignition Poker overall so, if anything, financially they would rather keep good players than bad ones.
2. Ignition Poker makes money no matter who wins the pots.
Every poker room, whether it's Bellagio or Ignition Poker makes money through rake.
A small portion of every pot that goes to a flop is withheld and kept by the poker room. That's their bloodline.
As long as they keep dealing fair games, they make money hand over fist.
It makes no difference to them who wins the pot and, really, if they had their preference, it would be long-term players who win as they contribute the most rake over time.
3. Even in previous cheating scandals it was an individual, not an algorithmic base-level scam.
The most disgusting cheating scandal online poker has seen – the UB/AP "super user" scam back in 2008 – was an executive insider who rigged the software to view other players' hole cards.
Even then, he got caught.
Can you imagine a site that's been in business for more than a decade (and Ignition Poker has going back to the Bodog days) hiding that for this long, when even one crook couldn't get away with it?
4. The poker community is relentless in tracking games.
As much as I like to look at the numbers of my own play, the poker community as a whole (think 2+2 mainly) takes it to another level when comparing stats.
They're the ones who broke the story on AP/UB. They noticed the anomalies.
As strange as it might sound to have faith in a faceless online community, I honestly trust that they would never miss a site-wide scam because there would be an easy analytics trail.
If they could find a scam more than a decade ago, I trust those noble watchdogs to find it today with the largest US poker site there is.
Ignition Casino being rigged simply doesn't makes sense
In short, I believe the chances of Ignition Poker being rigged are very slim to none, simply because it doesn't really make sense.
You're looking at a very small sample size at Ignition Poker, which is a poker room that has some of the loosest tables online.
Bad beats actually mean you're making the right decisions
You're going to run into more bad beats at Ignition Poker, but that's honestly what you want: more players taking ill-conceived chances at you.
It sounds weird, but if you're seeing a lot of bad beats after the money goes in, it means you're making the right decisions.
It all balances out in the long run and you'll eventually be very grateful for players taking those chances on you.
Here's a new one I honestly received: "Ignition Casino is rigged! They want you to lose so they make more on deposit fees!"
The problem with with this off-the-wall accusation is that neither Ignition Poker nor any other poker room that I've ever known of makes money on "deposit fees".
If you go through all of their deposit methods (both advertised and unadvertised), almost all of it is free, so where are they making money on deposit fees?
Bitcoin is free, which is what everyone should really be using.
About the 5.9% fee you sometimes see
I know a lot of folks still use credit cards, and I've seen the field in the Ignition Poker cashier for a 5.9% fee.
It's also always been grayed out for me, so maybe they waive it if you haven't deposited in a while.
On the 5.9% fee, I can almost guarantee you that all of it (and possibly more) goes to the payment processors.
Ignition actually loses on enormous payment processing charges
All merchants pay fees on credit card transactions. Providing payments for US-facing online poker sites? Payment processors charge substantial fees and Ignition Poker eats most of those.
Nevertheless, they try to recoup some of that through that 5.9% fee.
What you get in return is a deposit that's almost guaranteed to work. It would be nice if they never charged it to anyone, but I don't think it's egregiously bad. Just my opinion.
Besides, I bet you could get Ignition Poker to reimburse you for the fees if you asked nicely with a cherry on top.
If you take the time to send in something like a cashier's check or money order to the poker site, that's also going to be free.
Cash transfers? They'll actually credit you for the fees if you deposit enough, which actually puts them out money because the fees are taken by the cash transfer services.
Of course Ignition Poker wants players to deposit, but not for deposit fees
Ignition Poker isn't making money on deposits. Of course they want players to deposit and play because they make their money on the rake and tournament fees.
If the argument is that they want players to lose so they have to deposit more, well what about the winners? Someone has to be winning the hands that put the bad beats on you.
They now don't have to deposit. If you have to deposit and they don't, doesn't it all just even out?
Sure, the players are worse here (and I'll take it every time)
By all means, if you don't trust Ignition Poker then you shouldn't keep playing there. You're going to run into more bad beats because the players are worse here.
I'll take that any day over the nit-fest at PokerStars. Poker odds simply dictate that, long-term, if you get your money in when you're a favorite, you're going to be just fine.
The variance is greater and maybe some players can't handle it
You're going to have frustrating sessions, no doubt. Maybe that even makes you quit the game or quit the site you're on.
But the simple math says that if you're really just getting sucked out on after the money goes in, you're going to be a long-term winner.
Not everyone has the patience or bankroll to handle that and that's understandable.
One of my favorites: "This would never happen in live games!"
One of my favorite arguments for Ignition Poker being rigged, which you also hear for every single other online poker room, is that you would never see this kind of play in live games. There must be bots or screwy random number generators for online poker rooms.
You must not play much live poker
My first thought is always, "You must not play much (or any) live poker."
Seriously, it feels to me that live poker and online poker sort of swapped player bases in the late 2000s to early 2010s when games tightened up considerably online.
Whereas online poker was the medium seeing 40-50% flop percentages and insane play, those sorts of games become the exclusive realm of brick-and-mortar cardrooms.
Many casual poker players are intimidated by the process of playing online and stick to live buildings with chips and cards.
Contrary to the caterwauling by a vocal minority, live games are honestly your best bet at really bad players these days.
The argument came from a $10 Ignition tournament
I recently had an Ignition Poker player write to me complaining about a in which a player went all in with 5-3 pre-flop and cracked his pocket Jacks after spiking two pair.
According to him, that would never happen in a live game, so it showed the Ignition games are rigged!
The best part? This was a $10 tournament. Of course no one would ever play crazy in a $10 tournament.
What you'll really see in live games
Do you want to know a hand I recently played in a live game for about $300?
I had pocket 10-10 and re-raised a poor early position player pre-flop to see a flop of 9-2-4. He check-called a big bet from me on the flop, then went all-in with what he had left on the turn when a 6 fell.
I called him and he turned over 9-6.
The river saved me when the board paired with another 2. The guy had the nerve to be frustrated, curse, and leave the table.
No, that sort of thing only happens with the rigged RNGs online.
I trust a friend who's played a lot more live poker than me
A good friend of mine is a poker lifer and has literally been playing for about 60 years. He doesn't play online anymore, despite my attempts to bring him back.
He also rarely plays in games smaller than $5/10.
The bad beat tales he tells me about live games for thousands of dollars would make the Ignition Poker stories I've heard curl up into the fetal position.
The bottom line on bad beats
If you really want to compare these games to live ones, you should thank your stars that you don't see even more bad beats.
Then again, if you're looking at things the profitable way, you should wish all online games really were like live ones.
Ignition Poker History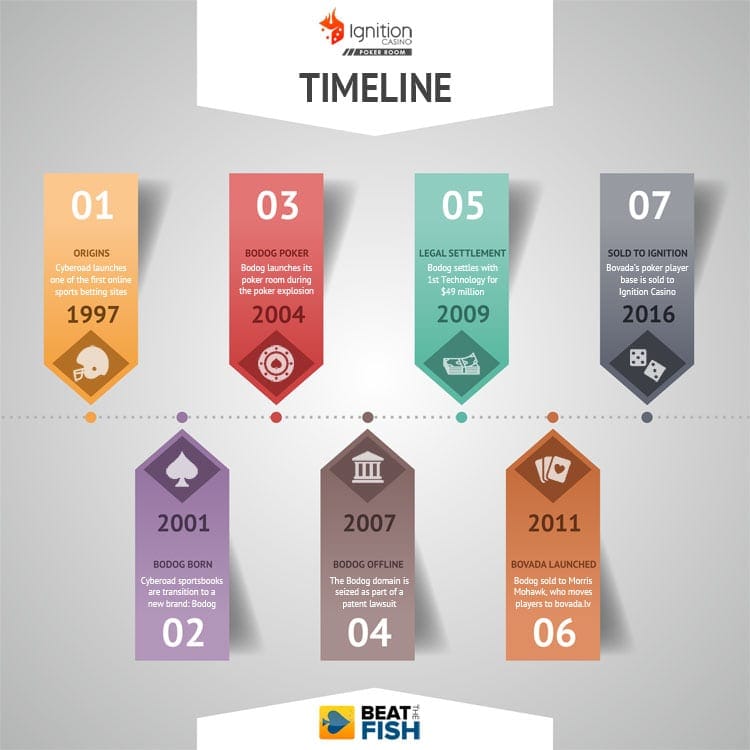 1997
A company called Cyberoad is founded, launching one of the first online sportsbooks.
1999
Cyberoad purchases the payment processing system eBanx.
There was strong indication that this was a dummy purchase and that Cyberoad was already the real owner. Calvin Ayre was the link connecting both entities.
2000
Cyberoad goes under and is purchased by El Moro Fiance Ltd.
2001
Players from one of the sportsbooks previously owned by Cyberoad receive an email from the new sportsbook called Bodog. It informed them their usernames and passwords would work on this new site.
Only later did it come to light that Calvin Ayre was, in fact, the man behind El Moro Finance, i.e. the one who purchased Cyberoad after he failed to raise the capital for the company.
2004
Bodog Poker launched. Professional players David Williams and Josh Arieh were signed to represent the site.
2007
Bodog faces serious legal troubles, as they are faced with a patent infringement lawsuit. The bodog.com domain name goes offline.
2008
Calvin Ayre publicly retires from the company.
2009
After experiencing severe financial and other losses, Bodog settles with 1st Technology LLC for $49 million, reganing the bodog.com domain.
2011
Bovada.lv is launched as the version of Bodog still serving US customers. Although technically the same company, Bovada is not owned by Bodog and the two are not officially connected.
Bovada was formed when Bodog decided to withdraw from the US market and is owned by the Morris Mohawk Gaming Group.
2016
Bovada sells its poker player base to Ignition Casino. The company listed as the owner of Ignition is Beaufort Media B.V.
The limited information available about Beaufort Media, the curious timing of the sale in the middle of unprecedented growth, and the identical software client, cashier, affiliate program, and frontend website is highly suggestive that Beaufort Media is in fact owned by the same group as Bovada.
Winning More at Ignition Zone Poker
If you're anything like me, after you first try out Zone Poker, you're likely to play a lot more of it in the future. It's fast, engaging, and works your brain unlike anything else in poker.
With Ignition Poker being the only quick-fold option for US players, it's worth learning how it differs strategically from straight cash games.
Zone is tighter
The first thing you might notice is that the games run quite a bit tighter.
My data shows that Zone Poker games average about a 10-15% drop in flop percentage compared to their standard cash game counterparts, which are already some of the loosest you'll find anywhere.
The simple reason for tighter games in Zone Poker is that there's almost no psychological pressure to play hands you shouldn't.
There's always a hand literally a second away, so the boredom that typically drives weaker players to play a poor hand doesn't exist.
Blind-stealing is rampant
Secondly, you'll notice that attempted blind stealing happens very often.
That's because Zone Poker only features 6-player tables and most hands fold pre-flop to late-position players.
You can't pick up on player tendencies
Thirdly, while every Ignition Poker table already gives players anonymity by only identifying them by a number, you can still take notes on that player while they're in the same session.
If player 3 is attempting to steal the blinds literally every time he's on the button, most opponents in a standard cash game are going to notice. With the entire table rotating every hand, that doesn't apply with Zone Poker.
Make these adjustments to win more
Those properties lead to my 3 main adjustments you need to make to win more at Zone Poker.
1. Steal the blinds often, but do it wisely
From the button or one off the button, you're going to see a lot of blind-stealing opportunities in Zone. Go ahead and try it a lot of the time, since it's much more successful than in standard cash games.
Save yourself some money and do it with a smaller bet of 2.5-3x the big blind, however.
Once in a while, you're going to get someone in the blinds fighting back with a re-raise. Your ego might want you to punish them for a possible re-steal, but just fold right there if you have a weak hand and were on a steal attempt yourself.
2. Advanced strategy is often counterproductive.
When you're at a normal cash game, you might do things like slowplay pocket Aces pre-flop if there are a couple of loose cannons always raising to your left.
You might play extra hands against a tilting opponent.
You can't get any of that information in Zone Poker, so making things too tricky is just going to cost you in value bets. Tend to play a straightforward game in Zone.
3. You don't need to make big bluffs.
Just bet for value. Big bluffs are part of your strategy for cash games, even if you don't do it very often. They're supposed to be.
You're going to pull them off when you have a very good read on your opponent.
Unfortunately, you have zero reads in Zone Poker and another hand is always a second away. Just bet your strong hands for value or make minor stabs at uncontested pots.
There are enough poor players that you can see incredible profit simply from letting them make their own mistakes.
A lifelong poker player who moved online in 2004, Josh founded Beat The Fish in 2005 to help online poker players make more-informed decisions on where to play and how to win once they got there. He hopes to counter the rampant dishonesty in online gaming media with objective reviews and relevant features. Tech nostalgic. Fondly remembers the soup avatar at Doyle's Room.