How to Play Online Poker in Australia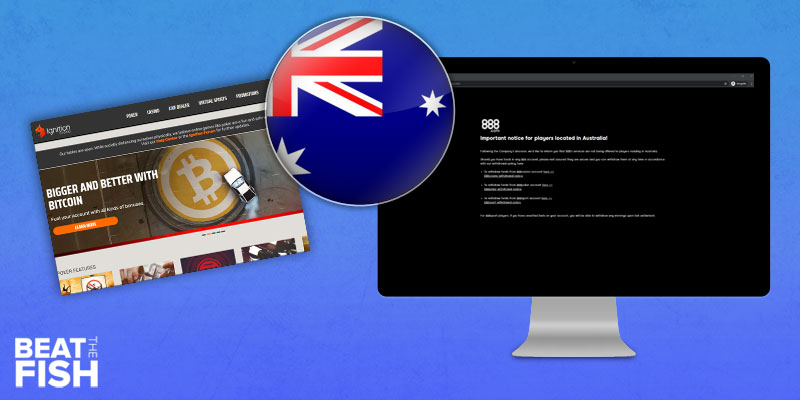 Australia's online poker market was dealt a devastating blow several years ago, when the government amended the Interactive Gambling Act to stop all operators from running online poker sites and casinos.
Fortunately, I've gotten to the bottom of all of the important issues affecting Australia's online poker market and where you can still play safely without hassle.
As an online poker player in Australia, it's important for you to know exactly what to expect, as you can still find legitimate real-money poker sites open to you.
A Rundown of Legal Online Poker in Australia
Australia's online poker market has seen plenty of ups and downs, with many changes to laws that regulate the industry over the years. It can be difficult to really follow these developments, so we've taken
The first real acknowledgment of online poker was in 2001, when the Interactive Gambling Act banned online gaming sites in Australia from offering their services to players in the country. It was quite a confusing bill, as it's made it seem as though only offshore operators were permitted to provide online poker games to local players.
It took 15 years for this to be rectified, as amendments were made in 2016. These changes made it illegal for all online gaming operators (whether based locally or offshore) to provide poker and casino games to Australian players.
This is when we started to see a mass exodus of the best Aussie poker sites.
Many of the biggest operators in the Australia market decided in 2017 and 2018 that they should leave the local market and wait until lawmakers change their tune regarding online poker legislation.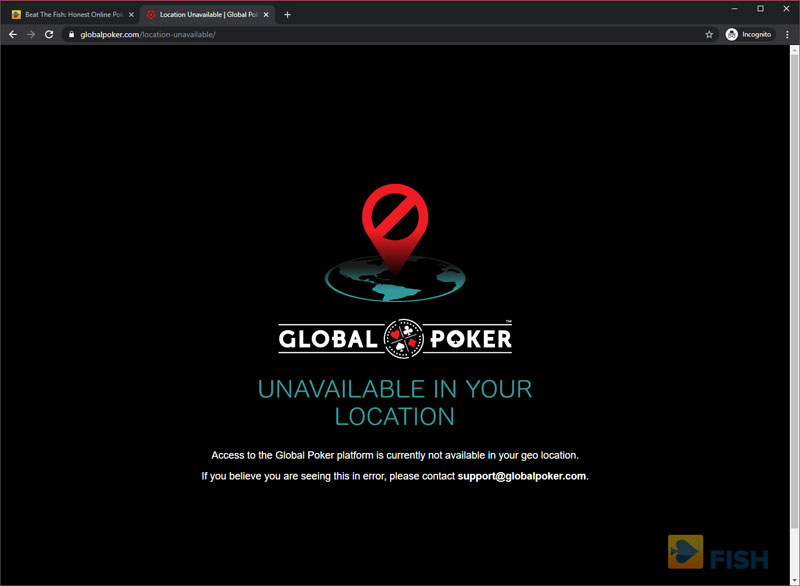 Frequently Asked Questions
✅ Is it legal to play poker online from Australia?
It's important to understand the difference between simply playing online poker in Australia and being an operator of it. Australian gambling law excludes players, meaning it isn't a crime to simply participate in online poker as a player. That's true even if it's for real money.
✅ Are there any poker sites that accept Australians?
Yes, it's still possible to play real-money online poker from Australia. My top choice is Ignition Poker, which is in the top 5 for global traffic. If you use Bitcoin, they'll also pay you out within 48 hours.
✅ Which Australian deposit method still works?
Due to recent Australian gaming restrictions, it's pretty much going to be cryptocurrency or bust. Fortunately, Bitcoin, Bitcoin Cash, and others get you the lowest deposit limits and quickest payouts.
✅ What is the best poker site for payouts to Australians?
In my opinion, an online poker site is only as good as its payouts. None of them can be the best if they don't pay Australian players on time and in a variety of methods. When reviewing an online poker site for your business, always check their payout policies. The rise of Bitcoin has been perfect for players from Australia. It's one of the few banking methods that still works. Both Ignition Poker and Nitrogen Sports accept AU players and get payouts to you as fast as any poker site in the world.
Sites That Have Withdrawn from Australia's Poker Market
Some of Australia's best online poker sites were forced to withdraw from the local market in recent years. So, if you're looking for particular large poker brands, they won't be available anymore.
Here are some of the top Aussie poker sites that recently made their exit:
888 Poker
When the proposed amendments to the Interactive Gambling Act were announced in 2016, 888 was one of the first operators to state that it would leave Australia if the changes were passed. The brand kept its word and pulled out of Australia's market at the start of January 2017.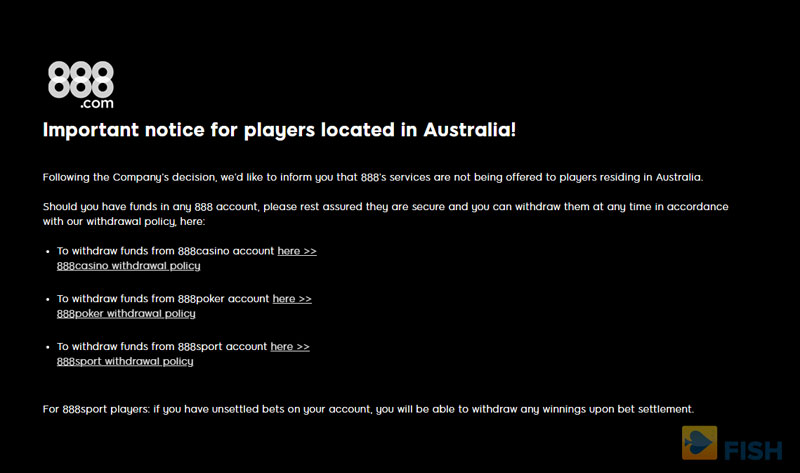 PokerStars
PokerStars left Australia's gaming market in 2017. The company sent an email to its AU customers in August of that year, letting them know that it would be closing its doors the following month. Its note was an emotional one stating:
We're proud to have seen the Australian poker community grow so strong over the last decade. We do respect the Australian Government's decision in taking steps to protect consumers and hope that in time we'll be able to serve real money poker to you again.
Partypoker
Partypoker made its departure announcement about the same time as PokerStars, and restricted access to Australian players starting August 31, 2017.
The company pledged to continue working with poker players across the country to lobby the Australian government for a safe and regulated online poker market.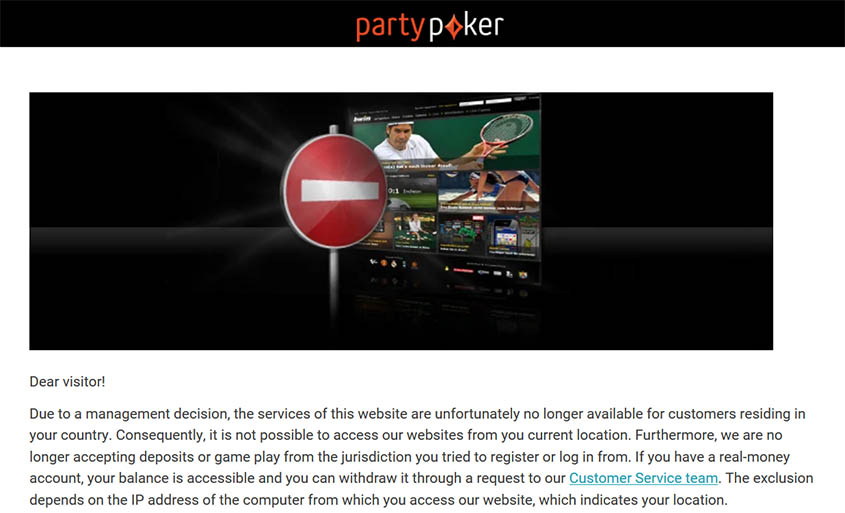 America's Cardroom and the Winning Poker Network
Australian players can no longer sign up to sites on the Winning Poker Network, including America's Cardroom. Players aren't blocked from the site, but there is no option for Australians to select their country when signing up.
If you were a member of WPN sites before they left the Australian poker industry, your account may be "grandfathered" in. This means that you can still play as long as you signed up and had money in your account prior to the cardroom's closure in the country.
How Are Australian Players Affected?
The good news is players aren't really directly affected by Australia's online gambling laws, in that players can't be penalized. Any fines or penalties are imposed on the actual online poker site, so you don't have to worry about any sort of punishment coming your way if you play poker online from Australia.
The only real chance at danger is that you may find that your chosen online poker site may chose to leave the Australia market. In this case, you would have to withdraw your money and find a new ones to play poker online.
Fortunately, the Australian poker sites that still exist want to maintain positive reputations for themselves. So, you shouldn't find yourself fighting for your withdrawal if your site were to stop offering their services to Australian players.
However, it may be a pain finding a new place that accepts Australians to enjoy poker games online.
There are no official apps for playing online poker in Australia. However, You can still play for real money on supported sites using your mobile browser.
Banking at Australia Poker Sites
Another way in which players are affected by Australia's online gambling laws is with regards to their banking. You may not have all of the same deposit and withdrawal options available to as if you were playing in other locations around the world.

One of the major issues in Australia is that you can't get funds into your account using a debit card or bank transfer.
E-wallets like PayPal, Neteller, and Skill are also not available. Australians can only use Bitcoin, Bitcoin Cash, and occasionally credit-only cards.
If you need help learning what Bitcoin is and how to use it for poker deposits and payouts, we have a huge guide.
Sites for Aussie Poker Players
You might find that the list of poker sites accepting Australian players is pretty short. However, there are still some high-quality online poker websites available; you just have to do a bit of digging.
Ignition Poker
Ignition Poker is one of the top online poker rooms for Aussie poker players looking to play for real money. The site offers players a great selection of games and promotions, mobile-optimized gaming, and plenty of traffic.
In fact, Ignition Poker is in the top 5 in the world in terms of total traffic. Cash games and poker tournaments are extremely popular at Ignition.
You won't miss out on any of the activities that are available at other international poker sites, as Australians sit at the same cash games and tournaments as players from the rest of the world.
You can play on mobile using iOS or Android devices at Ignition. No apps are required, as you can join any cash game or tournament using any browser.
Zone Poker is Ignition Poker's fast-fold variant that allows you to play up to 100 hands per hour, and there are plenty of big tournaments available with guarantees exceeding $150,000.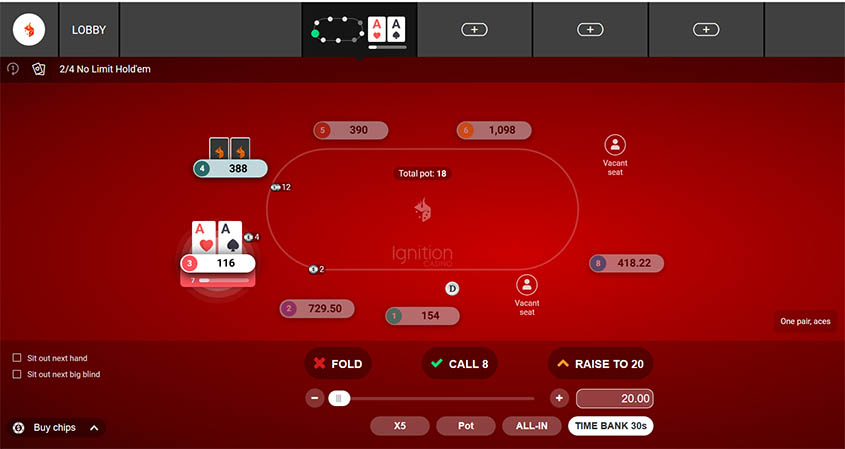 There is a high amount of traffic on Ignition Poker, meaning you won't often find yourself waiting for a seat at your chosen stakes for very long. Besides Texas Hold'em, Ignition has many active tables in Omaha as well.
Whether you're a micro-stakes player at .01/.02 chip levels or you have a bigger budget and enjoy playing  $5/10 games and above, you'll always be able to find active tables.
The bonuses at Ignition are also the largest of any Australia online poker site, giving Bitcoin players 150% each for the poker room and the casino. You'll also get free chips for casino games.
Joe Fortune
Joe Fortune is managed by the same ownership group as Ignition Casino. I personally trust them from my years' worth of excellent experiences. Joe Fortune is open for real money to all Australians. In fact, this brand is open exclusively to players from Australia.
Bitcoin, Ethereum, or Tether are the easiest ways to deposit and withdraw, with all my Bitcoin payouts reaching my wallet within an hour. You can also deposit using a credit card and get payouts by paper check.

Although Joe Fortune does not offer online poker to Aussies, they have a complete suite of pokies and other casino games. There are dozens of slots, table games, and live dealers. You can also play everything by logging into the site on mobile, which is important as real-money gaming sites cannot be listed on Australian app stores.
Nitrogen Sports
I'm currently reviewing the new iteration of Nitrogen Sports, called Nitro Betting, to ensure that they work well for poker play from Australia. For now, I highly recommend Aussies play at Ignition Poker for poker and casino games. For an extra option that focuses on pokies, I recommend Joe Fortune.
Although not as large as Ignition Poker, I'm a fan of the poker section at Nitrogen Sports. They accept all Australians for real money, although Bitcoin will be your only banking method there.
Because you're technically only wagering in Bitcoin, Nitrogen Sports doesn't adhere to traditional Australian financial laws.
I've done numerous deposits and withdrawals without issue at Nitrogen Sports over several years, so I wouldn't hesitate to recommend them to Australians. In fact, they're actually the fastest poker site to get Bitcoin payouts from, often sending mine within 2-4 hours.
The poker software works flawlessly on mobile, even for multiple tables. You can also create an account without giving any personal information. The biggest issue you'll notice with Nitrogen Sports is that there are usually only 10-15 active cash tables at any time.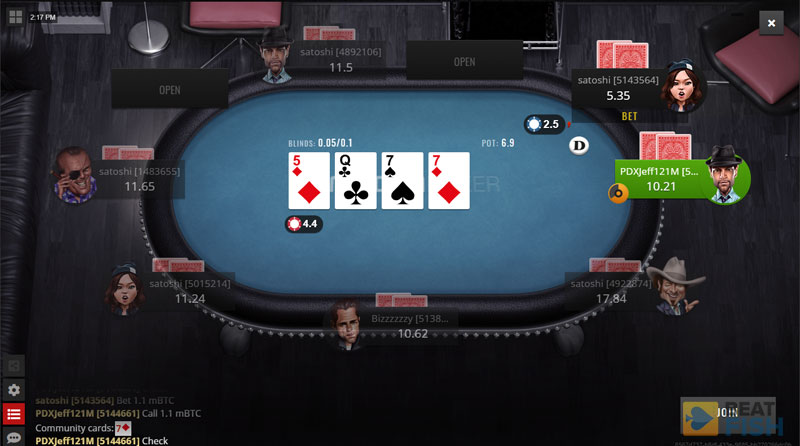 Other Online Poker Sites
There are a few other online poker sites available to Australian players, but the jury is still out on them.
Sites like Juicy Stakes and UPoker are far from being household names and it's unlikely you'd even hear about these sites unless you were specifically looking for Aussie poker sites.
However, they are known to be real-money poker alternatives for players in Australia. UPoker's software has been compared to PokerStars Home Games, while Juicy Stakes Poker offers a range of games similar to the selection at Ignition Poker.
Unfortunately, I can't currently recommend Juicy Stakes to Australians because of their highly suspect history. Juicy Stakes has repeatedly shown a lack of security and stability.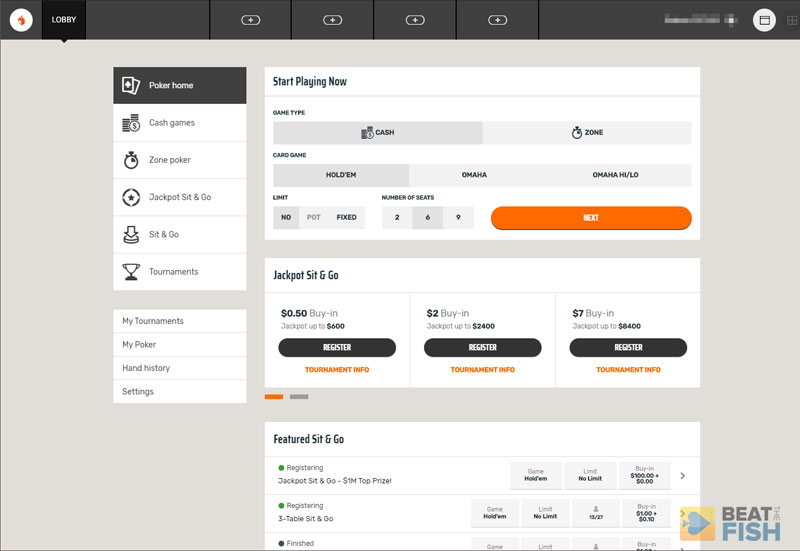 If you're looking for casino games, such as pokies, slots, and live table games, instead of poker, my only recommended site for Australians is Joe Fortune. It's managed by the same folks behind Ignition.
Support for Regulated Online Poker in Australia
Fortunately, many players, companies, and lawmakers are working hard to garner support for the legalization and regulation of internet poker in Australia.
Many online poker brands are working with grassroots organizations like the Australian Online Poker Alliance (AOPA) to lobby for online poker regulation, and several MPs have backed them up.
Australia's Liberal Democrats are well-known for supporting online poker in the country. The party agrees that poker much closer to a game of skill than it is a game of luck.
In 2017, NSW Senator David Leyonhjelm made his case against the banning of online poker along with other casino games.
The Liberal Democrats have made a good case for the legalization and regulation of poker in Australia.  They argue that the game does not pose the same risks of harm as other forms of online gambling, and that poker is a social game that encourages camaraderie.
The Productivity Commission also considered poker as a "valid first step to legalization of regulation of online gambling in Australia". It stated that bringing the game onshore would protect players from "unscrupulous platform providers and lax regulatory standards".
Organizations like the AOPA and PokerStars want lawmakers to see this side of the argument in order to make online poker legal, and regulate the activity across the country.
At the same time, government authorities such as the Australian Communications and Media Authority (ACMA) have taken several smaller unlicensed online gambling operators to federal court.
While Australia's online poker market continues to be heavily debated, both players and poker operators remain hopeful that the game will soon be made available to players across the country.
References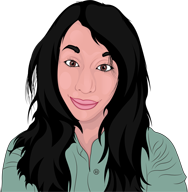 Bethany has been working in online gambling for over 13 years. She got her start in the industry as her first job after graduating from the Professional Writing Program at York University. Having written for many online gaming publications and worked with top casino operators, she has unique insight into the gambling market. Bethany maintains a personal interest in iGaming as she continues to play poker online as a hobby.