The Honest BetOnline Poker Review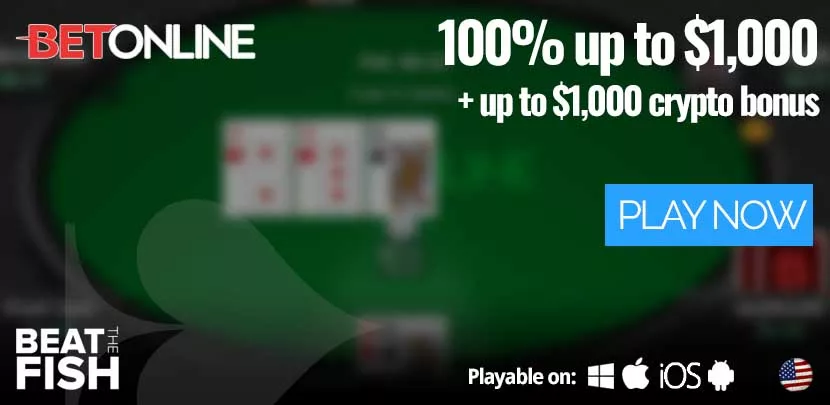 | | |
| --- | --- |
| | |
| | Yes, from all states except New Jersey (NJ) |
| | Proprietary from Connective Games (formerly Chico Poker Network) |
| | |
| | 100% up to $1,000 for poker plus $135 in free bets |
| | |
| | |
| | |
| | |
| | Texas Hold'em, Omaha, 7 Card Stud, Americana, 32 Card Draw |
| | Windows, Mac, iOS, Android, Instant Play |
| | Bitcoin, Visa, Mastercard, Checking Account, MoneyGram, Wire Transfer, Ethereum, Litecoin, other cryptocurrencies |
| | Bitcoin, Check, Checking Account (ACH), MoneyGram, Wire Transfer, Ethereum, Litecoin, other cryptocurrencies |
BetOnline Poker
Bonus

Fish Rating

Deposits

Payouts

Tournaments

Software

Player Traffic

Player Support

Mobile Software

HUD Blocking
Pros
Best credit and debit card processing for US players
Bitcoin payouts in as little as 5 minutes
New software client is much improved
The smoothest mobile poker in the US market
Top 5 in US player traffic
Over $100 in free bets
Private 100% bonus that clears fairly quickly
Native Mac software download
New fast-fold games at lower limits
New jackpot 3-player Sit and Go's
Supports rarer cryptocurrencies like Ethereum and Litecoin
Cons
Tournament selection is mediocre
Check payout minimum is too high
Not tough enough on their crackdown of HUDs
Old video of possible dealer cheating at live Blackjack
Fast-fold only active at low limits
How To Get The Unadvertised 100% Bonus
There is no default poker bonus for new players, but if you sign up from Beat The Fish, you'll get a private 100% offer, good up to $1,000.
Here's exactly what you need to do to claim it:
Visit BetOnline Poker from Beat The Fish. The poker site will need to track you as coming from our site.
Make at least a $50 deposit using any method.
Email poker@betonline.ag with the BetOnline Poker bonus code FISH200 in the subject line and your username in the body of the message.
You'll be credited with your 100% bonus within 48 hours. You have up to 120 days to clear it.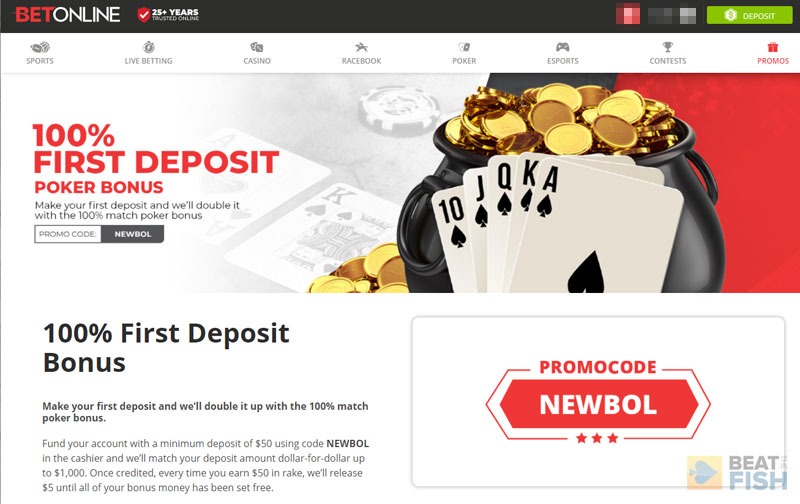 BetOnline Poker Overall
BetOnline Poker, who has been in the online sportsbook and casino business for over a decade under various names and all the way back to 1991 as a brick-and-mortar bookmaker, is nothing if not ambitious.
In one of the most hostile environments ever for US online gaming sites, BetOnline entered the poker market with an independent platform and aggressive marketing to Americans.
Flagship of the Network
Rather than going the typical route of poker startups and piggy-backing on an existing brand, BetOnline Poker has largely become their own network, despite initially resurrecting the old Chico Poker Network software platform instead of developing their own.
This move of bypassing the software "skin" route has allowed BetOnline Poker to reap the benefits of complete control over the cashier and self-containment of their extremely loose existing player base.
Move to a better software package
In 2016, they developed their own poker software platform with help from Connective games, ditching the old Chico Poker Network platform.
BetOnline Poker is easily the flagship brand of betonline.ag, but the same software is used by sister site SportsBetting Poker as well.
The new software client is now one of the better choices in the US poker market, offering better functionality and paving the way for future mobile options.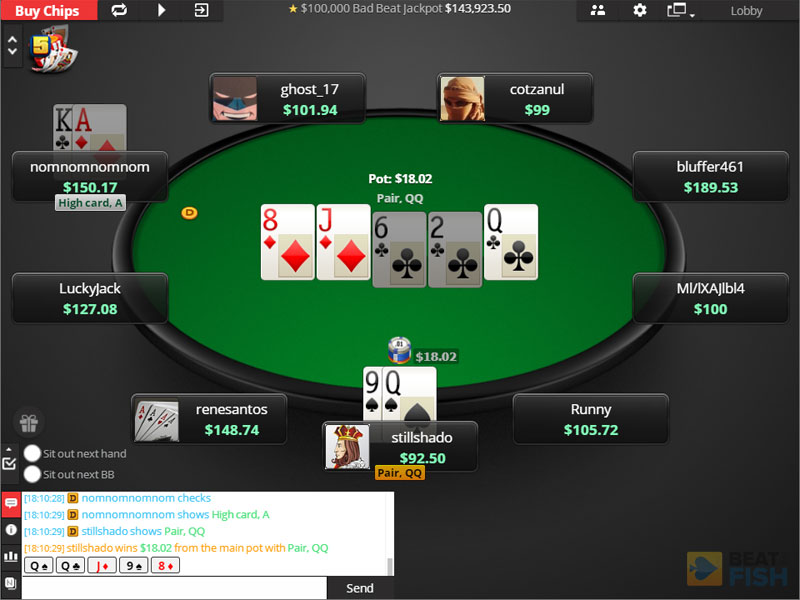 Strong Traffic
While player traffic is always going to be an issue with a new network, this poker room is one of the only strong options left that allows new US signups.
According to poker site metrics, BetOnline Poker flip-flops regularly between #4 and #5 in the US market.
BetOnline Poker is busy up to the higher limits
I've been impressed with the extremely quick growth of BetOnline Poker, which now features active 10-seat no-limit tables up to the $5/10 level and tens of active tables at lower limits.
As US players begin to discover this poker room, the easy deposit options, and their soft games, I expect the people playing at this poker site to spike further.
Why BetOnline is Rare in this Market
In the early-to-mid 2000s, US online poker rooms were a dime a dozen with thousands of players at countless networks.
Most player prioritized the number of games, tournaments, and the size of the initial deposit bonus.
The online poker industry is an entirely different beast today.
With fewer new players to loosen up the games and deposit options drying up left and right, most US players are focused on finding a poker room that takes their business with realistic deposit options.
Cash games stand out
BetOnline Poker has cash games filled with players that don't treat every dollar like it's their last.
They've enjoyed sustained success with their poker room because they succeeded with easy deposits, quick payouts, and at least moderately-loose games. That's an incredibly rare feat in this market.
An excellent sportsbook on the side
Along with Bovada, BetOnline was one of the original US-facing brands to offer a sportsbook, casino, and poker room on one site. Although you have to use an antiquated transfer system from your main sportsbook wallet to the poker room, you can't beat being able to do it all with one deposit.
I'm very familiar with their sportsbook, which is one of the most fully-featured in the market. They have odds on every sport you think of, extensive live betting, and exotic props no one else carries.
The sports betting company behind BetOnline also runs casino sister sites Wild Casino and Superslots.
One of my top-rated poker sites
BetOnline Poker doesn't offer massive tournament numbers or the promotions featured at the former behemoths during the US poker glory days, but US players are hard-pressed to find that anywhere anymore.
This group is taking a chance on the US market, and it couldn't come at a better time for players. Despite some minor flaws, BetOnline Poker is giving near-instant Bitcoin payouts and the best mobile software in the industry. They deserve to be near the top of my rankings.
BetOnline Poker Game Limits
| Game | Minimum Limit | Maximum Limit |
| --- | --- | --- |
| No-Limit Hold'em | .01/.02 | $5/10 |
| Fixed-Limit Hold'em | .05/.10 | $1.50/3 |
| Omaha | .01/.02 | $5/10 |
| Stud | .10/.20 | $5/10 |
| Americana | .10/.20 | $5/10 |
| 32 Card Draw | .10/.25 | $5/10 |
Biggest BetOnline Cons
Although BetOnline Poker is one of the only US-facing poker sites still surviving with a decent reputation, they certainly aren't perfect. I still play there and have a good amount of trust in their poker operation, but these are my biggest concerns.
BetOnline isn't hard enough on HUDs
I'm a big supporter in online poker sites taking any and all available measures to stop HUD usage. I wouldn't bat an eye and, in fact, would applaud if HUDs were banned out of existence everywhere.
Unfortunately, BetOnline Poker does nothing to restrict HUD usage through rules or anonymous tables. This allows desktop grinders an advantage over casual and mobile players who likely don't even know what a HUD is.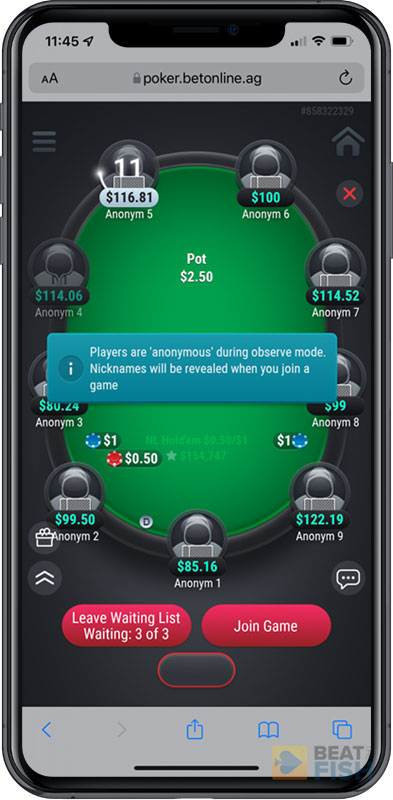 One step I give BetOnline credit for is now making player names anonymous until you sit at the table. Although it won't step third-party software entirely, it eliminates the ability for HUDs to mine data on players who aren't active opponents.
I'd like to see BetOnline Poker make all tables anonymous, but this is a step in the right direction.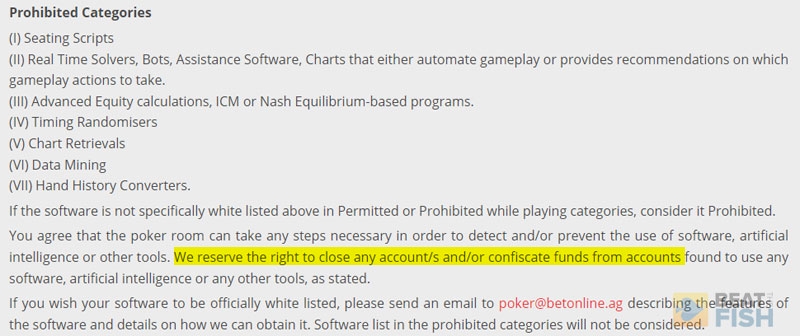 The infamous Blackjack cheating video
First broken in early 2017, a Blackjack live streamer caught an extremely shady-looking card swap performed by a dealer at a BetOnline live Blackjack table.
It's important to note that BetOnline outsources its live casino to a company called Global Gaming Labs, so the event didn't occur in-house. It's also plausible, although I feel unlikely, that it was a clumsy-fingered mistake by the live dealer.
To me, the worst part is that neither Global Gaming Labs nor BetOnline ever responded to the video or compensated the player in question, which just seems like clueless damage control, even if they were outright cheating.
Why not play up the "mistake" angle, fire the dealer, promise to never let it happen again, or at least smooth everyone's feathers by refunding the player?
Although this has nothing to do with their poker operations, this Blackjack controversy seems like a needless stain on an otherwise-sound reputation. I still trust BetOnline Poker enough to play there, but this remains a gross and unresolved issue.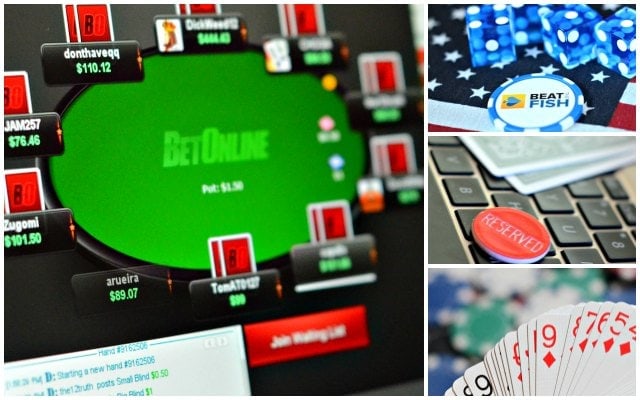 Frequently Asked Questions
✅ How long to payouts take from BetOnline?
The withdrawal method you choose will determine how long BetOnline takes to get your money to you. The quickest method is Bitcoin, which will almost always be sent to you within 24 hours. Most Bitcoin payouts are sent within minutes, making BetOnline the fastest in the market. Checks can take up to 2 weeks to deliver and wire transfers are usually sent within a week.
✅ Is BetOnline a legit site?
I've been playing at BetOnline for nearly a decade and strongly feel they're one of the most legitimate sites still operating for USA players. BetOnline is licensed by a major government-sanctioned gaming agency, they consistently pay out players quickly, and have had few scandals. They're one of the longest-tenured online poker sites I've reviewed and continue to trust.
✅ Is BetOnline legal for US players?
BetOnline is licensed to operate for real-money online gaming by the Panama Gaming Commission, meaning they're overseen by a legal entity for game fairness. As for US players specifically, there are almost no laws on the books that specifically restrict online poker players from playing at any site. In fact, they have some promotions designed specifically for US players. Note that the state of Washington is unique in that even playing online poker there has been forbidden by lawmakers. BetOnline Poker offers games to players in all 50 USA states.
BetOnline Poker Bonus
A poker-only bonus was finally added
With the betonline.ag poker room being added on to the cross-platform offerings in 2010, they initially overlooked the poker-only crowd to the tune of no outright poker bonus.
It may have taken a couple of years, but BetOnline Poker management finally wizened up. They now actually offer the largest poker-specific bonus in the US market to our players.
One of the largest total bonuses online
It's a 100% first-deposit bonus, valid up to $1,000.
Both of those numbers are quite large but, as with any bonus, the play-through terms are far more important than the gaudy total bonus numbers.
Note that you'll only get a 100% bonus if you sign up at BetOnline Poker through Beat The Fish.
Excellent bonus release rate
Surprisingly, the 100% bonus release rate is very good when compared to its competitors, clocking in at about $2-3 of bonus per hour of play at each .50/$1 NL table.
Since 2011, I've found the average at other US poker rooms to be about $1-1.50 per hour per table, making the terms of this bonus stand out.
As with every bonus, this is a glorified rakeback system, dispensing parts of your bonus as you earn Comp Points. Those are given each time you contribute rake to the dealt hand.
How to trigger bonus releases
The specific benchmarks that trigger the transfer of cash from your pending bonus account to your cash account used to be quite convoluted, but BetOnline Poker simplified it.
You now automatically receive $5 in your real-money poker balance every time you earn 1,500 Comp Points.
Excellent bonus time expiration
Players have 60 days to earn as much of the bonus as possible, which is longer than the typical time period given by competing sites.
Be sure to get the bonus activated
While it is clearly publicized on the poker promotions page, the only frustrating aspect of the bonus is that players have to manually e-mail the support team to activate it within their account.
This is a move that reminds of online poker circa 2003 and is clearly unnecessary in the days of modern software tracking, but it's a one-time bother for a very good bonus.
Again, be sure to follow the poker room's instructions for activating the bonus following your first deposit.
Don't waste the New Player Freeroll ticket
BetOnline Poker added a $10,000 New Player Freeroll with the recent software overhaul.
My tendency (and I'm guessing yours, too) is to ignore anything with "freeroll" in the title. Scrabble with thousands for pennies in a donk-fest? No thanks.
Don't make that mistake with this. It's actually one of the bigger parts of the bonus.
Why this is a significant addition
First of all, the prize pool is $10,000, which dwarfs any other private depositors freeroll I can think of. It's worth bothering with.
Secondly, it's run every week, which is key because it keeps down the number of entrants under about 300.
You'll find it taking place every Sunday at 7:00 P.M. EST.
Why is the small field important?
With freerolls, the effective "buy-in" is the total prize pool divided by the number of players.
I've only seen these freerolls draw under 280-300 players, so even conservatively you're looking at an effective free buy-in worth about $33.
The ticket doesn't lock you into one date
You get this even on a minimum $25 deposit and, unlike some other tournament tickets, you aren't locked into redeeming it on a specific date.
I recently set up a depositing test account and forgot this freeroll was part of the new bonus offer for a few weeks.
I figured it would go into my scrapheap of forgotten tournament tickets, but there it was still in my cashier's ticket section waiting to be redeemed.
I'm not sure how long this offer will last since it doesn't seem to be drawing massive players, but here's hoping they keep it around long-term.
Just be sure to bother to claim yours eventually. Why not for a free $10,000 tournament?
BetOnline Poker player rewards
BetOnline Poker has also instituted a player reward system called Comp Points, which are awarded via cash game play or by entering tournaments.
Earned Comp Points can then be as a buy-in for designated daily tournaments that award real money.
More uses for Comp Points are likely on the horizon but, for now, it is a risk-way to earn real money based on past gameplay.
Leaderboard Prizes at BetOnline
One of the main promotions other than the bonus and free bets is the Sit and Go leaderboard.
It resets every week and adds up to $5,000 spread amongst winners.
Not bad, but nothing most players haven't seen a dozen times before.
However, there are a few aspects that make it stand out, especially to recreational players.
There are 3 separate leaderboards, separated by buy-ins.
The first is Sit and Go's under $2, the next for sub-$20, and the third for everything above that.
The leaderboard is updated and available directly in the software. This is pretty handy for OCD sufferers as it's real-time so you can check literally after every tournament.
Low tournament fields are good for leaderboards
Despite being the head of one of the largest US poker networks left, tournaments aren't one of the busiest aspects at BetOnline Poker.
The benefit of that is that non-grinders actually have a shot at these leaderboard prizes, simply because the participant count is lower.
Other promos
Although they're seasonal and may not happen around the calendar, BetOnline Poker also supplements the Sit and Go prizes with something for the top multi-table tournament players and another for cash game players, which is based on Comp points.
The prizes for these leaderboards is usually up to $20,000.
More bonus thoughts
As a poker-only player, it was gratifying that the management here has begun to understand the value of offering more poker-specific promotions and responded to player criticisms.
The instant free bet offer was always appreciated, but the poker room now has a much better shot at acquiring bonus-driven grinders by competing (and exceeding) the rest of the market with the new 100% offer.
Despite the antiquated requirement of e-mailing the poker room, this is the best bang for the US buck in terms of total bonus size and play-through requirements.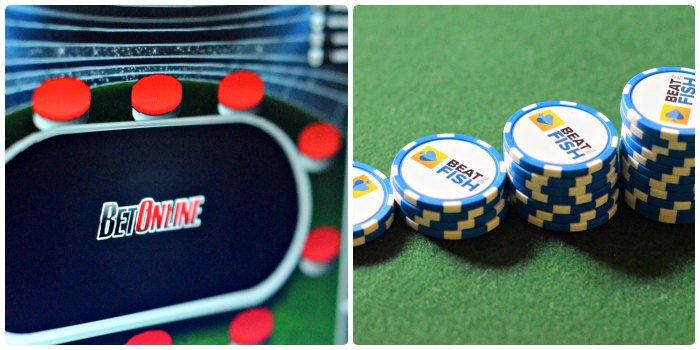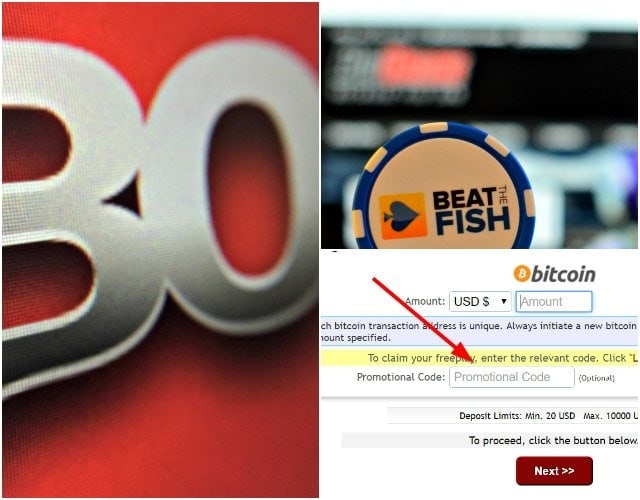 BetOnline Free Bets
Surprisingly, I've been quite impressed with their assortment of non-poker free plays due to the sheer number of those on offer and the risk-free nature of it.
As someone who usually plays poker exclusively, I barely ever even glance at the other gaming section on these all-in-one sites.
It's free so be sure to claim them
There are so many at BetOnline, however, that it's worth taking a few minutes to take advantage of the risk-free entertainment and potentially add to your overall bankroll. Be sure to use the right deposit promo code to claim them.
Both of these offers are unique in an industry that is trending towards complicated bonuses that ultimately either rob the player of the offer or take exorbitant amounts of time to play through.
50% in free sports bets
There are two forms of free bets: the sizable 50% instant bonus is added on to your deposit in the sports section.
These bonus funds can be used for unlimited bets until you either lose it or roll it over 10x through winning to be able to cash it out or transfer it to the poker section.
The maximum instant bonus amount is $1,000.
$135 in free bets for other games
The other type of free bet is a single bet placed from your real-money balance up to the promotional amount. If you win, you keep it, and if you lose, you then e-mail support and request a refund of the bet amount, which is done within 24 hours.
Single free bets include:
$10 for a skill game
$25 for a live dealer game
$50 for a mobile bet
$25 for a racebook bet
$25 for a live bet
It's a clever way to get players to try out all their properties, and why not do it since it's free? The actual amount of free plays is pretty remarkable.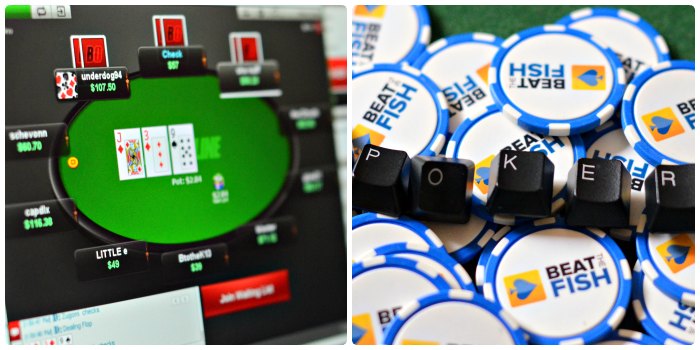 BetOnline Poker Mobile
BetOnline Poker has complete mobile poker software without the need of an app. Every cash game and tournament is supported for iOS (iPhone and iPad) or Android devices. Just log in to your account at the BetOnline website, tap the poker section, and choose a game.
BetOnline supports up to 4 games at once on mobile.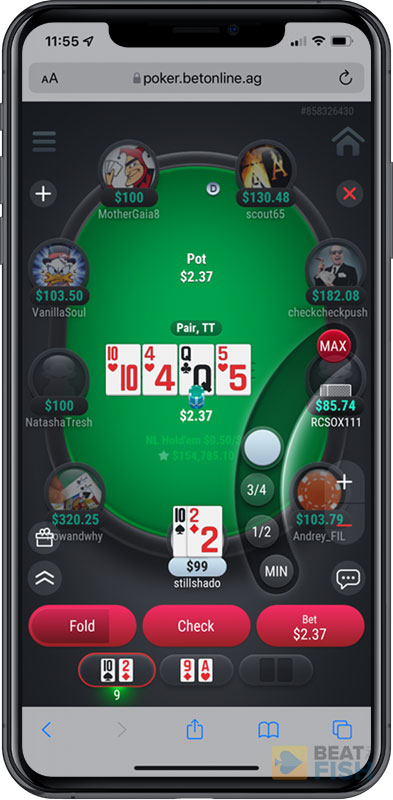 When BetOnline Poker mobile launched, it was good enough, but a little tough to set up on iOS. It's been massively improved, so much so that I actually like playing at BetOnline Poker more on my iPhone than my desktop. That's a rare feeling for me.
No app or download is necessary
You no longer have to bookmark or save anything to get to the poker lobby. Also, unlike some other US poker rooms like Americas Cardroom (and Bovada and Ignition used to be), Sit and Go's and tournaments are all supported.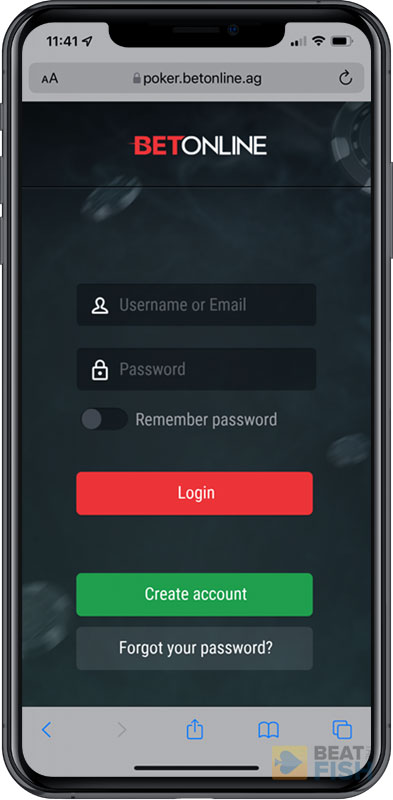 If you fast-fold like I do, but want to play for higher stakes, you'll have to go to a busier site such as Ignition Poker. They frequently draw fast-fold players up to the $200 level.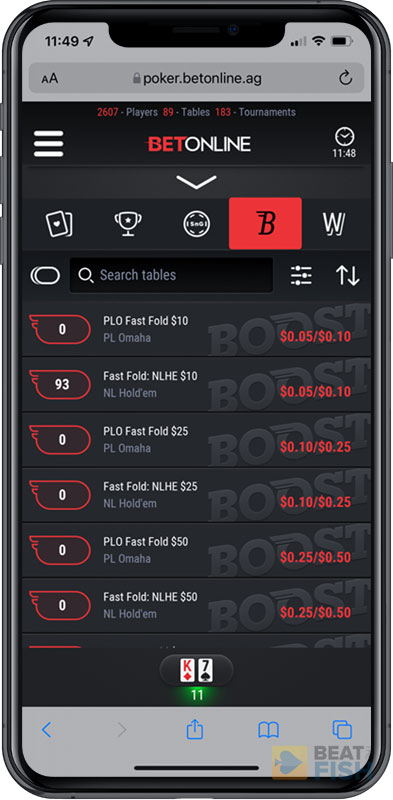 Excellent mobile design for multi-table play
Software developer Connective Games has beautifully set up BetOnline Poker mobile for holding your phone landscape style. Many mobile poker sites force you to rotate your device sideways into landscape mode, which isn't very comfortable.
BetOnline Poker instead elongates the table vertically and overlays your bet options over your opponents.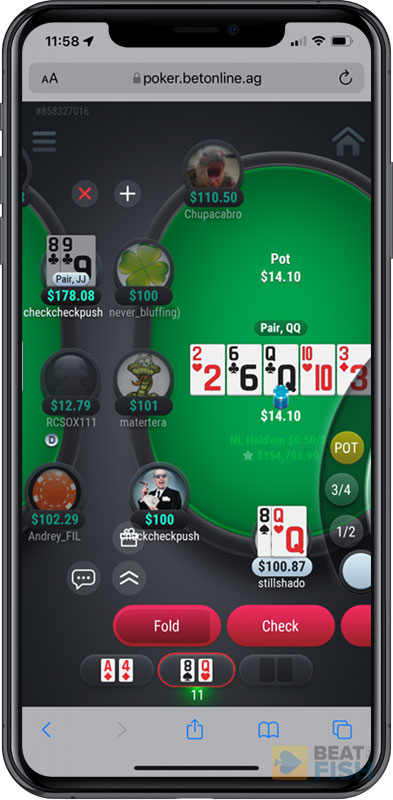 Another small touch to the BetOnline Poker software that I appreciate is the ability to sit out at the next blind for all of your open cash tables. I've had to switch between multiple tables to do that for years.
Most importantly, BetOnline Poker has never crashed, glitched, or needed to be reloaded for me on mobile. That's the first time I can say that about any mobile poker software. Kudos to them on my new favorite mobile poker iteration.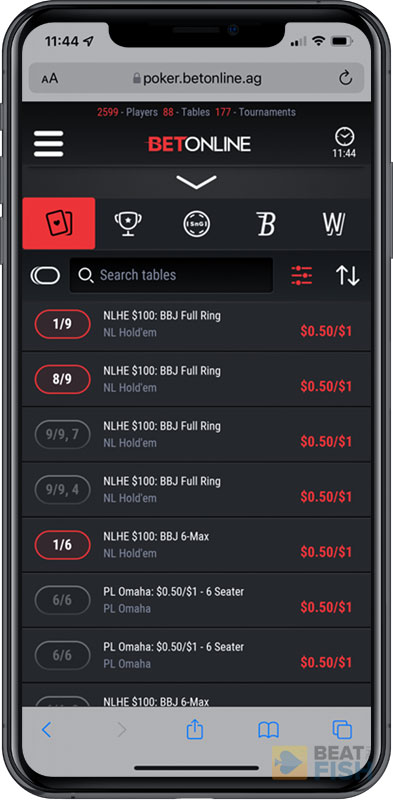 In years past, I've been convinced that most US-facing online poker sites are run by folks who don't like money. They've sat idly by for years while Ignition Poker ran laps around them with the only legit real-money mobile client.
It's been a mantra I've shouted from the virtual rooftops for years: Wake up, guys! The world lives on their phones and this isn't news.
I know they can't get official apps approved, but make it happen or die a slow death.
Well, BetOnline finally woke up several years and they finally released a fully-functioning mobile poker app. It then become available for anyone right on the BetOnline website without downloading anything.
Graphics on mobile
I'm a big fan of what BetOnline Poker has done graphics-wise since they updated everything in 2016. That carries over to the mobile app, which is very sharp.
The lobby can be filtered and you'll see a mini-graphic of each cash game to illustrate the number of seats.
Menus are designed well with:
Built-in cashier support
A display of VIP Points
A graphical hand replay feature.
Simple sounds and animations can be toggled on or off. Surprisingly, BetOnline mobile even displays little chat bubbles (which I happily always disable) next to the speaking player.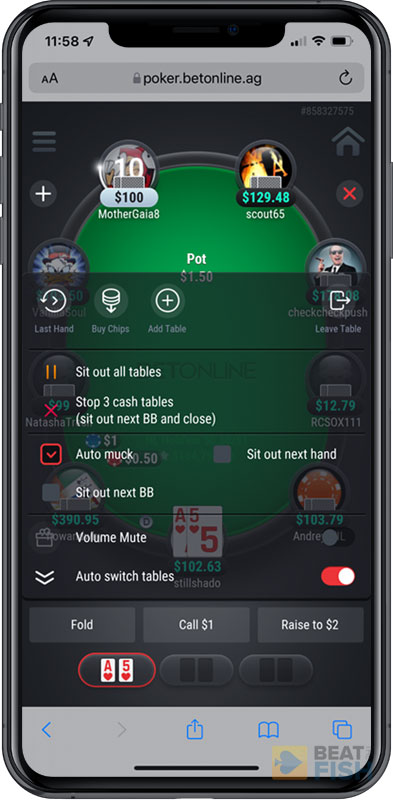 The bet slider works well, allowing players to either type in their bet, drag a slider, or tap incremental bets based on pot size. One nitpick that I can't stand is the lack of a full pot-sized bet button, which is becoming more commonplace these days.
Stability on iOS and Android
This is usually the biggest complaint against any real-money mobile poker: they're full of glitched and bugs. How did BetOnline Poker fare?
The BetOnline mobile "app" (quotes because you don't have to download it on iOS) was very stable in my tests, and performed better than many no-download clients I've tried over the years.
Multiple tables switched instantly when I tapped on them.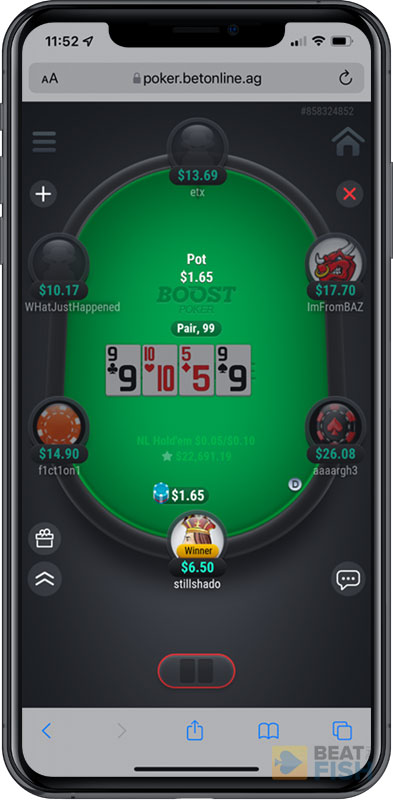 Multi-table support
The big standout feature to me is how BetOnline Poker handled multiple tables. I believe players can sit at up to 4 via mobile, although I only tested it with 2.
How does it work? Very very nicely and one of the best implementations of mobile multi-tabling I've seen.
When you're sitting at multiple tables, you'll see a small graphic at the top of the screen with your cards on that table and a ticking yellow timer if it's your turn to act. I love this idea. You just tap a table to bring it up full-size on your screen.
One annoying side effect is that if you tap near the top of a table, you'll bring up your device's top bar, moving the BetOnline app down a quarter-inch or so. Try to tap near the bottom of extra tables to avoid this.
There is an automatic table switch option, but I really didn't like having my tables constantly switch just before I would place a bet.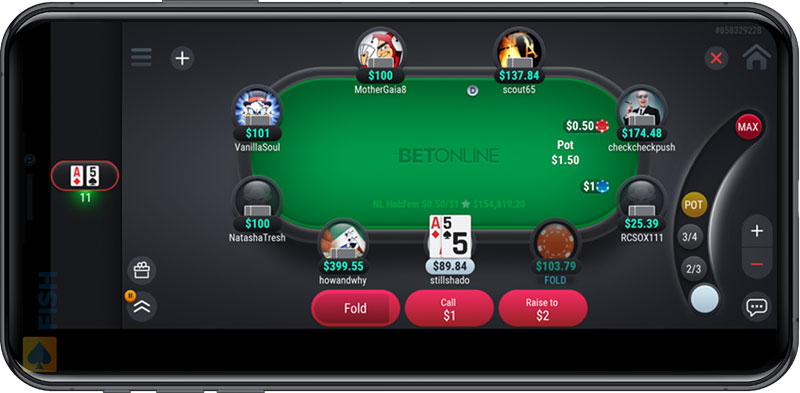 All tournaments supported
One of the other perks the BetOnline Poker mobile app has over Bovada Poker is the ability to play tournaments and Sit & Go's, which can't be overstated. That was a very shrewd move and something I know a lot of players will appreciate.
You can view any tournament lobby, register, and play right from mobile. One lesson I found out the hard way is that there's no registration confirmation, so be careful what you tap.
Unless I missed something, as soon as you tap "Register" for an event on late registration, you're in the tournament. If it has yet to start, you should be able to un-register.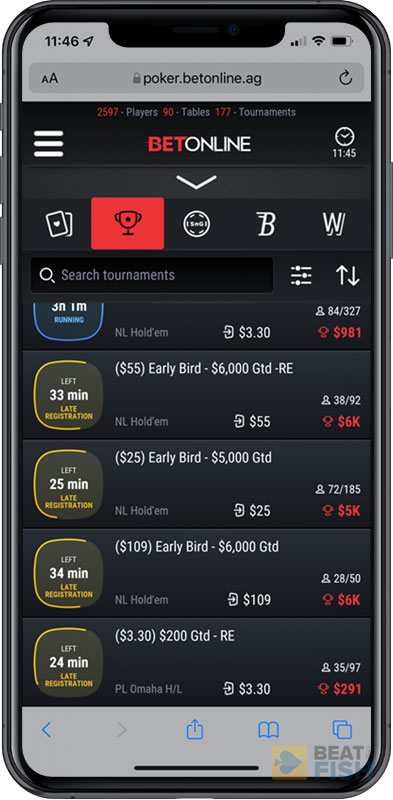 Advanced mobile settings
I'm surprised at how many settings available for BetOnline Poker mobile.
You won't have the entire suite of customizations you would have in the desktop client, but it's pretty good for a no-download offering.
Among other things, you can:
Change turn notifications
Adjust visual table themes
Toggle player chat
Toggle sounds and animations
I like the right-arrow icon at the top of each table, which controls your actions at every table. You can sit out of every table at once or wait until the big blind.
While the default theme for BetOnline Poker mobile looked perfectly fine to me, there are a handful of color options for the table felt and gaudy carpeting below.
There's a small icon of what looks like an eye dropper for custom color selection, but it was unresponsive when I tapped on it.
You can play BetOnline Poker from any browser
One unintended positive I discovered from BetOnline Poker launching their mobile client is a new hidden no-download instant play option for desktop as well.
When you're on a desktop, you won't see it advertised or linked from anywhere as the poker site would much rather you download the full client. However, it's still perfectly usable on any browser if you know how to launch it.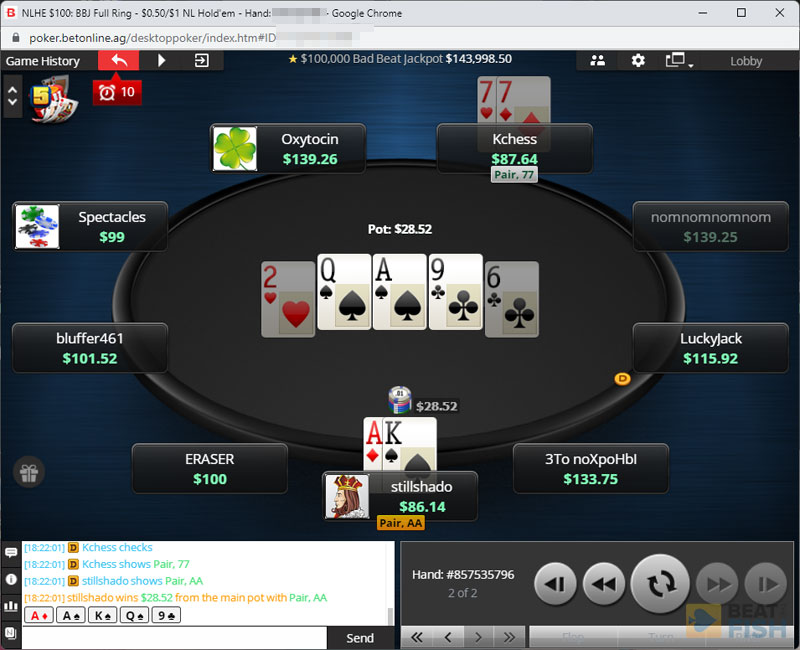 When is instant play useful?
A few examples of when instant play might come in handy would be when you're:
A prospective new player and you want to see what the games are like before downloading anything
On a lightweight machine or OS like a Chromebook and can't download software
Using a friend or family member's computer and don't want to break tech etiquette to install anything
You simply don't want to deal with downloads and updates
What can you play in-browser?
Everything, which is a big advantage over Ignition Poker's offering. All tournaments and cash games can be played in-browser.
How to launch it
Visit BetOnline and log in or create a new account
Click on the poker button in the main navigation bar
You'll see the instant play client load
You'll probably be asked to log in one more time
You'll see the lobby and can select any game
Multi-tabling is supported for up to 4 tables. It works very well and, in a way, is more streamlined than the full download.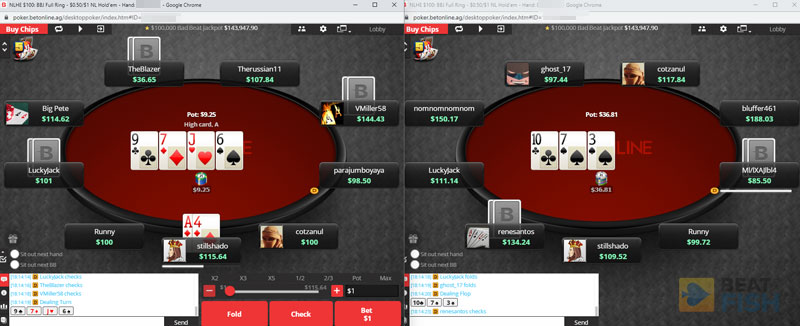 BetOnline Boost Tables
It may be about 5 years later than it should have been introduced, but BetOnline Poker has now added Boost tables, which is their version of the fast-fold you've played at places like Bovada Poker before. Simply put, it's my favorite way to play online poker.
With Boost, BetOnline Poker pools every player at each limit. As soon as a player folds or decides to fold his hand before it's even his turn, they're instantly given a new hand at a new table full of opponents who have just done the same thing. Boost allows you to play a new poker hand at betonline.ag every few seconds until you find one worth playing.
It eliminates boredom, increases your potential win rate per table, and you can play as many as 200-300 hands per hour. You'll find Boost by its special icon in the normal cash game lobby.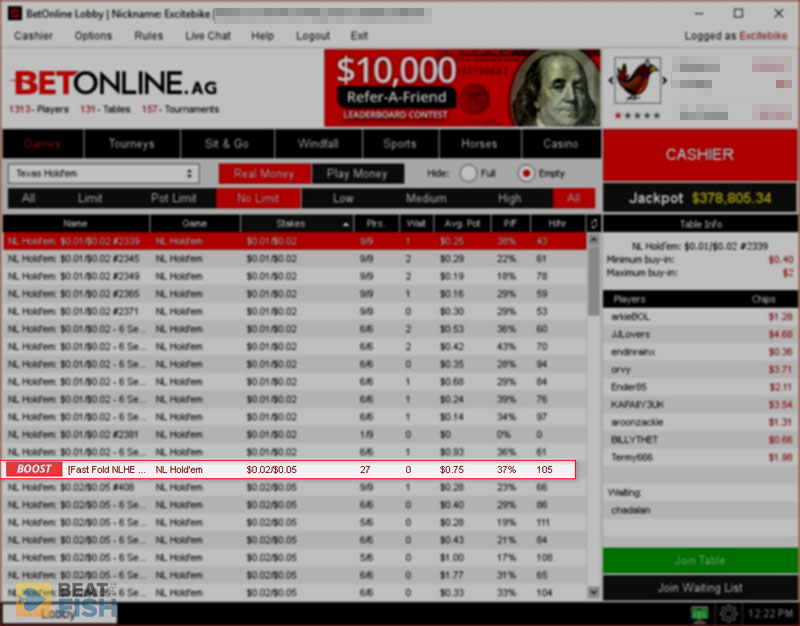 BetOnline Poker Deposits
Bitcoin deposits don't have to confirm
I shifted to using Bitcoin only for my poker deposits and payouts years ago. BetOnline Poker is one of the best to work with for Bitcoin, not only because of the quick payouts, but because of the trust they have to credit your deposits instantly.
When you're in the mood to start playing or are desperate to get in a bet before a game starts, no one wants to wait a half hour for a Bitcoin deposit to confirm on the network. BetOnline Poker doesn't make you.
You'll see Bitcoin deposits show up in your cashier immediately after you send them, even though the site hasn't technically gotten your money yet.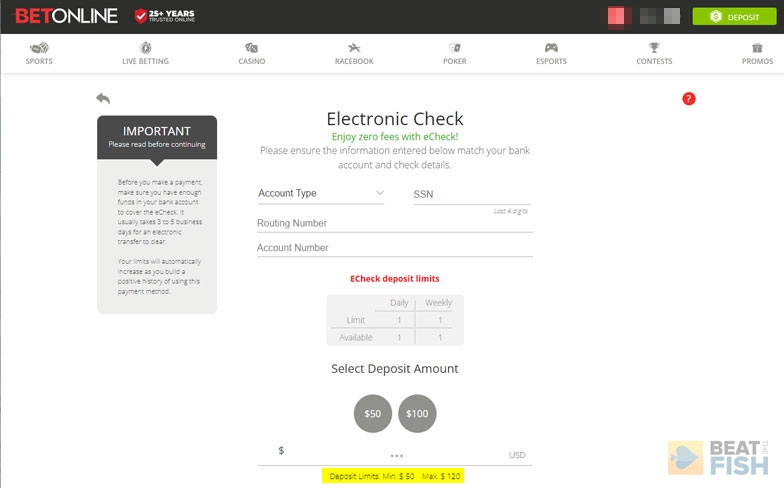 Almost every US credit or debit card should work
One of the most notable advantages BetOnline Poker has over the rest of the US market is the near-100% success rates of credit card deposits.
By utilizing proprietary processors and almost two decades of experience in the online gaming industry, BetOnline Poker should be able to accept any major credit card or debit card, including those that may have been declined previously at other poker rooms.
Even gift cards should work
Pre-paid gift credit cards should also be accepted as long as the issuing bank allows international transactions.
No third-party e-wallet or fees are involved, making BetOnline Poker the current industry leader in terms of pain-free US credit card deposits.
BetOnline Poker expands their cashier further
I recently checked in on the BetOnline Poker cashier and was surprised to see several new methods for both deposits and payouts.
This is easily the most robust cashier in the US market with several rare methods that probably won't be used often, but gives players more choice if the more popular methods aren't an option.
Both major cash transfer services
Next in line after Bitcoin and credit card is probably going to be cash transfer, which has been one of the more dependable options in the US since 2006.
BetOnline Poker offers both of the largest cash transfer services in both WU and MG.
Both have $50 minimums. Western Union as a $700 maximum while MoneyGram has a $600 maximum.
You've seen these services around even if you've never used them. They're in virtually every grocery store, convenience store, and pharmacy in the US.
How to make an easy cash transfer and get fees waived
Fortunately, both Western Union and MoneyGram now support online transfers, so you only need to use their website to make a poker room deposit.
There are fees involved, starting at $12, but BetOnline Poker covers them if you send more than $300.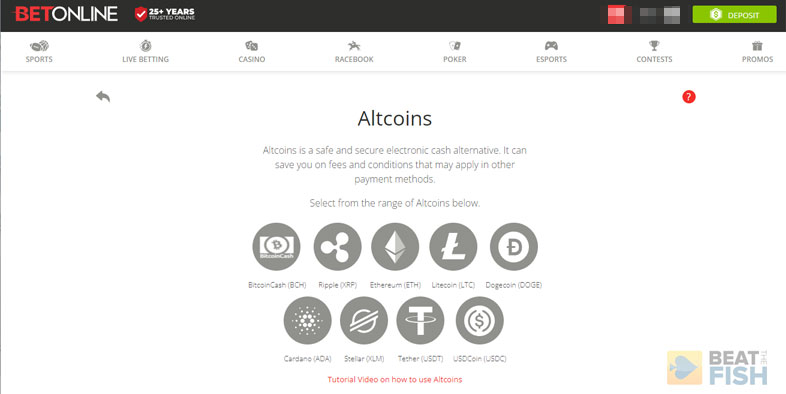 Ethereum and other altcoin cryptocurrencies
Amazingly, Litecoin and Ethereum (LTC and ETH), among a number of altcoins, are actually now supported for deposits. BetOnline Poker is one of the only poker sites I've seen offer it.
These are cryptocurrencies that function almost identically to Bitcoin. Most of the major Bitcoin exchanges also offer trades of both.
Wire transfer
If you're depositing more than $1,000 at www.betonline.ag, wire transfer is an option to send money directly from your bank to the poker room's banking processor.
BetOnline Poker will also reimburse any fees you pay at your bank, which is usually less than $50.
Cashier's check and money order
Paper alternatives include mailing the poker room a cashier's check or money order via courier.
BetOnline Poker is a bit more generous than others for paper deposits, as they'll reimburse players for any courier fees.
After clicking on either of these paper options in the cashier, you'll have a live chat window automatically open up.
Simply ask the representative (who have always been very knowledgeable in my tests) for the mailing address and payee.
US deposit thoughts
With the online poker industry being forced into massive changes in 2006 and 2011, US player priorities have also changed.
With the luxury of easy deposits disappearing from the US market, the ability to perform the simple act of funding your poker account is now a determining factor in deciding who gets your poker business.
BetOnline Poker largely succeeds in this market because they make it a pain-free experience for US players to deposit.
They offer every method under the sun with various minimums. In other words, something for almost everyone.
BetOnline Poker Deposit Methods
| | Minimum deposit | Maximum deposit | Fees | Approx. success rate |
| --- | --- | --- | --- | --- |
| Bitcoin | $20 | $500,000 | None | 100% |
| Altcoins | $20 | $500,000 | None | 100% |
| Credit card | $50 | $500 | None | 90-95% |
| Western Union | $50 | $700 | Reimbursed for deposits of $300 or more | 100% |
| MoneyGram | $50 | $600 | Reimbursed for deposits of $300 or more | 100% |
| Wire transfer | $1,000 | N/A | Reimbursed | 100% |
| Book to book | $500 | N/A | None | 100% |
| Cashier's check | $1,500 | N/A | None | 100% |
| Money order | $300 | N/A | None | 100% |
| Checking Account | $50 | $725 | None | 100% |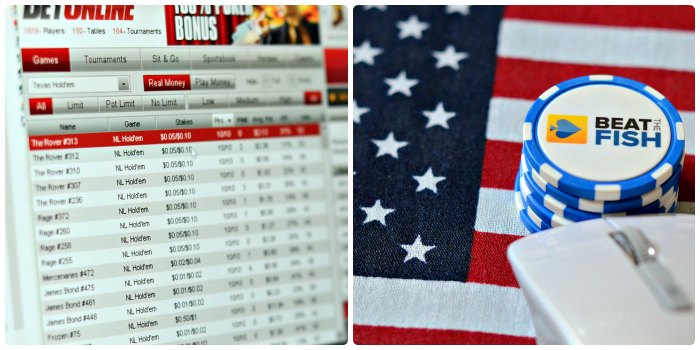 Bitcoin at BetOnline Poker
Bitcoin is so essential and works so well with BetOnline Poker that it deserves its own section. Here's the bottom line with Bitcoin:
There really isn't an excuse to not use it anymore. If you're a US player it's almost criminal not to. Take 20 minutes to learn about it and set it up.
I have a massive new guide to Bitcoin poker sites to teach you absolutely everything you need to know about how to use Bitcoin for online poker.
Benefits of Bitcoin
You'll never have a deposit declined unlike with credit cards
It's essentially anonymous if you follow the recommended practice of new Bitcoin addresses for every transaction
Banks won't know who you're sending/receiving money from. They'll only see you transacting with a Bitcoin exchange
You get the lowest minimum deposits and withdrawals at $20
BetOnline Poker will send your withdrawals in 1-2 days
Bitcoin is an enormous win. If you play online poker and you're from the US, get set up with Bitcoin. You'll make your life a little bit easier.
BetOnline Poker made an extremely smart move to support this wonderful payment method.
The simple way to get set up with Bitcoin
The process really isn't that different from PayPal or NETeller if you've been around that long.
Use a Bitcoin exchange (I personally use Kraken and Gemini)
Verify your identity and link your bank account
Buy some Bitcoin (which is worth a varying amount in standard currencies like USD)
Send it to your wallet (Copay and Electrum are fine options)
Learn to copy-paste long strings of characters to send/receive payments from BetOnline Poker and other poker rooms
Bitcoin Payouts
When you're ready to withdraw:
Request a payout from the poker room back to your wallet by getting your wallet's latest receiving address
BetOnline Poker says they'll send your funds within 24 hours. I've had my Bitcoin literally in as little as 4 minutes.
Sell your Bitcoin to the exchange, who will then credit your bank directly at the current market rate
You're set. Really.
BetOnline Poker Bitcoin Chart
| | Minimum | Maximum | Fees | Timeframe |
| --- | --- | --- | --- | --- |
| Deposits | $20 | $500,000 | None | Instant |
| Withdrawals | $50 | $100,000 | None | 1-24 hours |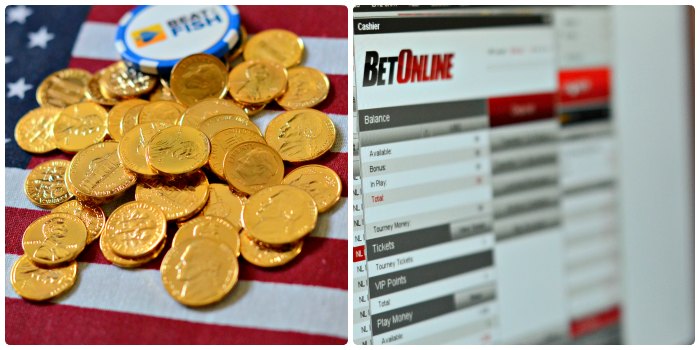 How to Deposit at betonline.ag Using Bitcoin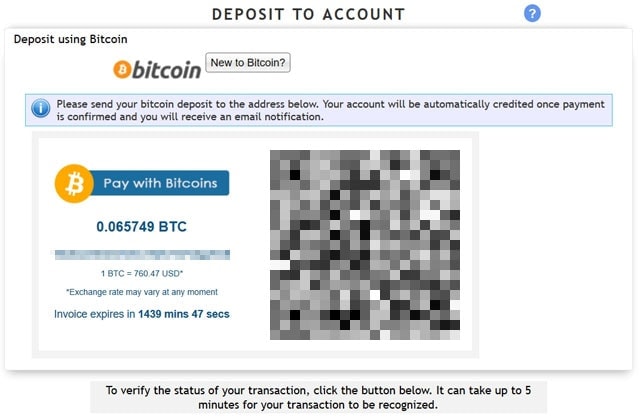 BetOnline Poker Payouts
One of the reasons BetOnline Poker has done well in the sports market over the years is their solid reputation for quick payouts. They seem to structure themselves for returning loyal players rather than for quick-fix bonus hunters.
Bitcoin payouts are the fastest I've seen
I'm absolutely floored by the Bitcoin payouts at BetOnline Poker. I recently did a withdrawal of several hundred dollars via Bitcoin and I was shocked at the speed. They sent it to my wallet 4 minutes after providing them with my Bitcoin address.
Even though BetOnline Poker quotes within 24 hours for Bitcoin processing, I believe they're automating most payouts to just have them sent to you right away. There are no Bitcoin withdrawal fees and you can request them for any amount from $50 up to $100,000.
I used to be impressed when USA-facing poker sites started sending Bitcoin payouts within a day. BetOnline has gone above and beyond to now send them within minutes. No one else is doing it better.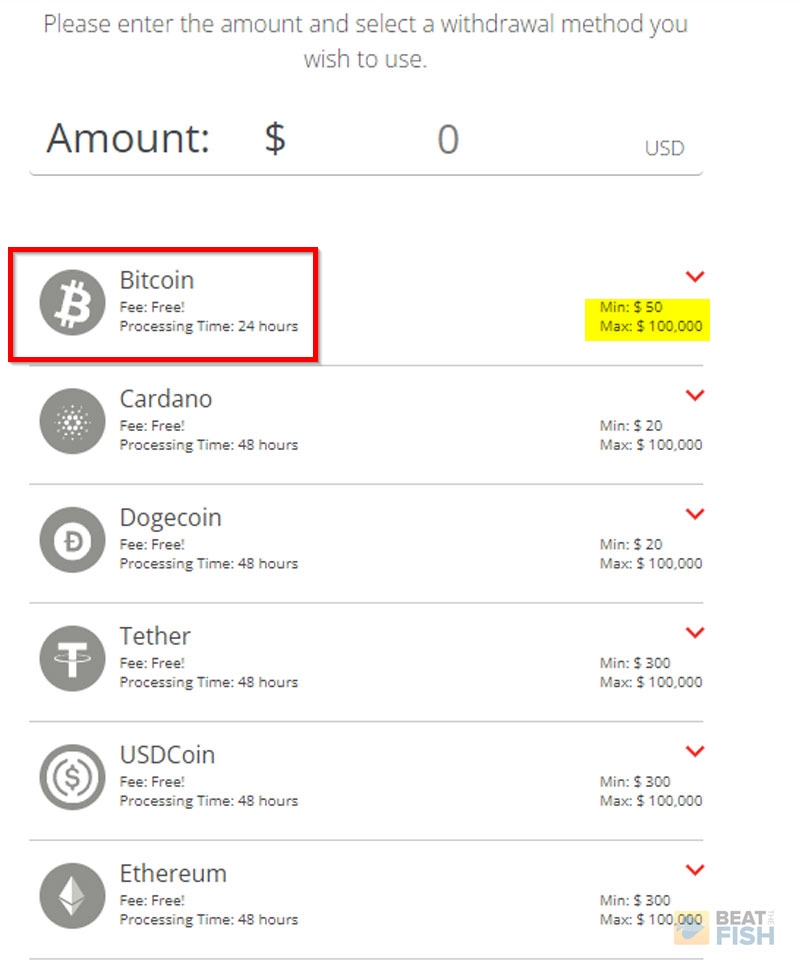 The payouts here are underrated
To me, BetOnline Poker payouts are some of the most underrated online.
Besides recently expanding the cashier, they also improved turnaround time in the past couple of years to beat most of their US competition.
The real-world turnaround time before you get your money is some of the fastest in the US market
They offer more payout methods than anyone else in the US
They waive $50 worth of fees for everyone every month
No one else can make all of those claims.
Let's take a little tour through each method as there are a lot of them.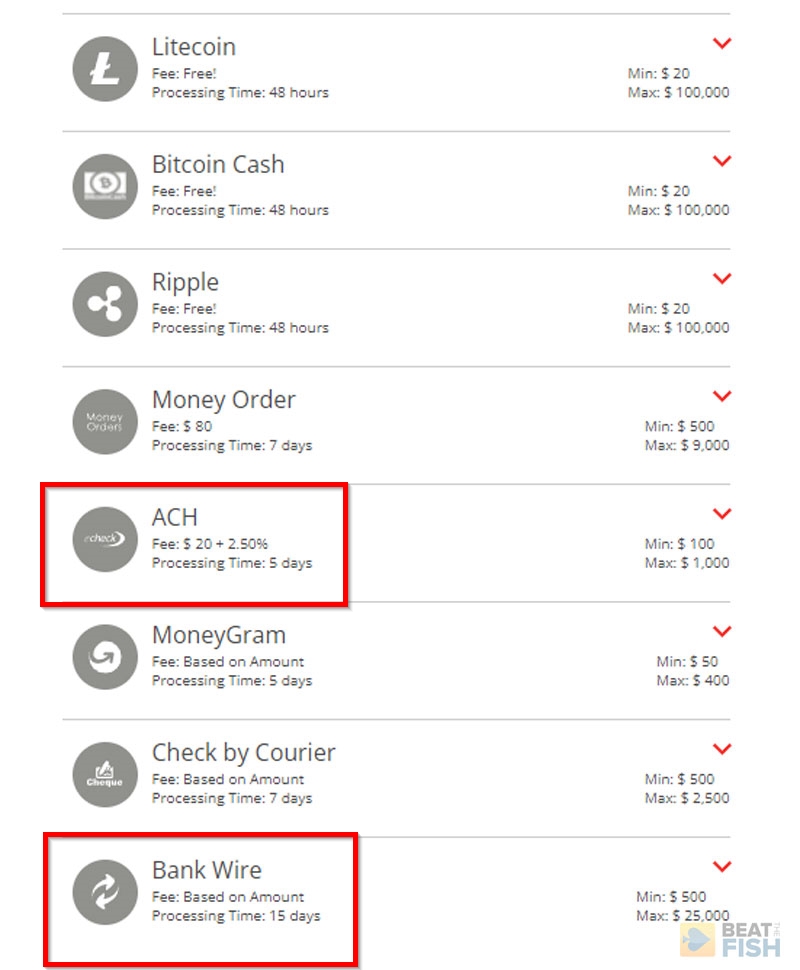 New Express Checks should be your first choice
The Express Check is a new offering, but don't overlook it if you can meet the minimum of $500.
BetOnline Poker guarantees you'll have it delivered by courier (usually FedEx for tracking and signature) within 7 business days.
That's about 10 calendar days, which is tied with Bovada Poker for the quickest of anyone in the US.
The fee is $50, but that gets waived once a month.
There are normal checks via courier or snail mail that save you on fees, but take twice as long to arrive.
Why bother? Just use your free payout and do an Express Check.
MG cash transfer
If you're withdrawing less than $500, you aren't going to beat Bitcoin with the $20 minimum. However, if that isn't an option, go for an MG cash transfer.
The minimum MG cash transfer is only $50 with a maximum of $400.
You'll have to physically pick it up and show your ID at a local location, but the benefit is you get straight cash, homey.
ATM card is a very rare option
The ATM card is an interesting option at www.betonline.ag and one that very few poker sites offer.
It may have the best combination of small minimums and speed of payouts.
It costs $80 to issue the card (use your $50 credit to bring that down) and then $25 each time you load it.
However, loads take place almost as quickly as Bitcoin: 1-2 days after your request.
You receive a physical debit card in the mail that you choose a PIN for. You can then withdraw cash from at any ATM.
If you make a lot of withdrawals, this can be one of the best options.
Wire transfer
Finally, wire transfers are nice to have and the minimum of $500 is less than other wire services I've seen.
You'll have to wait 2-3 weeks total, but wires are sent electronically directly to your bank account, so there's nothing else you need to do.
The fees are usually under $50 and covered by your monthly fee credit.
Skrill and NETeller
If you're from outside of the US, you can use Skrill or NETeller for a $20 fee.
You'll have your payout in as little as a few hours, but within a day.
BetOnline Poker might have the best payouts in the US
The variety of payout methods at BetOnline Poker is unmatched, and the processing time is some of the best in the country.
Combined with some rare methods like ATM card and wires, this will be one of the easier US options for actually getting your hands on your winnings.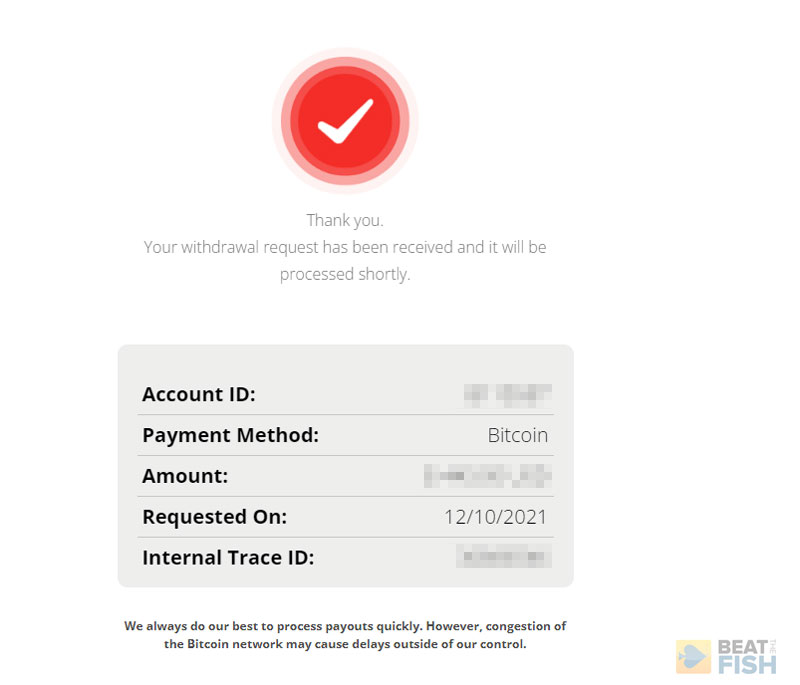 BetOnline Poker Payout Methods
| | Minimum withdrawal | Maximum withdrawal | Fees | Approx. time to delivery |
| --- | --- | --- | --- | --- |
| Bitcoin | $50 | $100,000 | None | 1-24 hours |
| Altcoins | $20 | $100,000 | None | 1-24 hours |
| Check via courier | $500 | $2,500 | $35 | 15 business days |
| Checking Account | $100 | $1,000 | $20 + 2.5% | 5 business days |
| MoneyGram | $50 | $400 | varies | 5 business days |
| Wire transfer | $500 | $25,000 | varies | 15 business days |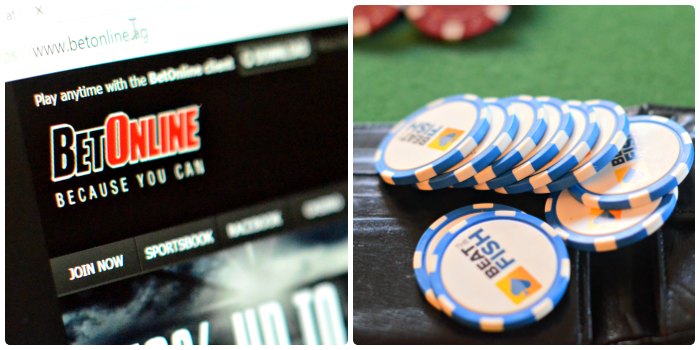 BetOnline Poker Fish Rating
Like most players, I've become increasingly frustrated with the pervasive tightness that has largely sucked the life out of today's cash games.
The lack of new US players, deposit difficulties, and the availability of advanced poker strategy are largely responsible for the single-digit flop percentages seen at the largest rooms in recent years.
Casino and sports players fuel the games
Fortunately, the gambling-centric mindset of the casino and sports players at BetOnline Poker hasn't changed much over the past decade.
With the BetOnline poker room predominantly populated by players from their other gaming platforms, the cash tables are fairly loose.
Many of the players haven't played much, if any, poker and are simply looking for another thrill to gamble their balance on.
Cash game traffic and flop numbers
The cash game traffic has really improved over the past couple of years with at least 10-20 active tables at limits up to $1/2 NL and several full tables at higher limits up to $5/10 NL.
Virtually every one features flop percentages of at least 25-30% and average pots of 20-30x the big blind, which is remarkable for 10-seated games in the current poker climate.
Hunting through the lobby for the isolated table with decent average numbers has become a common practice, but most tables at BetOnline Poker will qualify.
Going against the recent tight trends
It's refreshing to know that just about every table is filled with calling stations and maniacs chasing draws and paying you off more often when you hit your monster hands.
BetOnline Poker bucks what has become the new norm for poker worldwide and consistently offers cash games comparable to those "poker explosion" days that seem like a distant memory now.
Not for grinders
Rather than focus strictly on bringing in full-time poker grinders, BetOnline Poker seems to appeals to all-around gamblers and those jaded by the tight dull games found elsewhere.
I believe the extremely easy deposits also tend to allow players to subconsciously play a looser game and release the fear that a lost bankroll might be impossible to replace.
Cash game traffic is only second to Bovada Poker in the US market.
BetOnline Poker Fish Rating Update
Cash game traffic has tightened up somewhat since I initially reviewed BetOnline Poker, likely thanks to more experienced players discovering the poker room's formerly-wild traffic.
Games are still looser-than-average, but their Fish Rating has been updated to reflect that decrease in soft players.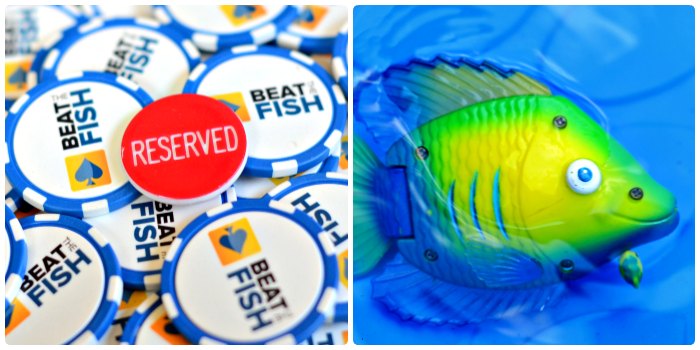 BetOnline.ag Poker Tournaments
The tournament schedule at BetOnline Poker is more of a token feature at this point than a serious draw for new players.
While there still can be plenty of casual fun in sub-$10 events, dedicated tournament players might quickly grow impatient with the high end of guaranteed prize pools ranging from $1,000-20,000.
The most popular daily real-money events draw about 100-200 players, which is certainly modest.
Some of the largest high-value events are the new $15,000 guarantees with a .99 buy-in, which is an excellent prize-to-buy-in ratio at any site.
BetOnline Poker does have several weekly events with strong value in their:
$1,000 guarantee
$3,000 guarantee
$4,000 guarantee
All of those have buy-ins under $12.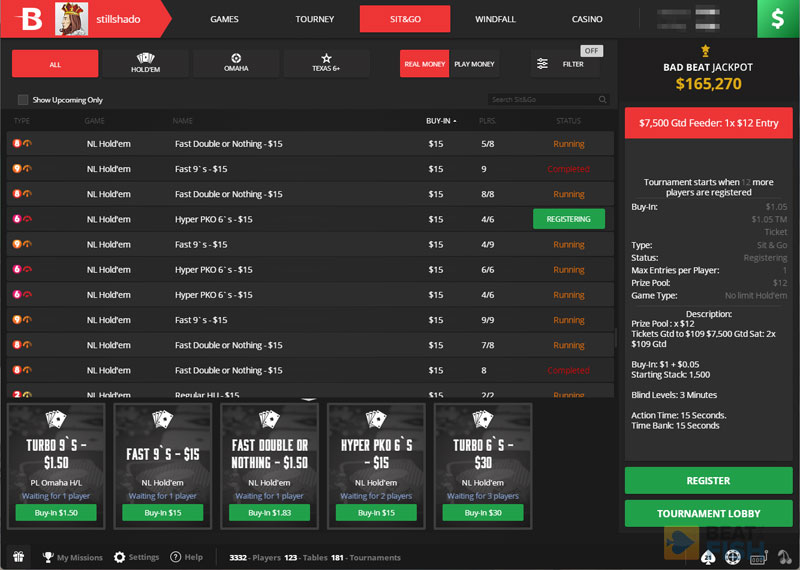 Overlays are excellent
There are some overlay opportunities in which the poker room guarantees a minimum prize pool but the actual buy-ins from players fall short of that threshold.
For example, one of the better tournaments on the schedule is a $3,000 weekly guarantee with a small $11 buy-in.
The entrants often only make up $2,000 or so of the prize pool, meaning that the poker room has to add in the other $1,000.
This is essentially like starting the tournament with a hundred players already knocked out, as the prize money is there but not the players.
Windfall Jackpot Tournaments
They may be years later than the competition, bet BetOnline Poker has added jackpot-style Sit and Go tournaments, which they're calling Windfall. Windfall tournaments are 3-player Sit and Go's that have a randomized prize pool.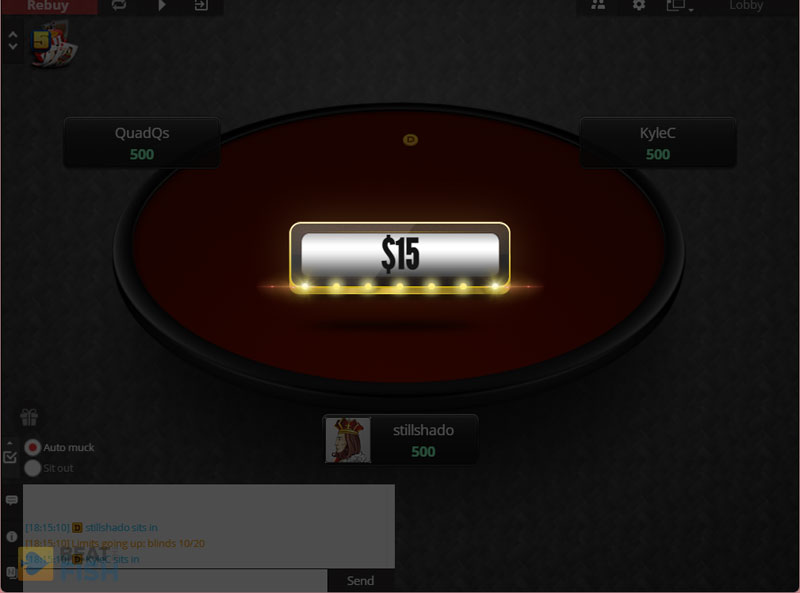 Most Windfalls will give you 2x the buy-in as the prize, but there's a minuscule chance (think 1 in 10,000) to win 2,000x the buy-in.
These have extremely fast blinds and each player only has 500 starting chips, making each Windfall only last 5 minutes or less.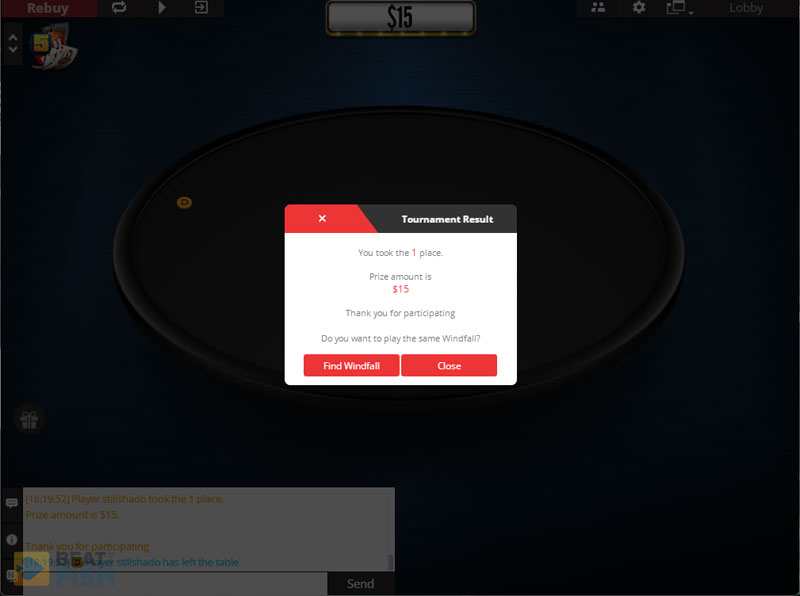 The best guarantees
The largest monthly guarantee is $20,000, which won't turn any heads, although the buy-in is extremely reasonable for low-limit players at $60.
This is also a rewards system that disperses Comp Points, which can be used directly for tournament buy-ins.
Players can either earn these as a deposit bonus or through special tournaments that give away Comp Points as prizes.
Sit and Go options
Sit and Go events are surprisingly popular up to the $33 turbo level, with only a few minutes of wait-time per table.
The "1-Up" Sit and Go tables are the equivalent of the addictive Double Up format, in which the remaining half of the table doubles their buy-in.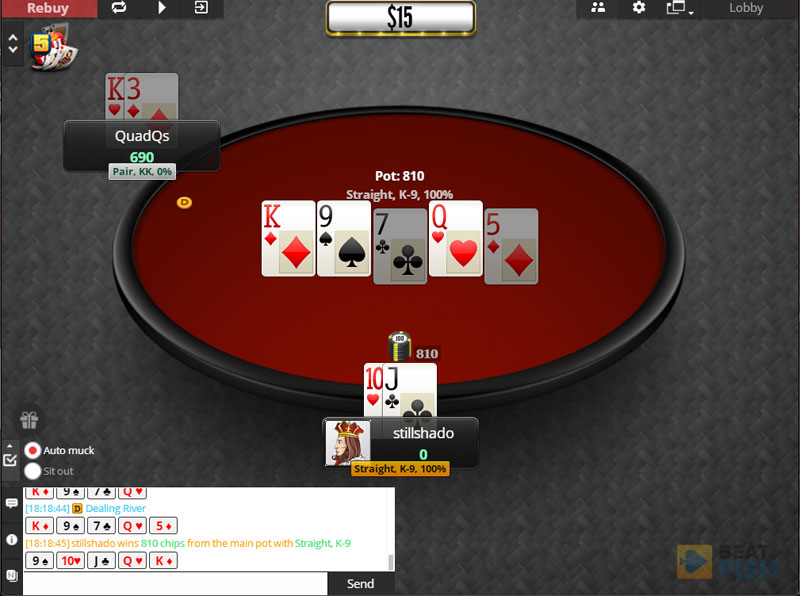 BetOnline tournament thoughts
The tournament section is still clearly a work in progress with few large guarantees and a modest level of traffic.
Fortunately, there are still some value for dedicated tournament players:
Several low buy-in events every hour
Fairly busy Sit and Go tables
Overlay opportunities for guarantees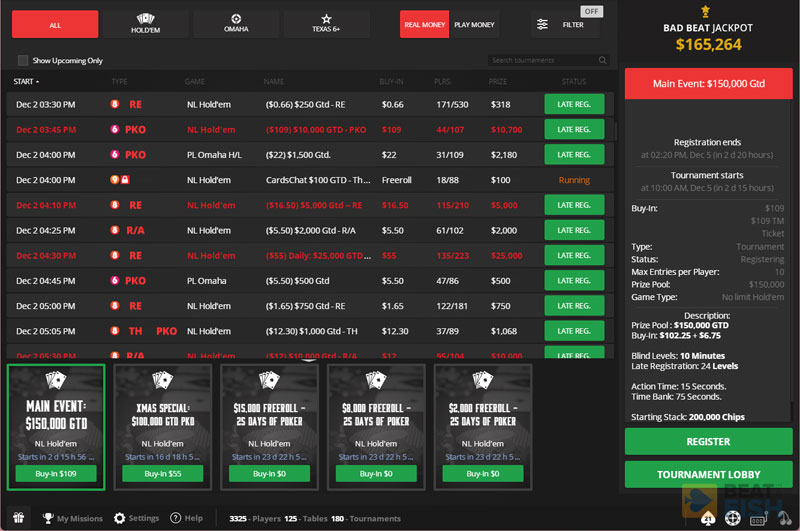 BetOnline Poker Traffic
The biggest crux of BetOnline Poker had previously been the traffic level, but it has shown remarkable growth since the early post-launch days.
They now waver between #4 and #5 in US market traffic, competing with Bovada Poker and America's Cardroom for one of the busiest poker sites open to Americans.
The cash numbers
Peak times usually feature about 2,000 online players, with most of them populating the cash games.
There are now 10-20 active tables per limit up to the $1/2 level around the clock with about a dozen more up to the $5/10 level.
I was also somewhat surprised to find filled Omaha tables, with 5-10 full games going around the clock.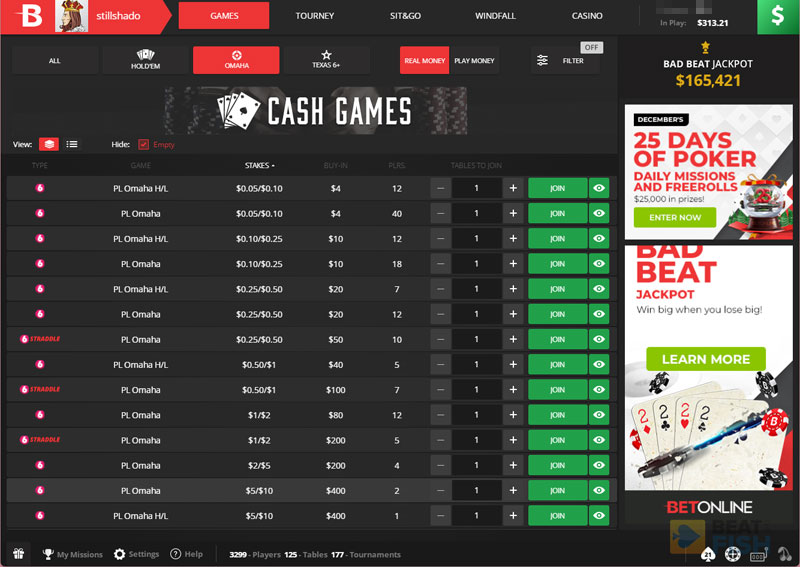 Tournament numbers
The most popular BetOnline Poker tournaments draw about 300 players, and Sit and Go events are busy with little waiting time for buy-ins up to about $30.
The traffic has really grown to competitive levels with table variety at each limit.
BetOnline Poker Software
Completely new software client
For the first 5 years of its existence, BetOnline Poker offered a simplistic fairly bare-bones software package.
It got an average score from me because, well, it wasn't any better than average. It worked, it offered a Mac download client, but that was about it for the bright side.
In mid-2016, the BetOnline Poker software received an overhaul that improved just about every aspect to the point where I now think it's one of the best in the US market.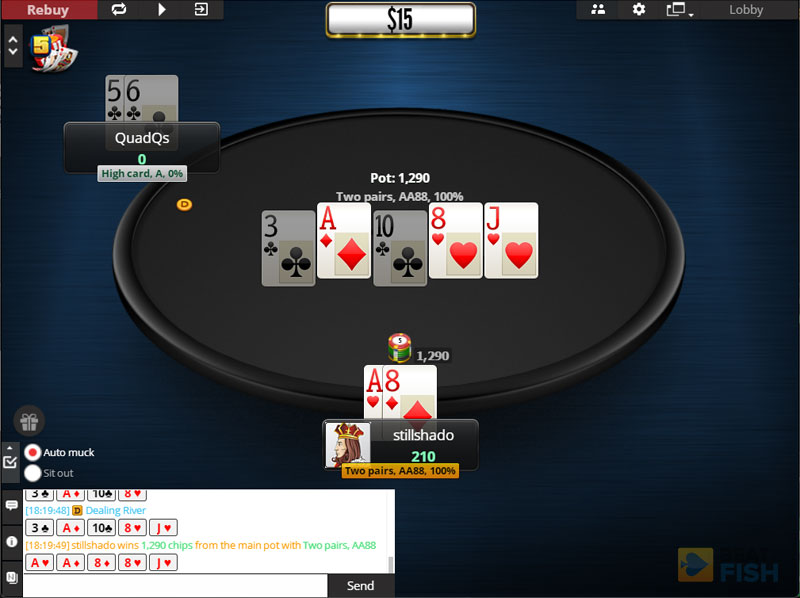 Excellent new real-money mobile app contributes to top score
In 2017, BetOnline Poker also revealed what I knew they had been working on for some time: mobile poker. It's now available for all players on either iPhone, iPad, Android phone, or Android tablet.
I've used it extensively and it's surprisingly excellent with rare features like multi-tabling, chat bubbles, and a built-in cashier. I've encountered no crashes and only occasional hangs.
BetOnline Poker is now only the second US poker site to offer mobile play and I would say offers the best in quality thanks to two big exclusives:
Tournaments
Multi-table support of up to 4 tables
Ditching Chico Network
On the network side, BetOnline Poker ditched the old Chico Poker Network software, to which I say good riddance. It was an outdated poker client whose reputation with other skins over the years was spotty.
The current software package was developed by Connective Games and I'm pleased with my early experiences.
The basics
To start with, the lobby is very similar to the old layout without any major changes. You'll still see common table information like average pot sizes and player flop percentages.
The lobby offers similar filters as other poker rooms, with the ability to show cash games and tournaments based on specific parameters like limit and type of game.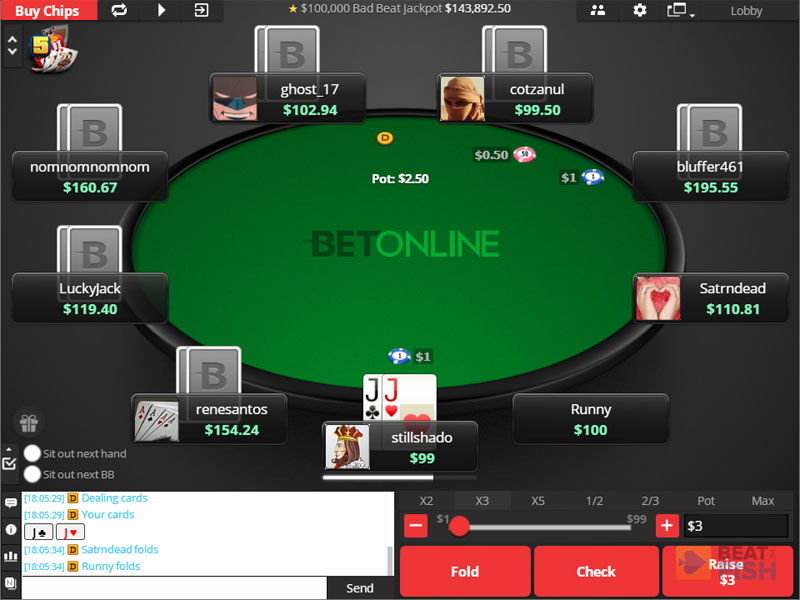 Game speed
Strangely, BetOnline Poker doesn't show the average number of hands per hour.
From my playing time, I've found it to run at an above-average speed of 55-65 hands per hour for 10-seated tables and 60-75+ hands per hour for 6-seated tables.
Buddy list and table sizing
There is now a buddy list feature, which you can populate with friends you want to play with, fish you want to follow around, or sharks and obnoxious players whose tables you want to avoid.
Table sizing options are now friendly to multi-tablers with tile, cascade, and maximization all easily accessible.
New games
One new addition is in game variety, which now includes the following aside from the old standby's Texas Hold'em and Omaha:
Americana
32 Card Draw
7 Card Stud
I have to admit to only even knowing how to play Stud out of those.
It's also the only one of those 3 that I've seen players actually sit down at.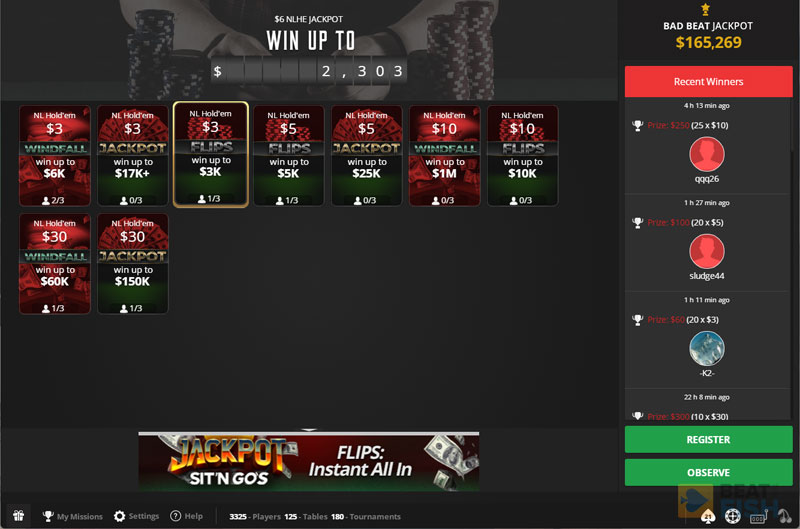 Graphics overhaul
When you open up a table, you'll notice the graphical overhaul. The visual scheme is now quite attractive with a sharp table layout. You can finally change the felt color, carpet color, and card graphics, all of which look nice.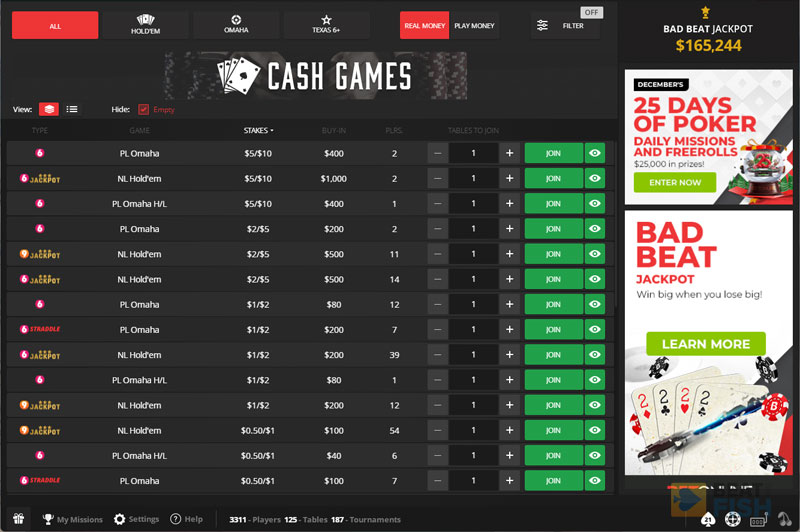 Blackjack window is thankfully gone
Gone is the awful old blackjack table that was anchored right to your poker game, replaced by an innocuous casino icon. A lot of BetOnline Poker players hated the anchored Blackjack and I was one of them.
Customizations
Players can also finally choose an avatar from either a generic list of about a dozen icons or from a custom upload.
The time remaining to act is displayed clearly, and there's a new time bank option for more important decisions or an incredibly obnoxious posture.
Table functionality is very good at BetOnline Poker, with your hand strength in words always displayed as well as for everyone in an all-in showdown situation.
There is also a glut of options now available, from animation speed to chat to table size.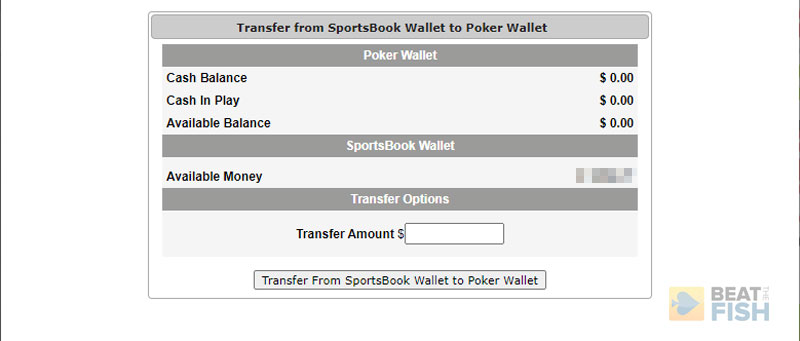 Windows, Mac, and mobile options
The poker software currently offers standalone installations for Windows and Mac, the latter of which is always nice to see as Apple continues to gain market share.
The entire BetOnline Poker suite of games is also now available on mobile for both iOS and Android devices.
Overall software impression
The feel of the new BetOnline Poker software reminds me a lot of 888 Poker, which is one of my other favorites.
Essentially, short of something incredibly immersive like the incomparable old PKR software, this is what online poker should feel like today.
This new software update took something that was a negative and made it into what I now consider to be one of the best in the US market.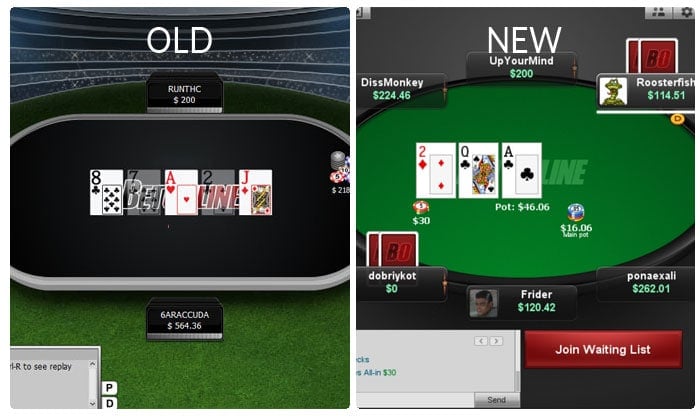 BetOnline Poker History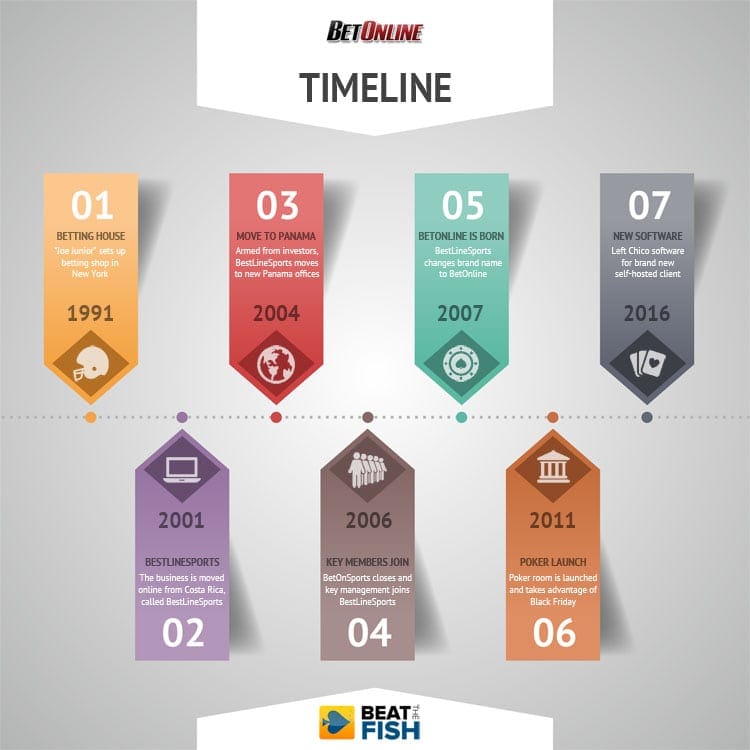 1991
A brick-and-mortar betting shop operation is set up in New York by a man with the alias of Joe Junior.
2001
After a few unpleasant encounters with the NYPD, Joe Junior decides relocates the entire operation to Costa Rica.
The sports betting company is moved online and branded as BestLineSports.
BestLineSports experiences exponential growth, especially after partnering up with another bookmaker located in Costa Rica going under the alias of John Magnum.
2004
Reinforced by new investors, the company moves its headquarters to Panama.
2006
One of the biggest betting sites, BetonSports, goes under. Former high-ranking employees join BestLineSports.
2007
The company is renamed BetOnline. They proceed to successfully serve US customers despite the passage of the UIGEA in 2006.
2011
The Black Friday indictments are unsealed against the former 3 top US-facing poker operators, forcing them to withdraw from the American market.
BetOnline launches their poker room and successfully takes advantage of the opportunity.
In terms of player traffic, they become one of the top 3 poker sites serving Americans.
2016
BetOnline Poker's contract with the Chico software platform is not renewed and a new proprietary poker software client is released, developed by Connective Games.
Current Day
BetOnline Poker now has one of the top-rated mobile poker sites in the market. There's no app to download and works on any device. Bitcoin transactions are also processed instantly for deposits and within minutes for payouts.
BetOnline Poker Support
So few poker rooms actually offer live telephone support that doing so almost automatically compels me to give a top score.
BetOnline Poker focuses more on player support and banking ease than flashy promotions and bonuses, so they offer just about every contact method for players.
I usually take advantage of the live chat, which is available both from the website directly or the poker software.
The support team actually seems familiar with the poker room and I've always gotten the answers I needed from them without having to call in.
Unfortunately, due to their lack of response to the infamous Blackjack cheating video, I cannot give BetOnline an excellent support score.
BetOnline Poker support methods
Skype: PlayerServices (I haven't seen Skype available anywhere else)
Live chat: Open from your poker software or in the cashier
Telephone: 1-888-426-3661
Email:

 

poker@BetOnline.ag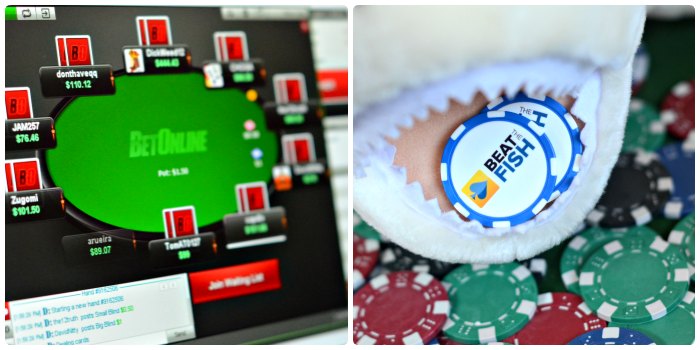 Strategy for Beating the Games at BetOnline
Though you're probably familiar with the overall concepts, it's essential to brush up on methods of combating aggressive players at BetOnline Poker.
With the majority of cash games featuring high flop percentages and large average pots, you'll usually be seated with a combination of passive calling stations that play too many hands or maniacal sports bettors that try to run you off of every hand.
Brush up on your classic methods to combat loose players
With few poker rooms matching the wild play of BetOnline Poker over the past few years, you may be a bit rusty on specific strategies to employ against loose players.
The key to profits in loose games is to be selective with your starting hands and know when to give and take control.
The right way to play calling stations
The inherent weakness in calling stations is that they play too many hands and stay in far too long, content to allow more aggressive players to take control and dictate the betting.
How do you extract maximum profits from calling stations? Seize control and simply bet for value on your strongest hands.
While that may seem simple, many players here over-complicate decisions by trying advanced plays, acting weak, or bluffing.
If you expect to get called, simply act strong when you're strong and make your bet sizes as large as possible without exceeding the pot.
Over-aggressive players
How do you succeed against overly aggressive players?
Allow them to take control and hang themselves with their poor play.
Regularly employ check-raises to trap players at BetOnline Poker for a quick profit, or simply flat-call in position on the flop before making your move on the turn or river.
Wait for the river to make your move
Overaggressive players typically can't see the forest for the trees, building a significant pot by making large bets at every street while you lull them into comfort by weakly calling until the river.
For this reason, I recommend holding strong made hands rather than speculative draws when facing overaggressive players.
This method works particularly well when playing in position and heads-up post-flop.
A lifelong poker player who moved online in 2004, Josh founded Beat The Fish in 2005 to help online poker players make more-informed decisions on where to play and how to win once they got there. He hopes to counter the rampant dishonesty in online gaming media with objective reviews and relevant features. Tech nostalgic. Fondly remembers the soup avatar at Doyle's Room.