The Ultimate ACR Poker Review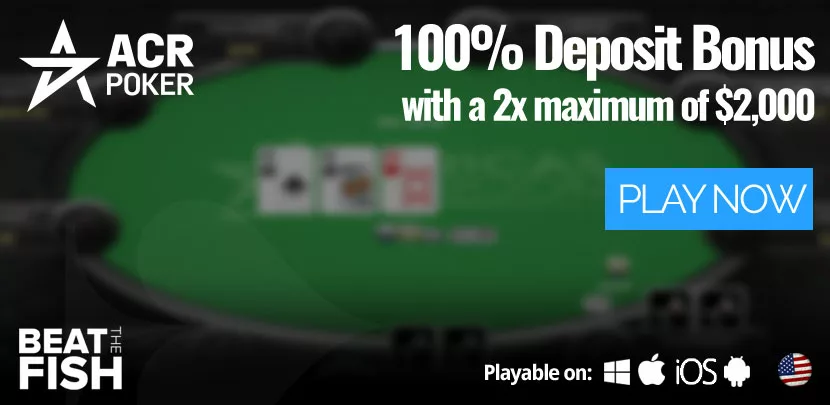 | | |
| --- | --- |
| | |
| | Yes, from 43 states. Players are not allowed from New Jersey, Maryland, Delaware, Kentucky, Louisiana, Nevada, or Washington. |
| | |
| | |
| | 100% up to $2,000 using any deposit method |
| | |
| | |
| | |
| | |
| | Texas Hold'em, Omaha, Stud |
| | Windows, Mac, iOS, Android |
| | Visa, Mastercard, Ria, Cash Transfer (WU, MG), Bitcoin, Bitcoin Cash, Ethereum, Litecoin, Dash, many other cryptocurrencies |
| | Check, Cash Transfer, Bitcoin, other cryptocurrencies |
ACR Poker
Bonus

Fish Rating

Deposits

Payouts

Tournaments

Software

Player Traffic

Player Support

HUD Blocking

Mobile Software
Pros
Top 3 for USA real-money traffic
Officially licensed and regulated
Largest tournament prize pools in US market
Doubles 100% bonus maximum to $2,000 for our players
Dependable Bitcoin payouts within 24-48 hours
Player protection measures now available
Unique game modes no other poker sites have
Cons
Does not block Heads Up Displays (HUD's)
Concerns that they aren't protecting enough against bots
Mobile software lacks all game modes
Almost all tournaments allow re-buys and/or add-ons
Introduction
Never underestimate deep online gaming roots and the online poker site industry's ability to surprise you.
ACR Poker, formerly Americas Cardroom, is a very good example, beginning life as an obscure offshoot of now-defunct sports outfit Betcris in 2001.
With the way US online gaming changes, that might as well be a million years ago.
How has ACR Poker grown like this?
Cut to an opportunity to bail out ailing Doyle's Room, lure long-tenured but under-performing sites like True Poker, and they've somehow emerged as one of the busiest networks in US online poker with no one else able to touch their massive tournaments.
I kept seeing the name around, but this was actually my first experience with the Winning Poker Network since they bailed out the aforementioned Yatahay sites.
I had a sort of a personal boycott on what I figured would be another doomed undersized US-facing network.
One of the largest sites open to US players
I've actually been pleasantly surprised and discovered, amazingly, that this is now one of the largest open networks available to US players.
ACR Poker only trails Bovada and matches BetOnline in terms of overall traffic.
While I don't prefer 6-seated tables, ACR Poker has them in spades, with dozens of active tables up to the $5/10 level and a handful of full 9-seated ones as well. ACR Poker's traffic is strong not only for Hold Em, but even games like Pot Limit Omaha.
Tournaments are one of the big highlights
ACR Poker is largely succeeding without anything really spectacular aside from hosting, by far, some of the largest tournaments in the US market.
The featured event has a guaranteed $1 million prize pool, which hasn't been seen in US parts since Black Friday swallowed up the big boys back in 2011.
The cheapest tournaments also draw 500-1,000+ players, which are some of the best numbers in the market, US or otherwise.
Strength of withdrawals is noteworthy
The other two most compelling reasons to play at ACR Poker are the game traffic and the quick consistent withdrawals. Although most popular in the US, ACR has drawn sizable traffic from other countries as well.
The promotions are decent with a 100% bonus and an average clearing rate. One aspect that stands out at ACR Poker is the behind-the-scenes work of their support and cashier.
Efficient cashier
ACR Poker has deep roots in the origins of online and thus always seem to be one step ahead in terms of processing.
They always bring their own cashier to whatever network they are on and it invariably adds more options than their skin competitors.
Withdrawals have been very fast for over a decade, which is easy to overlook but shouldn't be understated.
Close to the good old days
After the failures and outright scams in the industry of the past 10 years (Lock, UB) I've become somewhat cynical to recommending many US online poker rooms period.
I've now reviewed ACR Poker for years, and they've been a nice breath of fresh air. ACR is proving that good concepts and strong execution can still be rewarded with busy tables.
It comes very close to the good old days:
Plenty of tables
Big tournaments
A cashier that just works
I can easily see why they have achieved the player numbers they have and, if they continue their current level of service, ACR Poker is an easy recommendation for US players starved of a consistent high-level poker home.
It should be noted that ACR Poker is available to players in 43 states. Restricted states include Louisiana, Maryland, Kentucky, Delaware, New Jersey, Nevada, and Washington.
Frequently Asked Questions
✅ What is the referral code for 200%
ACR now gives new players a 100% bonus if they use referral code ACRBTF and make a deposit using any method. This is good up to $2,000.
✅ Is Americas Cardroom rigged?
Although there have been some isolated claims that America's Cardroom players have been colluding or using bots, I don't see any evidence to believe that the poker site itself is cheating players. I would like to see ACR move to anonymous tables and automated seating to discourage collusion.
✅ Can you play America's Cardroom on mobile?
Yes, although not every cash game and tournament. America's Cardroom recently released mobile software that will work on iOS or Android, but only for Jackpot Sit and Go's, Blitz Poker (fast-fold), and Cyclone satellite tournaments.
✅ Does America's Cardroom pay out players?
Yes. In fact, the payouts are one of the best features of America's Cardroom. I've been playing here for nearly a decade and have cashed out numerous times without any trouble. Bitcoin is my current favorite withdrawal method here, as ACR will send it within 24-36 hours.
Game Limits
| Game | Minimum Limit | Maximum Limit |
| --- | --- | --- |
| No-Limit Hold'em | .01/.02 | $25/50 |
| Fixed-Limit Hold'em | .02/.04 | $30/60 |
| Omaha | .01/.02 | $30/60 |
| Stud | .04/.08 | $30/60 |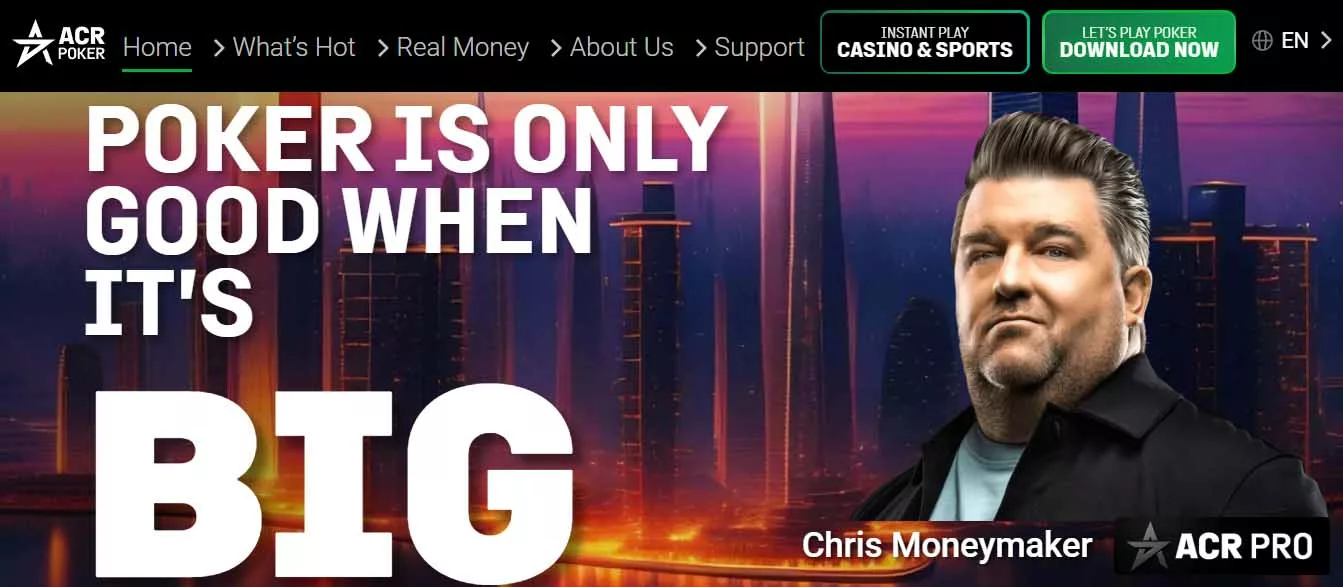 Is ACR tough on cheaters and bots?
An underground mini-scandal took place in early 2018 when popular online poker streamer Joey Ingram went on a diatribe about possible cheating at ACR Poker and the greater Winning Poker Network.
Although he came out with a number of well-researched findings, the most believable claims included rampant cheating bots and collusion by a ring of Eastern European players.
Is ACR Poker Rigged?
At this point, I do not believe that ACR Poker games are rigged in any way by the poker site itself.
Those sorts of conspiracy theories have been slung at every site who's ever dealt a hand of online poker. Purposely cheating its players would be unnecessary suicide for a company already raking in millions by simply hosting games and staying out of the way.
I've previously expanded on those thoughts at length in my response to assorted baseless claims thrown at Ignition Poker.
However, it's still certainly possible for online poker cheaters to exist in the form of fellow players. Anyone can try to cheat anywhere, just like anyone can try to commit a crime. At that point, the onus is on the poker site to stop them and protect their honest clientele. That's their job.
ACR Response to Bot Allegations
There seemed to be some acknowledgment by ACR that cheating on some level took place as, after Ingram's claims, they privately contacted and refunded affected players. That also begs the question of if they would have done so without being publicly exposed?
Good on ACR Poker to take action, but even better would have been a public statement about claims that have sullied their reputation.
Of course, ACR Poker will point to their random number generator (RNG) being certified by iTech Labs to prove the actual games are run cleanly. They do post their certification publicly on the website. That still doesn't address cheaters, though.
Instead of keeping things private and hoping they go away, why not weed out the cheaters and publicly devote all your resources to making sure it can't happen again? Maybe that's still coming, but as more time passes since the incident, it seems unlikely.
I still trust ACR Poker, largely because I've played here for many years and they've done a lot of positive things. US players especially deserve them to succeed and stay aboveboard. Here's to hoping they do.
ACR Poker Welcome Bonus
Unfortunately, ACR Poker has at least temporarily removed the free $50 part of their bonus. They've replaced it with a 100% bonus and an increased $2,000 maximum.
The only one of its kind online right now
ACR Poker quietly added in their Jackpot Poker bonus to all new players depositing $25 and, surprisingly, I find it to be one of the most worthwhile and underrated promotions out there right now.
For a poker site that has failed to grab my attention with its promotions for years I'm truly impressed with this.
What is Jackpot Poker?
Jackpot Poker is what ACR Poker brands its Spin and Go's, which have become quite popular with a segment of the online poker population.
These are 3-player Sit and Go's where 70% of the time the winner gets twice the buy-in and there's a small chance for bigger prize pools up to massive jackpots.
Blinds are quick and stacks are small. I'm not a big fan of them.
70% of the time you get 1/3 less of a prize pool for the privilege of lowering your skill edge thanks to the small chip stacks.
Gee, sounds great!
You can save the ACR tourney bucks for a $40 buy-in
Jackpot Poker Sit and Go's are offered in $2, $10, $25, and $40 buy-ins so you're always guaranteed a free entry for each card you open as they range between $2-5 per card.
You can also save them up, meaning if you collect all 20 of them you're guaranteed a free shot at the highest $40 level.
ACR bonus is better than any play-though bonus to me
I may be a sucker for any instant bonus, but I'm more impressed with this than any tight-fisted pseudo-bonus everyone else is offering.
At worst, you can play a bunch of these free Jackpot Poker luckbox Sit and Go's and have a chance at doubling your free money as 2x the buy-in is the prize pool for most of them.
At best, you have a small percentage to spin a huge prize pool.
ACR Poker gets you to try these things out, you can win real money, and you don't have to play 891 raked hands on the fourth Sunday after the summer Equinox to cash it out. It's a win-win.
Mobile Software
In every ACR Poker review I've written over the years, I've been railing on this site to put out mobile poker software literally for years. They missed the boat so long ago that I thought they would just give up.
Although it's several years late, ACR Poker finally offers the ability to play cash games and tournaments on any mobile phone or tablet.
ACR Poker lacking a mobile option for so long was as egregious a blunder as a modern business not having a website. There is no separate "smartphone segment" to ignore anymore. That segment is essentially the entire poker-playing population.
Bovada Poker added no-app mobile cash games back in 2014 and reaped the benefits. BetOnline Poker stopped dragging their feet about mobile in 2017 and arguably did it even better with multi-table and tournament functionality.
ACR previously experimented with only allowing Jackpot Tournaments on mobile, but they've now expanded the poker games available. The graphics are attractive, you can multi-table, and games run smoothly.
From any mobile device, you can now play ACR Poker Blitz Poker cash games, Jackpot tournaments, and Cyclone satellites. No app download is required.
You simply log in to your ACR account from your mobile browser, go to the poker section, and you'll see the lobby of available poker games. ACR Poker mobile worked smoothly from my antiquated iPhone 6S Plus and should work on any phone or tablet released within the past 5-7 years.
Both iOS and Android should work fine.

I like that ACR added a full-service cashier into mobile, meaning you never need to use a computer to get funded.The variety of poker games that ACR Poker supports on mobile make the most sense, as players can easily hop on and off them.
Blitz Poker is fast-fold, which lets you see hundreds of hands per hour and constantly stay in action. Jackpot tournaments are usually over within 5-10 minutes. Cyclones are fast-fold satellite tournaments, also usually over in under 15 minutes.
I personally love any fast-fold poker and I spend the vast majority of my mobile time at ACR Poker on Blitz.
All games should be added to mobile
However, I think ACR Poker is making a mistake not to just offer every cash game and tournament variation on mobile. There are no standard cash games, no standard tournaments, and no standard Sit and Go's.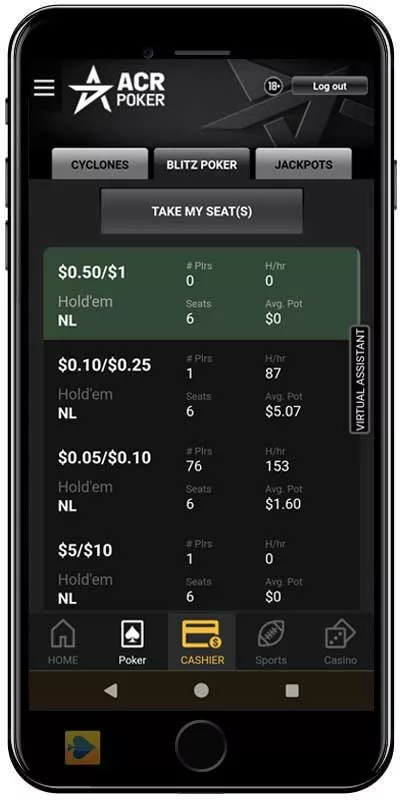 The lobby is very easy to navigate, but I wish ACR Poker would just put every cash game and tournament on mobile.I understand ACR wanting to simplify the games offered for mobile players, but why not just give players control over what they want to play? I'm never a fan of companies limiting mobile versions of their product, assuming they know what I won't do on mobile.
Bovada and Ignition Poker similarly limited the ability to play multi-table tournaments from their early mobile poker sites, only to eventually add them after player backlash.
Smooth mobile experience
Everything else aside, I'm actually a big fan of the ACR Poker mobile poker client. The lobby has big buttons and shows game stats. The table graphics are identical to the desktop version, which is to say they're darkly minimalist and modern.
There are quite a number of buttons crammed at each table, which I imagine could result in some mistaken taps on smaller displays. On a tablet, you'll have plenty of space.
I'm a big fan of the multi-table layout, which shows hands at up to 4 tables on one screen.
As with any mobile poker software, the biggest hassle is typing in an exact bet. You can avoid that by sticking to the pre-set pot-based betting buttons.
How ACR deals with multiple tables on mobile is also noteworthy. You can play up to 4 tables at once, but I wouldn't recommend attempting more than 2.
Every mobile poker game mode is either 3 players or fast-fold, meaning you'll get quickly overwhelmed and be sat out if you try to do 4 tables at once.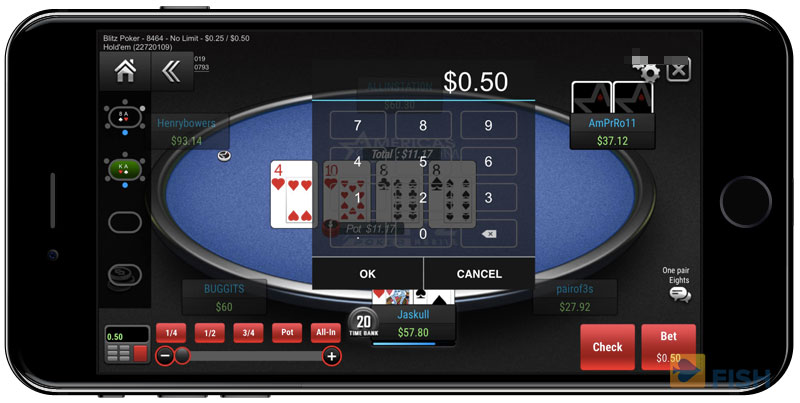 ACR Poker shows a mini-view of your hands at all your tables stacked on the left side of your screen. The table will turn red if it's your turn to act.
Even better, if you aren't currently involved in another hand at the table you're viewing, ACR will automatically switch you over to the table you need to act on. That saves a lot of hassle and shouldn't result in mistaken actions because it's disabled if you have a hand on the table you're viewing.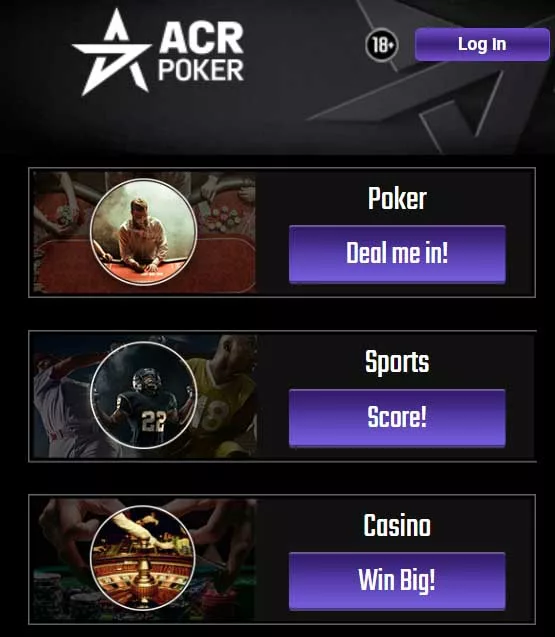 How to play from phones and tablets
As with other legal online poker sites accepting USA players, ACR Poker doesn't make you download an app.
First, go to ACR Poker from your mobile browser.
Then, just tap the play button and log in to your account. You don't have to download an app to play. It just works from your browser.
The full ACR Poker cashier is also baked into the mobile website, which is nice. You can do either deposits or withdrawals.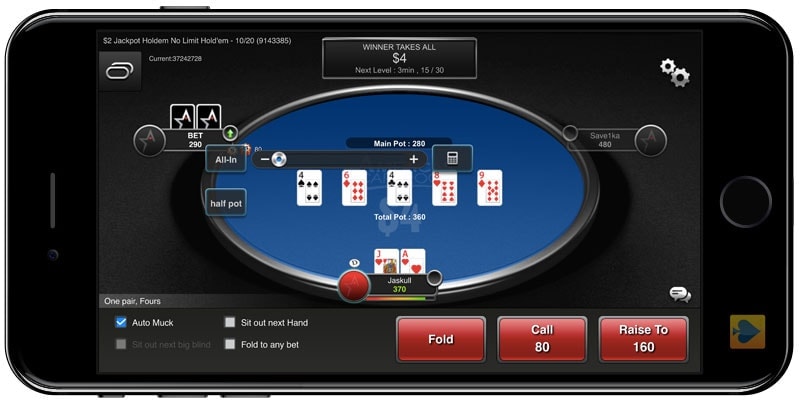 How mobile tables work on iOS and Android
All that aside, how does ACR Poker mobile play? Extremely well, actually, which makes it even more painful that you can't play all the games.
You can register for up to 4 poker tournaments at once and the software will open up your table for you as soon as it starts.
The only options are to enable table animations and sounds, both of which I like. ACR Poker mobile will sound a distinct beep when it's your turn to act.
There's also a chat box button, although I don't know why you'd use it on mobile since it takes over the entire screen.
The game runs smoothly and, aside from a bet slider that's in an unusually high vertical location, functions very well.
I didn't ever see any slowdown or glitches, aside from a weird server disconnect error message when I would exit to the lobby. That made me have to log in again.
ACR Poker handled multiple tables on mobile especially well, with a grid on the left side that shows you all your hands.
How multi-tabling works on mobile
How a mobile poker site handles multi-tabling is always what I'm most interested in. It's the trickiest task to pull off on mobile because you can't tile poker tables like you can on a desktop. The software developers have to get creative.
ACR Poker mobile does multiple tables similarly to the excellent system used by BetOnline. You can expand a mini-view that shows all your hands at up to 4 tables.
ACR Poker added a very handy feature of automatically switching your table when your turn to act comes up. If you're in the middle of another action, it waits to switch you until you've completed it.
ACR has one of the best system I've seen to handle multiple mobile poker tables.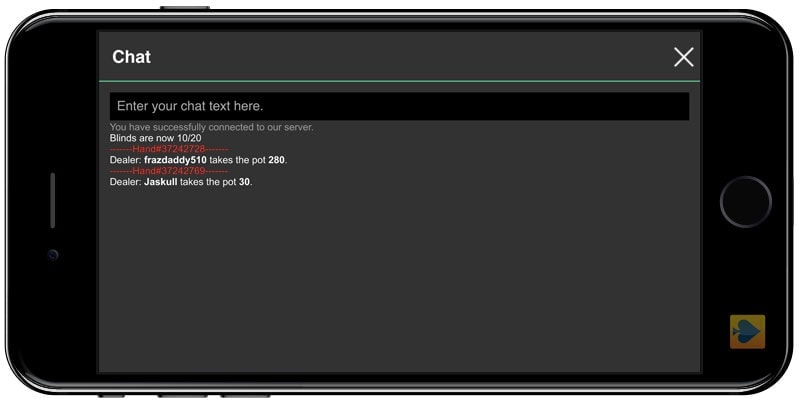 ACR Poker Blitz Poker
As a poker site, ACR Poker tends to be be either incredibly innovative with game features or incredibly behind the ball. With Blitz Poker, ACR is several years late, but I'm glad they finally added my favorite way to play online poker.
Blitz Poker is what ACR Poker calls fast-fold poker. If you've been around the online poker block, you've seen this elsewhere under different names. Bovada and Ignition call it Zone Poker, PokerStars calls it Zoom Poker, and everyone else has their own fast-fold brand name.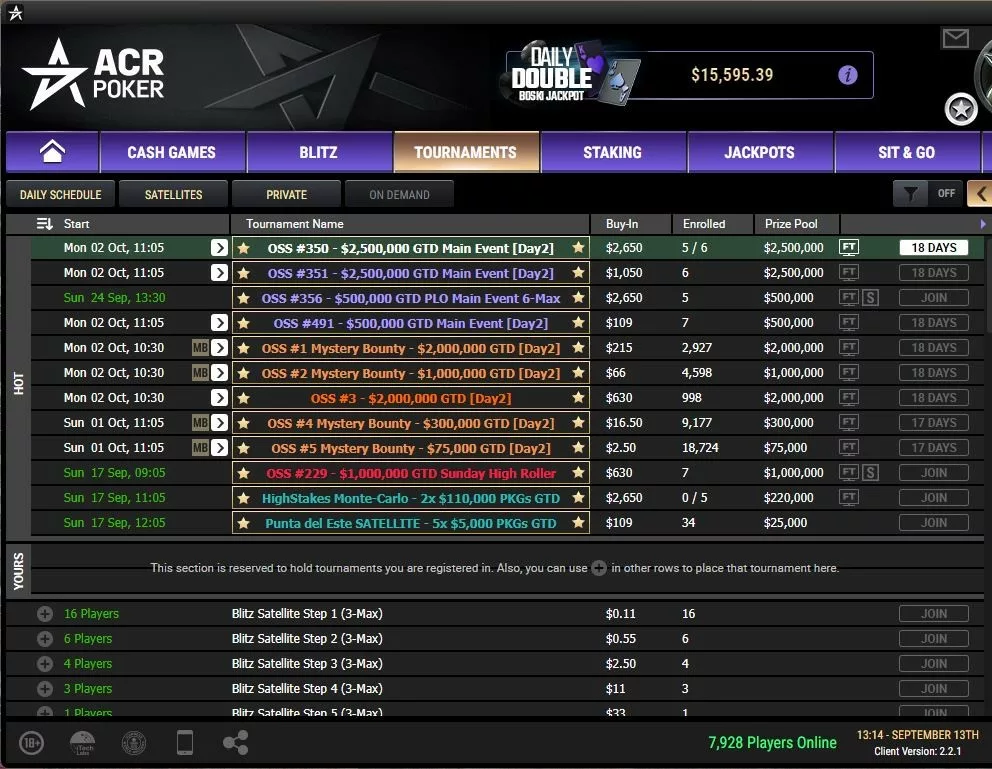 How Blitz Poker tables work
In Blitz Poker, all players at each blind level are pooled together. Choose a blind level, buy-in, and how many times you want to open. ACR Poker will open a 6-seated table and deal you in immediately.
The big twist is that, after you choose to fold the hand, you're immediately brought to a new table and given a new hand with other players who have just done the same thing.
Blitz Poker is the perfect way to keep you engaged at ACR Poker as our collective attention span decreases. There's no waiting around for other players to conclude a hand, so you're constantly thinking. I'm convinced fast-fold poker can help you ward off Alzheimer's.
If you're only on ACR for a short time or lead a busy lifestyle, there's nothing better than Blitz Poker. It's frustrating to get settled in at a poker table only to fold trash for 20 hands and have to leave. With Blitz Poker, you can see 200+ hands per hour and just fold until you get dealt something you want to play.
Blitz Poker gets close to 100 players for $0.25/0.50 and $0.05/0.10 at 6 seats, which is plenty to keep the games constantly in action.
I'd like to see higher limits get sustainable numbers, but at least with the high number of hands you can see, you increase your average hourly win rate over a standard poker table.
Just like fast-fold at other poker sites, as soon as you fold a hand at Blitz Poker, you'll immediately be given new cards at a new table.
ACR's Jackpot Poker
Similar to fast-fold (of which ACR Poker sorely needs) Jackpot Poker can be incredibly engaging since you're constantly making decisions with a 3-handed game. Here are some other noteworthy aspects:
The Maximizer
This is a neat idea that you'll find in the tab next to the normal registration screen at ACR Poker. You can choose the number of Jackpot tournaments you want to keep playing and for which limit.
The software will then always keep that many open, automatically registering you for a new one to fill the slot when one ends.
It can get pretty intense with just 4 open for me personally, but you can go up to 10 if you currently have enough caffeine in your system.
Be careful that as soon as you click the slider to the "ON" position you'll get a flurry of tournaments opening so don't click it until you're really ready to roll.
You can easily tell the software to grid the tables, but it doesn't really work that well since the action buttons for the top row of tables are overlapped.
Different felt colors for different prizes
One little touch I really like is that the different prize pools have different felt colors so it's clear when you're playing for more than the common 2x. Here's a rich emerald for a 4x I spun. You're bound to run into several 4x and 6x Jackpots if you play enough of these.
This particular Jackpot was fun since I came back from something like 50 chips and just kept winning shoves until I got back in contention, after which I started playing more strategically.
All-in coin flips are life when playing Jackpot Poker thanks to the tiny chip stacks and furious blind increases.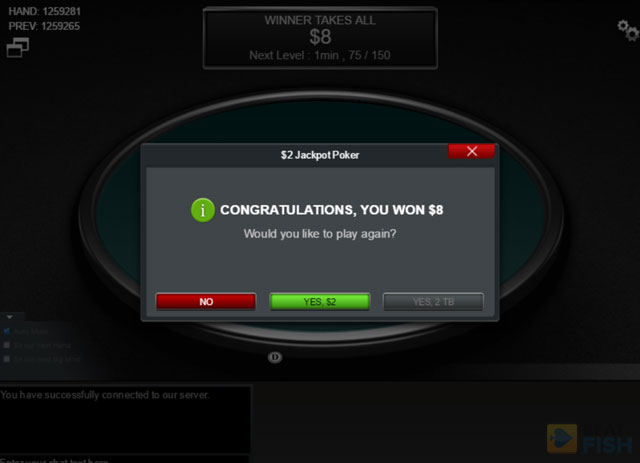 Jackpot Poker Odds
Prize Pool (in multiples of buy-in)
Odds of Spinning
Payout
Link
2
70.5%
Winner takes all
Register Now
4
21.4%
Winner takes all
6
7.5%
Winner takes all
8
0.5%
Winner takes all
20
0.1%
Winner takes all
100
0.01%
70/15/10 or player deal of 40/30/30
200
0.005%
70/15/10 or player deal of 40/30/30
2,500
0.001%
70/15/10 or player deal of 40/30/30
Cyclone Blitz Satellite Tournaments
One thing I give ACR Poker a ton of credit for is the constant innovation they're doing to try new (and sometimes off the wall) game modes. One of the newest creative poker game modes is the Cyclone satellite tournament.
The concept of Cyclones sounds bizarre. Cyclones are essentially a blend of step-based tournament satellites, Jackpot Sit and Go's, and Blitz fast-fold. You get 1,500 chips at a 3-player table. The blinds escalate quickly and you're transported to a new table every time you fold.When you reach 5,000 chips, you get a ticket for the next tournament size. For example, in a $10 Cyclone you win a $30 tournament ticket. You can then keep gambling with your chips left over to earn another ticket. You can also pay the difference between your chips and the next threshold to just get a ticket immediately.
Surprisingly, I actually find Cyclones a lot of fun and a way to play a satellite in a few minutes rather than hours. You can also play Cyclones on mobile.
The biggest issue I have with Cyclones is, with the 3-player tables and turbo blinds, luck plays a much larger factor than a traditional poker tournament where the blinds don't dictate the action.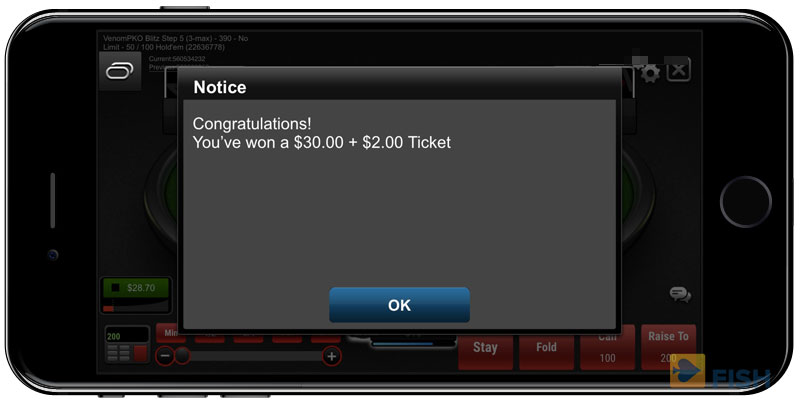 ACR Poker Deposit Bonus
As the years have worn on I've become largely unaffected by the attempt at eye-popping first-deposit bonus numbers thrown at new players in an oversized font.
ACR Poker does it. Everyone does it. I've just become numb to it.
The main offer at ACR Poker is a 100% bonus, which has a very large $2,000 double cap for our players.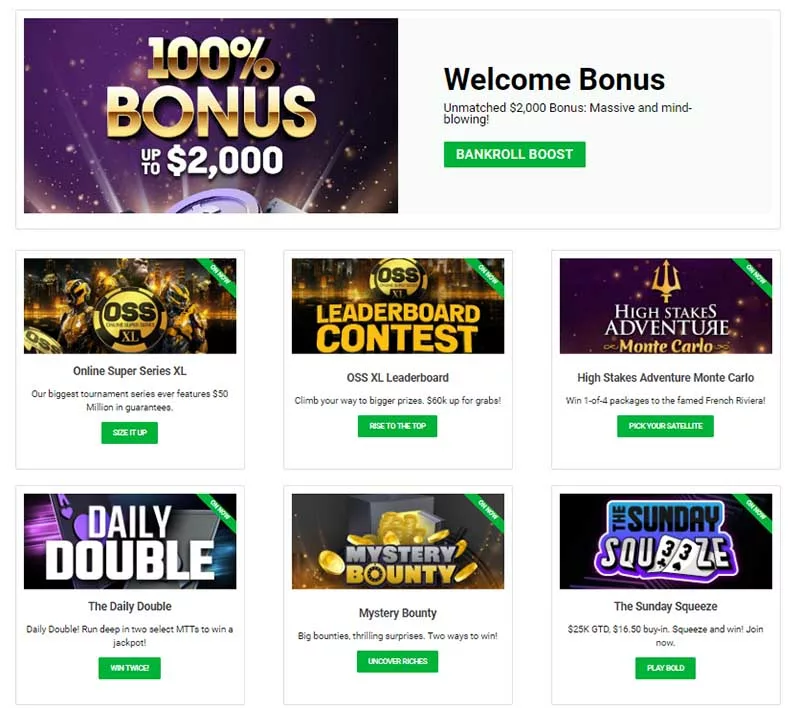 Why I no longer care much about percentage play-through bonuses
The reasons I no longer care much about bonuses are numerous, namely that players can potentially lose a lot of real money simply chasing bonuses.
Also, The terms and conditions for such bonuses are designed to be more complicated than quantum theory.
What bonuses actually do
Except in rare instances bonuses don't double your money. They give you a small portion of your contributed rake back over a period of time.
What's important these days is how generous is the release rate and how long do you have to earn it.
The ACR average release rate is just that
Now, what about that release rate and the time given to earn it?
I found both to be about average with casual players unlikely earning the whole thing.
At the $.50/1 NL level (average stakes) I would estimate normal players will earn about $1-1.50 per hour per table. That's about average compared with other bonuses.
Players also have 60 days (longer than many competitors) to release as much bonus as possible in $5 increments.
Award Points
This is all based on Award Points, which are given to each player that contributes rake to a hand.
The software does a good job of showing you your progress, even animating the numbers given to each player after every hand.
ACR Poker Elite Program
The other main promotion is the Elite program, which has become standard at every poker room in recent years.
While I don't like it at all ACR Poker also follows the industry standard of requiring players to earn minimum monthly thresholds to maintain their Elite benefits.
How you get better Rewards perks
As players earn more points per month they advance up the loyalty program ranks, enjoying better perks.
Those perks include:
earning points at an increased rate
flat cash bonuses
a store for exchanging points
occasional private freerolls
Medals of achievement
The most interesting parts of the reward system to me are the military-themed cash bonuses.
Medals of achievement are actually added to a little virtual display on your account page.
New ones are given every time you reach rewards point thresholds and you then claim them on the medal display page.
Most players earn something, few earn the jackpots
Most players can actually earn the handful of $10 medals, but they actually range up to the absurd levels of $10,000+, which no player will ever come close to receiving.
Those highest levels are called "levels of distinction" and do have significant cash payments.
They also won't be obtained by the vast majority of players.
The instant tournament ticket bonus is still the star at ACR
Overall, this is a fairly strong promotional package without a major standout feature. The instant bonus of 20 free Jackpot Poker entries is really the part that every player can earn.
The play-through bonus is average and there is a typical player reward system in place.
With the excellent traffic and tournaments drawing players alone I don't think they really need to do any better.
Playing with Bitcoin
A lot of potential Bitcoin users at ACR Poker get scared off from the overly-technical definition of what it actually is. Throw that out.
Yes, all of the coding you hear about is necessary to make the whole thing work, but you don't need to know how it works to make it work for you as a poker player.
For a ridiculous amount of information on how exactly to use Bitcoin, check out my huge new Bitcoin guide.
You already know PayPal and this is largely the same
You know how PayPal works. Link your bank account and you can now send/receive money to/from your bank account and then to/from anyone or almost any merchant online.
I'm being a little over-simplistic to make this comparison, but, really, that's largely how Bitcoin works.
All you need to do to make Bitcoin work
Sign up at an exchange (I use Kraken and Gemini)
Buy as much Bitcoin as you want
Send it to your Bitcoin wallet for added security (I use Bitpay or Electrum)
Send it to ACR Poker or any other supported poker site
You use long strings of characters instead of e-mail addresses
When you're ready to cash out do the whole process in reverse
You'll gain anonymity and low minimums
It's also better than PayPal because it's all nearly anonymous and your bank will only see that you're depositing or being credited from a Bitcoin exchange. That's priceless.
Bitcoin deposits are insanely low at $25, by far the lowest available at ACR Poker.
Incredibly fast payouts
Seriously, you'll probably get it in 24 hours with a max of about 48 hours. No other method can touch that time frame.
There are no fees moving in either direction and you can withdraw tiny amounts as low as $25.
It seems too good to be true, but it isn't.
Other Great Innovations from ACR
As crazy as it sounds, ACR Poker of all places has come up with more original ideas in the past year that most of their copetitors have in their lifetimes.
I'm not a fan of all of these innovations, but I couldn't be more impressed with the ambition.
Unique structures, promotions, games, and platforms are sorely lacking in online poker and in the US market in particular.
The Cage
In my opinion, The Cage is the best of the bunch in terms of their original ideas.
This is a hybrid tournament/cash game with a $1,000 buy-in that gives you 1,000 chips. Satellites run regularly for $55.
How it works
Like the cage matches of Wrestlemania lore players are "locked" into the game for 5 hours. You can't rebuy or cashout at any time.
Your chips have a real dollar value and after the 5 hours are up you're credited in cash with whatever you have in front of you.
Big blunders with The Cage
It's a really clever idea by ACR Poker and draws a lot of interest. However, there are 2 big problems with the execution:
There are no smaller buy-in options. They're missing a big opportunity to grab smaller players with a great idea.
As usual, ACR Poker makes the blind levels ridiculously high with antes no less.
It's $25/50 with $5 antes by the end so if anyone's left on a short stack it devolves into all-in gambles.
ACR Poker instant tournament payouts
As far as I know, this is another online poker first. ACR Poker now offers what they call "Progressive Payouts" for tournaments.
It gives players instant tournament payouts when they reach the money, increasing the prize release as a bigger prize place is reached.
Who is this for?
However, this feels like a solution without a problem to me. Why is this useful?
Every poker site releases tournament prizes as soon as you bust out. What's the point of getting it as you're still playing?
The only use I can see is for players who need to use that money to enter a new tournament or cash game while they're still playing something they're currently cashing in.
I suppose that would be handy for those under-bankrolled players who can't be bothered to single-table a tournament they're winning money in.
The Beast
ACR Poker has been heavily promoting The Beast, which is just a fancy name for a glorified rakeback chase. Every cash table at every limit "contributes" part of its rake towards The Beast. You "feed" it by playing and contributing rake.
After every week, the top players, which are usually made up of people who can spend 12+ hours a day multi-tabling, on the Beast leaderboard earn cash rewards. These chases have been in online poker for years, but ACR Poker just did some clever marketing on this one.
Spin to get in
I can't say enough how much I hate this idea, but, again, ACR Poker deserves credit for actually developing it.
If a tournament is still in late registration and you bust out you can buy a lottery-style spin with a chance to get back in.
Seriously? We've already got the detestable Spin and Go's and now you can roll the dice to get back into tournaments?
At this poker room I often feel like I went to play the lotto and a poker game broke out.
ACR Poker Deposits
The payouts here are criminally underrated
It seems like every quality poker site has one big feature that's underrated.
ACR Poker gets a lot of recognition for their big tournaments and the wacky stuff they do like The Cage, but they also deserve credit for some of the best payout times in the US market.
I'm not a fan of the fee structure beyond the one free snail mail check per month, but there's no denying their dependable payout speed.
My Bitcoin payouts went flawlessly
I recently made my first 2 Bitcoin withdrawals and they couldn't have gone better.

ACR doesn't charge for Bitcoin transactions either way and I had one in 24 hours and the other in about 36. That's excellent. One ACR Poker balance also works for poker, casino games, or their sportsbook.
You should always start with BTC
Bitcoin should really be your first choice as a US player. Besides being faster, more private, and fee-free you'll also get better terms at ACR Poker.
You'll never get declined and the minimum Bitcoin deposit is a minuscule $10. In my opinion, Bitcoin runs circles around any other e-wallet solution in the poker market.
Even non-US players who can use transfer services like Neteller or Skrill should prefer Bitcoin at this point.
Credit card deposits is decent
I believe just about every poker room in existence has accepted credit cards for deposits. Of course, very few actually process them at a high enough rate to be useful for US players.
Fortunately, with deep roots in online gaming and the accompanying experience, ACR Poker seems to be one of them.
High acceptance rate and no deposit fees
Most US credit/debit cards should be accepted without a block by your issuing bank.
There are no fees added, making this a no-nonsense quick process. I would estimate at least 60-70% of US cards should go through without issue.
Let cash transfer be your backup
If credit cards aren't an option your best bet is probably one of the two major cash transfer services.
These days, you can either present cash at one of the seemingly endless grocery/convenience/check cashing locations that offer it or use their respective websites to send it online.
Even if your card happens to be declined by the poker room's cashier directly there is virtually no chance of that happening through a third-party cash transfer website.
Make ACR Poker eat the cash transfer fees
There are going to be fees involved of 10+%, but ACR Poker is very good about absorbing them if you're making a cash transfer deposit of more than $100.
Minimum ACR deposits
Minimum deposits are low, with the very specific $25 for credit cards and Bitcoin.
Final options
Other very successful deposit methods would include actually sending a wire transfer or cashier's check to the poker room, although that involves quite a bit more effort.
This is a small cashier in terms of the number of supported methods, but they're all very efficient and effective.
ACR Poker Deposit Methods
| | Minimum deposit | Maximum deposit | Fees | Approx. success rate |
| --- | --- | --- | --- | --- |
| Bitcoin | $10 | $25,000 | None | 100% |
| Credit card | $25 | $550 | None | 70-75% |
| Cash transfer | $50 | $650 | $10+ and varies by deposit amount. | 100% |
ACR Poker Fish Rating
Getting data on these tables wasn't easy
Formulating the Fish Rating and knowing actual gameplay numbers for ACR Poker the same way I've done for more than 50 poker rooms over the past decade-plus was impossible.
Why?
ACR Poker has the absolutely worst system of online poker metrics I've ever seen.
I might actually think it was by design to throw the grinders off, but if they were doing that they could have just left it out of the software completely.
What the problem is
In every version of every poker client I've played on since 2004 average players per flop and average pot numbers are available for every standard cash games. It's just a part – and a perk – of playing online poker.
ACR Poker shows you those numbers, but it soon becomes abundantly clear that they don't mean a darn thing.
You can't depend on these wacky lobby numbers
You'll see numbers that defy logic and mathematics such as tables with an average of 100% of players seeing the flop (gee, really?) in a 6-seated $1/2 NL game, but the average pot is only $10! Say, isn't 6x$2 $12?
You'll also see a dozen or more games around the clock listed as having flop percentages of 50% or more, sometimes at full 9-player tables.
The ACR games are not as loose as the software tells you
Now, I've been around the block since the good old halcyon days of the early 2000's when the aquarium was loaded and the pickings were plentiful.
Very rarely did those games reach 50% flop percentages and we ain't seeing those days again.
My guess is that the software is programmed to have a stat history of one hand, they want to mislead players, or the programmers are just inept.
It's about time to remove this from the software or fix it, ACR Poker.
The bottom line is ACR is slightly above average for game looseness
All that being said, I gave them an 8 Fish Rating, which is better than average but not incredibly soft.
My own tests show 9-seated tables will run on average at 25-35% for players going to the flop with a very occasional 40%. That's pretty good. Average flops are about in the middle at 15-20x the big blind.
One thing you should also be aware of is how skewed ACR Poker is towards shorthanded games. About 80-90% of all cash tables that fill up are shorthanded.
Tournament play quality sticks out
Thanks to how tournaments are set up with a low skill-to-luck ratio, however, the aggression and players with gamble-centric decisions stand out.
While I'm not a big fan of them, there's no question the gimmicks that ACR Poker uses to grow tournament prize pools also creates insane action.
Factors that loosen up tournaments
You've got Jackpot Poker, which gives players lower chips and faster blinds. You've got almost 100% of multi-table tournaments allowing re-buys and add-ons.
You've got the absurd Spin to Get In system that actually allows players to play a lottery to get back into tournaments they bust out of.
Late registration goes on for an hour or more.
ACR likes to erode the skill edge
That's the exact formula that erodes the skill edge, meaning you've got players who throw caution to the wind early in a tournament because they can always come back from the dead at any time.
Players like myself that prefer slow methodical action can quickly become exasperated with this format, but certainly a lot of players like it.
How do you best deal with the tournament player base?
Firstly, you probably should be factoring 2x the initial buy-in to factor in an add-on. Most players will be getting them so you're putting yourself in a tough spot if you're one of the only ones who don't.
Isolation is also going to be very difficult with the early wild play so you should raise an even larger amount than you usually do (think at least 5-6x the big blind) to open with your premium hands pre-flop.
You also probably want to stay out of the early action unless you have a premium hand since you'll inevitably face blind all-in aggression from players looking to double up or re-buy.
Use the old Doyle wisdom
I'm a big believer in the old Doyle Brunson adage: play the opposite style as the rest of the table.
By nature, I may be the conservative wait-for-a-premium-hand type of player that many seem to be at ACR Poker.
Unfortunately, one of the easiest ways to lose at poker is to be rigid, predictable, and unable to change gears when necessary.
Dont' forget to open up against tight tables
It may not always be necessary when you're at a looser table, but don't forget that you need to open up and take over the table when they're full of rigid nits.
Nitty play has been an infection over the past half-decade as fewer new players have been entering the game and many tables at ACR aren't immune.
Steal pots, be aggressive every time you have position on the flop and sense weakness in your opponent(s), and play more hands.
You'll frustrate the rest of your opponents and, of course, you're going to have a hand to punish them with once in a while when they feel like fighting back.
The ACR Fish Rating in a nutshell
Overall, the ACR Poker cash games have opened up significantly since my initial review in 2013, probably thanks to attracting lots of new US players as their profile has risen.
There's certainly profit to be made in the softer-than-average cash games, but don't believe the inflated numbers you see in the lobby.
Tournaments
In a word, the tournament section of ACR Poker is excellent.
Aside from the $1,000,000 guaranteed event that is waist, head, and shoulders above the rest of the US competition the everyday guarantees and Sit and Go's are simply better than anything else left in the US market.
Probably the busiest tournaments in the US
I had believed that multi-table tournaments drawing as many as 2,000 players and dozens of concurrent Sit and Go's were a thing of the past; the realm of a bygone pre-Black-Friday era.
Not only do they exist here, but they're being offered with massive overlays as much as $100,000 thanks to those big player counts still falling short of the network's guaranteed minimum prize pool.
ACR Poker million dollar guarantee
Starting with the big $1,000,000 guarantee, it used to take place every Sunday with a $540 buy-in with satellites of every type running around the clock for cheaper entries.
The $1,000,000 event is no longer weekly
Unfortunately, that massive event is now only offered occasionally, likely due to the incredible overlays that were happening every week.
Re-buy re-buy re-buy
I may be old-fashioned, but I simply still don't prefer re-buy/add-on tournaments even though it seems to be the preferred way for poker rooms to boost prize pools these days.
ACR Poker takes that idea to the extreme, with nearly 100% of multi-table tournaments being re-buy.
If you're playing the "Million Dollar Sunday" or any other tournament here without the intent or budget for re-buys/add-ons just realize that you'll be at a disadvantage chip-wise from the majority of players who buy multiple stacks.
Late registrations are allowed for an obscene amount of time.
Overlay opportunities
The most remarkable aspect of the Sunday Million is that, even with the re-buys, the entire network averages about $900,000 of actual player-contributed funds.
Because the guarantee is $1,000,000 the poker room(s) have to make up that $100,000 so you're basically starting a tournament with 200 paying players already knocked out.
I'm not sure if that can be sustained if the player pool doesn't increase but it's excellent free value for players while it lasts.
Other smaller events often have overlays of several hundred to several thousand dollars.
Tournament schedule roundup
The rest of the tournament schedule is also quite busy with guarantees every hour and prize pools ranging from $2,000 with a $2 buy-in all the way up to $125,000 for $200.
Every level of buy-in is represented and even multiple formats such as 4-max tables and super-hyper-crazy-mega-$*&% blind speeds.
Tournament traffic
Every ACR Poker event seems to draw 200 players with the biggest Sunday events drawing close to 2,000.
Those are excellent tournament numbers that you aren't going to find anywhere else that accepts US players.
Sit and Go numbers
Sit and Go events are very popular with minimal wait-time up to about the $20 level.
Scattered heads-up Sit and Gos take place up to the $200 level.
Double or Nothing events are also popular for both Holdem and, amazingly, Pot-Limit Omaha.
On-demand freerolls
Freeroll players (or those who want to stifle their urges to gamble on their real table by doing so in one that means nothing) will appreciate on-demand $10 freerolls at ACR Poker, which is a smart idea and the first I've seen implemented.
These begin immediately after 5 players register with late registrations allowed almost eternally.
Excellent tournaments overall
In summary, tournaments here are without question the best in the US market and perhaps are some of best in the world.
Just about every player will find something within their budget and every tournament has very good value thanks to the large amount of entrants.
Even with obnoxious practices like eternal late registration and unlimited re-buys on every event tournaments are clearly one of the poker room's biggest selling points.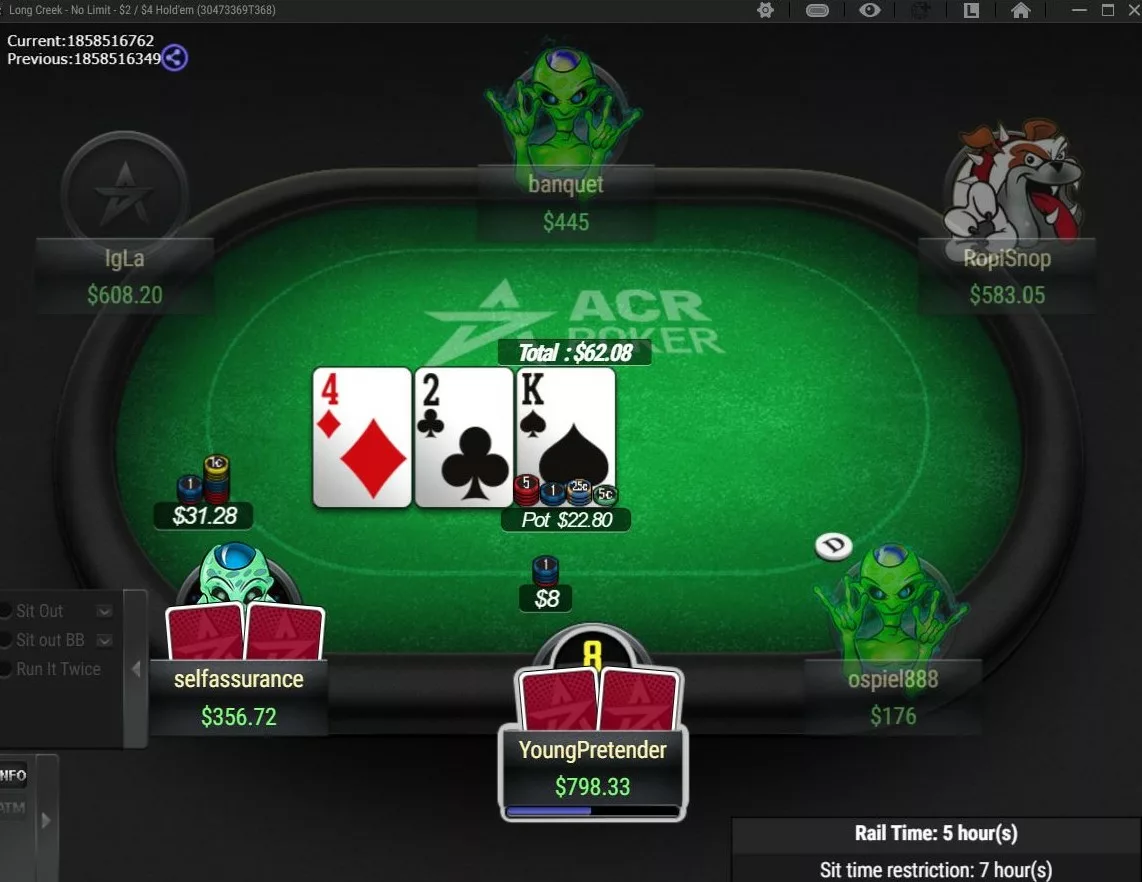 ACR Poker Software
Great original features bogged down by bugs
I really want to like the ACR Poker software and I genuinely do in many ways. They deserve a lot of credit for thinking outside the box and trying some unique features.
We need more of that in the online poker industry.
However, the big problem with the ACR download is in the legacy bugs that haven't been cleaned up.
The standout ACR Poker software positives
Starting with some of the better features, it starts with the 2 dozen visual themes. It's completely extraneous, but changing up the visuals can help make things feel fresh a little more fun.
I love the straddle option and other live-table features
Another very interesting addition is the straddle option as I believe they're the only site offering this right now. I'm a big fan of options like showing one card, rabbit hunting, or straddling in this case because they're things you'll see at a real brick-and-mortar table.
Why not bring those sorts of things online?
What is the straddle and how to use it
Straddling is completely optional, but when you choose to do it, you create a third blind from first position of double the normal big blind. That becomes the new minimum call as play goes around the table and you're last to act before the flop.
The straddle option is sort of hidden with the Sit Out buttons, but you can check it at any time to straddle the next time the blind comes around. Hardly any players use it, but I love it to mix things up once in a while.
Want to try something different?
Try playing a level smaller than you usually do and enable the straddle. I guarantee you'll get more action as other tight players either resent you for increasing the stakes or others mistakenly believe that automatically makes you a wild player.
The time bank can't be abused so heavily
I also like that ACR Poker players have to earn the time bank rather than giving a huge block to everyone right off the bat, which is usually abused to no end. You get an extra second added for every 10 hands you play.
My gripes: the awful lobby stats
Now, for the annoyances. It starts right off in the lobby, as I've detailed above.
The software programmers did an awful job with the game speed and player metrics, as you'll literally see games that purport to be playing 100% of players on every flop while simultaneously playing 0 hands per hour. What a feat!
What this means is that players are robbed of important metrics that usually go into deciding which table to sit down at.
In a way, withholding information that could help sharks is commendable, but why not just take the fields away rather than giving fuzzy math? That's why I think this is an unintentional bug rather than a design feature.
Broken waiting list
The waiting list feature is also broken as you'll request to join any open table with, say, 5 or more players yet you won't be added to anything. You'll need to manually add yourself to every table, which is unnecessarily tedious.
Lack of "Bet Pot" button is infuriating
One unprecedented boneheaded mistake is lacking a pot-sized bet button while offering other pot-based fractional buttons.
You can, for example, make a bet of 1/2 pot or 2/3 pot but not simply a bet of the current pot.
I can imagine the thinking behind this was to maximize action, but it just ends up slowing down the game and frustrating players.
Players are more apt to call and stay with a questionable hand if the bet size is smaller.
Be sure to manually type in your bet rather than using the inferior buttons
To truly isolate your strongest hands and extract maximum value from calling stations you will often want to make pot-sized bets.
At ACR Poker you have to actually type in pot-sized bets yourself or move the tiny slider to just the right spot with your mouse or touchscreen.
It's a minor gripe but one that bothers me every time I play here.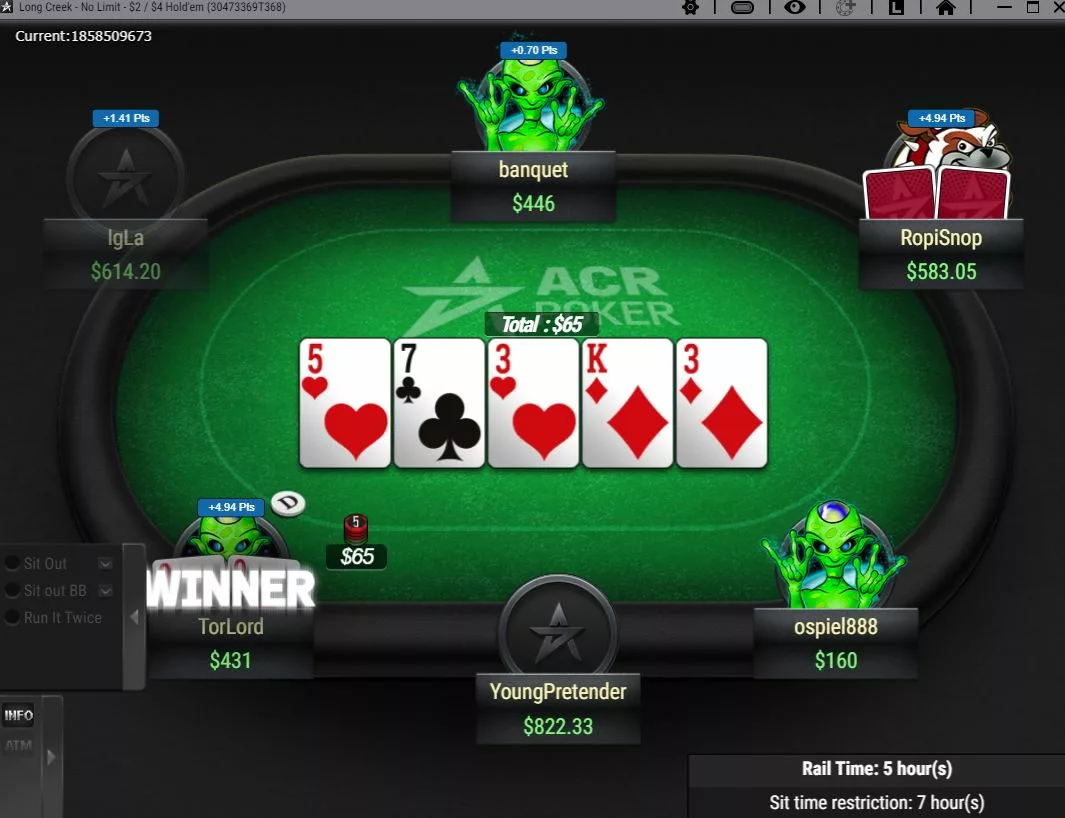 ACR Poker Payouts
Always use Bitcoin when you can
If you're set up with Bitcoin – and, really, there's no excuse for US players to not be at this point – use that.
The minimum payout is only $25, there are no fees, and you'll get it in 24-48 hours.
I've done several Bitcoin withdrawals from ACR Poker and I've never had to wait more than a day or so. That's excellent.
Costs are passed on to the player for other methods
Current payout methods include:
Bitcoin
Paper check by regular mail
Paper check by courier
ATM card
Cash transfer
I'm not a fan of the higher-than-average fees or the convoluted structure, but I suppose it's up to the player if those are fair trade offs for quick dependable cashouts.
The market isn't cheap for check processors and it's clear ACR Poker is passing on that cost to players.
That being said, it's also hard to argue with the results, which are some of the quickest in the industry right now.
Paper checks are free once per month
Paper checks are allowed once per month free (obnoxious) via standard mail or else they are sent via courier and incur a $65 fee.
You're probably looking at 15-25 calendar days before you receive your free monthly check, but I give them credit for adding a free option.
Check reissues are a ludicrous $250 fee.
Cash transfer is extremely quick
Cash transfer provides immediate access to your withdrawal as cash for pickup at thousands of physical locations like convenience and grocery stores.
The fee structure has improved of late with as little as $10 now charged. Cash transfer fees are dependent on the amount of your payout.
ACR Poker bills cash transfer as their quickest payout method and I would agree aside from Bitcoin, which is the undisputed king of poker banking methods.
You'll often receive cash transfers within 2-3 days after being requested, which is excellent.
Debit card method is rare and valuable
The best option besides Bitcoin may be the debit card method, which is a very good idea that few poker rooms have adopted.
Debit cards option essentially works like cash transfer, but with:
Smaller fees
Greater convenience
More anonymity
You simply withdraw cash from any ATM using a reloadable debit card issued by the poker room. To receive one you'll need to verify your identity by sending in photo ID and utility bill scans.
There is a $5 monthly fee that is deducted from the debit card balance and another small fee each time you reload it, but for frequent withdrawals it's tough to beat the ability to get cash on demand.
ACR Poker Payout Methods
| | Minimum withdrawal | Maximum withdrawal | Frequency allowed | Fees | Approx. time to delivery |
| --- | --- | --- | --- | --- | --- |
| Bitcoin | $25 | $10,000 | 1 per day | None | 24-48 hours |
| Check via regular mail | $100 | $3,000 | 1 per month | 1 free per month | 15-20 business days |
| Check via courier | $100 | $3,000 | 1 per week | $65 | 5-7 business days |
| Cash transfer | $100 | $300 | 1 per week | Varies by amount | 1-3 business days |
| ATM Debit card | $100 | $2,500 | 1 per week | $5 per month plus small fee for each withdrawal | 1-3 business days |

ACR Poker Support
One of the few to offer every key form of contact
For more than a decade I've given big props to poker rooms that offer the trifecta of:
Live chat
Telephone
Email
Social media could be considered 3.5.
These methods are much rarer than you would imagine with PokerStars, the runaway largest site in the world, content to let you email them and sit and wait like it's 1998.
ACR Poker offers the Trinity and they do a nice job.
Social media, which is rare, is even an option
They're also one of the few to "get it" with social media as they operate on all the major social channels.
Very few, if any, US-facing sites bother with social media and miss a big opportunity with both promotions and customer support.
Twitter is where you'll find them most
Even though they have 6,000 followers they rarely get personal tweets so they respond directly to support issues on Twitter.
Usually it's along the lines of, "DM us for more info," but it's nice to get immediate feedback from someone involved with the poker room.
Live chat is my preferred option at ACR
For in-depth support I'll usually just opt for Live Chat to avoid actually talking on the phone or waiting on an email reply.
The live chat reps seem knowledgeable enough and were able to successfully answer several test questions I made on deposits, forgetting my password, and how the promotions worked. It was clear they were pretty familiar with the site.
Email support times are fine
Email support times are usually within 2-3 hours, although I've had to wait a day or two for replies when dealing with the security department on payout verification.
Live telephone support at ACR
The ACR Poker phone number is 1-877-314-4195
It's toll-free and I believe 24/7.
Overall, ACR Poker is reachable a lot more than most of their competitors, US-facing or not.
ACR Poker Traffic
As I alluded to in my overall thoughts section I had largely been avoiding the Winning Poker Network as a player and a reviewer.
I had become disillusioned by the revolving door of US poker room skins playing musical chairs with whichever software provider gave them the best deals.
I figured Winning was another collection of fading second-tier US castoffs.
WPN among the leaders in US traffic
While that may be true of some of the poker rooms on Winning individually, ACR Poker has remarkably built this into the largest open network offering US players, among the leaders in terms of total US traffic.
This really is one of the best options for US cash games at the moment.
Raw ACR Poker and Winning Poker Network player numbers are very good
Their daily published peak is about 1,000 cash players and the real cash table numbers back that up.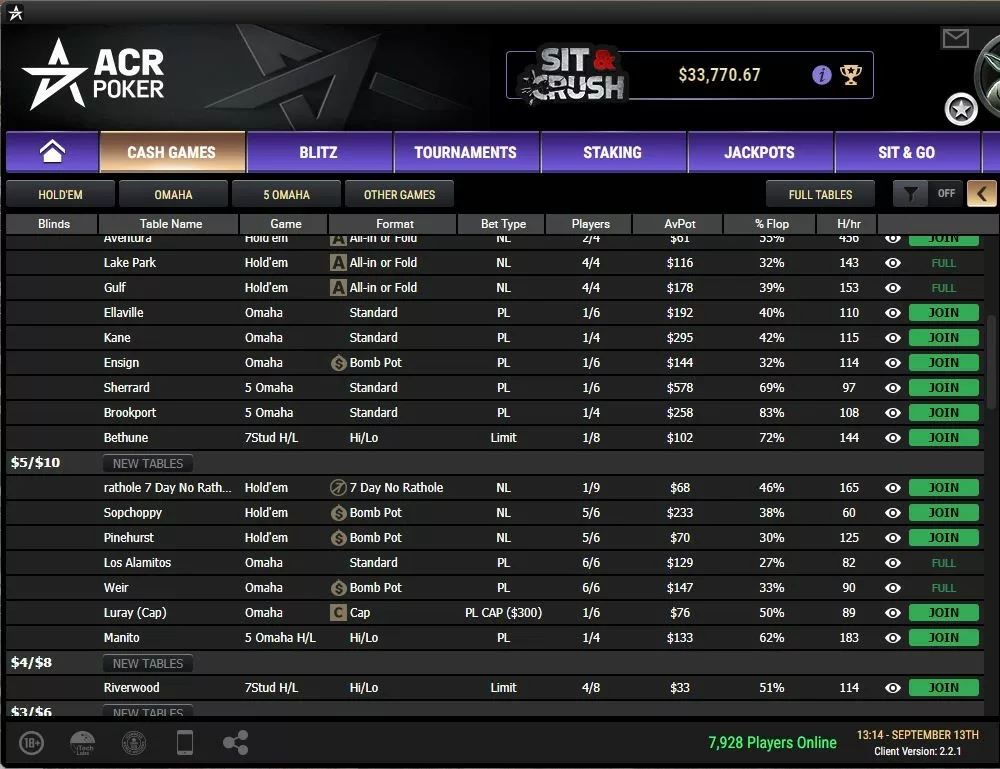 About 20 simultaneous cash tables fill up to the $.50/1 NL level with at least 5 or more filled cash tables up to the $5/10 NL level.
Yes, we're actually talking about busy US tables at the upper stakes.
6-player tables are ridiculously dominant
The one trend I take issue with that this poker room carries to the extreme is the overabundance of 6-player tables.
They are so dominant here that it's rare that more than 2 9-player tables fills up per limit.
Tournament traffic is excellent
Tournament traffic is also excellent with the most popular nightly $10 event drawing over 1,000 players routinely.
Everyday small guarantees draw almost 200 players.
The massive throwback to the golden days of online poker – the occasional $1,000,000 guarantee – brings nearly 2,000 players.
These are all numbers I didn't think would ever be seen again in the US market.
Winning Strategy for ACR Games
Adjusting to tighter players
One of the more jarring changes for loyal players that have followed ACR Poker from network to network has been adjusting to the more timid, tight, and cautious players that populate many tables.
One easy exploit of such players relies heavily on position and can serve the dual purpose of stealing the occasional small pot and goading prideful players into shipping big ones to you.
Rely on post-flop play
As I've matured as a poker player I've come to rely mostly on position and post-flop play a lot more than rigid starting hand guidelines and by-the-book play.
Acting last on the flop is my favorite part of No-Limit Hold'em and making just that portion of your game excellent will often make enough of a difference to turn you into a winning player.
What to do in position
On the whole, these players don't like to play big pots with speculative hands.
If you see one of them raising from early position it's usually for a good reason.
I call these players from late position frequently with starting hands that aren't complete garbage but that I would almost never play from a raise out of position.
Examples include:
6-7 suited
K-10
A-J
Any pocket pair
The reason is that I can win two ways with mostly timid players at the table.
Heads-up against the raiser
With most of the other table hesitant to engage a raise I can isolate myself and the raiser to the flop.
If he checks with a ragged low-card flop I will bet into him almost every time.
If he makes a weak bet within a similar flop I will also call regardless of how the flop hit me.
Unless the raiser is setting a trap for the turn (and that rarely happens) I will then take a small pot on the turn if he checks to me and I make a strong full-sized pot bet.
Stealing pots from nits at ACR
You will also pick up a lot of pots uncontested when checked to on the flop because they are truly playing transparently and check because they haven't improved their hand.
Do this enough times and the other players are bound to get a bit frustrated and believe you to be stealing every time.
Setting traps for frustrated players
Of course, you're going to invariably hit your speculative hands or disguise your sets and made big pocket pairs.
They think they're setting a trap to check-raise you when in reality they're just hanging their own nooses.
A lifelong poker player who moved online in 2004, Josh founded Beat The Fish in 2005 to help online poker players make more-informed decisions on where to play and how to win once they got there. He hopes to counter the rampant dishonesty in online gaming media with objective reviews and relevant features. Tech nostalgic. Fondly remembers the soup avatar at Doyle's Room.