The Ultimate Global Poker Review
Why I Prefer Other Poker Sites over Global Poker
Global Poker is probably still a legitimate platform, but due to recent policy changes, I cannot recommend them at this time.
Fortunately, there are better options than Global Poker for every type of player.
The bonus is almost non-existent.

Global Poker has never competed in terms of promotions.

Bovada Poker

, my top poker site, gives you 100% extra.

Payouts are complicated and too slow. Thanks to no Bitcoin support, you'll have to wait days and verify your ID. Bovada pays me within an hour.

Player traffic is higher elsewhere. Global Poker has decent traffic, but a site like Bovada Poker dwarfs them. That means more games and bigger tournaments.

No Bitcoin support. Bitcoin is supported at every other US-facing online poker site, thanks to its payout speed and privacy.

Tournaments are larger elsewhere. With higher player traffic at sites like Americas Cardroom and Bovada, they have much larger guaranteed prize pools.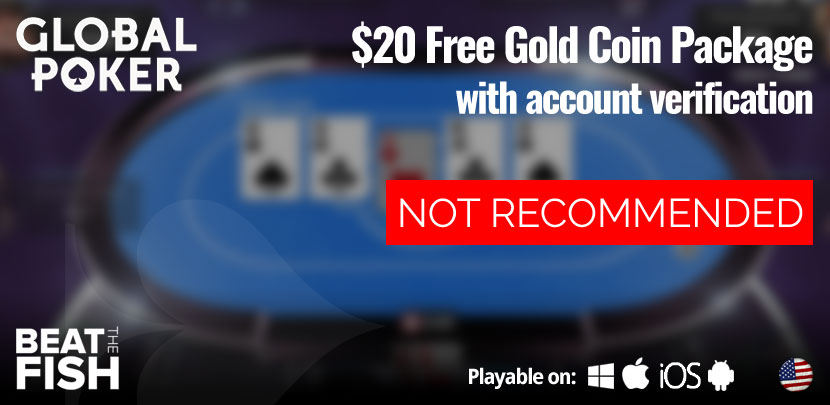 | | |
| --- | --- |
| | |
| | Yes, only Washington State restricted |
| | Proprietary closed network |
| | |
| | $20 free Gold Coin package with account verification; bonus code BEATTHEFISHSIGNUP gives 50 free Sweeps Coins on a $20 purchase |
| | |
| | |
| | |
| | |
| | Texas Hold'em, Omaha, Pineapple |
| | |
| | Windows, Mac, iOS, Android |
| | Visa, Mastercard, American Express (Amex), Discover, Diners Club, Skrill, Instant ACH, Online Banking |
| | |
Global Poker
Bonus Size

Fish Rating

Purchase Methods

Payout Methods

Desktop Software

Mobile Software

Tournaments

Player Traffic

Support

Player Privacy
Pros
The only poker site with cash prizes open and legal in 49 U.S. states
$20 no-purchase Gold Coin package
30 free bonus Sweeps Coins with bonus code
Credit card purchases almost always work because of better payment processors
The only USA poker site to send prizes right to your bank
No fees to redeem your prizes
Tables are full of inexperienced players
Licensed and regulated in Malta, one of the toughest licenses to get
Software can be accessed from any browser on mobile or desktop
Cons
No Bitcoin support
No telephone or live chat support
Cash game traffic is just average during off-peak hours
Payouts take at least 3-5 days
ID verification for all payouts
Unfortunately, due to poor service and attempted censorship of my review, I can no longer recommend Global Poker. Please see this updated page full of huge reviews of poker sites I currently trust. This review was done prior to their removal from my recommended list. I still believe Global Poker is a legitimate site, but there are much better options.
Global Poker Overall
Global Poker is doing something very different in the USA online poker market. They claim to be the only "legal" poker site operating with cash prizes because of their unique sweepstakes model of play.
Global Poker makes it work by allowing online poker players to purchase Gold Coins, get free bonus Sweeps Coins, and then redeem those Sweeps Coins for cash prizes.
Global Poker is marketing itself to recreational poker players on places like Facebook and Google as a social poker site that sells play money. Under the hood is a fully-featured legal poker site where players can redeem their Sweeps Coins for cash prizes.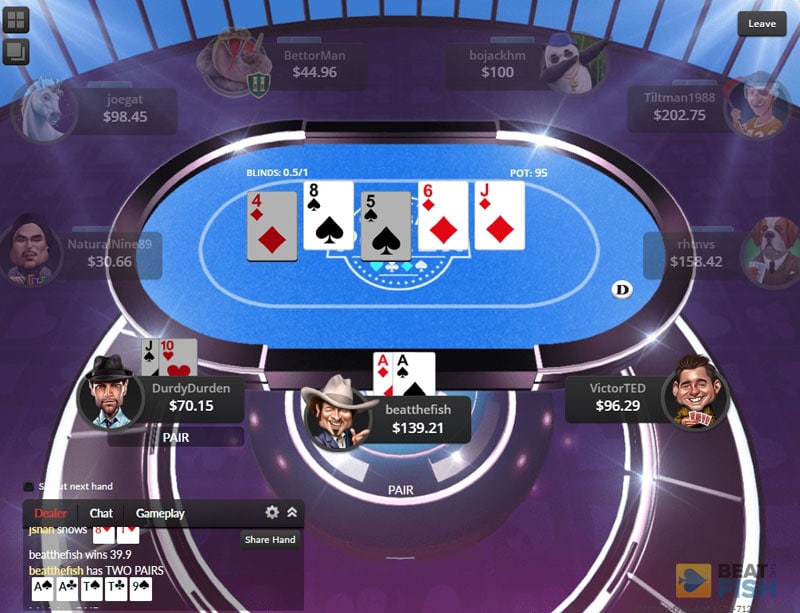 The business model can be a little confusing, but it has allowed Global Poker to thrive over several years. Global Poker now has some of the highest online poker traffic in the USA. Global Poker's system works to let them offer better payment processors than traditional poker sites, resulting in easy credit card purchases and cash prize redemption directly to your bank account.
I've personally spent considerable time on my Global Poker review and rate them highly in a number of areas.
Global Poker has high player traffic, with dozens of active cash games constantly running. That beats out a number of more well-known online poker sites. More importantly, the players are extremely soft overall.
Global Poker has a convincing argument of being the most legit online poker
site servicing Americans with cash prizes.
They found a way to structure online poker to make it 100% legal, they're licensed from Malta, and they're working with payment processors no one else in the USA market is. The addition of the $20 no-purchase Gold Coin package also puts Global Poker head-and-shoulders above the competition in terms of free offers.
Throw in a mega sponsorship deal with NASCAR and Global Poker is surprisingly one of the healthiest poker sites online.
A huge positive of Global Poker is the fact they're the only online poker site legal and open to players in 49 out of 50 U.S. states with cash prizes. No one else can say that. Global Poker is also open to Canadian players, excluding Quebec.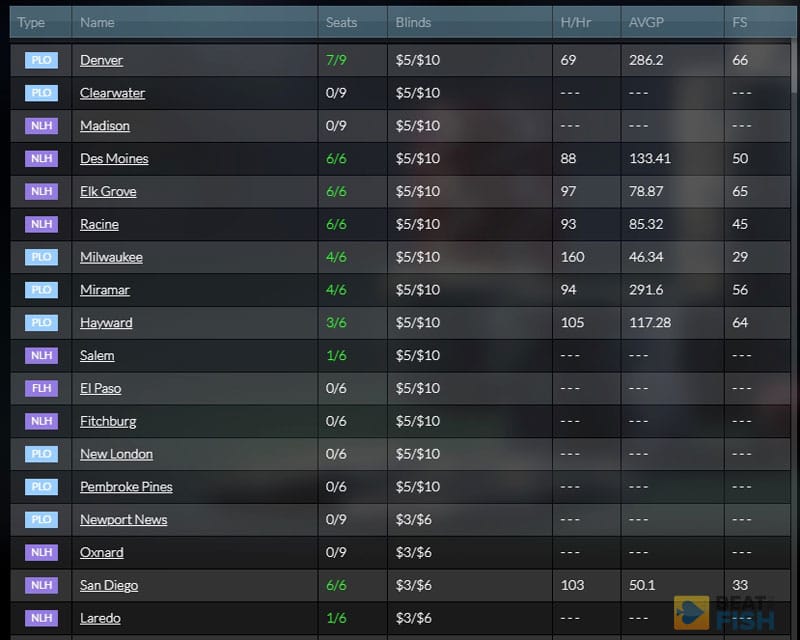 Global Poker is also excellent on mobile for multiple cash games and tournaments, something many poker sites still can't claim. The software is simple and streamlined, mostly catering to recreational poker players.
Although Global Poker no longer offers PayPal for purchase or redemptions, they're the only USA online poker site to send players cash prizes directly to your bank account. That's a pretty big deal.
Global Poker also processes every major credit card for purchases at some of the best rates in the industry.
Global Poker certainly isn't perfect, namely in their slightly convoluted Coins structure and lack of Bitcoin support. However, Global Poker has become a force in online poker for some compelling reasons.
They're a well-rounded choice for online poker with cash prizes, especially for USA players.
Real Global Poker player Feedback I recently received
I play at Global haven't had a single issue. It's been awesome actually. Cashouts with no fees. I won the Kurt Busch series and am still waiting on my autographed piece of his race car though. He ended up getting 2nd place and they gave me an extra $200 within like 12 hours of the race ending. I'm enjoying the site.

I have played at pretty much all of the poker sites that have existed since they first came out in early to mid 2000's and Global Poker by far has earned more of my trust than the others. It's a HUD free poker room and from what I understand a bot free site thanks to the HTML, software-less nature.
I appreciate how they require multiple identity verification documents when verifying accounts. Why are people complaining about these things - who knows? And the final bonus... AMERICAN PLAYERS ONLY.
Global Poker player "NasaLies"
Global Poker Bonus
One of the first questions online poker players usually ask about a new poker site is, "What's the bonus?" With Global Poker, the answer is going to be simple. Global Poker previously didn't have a promotional bonus, which disappointed some players. The new $20 free Gold Coin Package promotion goes a long way to fixing that.
Players coming from this page can also now receive a private Global Poker bonus code offer. You do need to sign up for a new account through a link from this page or you'll receive an error.
If you then use bonus code BEATTHEFISHSIGNUP at signup, you'll get the following for $20:
250,000 Gold Coins
50 bonus free Sweeps Coins
20 more free Sweeps Coins for verifying your account
You can see complete details of this secret offer in our dedicated Global Poker bonus code page.
The 50 Sweeps Coins bonus is 30 more than normal players receive and you still can claim 20 more Sweeps Coins free with the no-purchase package by verifying your account. That's a total of 70 free Sweeps Coins, which are redeemed for cash prizes.
A relatively low number of promotions
Global Poker was previously relying on attracting players through its other promotions and the fact that purchasing there is so easy.
Interestingly, one of the reasons Global Poker didn't have a purchase bonus has to do with maintaining its legal status. I spoke with someone at Global Poker's parent company, VGW, about the lack of a bonus, and I was surprised to learn that they're limited by regulations.
I would volunteer that skipping a fat and hard-to-earn bonus is worth legal games and easy purchases and redemptions at Global Poker.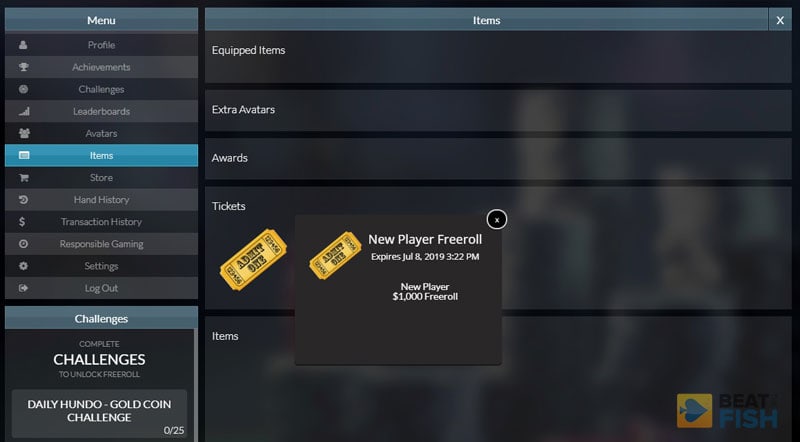 I've also long contended that a poker site's bonus is one of its most misleading and overrated elements. It's designed to impress new players into putting money in, thinking they're getting free money.
Unfortunately, most players don't realize the gameplay that it takes to actually clear that bonus money and that's exactly how the poker site wants it. The vast majority of online poker players never see all of their promotional money.
As a long-time online poker player who understands that, Global Poker's lack of bonus doesn't really bother me.
Global Poker's Extra Free Money Bonus
If you're on a severely limited bankroll, you can also win free Sweeps Coins as a Global Poker no-purchase package. Giveaways are done through occasional Global Poker freerolls or promotions on the Global Poker Facebook page.
A final interesting way to get 5SC in free Sweeps Coins is to send an envelope in the mail to Global Poker requesting it. I suppose that's how Global Poker can maintain its "no purchase necessary" tag for legal purposes and heck, why not send one in for the cost of a stamp?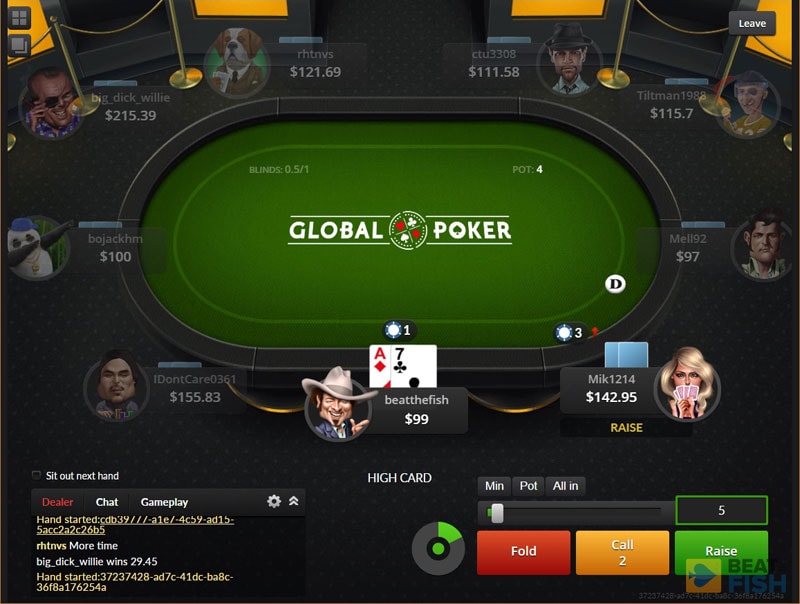 Frequently Asked Questions
✅ How do I get the no-purchase Gold Coins at Global Poker?
You'll first need to visit Global Poker from a link on this page to see the special free bonus package. Then, you'll need to create a new account and verify it. Within 24 hours, Global Poker will credit your account with 20 bonus Sweeps Coins and 100,000 Gold Coins. Sweeps Coins can be used to buy in to any Sweeps Coins cash prize game or tournament. There is no purchase or payment required to get this. It really is just a free $20 Gold Coin package for verifying your account.
✅ Is Global Poker legal?
Global Poker is the only online poker site with cash prizes that is legal in 49 U.S. states with the exception of Washington. They have structured their games to comply with state sweepstakes law, giving greater security to players than other offshore poker sites.
✅ Is Global Poker for real money?
Global Poker offers play money games, called Gold Coin games. They also offer Sweeps Coin games, which can be redeemed for cash prizes. Technically, you pay for Gold Coins and get free Sweeps Coins, but the latter is what you actually redeem for prizes.
✅ Is Global Poker legitimate?
I put Global Poker in my top 5 in terms of most legitimate offshore poker sites open to USA players. They have an official license from the Malta Gaming Authority, work with large payment processors, and have several years' worth of consistent cash prize redemptions. By figuring out a unique sweepstakes gaming model, Global Poker also separates themselves from a lot of the regulatory questions that face other offshore poker sites.
How to get the $20 Global Poker No-Purchase Package
One of the biggest criticisms of Global Poker was their lack of bonus for new players. Say goodbye to that.
Global Poker is now offering our players an exclusive $20 Gold Coin package completely free, simply for creating an account and verifying it.
Not only is this the only no-purchase package from a poker site open to USA players, but it's the biggest free offer from any online poker site since I began tracking them 16 years ago.
Global Poker seems to be going for the throat of the American and Canadian online poker markets, blowing away the bonuses offered everywhere else.
Even if you're only slightly interested in Global Poker, I would recommend you grab the free package. It only takes a few minutes and it's unclear how long Global Poker will offer it.
Here's what you need to do to get the free $20 Gold Coin package:
Visit Global Poker from this page and make sure you see the special landing page for the $20 free Gold Coin package.
Click "Join Now" and create a new account. You can even use your Facebook or Google account if you don't want to fill out anything.
Once you're logged in to Global Poker and see the lobby, open the menu.
Click the Account section, which will have a red X next to it.
Proceed to verify your account, which mostly involves uploading a copy of your ID. This is the same process you have to go through to redeem your cash prizes. You're just getting it done now instead of later and you get a $20 Gold Coin package for your trouble.
Global Poker support will notify you within 24 hours if your account is verified.
You'll see 20 Sweeps Coins in your account, which you can play with and then redeem for cash prizes. You can then play in any ring game or tournament with your free money. You'll also get 200,000 Gold Coins, which can be used to play on Gold Coin tables and tournaments or buy more avatars.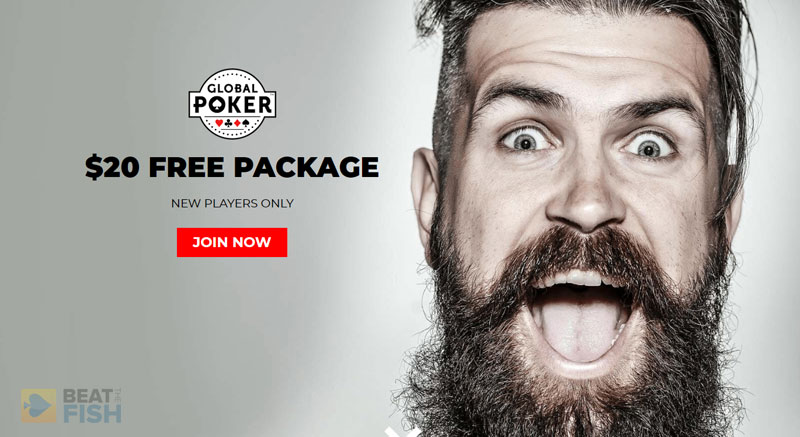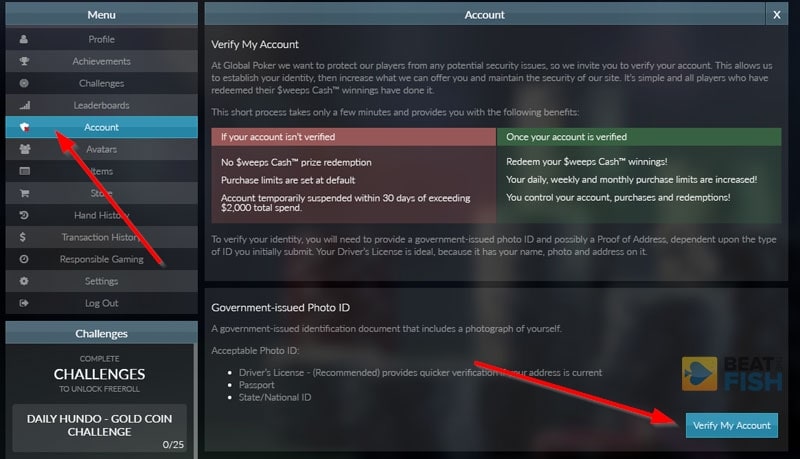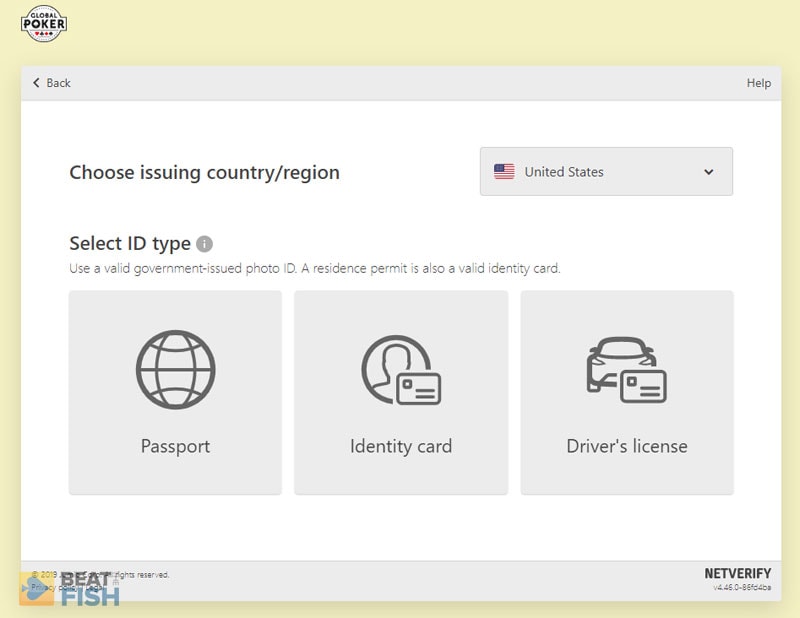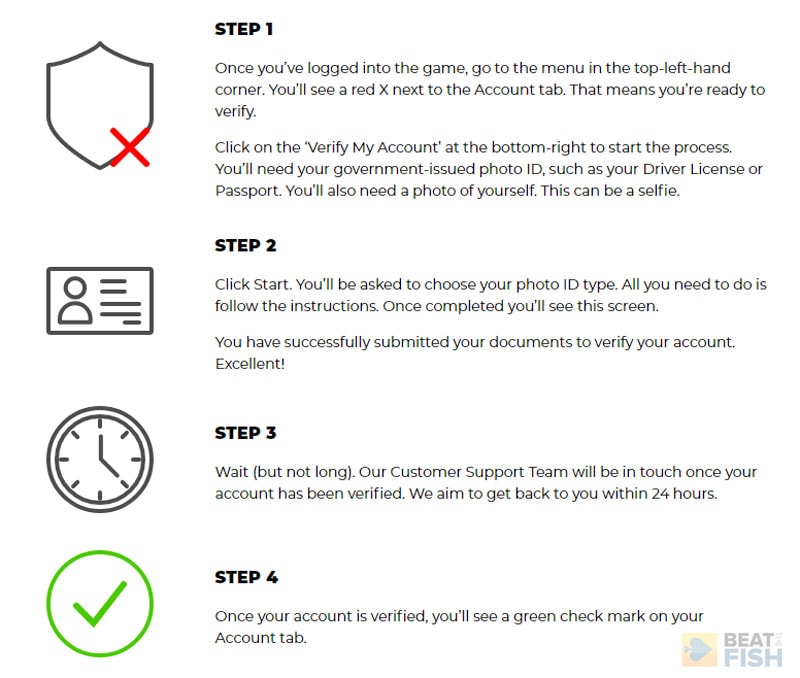 Global Poker Promotions
That isn't to say that Global Poker doesn't have several promotions that are decent and possibly even sneaky good.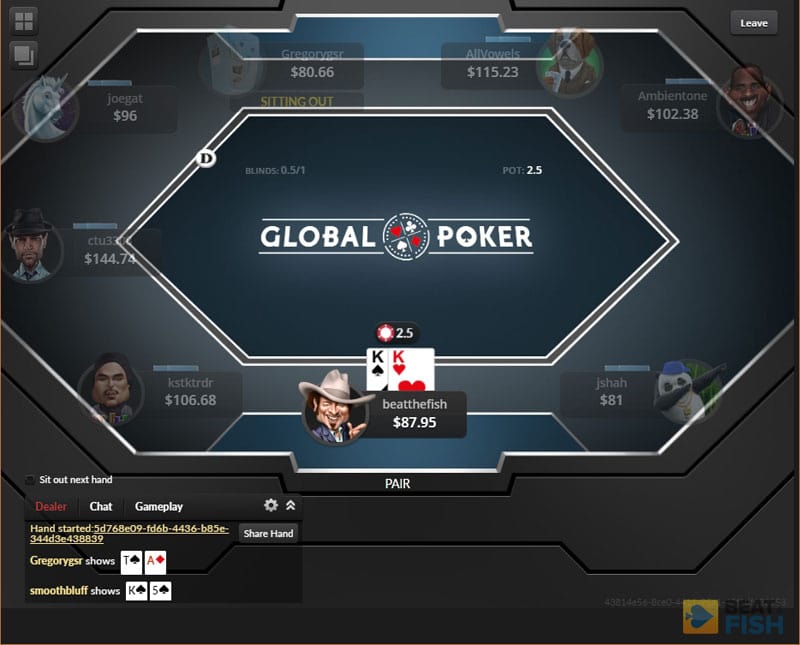 Sit and Go Jackpot Tournaments
Global Poker followed the bandwagon of online poker sites in offering Jackpot Sit & Go's, which have the chance to feature a random prize pool up to 2,000 times the buy-in. These are identical to Jackpot Sit & Go's you'll find elsewhere and the original Spin & Go offered by PokerStars.
They're 3-player hyper turbo Sit & Go's with low chip stacks and a winner-takes-all format. The twist is that the prize pool is randomized. Global Poker determines the Jackpot prize pool before each tournament based on a formula.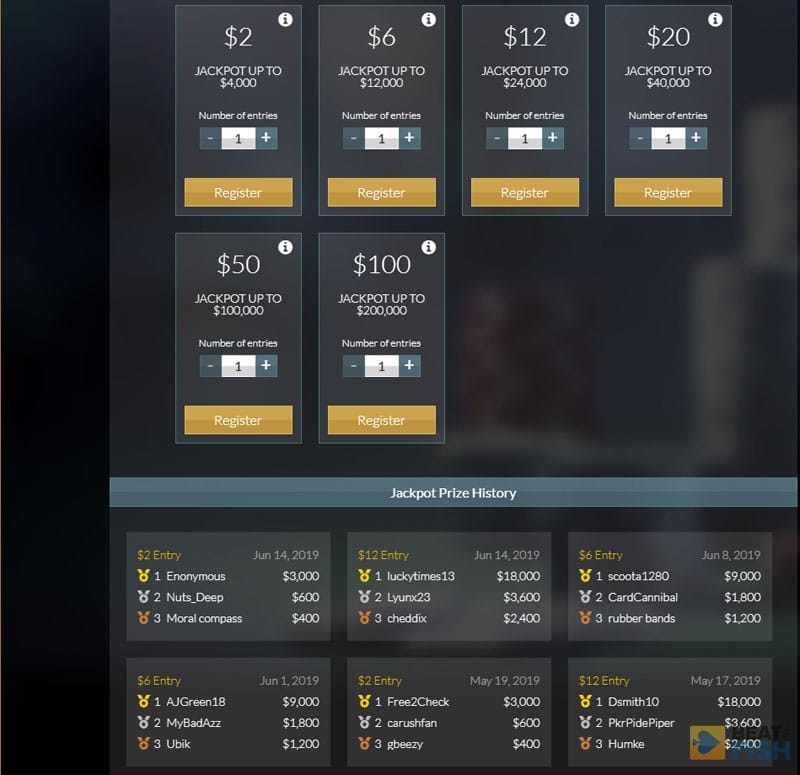 You'll get 2x the buy-in about 69% of the time, 4x the buy-in about 26% of the time, 6x the buy-in 5% of the time, and it gets exceedingly rare beyond that point. Global Poker will award the 2,000x "Jackpot Level" .002% of the time on these Jackpot sit and go tournaments.
Global Poker offers Jackpots in the following buy-ins with these SnGs and you can play in up to 4 at once:
2SC
6SC
12SC
20SC
50SC
100SC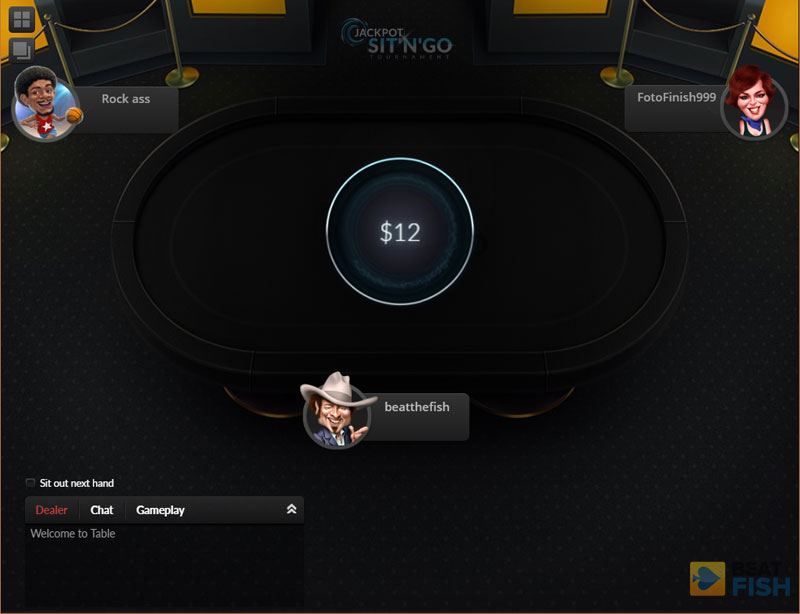 Jackpots SnGs can be fun as an occasional gimmicky diversion, but I don't make them a big part of my game. Although a lot of Global Poker players like them, any tournament with small chip stacks and fast blind increases erodes the gap between luck and skill considerably.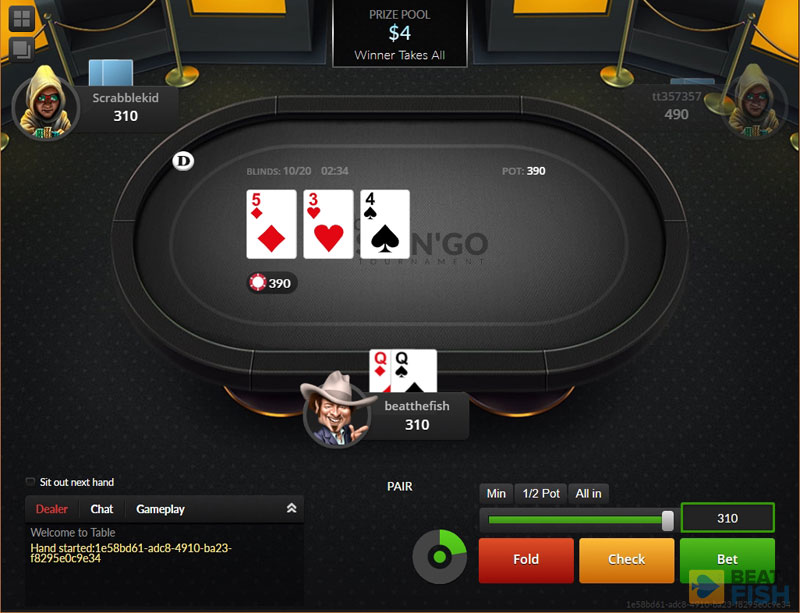 There isn't usually much strategy involved, with Jackpot Sit & Go's rapidly devolving into who can get dealt the best hand before the blinds eat them alive.
Bonanza Promo Tournaments
I think the Bonanza tournaments are some of the best sneaky good promotions at Global Poker if you actually play at the site.
If you see 500 cash game flops in a week at Global Poker, on either Sweeps Coins or Gold Coin tables, you qualify for a private 5,000SC tournament, which runs on Sundays at 4 P.M. EST.
The buy-in is only 0.11SC, which essentially makes it a freeroll with a huge prize pool. With typically less than 1,000 players, the value is essentially 5SC. That's a decent reward for just playing.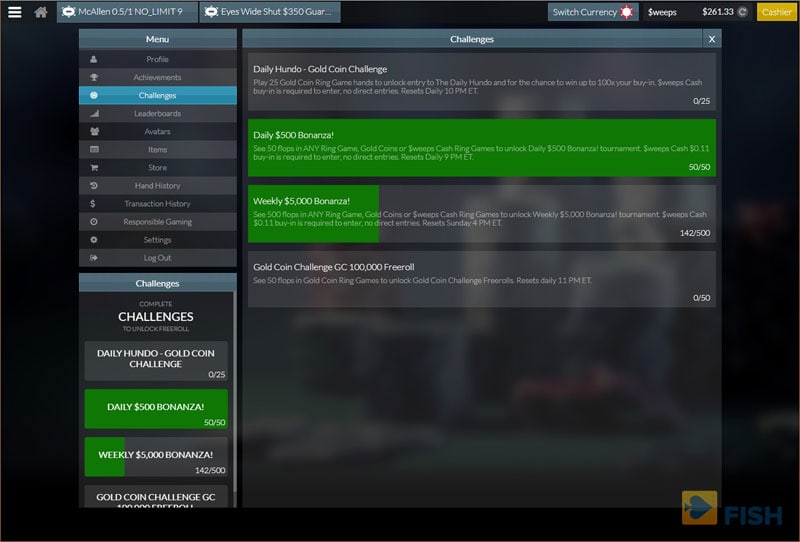 With the Global Poker software running games at around 60-80 hands per hour, that's around 8 hours of gameplay per week to earn the 5,000SC bonanza ticket. If you play multiple tables, you can divide that per table.
There's also a 500SC Bonanza at 9 P.M. EST every day, again with only a 0.11SC buy-in. You only have to see 50 cash game flops to quality.
Add that all up and you can play in 8,500SC worth of Bonanza tournaments for under 1SC of total buy-ins.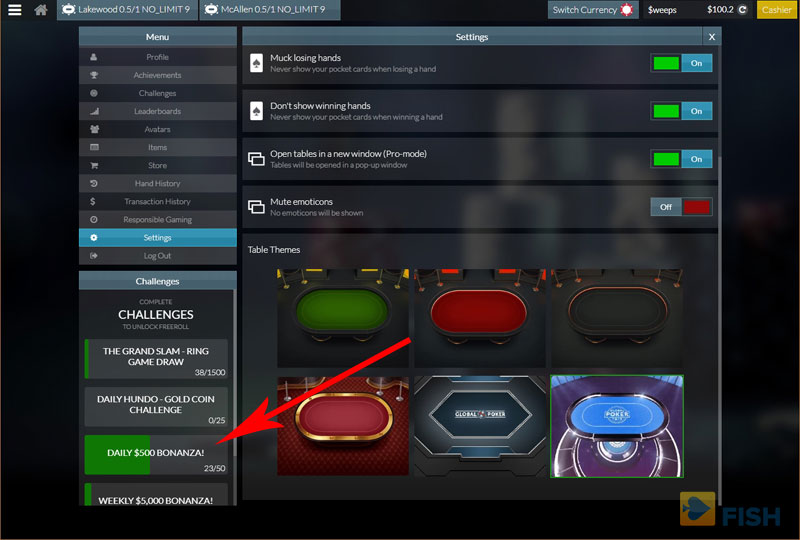 Gold Coins vs. Sweeps Coins
One of the biggest complaints about Global Poker from old-school online poker players seems to be about the Gold Coins and Sweeps Coins system. It really isn't that confusing, but I think it throws a lot of players off because it's different than every other poker site out there.
Global Poker is every bit of a poker site as anywhere else. However, you instead purchase Gold Coins, which come with bonus Sweeps Coins. These Sweeps Coins can then be used to redeem cash prizes. It's a clever way to make it 100% legal to residents of 49 U.S. states and Canada (excluding Quebec).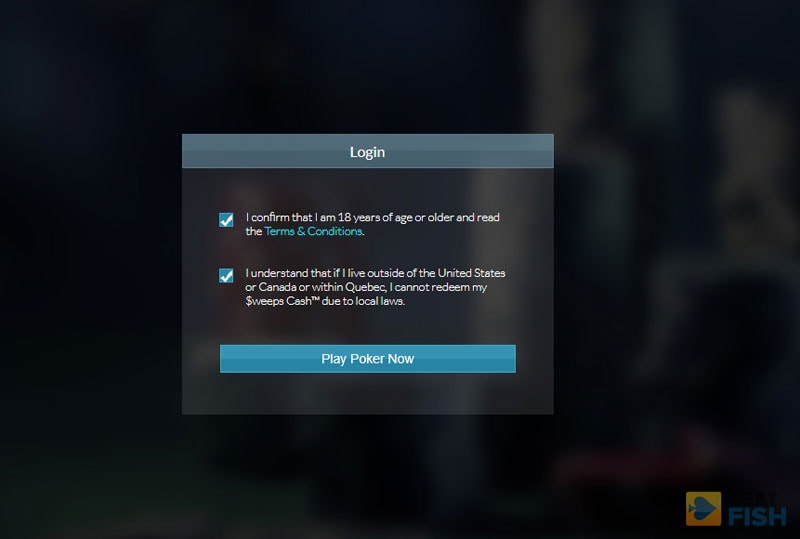 At Global Poker, you buy Gold Coins, which are like play money. You then get free Sweeps Coins equal to your purchase amount. Buy 100,000 Gold Coins for $20 and you'll get 20 bonus Sweeps Coins.
You then play "sweepstakes" via cash games and tournaments. Finally, you can redeem your Sweeps Coins for cash prizes whenever you choose to.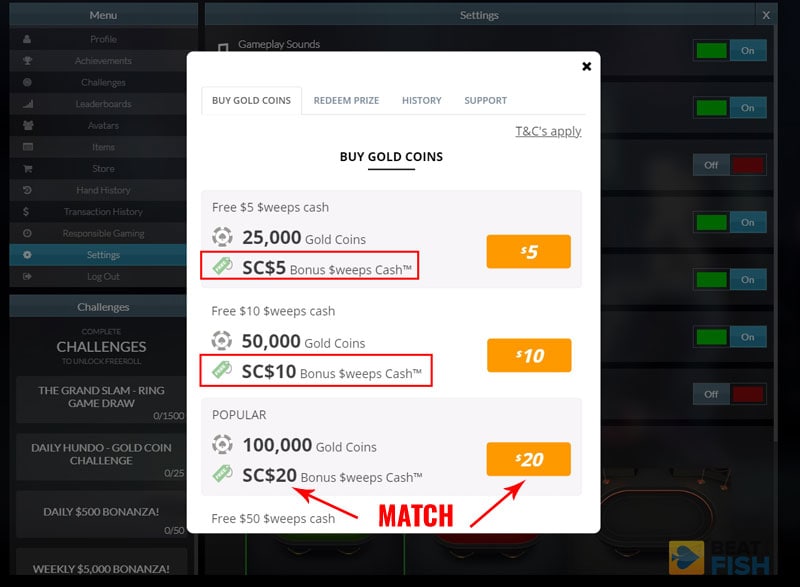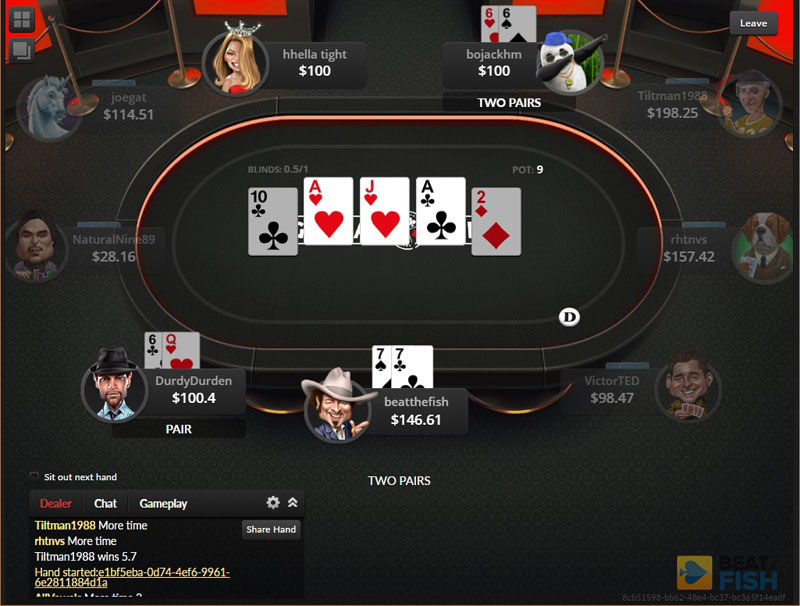 Global Poker Review of Purchase Options
Global Poker uses a proprietary processor called WorldPay to handle credit card purchases. That allows Global Poker to accept:
Visa
MasterCard
American Express (Amex)
Discover
Diners Club
The other purchase options at Global Poker are:
Skrill
Instant ACH
Online Banking
Every online poker player is going to have a credit card, which is why every poker site already accepts them. The problem is that a lot of US-based banks will block transactions to online poker or any gambling site.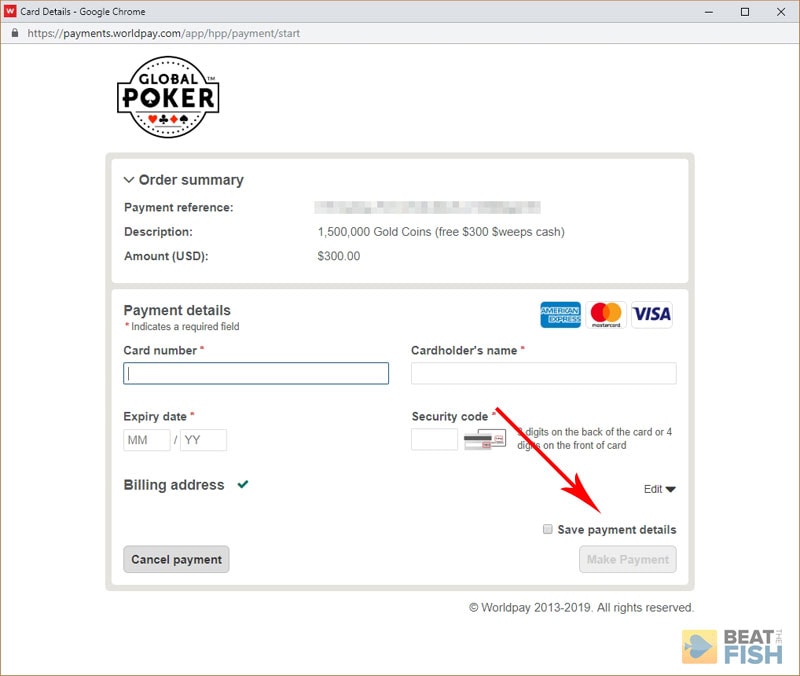 That's where it's key that Global Poker uses WorldPay, who is basically the PayPal of credit card processing. They're a major force in e-commerce and a far cry from the fake Chinese online storefronts that a lot of online poker sites use to accept real-money credit card purchases.
This means that Global Poker is going to accept nearly every US credit card because your bank probably will code it as a game or sweepstakes rather than a gambling site.
The ability to charge Amex, Discover, or even Diners Club cards is also a rare perk and Global Poker is one of the only online poker sites open to the United States to offer that.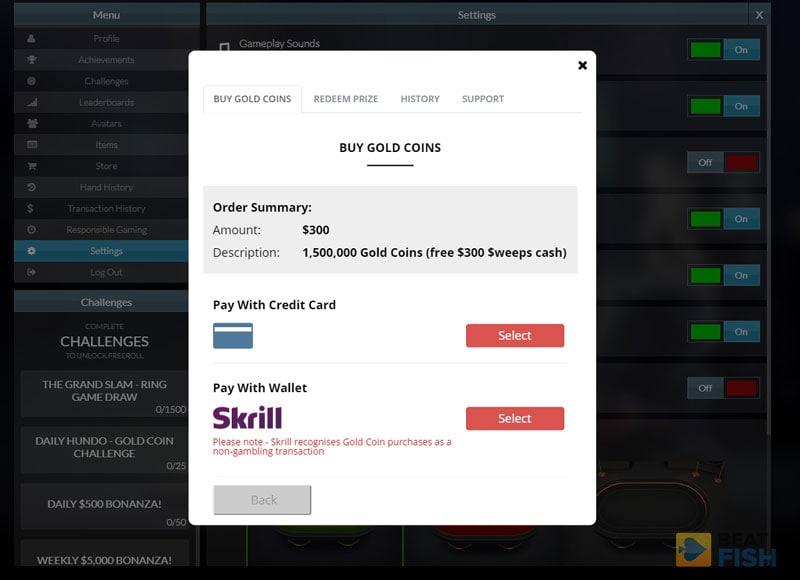 Global Poker also doesn't add any credit card fees, although your bank may charge you a foreign transaction fee.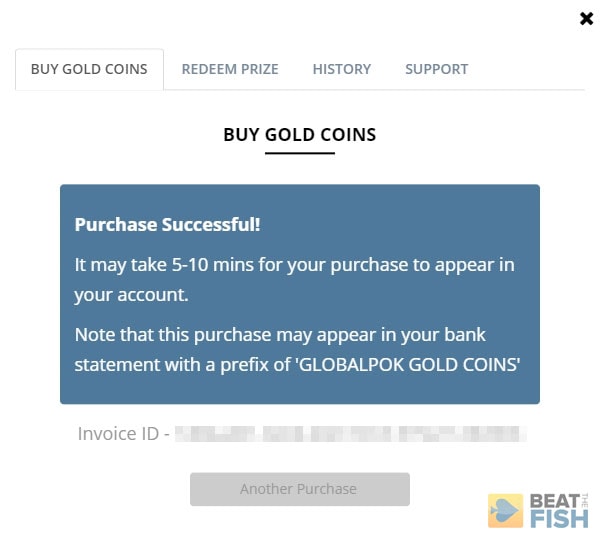 When it comes to buying Gold Coins at Global Poker, I get it. The loss of PayPal is frustrating, but you're not going to get that anywhere else, either. Bitcoin should really be added to match larger poker sites like Ignition Poker.
However, Global Poker has really done the next-best thing, which is accept every credit card without fees and without hassle. Next to everyone has PayPal, but everyone has a credit card.
You can now purchase using your bank account
Global Poker recently added the ability to purchase Gold Coin packages directly from your bank account, which is the best method yet.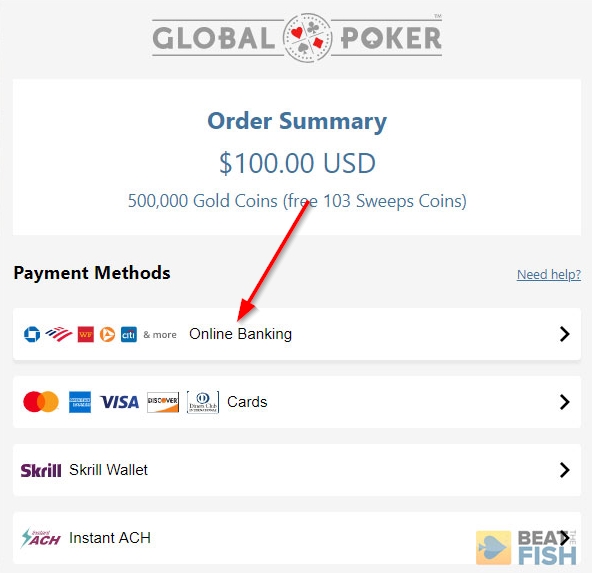 Despite Global Poker already having close to 100% success with major credit cards, this is even easier. After hitting the button to buy gold coins, there's an "Online Banking" option. You then find your bank in the list, log in using your bank account credentials, and make your purchase.
Global Poker supports every major bank in the United States and even has hundreds of smaller ones.
The purchase amount can't be declined, there aren't any fees, and your banking information isn't even shared with Global Poker. You also don't have to go scrounging for your credit card number.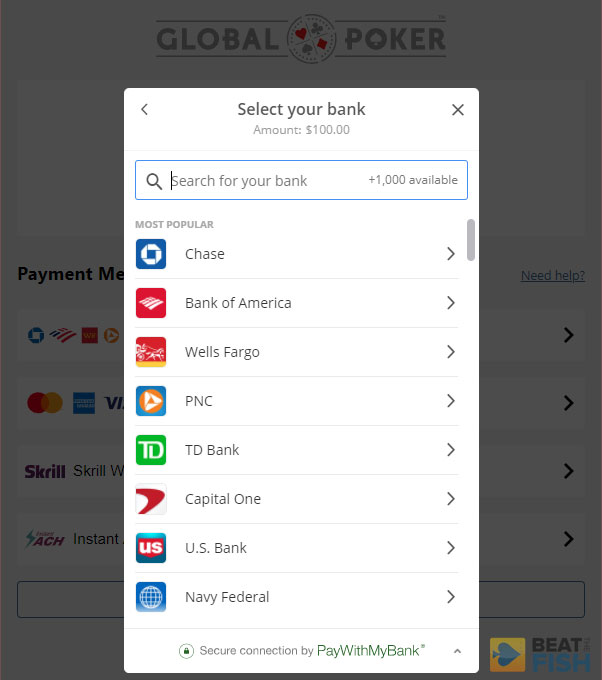 For Global Poker players in Canada, you can also now use Skrill for purchases or Instant ACH, which uses your bank account through Skrill.
Global Poker put out this video that explains purchasing from your bank account:
Controversy about Global Poker PayPal
When you start to review the purchase methods at Global Poker, the controversy starts. The major draw of Global Poker used to be that PayPal could be used for purchases and redemptions.
You can't get easier than PayPal, especially for USA players. Global Poker had a corner on the market because no one else in the American-facing online poker market offers PayPal payments. In fact, hardly any poker site around the world offers PayPal.
PayPal support also added a lot of credibility to Global Poker. It really made it seem like they were they only ones offering legal online poker. Why else would PayPal do business with Global Poker if they refused to with any other USA online poker site?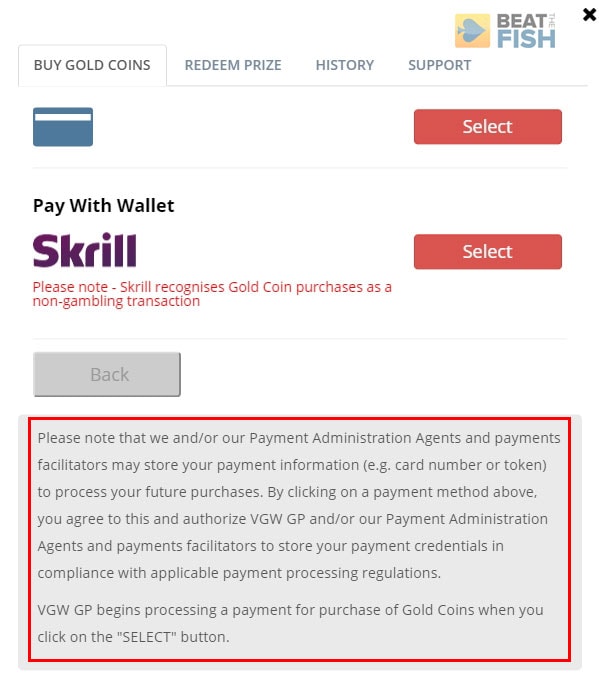 When Global Poker lost PayPal, the online poker community lost its mind a bit. The Internet is going to Internet, full of virtual rioters ready to take up their pitchforks against the scapegoat of the week.
Global Poker was accused of baiting and switching online poker players, being close to financial ruin, not sending player redemptions, and other assorted conspiracy theories.
I partially fell victim to the hype, honestly believing that it meant Global Poker was in financial trouble or about to be legally shut down. If Global Poker lost the PayPal poker payment gravy train – and there's little doubt that PayPal was a big source of their purchases – then how were they going to stay afloat?
Sure enough, Global Poker has actually grown larger despite the loss of PayPal, thanks to them securing a major credit card processor than can charge every US player's cards.
Global Poker is more than just Texas Hold'em
One of the more remarkable achievements of Global Poker's traffic growth is that they're drawing a ton of Omaha players in addition to the usual Texas Hold'em numbers.
Global Poker has full Hold'em cash tables up to the SC10/20 level, but also full SC5/10 cash games for Omaha. Global Poker has also started running Pineapple games, but those rarely have any players.
Many longer-tenured online poker rooms struggle to match Global Poker's numbers, despite them only allowing Sweeps Coins players from the United States and Canada.
Global Poker Redemption Review
If you thought poker players were hard on Global Poker for their purchase options, they were just getting warmed up for their wrath about the redemptions.
Yes, again, Global Poker doesn't use PayPal anymore, but they've replaced it with direct transfers to your checking account. That's basically the same thing.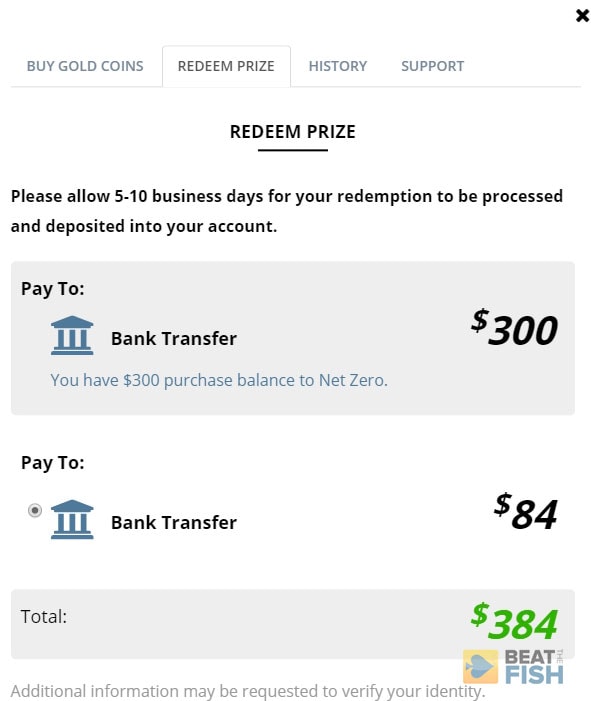 What's most notable to me, Global Poker is the only poker site with cash prizes that will send redemptions directly to your bank account. No other poker sites does that for your winnings anymore and they haven't for more than a decade.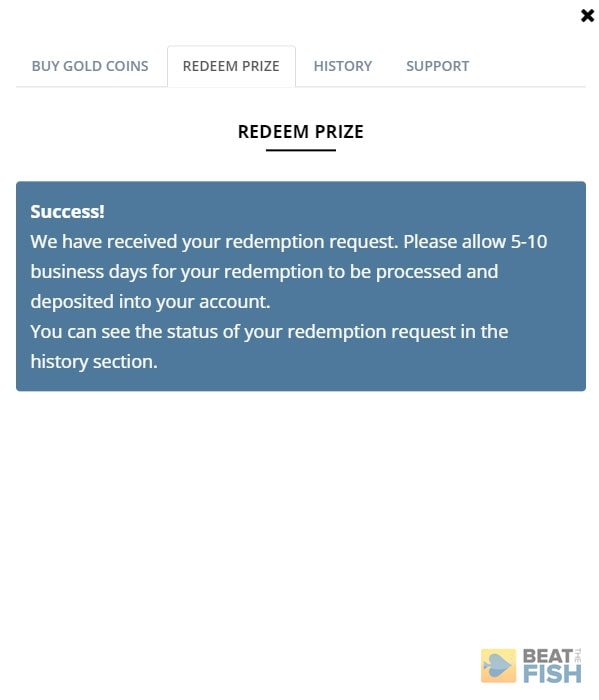 Why bank transfers are such a big deal
Global Poker will get your prize redemption straight to your bank account in 3-5 business days, which is extremely good. They want you to allow up to 7 business days, but I've never seen it take that long.
Most other poker sites struggle to send a check via FedEx to you in that time frame, then you've got to receive it, cash it, and possibly get some grief from your bank.
With Global Poker, you avoid that and get your redemption just as fast directly to your bank. Making a bank transfer is probably what you were going to do with PayPal anyway.
Global Poker also doesn't charge a fee for bank transfer redemptions and you can request them as often as every day if you'd like. Most other online poker sites can't say that.
For now, Global Poker only offers these bank account transfers for redemption. It would be nice if more redemption options were added down the line (it's criminal not to support Bitcoin), but it's tough to complain when what they're doing is so efficient.
Back about 15 years ago, these sort of direct bank account transfers were a huge reason I loved to play at Bodog (now Bovada Poker). You win at the tables, tell the poker site to send it to you, and you can spend it within days. Not much in online poker feels better than that.
ID Verification at Global Poker
What seems to get a lot of complaints at Global Poker is their ID verification system, which is required in order to get your cash prize redemption. I have news for you, folks: there isn't anything unusual about it.
I get that sending in proof of your ID, your address, and a bank statement to Global Poker is obnoxious. I hate doing it, too, but this kind of stuff is really standard fare these days for online poker sites. It's normal KYC (know your customer) stuff and everyone transmitting money has to do it.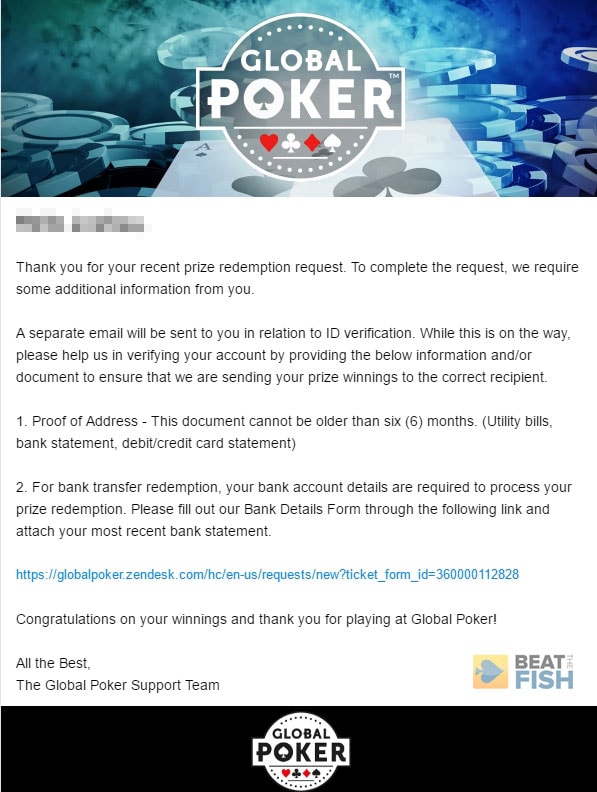 Global Poker isn't screwing with you personally because they ask for it. Everyone has to do it and it's simply what's required by the payment processor who are sending you those nice shiny bank account transfers.
If you've only ever played online poker at Global Poker's version of the game, I can understand you being irritated by it. I assure you, though, you aren't going to avoid ID verification anywhere else these days.
One of the more popular US-friendly competitors of Global Poker actually required me to send in scans of my ID plus a utility bill before they would send me my Bitcoin. Yes, for Bitcoin, whose legacy is privacy and has nothing to do with US banking laws.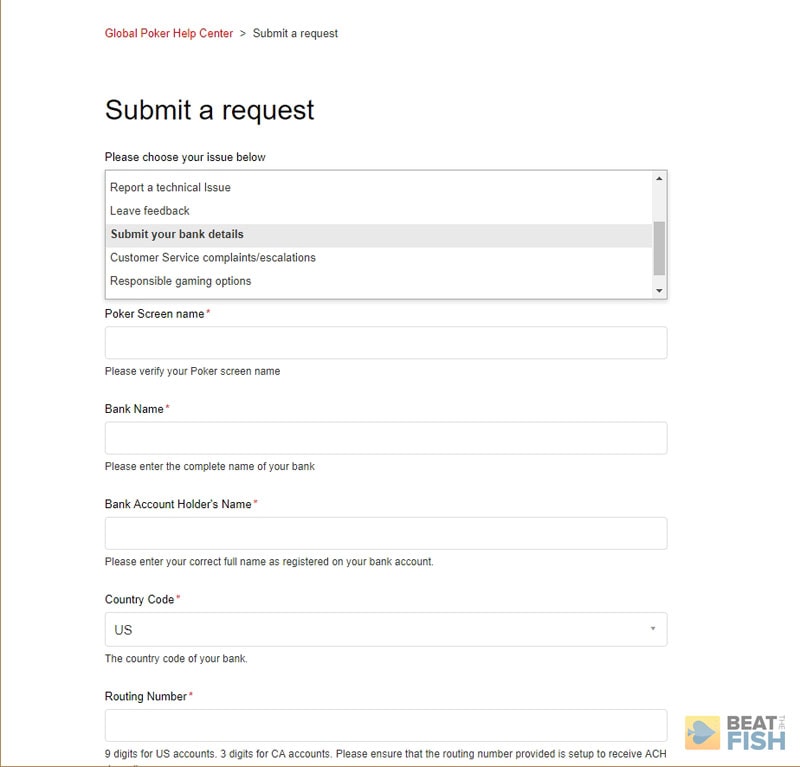 Global Poker is covering their own butts by making you verify yourself before they send you prizes. I'm sure they don't mind the side effect of making it tougher for you to redeem, but it's also part of the reason they have better payment processors than other poker sites.
Global Poker will only make you verify yourself and bank account once. After that, you can request hassle-free transfers directly to your bank account.
An Important Global Poker redemption rule
One very important term to note at Global Poker is that they require you to play through your Sweeps Coins once before you redeem them for cash prizes.
What that means is that if you buy a Gold Coin package and get 100 Sweeps Coins, you'll have to play through 100 Sweeps Coins before you redeem it. I found this myself when reading over the Global Poker Terms and Conditions and have heard from some players who have had it happen to them.
How much does this rule impact Global Poker players? It's probably never going to come up under normal circumstances. Unless you're playing micro stakes, you'll probably hit your purchase in play after a few hours of cash game gameplay. I don't know how they calculate it for tournament-only players.
If you make a purchase, change your mind, and want to redeem it immediately, then you'll definitely run into this.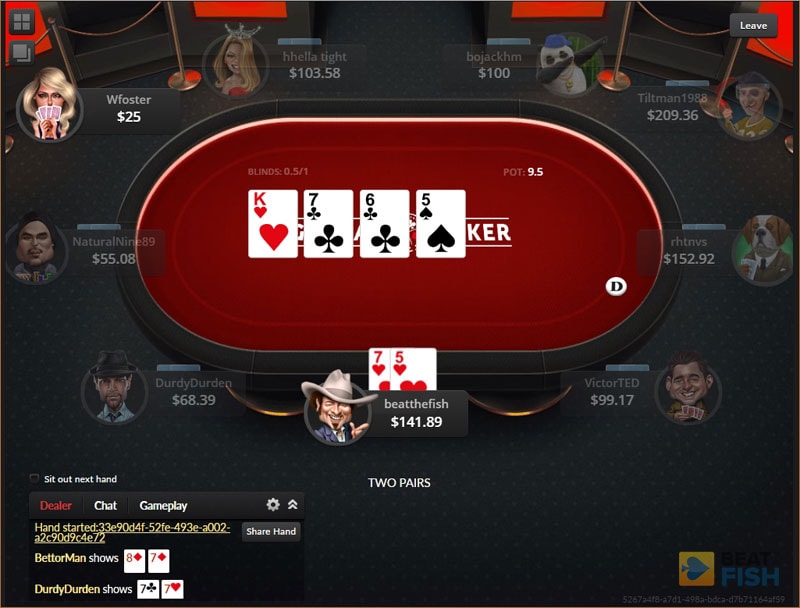 Global Poker doesn't show how much you've played through
I think the worst part is that Global Poker players can't see how much they've played easily without writing to support or just requesting a prize redemption and hearing about from the support team.
Global Poker ought to add an easy bar in the cashier that shows your progress, although they probably don't want to do anything to encourage redeeming your prizes out of the poker site.
Most poker sites silently have a similar rule in that they hate to pay processing fees for you when you haven't played much, but they rarely have an enforced written rule in place for it.
My recommendation? Just think twice about it before you make a purchase at Global Poker. Make sure you really want to play for at least a little while before you make a purchase.
The Global Poker Software
I tend to have a different attitude than most about poker site software. Whereas a lot of reviews focus on how pretty a site like Global Poker is, I care about functionality, platforms, and speed.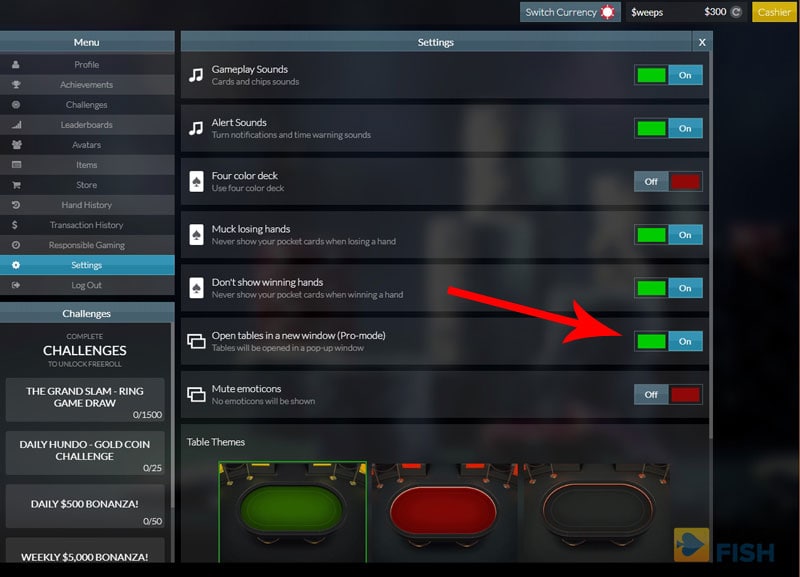 Heck, if I could profit the most per hour from a black-and-white online poker table with dots as avatars, it would be the greatest software in the world.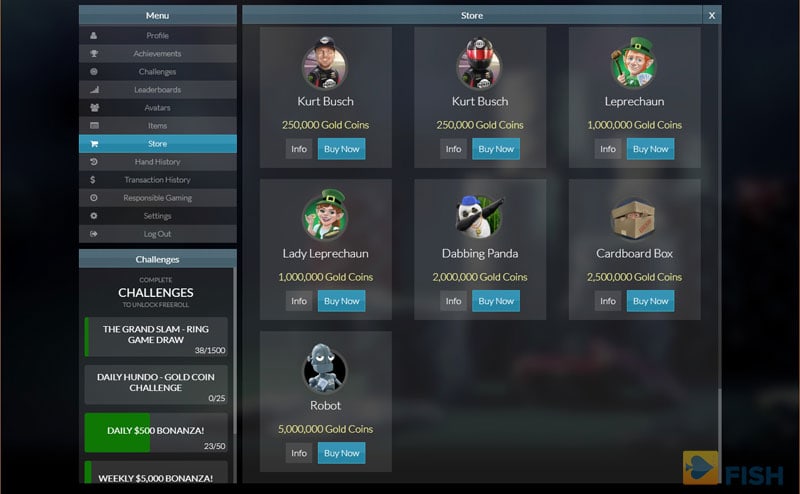 The Global Poker software all takes place in your browser, meaning it's lightweight and works on every device with a browser. In fact, Global Poker works so well right in your browser that it left me wondering why online poker sites even bother with forced-install software anymore.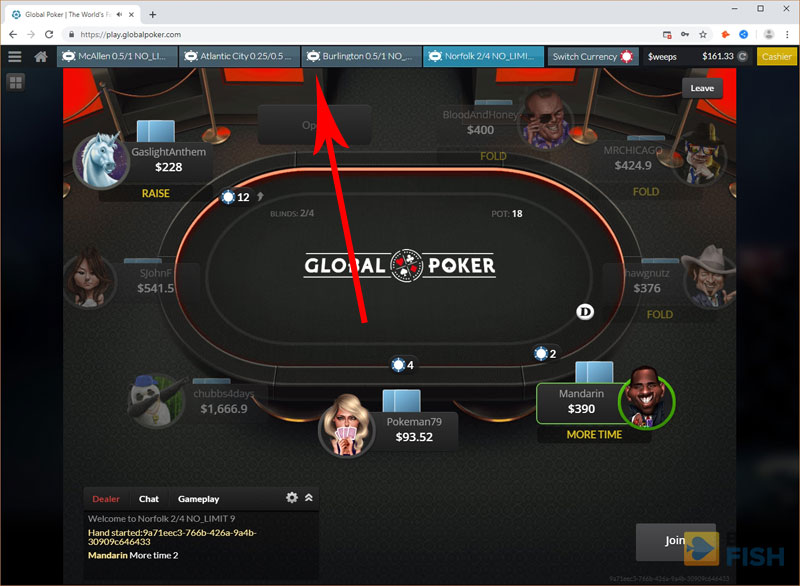 You don't have to install anything, meaning it's no-download and instant play. You can play Global Poker on Windows, Mac, your phone, and even an unorthodox OS like Linux or on Chromebook.
It's clear Global Poker was developed in the past few years, with a minimal sharp user interface and attractive-enough modern graphics. You can choose from a handful of backgrounds and stock caricature avatars.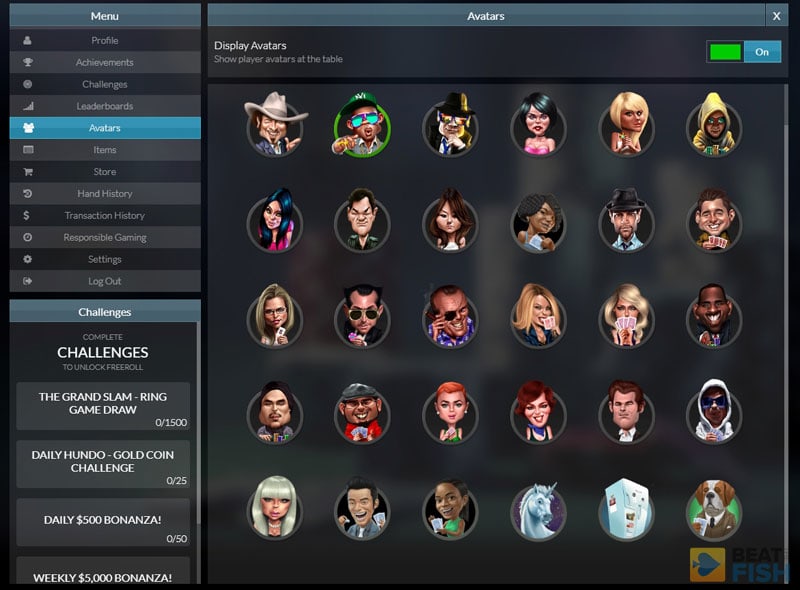 The Global Poker software doesn't have many advanced features that veteran online poker players are used to. However, it works for players like me who have enough to think about with the game rather than messing with settings.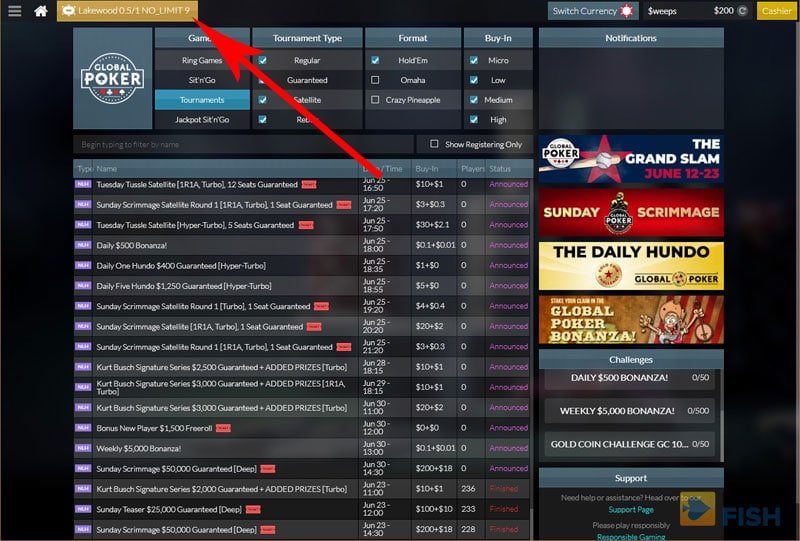 I fully support any block of HUDs by online poker sites, so I give Global Poker credit for that. It also helps keep the games softer, as grinders who rely on HUDs go elsewhere.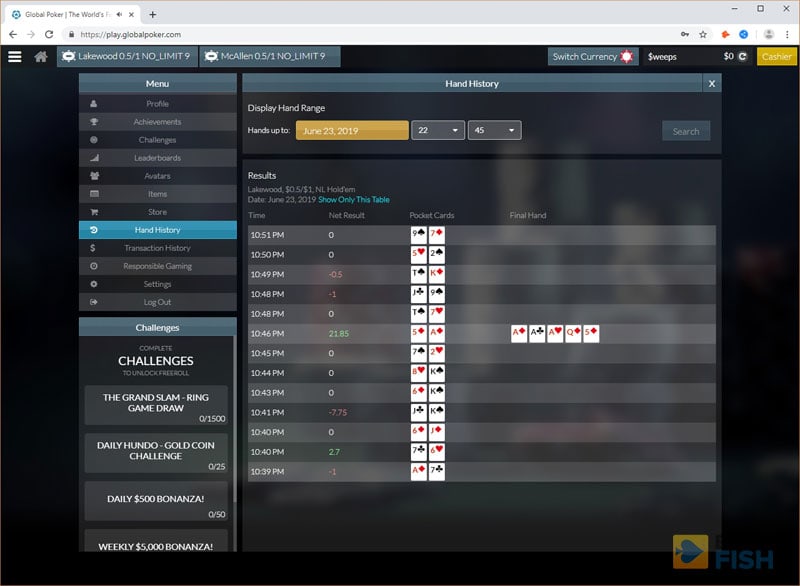 Global Poker easily has one of the best no-download poker software online and absolutely the best in the USA market. In fact, they're one of the only official no-download poker sites open to Americans.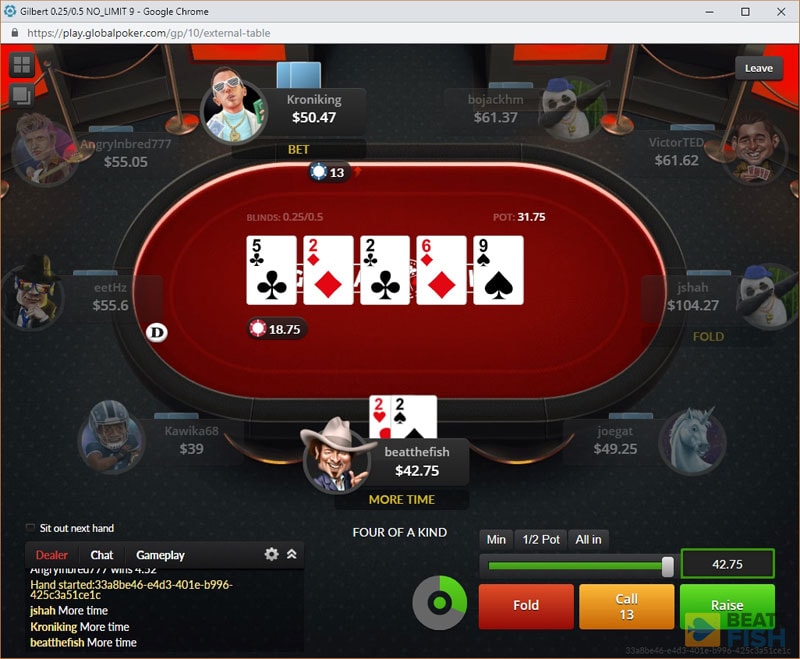 You can't get more simple than how Global Poker does it: you go to the website, log in, and can play right away. You never need to update your poker software because that's done on Global Poker's end. With traditional poker sites that require a download, it seems like you're updating every time you open it.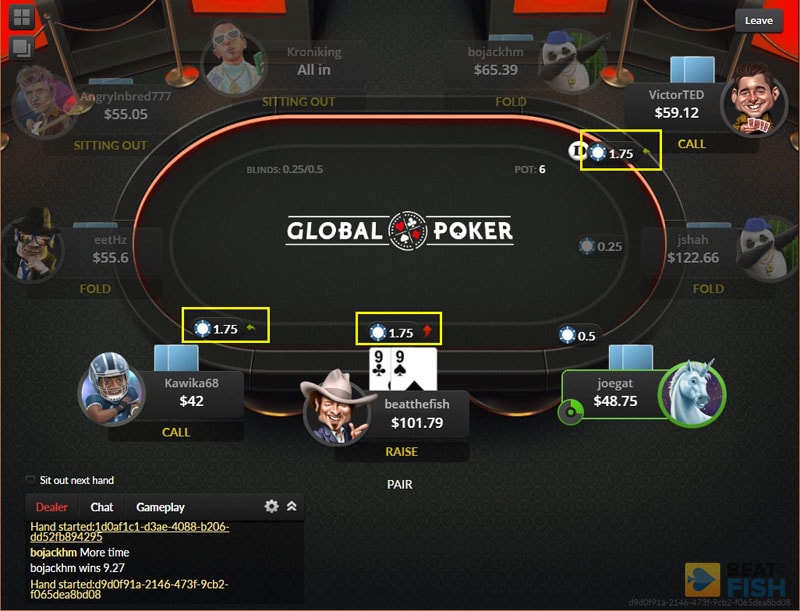 The Global Poker software also works just as smoothly as (and often times better than) downloadable poker software, never once slowing down or crashing in my tests.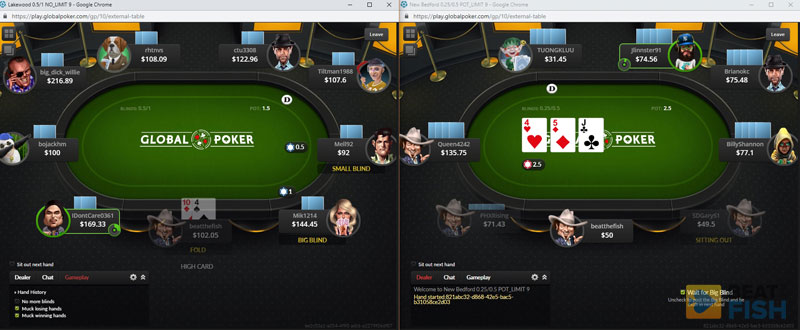 That was done on both a Windows desktop using Chrome and an iPhone 6S Plus, which isn't even top of the line anymore. I was also playing 4 tables at once.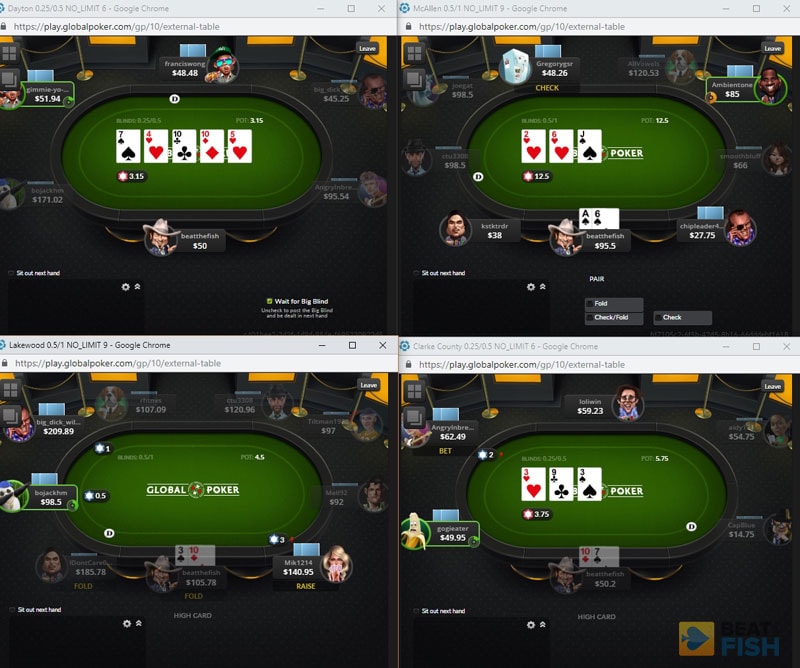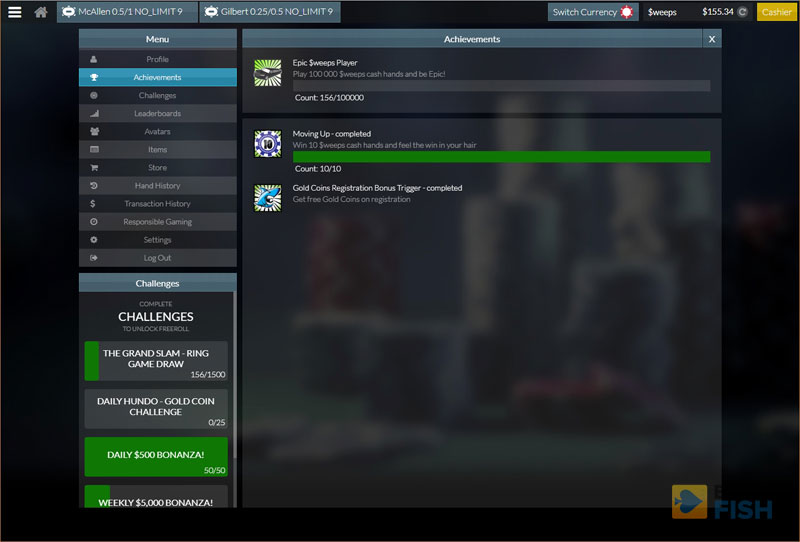 Playing Global Poker on mobile
As for mobile, Global Poker will work on any iOS (iPhone, iPad, or iPod Touch) or Android device. That includes phones and tablets. Just log in at the Global Poker website on your mobile browser and it just works.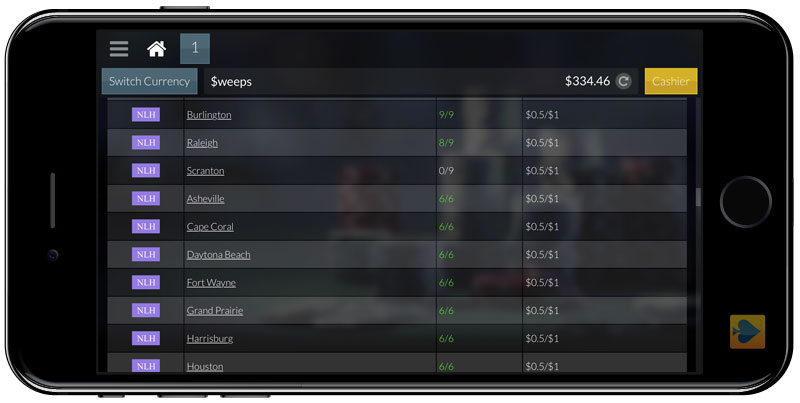 Mobile is particularly good at Global Poker with one of the smoothest implementations of mobile poker I've seen. The lobby is perfectly easy to read.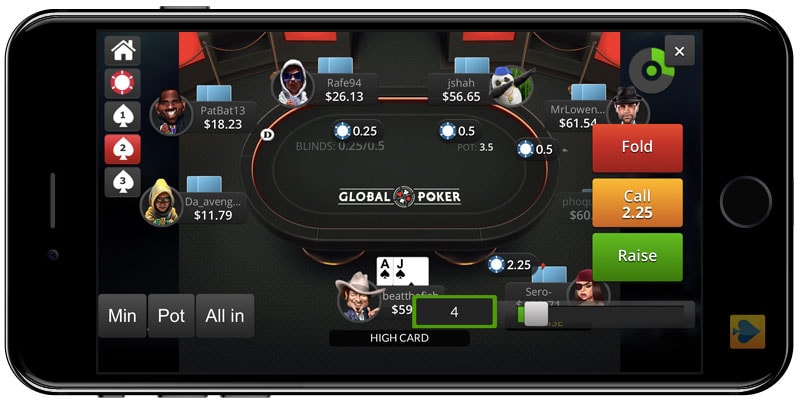 What I'm always interested in is how a poker site handles multi-tabling on mobile. I really like how Global Poker does it, with little buttons on the side of each table that alerts you by color if it's your turn to act on another table.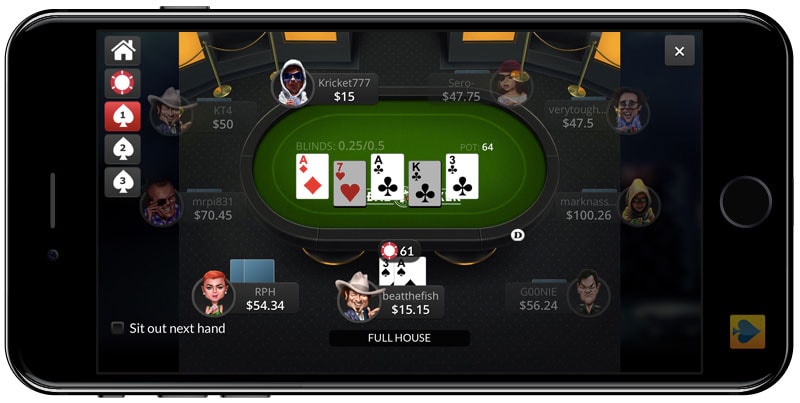 Global Poker mobile feels lightweight and, unlike a lot of mobile poker I've played, never slowed down or froze up with action at multiple tables.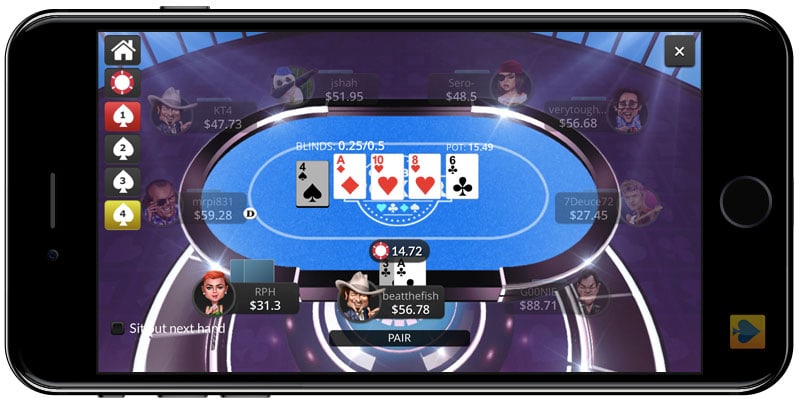 Global Poker and HUDs
One of my favorite parts of Global Poker is their direct ban of online poker HUDs. Along with other no-HUD poker sites like Bovada Poker, It's one of the factors I keep hearing from players that they like.
HUDs, or Heads Up Displays, enable players to input hand histories from their gameplay and build databases tracking other players across the site. HUDs are a crutch that I'm firmly against and I fully support the recent movement by many poker sites to block them.
Every online poker player deserves to be have a level playing field. Discouraging recreational players and those on mobile by tracking and crushing them does no one any good in the long run.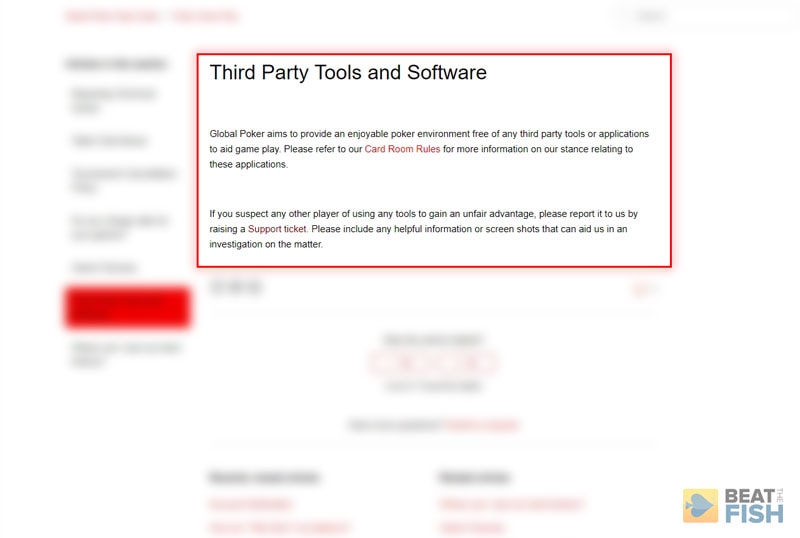 Reviewing how Global Poker blocks third-party software
First of all, the web-based Global Poker software would make HUD compatibility very difficult, if not impossible.
Secondly, Global Poker very smartly hides player usernames in its hand history. You'll see generic anonymous "Player123" tags instead. The hand history tool is also a little unwieldy to use, which is fine with me if it discourages HUD users even further.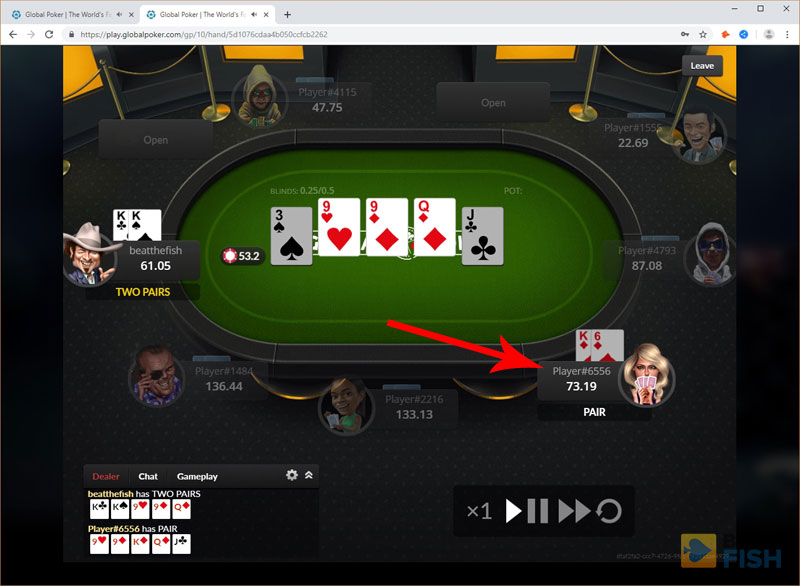 Global Poker takes an interesting middle-ground approach to anonymous tables. You can still see other player usernames at the table, but they won't appear in hand histories.
You also can't see player usernames before opening a table, build a buddy list, or search for a player. Global Poker has basically eliminated anything that can be used to hunt specific players.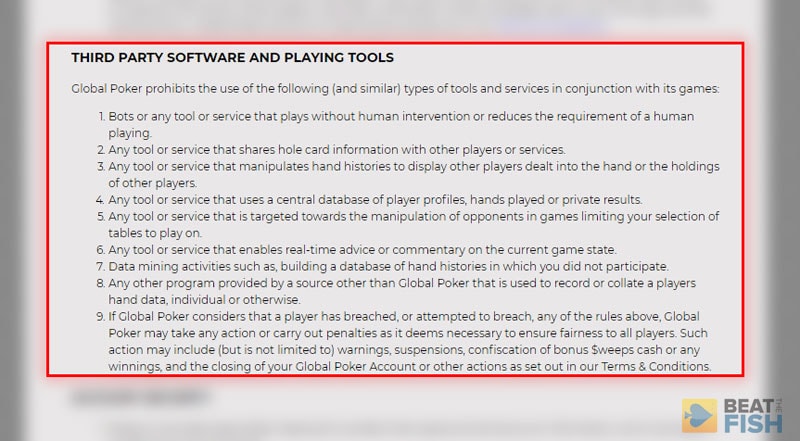 Interestingly, Global Poker does support player notes, which I think should button up the crowd who thinks that blocking HUDs encouraging cheating. At Global Poker, if you suspect a player is cheating, take a note on them.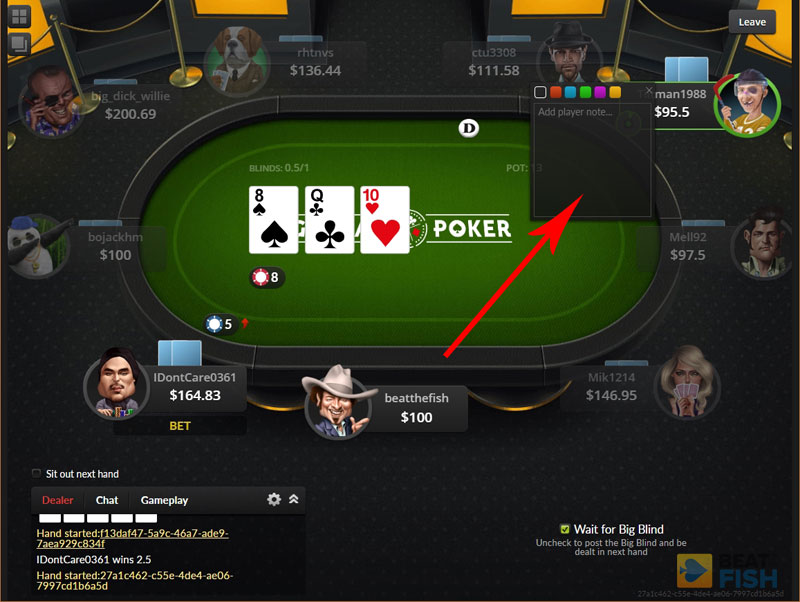 You can also take notes on any strategic gameplay tendencies you pick up. You'll be able to reference it the next time you play with them and alert Global Poker support if you think you see an unnatural pattern that looks like cheating. You know, the old-fashioned way.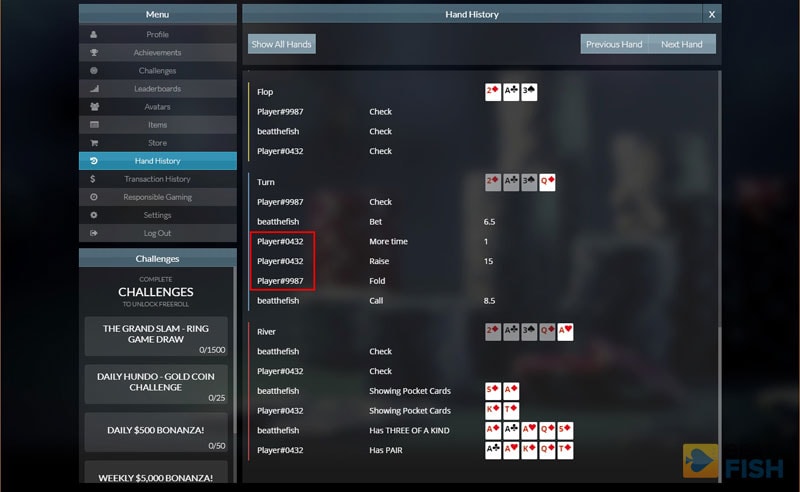 Speaking of cheating, one thing a lot of players might like about Global Poker is that they're only open to Americans and Canadians. A lot of the suspected cheaters on poker sites like Americas Cardroom come from Eastern European countries.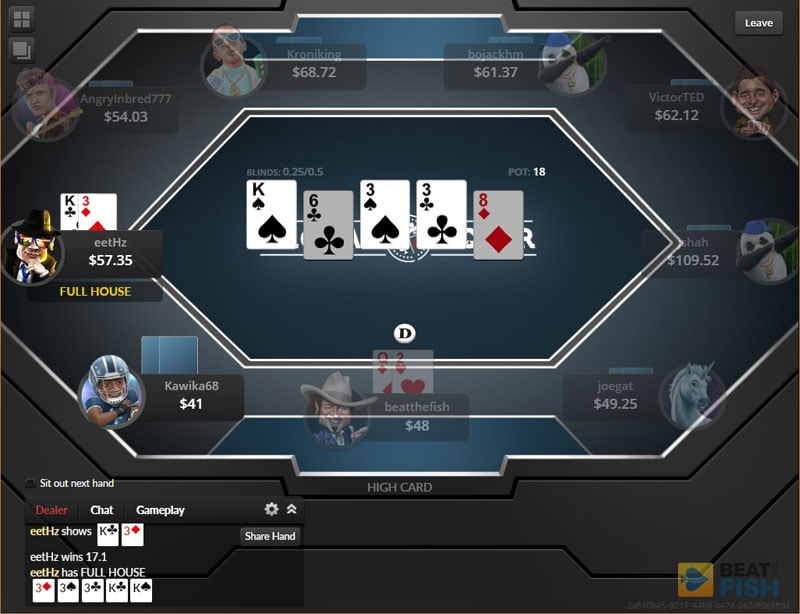 Global Poker Tournaments
At first glance, the tournaments at Global Poker seem pretty lackluster. Surprisingly, I actually think they're a hidden gem, due to these factors:
The average number of players is decent
There are plenty of deep and no-rebuy tournaments
There are lots of overlay opportunities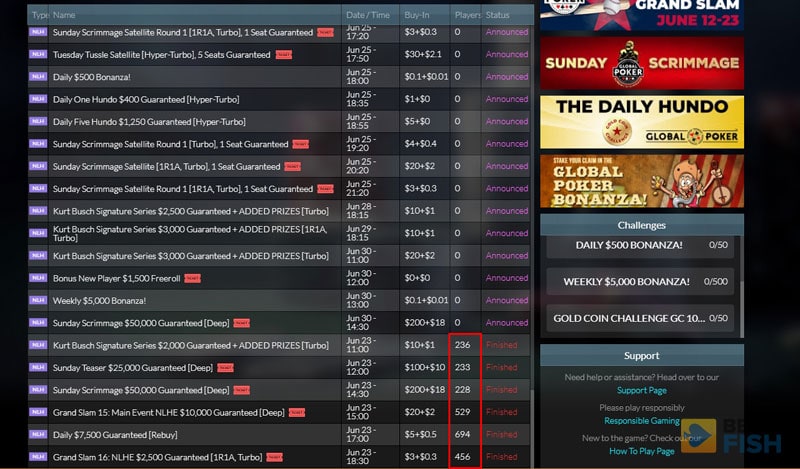 Global Poker has experienced exceptional growth in the past couple of years, which has translated into higher traffic both at ring games and tournaments. The average number of players at a Global Poker tournament ranges from 50-300 with most events drawing 100-200 players.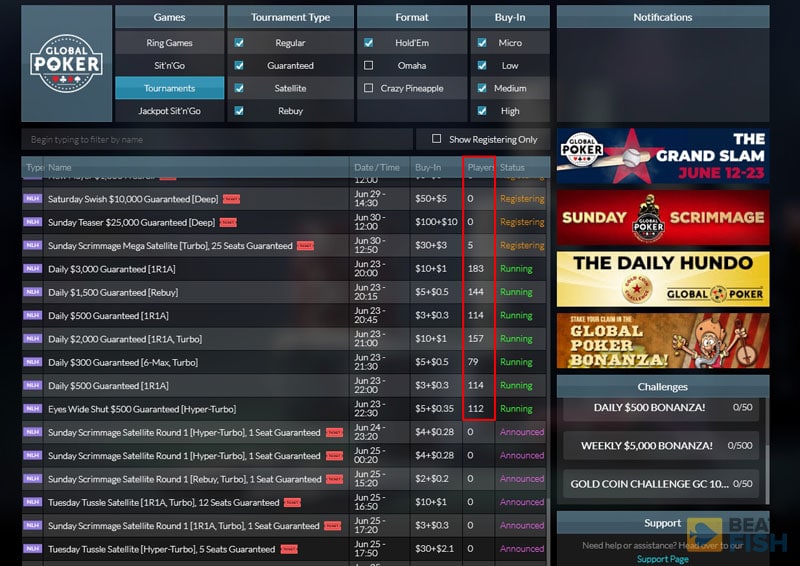 That often beats out some of the more well-known USA poker sites like BetOnline. During the peak hours of the evening, Global Poker schedules around 5 tournaments per hour and there are at least 2 or 3 per hour around the clock.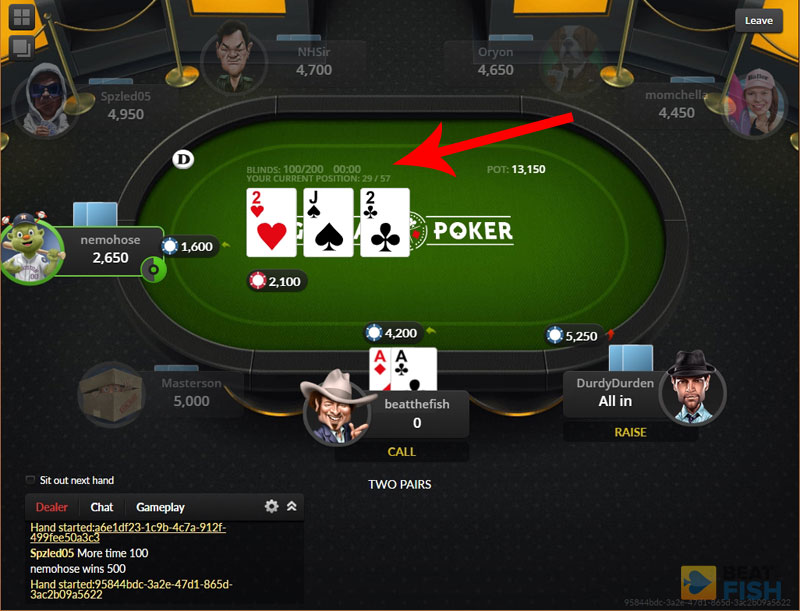 I also appreciate the variety of the Global Poker tournament schedule, mixing in 6-max, rebuy, hyper-turbo, and deep stacks. Global Poker also offers Pot-Limit Omaha (PLO) and Crazy Pineapple, although only Omaha gets regular players.
If you've read one of my poker site reviews before, you know I loathe rebuy tournaments. If you're like me, you'll appreciate that Global Poker reserves around 40-50% of tournaments to be traditional one buy-in structure.
Online poker sites like Americas Cardroom offer rebuys and add-ons for nearly every tournaments. That boosts their prize pools numbers and makes them look good, but puts more skilled players at a disadvantage.
Review of the best poker tournaments at Global
The biggest tournament series at Global Poker is the Sunday Scrimmage, which takes place on Sundays at Sunday at 5:30 P.M. EST. The guaranteed prize pool is 50,000SC, which may sound low, but the buy-in is only 218SC.
There are also no rebuys or add-ins and you start with a deep 10,000 chip stack. There's also a 25,000SC guarantee for No-Limit Hold'em on Sunday at 3:00 P.M. EST with a 110SC buy-in.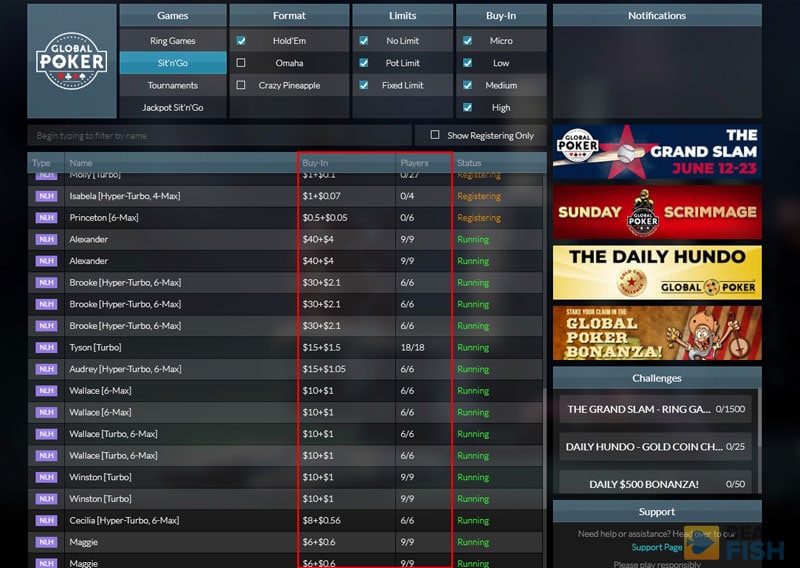 Other poker tournament schedule highlights include a 10,000SC guarantee during the week for 33SC with rebuys, a 1,500SC 6-max freezeout every weekday, and a daily 3,000SC guarantee with rebuys.
One of the best tournament promotions at Global Poker is the Bonanza, which are basically freerolls that can be unlocked by seeing enough flops. 50 in a day gets you the daily 500SC Bonanza tournament, while 500 in a week unlocks a respectable 5,000SC Bonanza every Sunday at 4 P.M. EST.
I call the Bonanza "freerolls", but they actually require a 0.11SC buy-in, just to ensure that it's reserved for players who have actually purchased. Keep in mind that you can earn entry through Gold Coin tables as well, which is the play money of Global Poker.
Tournament Overlays
One of the best reasons to play tournaments at Global Poker is the excellent overlay opportunity on many guarantees.
An overlay happens when the poker site guarantees a certain prize pool, but not enough poker players show up to hit (or exceed) that from their buy-ins. In that case, Global Poker has to make up the difference, since they guaranteed that the prize pool would at least be that.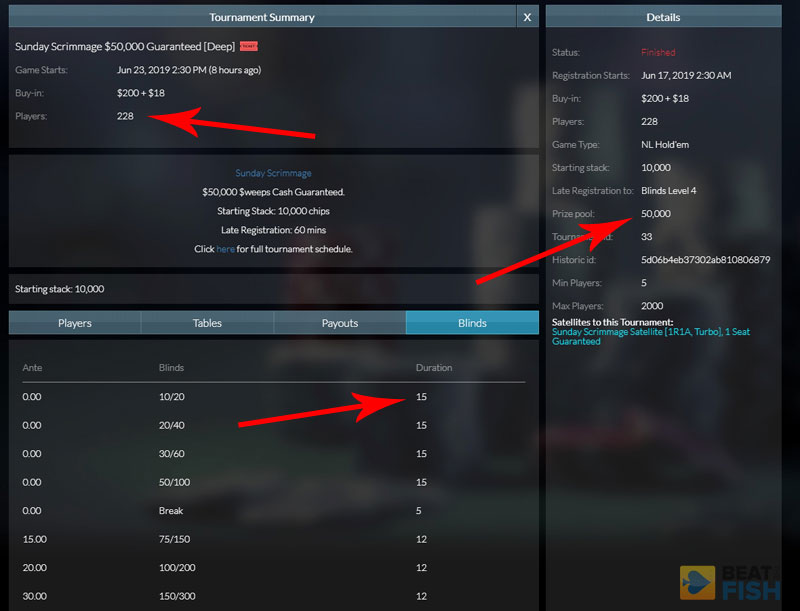 It isn't usually much, but there's added value to every poker player in a tournament with an overlay. Their effective buy-in becomes greater than what they actually paid. If 100 players pay 5SC for a 1,000SC guarantee, Global Poker has to make up the other 500SC. That makes every buy-in actually worth 10SC.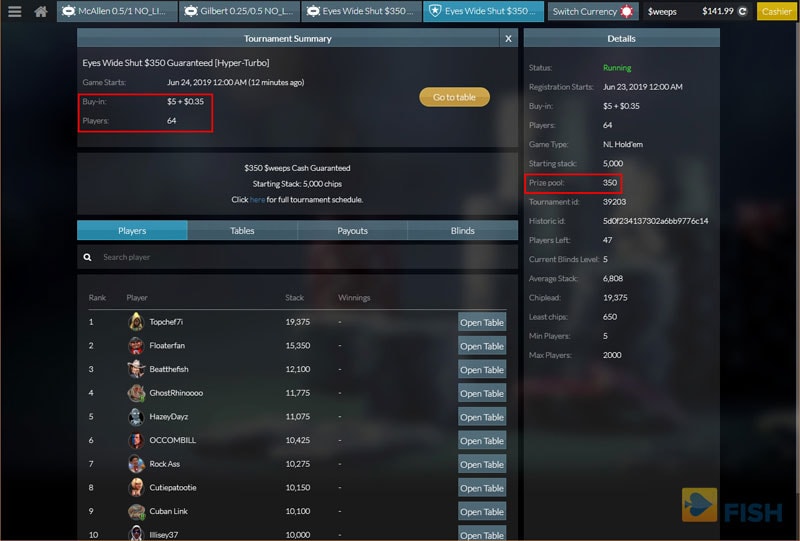 The big Sunday Scrimmage usually has an overlay of around 5,000SC, which is amazing, but you'll also see it on smaller 500SC and 1,000SC guarantees.
Fish Rating for www.globalpoker.com
Because Global Poker can take any credit card and advertise on places like Google and Facebook, they attract tons of USA-based recreational players.
A lot of casual poker players from the United States and Canada actually buy play money on sites like WSOP, Zynga, or Club WPT. Global Poker lets them do that, too, but then gives them Sweeps Coins to use and redeem for cash prizes.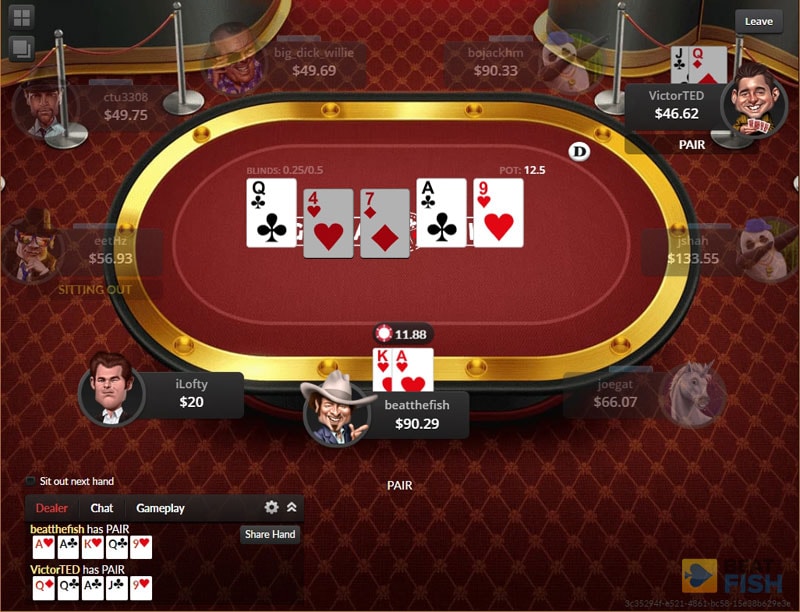 A bunch of play money players dumped into Sweeps Coins games is a beautiful thing for experienced poker players. The games are quite soft and loose, with flop percentages reaching 40-60%, which is excellent. That's double some of the tighter and older poker sites.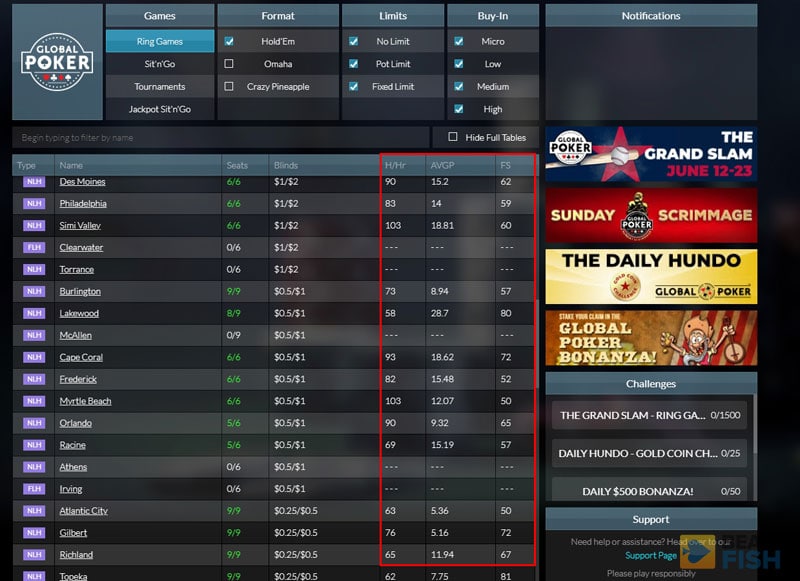 As is the trend across all online poker sites in recent years, Global Poker cash game traffic is highly focused on 6-seated tables. Although I still prefer old-school 9 or 10-seated tables, I'm now in the minority.
I understand the draw of shorthanded tables: more playable hands, more hands per hour, and fewer players to keep track of. That being said, I appreciate that you can usually find 2 or 3 9-player tables per limit at Global Poker.
Global Poker lets you review the juicy flop and pot numbers
Some of the best indicators of loose cash tables are the percentage of players seeing the flop and the size of the average pot. My Global Poker review shows above-average numbers for both.
What's interesting is that Global Poker still lets you see those numbers in the lobby and choose a specific table accordingly.
I always choose to sit at looser tables when I have the choice because of the greater potential value, but I know some incredibly bad-beat-averse players may actually do the opposite. Global Poker does let you choose, whereas many online poker sites have hidden that data to prevent sharp players from picking and choosing their action.
With so much action at 6-seated tables, that flop percentage is inherently going to be higher, but it's quite a bit higher at Global Poker.
You'll see the flops seen percentage in the 40-60% range, which is 10-20% higher than tighter poker sites. I don't quite believe the 80-90% flop numbers the Global Poker software shows for some tables.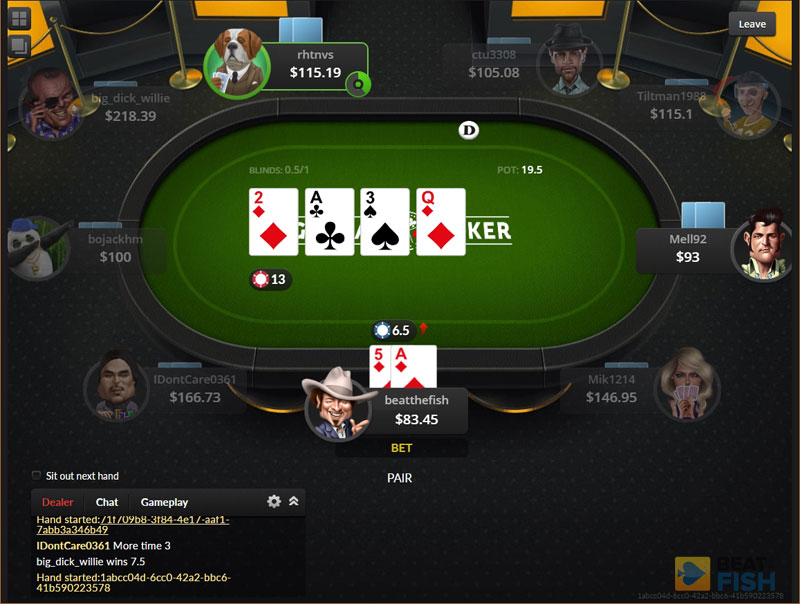 Average pot numbers for ring games have a wider range at Global Poker, varying between 10x (fairly tight) all the way up to 40x the big blind (high action).
Global Poker is one of the easier online poker rooms
Putting that together with my own playing experience, Global Poker is one of the softer and more beatable online poker sites. A big part of the Global Poker player base comes from sources like Google or Facebook ads, who are new poker players learning the game or just having fun.
Over the long run, the more action you're going to get on your winning hands is worth the greater variability those players bring.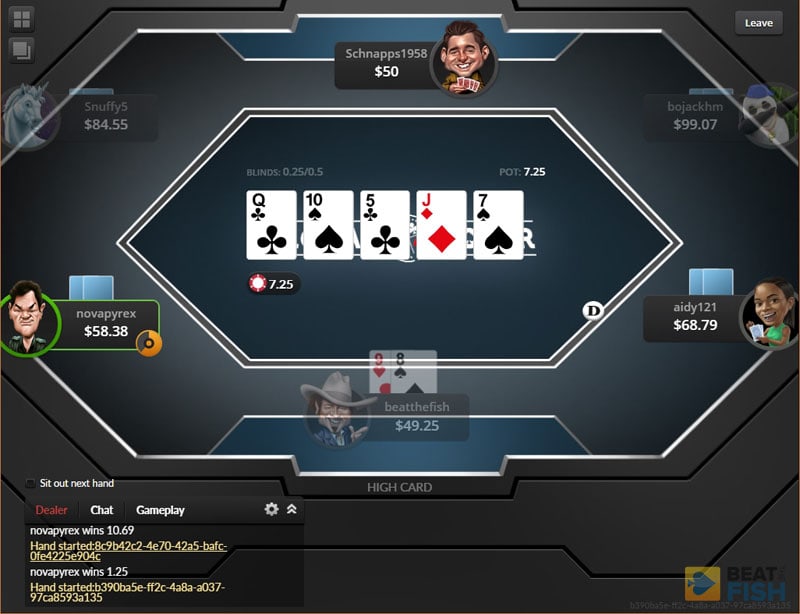 Is Global Poker Legal?
One of the most common questions of online poker players, especially those from the US, is if a poker site like Global Poker is legal. Almost every poker site is "legal" in the sense that it's licensed and regulated in its home jurisdiction.
Also, from a player standpoint, almost no US states actually make it a crime to simply play at a poker site like Global Poker, even for real money. The responsibility is on the online poker operator.
However, after digging deeper, Global Poker may be the most clearly legal poker site allowing cash prizes.
At Global Poker, no one is actually "gambling". You buy Gold Coins with real money, which are glorified play money chips. You then get bonus Sweeps Coins, which can be used to enter poker sweepstakes that can be redeemed for cash prizes. You never actually make a deposit as you would with a traditional online poker room.
Global Poker's owner, VGW, does the same thing on the casino side with Chumba Casino.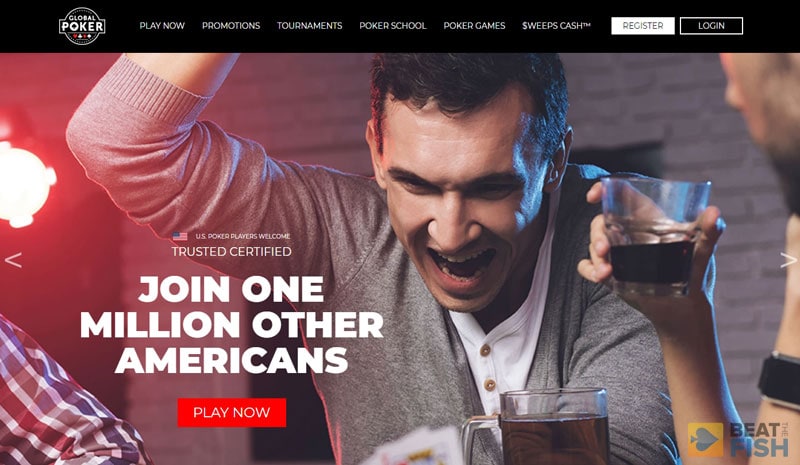 The Global Poker "sweepstakes" are in the form of cash tables or tournaments. It ends up being exactly like traditional online poker, only structured in a way that makes it legal under current USA sweepstakes and contest laws. They've even applied for a patent for this system.
In fact, Global Poker even advertises themselves as being the only legal online poker option with cash prizes in the USA. Global Poker has found a clever loophole that most likely protects them from being attacked by authorities.
I also think Global Poker was prudent to never offer casino or sports betting, something different than nearly 100% of the online poker competition has done.
Is Global Poker Legit?
In my opinion, Global Poker has a case for being the most legitimate poker site still accepting USA players. Global Poker has two major trust factors going for it: its Malta license and its payment processor.
Global Poker is the only USA-facing poker site I've reviewed who's been able to acquire a license from the Malta Gaming Authority. That isn't a coincidence. A Malta license is usually reserved for poker sites operating in regulated European countries.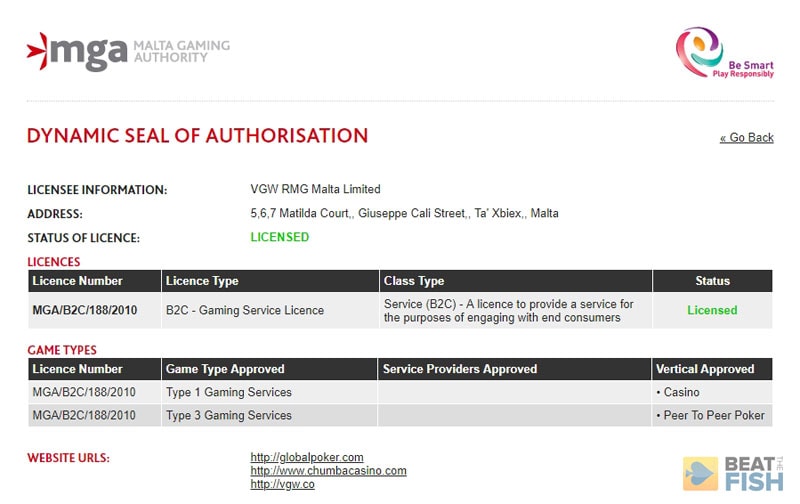 To me, that shows that Global Poker has a legit operation and the sweepstakes business model sets them apart from other traditional gambling sites.
Also, Global Poker was able to convince WorldPay to work with them, who's arguably the largest online payment processor next to PayPal. No other offshore poker site is working with WorldPay, meaning that Global Poker has convinced them that they're operating legally.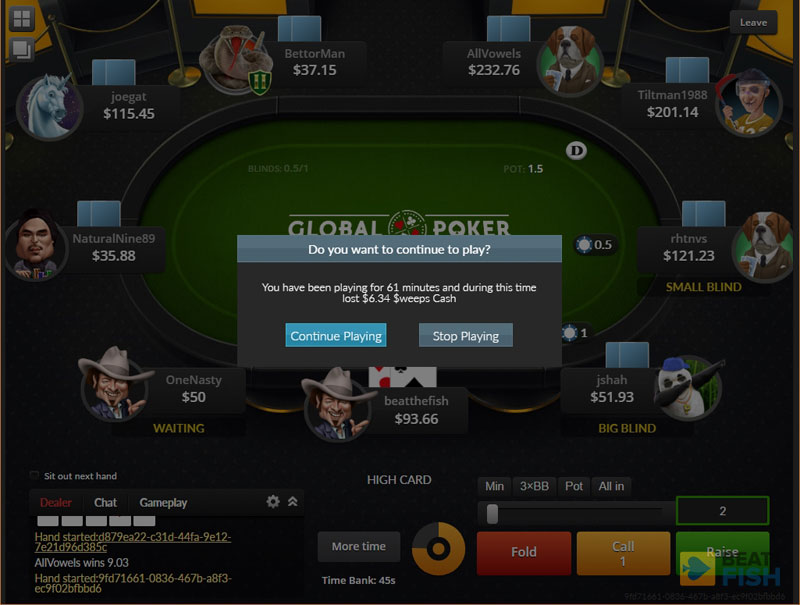 It's hard for a lot of poker players to believe that Global Poker is legit because they're newer and different. I get that. They haven't had enough time to build much trust in the online poker community yet and they've suffered some setbacks, such as the loss of PayPal.
I will say that, even when I held Global Poker in my poker site quarantine for a year because I didn't trust their business model, I didn't see anything that made me question if they were above-board.
Is Global Poker Rigged?
Every month, I get a handful of emails from frustrated players insisting that Global Poker is rigged. The same goes for Bovada Poker, Americas Cardroom, and even publicly-traded poker sites Pokerstars and Partypoker. There's no shortage of expletives in those tirades.
Do you see the pattern here? Every single online poker site that's ever existed has been accused of being rigged by losing players.
Almost every single claim of Global Poker being rigged is accompanied by anecdotal evidence of the most horrendous bad beats you've ever heard. According to them, there's no way Global Poker is dealing legitimate games with the hands they've been up against.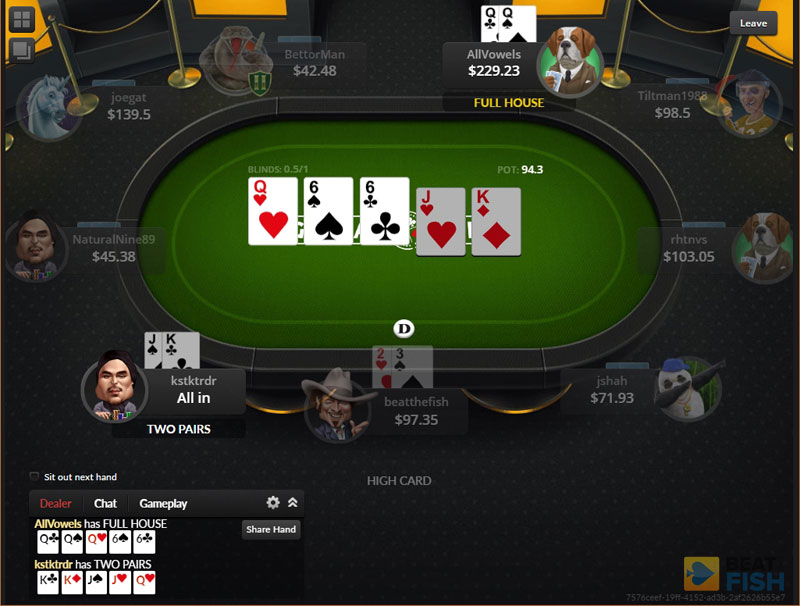 They're either giving rewarding bad players to keep them from going broke or employing bots to collect your hard-earned money.
Sound familiar? This is the same argument a certain segment of players makes for every online poker site, not just Global Poker.
These players forget that luck and humans exist in poker games. Part of what makes poker so appealing is that it's a combination of skill and luck. Poker would be a pretty boring game if the best hand simply won by default.
It's important to review skill vs. luck in poker
Skill is going to win in the long run because, well, math exists, but luck can make any player win any given hand. Heck, your foe could suck out on you with a 2 outer 5 times in a row. Play that same hand 1,000 times, however? You're going to win just about the exact percentage you're supposed to.
Outraged Global Poker players are looking at a small sample size of bad luck and bad players. They're forgetting that they're playing against one of the worst collections of online poker players online.
Players do dumb things with dumb hands for dumb reasons. Sometimes they're going to win anyway. If you want the benefit of playing against poor Global Poker players, you have to be willing to accept the risk as well.
Even when I wasn't recommending Global Poker because of their short history, I never did so because I saw anything that looked like rigged games. As much money as you can imagine poker sites would make by cheating the games themselves, they make a whole lot more by keeping their reputations clean and simply collecting the rake.
The fact that Global Poker is regulated by the Malta Gaming Authority also gives me peace of mind, as it's one of the more difficult licenses to get. It's used by some of the largest poker sites in the world and is supposed to be a promise to players that the Global Poker games are regularly tested for fairness.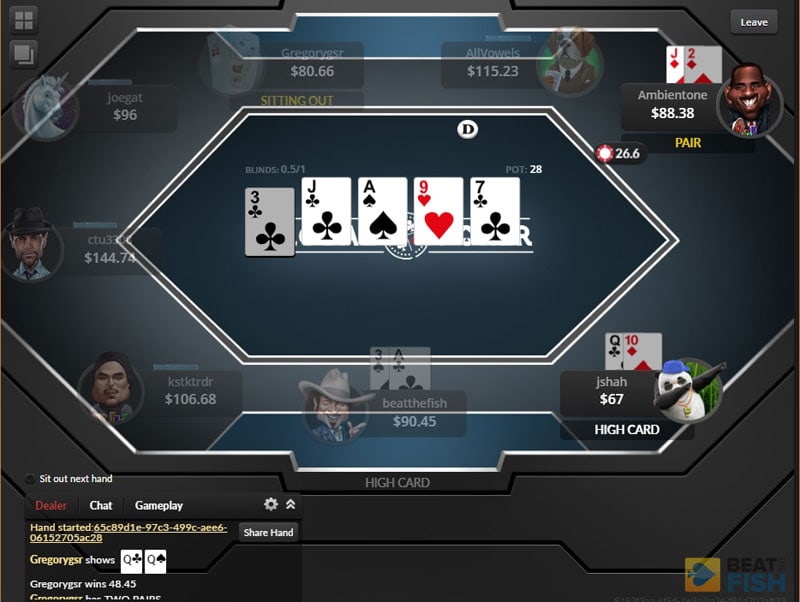 After an enormous review, I trust Global Poker
At the end of the day, it's your choice whether or not to trust Global Poker. Although I've been playing online poker for many years, I'm still just one man with one opinion.
If you don't trust the poker site, then you shouldn't give them your money. That's absolutely your choice and your right. If you don't trust any online poker site and are prone to tilt, rage, and blame, then don't make yourself miserable.
Global Poker's NASCAR sponsorship is a big deal
This also may sound weird, but I think the Global Poker sponsorship of Kurt Busch's NASCAR vehicle is one of the biggest reasons I'm bullish on the poker site. Step back and think about it: this is a poker site who was allowed to plaster its logo on a car in a major American sports league.
NASCAR is a huge business and the fact that they felt comfortable doing business with Global Poker tells me that Global really has found a way to operate completely within American law. You aren't going to see Bovada or BetOnline logos around sports leagues.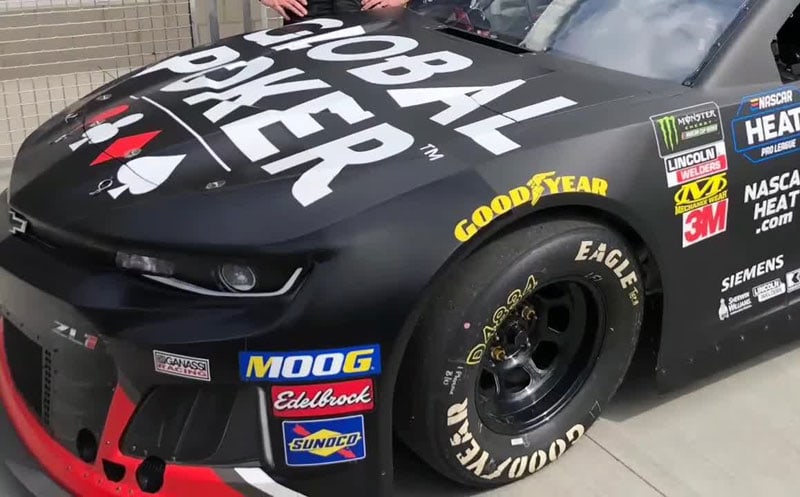 I've been playing and covering online poker since before the UIGEA passed in 2006. Although mainstream sponsorships for poker sites were fairly common before that, legislation put an abrupt halt to any USA business willing to advertise gaming sites serving American players.
The fact that Global Poker has the resources to spend millions of dollars to slap its name on a NASCAR bodes well. The fact that a major American sports company was willing to work with a poker site, to my knowledge, for the first time since the UIGEA is an even better sign.
Customer Support Review at globalpoker.com
Unfortunately, Global Poker falls into that camp of online poker sites when it comes to player support. You know, the one that only offers email support. Global Poker does a lot of things well, but I don't mind shaming anyone who doesn't offer both telephone and at least live chat support in this day and age.
Although they should offer more, Global Poker has one of the most advanced email ticket support systems I've seen. You can get really specific on which department and email address should get the message. You can also attach documents, which especially helps with ID and bank verification.
The response time from Global Poker is quite good and I received a reply to several test questions within 10 minutes each. Although the responses seemed a bit canned, they did address my questions.
While it's frustrating when you want to talk to somebody right now, the Global Poker support system works well enough.
Global Poker Review Conclusion
Global Poker is quietly thriving in the USA online poker site market in a different way than their competitors. On the surface, they're another social poker site selling play money to retirees on Facebook. In actuality, Global Poker is giving away Sweeps Coins with that purchase.
Global Poker is also one of the only poker sites that doesn't incorporate a casino or sportsbook, which can only help their legal status. They're also licensed and regulated by the Malta Gaming Authority, which is unheard of for a USA poker site.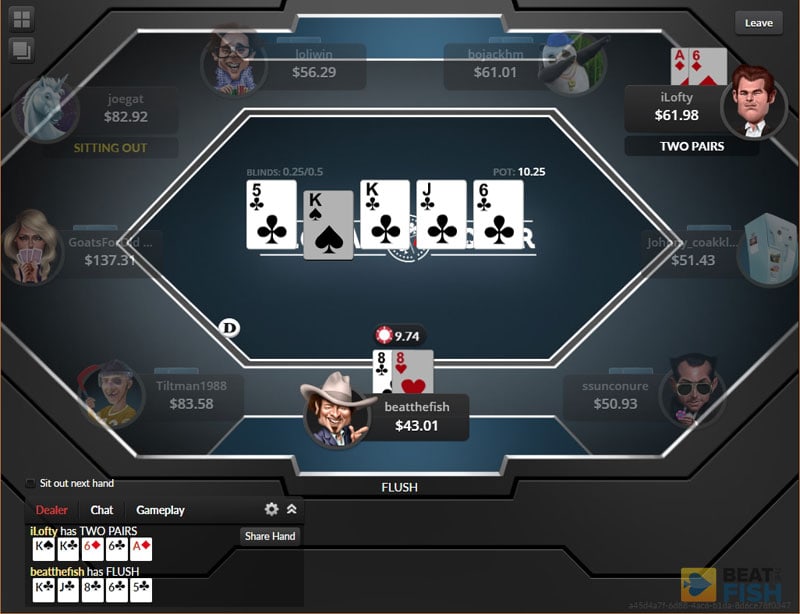 Thanks to that structure, Global Poker can offer easier purchases, redemptions, and advertise in places that draw plenty of recreational players. I love that grinders can't use HUDs here and snub the web-based software, cultivating a home of loose and profitable table.
I've reviewed Global Poker over the last year and they've grown in player traffic considerably, despite the loss of PayPal and the negative press that gained. They're the only US online poker site to accept every credit card and be able to send cash prizes straight to your bank account.
Global Poker on mobile is also a highlight, requiring no app download, an easy-to-use multi-table system, and every table that desktops get.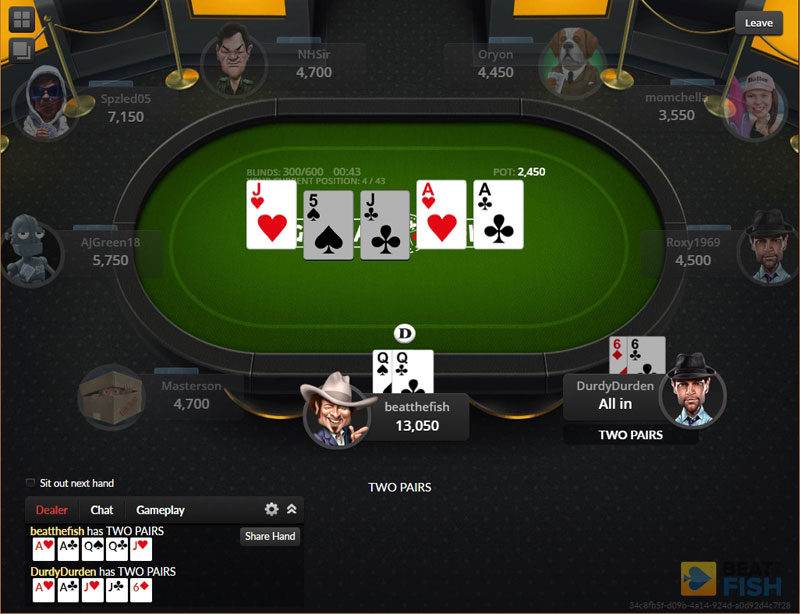 Global Poker does certainly still have room for improvement. I would like to see the addition of Bitcoin, bigger tournaments, and more advanced software options in the near future.
However, Global Poker is an easy recommendation to USA and Canadian poker players looking for soft tables, easy banking, and games that can be loaded right away on any device.
A lifelong poker player who moved online in 2004, Josh founded Beat The Fish in 2005 to help online poker players make more-informed decisions on where to play and how to win once they got there. He hopes to counter the rampant dishonesty in online gaming media with objective reviews and relevant features. Tech nostalgic. Fondly remembers the soup avatar at Doyle's Room.