This Global Poker Review Shows Why You Should Stay Away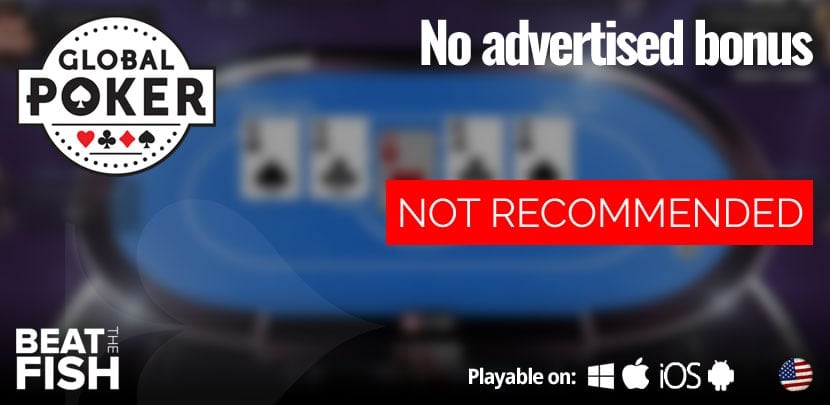 | | | |
| --- | --- | --- |
| | | |
| | | |
| | | Proprietary closed network |
| | | |
| | | |
| | | |
| | | |
| | | |
| | | |
| | | Texas Hold'em, Omaha, Pineapple |
| | | Windows, Mac, iOS, Android |
| | | |
| | | |
Bonus

Fish Rating

Banking Methods

Player Traffic

Software

Tournament Selection

Cash Game Options

Rake Levels

Withdrawal Times

Rakeback
Pros
Decent traffic across the site
Busy cash game tables around the clock
Solid selection of daily tournaments
Web-based software available across any device
Accepts players from the USA
Cons
No welcome bonus
Poor rakeback scheme
Not enough software customization options
Winnings can only be withdrawn to a bank account
No hand histories saved locally
PayPal removed without any announcement or explanation
No Bitcoin deposits or withdrawals
Players are forced to provide personal documents to get payouts
Confusing model of play money and deceptive real money games
Global Poker Overall
Global Poker brags about being the only legal online poker site catering to USA players.
In this Global Poker review, I'm going to scratch under the surface to see what's what.
At a first glance, Global Poker does seem to operate within legal constraints due to a clever workaround they came up with, which was further confirmed by the fact that PayPal accepted transactions to and from the Global Poker site.
Unfortunately, the entire connection between PayPal and Global Poker has fallen apart.
The biggest selling point of Global Poker to US players was taken away when PayPal was removed as the sole banking method, now only allowing deposits with credit cards and withdrawals to bank accounts.
Global Poker Removed PayPal
The worst fears have now come to pass as PayPal is no longer an option at Global Poker for either buying Gold Coins or cashing out your accumulated winnings. Unfortunately, problems are already starting to appear.
Global Poker has tried to spin the loss of PayPal into a good thing, announcing a new cashout option through WorldPay straight to your bank account.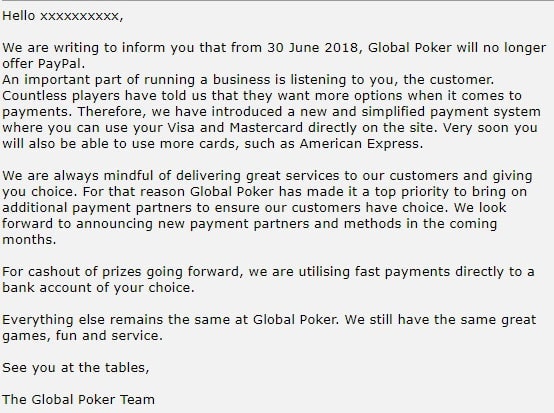 Unfortunately, players received no warning that PayPal would be removed. Also, numerous personal documents are now being required from players in order to receive withdrawals.
Here's a good video summary from Youtube user Pokerdad on how Global Poker online players have been left in the dark about the removal of PayPal:
Another big concern players have had over time was the fact Global Poker offered only offered PayPal and had no plans to change this. So, should anything have happened to your PayPal account or PayPal decides they no longer accept Global Poker withdrawals (which ended up happening), you would have been out of luck.
Global Poker has since removed PayPal as a banking option for all players without a reasonable explanation of why, leading to speculation that PayPal didn't approve of their business model and decided to end their relationship.
There have been cases like this already and, although Global Poker did manage to find a resolution in more high-profile situations, they took a lot of time, demonstrating either lack of willingness or ability to resolve problems faster.
Global Poker Complaints
Over the course of its operation, Global Poker has faced quite a few serious complaints, many of which have been reported by a number of players.
These seem to indicate that Global Poker isn't all it's being advertised as. The recent unexplained removal of PayPal is a huge hit for recreational players that could spell doom for Global Poker.
One of the more common complaints about Global Poker has to do with identity verification, where many players have reported very long delays and having to send their documents many times over before finally being verified.
Despite a lack player privacy by not blocking screen names, no Global Poker HUD has been developed. The web-based format that Global Poker uses makes HUD implementation impossible, which is one positive.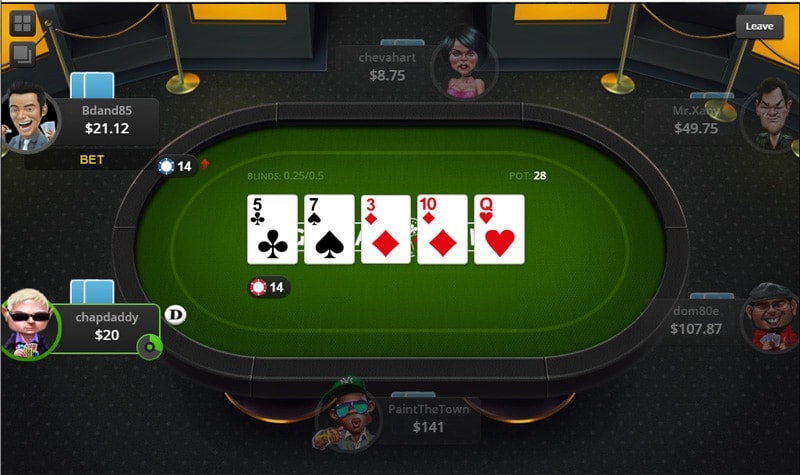 Is Global Poker Legit?
Global Poker has been accused of misleading its players. Every player from every country is allowed to buy Gold Coins, but only players from the USA and Canada can get $weeps and request cashouts.
Although this is mentioned on Global Poker, many players believe the warning should be much clearer. It's quite clear players aren't really coming to Global Poker to play for play money – they can do that anywhere.
If you happen to buy Gold Coins at Global Poker and aren't from the US or Canada, you can't have the transaction reversed. The money is gone and you'll get your fun money to play with.
This fact doesn't prevent Global Poker from sending emails and actively trying to get players to deposit regardless of where they come from.
While Global Poker may come up with excuse and explanations for this (they just want you to buy Gold Coins and enjoy free games), these marketing strategies are misleading at best.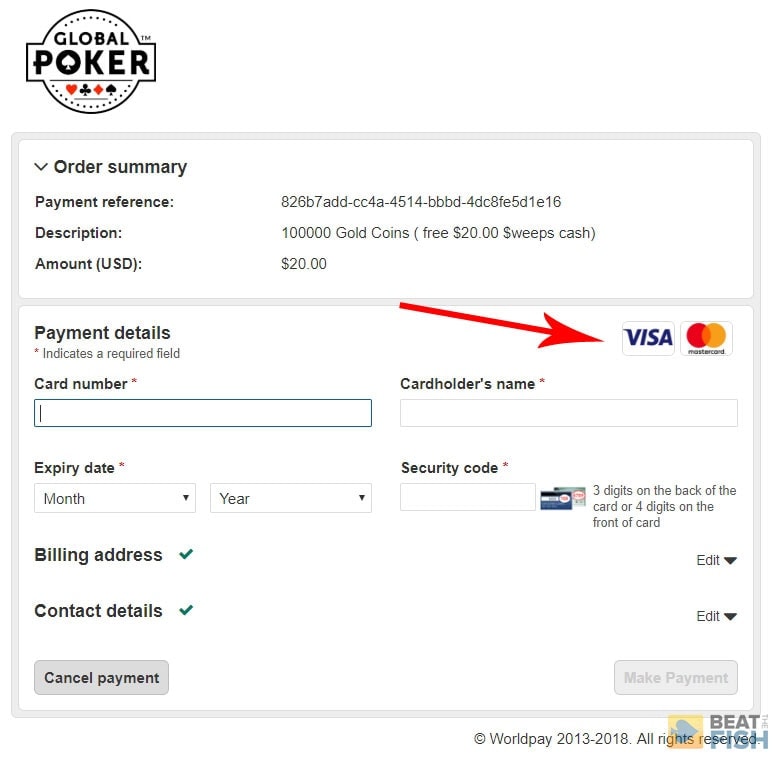 Should You Play at Global Poker?
Although Global Poker could previously be recommended as a somewhat risky but decent alternative for US players, developments with the loss of PayPal big problems in the company.
Removing PayPal without any warning, failing to explain why, and actually trying to make it out as good for the players are all signs that things are not going according to the plan and players' money could be at risk.
While we don't know exactly what's happening behind the scenes, Global Poker certainly isn't helping by staying silent.
So, until the air has cleared and the future of the site becomes more obvious, we would definitely recommend staying away and playing at other US-friendly sites out there.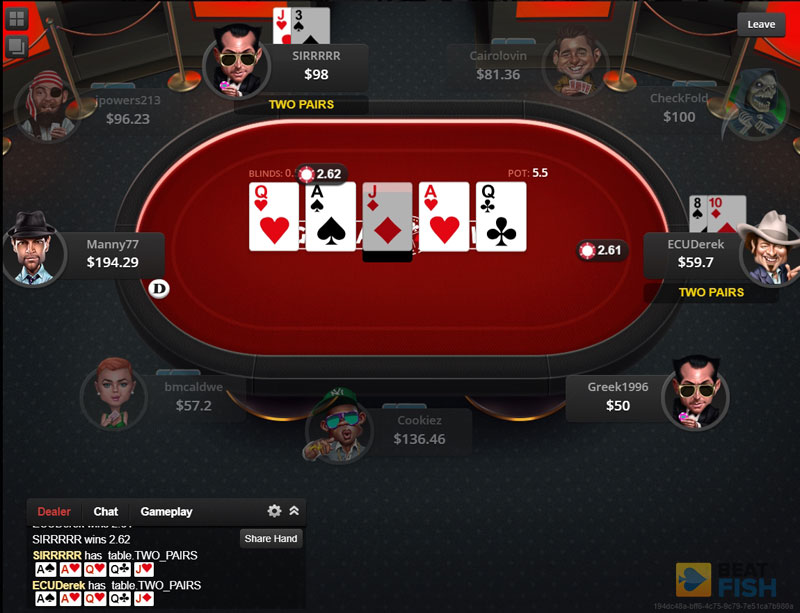 Global Poker for Real Money
Although most poker room reviews start with looking into the software or bonus offers, with Global Poker, it is important to first understand the way the site operates since they are technically the only legal US poker site at the moment.
To achieve this, Global uses a unique sweepstakes model they've first introduced with their online casino operation named Chumba Casino.
The way it works is that players transfer money from their PayPal accounts (now credit cards) to purchase Gold Coins from Global Poker. These Gold Coins represent play money, similar to PokerStars play money or Zynga chips, i.e. they have no real money value.

However, alongside these Coins, players are also awarded Sweeps Cash ($weeps). You can't "buy" Sweeps Cash. You can only buy Gold Coins, while Global Poker awards you with real money Sweeps for your purchase.
On the Global Poker site, there are two separate lobbies – one for Gold Coins games and one for Sweeps Cash games. You can use your Sweeps Cash to enter the latter and at any point you can request your Sweeps Cash to be converted into real money and paid out.
Confusing sweepstakes model
For most players, the sweepstakes model used by Global Poker is very confusing because there isn't anything like that out there. What they are doing is operating a site where there is no real money gambling as such because you aren't allowed to gamble with your own money.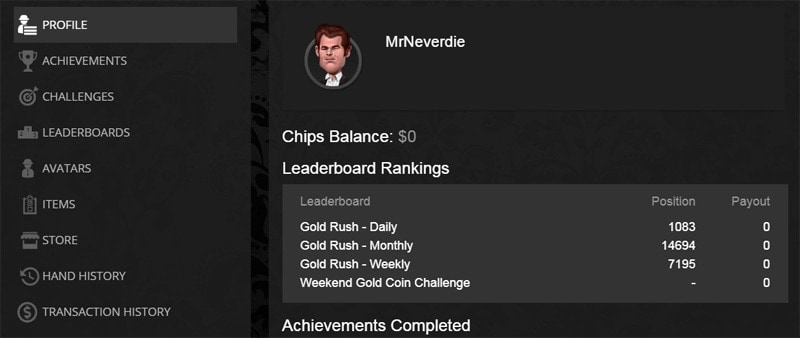 Instead, you're paying money for Gold Coins (fun money) and the site is giving you Sweeps as a reward for your loyalty. Of course, the amount of $weeps you get is equal to the dollar amount you deposit.
Does Global Poker Really Work?
One of the concerns many players and those familiar with this subject have is that this "workaround" won't last. It doesn't take much to figure out what's really going on, which isn't at all different to what's going on at other poker sites.
Global Poker may have been able to get around USA regulations for the time being, but if there were an extensive investigation, many believe their model would crumble.
So, the biggest issue with Global Poker has to do with their future, especially if they grow to the point where they start attracting a lot of attention.
To this point, PayPal has clearly withdrawn from the operation as players found out quite abruptly without any prior warning.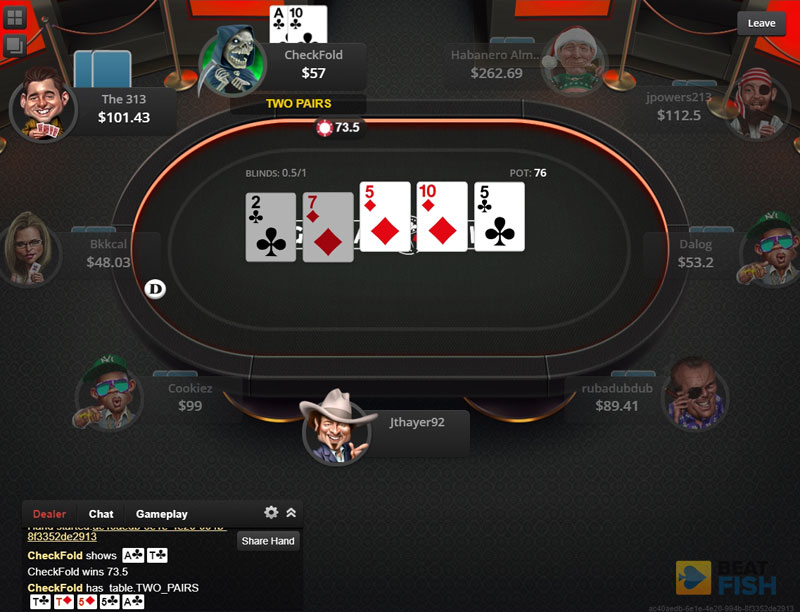 Although Global Poker has tried to make it as if they were actually helping players, making things simpler, this is hard to believe.
What has probably happened is PayPal took a closer look into what was happening behind the scenes and wasn't happy with what they'd discovered.
Global Poker Software
Let's turn away from the business model for a bit and look into technical aspects of Global Poker, primarily their software.
The good and the bad news is Global Poker is entirely web-based. There is no Global Poker software or app you need to download or install.
That means you can access your account from any desktop or mobile device with a web browser. On the flip side, Global Poker suffers from many issues found with web-based client.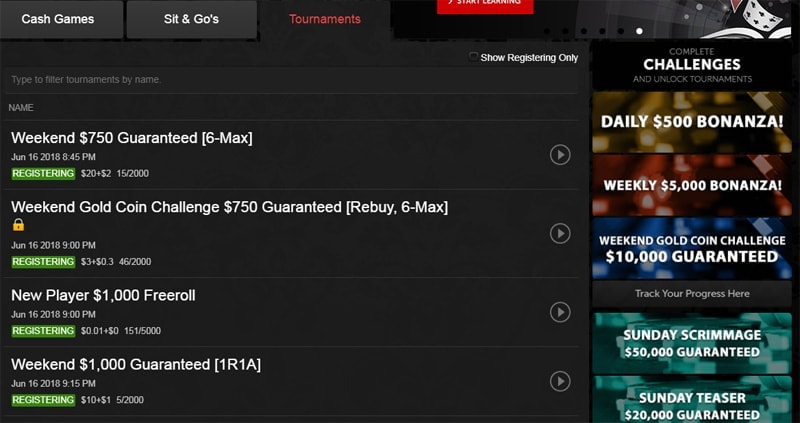 Customization options at Global Poker are quite limited and nowhere near to what you'll find with downloadable clients of big poker rooms.
There are no waiting lists for cash games and no hand histories are stored locally. This means that you can't use any HUD software.
In general, Global Poker doesn't allow application of any HUD software solutions at their tables.
One option that's definitely worth mentioning is the Poker Pro Table Mode, which will open new tables in new popup windows, allowing for much easier multi-tabling.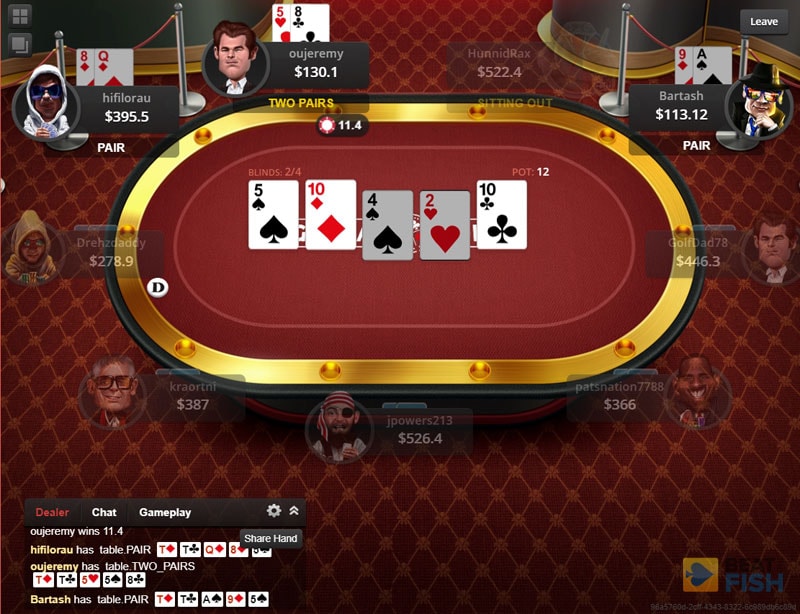 Game selection
Global Poker features Texas Hold'em and Pot Limit Omaha (PLO) games. As far as cash games are concerned, limits start as low as $0.02/$0.04 and go all the way up to $10/$20 on Sweeps Cash (real money) tables.
The traffic on the tables across all levels seems quite decent so Global Poker has clearly been picking up on some traction.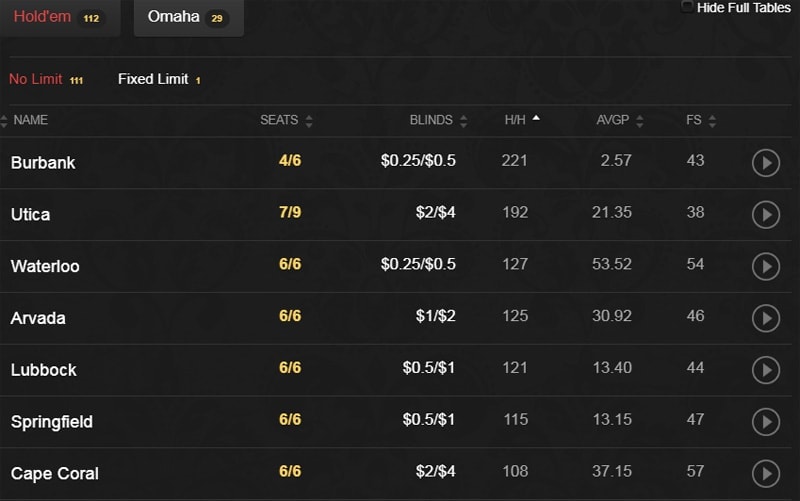 When it comes to Global Poker tournaments, the lobby lacks filtering options, so you can't arrange tournaments by starting times, which makes things difficult.
The tournament schedule seems okay, but there aren't any big money guarantee events that run regularly.
Players looking to play sit and go's will find a decent traffic, especially for a USA-facing real money room. Small to medium buy-ins fill up regularly and quite fast and you can play buy-ins as high as $200.
Global Poker Bonus
Whether it is because of their business model or something else, Global Poker offers no advertised welcome bonus and no promotions section. There have been some reports of a hidden $2 no deposit offer, but there is nothing else there so you won't get any incentives on your first deposit.
This is definitely off-putting, especially when compared to every other online poker site on the market.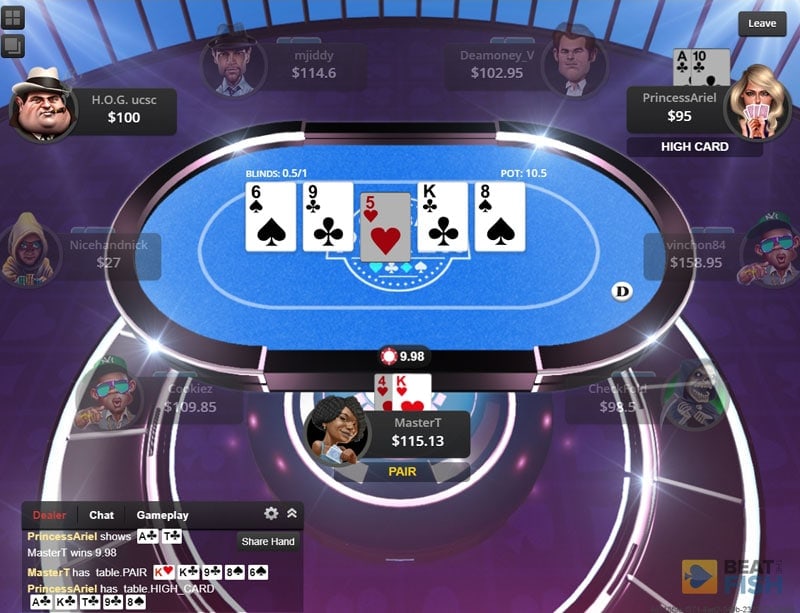 The bonus itself isn't really advertised on the site, but many USA players have confirmed they got their free $weeps after joining so it seems to be an existing promotion.
However, like many things with Global Poker, it's not something you can count on 100%.
Global Poker Promotions
Global Poker isn't particularly generous with other promos, either. By participating in cash games you'll earn entries into weekly tournaments with $weeps Cash prizes but that's about the extent of it.
There is no real rakeback so the reward for your play is quite limited, especially if you play a lot.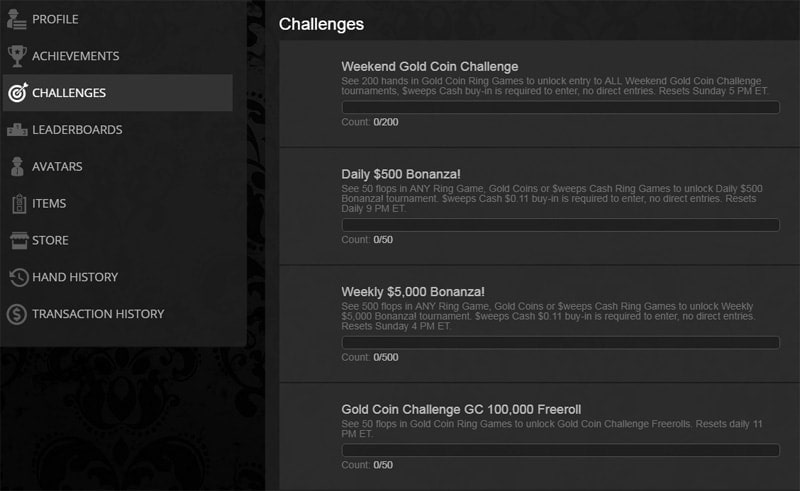 Global Poker Deposits
Up until recently, PayPal was the only method you could use with Global Poker.
However, with that option off the table, players are now stuck with their credit and debit cards and this is not nearly as convenient or easy, especially for US-based players, which are the focus market of the site.
Deposits are done by buying play money Gold Coins and being rewarded with Global Poker $weeps, which is the equivalent of real money at Global Poker. You can then take the $weeps Cash to $weeps Cash tables and tournaments and use it to play.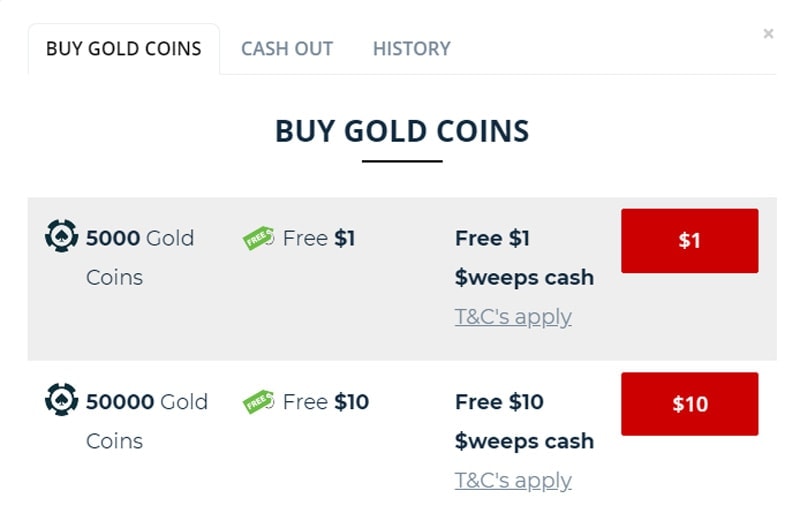 Global Poker Withdrawals
When you want to cash out, you'll request your $weeps to be converted to cash and sent to your bank account. The conversion is done at 1:1 ($1 for 1 $weeps). The minimum amount of $weeps required for a withdrawals is $50.
With the removal of PayPal, it seems that serious concerns many have voiced over the Global Poker business model are starting to surface.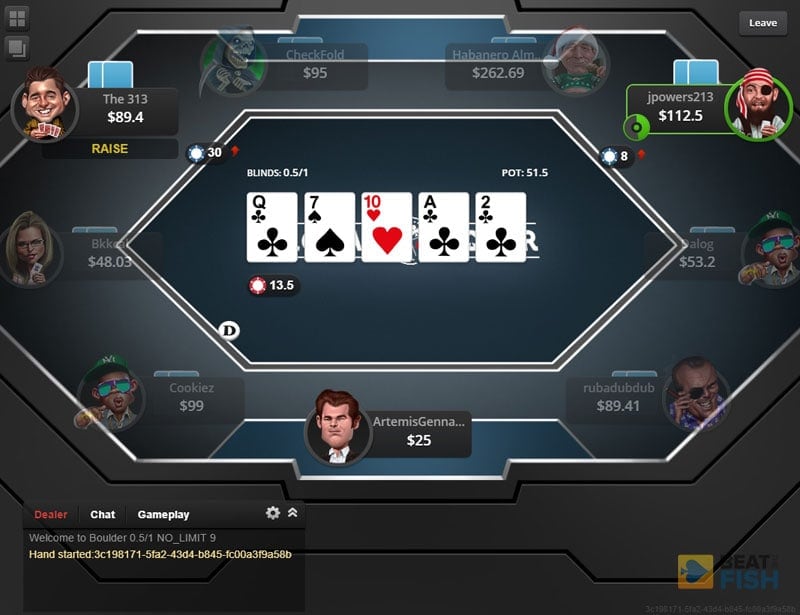 The company now offers payouts directly to bank accounts instead, but this is much more complicated process, with some players reporting the infrastructure not really capable of handling wire transfers properly.
Players are also now required to provide Global Poker numerous invasive personal documents in order to cash out their bankrolls, despite receiving PayPal payouts previously without issue.
Global Poker Conclusion
Unfortunately, Global Poker is showing many signs of impending failure or shutdown:
Payment processors (PayPal) removed without explanation
Delayed payouts
Deceptive player support answers
I've seen this scenario play out many times over the years with now-defunct poker sites.
I do not recommend any new player deposit real money at Global Poker. If you already have money there, I recommend you withdraw it as soon as possible while you still can.
Ivan first started playing poker in 2006 and played professionally from 2010-2013. He holds a BA in English language and literature. Since joining the Beat The Fish team in 2016, Ivan has made a significant impact, leading the news section and contributing numerous feature articles.