The 2023 Global Poker Bonus Code
Why I Recommend Other Sites over Global Poker
Although I believe Global Poker is probably a legitimate operation for players, due to recent policy changes, I can no longer recommend them.
There are ​better options than Global Poker for every type of player.
The bonus is tiny.

Global Poker maxes out at a $70 bonus with a code. My top-rated poker site,

Bovada Poker

, gives up to $500 free.

They have smaller tournaments. Both Americas Cardroom and Bovada double the largest yearly Global Poker tournament prize pools every week.

You can't use Bitcoin. What year is it again? It's mindboggling for a US-facing poker site not to accept Bitcoin at this point.

No fast-fold games. The lower traffic at Global Poker means they can't support my favorite type of online poker games.

Payouts are much slower. Bovada Poker never takes more than an hour to send me my Bitcoin. Global Poker takes several days and requires verification.
This page details the Global Poker bonus when I still recommended them. It is for archival purposes. This bonus is no longer valid and I do not recommend that new players use Global Poker.
The start of your bonus, Gold Coins let you play in special cash games and buy avatar items.
For only $20, you get 50 bonus free Sweeps Coins. These can be redeemed for cash prizes.
Just for signing up and verifying your Global Poker account, you'll get 20 more free Sweeps Coins.
The biggest bonus code for Global Poker
Global Poker has now added bonus codes to the purchase section, but what does that mean for you? Not much if you're just a normal player creating an account without the right information.
You're reading this, though, which means you can do better than Global Poker's purchase offer everyone else is getting.
Global Poker has released a hidden bonus code to us as a trusted poker outlet, allowing you to get 30 extra free bonus Sweeps Coins that those poor random players will never see.
It still costs just $20, but you're going to be playing with a lot more right off the bat.
Getting the promo code bonus at Global Poker is just as easy as the rest of their purchase process. However, and I can't stress this enough, you won't even see this offer if you don't follow the instructions properly.
Keep reading to make sure you enter the right bonus code in the right place at Global Poker to get 70 free Sweeps Coins with a $20 purchase.
How To Redeem the Promo Code
Here's how you claim the hidden Global Poker bonus code offer from Beat The Fish. The step-by-step process is:
Visit Global Poker from this page
This step is vital. You must visit Global Poker from any link on this page first or you'll get an error when entering the code.
If you don't sign up from Beat The Fish, you'll get an error when you try to redeem the bonus code.
This is in the upper-right hand corner of the Global Poker lobby. It will launch the purchase screen.
Click on the "Bonus Code" section
This is along the top line of the purchase screen, to the right of support.
This isn't case sensitive, so it doesn't matter if you capitalize it or not. You'll see the hidden offer after applying this bonus code.
If you signed up for a new Global Poker account after visiting from this page, you'll see the secret "BeatTheFish Sign Up Offer" on the screen.
You can use any purchase method, including my favorite: online banking. You'll get 250,000 Gold Coins and 50 free Sweeps Coins. That's a $50 value.
Get 20 more free Sweeps Coins
Verify your account with Global Poker and you'll also get the no-purchase package of 20 free Sweeps Coins. Combined with the bonus code, that's a total of 70 on a $20 purchase.
The Bonus $20 No Purchase Package
The No Purchase Package is a bonus from Global Poker that is available to new poker players, without requirement them to spend any money. It's similar to a "no deposit bonus" you've seen at other online poker sites.
Claiming it is easy:
Step 1: Click on "Verify My Account", which is located at the bottom-right of the screen. Get your government-issued ID ready.
Step 2: Click start, select the type of ID you're submitting, and follow the upload instructions.
Step 3: Wait for a response from Global Poker's Customer Support team. They should get back to you within 24 hours, but I wasn't waiting nearly that long.
Step 4: Take a look at your account page for a green check mark. This means you've been verified.
Step 5: Get playing with your 20 free Sweeps Coins.
In the past, when I've signed up to poker sites with exclusive codes, I've been shut out from other special offers. Fortunately, Global Poker doesn't punish its players for wanting to get two good deals.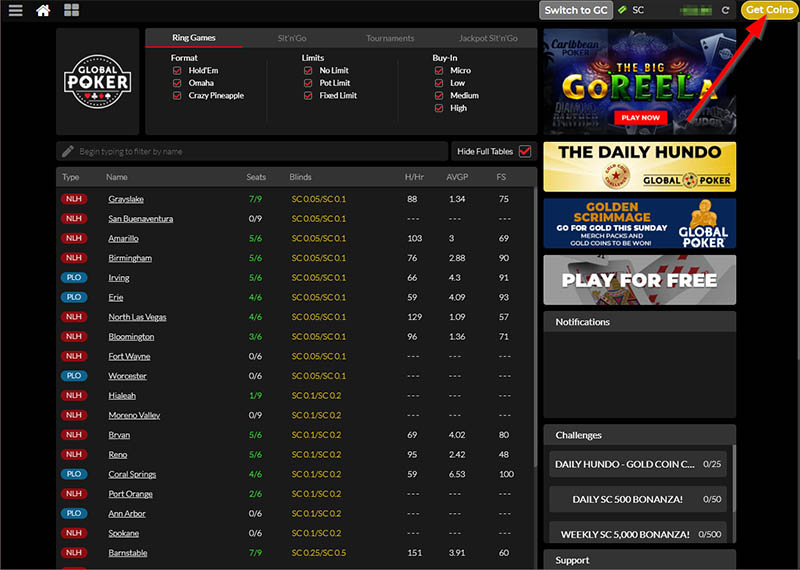 Frequently Asked Questions
✅ What is the bonus code for Global Poker?
The code is BEATTHEFISHSIGNUP for 2021. That will get you 250,000 Gold Coins and 50 free Sweeps Coins for $20. However, you won't be able to redeem that bonus code unless you visit Global Poker from this page.
✅ Why is this a hidden promo?
Global Poker doesn't advertise this offer anywhere and players who haven't found this page have no idea it exists. The poker site is rewarding players coming from a trusted partner.
✅ How do I get free money on Global Poker?
There are two ways to get 70 bonus free Sweeps Coins in total. Start by verifying your Global Poker account to get 20 for free. Then, if you sign up from our site and use bonus code BEATTHEFISHSIGNUP you'll get another 50 with a $20 purchase.
What's It Like Playing Poker at Global Poker?
Global Poker operates on a different model to most poker sites with its unique sweepstakes format. As such, it is one of the few 'legal' poker sites available to players across the United States and Canada with cash prizes on offer.
Purchasing and Playing With Coins
To play the poker games at Global Poker, you have to buy Gold Coins. This is like the play money that you use in social poker games on platforms like Facebook and other sweepstakes casinos like Funzpoints.
Along with your Gold Coins, you'll get free bonus Sweeps Coins in an amount that is equal to your purchase. So, for example, if you spend $5 to buy 25,000 Gold Coins, you'll get $5 worth of free bonus Sweeps Coins.
That's why this Global Poker bonus code is so useful: you get 50 Sweeps Coins when you'd usually only get 20.
The same sweepstakes format at Global Poker is used at Chumba Casino and Luckyland Slots, too. If you would prefer to play at a site with a different format, I recommend heading over here and using my Ignition Casino bonus codes to claim some great offers.
To buy Gold Coins, Global Poker offers safe and secure payment methods operating on WorldPay. While PayPal is no longer available on the site, you can use credit cards, e-wallets, and online banking services to get a bonus, including:
Visa
Mastercard
Amex
Discover Card
Diners Club
Skrill
Instant ACH
Online Banking
When you play in cash games and tournaments using your Sweeps Coins, you'll win Sweeps Coins in return.
Then, you can redeem them for cash prizes whenever you'd like. With this bonus code, you get 30 more Sweeps Coins than everyone else does by default.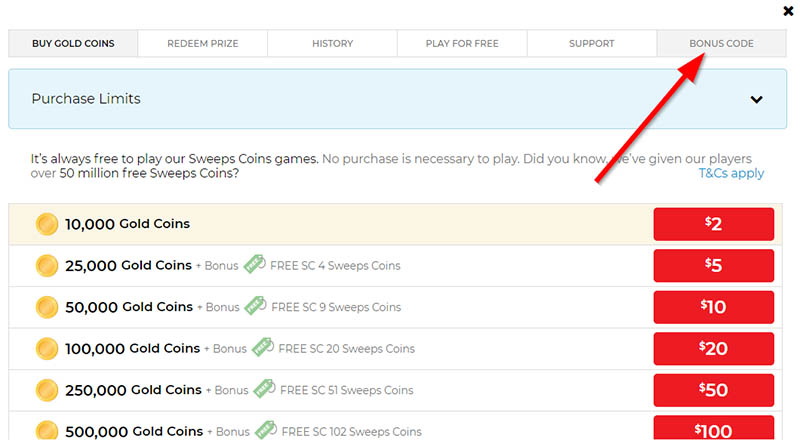 Games Available at Global Poker
Aside from getting your free coins with the bonus code, there are plenty of poker options at Global Poker. Even if the range of poker games is limited to Texas Hold'em, Omaha, and Pineapple, there are lots of full cash games and tournaments to enjoy with limits ranging from SC.02/.04 to SC5/10.
We cover how the traffic at Global Poker is actually quite impressive in our huge review.
The tournaments at Global Poker are particularly interesting. My favorites are the Sit and Go Jackpot Tournaments: 3-player, winner-take-all competitions which feature random prize pools that can be worth up to 2,000x your buy-in.
Bonanza bonus tournaments are also great, available to players who see a certain number of flops per day or week for a very small buy-in
500SC Bonanza: A daily tournament at 9pm EST with a SC 0.11 buy-in for players who have seen 50 cash game flops that day
5000SC Bonanza: A weekly tournament at 4pm EST on Sundays with a 1SC buy-in who have seen 500 cash game flops that week
Pro Tip: The flops you see in Gold Coin cash games count towards your Bonanza tournament entry requirements.
The Global Poker Experience
One of the things I enjoy about playing at Global Poker is that the games are pretty loose. The site's software allows you to view flop and pot numbers in the lobby so you can pick out the juiciest games where you think you'll have the best result.
I'm also a big fan of 6-handed poker tables, which most of the players seem to gravitate towards here. Although if you're an old soul who prefers 9-handed or 10-handed tables, there should still be a fair few to choose from.

Is Playing at Global Poker Legal and Safe?
Global Poker is licensed by the Malta Gaming Authority, a very reputable issuing body in the world of gaming. The MGA is a gaming control board that is known for holding its licensees to a gold standard when it comes to player safety and fairness.
There's also the issue of legality. Due to the sweepstakes format involving Gold Coins and Sweeps Coins, Global Poker operates legally in the United States since no one is actually "gambling" here.
All-in-all, Global Poker is a site that I'd recommend for players in the USA and Canada. The exclusive Beat The Fish bonus code is really just icing on the cake to get you started with more Coins than the competition.
Global Poker Bonus Code
Summary
Global Poker isn't famous for its promotions, but using this bonus code gives new players a more competitive welcome offer. It would be nice if there was a bonus for larger bankrolls, but it's tough to beat 50 free Sweeps Coins for a small $20 investment.
250,000 Gold Coins

50 free Sweeps Coins

20 no-purchase Sweeps Coins

Global Poker overall score

Payout Speed

Bonus Size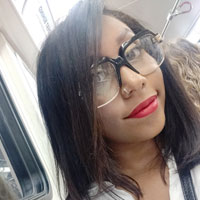 Bethany graduated from York University with a degree in Professional and Creative Writing in 2009, and quickly jumped into life as a blogger. With a passion for all things gaming, she has worked as a writer in the casino market for almost 10 years. Bethany joined the Beat The Fish team in 2018, contributing comprehensive reviews, cryptocurrency features, and gaming news.