The Honest LuckyLand Slots Review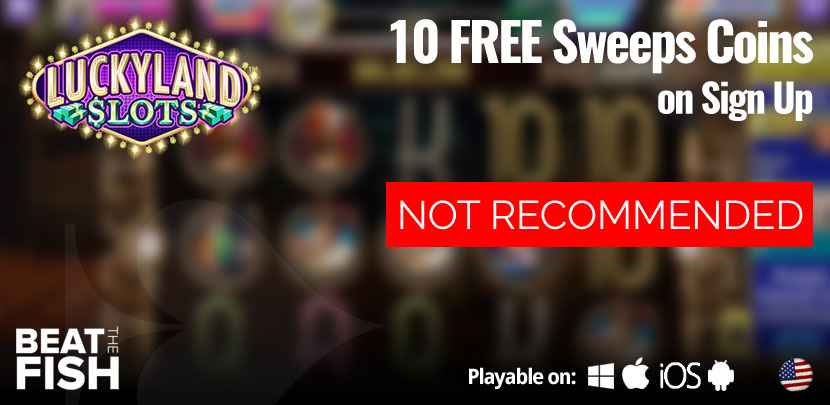 Unfortunately, due to poor service, almost no bonus, and no live dealers, I can no longer recommend LuckyLand Slots. Please see this updated page full of in-depth reviews of active casinos I trust. The information in this review was gathered prior to removing LuckyLand from my recommended list.
| | |
| --- | --- |
| | https://luckylandslots.com/ |
| | |
| | |
| | |
| | 10 free Sweeps Coins for signing up; 50,000 Gold Coins for $4.99 and get 10 free bonus Sweeps Coins |
| | |
| | |
| | 1209 North Orange Street, Wilmington, DE 19801-1120, USA |
| | Over 40 video slots and instant win games |
| | Windows, Mac, iOS, Android |
| | ​Bank transfers, instant ACH, credit cards, Skrill, Paysafecard |
| | |
LuckyLand Slots
Free Bonus

Promotions

Purchases

Prize Redemptions

Bank Transfer Times

Software

Game Selection

Customer Support

Mobile Software

Live Dealers
Pros
A legal option for US slots players (except in Washington State)
10 free Sweeps Coins bonus available right away
Free Sweeps Coins for logging in the first week
Purchase directly by logging into your online banking
Receive prizes right to your bank account
Social gaming interface for interaction with friends
Bonuses increase significantly as you level up
Cons
Outdated look with overly busy graphics in lobby
Relatively limited selection of slots and instant win games
No table games
No live dealers
Mobile browser-based casino takes a very long time to load
LuckyLand Slots Review
LuckyLand Slots is a social casino and sweepstakes-based gaming site, where you can play dozens of slots and instant win games. LuckyLand Slots is a United States company and is legal to provide games with cash prizes to every US state besides Washington State.
Luckyland Slots runs on the same sweepstakes-like format as sites like Global Poker, Funzpointz and Chumba Casino, which allows you play casino games and then redeem your Sweeps Coins for cash prizes. With this clever sweepstakes system, Luckyland Slots is able to deliver a legal online social gaming experience for US players.
It is not a traditional online casino. So, if you're looking for a more traditional gaming experience, check out Slots Capital.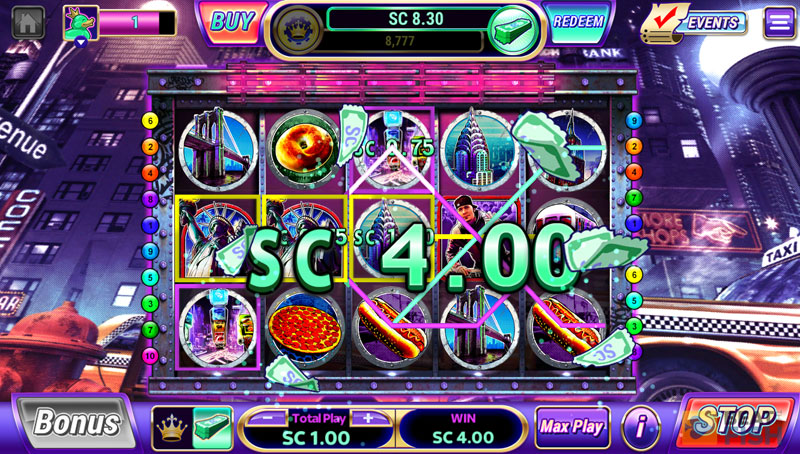 The biggest drawback of Luckyland is that the number of slots is paltry compared to other online casinos and there are no table games or live dealers.
On the bright side, they develop all their own games, you can redeem prizes straight to your US bank account, and you can get 10 free Sweeps Coins just for signing up. Luckyland also accepts purchases by just logging in to your online banking.
Overall, Luckyland Slots is a no-brainer if you're looking for legal casino games from the USA and want the convenience of making purchases and redeeming prizes to and from your bank account.
LuckyLand Slots Free Bonus
The best promotion for being a new player at LuckyLand Slots is the free bonus just for signing up. When you verify your account, you'll receive 10 Sweeps Coins for free, which can be played with and redeemed for cash prizes. No purchase is necessary, so you get to play free slots with no financial commitment.
To get the free package, all you have to do is enter your phone number and select whether you'd like to receive a phone call or text message to confirm it. You'll be sent a code that you enter in the box on the screen. The 10 free Sweeps Coins will be credited to your account right away.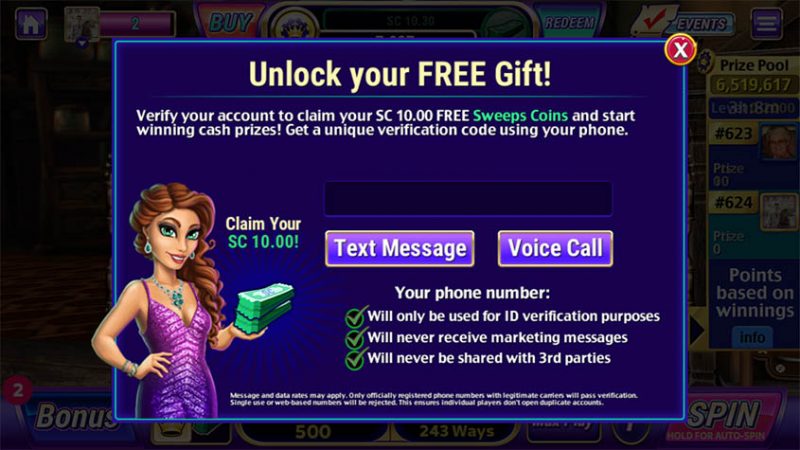 Players can also claim another LuckyLand free bonus in the form of daily login rewards. For every consecutive day that you log in to the site, you'll get free Sweeps Coins.
On the first six days, you'll get .30 SC each day and one the seventh, you'll get 1 SC. Combined with the 10 Sweeps Coins no-deposit bonus, that's 12.80 SC  free simply for creating your account.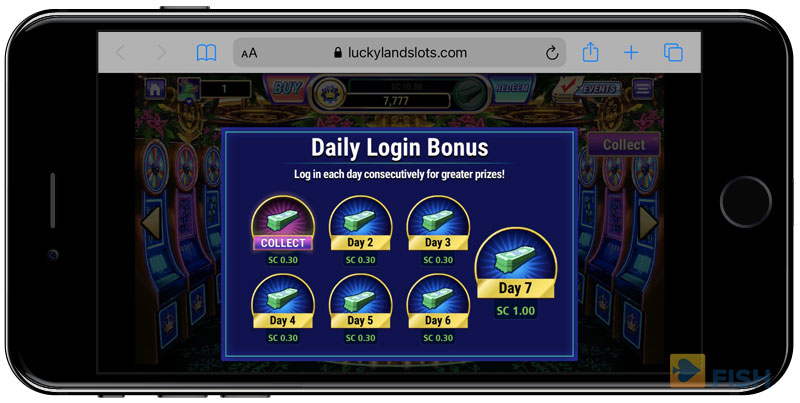 Other Bonuses at LuckyLand Slots
New players at LuckyLand Slots can also look forward to an exclusive First Purchase Offer, which is a discount off of the standard prices.
50,000 coins, which normally costs $9.98 are just $4.99. You'll also get 10 Sweeps Coins thrown in, which is double what you normally get for a $4.99 purchase at the casino.
Don't forget that the Sweeps Coins are what you can redeem for cash prizes sent to your bank account.
Another hidden "bonus" is that LuckyLand gives you more bonus Sweeps Coins on large purchases. For example, you would expect to get 20 free bonus Sweeps Coins with a $19.99 purchase, but you actually get 21. For a $99.99 purchase, you get a bonus 104 SC. It's a small gesture, but an appreciated added value since there are no playing rollovers.
Loyalty Offers
Every time you play a casino game, you'll earn experience that will increase your overall LuckyLand Slots player level. As your level increases, you'll receive more Gold Coins for each purchase.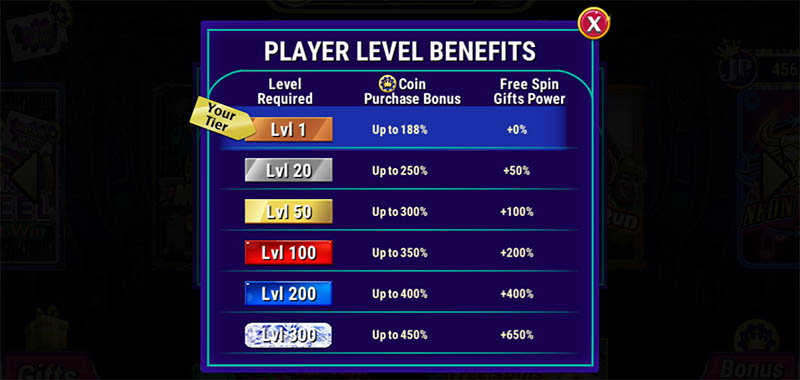 For example, LuckyLand Slots players from Levels 1 to 19 will get a 188% bonus on their $99.99 Gold Coins purchase, whereas players from Level 20 to 49 will receive 250%. At level 300, the bonus is a whopping 450%.
The other bonuses at LuckyLand Casino only relate to Gold Coins and won't give you extra Sweeps Coins. You'll be able to claim free Gold Coins every day and, as you increase your loyalty level, you'll receive more Gold Coins for every purchase.
Frequently Asked Questions
✅ How do you get the free coins from LuckyLand Slots?
If you visit LuckyLand and then verify a new account, you'll have 10 free Sweeps Coins immediately placed into your account. You can use these on games right away and eventually redeem them for cash prizes.
✅ Is LuckyLand Slots legal for USA players?
Aside from Washington State, LuckyLand Slot is completely legal in sending cash prizes to winners. They're technically a sweepstakes casino, making it legal to accept your purchases and send your prizes directly to your bank account.
✅ Is it easy to make a purchase at LuckyLand?
For players in the US, LuckyLand has much easier banking methods than other online casinos. You won't get declined credit card transactions and, even better, you can make a purchase simply by logging in to your online banking.
✅ Is LuckyLand Slots legit in sending your winnings?
Registered in the United States, this is one of the most legit casino operations you can find. After verifying your bank account, you'll have your cash prizes sent there within days.
How Gold Coins and Sweeps Coins Work
At LuckyLand Slots, you don't make deposits like you normally would at an online casino. You purchase Gold Coins, which come with a number of bonus free Sweeps Coins.
Gold Coins allow you to play the games at LuckyLand for free, while Sweeps Coins are redeemable for cash prizes.
Since the Sweeps Coins come free with your purchase of Gold Coins, it is legal for US players to enjoy casino games here. This makes LuckyLand Slots a sweepstakes casino rather than one where you bet real money on the outcome of games. The only exception is that players in Washington State cannot redeem cash prizes.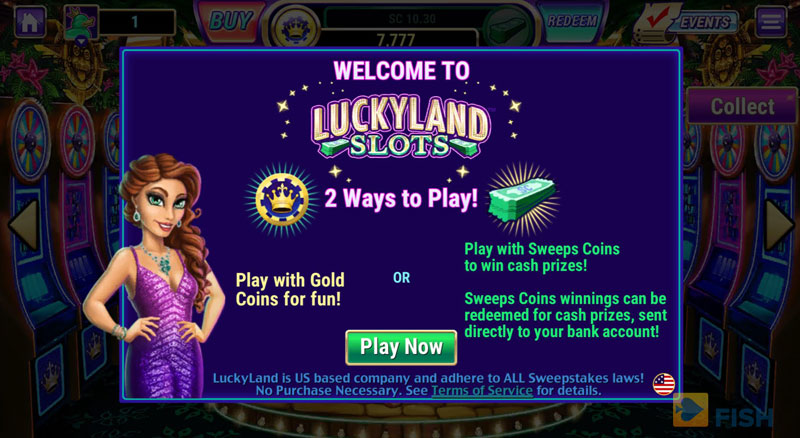 To make a purchase, you click on the Buy button at the top of the screen to enter the LuckyLand Store where you can purchase Gold Coins at various price points. The more Gold Coins you purchase, the more free Sweeps Coins you get.
For example:
2000 Gold Coins only cost $.99
4000 Gold Coins cost $1.98 (with 2 SC)
17,000 Gold Coins cost $5.49 (with 5 SC)
37,000 Gold Coins cost $9.99 (with 10 SC)
80,000 Gold Coins cost $19.99 (with 21 SC)
576,000 Gold Coins cost $99.99 (with 104 SC)
To get the additional Gold Coins and Sweeps Coins, there is no need to enter bonus codes. They are awarded automatically to your account when your make your purchase.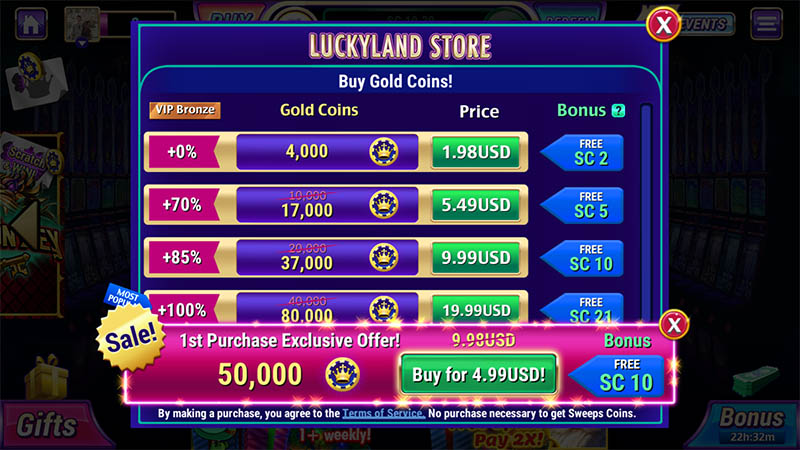 LuckyLand Slots Purchases
Once you've selected a purchase option, you'll be taken to the payment screen. LuckyLand Slots offers a number of banking methods for you to purchase Gold Coins (and get your free Sweeps Coins).
Online banking is highly recommended, which simply means you log in the same way you would to your bank and it completes your purchase. No declined credit cards or hassle with Bitcoin that you would see at offshore online casinos.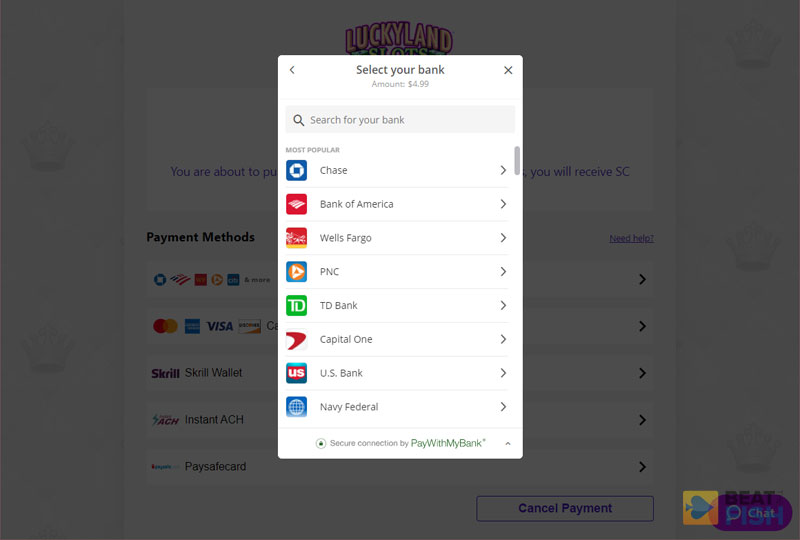 There are literally hundreds of bank options available, including: TD Bank, Bank of America, Chase, Capital One, and many many more.
If you don't want to use online banking, other purchase methods at LuckyLand are:
Credit card (Visa, Mastercard, American Express, and Discover)
Skrill
Instant ACH
Paysafecard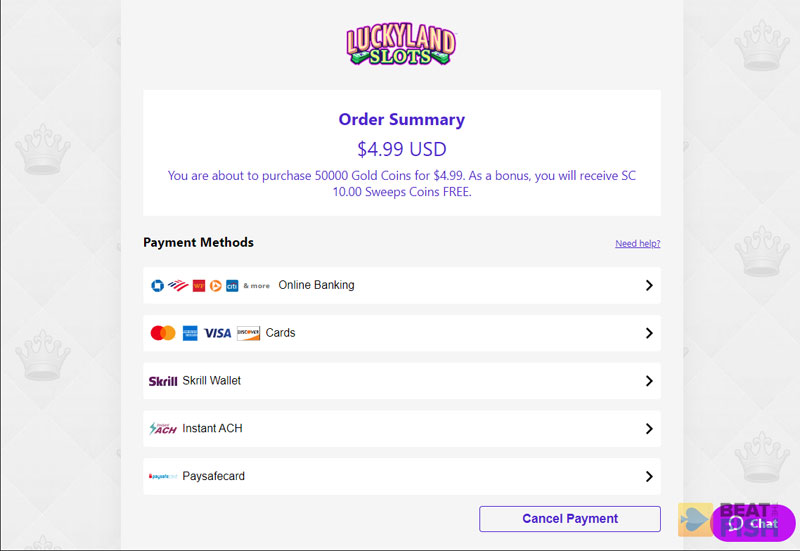 Getting Cash Prizes from LuckyLand
As you play games at LuckyLand Slots using your Sweeps Coins, you'll win cash prizes in the same form.
Once you've collected enough Sweeps Coins, you'll be able to redeem them for cash prizes. The minimum prize redemption can be done once your balance is at 50 SC.
Prizes can only be credited to your bank account. That means that even if you used Skrill or a credit card to make a purchase, you'll have to use an online bank transfer to redeem your prizes.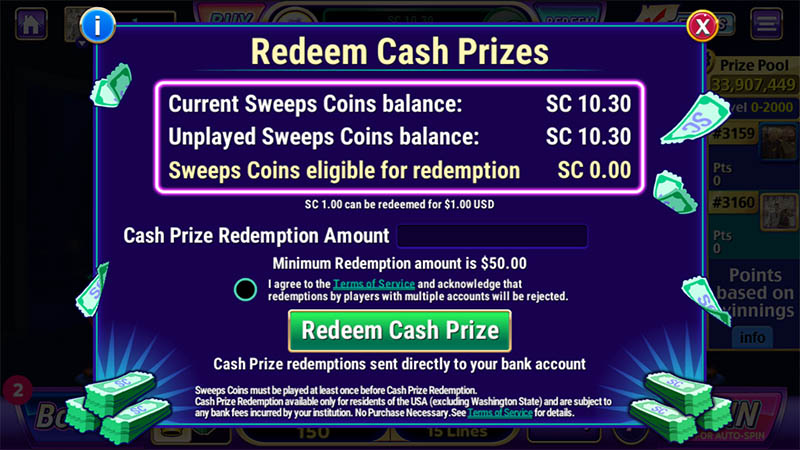 Most USA-based casino players will welcome the bank transfer option, as getting prizes right in your bank account usually beats cashing a foreign check or selling Bitcoin.
When it comes to prize redemption timeframes at LuckyLand, it all depends on how long it takes your bank to process the redemption into your account. This usually takes between 3 and 5 business days.
At LuckyLand's end, the prize redemption process takes less than 24 hours before being sent through to the bank, so the service is very timely.
Identity Verification
You do have to submit your ID and a bank statement to LuckyLand Slots before you redeem prizes, but I didn't find it much of a hassle. You only have to do it once and the reward is getting your winnings right to your bank.
Some players take extreme exception to having to provide this, but these are standard KYC (Know Your Customer) documents that almost every online casino requires these days prior to sending you funds.
LuckyLand Slots Game Software
You won't find well-known slots games when playing at LuckyLand Slots, as these are all proprietary games developed by the casino's own in-house team. While this might put off avid slot players, there are plenty of entertaining titles available. If you're used to playing slot machines in land-based casinos, like the ones you'll find at WinStar Casino and Resort, you'll see plenty of similarities with the games you'll find here.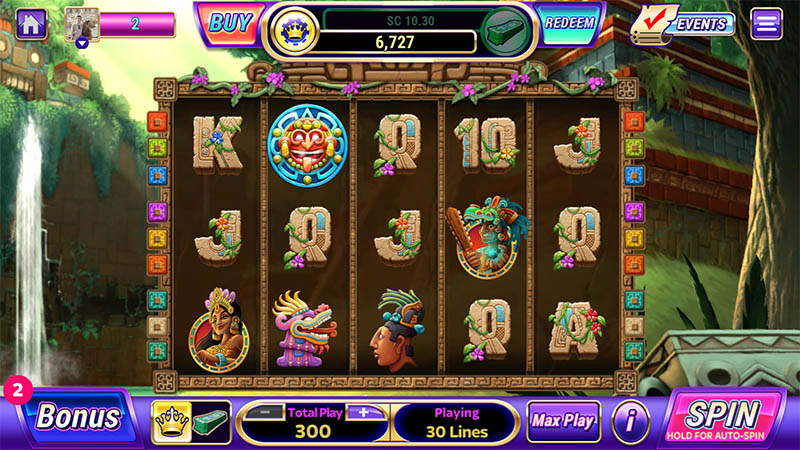 Social Gaming Experience
The social gaming interface at LuckyLand Slots is quite fun. You can add your Facebook friends and send them free spins every day. You can also send them messages within the app.
Another interesting social aspect is the tournaments selection. You can compete against other LuckyLand Slots players in tournaments where you can win either Gold Coins or Sweeps Coins. Prizes start at 3 million Gold Coins and 300 Sweeps Coins.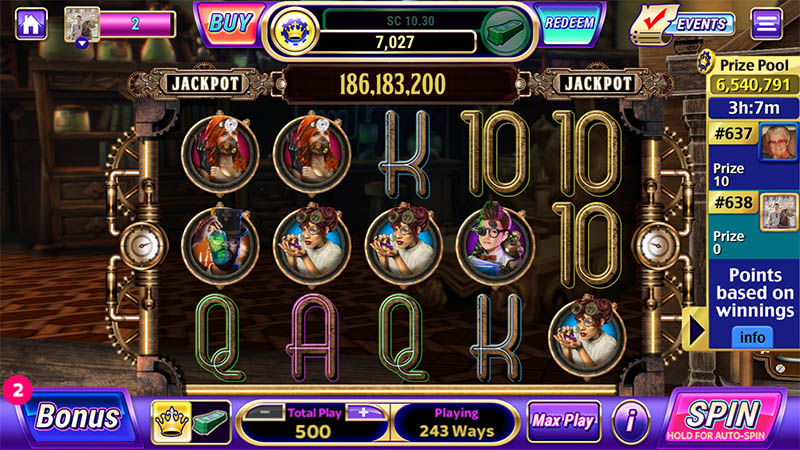 Casino Design and Interface
As is the case with most social casinos, the LuckyLand Slots design is a little bit, shall I say, busy. There is quite a lot going on in the main lobby. It's convenient because everything you need is all in one place, but it's pretty overwhelming.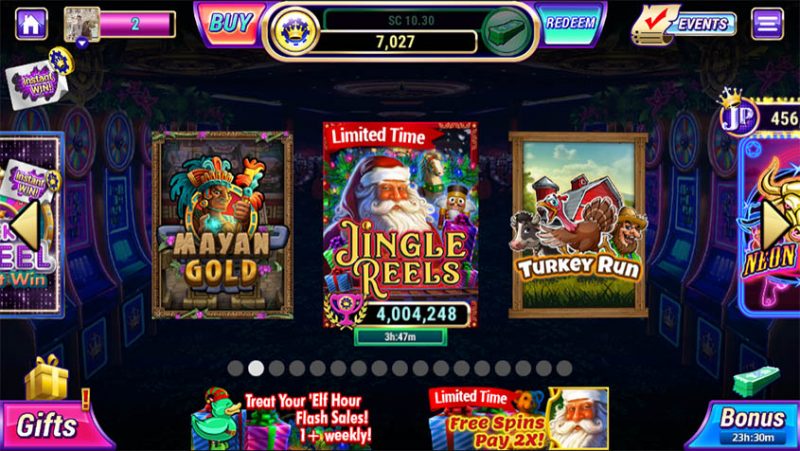 This is definitely an older look for an online casino, almost Flash-like. You don't really see this style anymore except at, as I mentioned, social casinos.
Players who are used to the experience of a newer real-money online casino like Ignition might be little bit shocked.
Mobile Casino
If you're going to playing LuckyLand Slots using your mobile device, brace yourself for some delays due loading time.
There isn't an official LuckyLand app for iPhone or iPad, but the casino games work in any mobile iOS or browser. If you're on an Android phone or tablet, there is an official LuckyLand app you can download from their site.
Testing out both, LuckyLand Slots works a whole lot better on the official Android app. Although all the casino games exist both in-browser and in the app, the performance is so much better on the standalone app.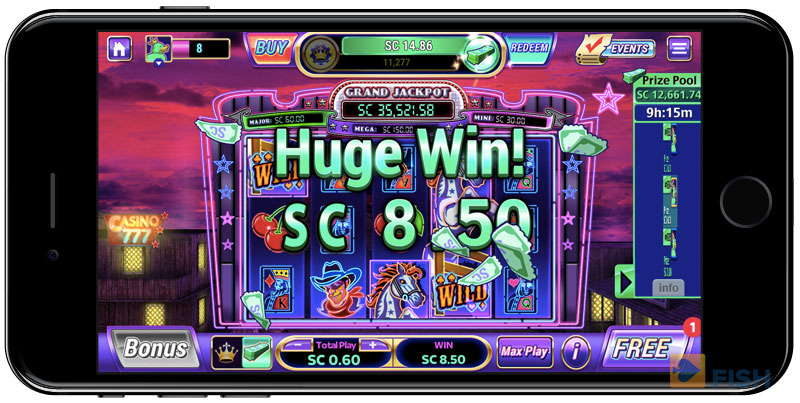 On my iPhone, I had to reopen the LuckyLand site several times to get the lobby to load. It also crashed my browser and had to reload itself before getting into a game. LuckyLand on a mobile browser seems pretty resource-intensive, so I think a newer iPhone would have handled it a lot better.
The mobile browser version looks just like the desktop site, but takes a some time to load. On my (albeit outdated) iPhone, it took 20-30 seconds to load the casino lobby.
Games Offered
There are over 40 games available to play at LuckyLand Slots. That's very low compared to most online casinos, but these custom-built games, rather than licensed from other providers, which is how most casinos operate.
Most of these are online slots games, but you'll also be able to find some scratch cards and a lottery game.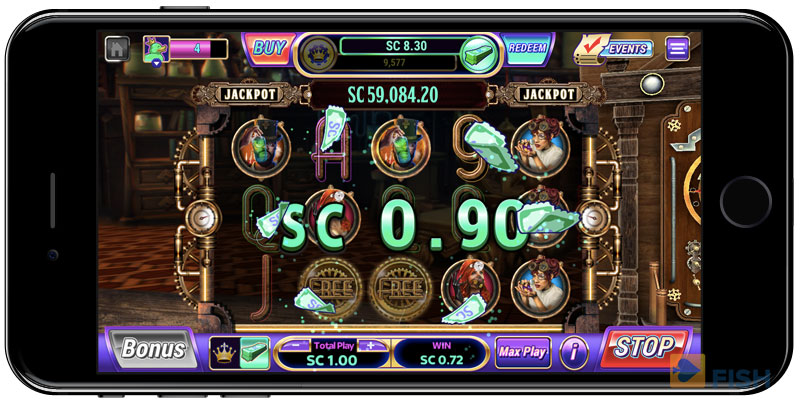 Most of these are fairly classic-style online slots with payline-based gameplay. So, you won't find cluster-based slots, Megaways, or branded titles here. However, each game has a different bonus feature and unique theme that differentiates them enough to mix things up as you play different slots.
You won't find any table games like Blackjack or live dealer games at LuckyLand, which is a bit surprising. This casino is geared exclusively towards online slots players.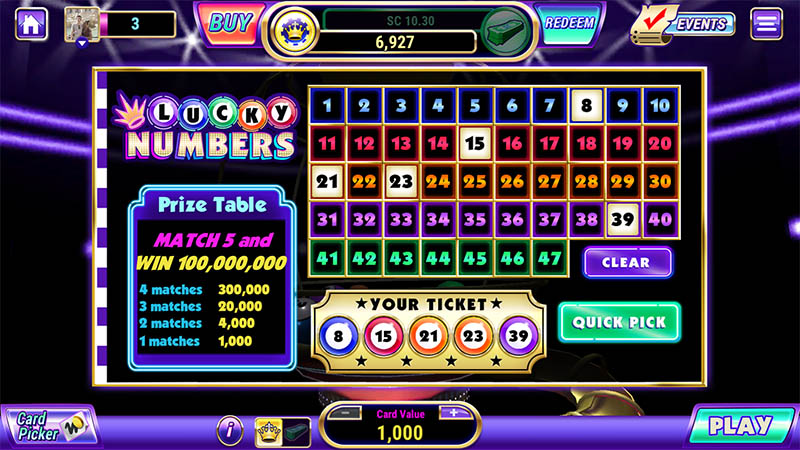 Player Support
Should players require any support, they are two ways of going about this. You can either email the LuckyLand Slots support team at support@luckylandslots.com, or you can use the FAQ.
Even though you really can find answers to most of the questions that you would have about playing at LuckyLand Slots, it's insulting to expect players risking their own money to find answers in a FAQ list. You should always check this document before you decide to email customer support.
The lack of phone support or live chat is always frustrating, and feels designed to not have to reply to players right away. I've also received some reports of insulting customer service reps or flat-out denied payouts.
LuckyLand Slots is a fairly convenient online casino if you're from the United States and want to play a handful of slots in a legal way.
However, the lack of non-slots options, poor customer service, the lack of deposit and payout methods, and the missing live dealer action means you can find a number of better options that I've reviewed; I'd personally recommend Slotland. You don't need to settle for LuckyLand.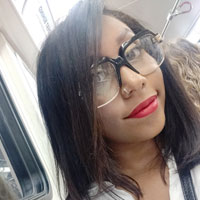 Bethany graduated from York University with a degree in Professional and Creative Writing in 2009, and quickly jumped into life as a blogger. With a passion for all things gaming, she has worked as a writer in the casino market for almost 10 years. Bethany joined the Beat The Fish team in 2018, contributing comprehensive reviews, cryptocurrency features, and gaming news.