The Honest Funzpoints Casino Review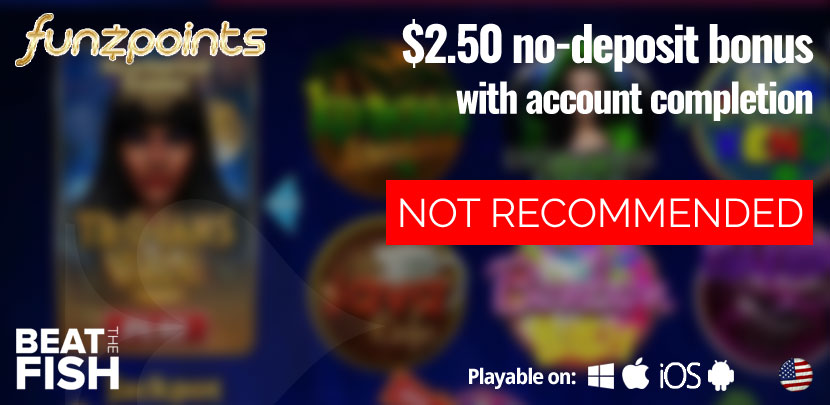 | | |
| --- | --- |
| | |
| | |
| | |
| | |
| | 250 free Funzpoints ($2.50); up to 2,000 free Funzpoints with purchase |
| | |
| | |
| | |
| | ​Dozens of slots and casino games |
| | Windows, Mac, iOS, Android |
| | Visa, Mastercard, American Express, Bank Wire |
| | |
Funzpoints Casino
Welcome Bonus

Ongoing Bonuses

Purchase Options

Withdrawal Options

Withdrawal Times

Software and Layout

Support

Mobile Software

Game Selection
Pros
Players can win cash prizes with no purchase necessary
Strictly sticks to the USA governments Sweepstakes rules
A number of proprietary slots
Easy to purchase premium funzpoints and cash out by sending winnings to your bank account
Spin the Funzwheel every three hours for bonus Funzpoints and tickets
Cons
No live chat or telephone support options
Mobile interface could use a little bit of improvement when playing in portrait mode
Very small purchase bonuses
No Bitcoin or cryptocurrency support
Little to no table games
No popular slots titles
Confusing currency system
Funzpoints is a unique online casino experience that offers you the chance to win cash prizes, but without requiring you to make a purchase. Owned by Woopla Gaming, the site was launched in 2019 providing players with a Sweepstakes-based gameplay model.
How Funzpoints Works
If you play at online casinos often, Funzpoints is a little bit different. It operates on a sweepstakes model, where no purchase is necessary to play.
Every day, there is a jackpot draw with cash prizes and other items on offer. To earn entries into these daily draws, you just have to play the games available at Funzpoints.
Standard Mode
Firstly, there's Standard Mode where you can play a range of free casino games, each with a minimum bet of 8 points. After you've won 500 points or landed 55 wins, you'll receive a ticket for the jackpot draw.
Premium Mode
Then, there's Premium Mode. Here, you can purchase premium Funzpoints to play slots with, and your earnings here can be cashed out into real money to be deposited into your bank account.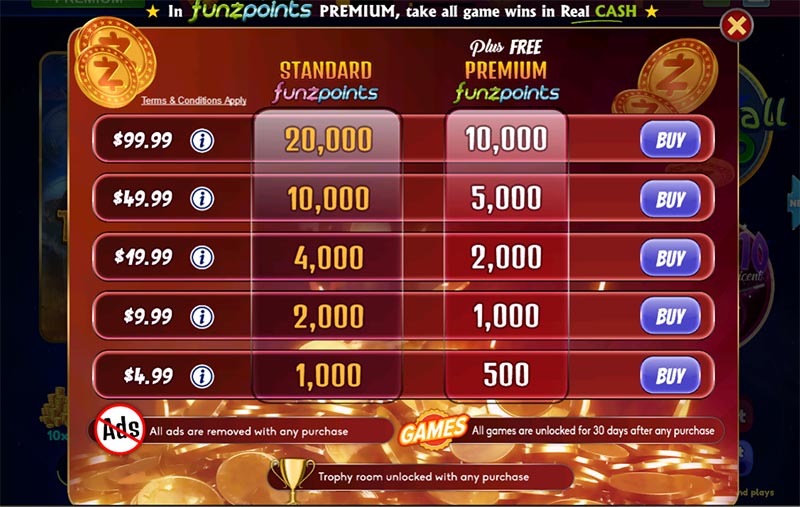 The first time you use Premium Mode, you have to make sure that all of the information that you enter will match your legal ID, including your name and address. This is for cash-out purposes.
Banking at Funzpoints
Banking at Funzpoints Casino is relatively straight forward. You can purchase Funzpoints using major credit and debit cards, and withdrawals can be processed in the same way.

Buying Premium Funzpoints
When you purchase standard Funzpoints, they come with premium Funzpoints, as is the case with all Sweepstakes Casino sites. Just click on BUY you'll be presented with a few different options:
$99.99 for 20,000 standard Funzpoints and 10,000 premium Funzpoints
$49.99 for 10,000 standard Funzpoints and 5,000 premium Funzpoints
$19.99 for 4,000 standard Funzpoints and 2,000 premium Funzpoints
$9.99 for 2,000 standard Funzpoints and 1,000 premium Funzpoints
$4.99 for 1,000 standard Funzpoints and 500 premium Funzpoints
Select the option you want, and click Buy. The payment methods you can use to buy coins and tokens are debit or credit cards (Visa, MasterCard, and American Express). No other banking methods are available, as PayPal and other e-wallets are inaccessible using this site.
While it isn't a traditional way of making deposits at online casinos, it similar enough. You still have the ability to win a cash prize on slots using premium points and there are even purchase bonuses available.
How to Redeem Points
To cash out your premium Funzpoints, complete the following process:
Click Cash Out. This will send your premium Funzpoints to your Funz wallet.
Click on Funz Wallet and select an amount you want to transfer. There are various options between $20 and $200 – or, you can enter a custom amount for withdrawals over $200.
Then, you can either transfer the money back into Funzpoints or transfer them to your bank account.
When transferring them, you just need to enter your bank account information and the withdrawal will begin.
How Long Does it Take for Funzpoints to Cash Out?
Once you've submitted your withdrawal request, it will take between 24 and 72 hours. While this is the general timeframe provided by the operator, many players have stated that it has taken much longer than three days to receive their withdrawals.
Funzpoints No Deposit Bonus
When you sign up to Funzpoints, the site rewards you with a no deposit bonus of 250 premium Funzpoints, which equals $2.50. This is awarded simply for completing your profile. There is no need to enter a promo code.
Then, when you make your first purchase, you'll get extra points:
500 extra points with a $5 purchase
1,000 extra points with a $10 purchase
2,000 extra points with a purchase of $20 or more
No Funzpoints bonus code is required to claim this and other offers on the site.
Ongoing Bonuses and Promotions at Funzpoints
There are a few ways to claim extra points when playing at Funzpoints.
Funzone
As you play slots at Funzhouse, all the wins you receive will charge the Level Meter. Whenever you climb to a new level in the game, you'll enter the Funzone, where you get extra funzpoints.
Sweepstakes Emails
If you don't mind making a trip to the post office, you can get Funzpoints by sending in a request to:
Woopla Inc.
PO Box 537
Sydney, Nova Scotia
B1P 6H4
Canada
For every submission you make, you'll get 1,000 free standard Funzpoints or 500 premium Funzpoints.
Loyalty Program
The bonuses that you can regularly claim at Funzpoints are awarded as part of the VIP loyalty program. In order to be part of the club, you have to make a minimum purchase of $4.99 every 30 days.
As a Funzpoints loyalty program member, you'll now be able to access more Booster Games.
Every so often, Boosters will pop up and provide you with the chance to earn more premium funzpoints. While boosters appear in Standard Mode, you'll see many more when you're in the Premium Funzpoints loyalty program.
Funzwheel
In Standard Mode, every three hours, you'll have the opportunity to spin the prize wheel. You'll get a combination of tickets and standard Funzpoints.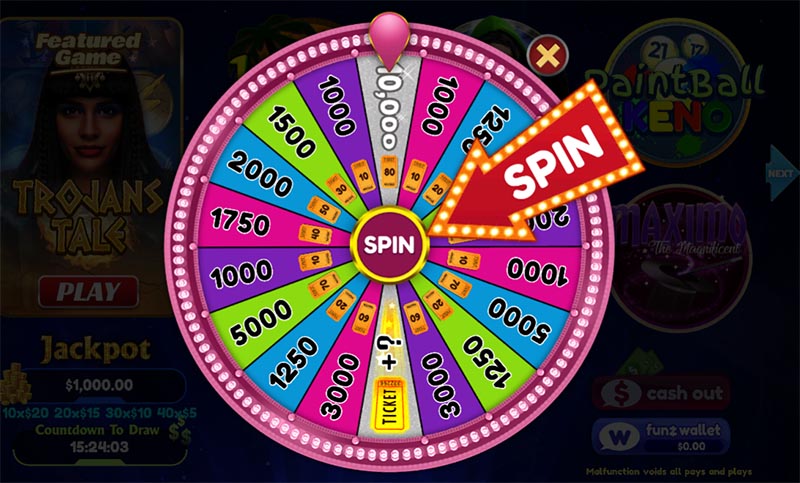 Site Design and Layout
Funzpoints looks a lot like the social casinos that you'll find all over Facebook. The available games are displayed with bright graphics but the overall look is a little bit dated, and it has the look and feel of a much older online casino.
It's definitely not a modern-looking site and it doesn't really compare to other Sweepstakes casinos out there at the moment. If you're looking for something a bit more polished and sleek, you'll likely have to look elsewhere.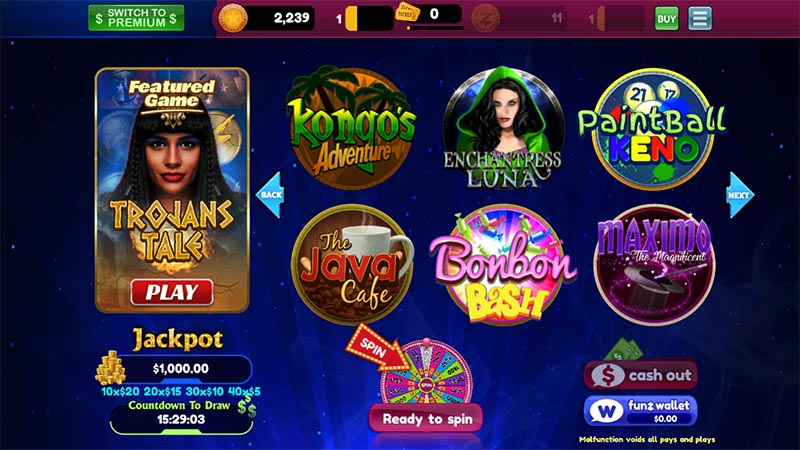 Using the left and right arrows, you can scroll through the games. There's no search bar or filtering function. However, all of the games are pretty similar, so it isn't the end of the world if you can't find exactly which game you're looking to play.
Site Functionality and Usability
The casino is available on desktop and mobile. However, there is an issue with the navigation in both versions of the site. You have to remember not to click the back button on your web browser, as this will take you out of the website altogether, rather than moving you back one page.
Instead, you must click the home icon in the support left-hand corner of the screen to be taken back one step. Whether you're playing on a desktop device or a mobile Android device, this is always the case.
Mobile Experience
The mobile experience of Funzpoints Casino leaves a little bit to be desired. It really only works in Landscape Mode; if you were to use it in Portrait Mode, the games and the lobby would only occupy the middle third of the screen.
This is only a small gripe, as it's not that hard to turn your phone sideways. It's just a little inconvenient, as most people prefer to use their phones in portrait mode.
Game Selection
The games that you'll find at the Funzpoints site are proprietary software that you won't find anywhere else. They're not the most complex or innovative slot games but they are all good fun with interesting bonus features.
The majority of the games at Funzpoints are slots, but you will find a few keno games scattered throughout the site.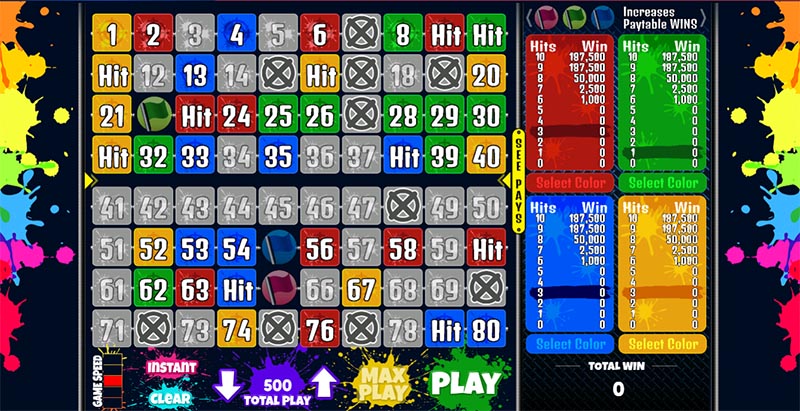 Most of the games are 10, 20 and 30-payline slots with a small range of bets available. The bonus features are quite similar across the whole game selection. You'll see either a free spins bonus, a re-spin feature or a pick-a-prize round.
It would be great if there were a few different types of slots available. The selection would be vastly improved with the inclusion of slots with cascades or clusters, and I would have liked to see more variety in terms of overall games.
For example, scratch cards, roulette, bingo, blackjack, video poker, and other table games would have have really rounded out the lobby.
Is Funzpoints Casino Legit?
Since Funzpoints has quite a unique business model, it's understandable that customers would be concerned about how reputable the brand is. As a sweepstakes casino, Funzpoints is technically legal in the United States, but not in the way that online casinos in New Jersey and Michigan and sportsbooks in Illinois are.
Rather than being licensed by a state gambling commission, Funzpoints operates in a bit of a gray area, as it is a sweepstakes casino.
Since coins that have no cash value are being purchased, this poses no problem in terms of violating online gambling laws in the USA as the site is operating within the terms of being a sweepstakes casino rather than a real money online casino.
As part of these terms, Funzpoints cannot accept players from outside of the United States. All players must also be over 18 years of age. Your identity will be confirmed using your SSN.
Responsible Gaming
Funzpoints wants its players to enjoy its site responsibly, so there are some responsible gaming tools that you can take advantage of.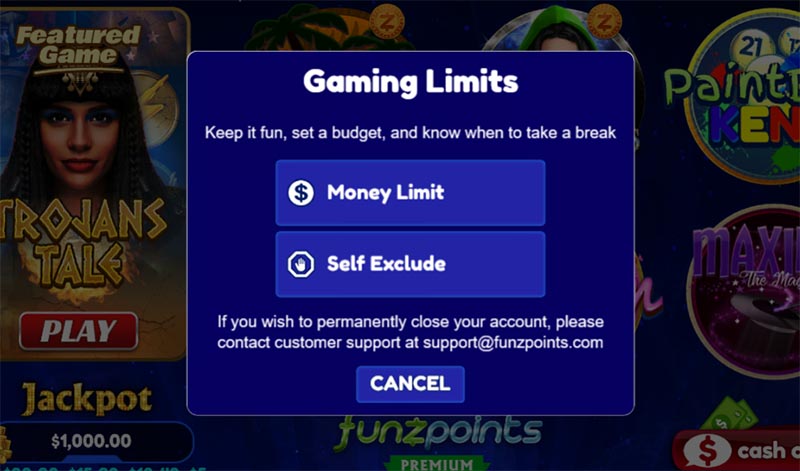 First, there's a money limit. You can limit your payments by day, week or month. Once you have reached your limit, you won't be able to make any more purchases for that period.
Then, there's also an option for Self-Exclusion. You can choose to set it to a day, a week or a month. Setting this limit will log you out from the site right away and you won't be able to login again until the exclusion period is over.
To permanently close your account, you'll have to get in touch with Funzpoints' customer service team.
Funzpoints Overall
If you're looking for an online casino option targeted at players in the USA, Funzpoints is not a place I would recommend visiting to play online casino games. The mobile interface takes a bit of getting used to, and there are a few kinks in the interface.
More importantly, players won't have the same perks they would get at a traditional deposit-only casino. For example, there are almost no table games as Funzpoints stick to in-house developed slots. You also max out at a $25 bonus, which is paltry compared to competing casinos.
I also use Bitcoin exclusively for casino banking, which is at every other USA-friendly online casino, but not at Funzpoints.
Funzpoints sticks to the government's Sweepstakes rules to ensure that players are treated fairly, but it's still not the most trusted name in the online gaming market among American players. For this reason, I would suggest that players in the USA check out my other recommended online casinos.
Funpoints Vs. Other Online Casinos
The main difference between Funzpoints and more traditional online casinos is how currency is handled. At your typical non-Sweepstakes casino, you make a deposit and bet with the money you deposited on the casino games available on the site.
At Funzpoints, however, the credits that you're paying for have no cash value; it's the premium coins that come in the package which can be cashed out. 
At other online casinos, you'll also find a wider range of games. Funzpoints is only limited to a small selection of slots, but traditional gambling sites will feature online slot machines, video poker, table games, card games and more.
Frequently Asked Questions
✅What is the overall opinion of Funzpoints Casino?
In the online casino world, there isn't a generally positive opinion of Funzpoints Casino. Reviews of the app on sites like Trust Pilot are pretty unfavorable, with many players raising concerns about the limited selection of games and shoddy customer support.
✅What do users dislike about Funzpoints Casino?
When browsing user reviews about Funzpoints, something that really stood out to me was the number of complaints about processing the withdrawal of player winnings in a timely manner and having customer service agents provide helpful solutions.
✅How reliable is Funzpoints Casino?
According to many user reviews, Funzpoints is not an incredibly reliable online casino. One of the main things that players complain about is not receiving the cashouts, and being unable to get in touch with a support agent that can assist them.
✅How fair are the games at Funzpoints Casino?
There is no way to tell how fair the casino games at Funzpoints Casino are, or what the individual RTP of each slot is. This is because they run on proprietary software and the site is not licensed by a reputable gaming body. That means the operator does not have to regularly test its games or publish the results of its testing.
✅How does Funzpoints Casino work?
Funzpoints is a social casino that offers players the chance to win real money prizes. Players purchase play money credits that come with real-money coins. These special additional coins have a monetary value and can be used on slot machines and other casino games on the site. Funzpoints can be redeemed for cash prizes or gift cards.
✅How do I deposit money into my Funzpoints Casino account?
To purchase chips at Funzpoints casino, players can use credit cards and debit cards.
✅Who manages Funzpoints Casino?
The operators of Funpoints Casino are Woopla. This is an online gaming company based in Nova Scotia, Canada.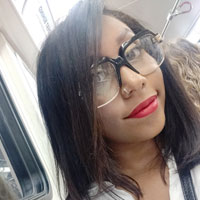 Bethany graduated from York University with a degree in Professional and Creative Writing in 2009, and quickly jumped into life as a blogger. With a passion for all things gaming, she has worked as a writer in the casino market for almost 10 years. Bethany joined the Beat The Fish team in 2018, contributing comprehensive reviews, cryptocurrency features, and gaming news.