The Honest SwC Poker Review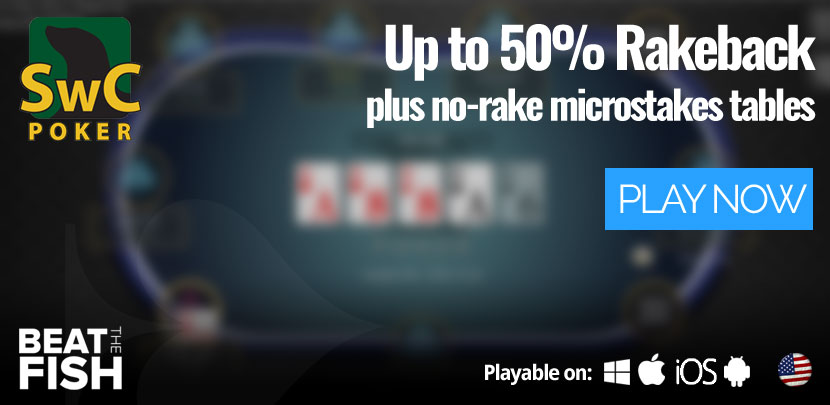 | | |
| --- | --- |
| | |
| | |
| | |
| | 2015; 2012 as Seals With Clubs |
| | |
| | Outside of top 10 in USA market |
| | |
| | Unknown; previously Bryan Micon |
| | |
| | Texas Hold'em, Omaha, Omaha Hi/Lo, 5 Card Omaha, 5 Card Omaha Hi/Lo, Pineapple, Short Deck Hold'em |
| | Windows, Mac, iOS, Android |
| | |
| | |
SwC Poker
Bonus

Rakeback

Freerolls

Software

Mobile Software

Player Traffic

Tournaments

Game Variety

Payouts

Anonymous Games
Pros
Anonymous registration with no personal information
Unique retro-themed graphics
USA players accepted
Excellent built-in rakeback of up to 50%
Freerolls every hour
No download required, works perfectly on mobile
Bitcoin payouts within 12 hours
Cons
Very low traffic overall
No official license
Bitcoin is the only deposit and payout method
Confusing chip system
Obnoxious public chat system for support
SwC Poker Overall
SwC Poker is one of the more popular Bitcoin-only poker sites, meaning that you deposit using Bitcoin, you play in Bitcoin anonymously using a chip conversion system, and you cash out in Bitcoin.
The original platform was called Seal With Clubs and was founded back in 2012. Since it was the first online poker site to use Bitcoin exclusively, it was basically responsible for creating the concept of Bitcoin poker.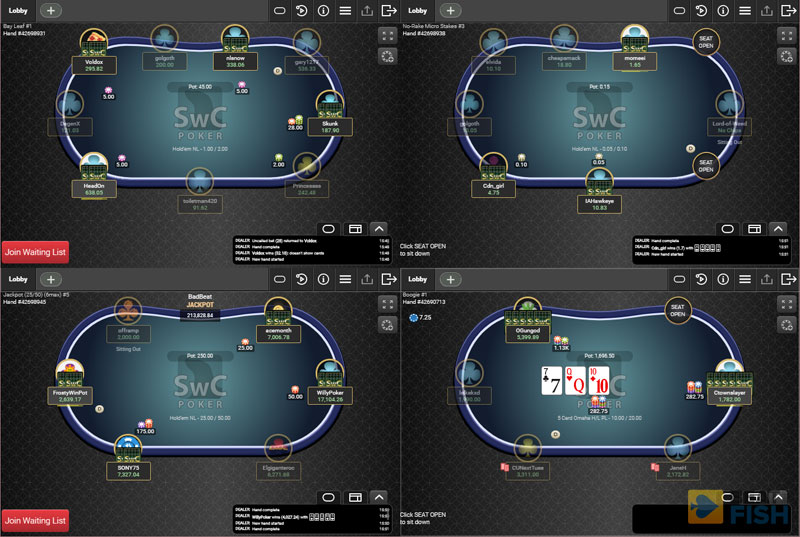 The Seals With Clubs platform was officially closed due to legal complications, including a publicized legal battle with one of the founders Bryan Micon. SwC Poker took over, distancing itself from a checkered past and improving the overall experience for poker players. 
The biggest draws of SwC Poker include the fact that you can play online poker for real money anonymously and the excellent rakeback system. The biggest drawbacks are the lack of Bitcoin alternatives and the low traffic.
A simple, yet intuitive interface allows SwC Poker players to get an overview of all available cash games and tournaments. I'm a big fan of the no-download software, although there is a Windows and Mac download if you prefer it.
You can play up to 4 SwC Poker tables within any browser without installing anything, whether you're on desktop or mobile.
I also credit SwC Poker for trying to build a poker community from the ground up. The no-rake microstakes tables are a tremendous idea that greedy online poker sites rarely have the guts to try. The hourly freerolls will also be appreciated by beginners.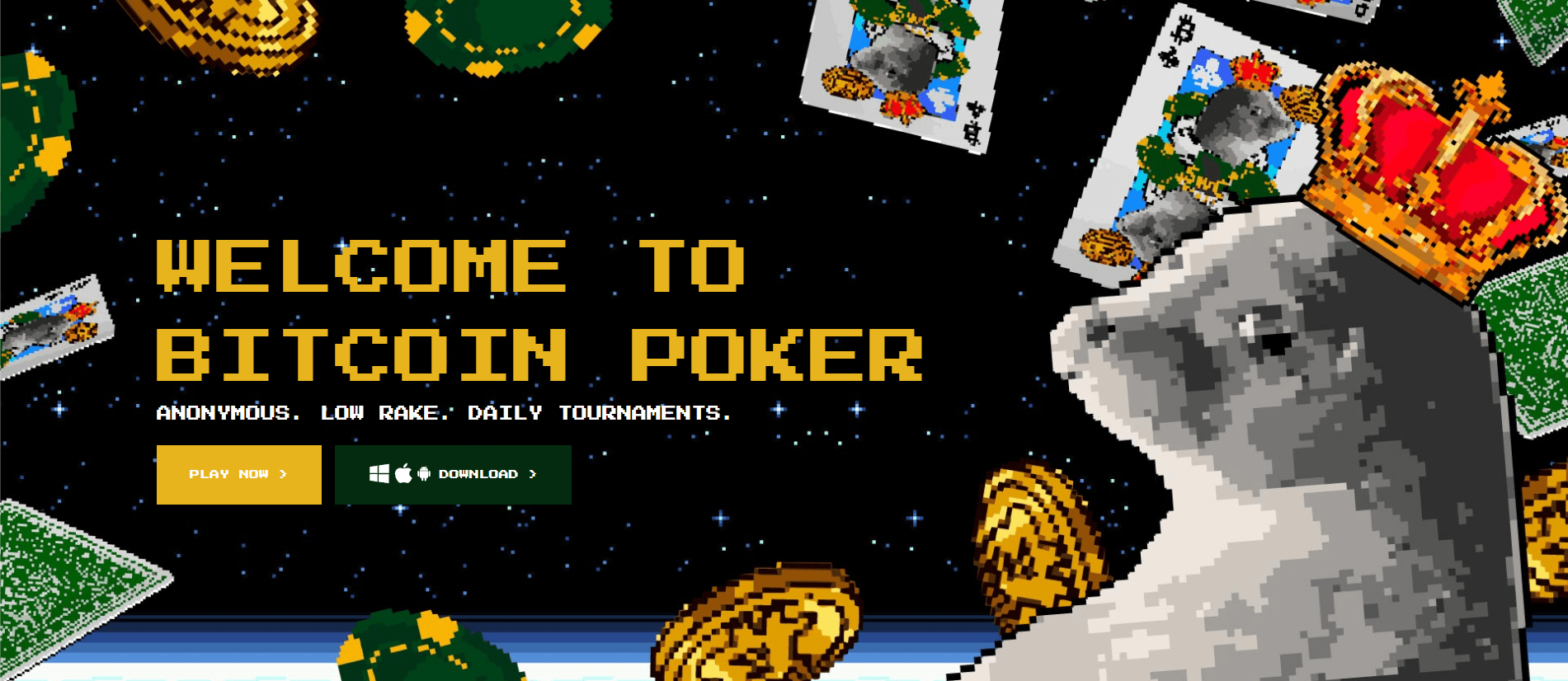 Frequently Asked Questions
✅ How do you get rakeback at SwC Poker?
Every time you participate in a raked hand at SwC Poker, you're awarded Krill. The more Krill you earn, the higher percentage of rakeback you receive. You don't need to contribute to the rake personally, but just be dealt in to a hand that was raked.
✅ Is SwC Poker open to US players?
Yes, SwC Poker is open to players worldwide, including the United States. Because you only play in Bitcoin, there are no country restrictions as there might be with poker sites accepting traditional currency.
✅ Does SwC Poker accept Bitcoin?
Yes, and, in fact, SwC Poker only deals with Bitcoin. It's the only way you can deposit and the only way you can withdraw. Once you deposit Bitcoin, SwC converts your money into chips.
✅ What the payouts like at SwC Poker?
The payouts are very good at SwC Poker with mine coming in sometimes within hours but never take more than 24 hours. You don't need to provide any personal information or undergo any sort of player verification.
SwC Poker Bonus
SwC Poker does not currently have a deposit bonus, which is an interesting strategy that will likely irk some poker players. With the great rakeback system rewarding regular players, SwC Poker seems intent on keeping players loyal rather than drawing hit-and-run bonus hunters.
Still, I would encourage SwC Poker to rethink this strategy and offer some sort of deposit bonus or no-deposit offer in the future.
SwC Poker Rakeback
The lack of welcome bonuses was made up for with a fantastic rakeback system. The majority of cash games take rake of 0-2.5%, placing SwC Poker at the very top of the sites with the lowest rake.
On top of that, the loyalty program allows you to get up to 50% rakeback. The so-called Krill Rewards Program lets SwC Poker players collect Krill, in-game units that are awarded every time they are dealt into a raked hand. Krill can be used to get various rewards, one of them being rakeback.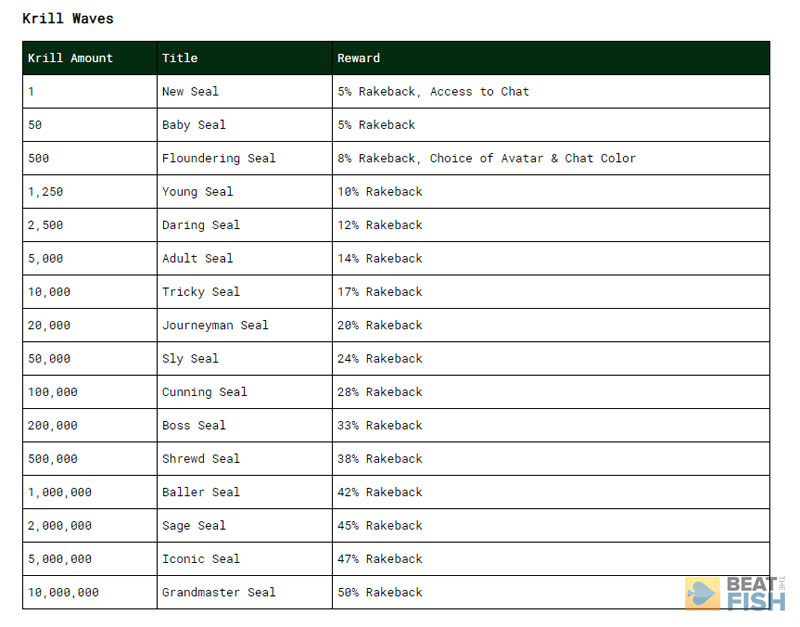 There's a specific formula in place that helps you calculate how many Krill you can receive for a hand and how high your rakeback will be, so make sure to check that out if you decide to join the platform.
What I like about Swc Poker's rakeback system is that every player who participates in a raked hand received Krill, rather than only the players giving action on that hand.
Other SwC Poker Promotions
In addition to Krill rewards, there are a number of promotions that SwC Poker runs to make up for the lack of deposit bonus.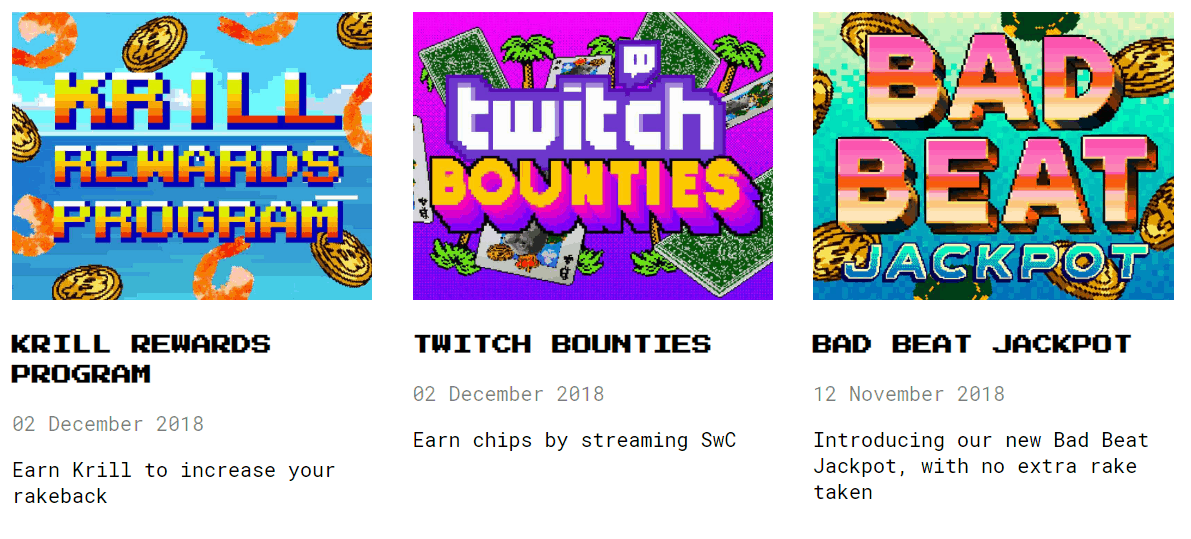 Krill Leaderboard
The Krill Leaderboard offers a nice little opportunity to earn extra coins for being active on SwC Poker. The top 5 players with most Krill earned will receive up to 10,000 in chips every week. 
The promotion is also available on a monthly basis, with the top 5 SwCPoker players receiving up to 30,000 in chips.
All you have to do to earn Krill is play raked cash games and check the leaderboard regularly to see whether you're eligible for the prize.
24/7 Freerolls
Freerolls are a type of poker tournaments that are free to play. They usually have small prize pools that are distributed to the most successful players.
SwC Poker freeroll tournaments are available every half an hour on the site, all day long. These tournaments are great if you want to test the real-money software on the site with no risk.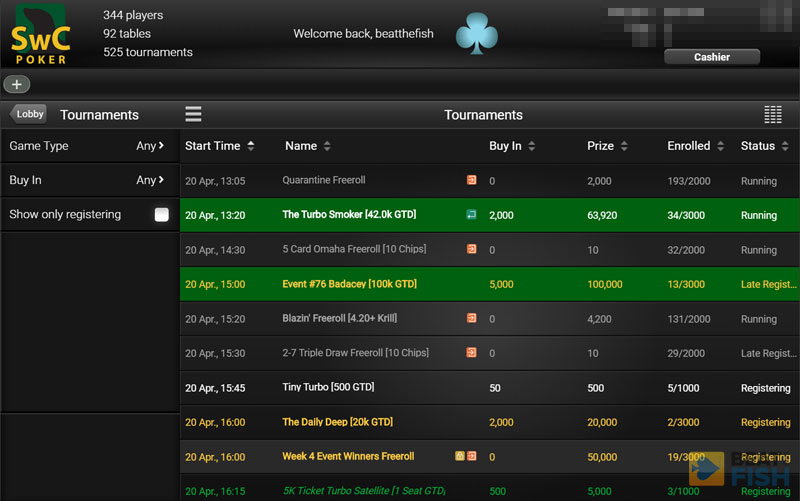 No Rake Microstakes
SwC paid special attention to expanding its poker ecosystem and keeping it sustainable. That's why they introduced both freerolls and micro-stakes games that take no rake.
In other words, playing games with minimal stakes on the site will not result in the platform charging rake for the hands you play.
Twitch Bounties
Players who achieve certain goals while streaming the game live on Twitch are up for additional rewards from SwC Poker. Make sure to check the list of goals and awards on the site. This is a great opportunity for people who love streaming their poker action.
Bad Beat Jackpot
SwC Poker decided to award players who have experienced a bad beat. There are specific conditions under which one can receive a Bad Beat Jackpot, so make sure to check them out on the SwC Poker site.
Only tables that are colored yellow and have "Jackpot" next to their name are eligible for this bonus. They take the same rake, but 20% of the rake goes to the jackpot.
SwC Poker Software

Powered by a piece of software called Bitcoin Poker 3.0, SwC Poker offers a very user-friendly environment that is suitable for both newcomers and professional online poker players.
I was really impressed by the platform's navigation system that lets you quickly filter the games and tournaments you want to play.
You can sort tables by name, type, stakes, number of players, average pot, and duration. Moreover, the SwC Poker platform also features a global chat box where you can hang out with fellow poker lovers while you wait for your game to begin.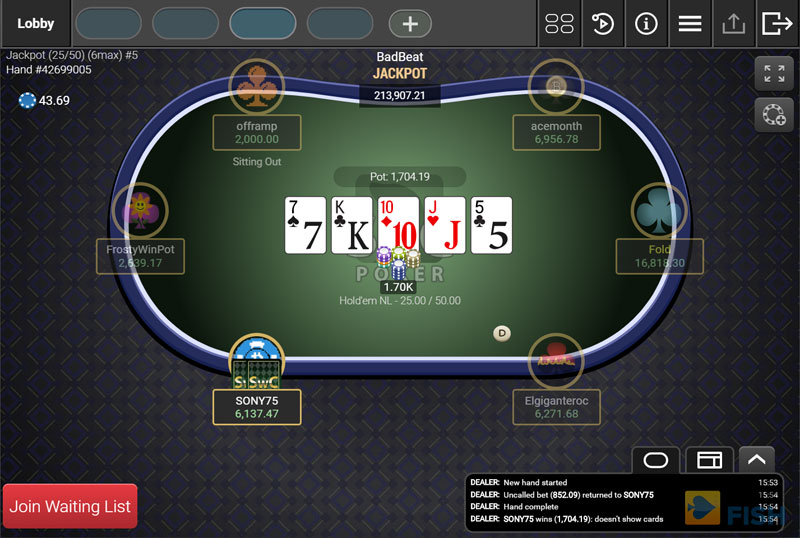 In other words, the main SwC Poker lobby is unlike anything else I've ever seen, yet it all looks and feels very intuitive. For example, players are allowed to resize table windows, multitable, and more. You can also easily access various data, such as table statistics, notes, hand history, transfers, and more.
The entire interface is designed in a very simple manner, offering a pleasing yet unobtrusive playing environment. Plus, the site of SwC Poker adopted a retro-style design featuring pixel art, making the entire platform even more interesting.
SwC Poker on Mobile
SwC Poker is available for Android, Mac, iOS, Windows, and HTML5. Therefore, you can download an .apk file from the site and install it on your Android mobile device. Alternatively, you can access the site using any mobile browser.
The SwC Poker app for Android devices doesn't look much different from the website version, although it feels a bit cluttered with all the information available at once on the screen. However, it takes just a couple of seconds to learn how to get around and start playing poker.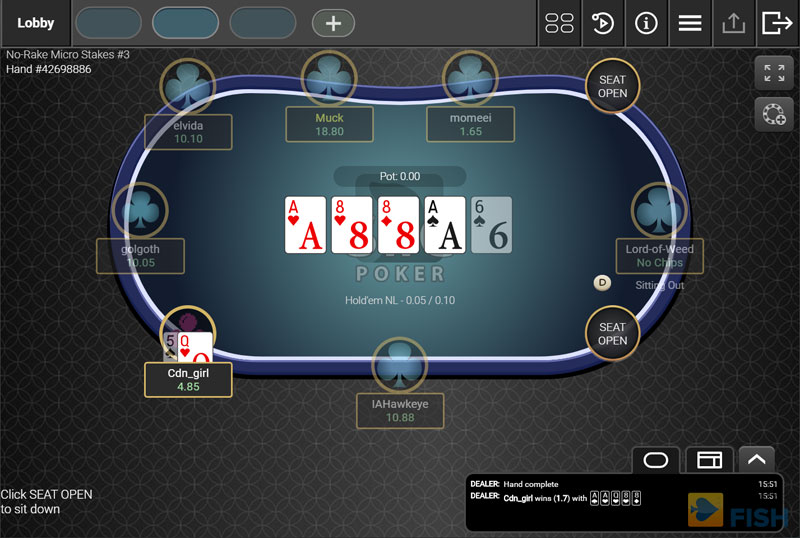 Game Selection at SwC Poker
Although the platform sometimes struggles to keep things alive outside of peak hours, it actually offers a lot of options.
Cash Games
At the moment, cash game lovers can take part in Hold'em, Pineapple Hold'em, Short Deck, Hold'em, Omaha, Omaha H/L, 5 Card Omaha, 5 Card Omaha H/L, Courchevel, Stud, Stud H/L, Razz, 2-7 Triple Draw, Badugi, Badeucy, Chinese, OFC, OFC/P, OFC/P Progressive, OFC/P 2-7, and Mixed.
The site is highly praised for offering rare types of poker. In reality, these are not likely to attract many players.
Stakes start at 0.02/0.04 and go up to 200K/400K. Games are available in full-limit, pot-limit, and no-limit formats.
Tournaments
All poker variations listed in the Cash Games section are also available as tournaments. Since there are freerolls all the time, the minimum buy-in amount is 0. However, high rollers can take part in tournaments that require up to 10,000 chips.
Sit and Go's
A Sit and Go poker tournament is usually very fast-paced and lasts from 20 to 60 minutes. The levels are very short, meaning players have to think fast. These tournaments also offer a way to earn a quick buck, and SwC Poker offers plenty of them.
In fact, there are so many Sit and Go competitions on the site that they are listed as a separate category. Buy-ins for this event type range from 25 to 50,000 chips.
Quality of Play at SwC Poker
Despite the fact that SwC Poker has great underlying software, it still has to work hard on improving traffic. During peak hours, the number of players rarely goes above 200, with the majority of them playing freerolls and cash games: mainly Hold'em and Omaha. This is also where you'll be able to find fish.
Tournaments are not as popular as cash games, although the most popular ones attract a lot of players.
The good news is that, being a Bitcoin-only site, SwC Poker is not subject to any kind of territory restriction.
Therefore, no matter what country you're currently in, including players from the USA, you'll be able to open an account and play poker at SwC Poker.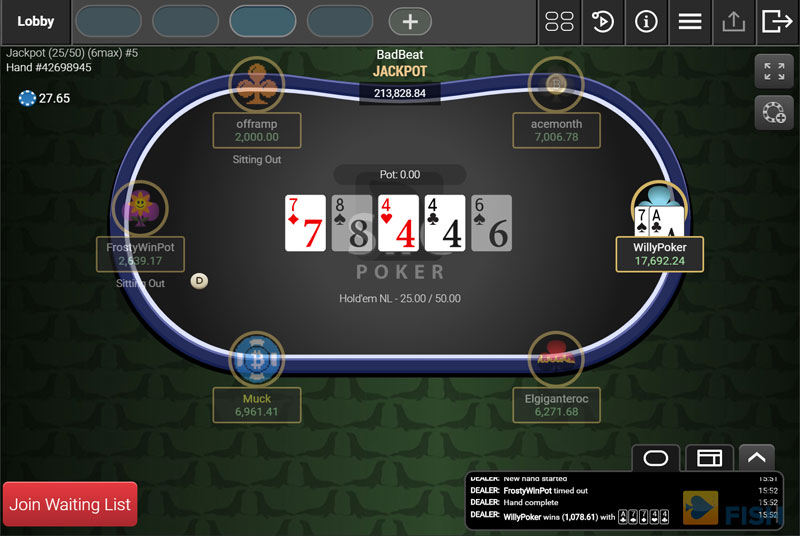 SwC Poker and Bitcoin
SwC Poker is heavily marketed as a Bitcoin-only poker site, meaning you can only use this cryptocurrency to make deposits and withdrawals. Therefore, if you don't own "digital gold", make sure to acquire some before you consider registering on this site.
Deposits on SwC Poker are instant, while withdrawals take up to 12 hours to process. That is still a lot faster compared to big poker sites that sometimes need more than three days to send Bitcoin withdrawals.
One Bitcoin can buy a total of 1,000,000 SwC Poker chips. In other words, 0.000001 BTC equals 1 in-game chip. I find it difficult to remember how much money I'm actually playing for.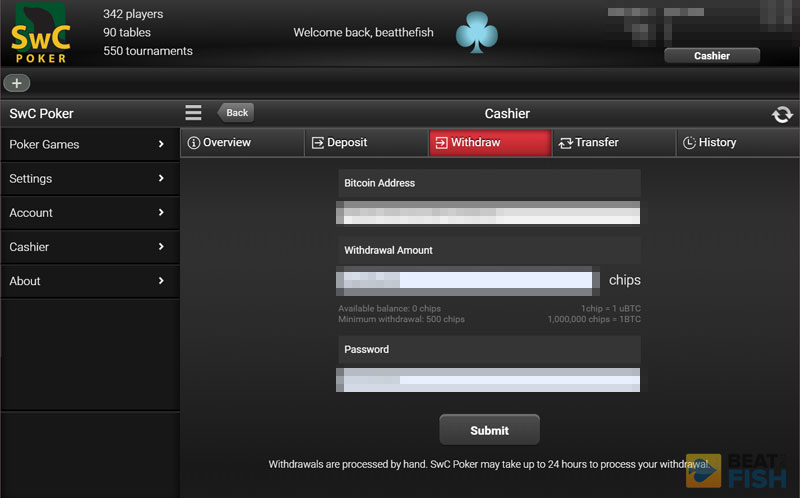 SwC Poker Customer Support
There are three ways to reach customer support on this site.
The most common one is to use the chat box that is part of the Bitcoin Poker 3.0 client. Alternatively, you can send them an email or even contact them via Twitter.
The official email for the support is support@swcpoker.eu, and you can expect them to respond within 24 hours. The response time in the chat box is usually lower, given that the customer service team monitors it 24/7.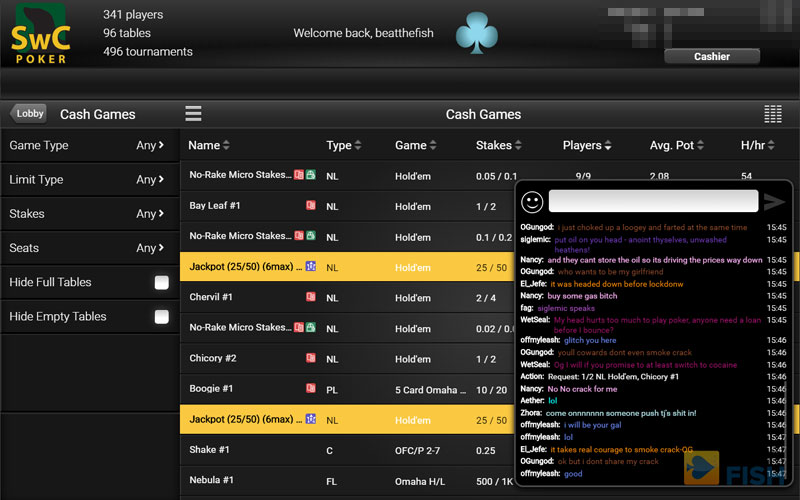 Apart from a friendly customer support team, SwC Poker also features several helpful pages I recommend reading before you contact the support.
Apart from Bitcoin FAQ (which I highly recommend to cryptocurrency newbies interested in playing poker), there are also pages such as Poker Rules and House Rules. Both of them are very useful and will provide visitors with a better insight into how the platform works.
Final Verdict on SwC Poker
SwC Poker is a small Bitcoin-only online poker site with a turbulent history under the original Seals With Clubs brand. However, the team behind it (that wants to remain anonymous) has made an effort to make a decent poker platform for Bitcoin users.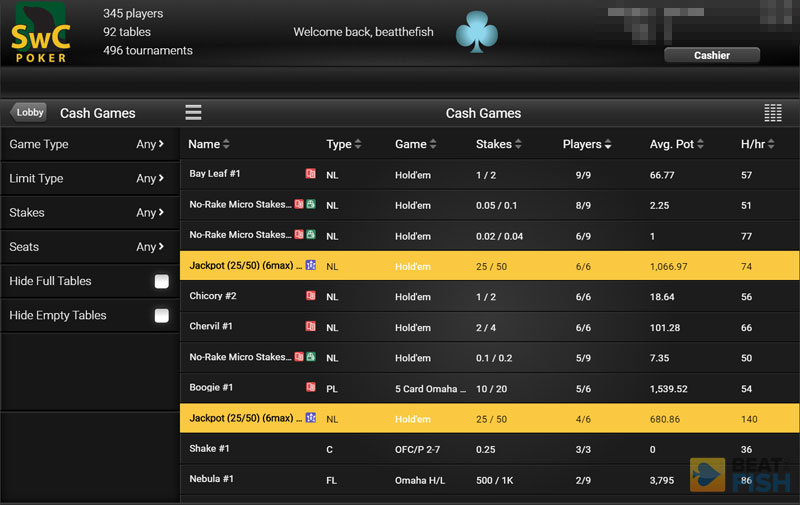 The main advantage of SwC Poker is definitely its anonymous functionality, huge rewards for regular players, and the no-download interface.
Players can use filters and other search tools to find cash games and tournaments they are interested in. The table design is also simple yet intuitive, providing an overall great playing experience.
What I find to be the biggest disadvantage regarding SwC Poker is the lack of traffic on the site. Ever since more popular poker platforms allowed Bitcoin transactions, poker players haven't been staying at SwC Poker for long.
I believe that one of the possible solutions to this problem is to introduce some welcome bonuses, as those are common practice in many online poker sites nowadays.
SwC Poker could also likely draw more players if they accepted traditional deposit methods, but doing so would eliminate its biggest advantages: anonymity and being open to every country in the world.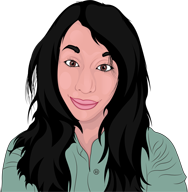 Bethany has been working in online gambling for over 13 years. She got her start in the industry as her first job after graduating from the Professional Writing Program at York University. Having written for many online gaming publications and worked with top casino operators, she has unique insight into the gambling market. Bethany maintains a personal interest in iGaming as she continues to play poker online as a hobby.