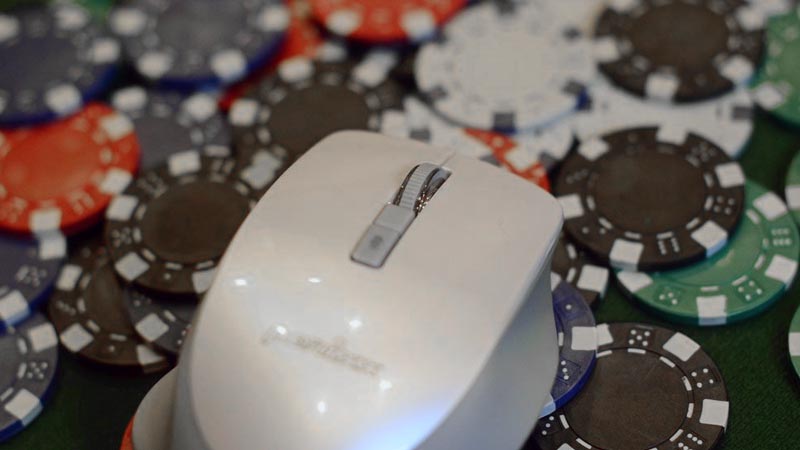 Staking is a great way to get in on the poker action without actually sitting at the table. If you'd like to dabble in poker staking, your best bet is to try it out online.
There are numerous online options for staking players. Whether you're using an in-client tool or a poker staking marketplace, we've got you covered.
Poker Staking: The Basics
To kick things off, we're just going to go over the basics of poker staking. There's really not much you need to know before getting involved, but there are some crucial bits of knowledge.
How Staking Works
Basically, this is how it would work:
You find a player to back in a $1000 tournament, and they have a 1.2 mark-up on their action. You decide to purchase 10% of their action.
You would pay $120 for that 10%. ($1,000 x 10% x 1.2).
They cash in the tournament for $50,000.
You receive 10% of their winnings – which works out to $5,000.
What You Should Know About Markup
Mark-up is an additional fee tacked on what you're investing in that player. In the vast majority of cases, you won't actually be paying 10% of their buy-in; you will likely be paying a little bit more.
It is guaranteed profit for the player, and you might not want to pay it – but, a player who doesn't have any mark-up may not be the kind of player you would want to back. Many backers consider that a sign of a player not having enough confidence in themselves to go the distance.
On the other side of the coin, mark-ups over 1.5 are basically unheard of. Unless you've somehow managed to back one of the best players in the world, you're not going to be asked for that much – so, be wary if you see an extortionate mark-up anywhere.
Staking at America's Cardroom
America's Cardroom has recently launched an in-client poker staking tool. It's a quick and easy way to buy and sell action – and, it's something you won't find at many other sites.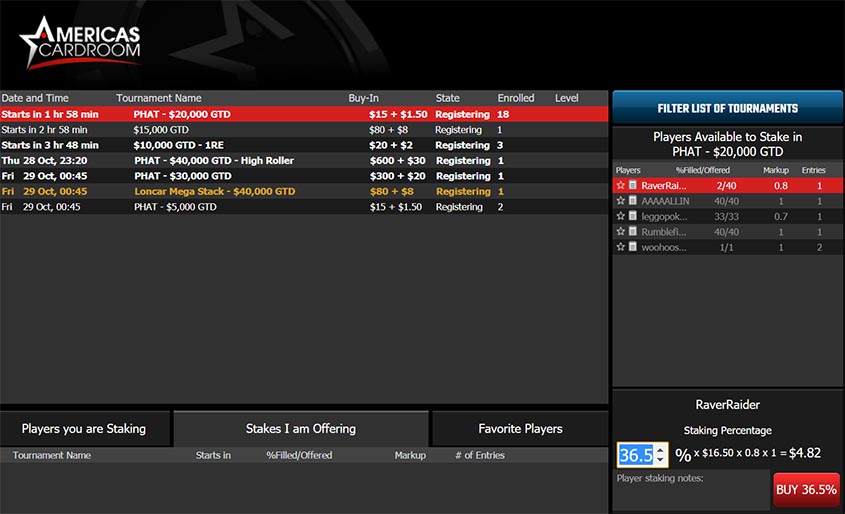 If You Want to Stake Another Player at ACR…
Visit the staking lobby to access a list of tournaments that are available for staking. When you click on a tournament, you'll see a list of players that are offering stakes in that specific event, how much each player is selling and how much is left to buy.
You can mark players as favorites and take notes on the players that you stake.
When you select a player, enter the percentage that you want to stake. You'll be shown how much it will cost and then you can choose to buy.
You can also use the "Spin to Stake" tool. This is a mini game feature in the shape of a slot machine. Landing a 3-of-a-kind win will earn you a stake percentage.
If You Want to Get Staked at ACR…
When you're playing in a tournament at America's Cardroom and want to get staked, enter the tournament lobby and slick on "Sell Action". On the page that pops up, you'll be prompted to enter the following:
Selling %
Mark-up
Entries
Once you've entered these details, players can use the Staking menu to purchase your action. Then, when you cash in a tournament, your winnings will automatically be paid out between you and your stakers.
This is quite a unique tool, and not even top sites like PokerStars and PartyPoker allow players to buy and sell action from within their own online gaming clients. The only other site that has this option is GGPoker.
Looking For Action on Forums
If you're not on America's Cardroom or GG Poker, you might want to visit poker forums in order to buy or sell stakes in tournaments. Just about every major online poker forum has a Staking Message Board, including PocketFives, TwoPlusTwo and BlondePoker.
You can even have a look on Reddit for staking action.
It shouldn't be hard to find someone offering action, but it is a little bit riskier since the exchange of funds isn't automatic. So, there are important steps that you should take in order to protect yourself as a backer.
Do Your Research on the Player
When you're backing a player that you don't know in real life, it's important that you get an idea of their reputation in the poker world. A quick Google search of their forum username or poker site display name should tell you everything you need to know about them.
The poker community is very quick to expose scammers. So, if any negative information is out there about a specific player, then it will be readily available.
If your search has come up clear, then you'll want to have a root around to find out whether or not they are worth staking. Players looking for stakers will usually provide that information themselves, but you can always look up their profile on their chosen poker platform to find out just how likely they are to cash.
Should You Draw Up a Poker Staking Agreement Contract?
Most players think this is a bit overkill, but it will protect you in on the off-chance that you've ended up in a deal with someone that turns out the untrustworthy. In a Staking Agreement contract, you should include:
The backer's name
The player's name
The event that the player is participating in
How much money the backer is providing
What that equals as a percentage of the player's action
The date at which any profits are to be returned to the backer
There are plenty of templates out there on the web. You'll only need to fill in the specific details, and then everything is set in stone – so, you don't have to worry about getting scammed.
Poker Staking Marketplaces
If you'd rather not do it "the old-fashioned way", you can join a poker staking marketplace. These types of sites work in the same way as GGPoker and ACR's Staking lobbies – but, they cover a wide range of websites.
Stake Kings
A popular site in the poker staking community is Stake Kings, offering a very easy-to-user interface for players and backers in the poker world. In the marketplace, you'll see a list of players participating in upcoming events.
You'll see how much they're offering, what their mark-up is and how much is left for purchase. Enter how much you'd like to spend, and it will show you what percentage you've purchased.
When you click on buy, the money will be subtracted from your account and you'll be locked in to your staking deal. Then, should the player cash in the event that you've backed them in, your portion of the prize money is paid into your Stake Kings account, and you can use a number of withdrawal methods to get that money into your bank account, these include:
Zelle
Skriller
Bank Wire
Prizeout
Bitcoin
PayPal
This site is used by some very well-known players in the poker world. You could get in on the action of players like Jeff Gross, Max Pescatori and Antonio Esfandiari.
YouStake
YouStake is another option, which is very, very similar to Poker Kings. It actually works in the exact same with an almost identical user interface.

Both sites are operated by the same owner, so there's no really benefits to using one over the other. Like Stake Kings, you back both well-known players as well as up-and-comers. Mike Matusow, Anthony Zinno and Erik Vanauken sell action on this site.
Getting Those Most Out of YouStake and StakeKings
These sites are incredibly easy to use and it's easy to get caught up just buying action willy-nilly. However, you'll still want to be smart when buying action on automated sites.
Just like you would when finding a player on a forum, you should do your research. The site doesn't keep records on each player's wins, so you'll have to search and find that yourself.
We'd recommend simply staking the players that you've heard of to start out. They tend to have quite high mark-up, but you know the quality of player you're backing right away and it ends up being less risky than getting behind someone you haven't heard much about.
What are the best staking deals you've ever made? Leave us a comment and share your success stories!