The Best Online Sportsbooks for USA Betting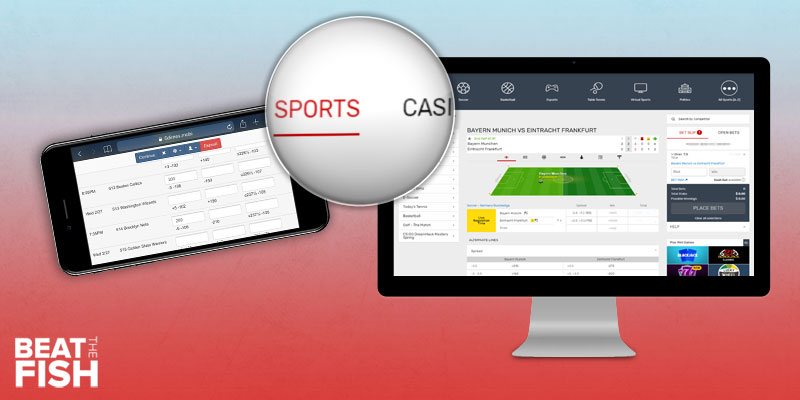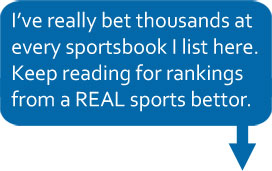 Online sportsbooks are a dime a dozen. Many of them accept action from American residents living in any state.
Just do a Google search, look at a few Reddit threads, and deposit with whichever sportsbook gives you the biggest free play bonus. That works, right? Not so fast.
For example, my favorite sports betting site for payouts has a great search function, easy live betting, and tons of lines, but the juice is above average and they don't have many props. The sportsbook with the best odds is awful on mobile and glitchy on live bets.
Instead of putting your hard-earned bankroll on the line in a trial-and-error quest to find the perfect sports betting site from the USA, let me take the risk and give you advice on:
Which sportsbooks work flawlessly on mobile, including on iOS and Android devices.
Who pays me out every time without hassle
The sites that provide quality customer service
Who offers the best odds
The only online USA sportsbooks I trust
Who's the best sportsbook when it comes to live betting
I personally bet at every online sportsbook here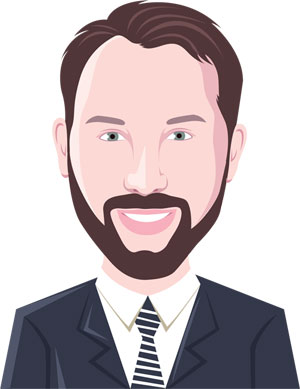 To me, finding you the best online sportsbooks as a USA bettor is more than just filling up space. I love betting on sports just as much as you do.
I've also been analyzing the American betting market for more than 15 years.
Sports betting converges my lifelong passions of sports, betting, and gaming in one tidy place. And I do mean I'm passionate about it.
When I was 9, I used to tear through the local newspaper's sports section to look for betting line movement. Seriously.
Now I can log in to online sportsbooks from my phone and live bet Russian table tennis while I wait for overnight Korean baseball to start? I'm not the degen! You're the degen!
My Current Best Online Sportsbook
Bovada
My highest sportsbook rating.
Up to $750 added immediately.
Bitcoin payouts every 3 days or a check every 90 days.
One of the oldest online sportsbooks still open.
Americans can bet on sports for real money.
Yes, it's kind of square to recommend the Bovada sportsbook, which is one that a lot of newbie bettors have already discovered. That doesn't mean that they don't do a lot of things well. I've played with Bovada sportsbook for over 15 years and have placed thousands of bets there. I know what they do well and where they're weak.

For betting interface, I think Bovada is the easiest to work with. It's also flawless on mobile. Little things like the ability to search for the match you want to bet on by the opponent are a huge time-saver. Bovada is also my favorite place to live bet as I rarely see delays or glitches, even on mobile.

I also get my Bitcoin payouts from Bovada in 48 hours and as frequently as every 3 days without any kind of phone calls or other paranoid verification from the sportsbook.

Bovada's biggest weakness is their juice, which I find to be some of the worst of any online sportsbook. Normal dime lines are often as bad as -120 or -125 with sometimes both sides set at that price. Favorites get heavily juiced quickly. I've also seen their entire website go completely down during major sporting events.
That being said, I still keep coming back to Bovada as my main sports betting sites just because it's the easiest to bet at, they have the best search, they have lines on everything, and payouts are quick and easy.
Excellent search to get bets in quickly
No-hassle Bitcoin payouts within 3 days
Lowest rollover for sports bonuses
Live betting, even on mobile, without glitches
The Best Mobile Sportsbooks
It's astounding how many sportsbooks make a just plain bad mobile experience, but Bovada isn't one of them. If I'm making a bet from my phone, I'll always turn to Bovada first because it's just so darn easy.
They're the only sportsbook I've seen with a perfectly-functioning mobile search button, which gets you to the right game in seconds. Live matches update in real time perfectly.
Live mobile betting on Bovada never hangs or gives me glitches and everything is formatted flawlessly for mobile navigation.
Although I often have to use Chrome over Safari to get the mobile site to work, Bookmaker has a very good mobile sportsbook once I can get in. The menu and interface is easy to use, although they lack a search function. Live betting works flawlessly on mobile, loading quickly and updating lines smoothly.
Nitro​​gen Sports has its flaws, but a good mobile interface isn't one of them. They have an excellent mobile layout, with the main navigation bar split up into sports leagues instantly, which saves a load.
Even better, along with Bovada, they're the only mobile sportsbook to offer a good search function. It saves a ton of time to just type a few letters of a team or name rather than digging through leagues, reading every line.
It's horribly tone-deaf of the betting sites, but many of even the best sportsbooks are truly behind the times when it comes to mobile betting.
No self-respecting sports betting operator or gambling brand is stupid enough not to have a mobile site, but most look like cobbled-together scraps that barely function.
These days, I do most of my sports betting from my phone and I'm sure I'm not alone. If I have 5 minutes to get a bet in, I need to get in and out of an online sportsbook easily, finding the game I want as quickly as possible.
Also, if I'm watching a game live, I want dependable mobile live betting, so I can get my picks and predictions in before the lines change.
You'd be shocked at how rare a simple search function and bug-free live betting is on mobile sportsbooks.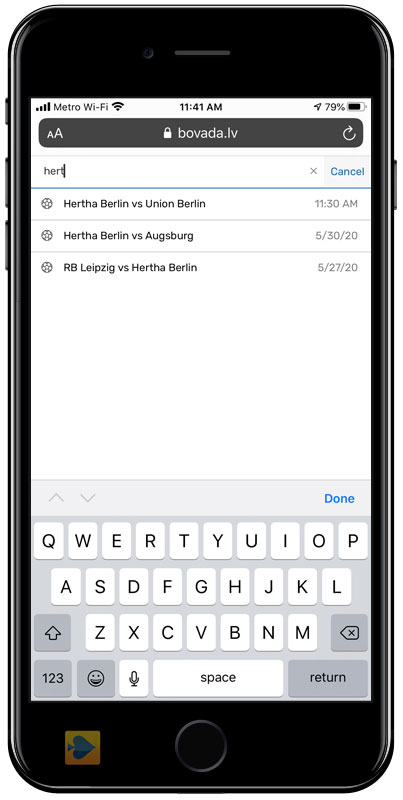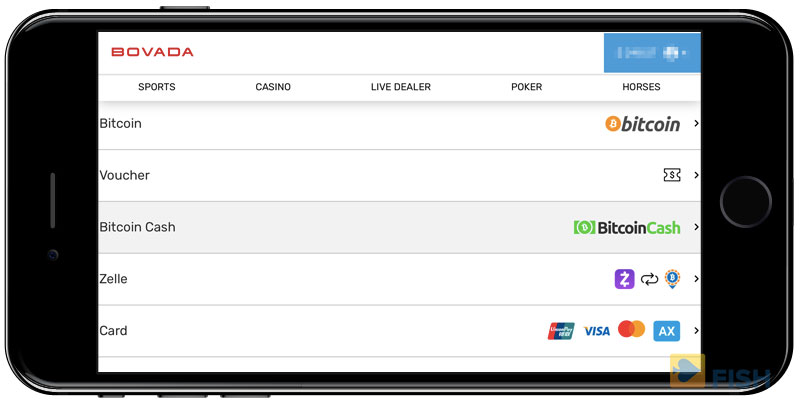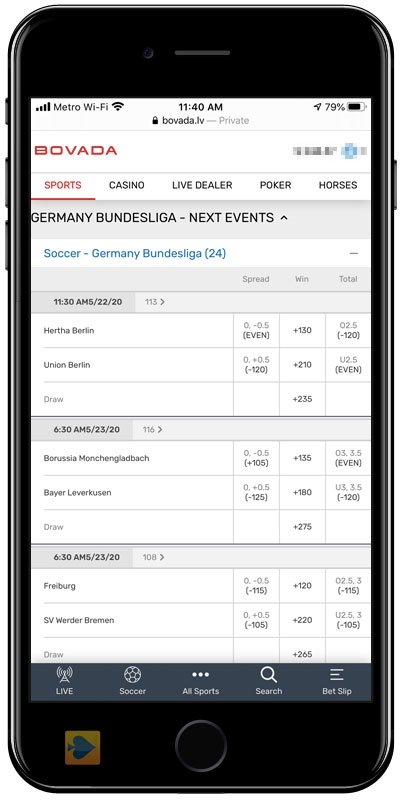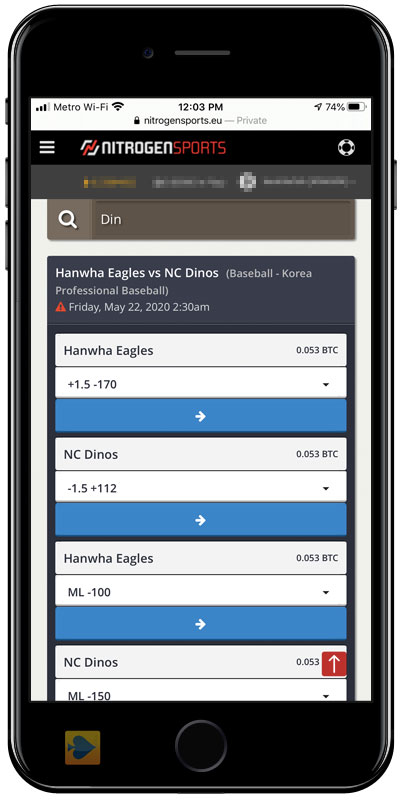 Online Sportsbooks with the Fastest Payouts
So long as you don't violate their policies, like by having multiple accounts or charging back a credit card, every sportsbook I list will eventually get your full payout to you. If they didn't, I would blacklist them.
However, payout speed, methods, and the level of hassle will vary quite a bit between betting sites. My comfort level with any sportsbook is largely dependent on how confident I am that I can get paid out quickly and efficiently.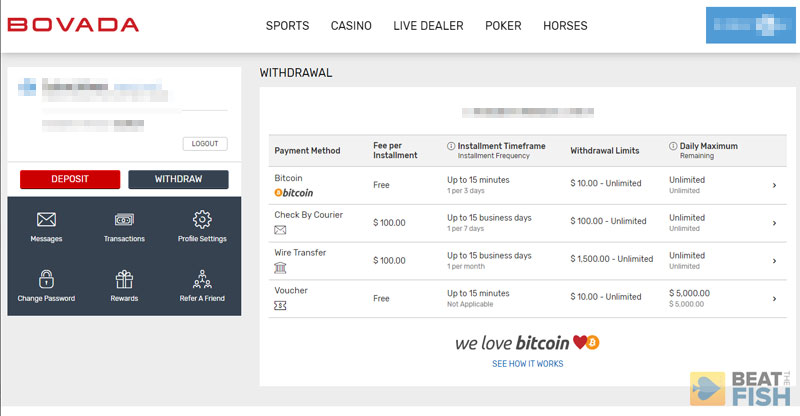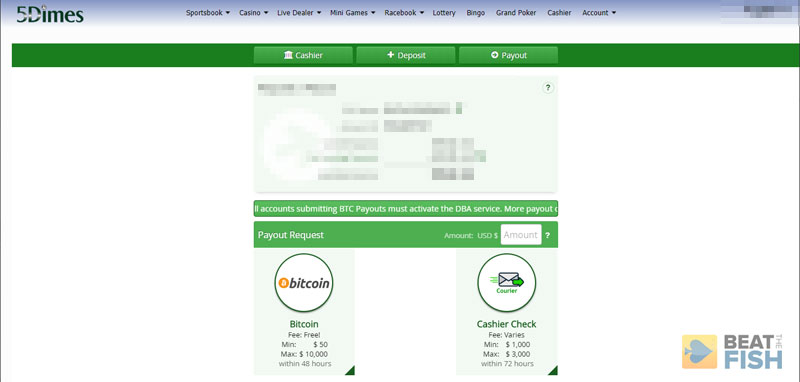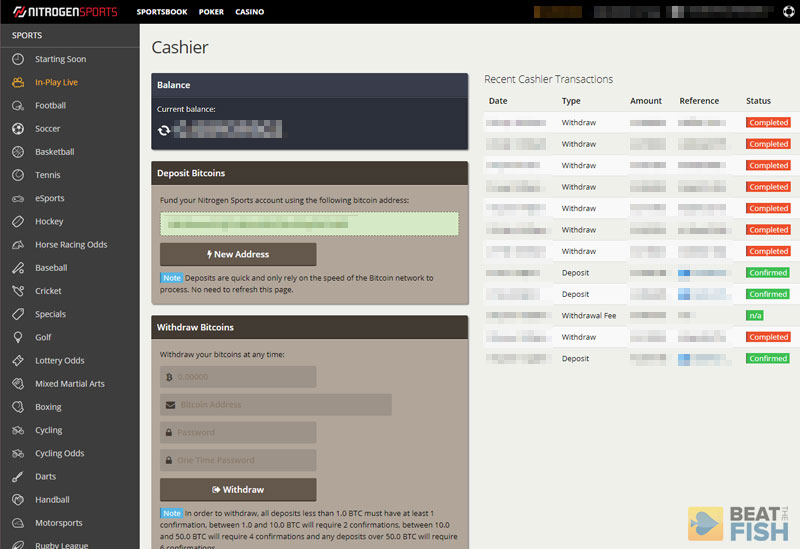 Best Sites for Live Sports Betting
Bovada is my go-to when I need to get in a live bet just because of how easy it is. Live matches come up in the search box just like any other game. That saves a lot of time. Bovada then loads live lines and updates flawlessly, even on mobile. The juice isn't great, but it's incredibly easy.
I have a love/hate relationship with most things at 5Dimes, including live betting. There's no easy search function and it's usually terrible on mobile, often hanging on a blank page. The lines can't be beat, though, and live betting works just fine on a desktop.
Bookmaker has one of the easiest-to-use live betting sections, listing every match I've looked for. Live betting works well on mobile, unlike many sportsbooks that act like dial-up ISP's from the '90s when you want to live bet on mobile. Bookmaker's live score interface is also one of the most attractive, with a mockup of each field or court along with the live score.
Every legit online sportsbook now offers live betting, which is the ability to bet on games as they happen. The lines are adjusted in real time. Live sports betting allows you to get a late bet in if you're too busy beforehand or bet based on what you're seeing actually play out.
Live betting also allows you to take advantage of some unique situations to get more favorable lines. If heavy favorites are behind early, you can get smaller spreads. If there's a flurry of (probably) unsustainable scoring early, the live total can get inflated for you to take the under.
The most important factors for live betting are the odds, availability of games, and lack of glitches when betting live on a mobile device.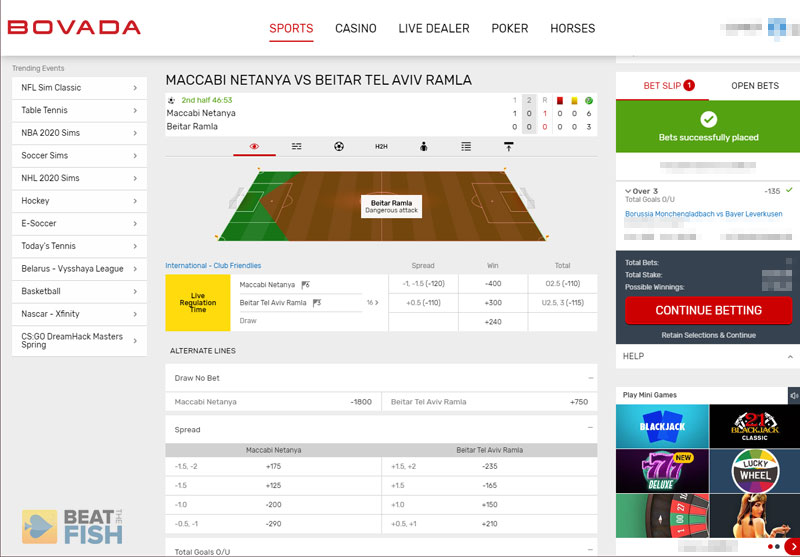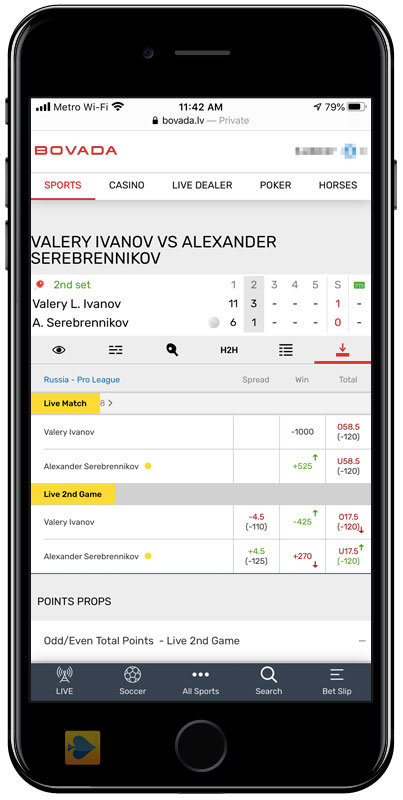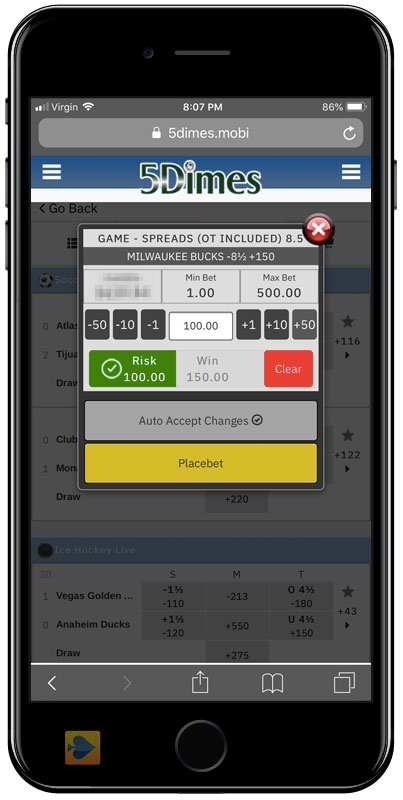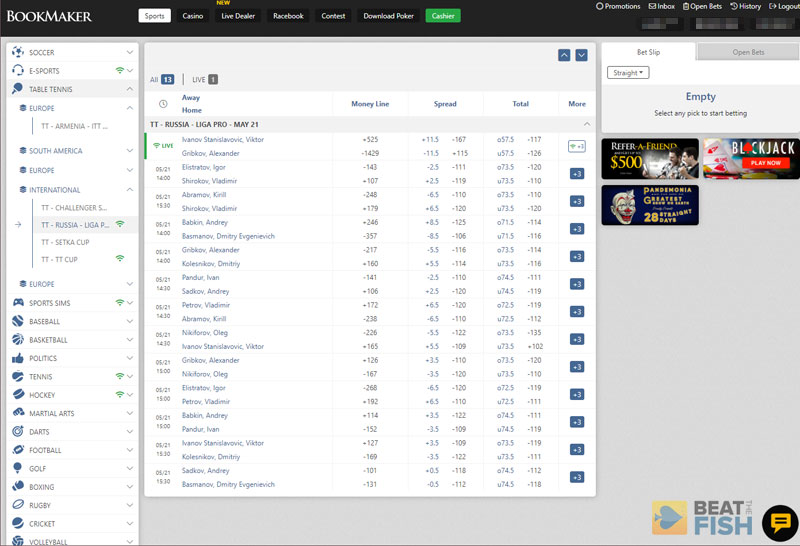 Where to Get the Best Sports Betting Bonus
It's been disappointing to see so many sportsbooks move bonuses to free plays, but Bovada still gives straight cash. They also do it at the highest percentage and the lowest rollover of any sportsbook I've seen, which is a good combination.
Bovada gives a 75% sports bonus up to $750 with only a 5x rollover if you deposit with Bitcoin. If you use a credit card, it's 25% up to $500. Once you've bet your total balance 5 times, you can cash it all out. That's a much smaller rollover than competing sports betting sites.
I like that Wagerweb lets you choose between different levels of cash or free plays, depending on how long you're willing to rollover your balance. Although the 50% cash is a strong offer, the 15x rollover means you're committed to betting there for quite a while.
If you're depositing a large amount and are good with free play credits, 5Dimes has one of the highest maximum bonuses at $520 free plays on a $2,000 deposit. 5Dimes releases free plays based on your rollover progress rather than giving it to you to wager all at once.
The biggest problem with taking bonuses at 5Dimes is that it disqualifies you from the excellent reduced juice system.
At most sportsbooks, bonuses work differently than something like poker, where you either get extra money upfront or play to get it released. Some sportsbooks, such as Bovada, still give instant bonus money to use for betting on sports right away, which I think most players prefer.
However, many of even the best sportsbooks have moved over to what they call "free play" money for their bonuses. With free plays, you only get paid out the winnings and not the wager amount.
All sportsbooks require a rollover of bonus money plus your deposit amount, meaning you have to wager both of them combined a set number of times before you can cash any of it out. The balance for a sportsbook bonus is getting the biggest amount with the lowest rollover.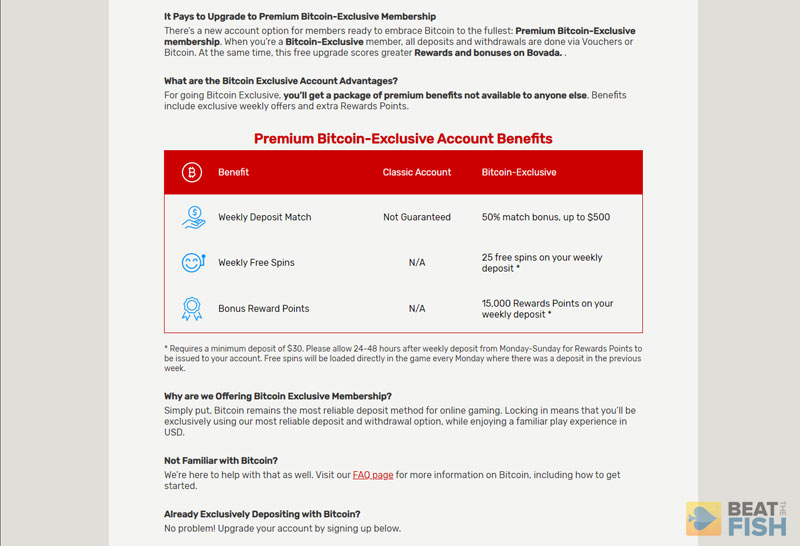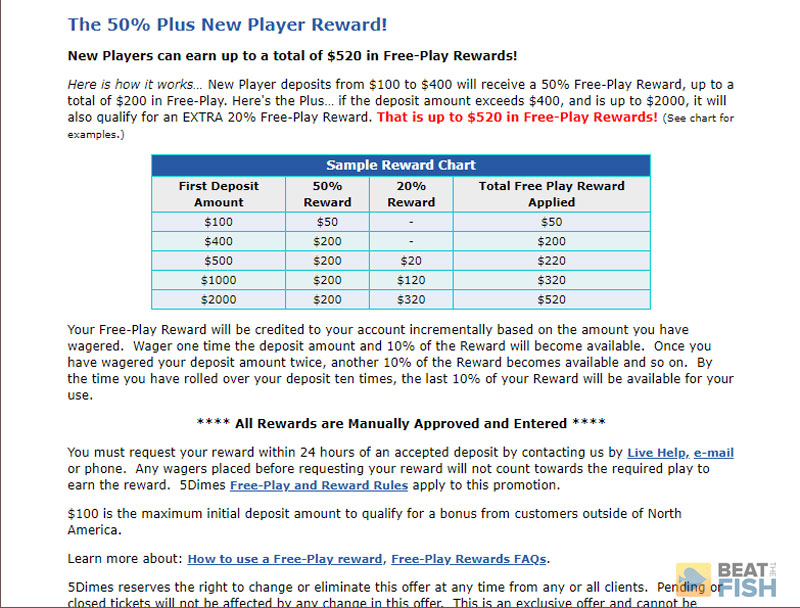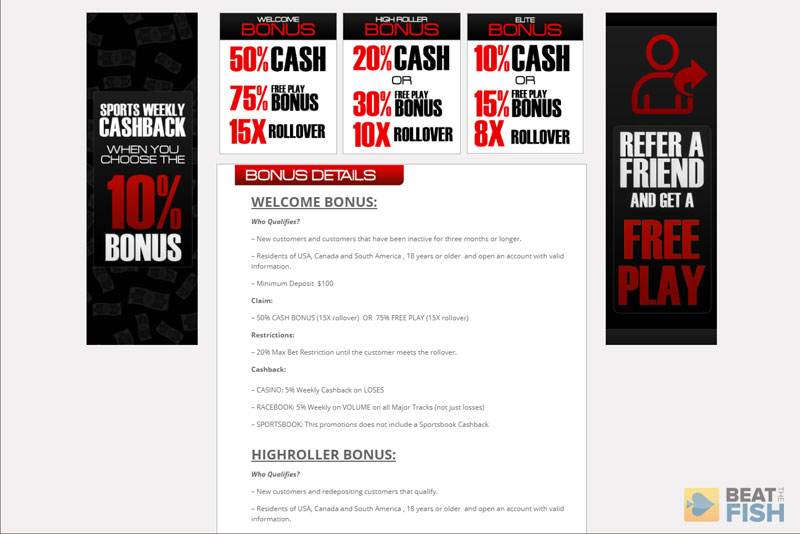 The best bonus offers at USA sportsbooks
With dozens of top-notch betting sites available to US bettors, the competition is steep when it comes to what operators have on offer in terms of sportsbook bonuses. So, you should always have a quick scroll through the Promotions page of the operator you're considering signing up with in order to find out if you'll be able to claim offers that appeal to you when betting on your favorite
Risk-Free Bonus Bets
When an online sportsbook provides you with a risk-free bet, you're often allowed to use it to wager on any sporting event, as long as it meets the minimum odds requirements and does not exceed the maximum bet limit outlined in the terms and conditions of the bonus.
The bet is credited to your account and you must claim or activate before making your wager. Then, if your bet doesn't come in, your stake is returned to your account – as cash.
This is the best part; it's not paid back as bonus money that needs to be cleared via wagering requirements, which is what tends to happen at online casinos.
Deposit bonuses
A deposit bonus offered is usually offered as part of an operator's welcome bonus, but they really stand out when they are provided on an ongoing basis. So, if you're the kind of bettor who likes taking advantage of any and all bonuses available from your chosen sportsbook, you'll want to sign up somewhere that provides users with weekly reload bonuses and special promo code offers on social media.
Odds boosts
Among mobile betting apps and sites, odds are fairly competitive, so it's not often that you'll find an operator with much better orders than others. However, you can find enhanced odds when operators are running Odds Boost promos.
These promotions are an excellent way to increase your chances of winning big. With Odds Boost, you can get higher odds on popular sports such as football, basketball and hockey, as well as on special events like the Super Bowl and the World Cup. Big cards for boxing, UFC and MMA are also often featured in odds boost promotions, as well as major golf and tennis tournaments.
How to Get the Best Odds and Lowest Juice
I'm only going to recommend one sportsbook in this section because no one else comes close to 5Dimes when it comes to getting the best odds. If all you're after is the best prices on your bets, you don't need to play anywhere else.
Under every major sport, look for the reduced section. Whereas everyone else is charging -110 to -115 for spread and over/under bets, 5Dimes goes as low as -101 or Even on every standard line as part of their Reduced Juice. It's guaranteed to be under -110. That's up to a 10% savings on every bet.
High-level bettors will save thousands a month on juice at 5Dimes.
Too often overlooked, juice (the price you pay to the sportsbook built in to your bet) is just as important as winning or losing your bets. It's the hidden difference-maker. The more juice you're paying, the more often you have to win just to break even.
The standard juice is -110 for spread and over/under bets. That means that you have to pay $110 to win $100, $550 to win $500, etc.
To illustrate what a difference juice can make when sports betting, let's say your unit size is $100. You place 10 straight bets to win $100 each. That would cost you $1,100 to win $1,000. You end up going 5-5. You broke even, right? Unfortunately not.
You paid $1,100, but only returned $1,000 for the 5 wins. You lost $100, or 1 unit, simply for breaking even on your wins and losses.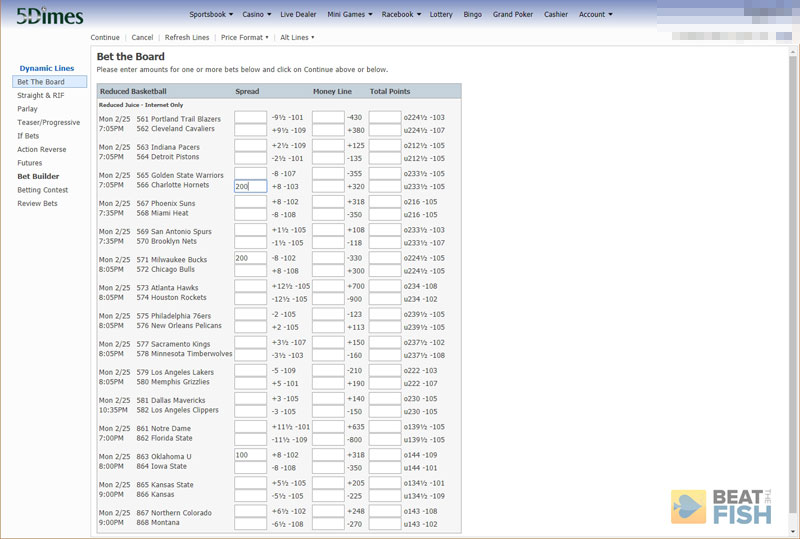 How often you need to win in sports betting just to break even
At an average at -110 odds, you need to win at least 52.4% of the time long-term to break even. Do you see how important the price you're getting is? If you can save on that juice with every bet, you'll risk less.
If you bet on a high volume of sports, you'll lose less and win more if you can find better odds. Fortunately, there's at least one sportsbook that does that.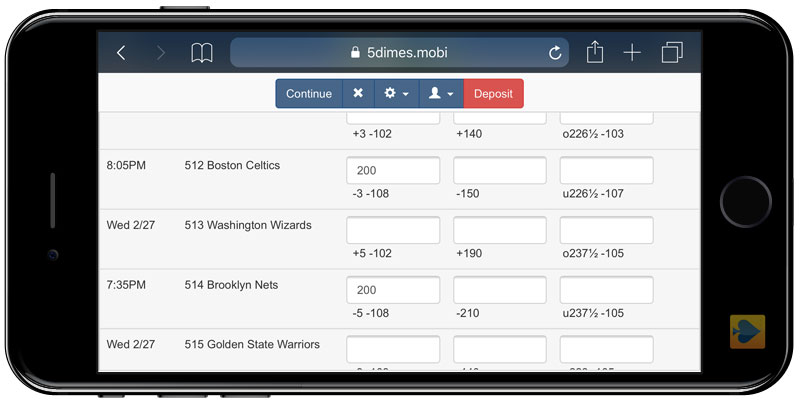 Sportsbooks with the Most Sports to Bet
Bovada has really stepped up in recent years with the number of sports it offers lines on, which is perfect for bettors like myself who like exotic plays. I now think they offer more sports than anyone else.
I've almost never wanted to bet on something that Bovada didn't offer and, even better, they have dozens of specialty lines on obscure sports.
The search function is the best part, with matching games popping up instantly as you type in those tough-to-spell international names.
5Dimes has an excellent selection of sports and lines, probably having 95+% of what I've wanted to bet on over the years. Their sports list is massive, almost embarrassingly so with things like competitive eating and Little League. 5Dimes only occasionally misses some low-league international soccer or esports matches.
5Dimes almost always has live betting for anything they're missing pre-game. If you can't find anything in the Sportsbook Main section, be sure to check Sportsbook Prime.
If you're only betting on major sports and on straight spreads and totals, you'll easily find that at any online sportsbook. However, if you're like me, you'll appreciate that the best sportsbooks that offer lines on everything imaginable.
Most of my betting is on major sports like MLB, NFL, NHL and NBA, but there are plenty of times when I'll want to bet on things like low-level soccer leagues, table tennis, international hockey, or esports.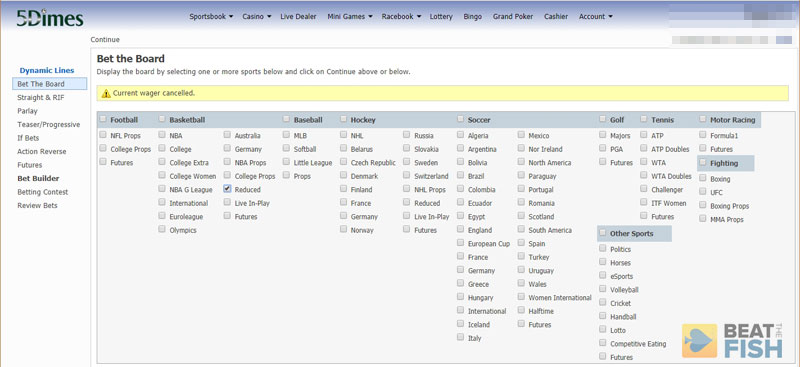 Unfortunately, the sports offered can vary wildly among even the best sportsbooks. So, before you make a decision about online betting platform you're going to register with, ensure that you have a look at their list of markets.
Featured Sports and More Hidden Markets
Basketball, football, boxing, baseball and other major sporting events will always be located in a featured position on the site or app you're playing with, and you'll have to do a bit of scrolling to find the more niche markets. So, don't count out some operators just because some more unique markets are hidden.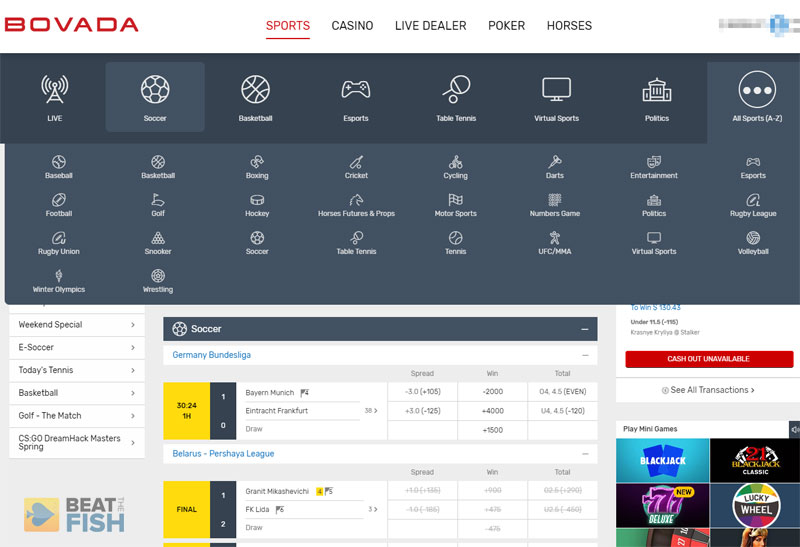 So, if you're a fan of cricket, rugby or horse racing, you'll want to do some deep exploring of the sportsbook you're thinking of joining. Those of you who enjoy motorsports like NASCAR and Formula 1 should also browse the markets thoroughly to ensure that the kind of bets you'll want to make are available.
Sportsbooks that Excel at Prop Bets
There's one reason I put MyBookie in the top slot for player prop bets: they still offer Prop Builder. Once a staple at larger offshore online sportsbooks like 5Dimes, Prop Builder stopped offered at many of them.
What's so great about Prop Builder is that you can create your own props for any player and any stat instead of taking only what the sportsbook has set. You can't beat it for things like props on backup NBA players, which may not be offered at all anywhere else.
The limits for Prop Builder bets are also typically higher than standard prop bets at other sportsbooks.
BetOnline doesn't currently have a working prop builder, but, man, do they have a ton of built-in props. I've never seen another sportsbook equal the level of specificity BetOnline lets you get into for props. You can bet on things like who the first penalty will be on in an NFL game all the way down to soccer shots on goal for every player on every club.
If you're stuck with props offered by the sportsbook, Bovada probably has the largest selection. I've occasionally wanted props on players/stats that weren't listed, but that's the exception rather than the rule. For special events like UFC, draft props, or the Super Bowl, Bovada has a huge selection. Beware that Bovada usually sets a $250 wager cap on most props.
Player prop bets are an interesting sub-market of sports betting. They usually carry higher juice, lower limits, and the lines can move rapidly. However, the payoff for dealing with that can be very profitable to experts and cappers in the world of betting, however, as sportsbooks often handicap prop bets with less attention than major lines.
If you're good at locking into how specific players are likely to perform, you'll want an online sportsbook that offers the most players with the most stats you can bet on.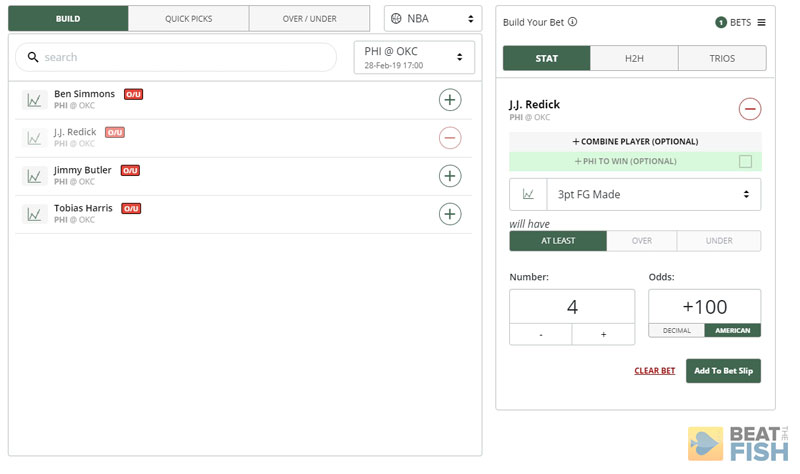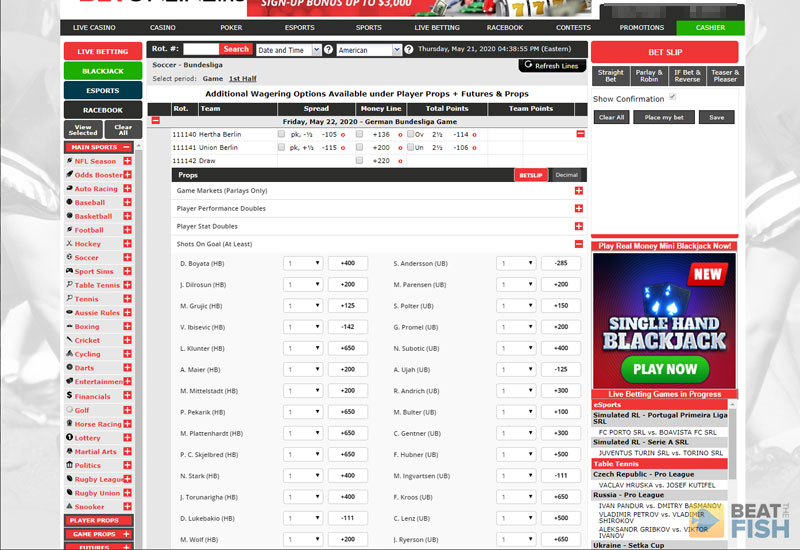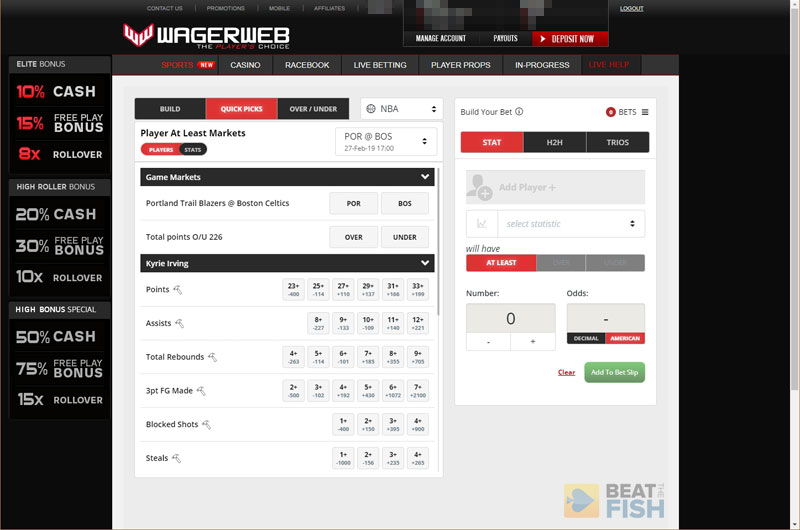 The Safest USA Online Sportsbooks
Bovada is an easy recommendation if you're looking for an old and stable sportsbook, not just based on their history, but my personal history with them. The brand started as Bodog in 2004 and I started betting with them personally a year later.
I've gotten so many payouts through so many methods that have come and gone over the years that I don't even hesitate to trust them with my bankroll anymore.
You may not always like their lines or limits, but you can't question their spotless payout reputation and lack of major scandals. Also, if you're into poker, Bovada hosts the largest poker site in the US market.
5Dimes has had some management controversy over the years, but they've never let it affect their operations. 5Dimes has been an online sportsbook since 1999 and the look of their website still reflects that!
I've bet at 5Dimes for several years and continue to do so, largely because they've earned my trust with payouts. If you want an old established sportsbook who lets you mind your own business and doesn't blink at large wagers, it's tough to go against 5Dimes.
Although BetOnline has technically only been around since 2011, their roots under different names go back to the '90s. I've also been betting with them since their launch. It's clear that they're financially stable and intend to stay in the USA sportsbook market for the long term.
The BetOnline website could use a major face-lift, but you can't question their payout history. Their poker wing is also one of my top-scoring sites, checking in at #3 for US traffic.
In the online betting world, you're usually safe following the adage that there's a reason a company has been in business for a long time. Sports betting is an industry that's undergone huge changes over the past 20 years.
Standing the Test of Time
If an online sportsbook has weathered those storms, it's likely because they built a reputation for paying out everyone and have the capital to survive temporary upheaval.
Although there are newer U.S. sportsbooks that I generally trust, sportsbooks that end up shutting down are most often those that popped up in the past 5 years and burned through money with bad management or outright fraud.
If you care most about how legit a sportsbook is and if your bankroll will be safe, just stick with the oldest names in the business.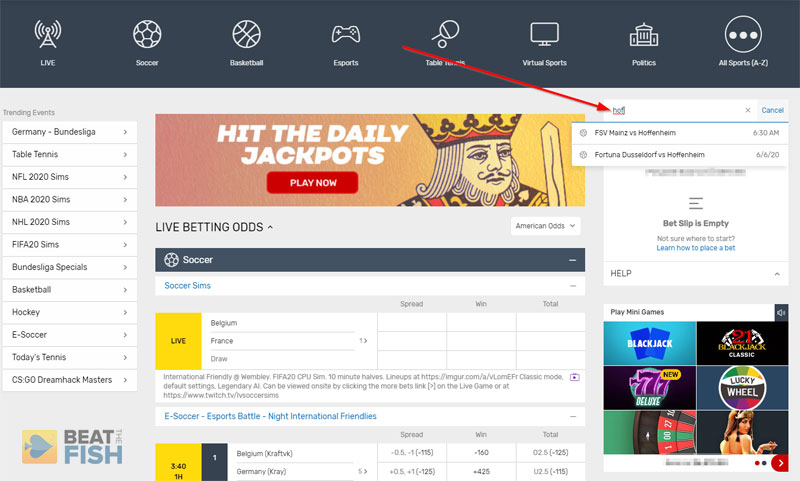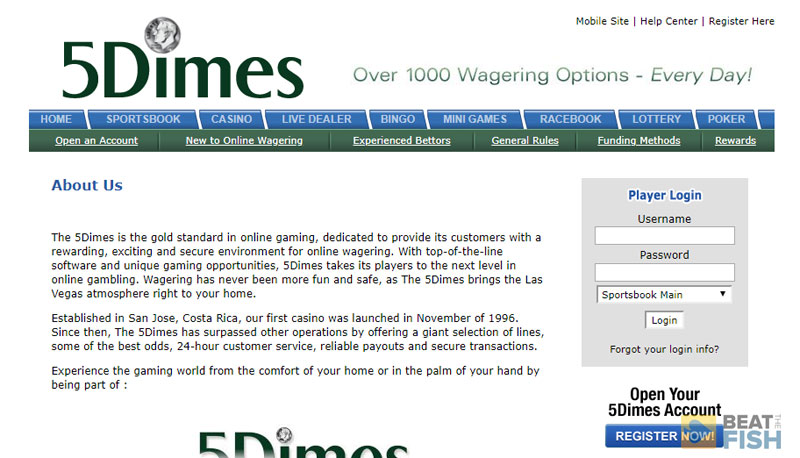 Where to Find the Highest Betting Limits
#1 FOR HIGHEST BETTING LIMITS
Even if you aren't a professional sports bettor, inevitably there's going to be a game that you want to lay a big amount on. Do you want the sportsbook to steal your thunder and tell you that you can't? I've made thousands of wagers at 5Dimes and I've almost always figured out a way to make it for as much as I wanted.
Simple spread or moneyline bets on major sports? You can bet $5,000 on those without 5Dimes blinking. I have been limited on things like both teams to score in international soccer or player props. Usually that kicks in at around $250.
However, what's beautiful about 5Dimes is they'll let you make the same bet again after the line changes or after you wait a minute or two. 5Dimes caters to big bettors more than any other sportsbook I've seen.
#2 FOR HIGHEST BETTING LIMITS
Bovada is a little more risk-averse and paranoid about big liabilities on one side, but their limits are still above-average. Spread, moneyline, and totals bets have high limits, allowing at least $1,000-2,000 without getting limited.
Bovada is also better than most sportsbooks on international exotic plays, allowing several hundred dollars on things like table tennis and Korean baseball. I hate getting the dreaded "this bet is pending approval" box.
Unfortunately, Bovada is much stricter when they do decide to limit your bets. Even if you wait or the line changes, Bovada tracks how much you've wagered on each specific outcome.
If you're a beginning online sports bettor or on a smaller bankroll, you likely won't have to think about how much your sportsbook lets you wager on each type of bet. If you bet on mainstream lines for major sports for under $500 each, you'll probably never have a problem getting a bet in.
However, if you're like me and regularly dabble in exotic things like player props, parlays, both teams to score in soccer, or international niche sports for more than $100 each, you're going to care about betting limits.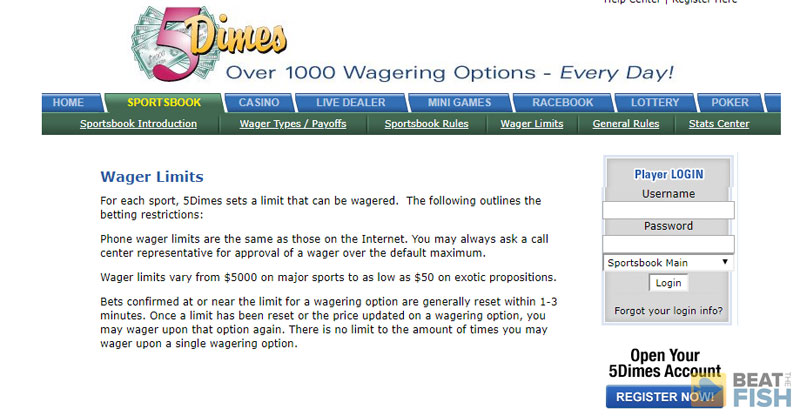 The Easy Match for Professional Sports Bettors
5Dimes is the easy choice if you're serious about betting on sports, thanks to the no-frills interface, low juice, and ability to bet as much as you want on almost anything. The design of 5Dimes looks like it hasn't been updated in 20 years, but pro bettors don't care about that.
You have a huge board, similar to an Excel spreadsheet, where you can bet on tons of games at once. The reduced juice can save 6 figures a year for heavy bettors. Your betting limits on a single match also reset within 1-3 minutes.
Professional sports bettors usually have a different set of priorities. They don't care a whole lot about the online sportsbook interface or getting a bonus. Professional bettors and handicappers care about high limits, the lowest juice, and getting bets in efficiently.
There's only one sportsbook that really caters to all of that.
My Only Choice for Anonymous Sports Betting
Why would you bother with a smaller USA sportsbook like Nitrogen Sports instead of the big names? Complete anonymity and super-fast payouts. Deposit using Bitcoin, place your bets, and withdraw again using Bitcoin.
You seriously don't even have to provide Nitrogen Sports with your name, email address, physical address, or planet of residence. If you want to get in and get out of a sportsbook, win money, and cash it out without anyone tracking you, Nitrogen Sports is perfect.
The information required of bettors by USA sportsbooks has increased dramatically in recent years. Just to receive Bitcoin payouts, you'll often be required to provide a phone number, scans of your ID, and proof of your address. Some online sportsbooks even require a photo of yourself.
It's all manageable and you only have to do it once per sports betting site, but it's easy to see why USA bettors don't hassle with shopping around books.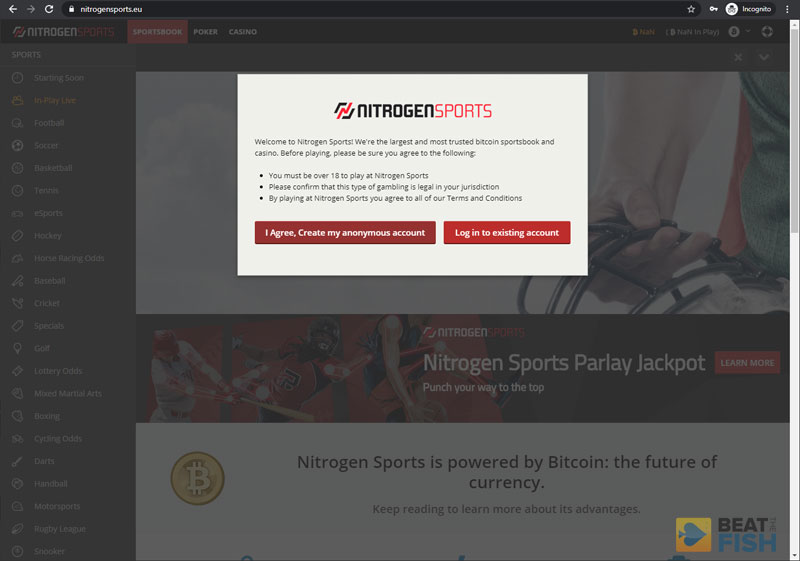 Of course, bookmakers don't need a darn thing from you in order to take your deposit. It's when they have to send money to you that they slow down and protect themselves.
If you aren't comfortable providing all that and want to maintain complete anonymity with your online bookie, there is one option. So long as you know how to use Bitcoin, you don't have to give up a shred of privacy.
Should you use a "local" online sportsbook?
Interact with enough sports bettors online and you're bound to come across this explanation for where someone got a too-good-to-be-true line: "At my local." What are they talking about?
Online "local" bookies are agent-based sportsbooks, meaning that you make contact with someone personally, who credits your money at a website that looks like a mainstream sportsbook.
These are usually set up by a major offshore sportsbook, so the local bookie is just acting as a middleman. You usually deal with your contact for deposits and payouts.
Should you consider using a local? Generally, I advise against it. The benefits are that you can usually deal with alternative payment methods like PayPal or Venmo. If your agent is truly local, you might even be able to deal in cash.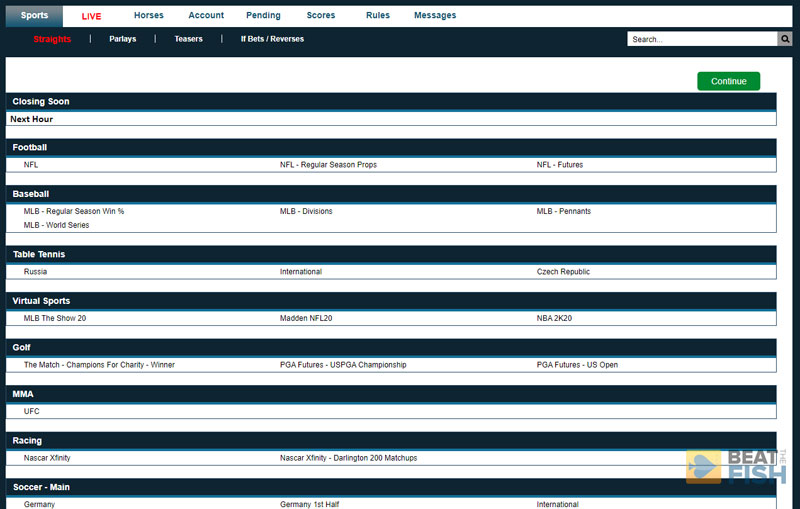 Do locals actually provide better odds?
You might also be able to find occasional favorable lines compared to the big sportsbooks, although I've found that to be few and far between. Local online sportsbooks that I've used seem very susceptible to line changes, meaning that favorites get heavily juiced within hours of the odds coming out.
Bigger is sometimes better, actually
The biggest risk with a local sportsbook is that you aren't afforded the same professionalism as a major sportsbook. Locals inherently can't have the same reputation as large online sportsbooks, which is built from years of paying out thousands of players. Things like live betting and a user-friendly interface are also generally worse with local sports betting sites.
What happens if your local bookie disappears? There isn't a whole lot of recourse if your bankroll is in the hands of one guy.
Is Online Sports Betting Legal in the USA?
Laws surrounding sports betting in the United States are pretty complicated, as every state has a different stance on the matter. Prior to 2018, Nevada was the only state where online sports betting was permitted. Then, PASPA was overturned to give states the ability to launch their own regulated sports betting markets.
New Jersey, Colorado Rhode Island and Mississippi were among the first states to begin accepting online bets at locally-licensed bookmakers.
In the years to follow, Connecticut, and Arizona joined the club. Then, 2022 saw even more states open up their online sports betting markets, including Maryland, New York, Louisiana, Kansas and Michigan.
2023 will see even more states go live with state-regulated sportsbooks, including Massachusetts. Nebraska, Georgia and Maine could also hop on board the sports betting train.
What About in Other States?
If you don't live in any of the states I've mentioned (often called gray-area states), then there are plenty of other top-rated sports betting sites that you can play at. This is true even for betting in states like Kentucky. I cover the best ones right here.
The only difference between online sportsbooks in the states I mentioned above and the "grey areas" is that they aren't regulated by the state's local gambling commission. Still, they are regulated in jurisdictions that are well-known for enforcing strict player protection protocols.
For example, Bovada is licensed in Curacao and BetOnline.ag is licensed in Panama – both very reputable areas in the world of online gambling regulation.
Deposit and Payout Methods at USA Sportsbooks
One of the unfortunate challenges of betting on sports online from the USA is going to be moving your money. The goal posts are changing year by year on what sports betting sites accept and what your bank will allow.
The good news is that USA sportsbooks are always desperate to find deposit methods that work. They have to or they'll be out of business soon.
These days, if you can take a little time to learn Bitcoin, you'll be golden at every single online sportsbook operating for USA players.
Bitcoin
I urge anyone considering betting at a USA sportsbook to get with Bitcoin. Besides the lowest minimum deposits and payouts, it's all done electronically, so your bank can't spy on what you're doing.
Your payouts will also be sent in a fraction of the time of old-school methods. No reputable sportsbook charges fees for Bitcoin deposits or payouts.

Minimums: ​Very Low
Sportsbook Fees: None
Success Rate: 100%
Privacy: High

Best Options
Bovada accepts Bitcoin deposits up to $5,000 and gets payouts back to you within 48 hours.
5Dimes has a larger Bitcoin max deposit at $10,000, but holds up payouts up to 4-5 days while they require a phone call every time to verify your information.
Credit Card
Credit cards are certainly easy to use at USA sportsbooks, as you probably have a half-dozen in your wallet right now. Every mainstream sportsbook also accepts them.
The problems are going to be low deposit limits, possible fees, and getting your bank not to block the transaction. You'll also have to eventually choose a different method to get your payout.
Minimums: Low
Sportsbook Fees: 0-5%
Success Rate: 50-90%
Privacy: Very Low

Best Options
I've found BetOnline to be the market leader in terms of US credit card acceptance rate, exceeding 80-90%.
The next best would be Bovada, although they sometimes charge a 4-5% processing fee.
Bank Wire
Bank wires for payouts are tougher to find at online sportsbooks, but they have some distinct advantages.
Your payout goes straight into your bank account so there's nothing to cash and no hassle.
The biggest downsides are the higher fees and possibly scrutiny from your bank.
Minimums: ​​Medium to High
Sportsbook Fees: ​$25-100
Success Rate: 100%
Privacy: Very Low

Best Options
​​Again, Bovada is the leader here when it comes to payouts. They offer wires with an unlimited maximum, but charge $100 for the pleasure. That's in addition to possible fees (probably $20-30) your receiving bank will charge you. These take about 2-3 weeks.
BetOnline also offers bank wires.
Paper Check
The classic way to receive payouts from online sportsbooks, you can still receive paper checks from most sportsbooks to your USA address.
Checks have gone out of favor compared to Bitcoin because of longer processing times and possible fees.
Paper checks can have a higher level of privacy than bank wires if you get them cashed outside of a traditional bank.
​
Minimums: ​​Low to Medium
Sportsbook Fees: ​$0-100
Success Rate: 100%
Privacy: Medium

Best Options
Bovada is going to be the best sportsbook for getting check payouts because they give you one free every 90 days. That eliminates the sometimes-exorbitant check fees that can exceed $100 from other sportsbooks. You'll get your check in about 2-3 weeks.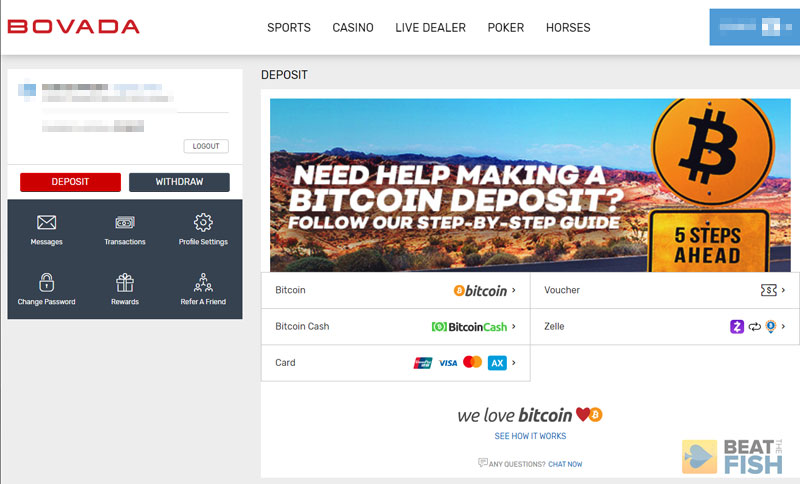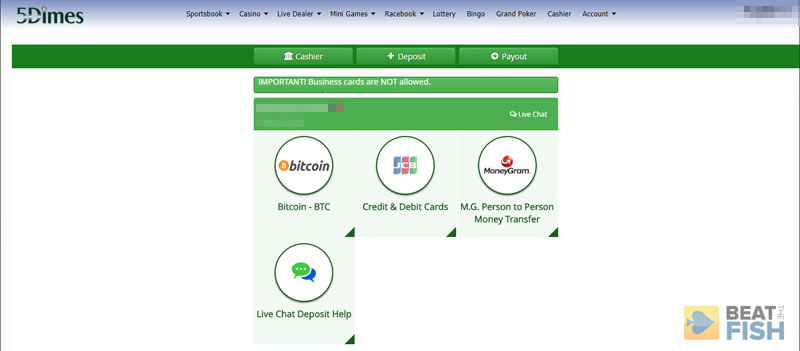 I've never found the perfect sports betting site
The needs of every online sports bettor from their book are going to vary. The "best" sportsbook isn't one size fits all.
In fact, I haven't ever found one sportsbook that does everything I need well. At any time, I'm on 3-5 sportsbooks to get in my bets the way I want them.
What is it that you want out of your sports betting experience?
Does the sportsbook you're looking at have a spotless history of paying out absolutely everyone? Is that gaudy free play bonus going to lock you into betting there for months before you can get your money?
Are the betting limits high enough for your favorite types of bets? Are the sportsbooks' odds competitive? Do they support the deposit method you're going to use? Do they pay out quickly?
I could go on and on, but the point is that the best online sportsbook for you will likely be the one that best fits your priorities, rather than one that does everything right. I recommend starting with the book that excels at the most important thing to you personally.
Frequently Asked Questions
✅ What are the best online sportsbooks for USA bettors?
For USA sports bettors, I always recommend you stick with a sportsbook that excels at what you care about. Not everyone values the same things in a sportsbook. For example, if you're looking for the best mobile layout and live betting, I would steer you towards Bovada.
✅ Which online sportsbook pays fastest?
If you're looking for a traditional sports betting site, then Bovada is my top choice for fast payouts. You'll have Bitcoin in your wallet within 1-2 hours, which is incredible. Most importantly, they don't require phone calls and invasive verification every time. Checks are free every 90 days and arrive in about 2 weeks. MyBookie also pays out via Bitcoin within a day, but the sportsbook isn't quite as good overall.
✅ Can USA residents use sports betting sites?
Yes, absolutely. Even if you aren't in a state that has formally legalized online sports betting, there are a number of legitimate offshore sportsbooks that accept real-money bets. Many of them have been in operation for more than 20 years and I've used some USA sportsbooks for more than 15 years.
✅ What is the best payout method for sportsbooks?
If it's at all possible to use Bitcoin, that's my first and last choice for online sportsbooks. Not only do you get the lowest minimum deposits and payouts, but you never pay any fees. You also maintain privacy from your bank. USA sportsbooks also usually give larger deposit bonuses to bettors using Bitcoin because they love the lack of processing fees.
✅ What are the maximum bet limits?
Maximum bets are going to vary between different sportsbooks. I've personally found Bovada to offer the largest maximum bets, allowing $10,000 or more to be wagered on spreads and moneylines for major American events. Of course, limits for things like props, live betting, minor leagues, and smaller international leagues will be heavily restricted. You may only be able to wager $1,000 or less on those.
✅ Who offers the best odds for online sportsbooks in the USA?
Regulated USA sportsbooks tend to be incredibly competitive when it comes to deciding on odds for all of their markets. So, when you look at a couple of brands like BetMGM or Caesars Sportsbook and compare it to others like DraftKings, BetRivers Sportsbook, or FanDuel Sportsbook, you won't find many discrepancies. However, if you're really keen to get a leg up on other bettors, you should be on the lookout for Odds Boost promotions, which provide you with enhanced odds on specific markets and events. There can be more significant differences in odds for offshore books like Bovada and BetOnline. For example, as much as I like Bovada, they often juice favorites an extra half-point and 5-10 cents more than competing books.
A lifelong poker player who moved online in 2004, Josh founded Beat The Fish in 2005 to help online poker players make more-informed decisions on where to play and how to win once they got there. He hopes to counter the rampant dishonesty in online gaming media with objective reviews and relevant features. Tech nostalgic. Fondly remembers the soup avatar at Doyle's Room.