Play Mississippi Stud Poker Online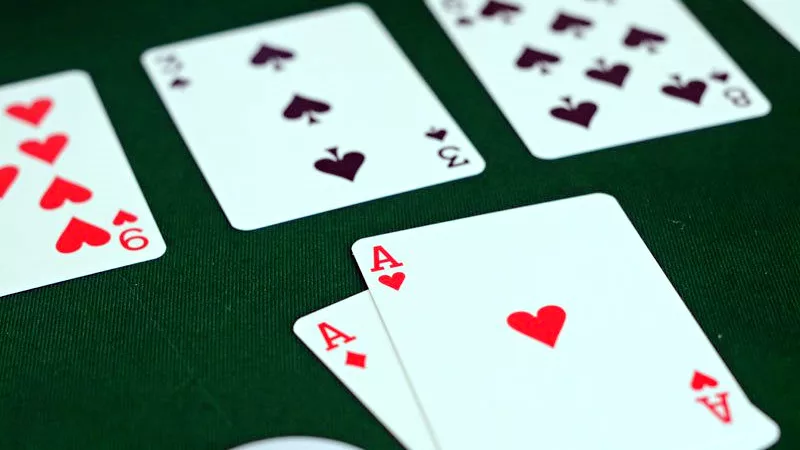 One of my favorite poker games is Mississippi Stud – and, if you're a fan, as well, you'll know that it's difficult to find this game online in any capacity, except at very few select sites. However, I'm happy to inform you that it is possible to play Mississippi Stud poker online and not just in land-based casinos across Las Vegas. So, read on to find out the best places to play this great game.
How to Play Mississippi Stud Poker Online
I'm going to level with you – Mississippi Stud is not actually available in the online poker world – not as "Mississippi Stud", at least. There are, however, several variants available at some of my favorite online poker sites and online casinos that are almost exactly the same as Mississippi Stud Poker, but listed under a different name.
Mississippi Stud Poker
Caribbean Hold'em
Welcome Bonus
BetOnline
Yes
100% welcome bonus up to $1,000

Play Now


Wild Casino
Yes
Up to $5,000 welcome bonus, or up to $,9000 with Crypto
Play Now


Sportsbetting Poker
Yes
Up to $3,000 on first three deposits
Play Now


Bovada Casino
Yes
100% up to $3,000 or 150% up to $3,750 with Crypto
Play Now


Slots.lv
Yes
Up to $7,500 in welcome bonuses
Play Now
Slotocash
Yes
$7,777 welcome bonus
+ 300 free spins
Play Now
Ignition Casino
Yes
100% up to $1,000

Play Now
So, what you're going to do is visit one of the following sites and look for a table game called Texas Hold'em, Caribbean Hold'em or Casino Hold'em.
Wild Casino, Sports Betting Poker, and BetOnline
Wild Casino and BetOnline are some of my favorite places to play Texas Hold'em as a table game. In other words, you can play Mississippi Stud at these online casinos – under the Casino Poker category. The key difference is that, in Casino Hold'em, you play against a dealer's hand rather than simply forming a hand like you would in Mississippi Stud.
It's easy to get involved. Just visit the Table Games page, click on the game tile and it will load within seconds. Select the amount of money you want to wager by selecting from the stacks of chips on the screen and hit the deal button to get started.
Caribbean Hold'em
This poker variant is very similar to Mississippi Stud,  but there are a couple of key differences:
All three community cards are dealt at the same time.
There is a dealer who's hand you compete against.
There is a sidebet available that could win you a progressive jackpot if a Royal Flush is dealt.
You can play this variant at Slots.lv, Bovada Casino, Slot'O Cash and Ignition Casino.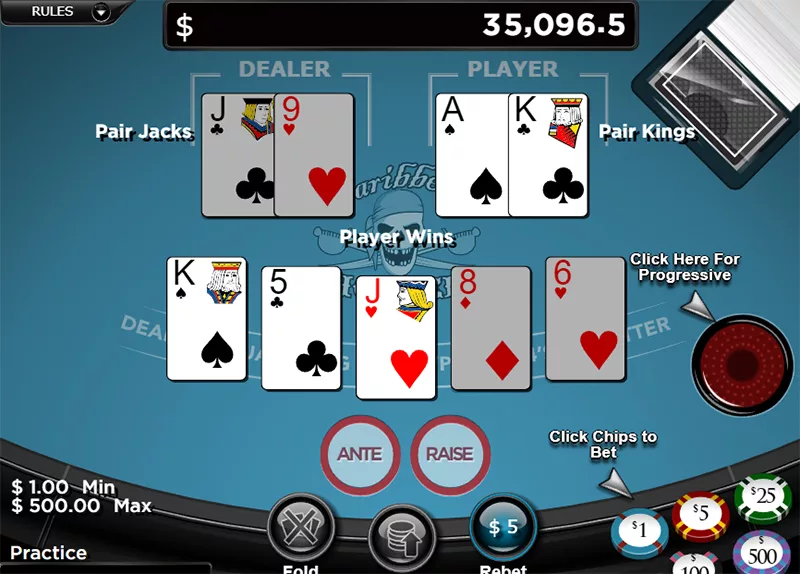 Frequently Asked Questions
✅ Is Mississippi Stud the same as Texas Holdem?
Mississippi Stud is a table game played like a shortened version of Texas hold 'em, mixed with Blackjack. The games have the same basic principles but Mississippi Stud is only played against a dealer.
✅ Is Mississippi Stud the same as Let It Ride?
The two games are similar, but Let It Ride gives players the opportunity to withdraw their hand if they don't like the look of it.
✅ How is Mississippi Stud played?
The game is played against the dealer, with the player attempting to make the best five-card poker hand. You are dealt two cards and must create the best hand using the community cards.
✅ How does betting work in Mississippi Stud?
There are four rounds of betting in Mississippi Stud Poker. The first round of betting occurs when you receive your cards, and the rest happen after the flop, turn and river. You must always re-bet or raise your bet; you can't check in this variant.
✅ What are the betting limits in Mississippi Stud Poker?
In some variants, the betting limit can be quite high – even up to $100. If you'd rather play at a low limit, then you can bet as little as $1.
✅ Who popularized Mississippi Stud?
It is believed that Mississippi Stud was created in 2005 by Mark Yosolef, the CEO of Shuffle Master and Scientific Games.
✅ Who owns the rights to Mississippi Stud?
One of the reasons you won't find Mississippi Stud at many online casinos is that the trademark for the title is downed by SHFL Entertainment Inc.
All About Mississippi Stud Poker
Mississippi Stud Poker is a popular poker game that is played with a standard 52-card deck. The game is pretty new, having been invented in the 1990s, but it has grown in popularity recently.
The game is played against the dealer, and the goal is to create a better 5-card poker hand than the dealer. It's basically like playing Texas Hold'em against the dealer. It makes for a fun and quick two-player poker variant, as well.
Rules of Mississippi Stud Poker
The rules of Mississippi Stud Poker are relatively simple. I'll lay it all out for you:
The game starts with each player placing an ante bet.
The dealer then deals two cards face down to each player and three community cards face down on the table. Players are not allowed to share information about their hands.
After the cards have been dealt, players can either fold or make a 3rd Street bet, which is equal to three times the ante bet.
The first community card is revealed.
Players can then make a 4th Street bet, which is equal to two times the ante bet, or fold.
The process is repeated for the remaining two community cards, with players having the option to make a 5th Street bet, which is equal to one times the ante bet.
Once all five cards have been dealt, the players reveal their hands. The player with the better hand wins.
Mississippi Stud Poker Hand Rankings
The hand rankings in Mississippi Stud are the same as in traditional poker games and video poker, with a Royal Flush being the highest-ranking hand and High Card being the lowest-ranking hand. The complete hand rankings and payouts are as follows:
Royal Flush (10, Jack, King, Queen and Ace of any suit): 500 to 1
Straight Flush (any run of five cards of any suit, for example, all spades or diamonds): 100 to 1
Four of a Kind (four cards of the same rank): 40 to 1
Full House (three cards of one rank and two of another, for example, three jacks and two queens): 10 to 1
Flush (five cards of the same suit, for example, all clubs or hearts): 6 to 1
Straight (any consecutive run of five cards): 4 to 1
Three of a Kind (three cards of the same rank): 3 to 1
Two Pair: 2 to 1
Pair of Jacks or Better: 1 to 1
Pair of 6s to 10s: Push
If you're ever unsure about the payouts, you can always view the pay table from the game's settings menu.
Mississippi Stud Variants
If you're looking for something a tiny bit different, there are a number of other table games that you can enjoy playing that are similar to Mississippi Stud Poker with a few little tweaks. These include:
High Card Flush: the goal is to have the highest-ranking flush hand.
Let It Ride: you can withdraw your bet if you don't like the look of your hand.
Three-Card Poker: you have three cards instead of two.
Mexican Stud: a variant played with 8s, 9s and 10s removed from the deck, with a single joker added as a wild.
Mississippi Stud Glossary
Here are some terms that you may come across while playing Mississippi Stud Poker:
Ante bet: the initial bet that all players must make.
Community cards: the cards that are dealt face down on the table.
Fold: to forfeit your hand and your wagers.
Street bet: the additional bets that players can make during the game.
Dealer: the person who deals the cards.
Conclusion
Mississippi Stud Poker is a fun and exciting game that was once thought that you could only play in person. Luckily, I know otherwise! So, if you have a hankering for a few hands of this great poker variant, don't hesitate to visit some of my favorite online casinos and give it a try.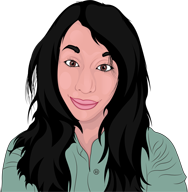 Bethany has been working in online gambling for over 13 years. She got her start in the industry as her first job after graduating from the Professional Writing Program at York University. Having written for many online gaming publications and worked with top casino operators, she has unique insight into the gambling market. Bethany maintains a personal interest in iGaming as she continues to play poker online as a hobby.