The Ultimate Nitrogen Sports Review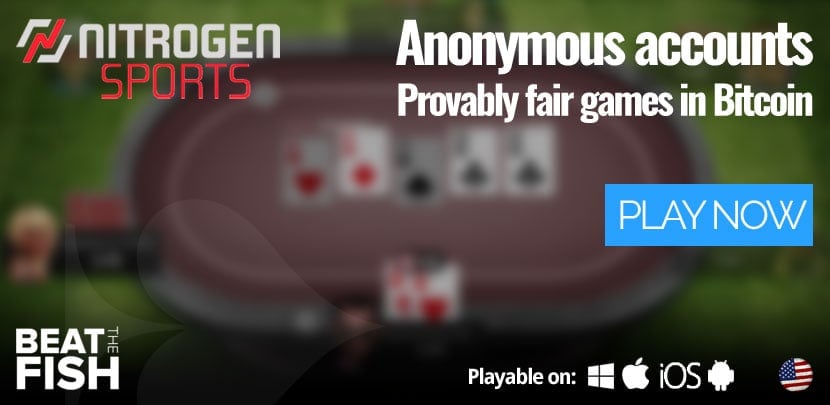 | | |
| --- | --- |
| | |
| | |
| | |
| | |
| | No deposit bonus; rewards only |
| | |
| | |
| | |
| | |
| | Texas Hold'em, Omaha, Crazy Hold'em, Sports Betting, Esports Betting, Dice, Blackjack, Baccarat, Three Card Poker, Slots |
| | Windows, Mac, iOS, Android |
| | |
| | |
Nitrogen Sports
Bonus

Deposits

Withdrawals

Sports Variety

Casino Variety

Casino Fairness

Mobile Software

Poker Traffic

Poker Software

Player Support
Nitrogen Sports Overall
When you first visit Nitrogen Sports, Casino, and Poker and play a few games, you might think that good old Bovada just got a facelift. I mean that in a good way, like putting on a comfortable pair of shoes.
If you've played at an all-in-one online gambling site in the past 5 years, you'll instantly be familiar with the format of Nitrogen Sports. So what's the catch to make you pay attention to Nitrogen Sports over the other guys? There are a few good ones.
For starters, Bitcoin is at the center of the Nitrogen Sports universe. No dollars or credit cards are anywhere to be found. Every bet is either in BTC or, in the case of poker, mBTC. As a Bitcoin evangelist, I love it.
As a poker player that thinks of betting limits in dollars, though, it can get a little confusing.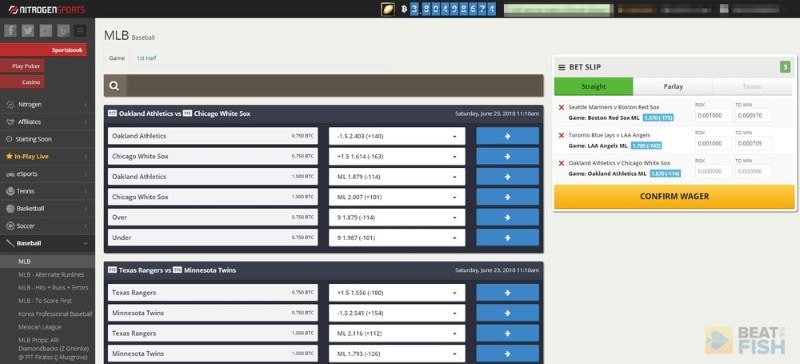 It also seems like a small thing, but do you know what I might like best about Nitrogen Sports? Totally anonymous accounts. Nitrogen mimics the anonymity of Bitcoin itself. No name or address is required to make an account.
Going even further, if you only want to play for a single session, you don't even need to give them your email address. If you want to bet in complete privacy, Nitrogen Sports will let you. In this post-Snowden post-Patriot Act internet, I didn't know that was still possible.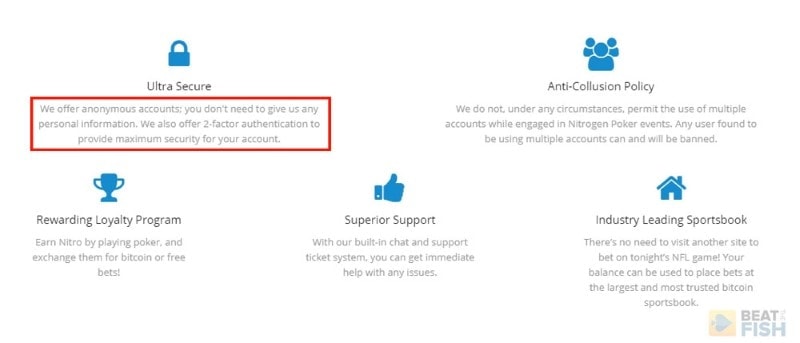 Nitrogen Sports also has an interesting system you won't find at bigger online casinos called "Provably Fair". Even though Nitrogen only has 7 casino games, every one offers a peak behind the results of every deal, dice roll, and spin.
If you bet on sports, Nitrogen Sports has an obscene number of sports available for betting. Besides the usual major American sports available at big sportsbooks like Bovada or BetOnline, Nitrogen Sports has betting markets on things like eSports, cricket, and table tennis.
Nitrogen Poker is straightforward, looks good, and has, table for table, some of the looser poker games you'll find online. The biggest problem with the poker room is their lack of traffic and stripped-down software client.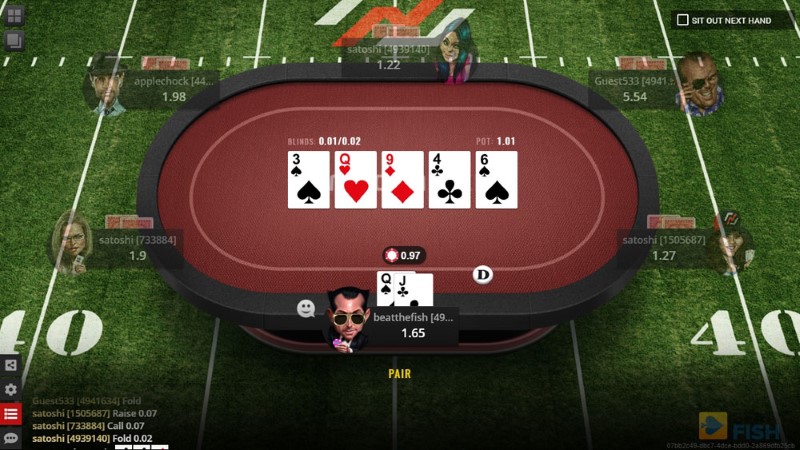 Nitrogen Sports has a solid foundation as an all-in-one Bitcoin betting house, but they also need to work on some glaring omissions.
Nitrogen Sports has no deposit bonus and only occasional weak promotions. That isn't going to cut it with online gamblers used to the competition wooing them with swollen bonus packages.
The Nitrogen Sports Casino side is ahead of its time with the "Provably Fair" concept, but it's begging for more casino games to be added. Modern online casino players are overwhelmed with game variety elsewhere.
Overall, I like what Nitrogen Sports is offering as a Bitcoin-only one-stop online gambling shop. Nitrogen Sports is also open to USA players for real money.
If you've got Bitcoin and you want to bet on sports, you probably can't do it faster or more anonymously than at Nitrogen Sports. They just need to add some meat on the bones of the casino and poker room.
Frequently Asked Questions
✅ How long do Nitrogen withdrawals take?
Nitrogen Sports is one of the best in terms of sending Bitcoin payouts. Besides my first withdrawal, which did take a few hours, I've never waited more than 30-60 minutes for the Bitcoin to hit my wallet.
✅ Does Nitrogen Sports accept Bitcoin?
Absolutely. Bitcoin is actually the only thing that Nitrogen accepts for both deposits and withdrawals.
✅ Is Nitrogen Sports legit?
I certainly think Nitrogen is legit. I've played there for a couple of years and requested numerous payouts. I've received every payout very quickly and their support has been helpful whenever I've needed it.
✅ Does Nitrogen Sports have a casino or poker?
Nitrogen Sports offers both casino games and a poker room. The casino section is currently very limited with just a few games such as dice, Blackjack, and a video slot. The poker section is fully featured, however, and works perfectly on mobile.
Anonymous accounts
I think the ability to play from completely anonymous accounts is one of the biggest draws of Nitrogen Sports and Poker.
Most online gambling sites have increased the invasive personal information required of players over the years. Players usually end up having to send in scans of personal documents just to cash out their hard-earned bankrolls.
At Nitrogen Sports, you literally don't even need to provide a username or email address if you don't want to. Just keep the session open in your browser, make your Bitcoin deposit, play, and request your cashout without giving them a thing.
You'll only be identified by Nitrogen Sports with an account number.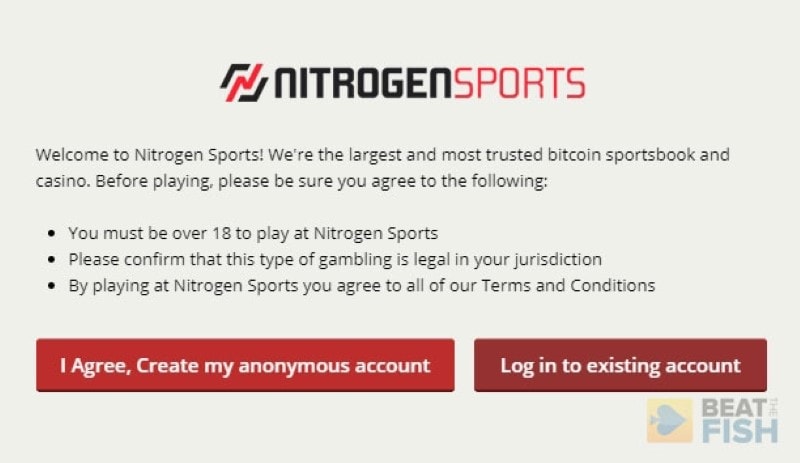 You can provide an email address, username, and password (as I did) in order to get support and log back in from a new browser session.
You can change your username at any time. Note that you never need to give your name or address to the Nitrogen Sports team. In that way, Nitrogen Sports mirrors the anonymity of Bitcoin itself.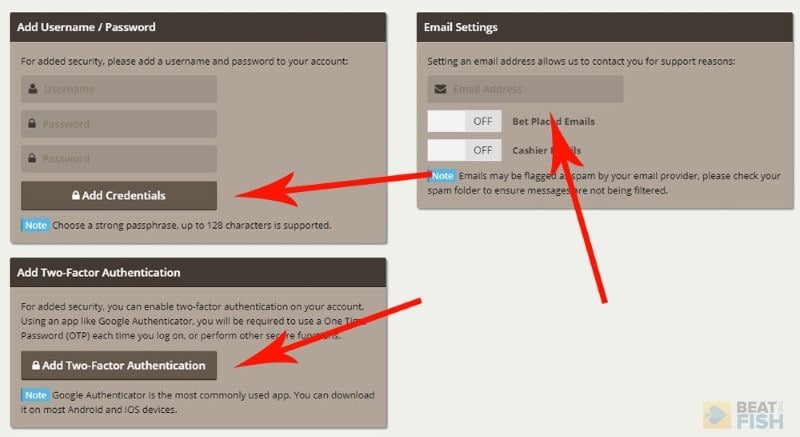 If you want to play poker, some casino games, or bet on sports in complete privacy, Nitrogen Sports can offer anonymity that larger online gambling sites aren't even close to providing.
Understanding Nitrogen Sports and Bitcoin
With everything at Nitrogen Sports done in Bitcoin, there's never any conversion done to USD or any other fiat currency. That's a big difference from mainstream gambling sites like Bovada, who accept Bitcoin deposits but then convert it to USD at the current exchange rate.
At Nitrogen Sports, they just make a Bitcoin wallet deposit address for you, you send them Bitcoin, and then you place bets directly from your wallet with them.
As a big Bitcoin believer, it's kind of cool to always be wagering with Bitcoin, but it can also get a bit confusing. Nitrogen Sports doesn't have any sort of ticker that tells you the current USD value of BTC or how much your bets are in USD.
That left me constantly doing mental math or using an online BTC converter like Preev to realize how much I was betting on a game or what the stakes were at a poker table.
I recommend you always leave Preev open to do quick conversions for Nitrogen Sports bets. It's lightweight and you can quickly plug in poker table stakes in order to know how much you're actually playing for.
For example, placing a bet for .001 Bitcoin doesn't mean a whole lot to me, so I had to figure out that was about $6.75 at current BTC values. Maybe that won't be an issue for smarter folks. I admire Nitrogen Sports for only dealing in Bitcoin, but I think most of us still think of value in Dollars.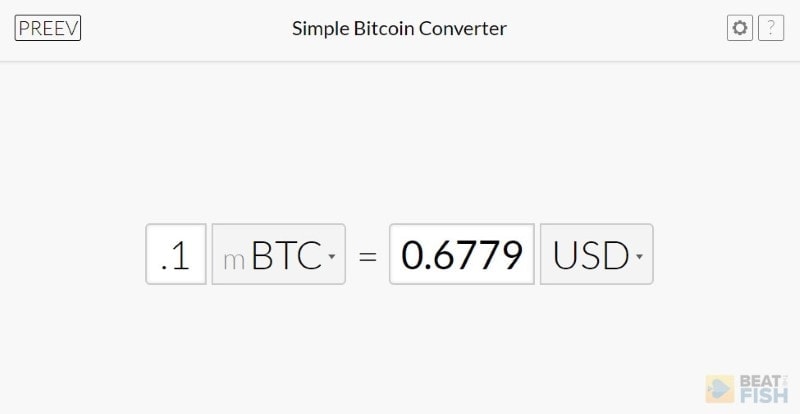 Volatility
The other risk of Nitrogen Sports holding your balance in Bitcoin is that your bankroll value is tied to the volatility of Bitcoin values.
With most online gambling sites, your bankroll is in USD, protected from the changing values inherent to Bitcoin. You can even strategically wait to cash back out to Bitcoin until there's a Bitcoin price rally going on.
At Nitrogen Sports, you're holding Bitcoin at all times, so your fate is tied to whatever the Bitcoin market is doing.
mBTC
For Nitrogen Poker, things even get a little more complicated because the base unit is always mBTC, or millibitcoin. One mBTC is 1/1000th of a Bitcoin.
When Bitcoin is valued in the 4-figure range, as it has been for a while now, an easy mental shortcut is to think of the first digit as the dollar value. For example, when 1 BTC is $7,000, then 1 mBTC is $7. When Bitcoin gets back to 5-figures (wishful thinking, I know), it'll be the first 2 digits.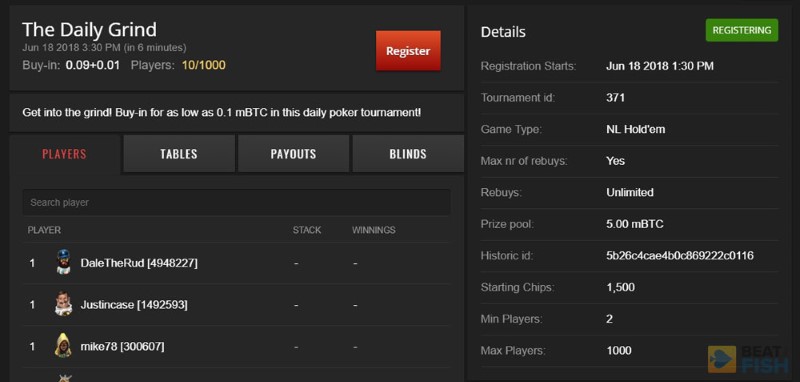 Okay, so mBTC is simple enough to understand, but now you've got to do more math to figure out the stakes at each Nitrogen Poker cash game or tournament.
Tournaments might have a 50 mBTC guarantee with a 0.1 mBTC buy-in. Cash tables go all the way from .01/.02 mBTC up to occasional games of 1/2 mBTC.
That might sound modest, but in USD that's actually about .07/.14 and $7/14. When Nitrogen Poker values are displayed in mBTC, it can be easy to forget you're playing for more than it looks like.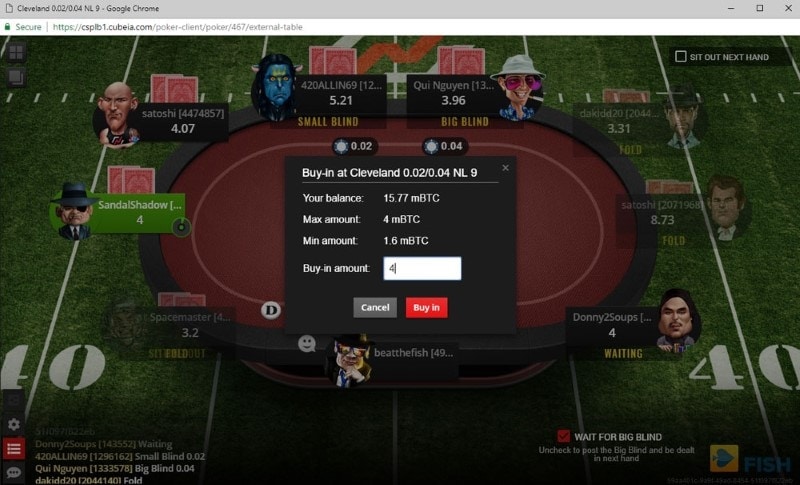 Nitrogen Sports Deposits
As a Bitcoin-only gambling site, Nitrogen Sports doesn't mess around with other deposit methods. It's Bitcoin or bust. The best part is that, because Nitrogen Sports is never dealing with banks, credit cards, or cutting checks, there's virtually no chance of being shut down by any government body.
The deposit interface is a little different than on mainstream sports, casino, and poker sites.
Bigger gambling sites ask how much you want to deposit in USD and then giving you a Bitcoin address with a timer to send an exact amount to. Nitrogen Sports simply gives you a Bitcoin address to deposit to. Just click your yellow Bitcoin balance at the top to get there.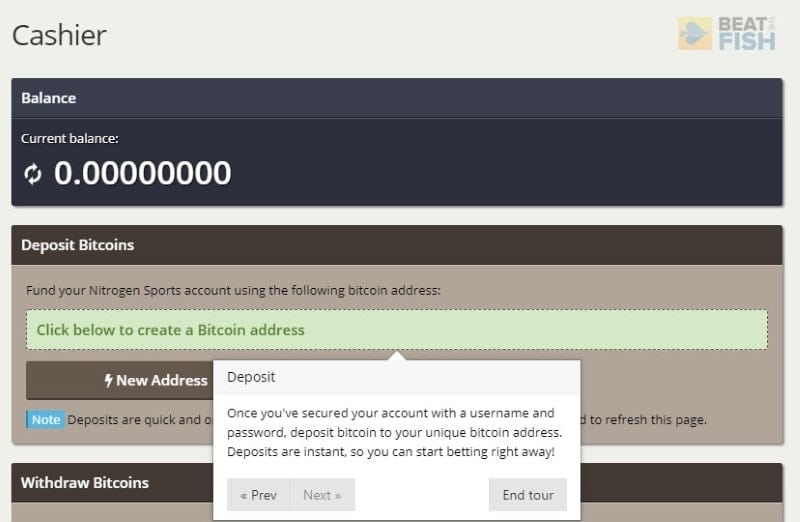 You can send any amount of Bitcoin to your Nitrogen Sports deposit address and you'll see it show up in seconds on the right side. Nitrogen Sports doesn't let you wager with it until you've gotten at least one Bitcoin confirmation.
The Bitcoin network isn't clogged at all these days, meaning this should only take about 10-60 minutes. My Nitrogen Sports BTC deposit took about 45 minutes to confirm.

What I like about how Nitrogen Sports does Bitcoin deposits is that they show unconfirmed deposits and link you directly to the blockchain transaction to check on its status. Bigger sites tend to just leave you guessing and refreshing, paranoid that you sent your Bitcoin to the wrong address.
Payouts
For a betting site that uses Bitcoin exclusively, I was especially interested to see how Nitrogen Sports handled payouts. There's a box to enter your withdrawal Bitcoin address built right in to the cashier.
After entering a small 13 mBTC payout request, Nitrogen let me know that it would be adding a .0001 BTC processing fee.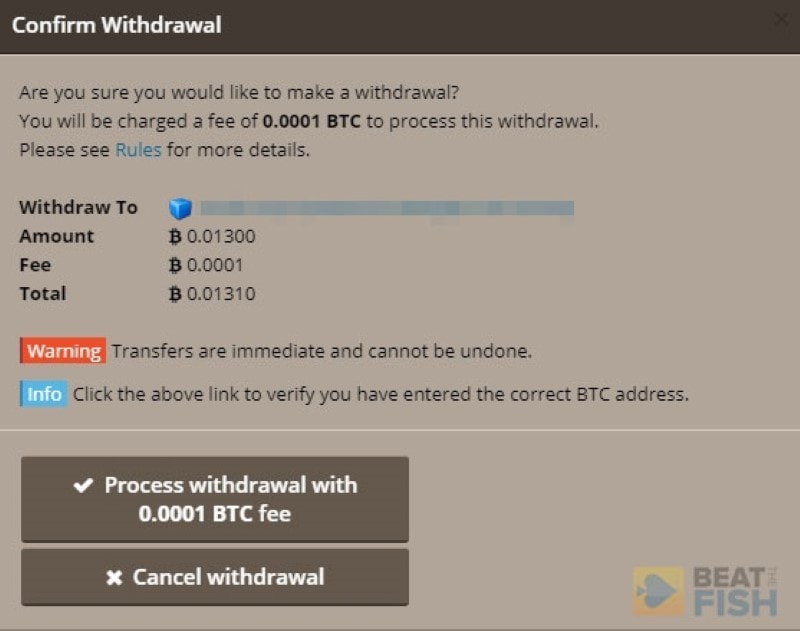 I was fairly irritated by that; unnecessarily so after having a very positive experience at Nitrogen. That .0001 amounted to less than 70 cents, which is almost nothing, but the fact that Nitrogen Sports would risk annoying its players for such a small amount of money seems myopic. They should just eat it for the sake of player goodwill.
If Nitrogen wants to charge players the miners fee, it would be a petty, but logical, request, but they simply call this a flat "processing fee". The bigger gambling sites accepting Bitcoin send out payouts for free. Nitrogen Sports would do well to follow their lead.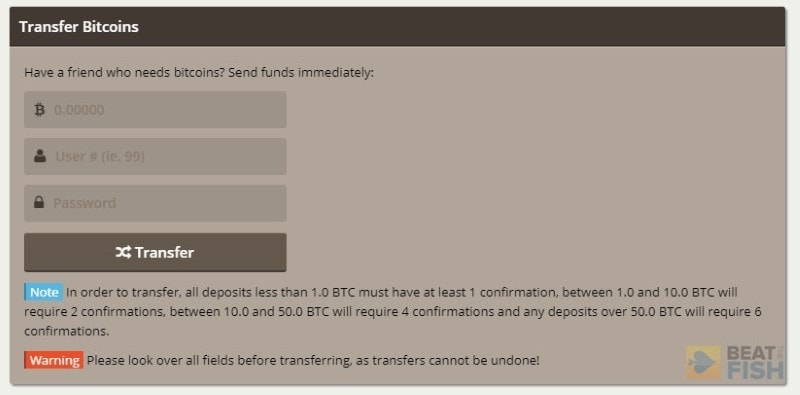 I learned that Nitrogen Sports only charges the payout fee for accounts under a week or if you request more than one withdrawal in 6 days. So, accounts over a week old who only request withdrawals once a week will get them sent for free.
Again, it's a minuscule fee, but it feels unnecessary.
The actual payout time from Nitrogen Sports was excellent. I received BTC to my wallet in about 4 hours, which is some of the fastest I've gotten Bitcoin from any gambling site. Anything under 12 hours impresses me, so Nitrogen Sports easily passes my withdrawal time test.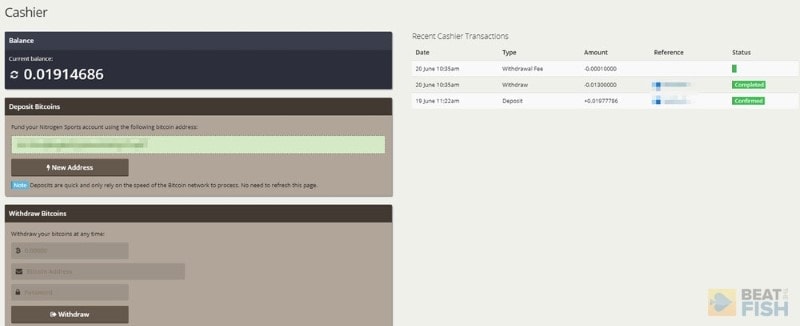 Nitrogen Sports bonus
There is currently no conventional deposit bonus at Nitrogen Sports, which is quite a disappointment.
Although I value deposit bonuses a lot lower than most, it seems like Nitrogen Sports is shooting itself in the foot not to offer anything at all to entice new players to make a deposit. It certainly stands out with competitors throwing around bonus numbers with a lot of zeroes in giant fonts.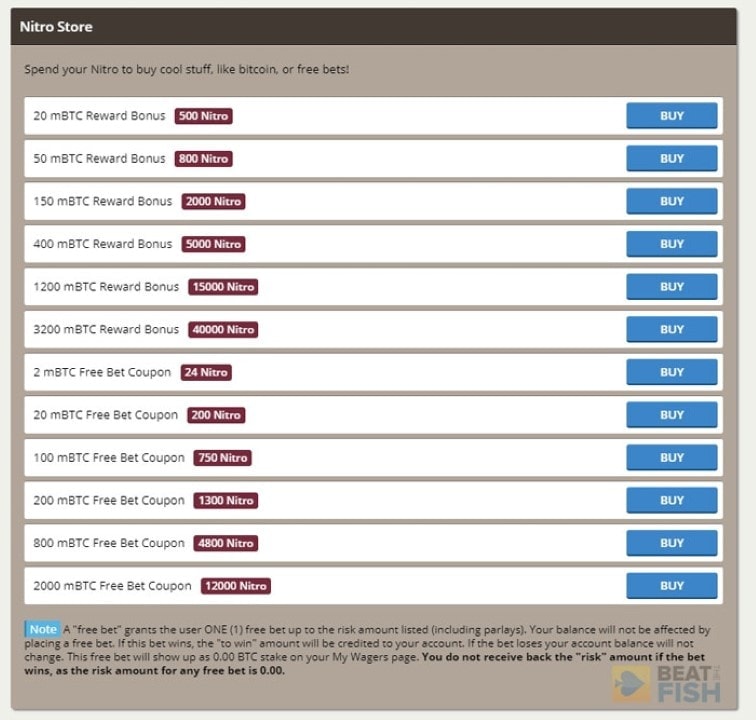 Nitrogen Sports does have the Nitro Points system and the Bronze, Gold, Platinum, and Diamond rewards tiers. Similar to other online gambling rewards systems, you earn rewards at a higher rate the more you play each month.
You can exchange your Nitro Points for either free sports bets or real money in mBTC. The free bets can be had for a fairly low amount of Nitro. If you earn Nitro via poker play, you also unlock pretty valuable daily and weekly private freerolls.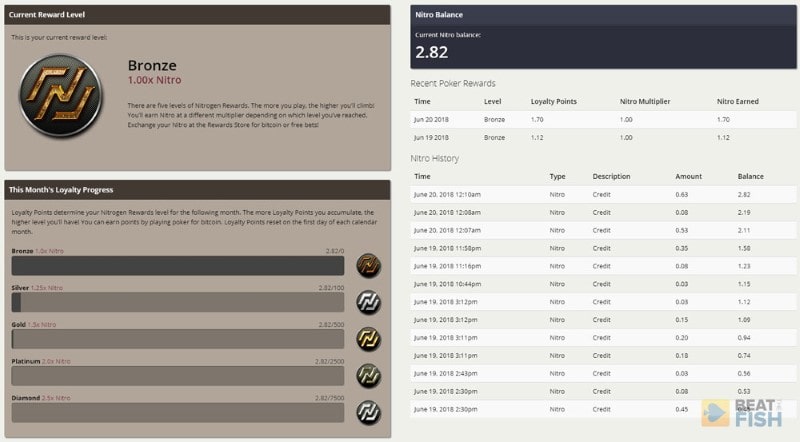 Although the Nitro rewards system is serviceable enough, Nitrogen Sports should strongly consider adding a real deposit bonus to be competitive with other real-money gambling sites.
Sports
The focus of Nitrogen Sports is, naturally, betting Bitcoin on sports. They have an impressive number of sports available besides the major American football, basketball, baseball, and hockey leagues. You can bet on rugby, cricket, tennis, or rousing obscurities like handball or chess.
Here's the complete list of sports that Nitrogen Sports supports betting on:
eSports
Tennis
Basketball
Soccer
Baseball
Cricket
Eating Contests
Football
Golf
Hockey
MMA
Aussie Rules Football
Badminton
Boxing
Chess
Darts
Motorsports
Rugby
Table Tennis
Volleyball
I can't think of any sporting matches Nitrogen Sports doesn't offer betting on.
The sports betting selection is comparable to major sports sites like Bovada, with Nitrogen Sports offering a few extra rare sports.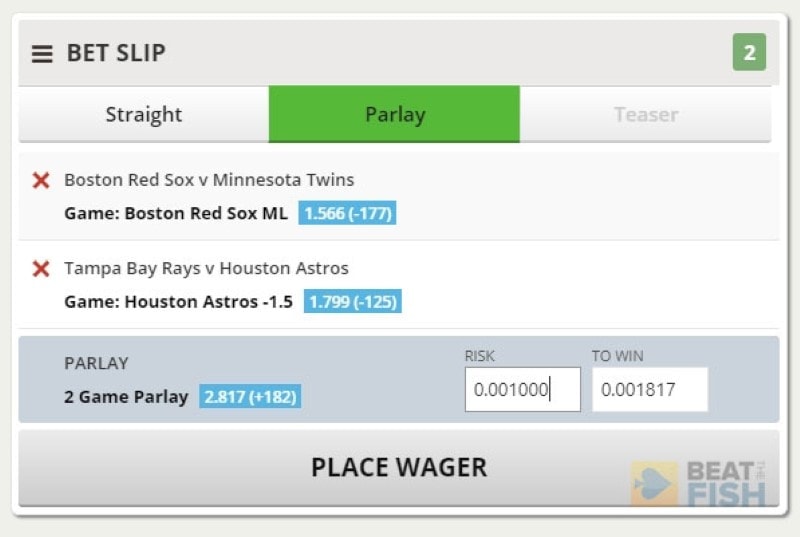 The minimum bet at Nitrogen Sports is .0001 BTC. That's about 60 cents USD at current Bitcoin values.
The sports betting interface is easy to understand and you easily switch from single straight bets to build-your-own parlays in your bet slip. There are countless props and live betting on current matches.
What I like about Nitrogen Sports is that, like the Bitcoin blockchain itself, everything is public. You can share any of your bet slips with anyone using its own URL.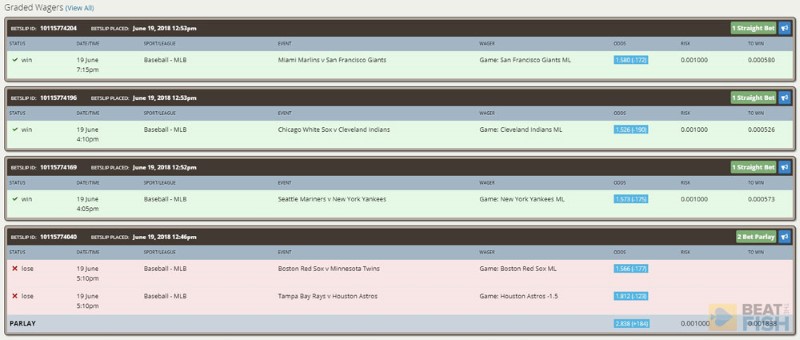 Esports Betting
One of the more popular sections of Nitrogen Sports is the esports section. Nitrogen has money line, point spread, and over/under betting on esports matches in most popular leagues, including:
CS:GO
Dota 2
League of Legends
Esports are a popular betting option during the day, before major sports games start in the evening. With esports matches tougher to verify, Nitrogen Sports sometimes takes some time after a match ends to grade it.
Players can request that Nitrogen admins grade a match quicker in the site-wide chat box.
Casino
The Nitrogen Casino section is quite small, only offering these games:
Dice
Baccarat
One Deck Blackjack
Two Deck Blackjack
Eight Deck Blackjack
Three Card Poker
Knockout Slots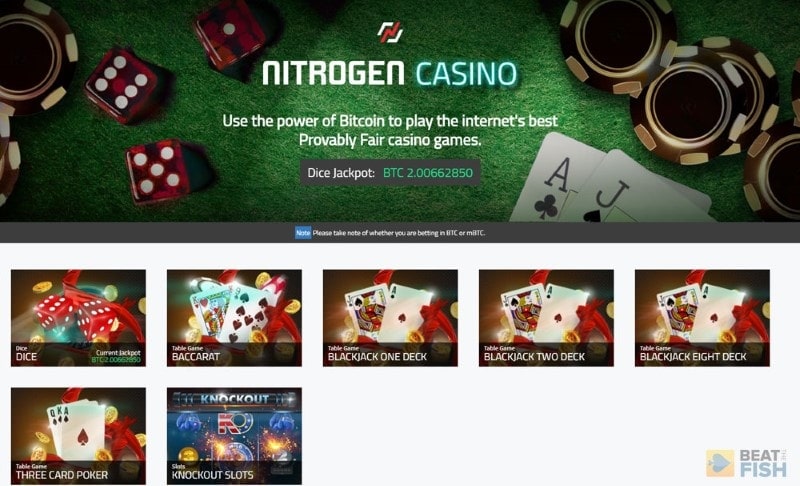 However, the highlight of the casino games is the Provably Fair system. In fact, it seems like the 7 casino games exist simply as a case study of this unique fairness system.
Most online casinos have an obfuscated fairness system. They rely on a random number generator the players can never inspect. Online casinos often boast that they've been licensed and inspected by some offshore government body, but there's nothing players can do to verify that the RNG is working properly.
We'd all like to believe that online casinos we trust with our real money deal fair games and fair spins, but intangible trust is all we have to rely on.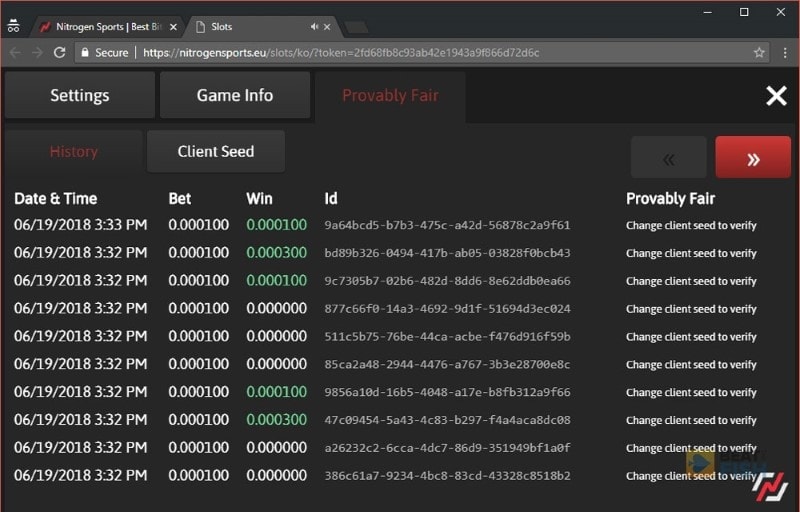 At Nitrogen Sports, you can click the "Provably Fair" icon at any casino game to get a whole host of technical details on the game results. It looks like this: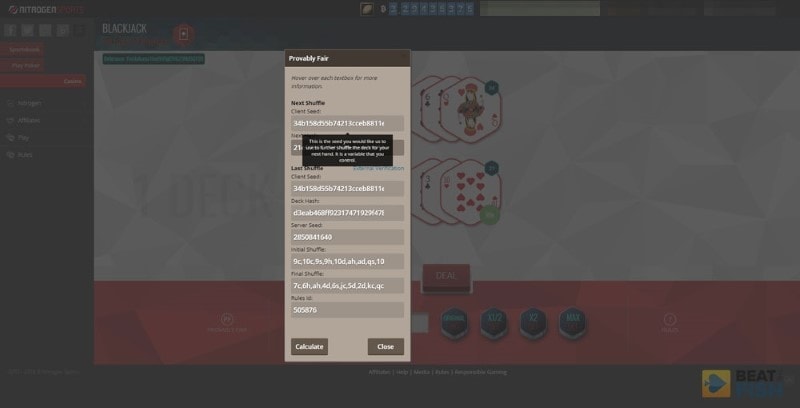 I don't pretend to be able to understand those numbers, but I appreciate that Nitrogen provides the details if you wanted to take it a step further to prove that you were treated fairly. They even include a built-in link to a third-party verification service if you do understand the coding.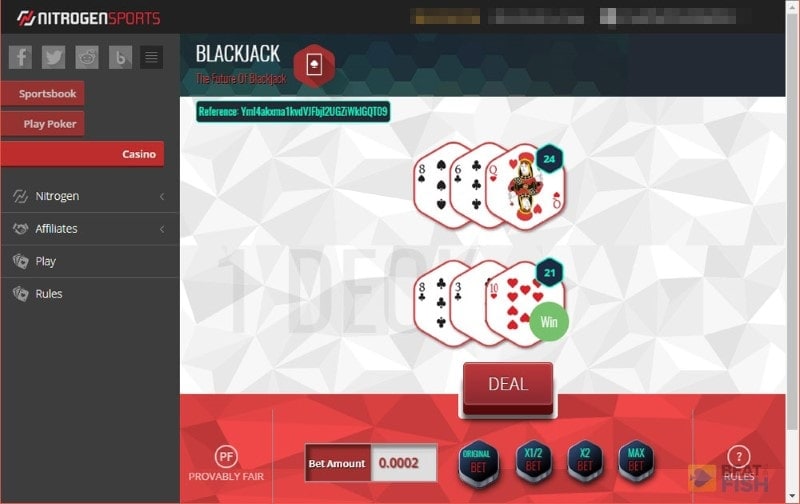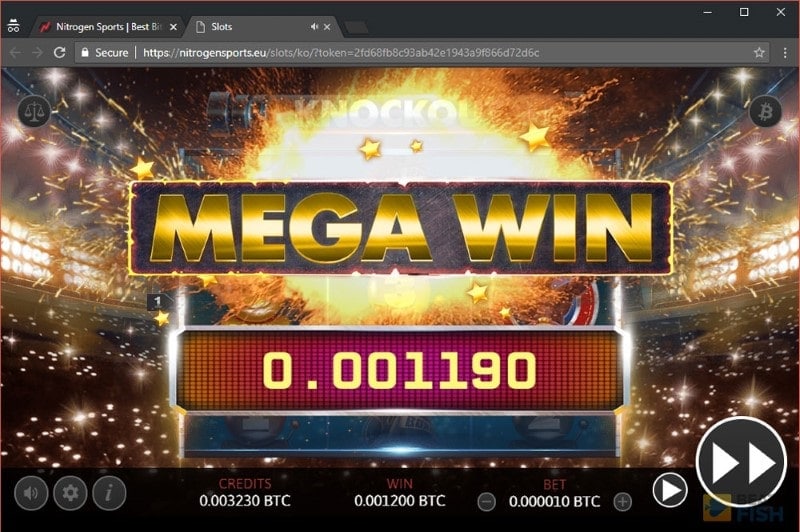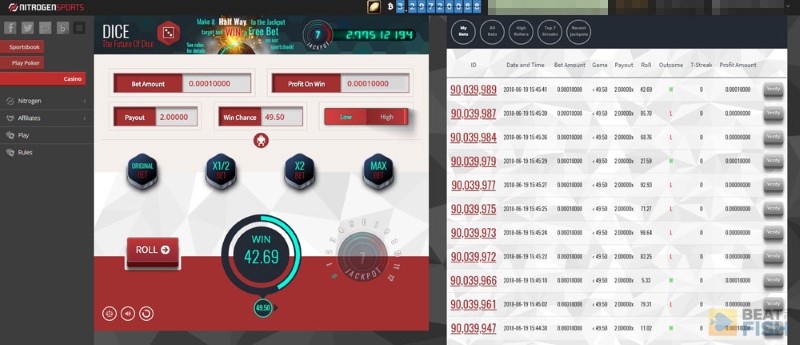 Poker
Since I'm predominantly a poker player, the Nitrogen Poker section was what I was most interested in reviewing. The real-money USA-friendly poker landscape has pretty much remained unchanged for the past several years. Could a Bitcoin-only upstart compete with the big boys?
In short, I liked Nitrogen Poker more than I expected to and they're doing a lot of good things. Nitrogen Poker has real potential. They've also got some growing to do before making the impact they could.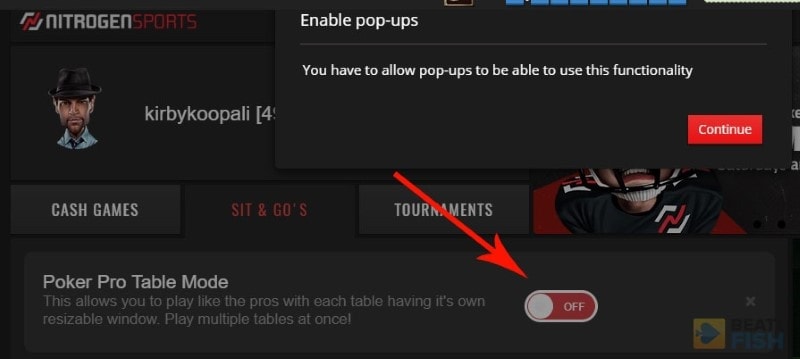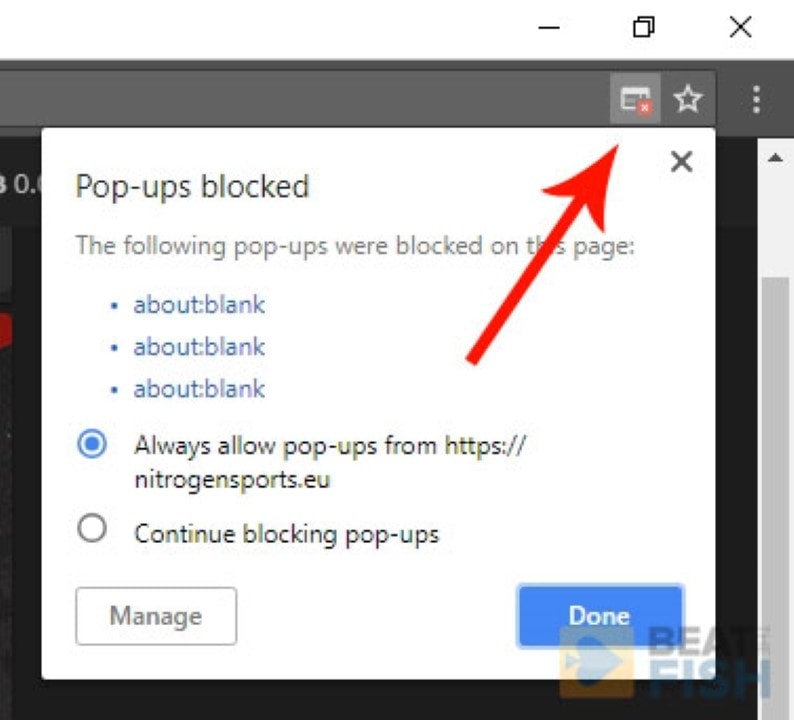 When you first open the Nitrogen Poker lobby, be sure you understand that you're looking at everything in mBTC, which is .001 BTC (1/1000th of a Bitcoin). That's usually going to run around $6-8 depending on the price of Bitcoin.
I recommend keeping the Preev Bitcoin converter open and plugging in the mBTC numbers before joining a table to get an idea of what you're playing for in USD or EUR.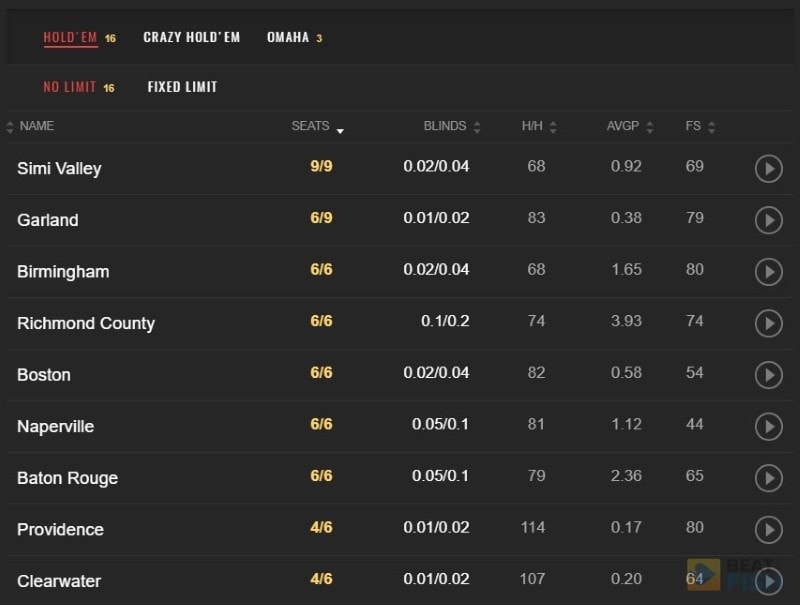 For example, a popular cash table limit at Nitrogen Poker is .02/04. That looks like pennies, but the minimum bet is about .27 in USD and the maximum buy-in almost $30. Tournaments may have a 1 mBTC buy-in, but that's around $7.
Nitrogen Poker and HUDs
Nitrogen Poker explicitly bans HUDs, which I'm always in favor of doing. I'm not even sure how a HUD would work at Nitrogen Poker with its browser-only interface.
Although players can keep notes on each other, you're free to change your username and avatar at any time to avoid being recognized by the small group of Nitrogen regulars.
Software
Nitrogen Poker is playable entirely from your browser window and there isn't a standalone download. No other major poker site runs that way. This has both pros and cons.
The biggest pro is that there's nothing to install and you can play it on any platform or operating system. Nitrogen Poker on mobile works just as well as it does on a desktop.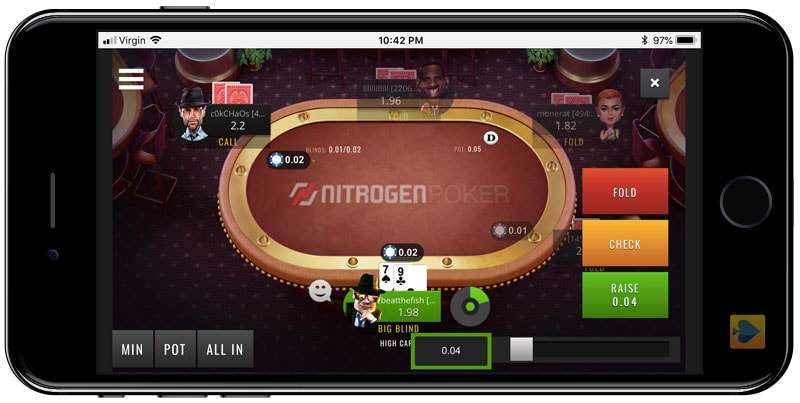 Nitrogen Poker feels incredibly lightweight, meaning it never seemed to slow down, hang, or glitch regardless of how many tables I had open. That was impressive considering that it runs only from your browser.
The graphics are sharp and vector-based, which allows you to maximize table windows to full screen without a loss of image quality.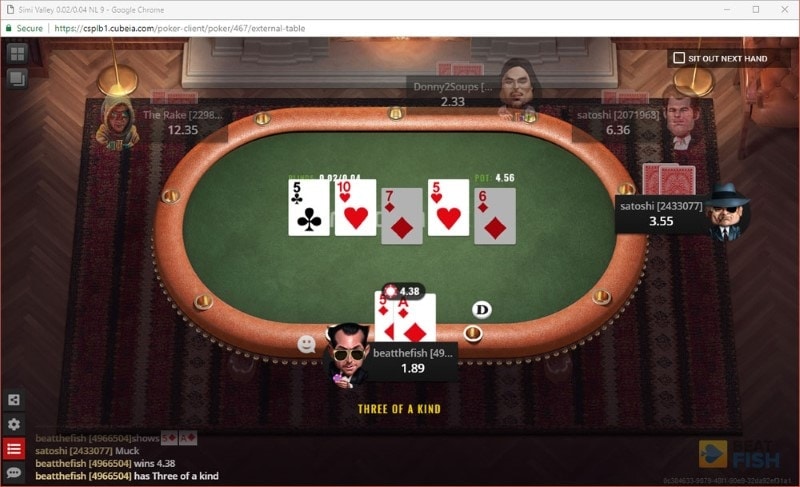 The biggest con of an in-browser poker approach is the lack of advanced features. The table options are very limited, although I liked the vibrant and colorful table themes.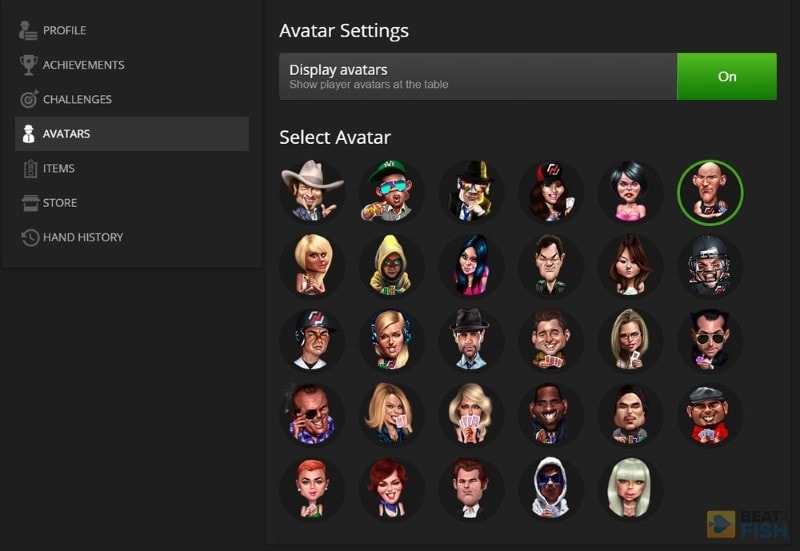 However, the biggest annoyance to me was that Nitrogen Poker can't bring tables to the front or flash them on your taskbar when it's your turn to act. I didn't realize how much I had come to rely on that, but it's something I took for granted after every downloadable poker room I've ever played on had it.
Because Nitrogen does everything in-browser, you'll need to keep a constant eye on your Nitrogen Poker tables. They have no way to get your attention if you're on another window checking email. Unfortunately, you'll see a lot of players randomly sitting out because of that.
Nitrogen Poker does have a nice tile option that can fit multiple tables so they're all visible. I highly recommend tiling your tables if you're multi-tabling.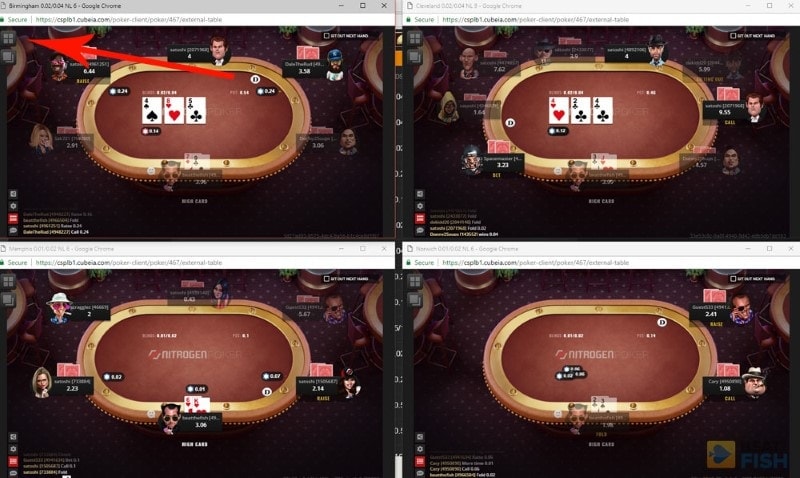 Another strange omission by Nitrogen Poker is the lack of a waiting list function. Again, I've just come to expect that with every other poker site including waiting lists for years. Since Nitrogen Poker doesn't usually have more than 8-10 active tables, each limit will have only 1 or 2 tables going.
If they're full, your only choice is to keep checking back manually for a seat to open up.
Traffic
The biggest complaint I have about Nitrogen Poker (and it's one that plagues almost every online poker startup) is the lack of traffic. During the busiest hours of 5-10 P.M. EST, Nitrogen only has around 100 cash players.
Besides freerolls, real money buy-in tournaments rarely surpass 50 players. Nitrogen is still drawing a lot more players than other Bitcoin-only sites, such as SwC Poker.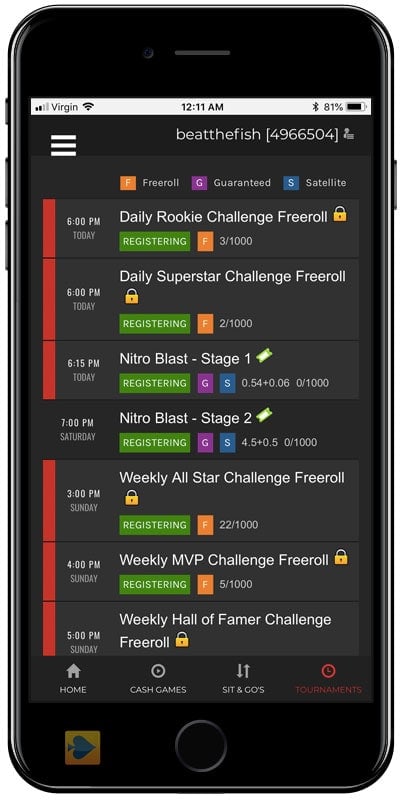 There aren't a whole lot of players at Nitrogen Poker, but, in a way, that's part of the charm. You'll often see the same players at multiple tables and it feels like a tight-knit crypto community rather than a faceless cutthroat competition.
It's like you're all in on a secret little poker site together.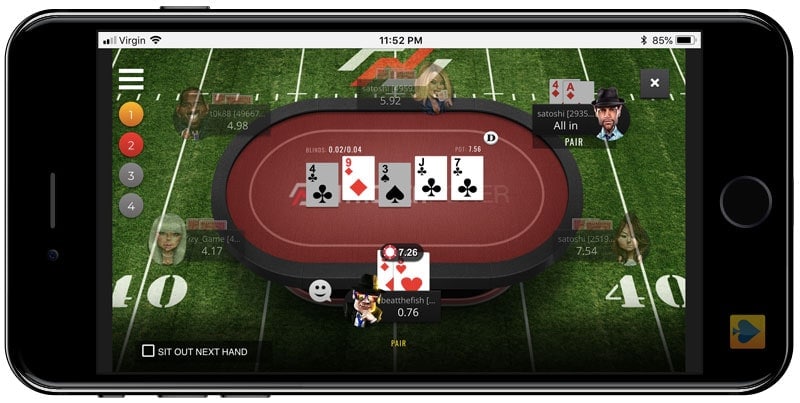 Even with the low player count, the cash stakes that fill up at Nitrogen Poker are fairly high. The lowest stakes are .01/.02 mBTC, which is about $.06/.12. However, 0.25/0.50 mBTC tables are almost always filled, which is about $3/6.
Occasionally, 1/2 and 2/4 mBTC tables will fill up, which is higher than many bigger poker sites draw.
Tournaments
With its low traffic, Nitrogen Sports only has around 10-12 daily tournaments, although almost all of them have guarantees. For example, there's a daily 50 mBTC guarantee, which is about $350. Unfortunately, the buy-in is around 10% of the guarantee at 5 mBTC!

The big weekly Sunday poker tournament at Nitrogen is 500mBTC (~$3,500) with a 20 (~$140) mBTC buy-in. I do like that almost none of the tournaments offer rebuys.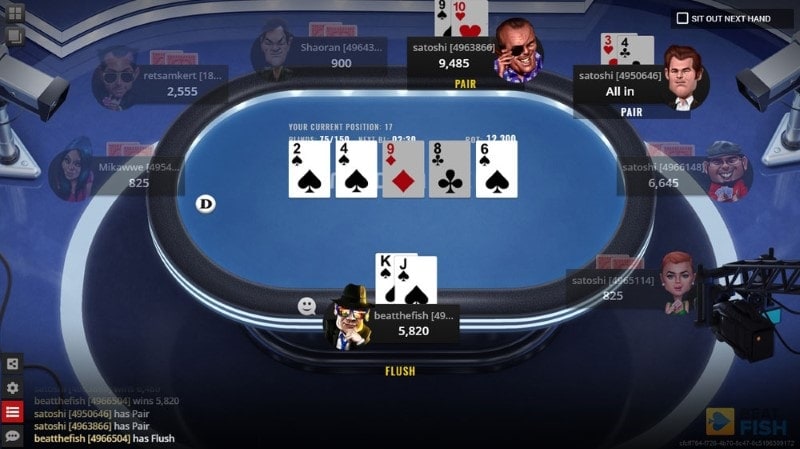 Nitrogen Poker Freerolls
Although rarely do I spend my time on no-restrictions freerolls, they can serve a purpose in getting to learn the software of a new poker site before playing for real money. As more poker sites have eliminated or reduced their freeroll generosity, Nitrogen Poker is actually one of the best freeroll sites left in the USA poker market.
Anyone can enter their daily 7 P.M. EST freerolls, which award 8 0.6 mBTC tournament entries each. The best part is that, since almost no one knows about Nitrogen Poker, less than 200 players enter each one.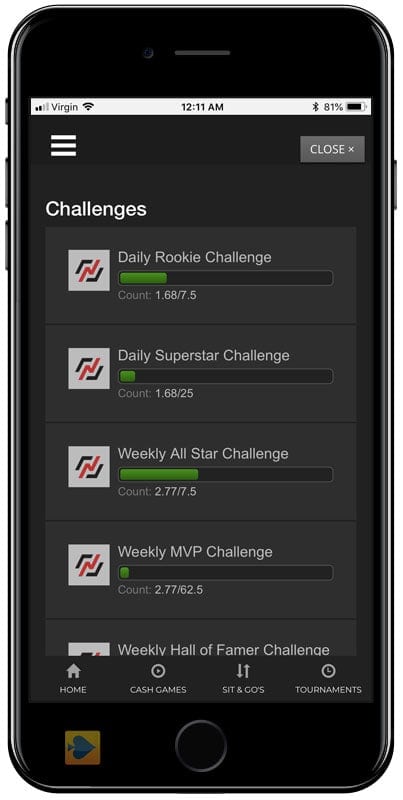 Better than that are the freerolls for regular Nitrogen Poker players. The Rookie and All-Star Challenges are fairly easy to unlock by earning 7.5 Nitro Points per day and per week. You can then play in a daily 50 mBTC freeroll and a weekly 200 mBTC freeroll. Bigger players can unlock entrance to a 500 mBTC weekly freeroll.
None of these restricted freerolls usually see more than 50 players each, making your entry effectively worth between $5-75 each.
Game Looseness
Nitrogen Poker doesn't have a lot of games, but they're certainly above-average on the Fish Rating scale.
The Nitrogen lobby doesn't show the traditional metric of the percentage of players seeing the flop, but they show an unorthodox "flops seen" percentage. This can reach as high as 80% on some tables, but it isn't a perfect indicator of loose games. Average pot size is shown and it's above-average in size, usually settling in around 20-30x.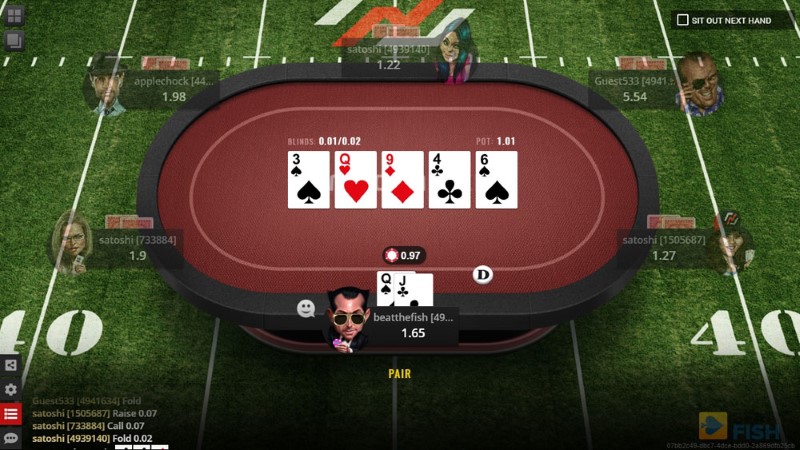 Actually playing at the cash games and a few tournaments, however, gave me a feel for how Nitrogen Poker plays.
Most players seem casual and loose, with many moderate pre-flop raises becoming big community pots. I experienced plenty of wild bluffs and the occasional complete cash game maniac going all-in every other hand.
I think the mBTC stakes help Nitrogen Poker players forget how much they're actually playing for. Also, it's likely there are a bunch of sports bettors who wander in to the poker section.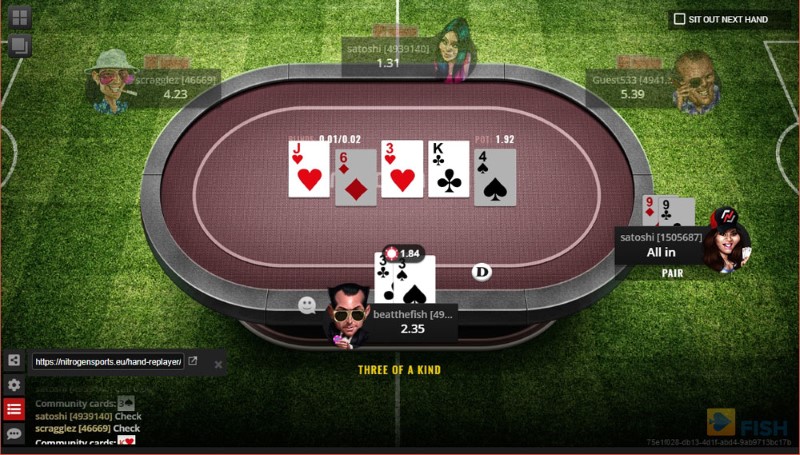 Simply put, Nitrogen Poker games aren't a tough nut to crack.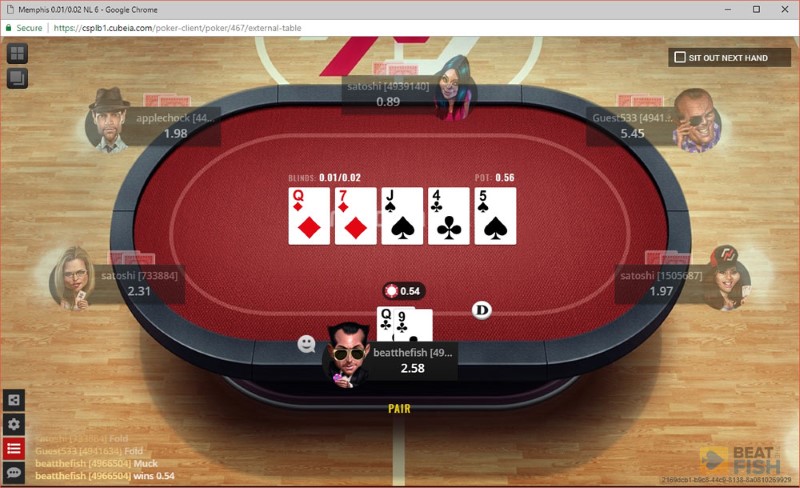 Mobile
Nitrogen Sports mobile is one of the better mobile betting implementations I've seen.
Everything that's available on the full website is available from any mobile browser, including the sports, casino, and poker sections. There is no Nitrogen Sports app to download because it just works directly from the website.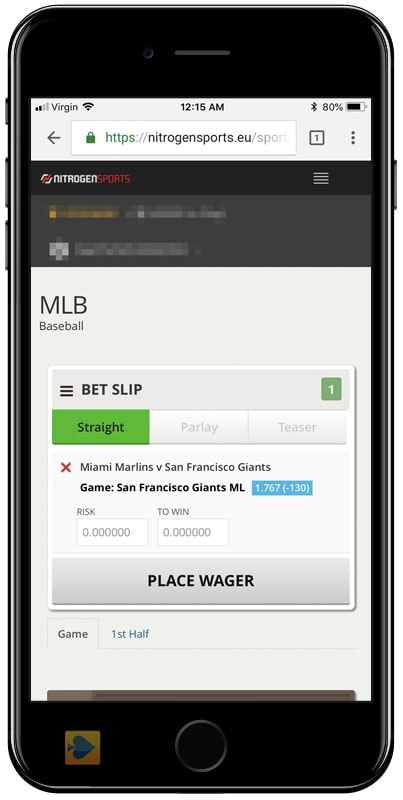 Casino animations run smoothly, but I'm most impressed by Nitrogen Poker on mobile. Unlike poker sites such as Bovada or BetOnline, Nitrogen Poker doesn't require Android files to download or an iOS shortcut. From the website, you'll see the Nitrogen Poker lobby, you choose a table or tournament, and then it just works in your browser.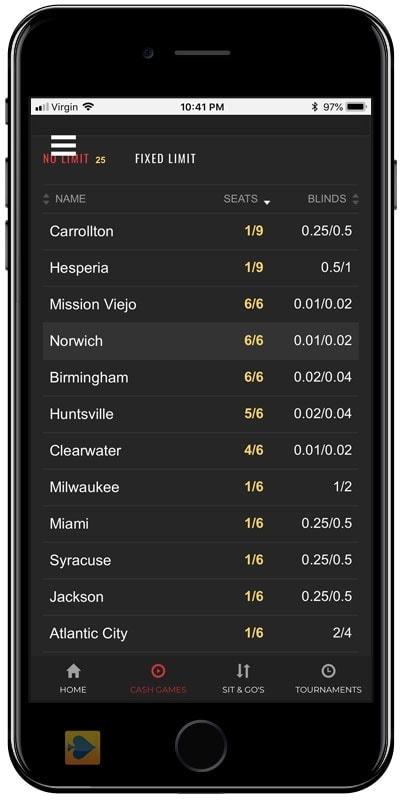 I played Nitrogen Poker on mobile for several hours without a glitch or delay, even when switching between 4 tables. Nitrogen Poker also has one of the best ways I've seen to display multiple tables.
You'll see every table as a small number on the left side and it will change to yellow when the action is on you. Tap the number and you'll see the table appear instantly. For a smaller poker site, Nitrogen Poker could teach a lot about mobile to the bigger ones.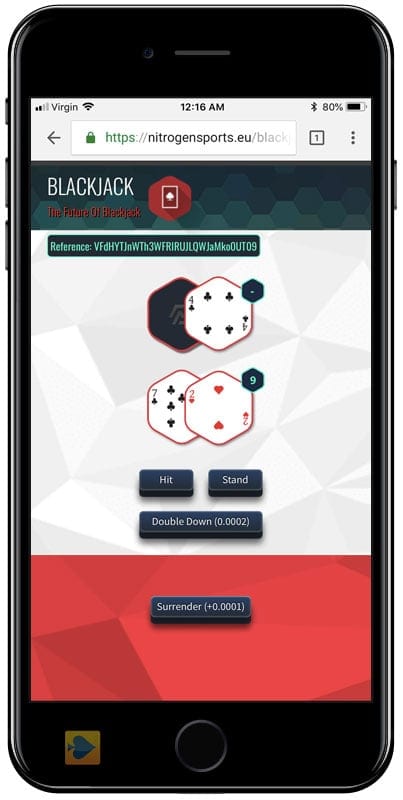 Support
It sounds very simple, but the '90s-era group chat room at Nitrogen Sports is one detail that stood out to me compared with the bigger online betting sites. It's a "troll box" style chat window that pops up at the top of your window every time you load a new page. It reminded me of the FUD-filled crypto chat rants at exchanges like Poloniex.

Besides the grammatically-challenged conversations from Nitrogen players about cryptocurrency prices and upcoming sports games to bet on, there's always a Nitrogen staff member present. They'll answer questions about the site, check on payouts, or try to speed up grading of obscure sports matches.
I still would prefer that Nitrogen Sports include a classic one-on-one live chat for support, but the chat room is sort of an interesting throwback. Fortunately, you can also close it at any time.
The other support method is an in-site email ticket system, which got me a response in about 12 hours. The rep seemed very helpful and forthcoming, but that's something Nitrogen should work on reducing.

Nitrogen Sports also has their own Reddit sub, but it isn't an official channel monitored by their staff. I wouldn't recommend posting questions there you actually want Nitrogen to answer it themselves.
Two-Factor Authentication
The option of Two-Factor Authentication by Nitrogen Sports is so useful and so obvious that it's egregiously bad that bigger online gambling sites don't offer it. We're in such a dangerous era of information hacking that I use Two-Factor on every website that supports it, from Facebook to Twitter to PayPal.
Two-Factor Authentication forces users to provide a code generated by an app on your phone to gain access to an account, even if they have the password.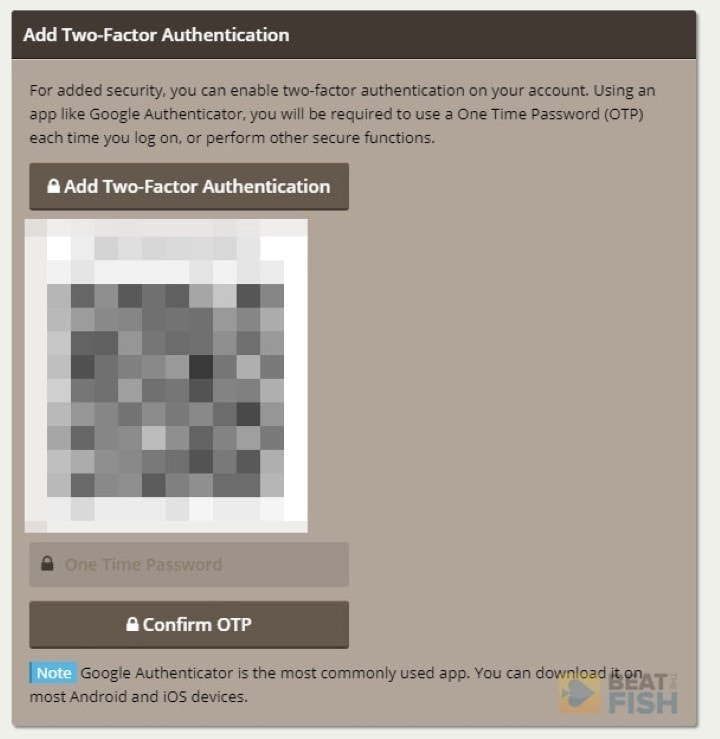 That code is only generated by your device, meaning even if a hacker has your password, he can't get into your account. I recommend the Authy app for generating your codes over Google Authenticator. It looks better, can be used on multiple devices, and can back up all your two-factor QR codes in case you change your device.
As a holder of your real money, of course gambling sites should use Two-Factor! Sadly, Nitrogen Sports is the first betting site I've seen take advantage of it. Absolutely enable it on your Nitrogen Sports account. It essentially makes you hack-proof.
Nitrogen Poker and VPNs
I've read some reports from players and the Nitrogen Sports sub-Reddit that payouts may not be processed if you're using a VPN. Conversely, other players have said they always use a VPN and regularly cash out their Bitcoin just fine.
Due to the anonymous accounts Nitrogen Sports allows, I understand their hesitance if a player suddenly requests a cashout from a very different IP address.
I suspect that if you have Two-Factor enabled on your account, Nitrogen Sports is less likely to care which IP you're using, as a third-party wouldn't be able to log in to your account. Also, if you've always used your VPN to play and chose the same location every time in your VPN, you probably won't have an issue.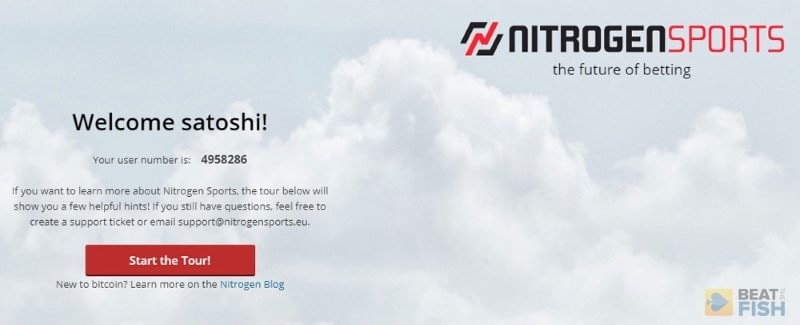 Conclusion on Nitrogen Sports
I don't think Nitrogen Sports or Poker is going to compete with the big boys anytime soon, but that's okay. They're offering an anonymous way to gamble online for Bitcoin, a smattering of casino games with proven fairness, and an efficient poker room with some quality cash games.
I enjoyed my time enough at Nitrogen Sports that I ended up leaving some Bitcoin there to play with after the review process. For a grizzled veteran, that's a big compliment.
A lifelong poker player who moved online in 2004, Josh founded Beat The Fish in 2005 to help online poker players make more-informed decisions on where to play and how to win once they got there. He hopes to counter the rampant dishonesty in online gaming media with objective reviews and relevant features. Tech nostalgic. Fondly remembers the soup avatar at Doyle's Room.