Nucleus Gaming Casino Software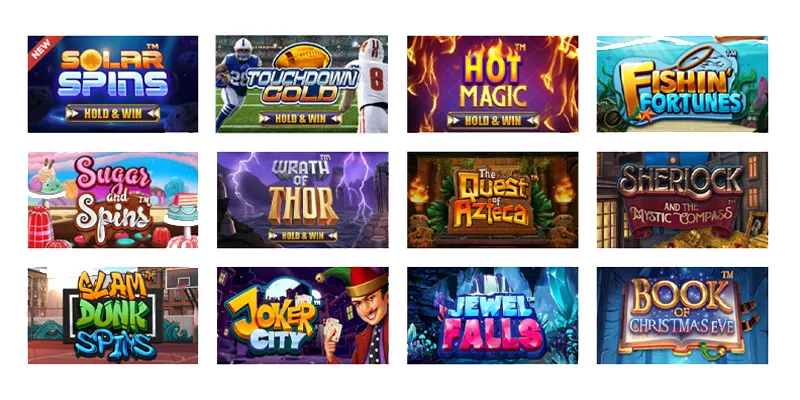 Nucleus Gaming, a relatively young yet intriguing player in the casino software landscape, has carved a niche for itself through its impressive array of games – despite being quite mysterious.
The company's top-tier gaming content has earned Nucleus Gaming a spot in dozens of US online casinos. Here, I'm going to shed light on this up-and-comer in the gaming world, giving you some insight into Nucleus Gaming's approach to software development, top games and overall status in the American gaming market.
Introducing Nucleus Gaming
Not many software providers remain as elusive as Nucleus Gaming. Established in 2015, this Malta-licensed firm has kept a low profile, withholding many details about its operations. However, their reticence doesn't overshadow the exceptional quality of their games.
Game Quality and Variety
Nucleus Gaming boasts a comprehensive selection of casino games across genres. Their library, brimming with over 70 titles, includes online slots, table games, and a robust selection of video poker games. Their online slots, however, are the real showstoppers.
These games, numbering over 100, feature dynamic 3D graphics and a variety of bonus features, multi-stage gameplay, and in-depth characters. Amidst an increasingly competitive gaming industry, Nucleus Gaming's slots stand out, reflecting their commitment to quality.
You can find Nucleus Gaming slots and casino games at some of our favorite casinos, including Super Slots and Wild Casino.
The Best Nucleus Gaming Slots
Nucleus Gaming's portfolio showcases more than 40 real money online slots, each offering a unique gaming experience. The games' formats vary, with different paylines and reel configurations, resulting in distinctive gameplay. These are some of the most popular Nucleus Gaming slots that we've encountered at online casinos.
Scroll of Horus
With 10 paylines and 5 reels, Scroll of Horus is a fairly classic online slot. In this Ancient Egyptian slot, players can trigger up to 20 free spins during which a single symbol is chosen to expand and award scatter pays.
Sands of Egypt
This is another popular Ancient Egypt-themed slot from Nucleus Gaming, with a power bar that is charged whenever Ra symbols appear on the reels. The more Ra symbols you collect, the more free spins you earn.
Sweet Treats 2
Nucleus Gaming's Sweet Treats 2 is a vibrant slot with a cluster format. It's one of the more innovative slots from this developer, with symbols that explode when they create winning combinations and make room for more potential wins. You'll also find all sorts of unique modifier symbols that help improve winning potential.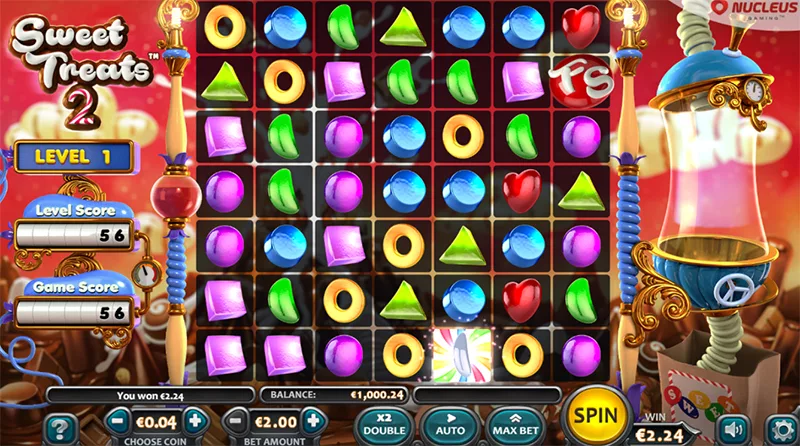 Soaring Wind
Soaring Wind features a 720 Ways to Win format, where you create winning combinations by landing matching symbols on adjacent reels. It also features a free spins round where wild multipliers are activated.
Savanna Safari
Showcasing the African outback, Nucleus Gaming's Savanna Safari slots features vibrant graphics that really draw the players in. It has a 1024 Ways to Win format, with a free spins bonus and up to 20 free spins available.
Moon Bitten
Every online slot developer has to have a vampire-themed game under its belt, and Moon Bitten is Nucleus Gaming's. The slot features spooky graphics that depict
A Diverse Range of Themes
As you can tell based on our picks above, Nucleus Gaming's library features a wide range of themes they explore in their games. From simplistic and serene themes like "Fruit Serenity" to cute and whimsical titles like "Kitty Cutie" and action-packed adventures like "Blades of the Abyss," Nucleus Gaming ensures that their games cater to a variety of player preferences.
Nucleus Gaming's Table Game Collection
Nucleus Gaming's table games adopt a simple yet immersive approach. Players can enjoy games like Zoom Roulette, Blackjack, and Craps, each offering a lifelike experience thanks to the quality graphics and sound effects. The company has created over 20 such titles, catering to the traditional preferences of casino fans.
The studio's impressive collection of table games caters to all types of players. Whether you're a fan of classic favorites or looking for something new and exciting, Nucleus Gaming has you covered. These are some of the games that we believe are the standouts in Nucleus Gaming's table game portfolio:
Zoom Roulette
With its 3D roulette wheel and immersive gameplay, Zoom Roulette takes the traditional roulette experience to the next level. Place your bets and watch as the wheel spins, zooming in to reveal the winning number. It's an exciting new way to enjoy this casino favorite.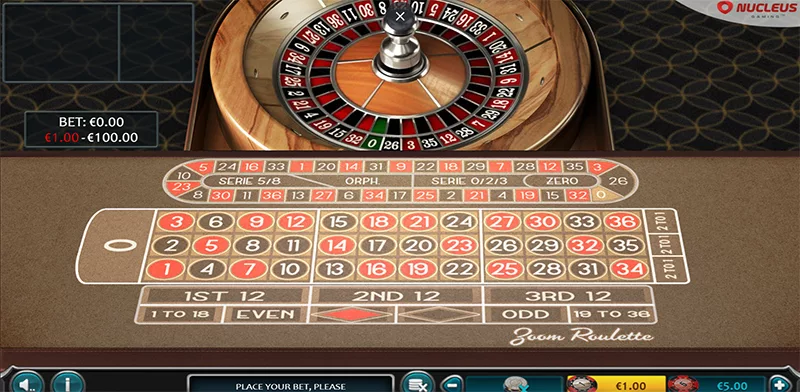 Craps
There's nothing too special about Nucleus Gaming's own version of Craps, but it's just nice to see the studio covering all of its bases. So, if you're looking for a dice game with plenty of action, Nucleus' Craps is the perfect choice. Place your bet and roll the dice, choosing from a variety of betting options. Whether you're a seasoned pro or new to the game, Craps offers endless excitement.
Pontoon
Pontoon is a thrilling variation of the popular card game, Blackjack. In Pontoon, the goal is to get a hand with a value as close to 21 as possible without going over. But there's a twist – a five-card hand that hasn't busted is a winner! With its unique rules and exciting gameplay, Pontoon is a must-try for any Blackjack enthusiast.
Single Deck Blackjack
For those who prefer a more traditional Blackjack experience, Single Deck Blackjack is the game for you. As the name suggests, this variant uses a single deck of cards, offering players the best odds against the house. With its simple yet engaging gameplay, Single Deck Blackjack is a favorite among casino-goers.
Baccarat
Baccarat is one of the oldest and most popular table games in the world. In this simple yet elegant game, players bet on the outcome of a coin flip. With its easy-to-understand rules and fast-paced gameplay, Baccarat is a favorite among both new and experienced players.
Ride 'em Poker
Ride 'M Poker is a fast-paced version of straight poker that offers players the chance to play up to three hands. Whether you're playing against the dealer or yourself, Ride 'M Poker provides plenty of excitement and opportunities to win big.
Three Card Rummy
Three Card Rummy is a real-time variation of Blackjack that offers a unique scoring system. The objective is to get a hand with a lower value than the dealer's, with special bonuses for certain card combinations. With its fast-paced gameplay and strategic decision-making, Three Card Rummy is a favorite among card game enthusiasts.
Draw High Low
Draw High Low is a simple yet addictive card game with pretty good odds. Players bet on whether the next card drawn will be higher or lower than the previous one. With its straightforward gameplay and potential for big wins, Draw High Low is a game that keeps players coming back for more.
Video Poker
Nucleus Gaming has not only excelled in the realm of slots and table games; the brand has also create some top-notch video poker titles. Their video poker games are visually appealing and offer a range of gameplay options to suit different player preferences.
From single-hand games like All American, Jacks or Better, and Deuces Wild to multi-hand games like Five Draw Poker and Double Jackpot Poker, Nucleus Gaming has created an extensive suite of video poker titles.
Mobile Gaming and Quality Content
Understanding the growing popularity of mobile gaming, Nucleus Gaming has adapted its games for mobile devices. This allows players to enjoy their games on the go or from the comfort of their homes. The company's focus on delivering immersive gaming experiences, coupled with its commitment to quality, makes it a top pick for many online casinos.
Commitment to Quality
One thing that really sets Nucleus Gaming apart from other software providers is its commitment to quality. Each table game created by Nucleus Gaming is crafted with great care and attention to detail, ensuring a high level of player engagement and enjoyment.
So many other casino game developers fail to keep innovating once they've got their foot in the door. This isn't the case with Nucleus Gaming, though. The brand works hard to ensure that every new release is better than the last, with engaging gameplay features a beautifully-designed graphics.
Nucleus Gaming's table games feature stunning graphics, smooth animations, and realistic sound effects, creating an immersive gaming experience. The company understands the importance of mobile gaming and has adapted its games to work seamlessly on a variety of devices, allowing players to enjoy their favorite table games on the go.
Final Thoughts on Nucleus Gaming
Nucleus Gaming, despite its enigmatic presence, has proven its mettle in the competitive casino software industry. Its extensive portfolio of high-quality games, coupled with its potential ties to Betsoft, underscores its significant potential.
As we await more information about the company, one thing is certain: Nucleus Gaming's offerings continue to inspire intrigue and enjoyment among casino players worldwide.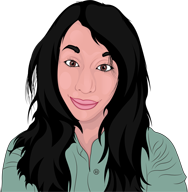 Bethany has been working in online gambling for over 13 years. She got her start in the industry as her first job after graduating from the Professional Writing Program at York University. Having written for many online gaming publications and worked with top casino operators, she has unique insight into the gambling market. Bethany maintains a personal interest in iGaming as she continues to play poker online as a hobby.