Protecting Against Your Worst Nightmare with Pocket Kings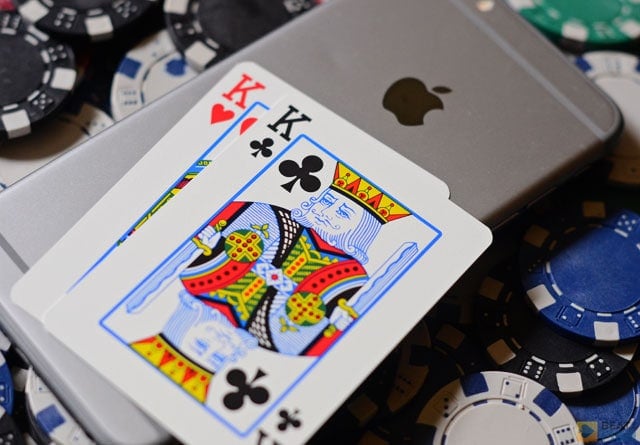 If you thought I hated slowplaying Aces, don't even get me started on slowplaying pocket Kings.
Especially when you're playing online, it's a big mistake to try to slowplay pocket Kings pre-flop.
The reason is simple: even you have a big hand preflop it is vulnerable to all sorts of random hands on the flop, which is what you're going to get when you allow multiple limpers in.
The odds are clear: while big pocket pairs are the strongest hands in Texas Hold'em their average winning percentage takes a walk off a cliff when played against multiple opponents.
Low-stakes online players will often call a big raise with trash hands and they'll definitely call the minimum bet with trash hands.

Let's take a look at why pocket Kings may be the worst hand in Hold'em to slowplay pre-flop.
Common pitfalls of slowplaying pocket Kings
Do you want to make it that much easier for the online fish to draw out on you? Not only are pocket Kings vulnerable to hands that hit two pair, a set, a straight, a flush, etc., but they're also vulnerable to anyone with an Ace.
With so many online players that play Ace-anything, you shouldn't voluntarily let them into the pot cheaply.
From any position you should raise your pocket Kings. On especially loose tables, you might even want to raise it more than you usually would – perhaps 5 or 6 times the big blind.
An example hand illustration
Consider this hand: you're in second position with pocket Kings. You just call the minimum bet, hoping that at least one of your opponents would raise the hand and you could gain additional bets.
Unfortunately, no one raises the hand.
Two other players call the minimum bet, the small blind folds, and the big blind checks to see the flop.
The flop comes 4-Q-10 and you've got an overpair to the board.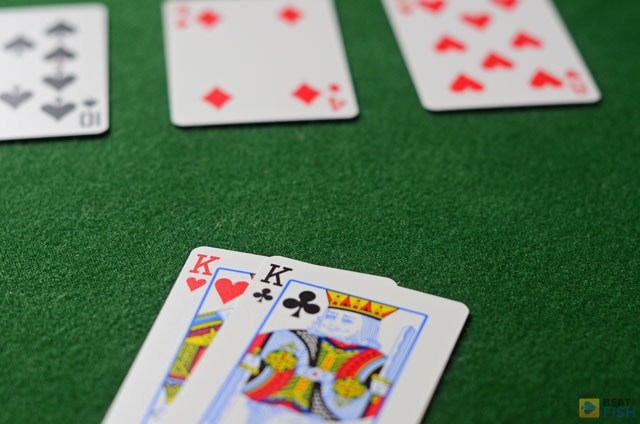 You're ready for action and lead out with about a pot-sized bet after the big blind checks.
The player behind you calls, and the second preflop caller doubles your raise. The big blind folds and you don't know what to make of the situation.

You re-raise all-in and both players, who have you covered in chips, call your bet. The first caller has J-9 for a straight draw and the last player has pocket 4-4 for a set. The turn is an 8, and the river is another 10. Pocket 4s takes down a huge pot with a full house.
These are the types of hands you'll see if you allow all comers in for the minimum.
Protect your pocket Kings
Of course, many online players would've called with the 4-4 even to a raise, but you could've at least make him think twice about it. If this was a $1/2 no-limit game, you could've raised to $10 or $15 to go. The J-9 probably wouldn't have called and that's a pretty large bet for the pocket 4s to call.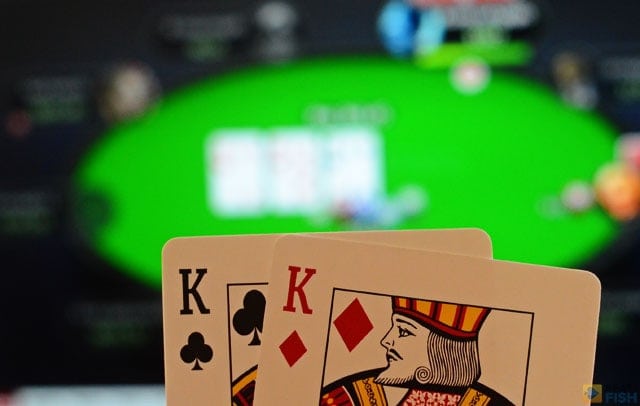 Sometimes he'll still do it, but at least you'll be making them pay a premium to take that chance on hitting a set. He's about a 7.5 to 1 underdog to hit that set so you're definitely making him go against the odds.
By slowplaying pocket Kings you give everyone a great price to see the flop if they feel like it.
Dealing with Ace-high flops
Maybe you can occasionally get a huge bet from a lesser hand on an Ace-containing flop with K-K, but often you're beat and you won't know it.
Try to get one or two callers with your raise preflop and keep betting into it on the flop unless an Ace comes. This way, you've taken control of the hand and you're not letting your opponents draw cheaply.
DON'T
...spend another penny on yet another poker book.
I'm giving away my 6-part course if you download it in the next 24 hours.
"The whole PDF on the Beat The Fish guide was absolute gold for me. Very impressed, has really made a difference to how I play my game from when I first started. Definitely built up my confidence in the game and helping me to stop spewing off chips." -Dylan Walsh
Weeding out Ace-trash
It feels like an Ace comes on the flop an abnormally high percentage of the time when you're holding pocket Kings. If you properly raised preflop you probably pushed out trash hands like A-3 or A-7. With only one or two opponents it's less likely that one of them has an Ace.
Even if they do have an Ace they might put you on A-K with such a big raise preflop and bet on the flop. You might get them to lay down A-Q or A-J, which would be the best hand.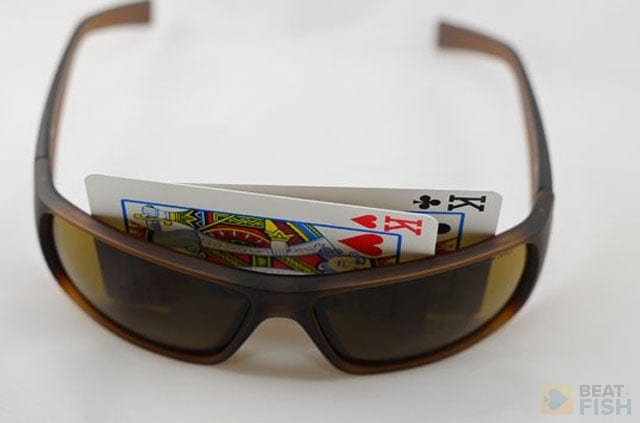 If you get played back at with an Ace on the flop, you should consider laying down your hand.
If it's wrong to slowplay pocket Aces you definitely shouldn't be slowplaying pocket Kings, which is even more vulnerable. Especially in the often-crazy world of online play raise your Kings and bet them again on the flop. You'll be protecting against trash hands hitting a monster flop, and you'll be taking control of the hand.
A lifelong poker player who moved online in 2004, Josh founded Beat The Fish in 2005 to help online poker players make more-informed decisions on where to play and how to win once they got there. He hopes to counter the rampant dishonesty in online gaming media with objective reviews and relevant features. Tech nostalgic. Fondly remembers the soup avatar at Doyle's Room.