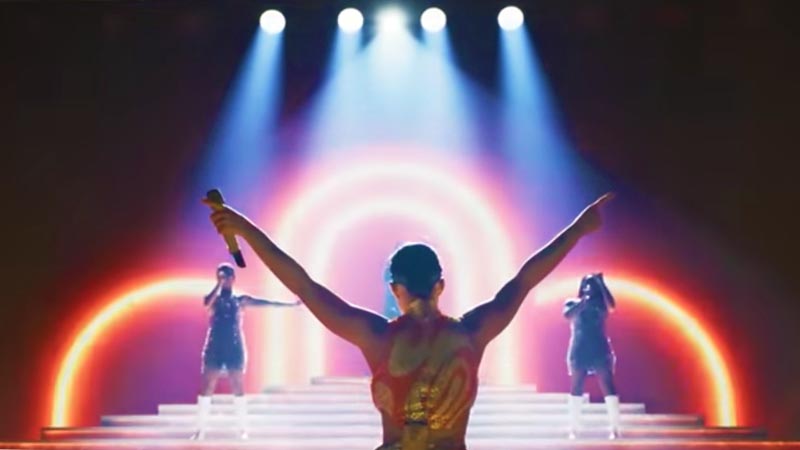 Whether you're in Vegas for a holiday or to play in the World Series of Poker, taking in a show is a must-do. At Beat The Fish, we highly recommend checking out a residency or two, as some of the biggest names in show business performing in Las Vegas – with many more set to begin their residencies later this year.
We've compiled a list of every Las Vegas residency currently running or confirmed. If any big act has a string of shows in Las Vegas this year, we'll have it right here along with performance dates and ticket prices.
Remember – we'll be updating this list as soon as a new residency is announced. So, stay tuned!
Musical Las Vegas Residencies
From musical legends like Carlos Santana and Donny Osmond to today's biggest pop stars like Lady Gaga and Katy Perry, you'll be able to find out about their dates, locations and ticket prices.
Carrie Underwood
Carrie Underwood will be performing her Reflection showcase at Resorts World Theater throughout May 2022. Her 90-minute show has attracted rave reviews, including the Las Vegas Sun calling it a "spectacle for the eyes and ears". Prices start at $58.
May: 7, 11, 13, 14, 18, 20, 21
John Legend
John Legend has only recently opened his Las Vegas residency but it is already getting lots of positive attention. It is a two-hour show that takes you on a journey through time as he recounts his musical journey that has taken him to where he is today. Ticket prices start at $65.
April: 27, 29, 30
May: 4, 6, 7
August: 5, 6, 10, 12, 13, 17, 19, 20
October: 14, 15, 19, 21, 22, 26, 28,29
Sting
At Caesars Palace, you can watch as Sting performs his greatest hits. It presents his classics in a whole new way, covering hits like "Roxanne" and "Every Breath You Take", as well as music from his new project "The Last Ship". Tickets start at $80.
Barry Manilow
Barry Manilow is set to perform throughout May and June at Westgate Las Vegas. His Vegas shows have been well-received in the past, accumulating an average score of 4.8/5 on Vegas.com from hundreds of reviewers. Tickets start at $86.
May: 5, 6, 7, 26, 27, 28
June: 9, 10, 11, 16, 17, 19
Carlos Santana
Guitar legend Carlos Santana will be performing at the House of Blues in Las Vegas during May 2022. He'll be performing his great hits – a must-see for classic rock fans. Tickets start at $99.
May: 18, 20, 21, 22, 25, 27, 28, 29
Shania Twain
Canadian country-pop music star Shania Twain will be performing her show "Let's Go" at Zappos theatre in Planet Hollywood. These will be her last shows for this run, which has received plenty of acclaim from attendees. Ticket prices start at  $69.
June: 10, 11, 15, 17, 18, 22, 24, 25
August: 26, 27, 31
September: 2, 3, 7, 9, 10
Wayne Newton
Wayne Newton is a regular perform at Bugsy's Cabaret at The Flamingo. We'll be performing at the venue several times a week throughout April, May and June with ticket prizes start at $66.
April: 27, 30
May: 2, 4, 7, 9, 11, 14, 16, 18, 21, 23, 25, 28, 30
June: 1, 8, 11, 13, 15, 18, 20, 22,25, 27, 29
Lady Gaga
There are only a few shows left in Lady Gaga's critically-acclaimed jazz residence at Dolby Live, but you can still get your hands on tickets. They are a bit pricey, starting at $165, but it's worth it for superfans of the pop superstar.
Katy Perry
Katy Perry's PLAY residency continues into August 2022, and it's considered "quintessential Perry" with psychedelic visuals and larger-than-life props. In this unique wonderland-style setting, she'll perform her greatest hists like California Gurls, Teenage Dream and Firework. Tickets start at $109.
May: 27, 28, 29
June: 3, 4, 8, 10, 11,
July: 29, 30
August: 3, 5, 6, 10, 12, 13
Silk Sonic
An Evening with Silk Sonic (the Grammy-nominated duo consisting of Anderson Paak and Bruno Mars) is called the "sexiest party of the year". The pair will play their most popular hits, but the show has been called a "masterclass in Seventies nostalgia" by Rolling Stone. So, this is sure to be a crowd-pleasing event.  Ticket prices start at $125.
Dates:
May: 4,7,10,13,14,17,20,25,28,29,
Michael Buble
Michael Buble's upcoming shows are part of limited engagement at Resorts World Las Vegas – so, you'll have to act fast if you want to catch the crooner in the City of Sin. Tickets start at $87.
April: 27, 29, 30
May: 4, 6, 7
Jonas Brothers
The Jonas Brothers reunite for a five-night Las Vegas residency at Park MGM's Dolby Live. This will be their second residency in Vegas and, if their first stint is anything to go by, this one will be a blast as well. Tickets start at $73.
Donny Osmond
Donny Osmond is one of the most recognized entertainers around the world, and you can watch him perform in person at Harrah's Showroom. Tickets start at $75.
Rod Stewart
Rod Stewart will be performing his popular residency "The Hits" at Caesars Palace. The setlist is jam-packed with his best classics including "You Wear It Well", "Da Ya Think I'm Sexy" and "Tonight's The Night". On Trip Advisor, this Las Vegas residency has a 4.5/5 rating and the Hollywood Reporter called it a "a straight-ahead pop-rock show with full amenities and no apologies.". Tickets start at $57.
May: 13, 14, 18, 20, 21,
September: 23, 24, 28, 30
October: 1
Usher
A legend in the RnB world, Usher will be performing at ParkMGM's Dolby Live for his Las Vegas residency. His live shows are renowned for being spectacular, as he's considered one of the best dancers in the pop world and certainly knows how to put on a performance. The residency has been described as "immersive" and it will have interactive elements for the audience. We can't wait to see what he has in store. Ticket prices start at $79.
May: 14, 15
July: 15, 16, 20, 22, 23, 27, 30
August: 26, 27, 31
September 3, 4, 9, 10
October 14, 15, 19, 21, 22, 26, 28, 29
The Doobie Brothers
The Doobie Brothers will be joined by Michael McDonald at Planet Hollywood's Zappos Theater for an eight show run. This marks the band's 50th anniversary and it is well worth checking out if you're a classic rock fan. Ticket prices start at $82.
May 13, 14, 18, 20, 21, 25, 27, 28
Luke Bryan
It's not often that country music stars come to Vegas for a residency so it's a thrill that Luke Bryan is heading to Sin City for 10 nights at Resorts World Vegas. Tickets start at $59.
June: 15, 17, 18, 22, 24, 25
August: 31
September: 3, 4
Aerosmith
Starting in June, Aerosmith will be celebrating their 50th anniversary with their "Deuces Are Wild" residency at Park MGM's Dolby Live theater. The band will be playing their biggest hits in this highly anticipated set of shows. Ticket prices start at $110.
June: 17, 20, 23, 26, 29
July: 2, 5, 8
September: 14, 17, 20, 23, 26, 29
October: 2, 5
November: 19, 23, 26, 29
December: 2, 5, 8, 11
Miranda Lambert
Country music star Miranda Lambert will be performing her Las Vegas residency "Velvet Rodeo" from September through December. According to Billboard Magazine, she's been incredibly involved in the planning process having designed sets, merchandise and costumes, so we can't wait to see this show. Tickets start at $79.
September 2022: 23, 24, 28, 30
October 2022: 1, 5, 7, 8
November 2022: 26, 27, 30
December 2022: 3, 4, 8, 10, 11
Van Morrison
Blues legend Van Morrison will be performing at The Colosseum in Caesars Palace. You can expect him to perform his classics as well as long-awaited new material. Tickets start at $125.
Morrissey
Morrisey is not a musician we would ever expect to see performing in a Las Vegas residency – but here we are! The former front man of The Smiths has called his show "Viva Moz Vegas" and is said to be an "intimate and invigorating dive into Morrissey's expansive career from his early days to the new album". Ticket prices start at $79.
Lionel Richie:
Lionel Richie has extended his Las Vegas residency, after his first run was hit with huge demand.  It is one of the most highly-rated Vegas residencies across TripAdvisor, Vegas.com and even Yelp! Ticket prices start at $201.
July: 2, 3
August: 5, 6, 12, 13, 20
October: 12, 14, 15, 19, 21, 22
Journey
Journey will be performing at Virgin Hotels' theatre at select dates in July. The band is known for its high-energy rock extravaganzas, and we have no doubt that their Vegas residency will be just as exciting as its touring show. Prices begin at $69.
DJ Residencies
Vegas nightclubs and pool parties are a huge attraction for those of you who prefer to party a little harder than you would at a sit-down theater like Zappos. So, here is a list of the top DJ residencies that you'll find across the City of Sin this year:
Diplo
Diplo will be performing at XS nightclub from 11pm throughout April and May. Tickets cost $35 for women and $65 for men (although we're not sure how there isn't a law against this), and expedited entry costs $100.
April: 28, 30
May: 5, 7, 15
David Guetta
World-renowned producer and DJ David Guetta will be spinning at Encore for day parties throughout April and May 2022. Tickets are $75 for men and $50 for women – again, not really sure why this is allowed.
April: 28, 30
May: 5, 7, 15
The Chainsmokers
You can catch the Chainsmokers as resident DJs throughout summer 2022 at Encore Beach Club, XS or Intrigue. This is part of a three-year residency for the duo, and tickets start at $75.
Tiesto
Legendary techno DJ Tiesto will be performing at Zouk Nightclub throughout the summer. Tickets start at $50.
April: 29
May: 7, 14, 19, 21, 23, 28
June: 11
July: 2, 16, 30
August: 6, 13, 20, 27
September: 3, 10, 23
Other acts that you'll find regularly at Zouk this summer include Zedd, G Eazy and Deadmau5.
Steve Aoki
Steve Aoki has made a name for himself across Las Vegas, performing at countless sold-out venues and making appearances at plenty of poker events. He's even been named an ambassador for the World Poker Tour. You can catch him performing at various Tao Group locations like Wet Republic and Hakkasan on the following dates:
April: 30
May: 5, 7, 13, 22, 23, 27, 29
June: 17, 25, 26,
July; 1, 2, 16, 17
August: 27, 28
September: 3, 4
Comedy
If you'd rather have a few laughs, you may want to check out some stand-up comedy while you're in Vegas. Some of the world's best comedians will be performing at venues across the city in 2022. These are some of our top picks for the coming year.
Chris Rock
Chris Rock's critically-acclaimed "Ego Death" world tour will be coming to Las Vegas for three nights this summer. Tickets start at $114.
Bill Maher
Bill Maher will be bringing his political humor to The Mirage in May, July and November this year. It is part of the venue's Aces of Comedy series, which will also feature Tom Segura, Ray Romano, David Spade, George Lopez, Wayne Brady and Jess Hilarious. Ticket prices start at $78.
May: 20, 21
July: 22, 23
November: 25, 26
Bill Burr
Bill Burr's "Slight Return" show will be heading to The Chelsea at The Cosmopolitan this summer. The popular stand-up comic actually has one of the more affordable shows, with tickets starting at juts $49.
Our Recommendations for Vegas Residencies to See
Can't decide which tickets to buy? We don't blame you. There are so many great options when it comes to seeing a Las Vegas residency from a top musician, and we've got a few recommendations to help out with any indecision.
A Diverse Group
If your group is struggling to come to a consensus on which residency to attend, and you won't want to split everyone up, there are a few acts that should appeal across the board. Silk Sonic, John Legend and Aerosmith offer the kind of Vegas show experience that are sure to be crowd-pleasers.
Pop Fans
For those of you who can't get enough to pop music, then there are some very obvious choices here. Katy Perry and Carrie Underwood perform spectacular, grandiose shows that will leave you with a sparkle in your eye. While Lady Gaga is considered the reigning Queen of Pop, her Vegas show is quite scaled back and won't be the huge spectacle that you might be looking for.
A Quiet Night Out
If you'd like to have a nice, relaxing night at a more chilled out show, Michael Buble, Lady Gaga and Lionel Richie are the acts you'll want to see. While they aren't massively over-the-top, they are still incredibly entertaining with gorgeous performances from music's biggest names.
Classic Rockers
Vegas residencies are often the only opportunity you'll have to see some of the most legendary musical artists. So, if you and your group are partial to some classic rock, it would be well worth it to check out Santana or Van Morrison in Vegas this year.
Are you head to Vegas this year? Let us know which shows you're most excited about checking out!