The Best 247 Poker Free Games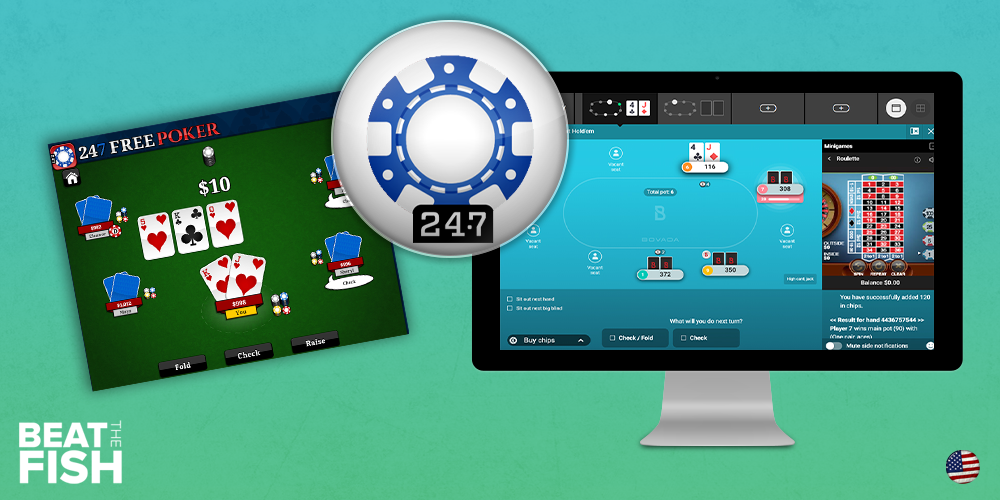 24/7 Poker is a long-standing free-play poker site that has been incredibly popular with casual and beginner poker players for quite some time. After playing here a few times, though, I can safely say that there are much, much better sites out there for you to find your free poker fix.
What is 24/7 Poker?
247 Poker is a free online poker site where you can play ring games using play money. Only Texas Hold'em is available on the site, but there are different skins based on the different seasons of the year and holidays.
You aren't playing against real players at 24/7 Poker. All of your opponents are powered by AI and there are five different "personalities", so you can get to know the standard ways that poker is played online and in person.
How 24/7 Poker Works
As a browser-based online poker game, 24/7 Poker doesn't require you to download any software. You simply visit the website and get playing.
When the game starts, you first choose a difficulty level and you'll then be sat at a table with 5 AI players. Everyone begins with $1,000 poker chips and the game will play out just like any other online version of Texas Hold'em.
Difficulty Levels
There are four difficulty levels when playing in the games 24/7 Poker. While there is no detailed explanation on how each of these levels work, this is what I could gather from playing on the site:
Easy: The AI opponents play a very basic game, and there is very little risk-taking here. So, if you're even a little knowledgeable, you'll be able to easily predict how they will act in certain spots.
Medium: Here, the AI opponents are a bit smarter. They seem to consider pot odds a bit more and don't seem like they are blindly calling and folding.
Hard: This game mode is targeted at players who are familiar with poker odds, and want to get to know some more complex strategies.
Expert: When you play in this mode, you can't really expect to fool the AI players. Your opponents will be using more advanced strategies.
Drawbacks of 24/7 Poker
While 24/7 Poker is a very popular site, it's far from comprehensive. You will only find one variant of poker games and, while this is great for those of you who want to learn how to play Texas Hold'em, it can get a little bit boring. There are also no tournament options.
Another drawback is the behavior of the AI poker players. The software is quite complex, so you can learn about the different player archetypes; however, they will eventually end up being quite predictable. Your skill level will quickly surpass the computer players and you'll likely want to play with real people at some point.
Let's say you're dealt the Ace of Diamonds and the Ace of Spades. Before the flop, you bet the pot and all of the other players at the table call.

On the flop, you're still winning, but check as a semi bluff to see if any other players will take the bait. It checks round, and all of the cards up to the river leave you with the nuts. You raise again and everyone folds.
This is a hand that I actually played at 24/7 Poker. It was set to the medium difficulty level, played out exactly how you would expect with very predictable behavior from the AI opponents. With real players, you would expect at least one player holding a King, Queen or even Jack would have bet on the flop or turn, or even raise on the river.
So, while I think 24/7 Poker is great for learning the basics, it's not the most reliable platform if you're looking to brush up on your skills.
Frequently Asked Questions
✅ What is the concept of 24/7 poker?
24/7 Poker is a free-play poker site where you can play against AI-powered competitors.
✅ What are the pros and cons of 24/7 poker?
While it is quick to get started playing at 24/7 Poker (there's no registration or login required), the site is lacking when it comes to poker variants.
✅ Who created 24/7 poker?
24/7 Poker is owned by 247 Games (the founder of which is John Battagline), which was started in 2007.  The company operates a collection of sites with free-to-play arcade and casino games.
✅ What are the benefits of playing free poker against real players?
While 24/7 Poker offers quick access to free poker games, competing against computer-powered players just doesn't prepare you for playing against real players. Even if it's not eventually in your plans to play in-real-money games, AI opponents, especially on a platform as simplistic as 24/7 Poker, can get somewhat predictable and boring. On free-play poker platforms where you compete against real people, you get a much better feel for how the game of poker is really played.
The Best 24/7 Poker Alternatives
There are several online poker sites out there that provide you with the same simple and easy-to-use interface available on 24/7 Poker that also have some more advanced features. Here, I'll be pointing you in the direction of some great online poker sites:
Play Money Poker at Bovada
At Bovada Poker, you can access free games in the Practice section of the Instant Play section.  It can be a little bit difficult to find, as you have to click on the type of poker games you want to play first, but then you can click on the Practice Mode button to see the free-to-play options.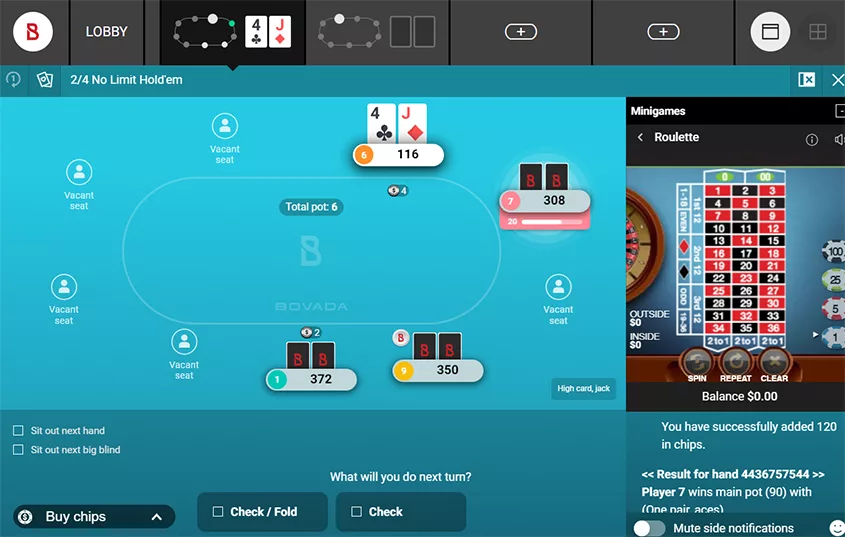 What we love about Bovada Poker's Practice Mode is that there is a huge range of options available:
Cash Games: You can choose from Hold'em, Omaha or Omaha High/Lo. No limit, Pot limit and Fixed limit games are available at both 6-max and 9-max tables.
Zone Poker: This is Bovada's version of fast-fold poker. As soon as you fold a hand, you're moved to another table with a new hand.
Sit & Gos: At any given time, you'll find at least a dozen sit & go tournaments available for Practice Play. Both single and multi-table tournaments are available, with Hold'em, Omaha and Omaha Hi/Lo available.
When you're running low on play money, you can always request more from the My Poker section of the Lobby. Here, you can also access hand histories in case you want to review your play in certain spots, as well as various settings to improve your gaming experience.
Ignition Poker's Practice Money
The Ignition Poker play-money site offers players the same gaming options that are available at Bovada. If you're interested in playing poker for fun rather than to win cash prizes, I would recommend signing up to both sites.
If you're running low on available games at Bovada, you can always head over to Ignition Poker to see if there are more options available to you.
The one thing that we would add to this platform would be the capability to find your friends in Practice Mode and be able to compete against them.

Free Tournaments at ACR Poker
As part of ACR Poker's daily promotions and bonuses, you'll find free poker tournaments available regularly here. New players at ACR Poker are given entry into a freeroll, and there are at least seven freerolls with $50 prize pools held every day on the site.
In fact, many of the tournaments at ACR Poker can be entered via free satellites and qualifiers. You may have to play through ten steps of qualifiers, but it is entirely possible to play in a tournament for millions without having to spend a dime here. You find all about the freerolls at ACR Poker in my free poker guide.
While this platform is quite different to 247 Poker as well as the practice modes at Bovada and Ignition Poker, ACR Poker is a great place to play free poker tournaments. You get to play poker hands in more a realistic tournament setting than in the other sites' practice modes, as real prizes are up for grabs, and there is the chance to bag actual cash winnings.
It really is a great option if you're interested in learning more about poker tournaments or simply want more options than are available at 247 Poker.
24/7 Poker Review – Final Thoughts
I believe that 247 Poker still maintains its popularity in the online gaming world simply because it has been around for so long. There are certainly better options out there, even if you are looking for simple software that loads directly in your web browser.
I would highly recommend the Practice Modes at Bovada and Ignition Poker, and would even advise casual players and beginners to give the freerolls at ACR Poker a try.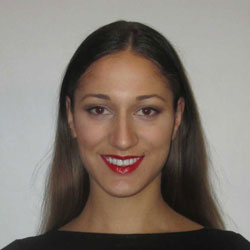 Milica is a former volleyball player with a passion for writing. Along with sports, she is interested in the online gaming industry. Milica joined the Beat The Fish team in 2019, contributing numerous feature columns, breaking news stories, and independent gaming site reviews.