My Final Verdict on Beat Texas Hold'em by Tom McEvoy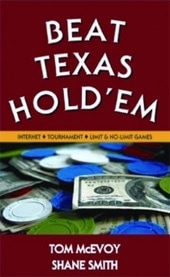 Beat Texas Hold'em  by Tom McEvoy and Shane Smith
Focuses on no-limit and limit hold'em
Simple and effective techniques for no-limit and limit ring games as well as tournaments
Our rating: 79 (out of 100)
Year of publication: 2004
The point of Beat Texas Hold'em
I actually found this book in the most unlikely of places: an endcap at a local Wal-Mart. The price was under $7.00, so I picked it up. It's written by 1983 WSOP Main Event Champion Tom McEvoy with contributions from Shane Smith.
This text is actually quite lengthy for being so inexpensive and I believe is at least 200-300 pages. Sections include specifics on Limit Hold'em, No-Limit Hold'em, Tournament Play, and Online Poker.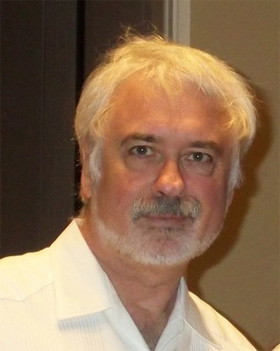 McEvoy aims to educate beginners on the most popular forms of Texas Hold'em and plug possible poker strategy leaks.

While intermediate and beyond players may not find much they haven't already considered, I'm a big advocate for returning to study the essentials when you're in a poker slump and you aren't exactly sure why.
No-limit cash game study
The biggest advantages of this book are the small price tag and the section on no-limit cash games.
While it may be simple advice, back in the day, you were hard pressed to find any book that deals with this form of ring game. Almost all popular strategy books used to be on fixed limit or tournaments.
Kudos to McEvoy for actually addressing No-Limit ring games.
My verdict on Beat Texas Hold'em
Before a beginner sits down at his or her first real or virtual poker table, this would be an excellent read. It outlines specific methods you should use as a beginner, and I don't think that useful poker books should only be looked at once.
New players (or experts for that matter) should read over a new or especially novel concept several times in between sessions to really retain the information. Also, as I mentioned above, it's rare to find books actually dedicated to no-limit ring games so I appreciated that section.
Even if you pick up just a few tips, this book is so inexpensive that it's a great value.
The main criticism that I've read about this book is that it's strictly for beginners. Personally, I believe that is a shortsighted comment and that this little paperback is a particularly useful book on the basics.
Besides how to play limit hold'em, no-limit hold'em, and no-limit tournaments McEvoy gives some poignant and concise advice on specific starting hands, gameplay situations, and avoiding common traps. He also explains the necessary adjustments for going from limit games to no-limit cash games.
The final score for Beat Texas Hold'em
Out of 100, I give Beat Texas Hold'em a 79.
It shouldn't be the last poker strategy book that you purchase, but it's a great first one to get you off on the right foot. McEvoy has a knack for explaining poker in a simple manner, and this is a good choice for the new player. Also, the price is very affordable.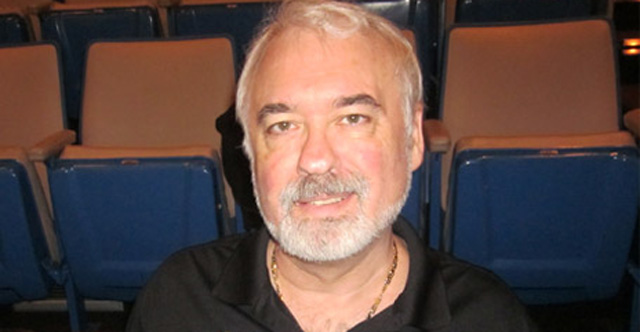 About the authors
Tom McEvoy
Tom McEvoy was born in 1944 in Michigan. One of his more memorable achievements is that he was the first player who managed to capture the Main Event title after qualifying for the seat. This was back in 1983.

With $3,000,000 in live tournament earnings, according to Hendon Mob, McEvoy has certainly confirmed his credentials in terms of poker expertise.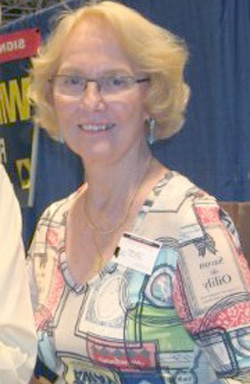 McEvoy's writing career
Apart from being a well-rounded player, McEvoy is also a very productive author, with fourteen titles under his belt.
His career as a writer started in 1985 when he published the book entitled How to Win at Tournament Poker on the trace of his 1983 success.
After that, he took a long break from writing, returning in 1997 with his Championship No Limit and Pot Limit Hold'em.
In the years to follow, McEvoy continued producing valuable poker content up until 2009 when he published his last work to date, entitled Championship Table: At the World Series of Poker (1970-2007).
Tom McEvoy is also a member of the Poker Hall of Fame.
Dana Smith
McEvoy's coauthor Shane Smith is, in fact, Dana Smith, who used Shane as her pen-name. Generally considered as one of the best female Limit Hold'em players, Smith has an avid bibliography of her own.
Apart from Beat Texas Hold'em, she coauthored titles like World Series of Poker Official Guidebook, The Championship Table, and many other.
A lifelong poker player who moved online in 2004, Josh founded Beat The Fish in 2005 to help online poker players make more-informed decisions on where to play and how to win once they got there. He hopes to counter the rampant dishonesty in online gaming media with objective reviews and relevant features. Tech nostalgic. Fondly remembers the soup avatar at Doyle's Room.