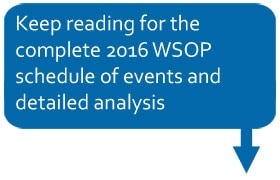 How much more ambitious can the crown jewel of the poker world get with the 2016 WSOP schedule? Caesars, the organizers of the massive live (and now even online) spectacle, will present their answer starting on June 1. The last few years have brought several fresh ideas and larger WSOP schedules than ever. 2016 promises to continue the trend of bigger, better, and more streamlined.
The 47th WSOP
Beginning in 1970 with humble origins this will be the 47th edition of the World Series of Poker, the annual Mecca of the poker world. It will take place entirely at the Rio in Las Vegas, as it has every year since 2005. WSOP bracelet events, non-bracelet daily tournaments, satellites, and cash games all take place within the Rio's massive convention center.
8 new events for the 2016 WSOP
Caesars has put an increasing focus on recent years on making the WSOP experience accessible to almost every bankroll by adding numerous sub-$2,000 buy-in events that draw recreational players in massive numbers. WSOP continues this trend with the following 8 new bracelet events:
Event 4 (June 5) $1,000 Hybrid Online/Live No-Limit Texas Hold'em
Event 12 (June 9) $565 Pot-Limit Omaha
Event 23 (June 15) $2,000 No-Limit Hold'em
Event 40 (June 23) $2,500 Mixed Triple Draw Lowball
Event 45 (June 26) $1,500 Mixed No-Limit Hold'em/Pot-Limit Omaha
Event 53 (June 30) $1,500 Mixed Pot-Limit Omaha
Event 54 (July 1) $888 8-handed No-Limit Hold'em
Event 61 (July 7) $1,000 Team No-Limit Hold'em
It would take $410,805 to buy in to every WSOP bracelet event once.
Cheap Hold'em still reigns supreme
While the Hold'em craze of last decade (the Aughts? The 2000's?) has waned a bit, giving rise to Omaha and mixed bracelet events, low buy-in Hold'em still makes up the majority of the WSOP schedule.
WSOP News and More
For complete background information on the annual mecca of poker tournaments view our dedicated World Series of Poker hub, which traces the history of the WSOP, current news, every winner, and probably a lot more than you wanted to know.
[wpspw_post design="design-37″ limit="3″ grid="3″ pagination="false" show_author="false" show_date="true" category="113″ show_category_name="false" show_content="false"]
[btnsx id="9047″]
The 2016 WSOP Schedule
Event
Date
Time
Tournament
Buy-In
Tue, May 31
24h
Cash games open at Rio
1
Wed, June 1
11a
Casino Employees No-Limit Hold'em
$565
2A
Thu, June 2
10a
Colossus II No-Limit Hold'em (re-entry)
$565
2B
Thu, June 2
4p
2C
Fri, June 3
10a
2D
Fri, June 3
4p
2E
Sat, June 4
10a
2F
Sat, June 4
4p
3
Sat, June 4
3p
Seven-Card Stud Championship
$10,000
4
Sun, June 5
11a
Top-Up Turbo No-Limit Hold'em
$1,000
5
Sun, June 5
3p
Dealer's Choice (6-handed)
$1,500
6
Mon, June 6
11a
No-Limit Hold'em
$1,500
7
Mon, June 6
3p
No-Limit 2-7 Draw Lowball (one re-entry)
$1,500
8
Tue, June 7
11a
H.O.R.S.E.
$1,500
9
Tue, June 7
3p
No-Limit Hold'em Heads-up Championship
$10,000
10
Wed, June 8
11a
No-Limit Hold'em (6-handed)
$1,500
11
Wed, June 8
3p
Dealer's Choice 6-handed Championship
$10,000
12
Thu, June 9
11a
Pot-Limit Omaha (re-entry)
$565
13
Thu, June 9
3p
Razz
$1,500
14A
Fri, June 10
10a
Millionaire Maker No-Limit Hold'em
$1,500
14B
Sat, June 11
10a
15
Fri, June 10
3p
8-Game Mix (6-handed)
$1,500
16
Sat, June 11
3p
No-Limit 2-7 Draw Lowball Championship (one re-entry)
$10,000
17
Sun, June 12
11a
No-Limit Hold'em
$1,000
18
Sun, June 12
3p
H.O.R.S.E.
$3,000
19
Mon, June 13
11a
Pot-Limit Omaha
$1,000
20
Mon, June 13
3p
Razz Championship
$10,000
21
Tue, June 14
11a
No-Limit Hold'em (6-handed)
$3,000
22
Tue, June 14
3p
Limit Hold'em
$1,500
23
Wed, June 15
11a
No-Limit Hold'em
$2,000
24
Wed, June 15
3p
H.O.R.S.E. Championship
$10,000
25
Thu, June 16
11a
No-Limit Hold'em
$2,500
26
Thu, June 16
3p
Omaha Hi-Low 8/b
$1,500
27
Fri, June 17
10a
Seniors No-Limit Hold'em (ages 50+)
$1,000
28
Fri, June 17
3p
Limit Hold'em Championship
$10,000
29
Sat, June 18
11a
No-Limit Hold'em
$1,500
30
Sat, June 18
3p
Pot-Limit Omaha (6-handed)
$3,000
31
Sun, June 19
11a
Super Seniors No-Limit Hold'em (ages 65+)
$1,000
32
Sun, June 19
3p
Omaha Hi-Low 8/b Championship
$10,000
33
Mon, June 20
11a
No-Limit Hold'em (90-minute levels)
$1,500
34
Mon, June 20
3p
Limit 2-7 Triple Draw Lowball
$1,500
35
Tue, June 21
11a
No-Limit Hold'em (6-handed)
$5,000
36
Tue, June 21
3p
Mixed Omaha and Seven-Card Stud Hi-Low 8/b
$2,500
37
Wed, June 22
11a
Pot-Limit Omaha
$1,500
38
Wed, June 22
3p
Limit Hold'em (6-handed)
$3,000
39
Thu, June 23
11a
No-Limit Hold'em (6-handed ) Championship
$10,000
40
Thu, June 23
3p
Limit Triple Draw Lowball
$2,500
41A
Fri, June 24
10a
Monster Stack No-Limit Hold'em (no re-entry)
$1,500
41B
Sat, June 25
10a
42
Fri, June 24
3p
No-Limit Hold'em (Shootout)
$3,000
43
Sat, June 25
3p
Seven-Card Stud Hi-Low 8/b Championship
$10,000
44
Sun, June 26
11a
No-Limit Hold'em
$1,000
45
Sun, June 26
3p
Mixed No-Limit Hold'em and Pot-Limit Omaha
$1,500
46
Mon, June 27
11a
No-Limit Hold'em (Bounty)
$1,500
47
Mon, June 27
3p
Limit 2-7 Triple Draw Lowball Championship
$10,000
48
Tue, June 28
11a
No-Limit Hold'em (30-minute levels)
$5,000
49
Tue, June 28
3p
Seven-Card Stud
$1,500
50
Wed, June 29
11a
No-Limit Hold'em (Shootout)
$1,500
51
Wed, June 29
3p
8-handed Pot-Limit Omaha Championship
$10,000
52
Thu, June 30
11a
No-Limit Hold'em
$3,000
53
Thu, June 30
3p
Mixed Pot-Limit Omaha 8/b and Big O
1,500
54A
Fri, July 1
10a
Crazy Eights No-Limit Hold'em (8-handed, re-entry)
$888
54B
Fri, July 1
4p
54C
Sat, July 2
10a
54D
Sat, July 2
4p
55
Sat, July 2
3p
Poker Players Championship (6-handed)
$50,000
56
Sun, July 3
11a
No-Limit Hold'em
$1,500
57
Sun, July 3
3p
Pot-Limit Omaha Hi-Low 8/b
$1,500
58
Mon, July 4
11a
No-Limit Hold'em (30-minute levels)
$1,000
59
Tue, July 5
11a
No-Limit Hold'em
$5,000
60
Tue, July 5
3p
Seven-Card Stud Hi-Low 8/b
$1,500
61
Wed, July 6
11a
Team No-Limit Hold'em (2-4 players)
$1,000
62
Wed, July 6
3p
High Roller Pot-Limit Omaha (8-handed)
$25,000
63
Thu, July 7
11a
No-Limit Hold'em
$1,000
64
Thu, July 7
3p
Pot-Limit Omaha Hi-Low 8/b
$3,000
65
Fri, July 8
11a
Ladies No-Limit Hold'em Championship
$1,000
66
Fri, July 8
1p
Online No-Limit Hold'em (re-entry)
$1,000
67
Fri, July 8
1p
High Roller for One Drop No-Limit Hold'em (one re-entry)
$111,111
68A
Sat, July 9
11a
No-Limit Hold'em Championship Main Event
$10,000
68B
Sun, July 10
11a
68C
Mon, July 11
11a
68
Mon, July 18
TBA
Main Event suspends play after 9 players remain
Sun, Oct 30
Main Event final table resumes
Tue, Nov 1
Main Event winner crowned
69A
Tue, July 12
3p
Little One for One Drop
$1,111
69B
Wed, July 13
3p
69C
Thu, July 14
3p
Top 5 original ideas for WSOP 2016


Mixed online/offline event. I'm not sure anyone saw this one coming, but it's a perfect marketing ploy for the WSOP's own Nevada-only online poker site. Event 4 will actually allow players to top-up their starting chips by playing a special online event first.
Taking sponsorship to a whole new level. Going the route of college football bowl games the WSOP is actually allowing 888 poker to essentially name event 54 – Crazy Eights No-Limit Hold'em for an $888 buy-in. Welcome to the world of domestic beer and libido medication, 888!
Tag-team poker. The WSOP is reviving an idea from the mid-'80s and allowing team play for event 61 on Wednesday, July 6.
Payouts as flat as Phil Hellmuth singing the national anthem.
Ungodly starting times. Almost every WSOP 2016 event will start at either 11 a.m. or 3 p.m., an hour earlier than in previous years. Red Bull may not like it, but I believe this will improve quality of play by shifting things more into the spectrum of the non-sleep-disorder population. But, oh, the horror of those hours! Curse the poker media! Right, Joe McKeehen?
DON'T
...spend another penny on yet another poker book.
I'm giving away my 6-part course if you download it in the next 24 hours.
"The whole PDF on the Beat The Fish guide was absolute gold for me. Very impressed, has really made a difference to how I play my game from when I first started. Definitely built up my confidence in the game and helping me to stop spewing off chips." -Dylan Walsh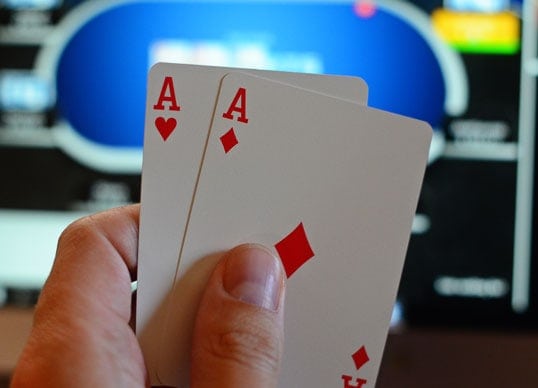 [btf_block title="Highlights of the 2016 WSOP Schedule" symbol="2″ bgcolor="618685″ textcolor="fff"]
Record 69 events
About 15% of the field will cash, up 10% in previous years
Earlier starting times of 11 a.m. and 3 p.m. for most events
The Main Event and other $10,000 events will now receive 50,000 starting chips
Blind levels will be streamlined to try to get events to end on time
8 new low-buy-in events added
[/btf_block]
Spotlight: WSOP Colossus 2016
Event #2
Starting heats: 6 total. Saturday, June 2, 3, and 4 at 10 a.m. and 3 p.m. each day
Buy-in: $565
Re-entry: allowed for another entry day if player doesn't reach the money
Game: No-Limit Hold'em


Details: Last year saw the introduction of Colossus, the lowest buy-in of the Series, which proved to be an extremely popular experiment. It only set records for the largest live poker tournament in history and drew over 20,000 players.
The allure of taking part in a real WSOP bracelet event for under $600 simply proved to be too strong for seemingly every recreational poker player able to make it to the Rio. Colossus I also received its share of negative press for the ultimate anticlimax of setting attendance records yet not even guaranteeing $1 million to the winner.
In an event designed to make as many players happy as possible and give a taste of the WSOP experience to everyone the prize structure was spread out so widely and thin that there simply wasn't enough butter to spread all the way across the toast.
Colossus II
Caesars seems to have learned from that PR faux pas. The WSOP Colossus 2016 will both guarantee a total prize pool of $7 million and a first prize of $1 million. The only complaining pros will likely be able to do at this year's Colossus will be the throngs of all-in rec donks putting bad beats on them.

Colossus II 2016 will likely break last year's attendance records as Caesars has been hyping it as a new WSOP centerpiece.
Last year's Colossus was the largest live poker tournament in history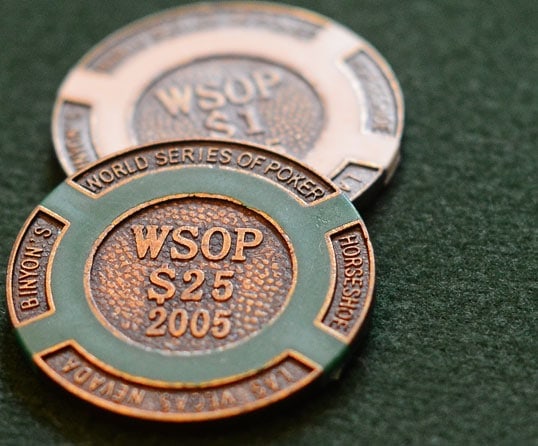 Spotlight: WSOP main event 2016
Event #68
Starting heats: 3 total. Saturday, July 9, 10, and 11. 11 a.m. each day.
Buy-in: $10,000
Game: No-Limit Hold'em


Details: This is it. The Big One. The crown jewel of poker tournaments. The WSOP Main Event.
One of the most expensive buy-ins of the year, thousands of players, millions of dollars for the winner, poker immortality, unreal media coverage, and probably the only poker tournament of the year that even non-poker players will care about and watch.
For as modern of a spectacle as it may seem the Main Event hasn't really changed at all since its inception over 40 years ago. It's always been No-Limit Hold'em. It's always been $10,000. It's always been in Las Vegas.
The WSOP Main Event in 2016 will be full of compelling stories and only one diamond-bracelet-clad winner who will feel truly satisfied. Every honest poker player will tell you they've dreamed of it being them. A few dozen times.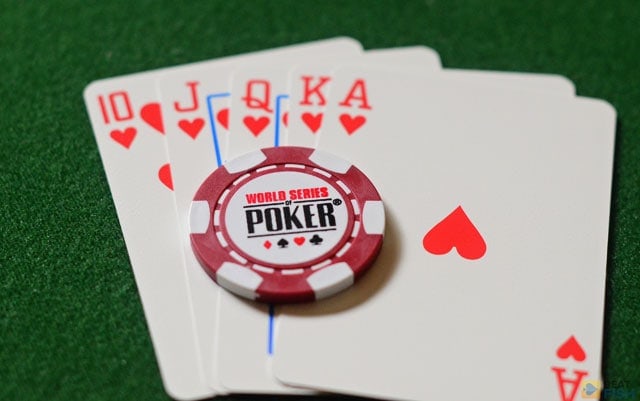 Thoughts on the final 2016 WSOP schedule
The finalized and complete 2016 WSOP schedule is finally here. We can all take a deep breath, pore over event numbers, and daydream about how many bracelets we're all going to win.
Jack Effel and crew took their time and incited plenty of caterwauling, but now you can book your flights, rooms, and time off work. The clock is ticking.
Players finishing in the money increased
Starting with the 2016 WSOP the payout structure will get flatter, payout out more players smaller prizes. The standard will be that 15% of the field now cashes.
I have mixed feelings on this one. On one hand, more happy players is always a thing and, as Caesars points out, this means that events will reach the money/payout phase sooner. This has been the trend online for years.

On the other hand, the ones who really suffer in this structure are the top WSOP 2016 finishers. I still like to see that massive payout to the final table and especially the bracelet winner.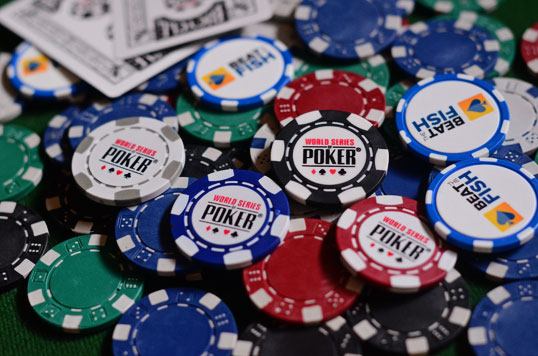 Earlier event starting times for WSOP 2016
I feel like they got it half-right here. The 2016 WSOP schedule will finally bump up the starting times for most events by an hour to 11 a.m. and 3 p.m. That will certainly help tournaments end for the day sooner. Great.
However, the WSOP still doesn't stop play for the "day" until 2 a.m. I feel like something should be done about that at some point. How about midnight? I understand that would lead to events taking more days to complete, but the upside would be in overall quality of play, which, in turn, just makes the World Series of Poker better.
Outside of the growing vampire population no one is playing at their best after midnight. Doesn't it seem sort of crazy that players would be playing for millions of dollars at 1 and 2 in the morning? This puts seniors at a marked disadvantage.
Streamlined blind structures
This was a good common-sense change that will help trim levels and thus overall time of each tournament. In previous years there may have been a separate level that simply added in an ante and left the blind levels the same (e.g. 1,000/2,000 blinds followed by a 1,000/2,000/250 ante level).
They will now be streamlined into one level for the 2016 WSOP. I'm all for ending the days sooner and taking fewer overall to complete each event.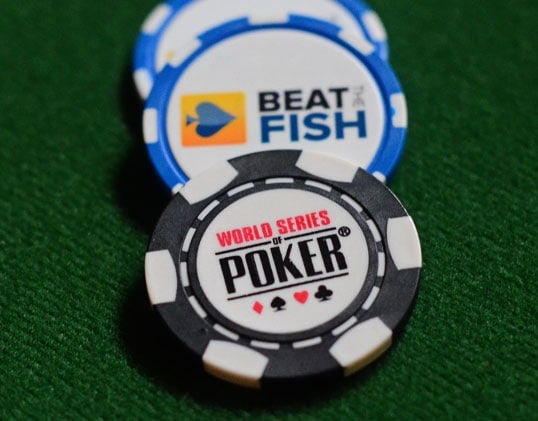 WSOP 2016 Team Event
One big surprise that no one saw coming is that there will a WSOP "team" event, where multiple players will take turns in the same seat managing a single chip stack. Team players can switch at any time as long as they aren't active in a hand. Caesars knows how to surprise and generate a reaction if nothing else, delving into obscure WSOP history for this one.
The team event will be on the 2016 schedule at #61, beginning on Wednesday, July 6th. Predictably, the game will be No-Limit Texas Hold'em. The buy-in will be $1,000, teams can be up to 4 players, and each member of the winning team gets a WSOP bracelet.
While it may seem like a modern invention by the "poker as a sport" segment 2-player team events actually existed on the WSOP schedule for 4 years from 1980-1983. They mostly served as a fun side event with low Seven-Card Stud buy-ins of under $1,000.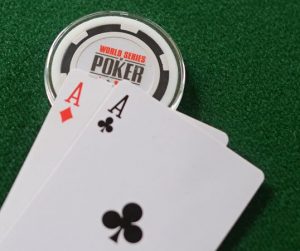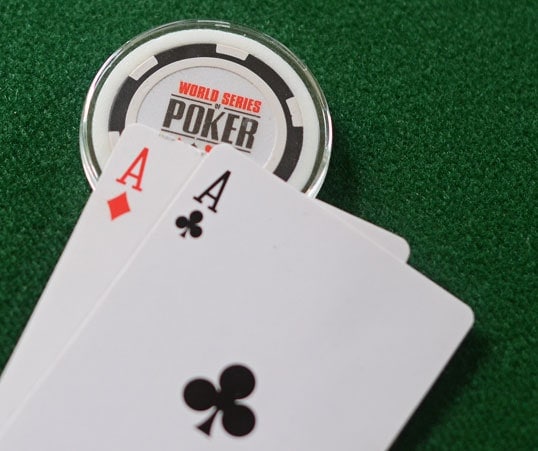 Innovating the 2016 World Series of Poker
With the 2016 WSOP schedule right around the corner it struck me how much fresher the annual poker spectacle has felt in recent years.

There was a time in the mid-2000s, after the poker explosion brought thousands of new players and moved to the Rio, that I felt like the WSOP got a bit stale.
Don't get me wrong. Every Series is incredible and filled with great stories and epic events, but there wasn't much innovation beyond increasing the number of events and offering more small buy-ins.
However, I've been impressed with the response by Caesars and WSOP 2016 tournament director Jack Effel over the past 5 years or so to make things feel fresh again. The 2016 WSOP schedule won't be an exception.
The main objectives seem to be to throw ideas borrowed from online poker against the wall to see what sticks and to make the WSOP experience affordable to every player who makes the poker world's pilgrimage to Vegas. Those plans work for me.
The schedule so far
Caesars has released some early details about the 2016 WSOP to whet our appetites before the full schedule is released in the coming weeks. As expected, they are making the Colossus a focal point after setting records and igniting controversy with it last year.
[btf_block title="Early details on the 2016 WSOP" symbol="2″ bgcolor="618685″ textcolor="fff"]
The $565 Colossus II will lead off all open events on June 2, 2016 with 2 more entry days following it
Players can re-enter on another entry day if they don't reach the money. Each entry day plays to the money
The guaranteed prize pool is increasing to $7 million with first place guaranteed at least $1 million
The Main Event will run from July 9 to July 18, 2016
The $1,000 Seniors Event for players ages 50+ will be held on June 17, 2016
As expected, the Millionaire Maker, Little One for One Drop, and the Monster Stack events will be returning
There will be some form of a "team event" where multiple players will take turns playing a single chip stack
[/btf_block]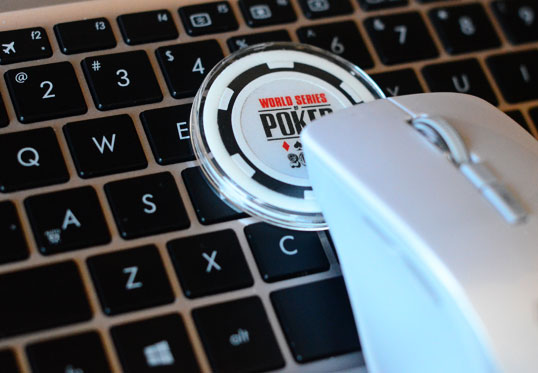 WSOP Satellites 2016
As it has for the past 15 years (wow, is the mainstream popularity of online poker really that old? Am I really that old?) WSOP satellites for 2016 will mainly take place online.
That certainly doesn't mean that live WSOP satellites are an endangered species. The Rio will host them around the clock starting May 31 and many of your local brick-and-mortar cardrooms will even host 1 or 2 big tourneys to get you a seat.

WSOP satellites are a staple of online poker rooms and, for some, the main reason to even play online. Poker sites are happy to oblige, offering a slew of tournament steps starting at $1 and direct-entry events going up to a buy-in of $1,000. Here are the best options for 2016.
WSOP Satellites at PokerStars
Poker Stars is online poker at this point for everyone outside of the US. Estimates used to have them at sending half of the entire Main Event field.
PokerStars still the best poker room for non-US players with an absurd number of satellites for the 2016 WSOP schedule running around the clock and no shortage of competitors to fill up on-demand tournaments.
888 Poker
888 Poker is now the second-largest funnel for WSOP entrants and second-largest in the world in terms of online players.
They have plenty of satellites and the best promotions online in their $88 no-deposit offer for our players. The poker branch of 888 may not earn the outrageous Fish Rating it used to, but the level of competition is infinitely lower than PokerStars.
Satellites for US Players
WSOP officials don't allow US-facing poker rooms to to directly buy players in so usually player accounts are just credited with the funds. One of the big US players for next year is likely to be Ignition Poker.
BetOnline is probably the best bet for US players wanting to win their way into the 2016 WSOP. They have strong traffic, excellent credit card success, and a decent amount of WSOP qualifiers. Their first step satellites start at a ridiculous 11-cent buy-in.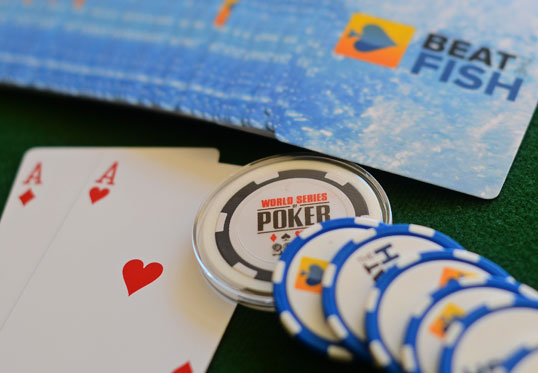 The Rio hosts numerous satellites and super-satellites every day leading up to and during of the 2016 WSOP. The buy-ins for Main Event satellites usually range from about $200 for multi-table tournaments to $1,000 for just a single table. Of course, for those lower buy-ins you're trading the higher chance of prevailing thanks to only 2-5% of the field getting a prize.
Satellite FAQs
How do WSOP satellites work?


At its simplest WSOP satellites work by awarding a WSOP Main Event seat to the winner(s) of special tournaments with low buy-ins.
As an example, a satellite tournament with a $50 buy in that draws 200 players would award one $10,000 Main Event seat to the winner. 50×200 is $10,000 so that's the total prize pool.
Another might have a $500 buy-in so 1 out of 20 (5% of the field) would get a prize. Any leftover buy-in money that wasn't enough to add up to another $10,000 seat was just given as cash to the other top finishers. In the early 2000s this was largely the only way WSOP satellites worked.

In the years since online poker sites have crafted countless other creative ways to get smaller players involved in Main Event satellites, usually with minuscule buy-ins or even freerolls that award the very few winners a step up to the next buy-in level.
Typically, it takes 4 or 5 steps to finally make it into the direct-entry satellites that guarantee WSOP seats. Players have to win multiple wild crowded tournaments, but it's possible to win a Main Event seat for a few dollars or less.
When do WSOP satellites start?
WSOP satellites start in the spring for online poker sites like PokerStars and then at the start of the Series for live satellites at the Rio. You may also be able to find a local cardroom with a one-off tournament awarding a World Series seat all the way through June.
Are there any live WSOP satellites?
Yes. Don't like to play online, live somewhere where you can't, or simply prefer to play at a real table? Live WSOP satellites certainly do still exist, mainly at the Rio Pavilion Room running concurrent with the WSOP schedule. Starting May 31, single table satellites and $185 mega satellites will run daily at 9:00 a.m. For every 10 entries, a $1,500 WSOP entry and $100 cash will be awarded.
Aside from the daily mega satellites the Pavilion Room will also host on-demand WSOP satellites. The structure is flexible, with various buy-ins available depending on the demand. Once a table fills up with 10 players the satellite starts, making it akin to a single table Sit and Go with a single winner.
Live WSOP satellite prizes are actually awarded in special $500 chips that are valid for any 2016 WSOP event. Note that they expire after the conclusion of this year's WSOP so you cannot save them for future years.
Enter directly
Prospective players can enter their chosen 2016 WSOP scheduled event by plunking down the cash directly at the Rio cage usually starting in May.
What will work for the 2016 WSOP schedule
The 2016 WSOP will likely follow the same successful formula of recent years: keep the favorites, refine the experimental from last year, and try a new twist or two to keep things interesting.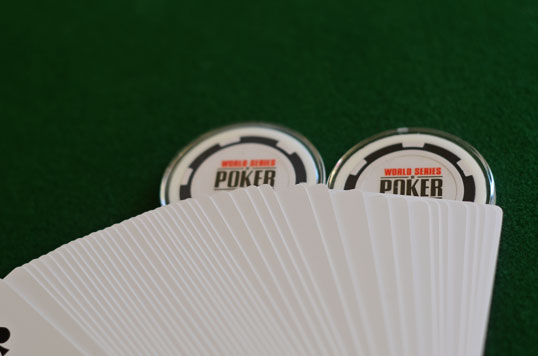 [btf_block title="Sure things for the 2016 WSOP schedule " symbol="2″ bgcolor="618685″ textcolor="fff"]
Final schedule will be released in early 2016.
A record 68 events last year. That number will probably be even higher for 2016.
Numerous "online" styles: turbo, deep stack, bounty, 50/50, heads-up.
An online-only event. Last year's was popular enough to earn another appearance.
The "Colossus" $565 event. It's the lowest buy-in ever for the WSOP and set records last year.
Flatter controversial payout structure: more cashes, lower top prizes for more events.
[/btf_block]
The favorites
One thing that I appreciate about the Caesars team running the WSOP is that they don't change much simply for change's sake. They take experiments with varying degrees of success, yes, but they've never really stripped anything that players really love.
The favorites will be back on the 2016 WSOP schedule culminating, as always, with the Big One, the Main Event that has carried the prestige of the poker world for 46 years.
Guarantees for 2016
The $10,000 Main Event. This is the World Series of Poker. As long as the WSOP exists this crown jewel of the poker world will close the ceremonies.
Old favorites. You'll always find some Stud, Omaha, and some form of lowball.
New favorites. The $50,000 players championship, the Big one for One Drop, and now the Colossus, which drew over 20,000 players for its inaugural $500 event. These are recent additions that have become staples.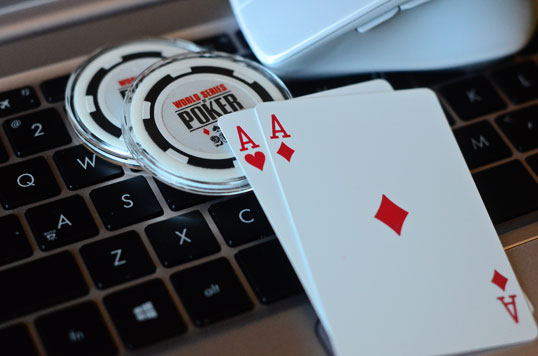 Refining newer features
As discussed above, last year's WSOP schedule brought some interesting additions to varying degrees of success. It's a learning experience to try something new so logistics don't usually go perfectly when thousands of players are involved. Some fresh ideas deserve a refined return in for WSOP 2016.
Bring these back in 2016 and make them better
The online event. This did well enough to warrant a repeat appearance and serves as advertisement for the WSOP online site.
The $565 colossus. It had payout controversy with very little weight given to the top prizes, but how can they not bring back the largest live poker event in history?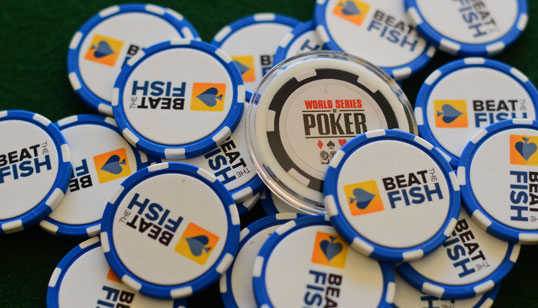 New additions
Jack Effel and the rest of the Caesars WSOP 2016 team are always good for a surprise or two, which helps keep the schedule relevant and adds some extra interest. Last year it was the "Colossus" $500 event, a new bounty event, and a 50/50 tournament that paid out half the field.
To be honest, I'm having a tough time actually thinking of realistic ideas that haven't been tried at the WSOP yet. I'll take a stab at it and return once the final schedule is out to laugh at myself.
My 2016 WSOP surprise predictions
A rebuy/add-on event. For some reason players seem to love these online. Why not cage them in for their own WSOP tournament?
Lottery tournaments. Another popular recent online invention that offers a small randomized chance at an increased prize pool. I'm not sure how this would work for a live tournament.
Pros vote on the winner. I had to have one off the wall prediction. Hearken back to the inaugural 1970 World Series and invite a handful of pros to play an extended cash game, then have them vote on the second-best player. How do they prevent something like this from becoming a popularity contest, though?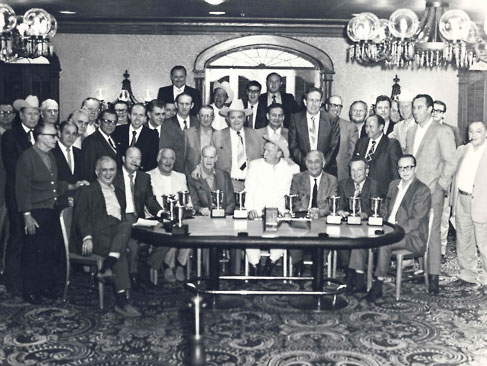 [btf_block title="Top WSOP moments from last year" symbol="2″ bgcolor="618685″ textcolor="fff"]
Phil Hellmuth extends his record by winning his 14th WSOP bracelet
Daniel Negreanu just misses the final table of the  Main Event, finishing in 11th
The first online WSOP event draws 905 players
The colossus $565 event was the largest in live poker history, drawing over 22,000 players
[/btf_block]