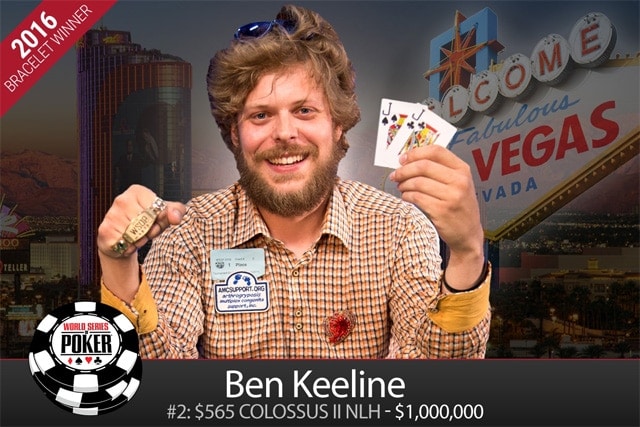 Although it has become a common to say all you need to win a poker tournament is a chip and a chair, most people who find themselves in this position are eliminated not long after. Not the WSOP 2016 Colossus winner Ben Keeline who was down to his last 500 chip at one point in the event and mastered a surreal comeback which culminated in him winning a cool $1,000,000.
WSOP 2016 Colossus featuring 21,613 entries
Although total number of entries in this year's $565 Colossus event failed to break the last year's record in terms of participation, it came very close with 21,613 entries in total. The total prize pool after the registration was over stood at $10,806,500 with WSOP 2016 Colossus winner set to take home one million USD even.
Players battled over six starting flights to earn their seats in the Day 2 and when it was all said and done, more than 800 of them went through, all guaranteed to take home at least $2,200 for their efforts. But everyone was fixated on the seat at the final table where all except for the ninth place finisher would earn six figures. The winner, of course, was guaranteed to bank the seven figure score.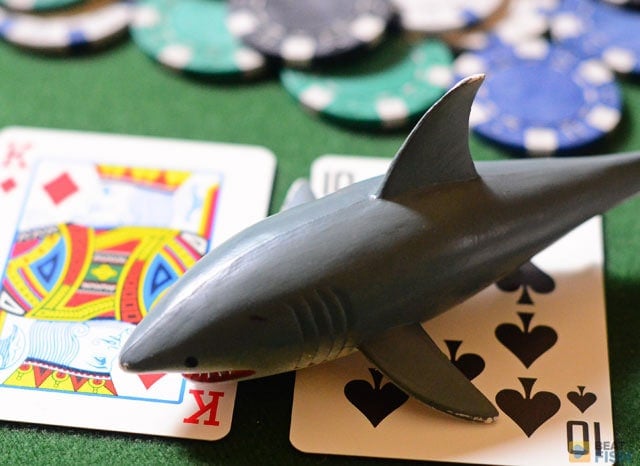 Ben Keeline, an Uber driver from St. Louis, came to the Series with big dreams like many others. Nobody really expects to survive a 20k+ field and book a victory, but everyone who pays the entry secretly hopes that Lady Luck will be by their side for the next few days.
For Keeline, though, the dream seemed pretty much over when he found himself sitting with a single 500 chip in front of him. At this point, blinds were 1,500/3,000 so he could only afford to ante one more time.
Luck can sometimes have a really weird sense of humor, as Keeline would come to understand a few days later. From that single chip, he managed to win the next hand and many hands to follow, finding himself seated at the final table with as good a chance as any of the remaining eight to seize the title.
Ben Keeline emerges WSOP 2016 Colossus winner
Keeline started the Colossus final table second in chips and having the chip leader Jiri Horak seated to his immediate right. The final nine players represented an interesting mixture of professional players and amateurs, which influenced the dynamic of the play a lot.
Commentators on the live stream kept mentioning ICM, but about half of these players probably had no idea what this was nor how they could calculate it. With all of them already guaranteed a big payday, they were there to play some poker, not complex math games.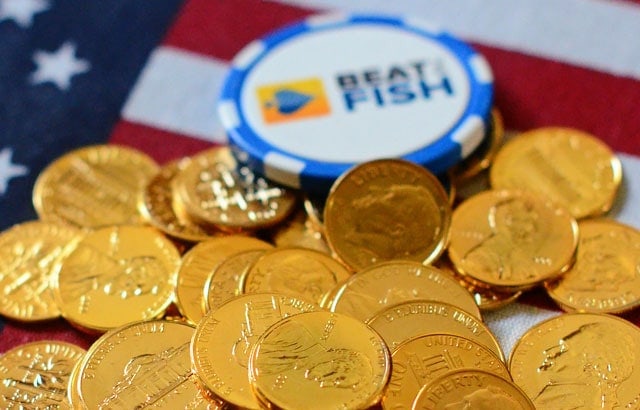 The only female player at the final table, Xiu Deng, was the first to go when she decided to jam her A-J over an early position raise and a call. She got herself in a flip situation against pocket Nines but couldn't find any help by the river and was subsequently sent to the rail. For her outstanding performance, Deng earned  $92,291.
Jonathan Borenstein followed in her footsteps as he was eliminated in eight place, taking home $118,937. Alex Benjamin ($154,208), Christopher Renaudette ($201,151), Marek Ohnisko ($263,962), and Richard Carr ($348,462) followed the pattern, all failing short of the title, but earning big bucks for their performance.
This left three players to resolve the matter of WSOP 2016 Colossus winner. Apart from Keeline, the chip leader at the start of play, Jiri Horak, and the amateur Fahrad Davoudzadeh were still in contention. It was Davoudzadeh who fell first of the three, earning $462,749 in what was his WSOP debut.
Horak and Keeline clashing for the bracelet
With everybody else sent to the cashier, it was time for the final heads-up confrontation. Despite Horak's experience, one had to favor the guy who managed to claw his way back from a single ante.
Heads up. I wont million!

— Ben Keeline (@keeksWellington) June 8, 2016
Sure enough, last hand saw the two get all the chips in the middle, with Keeline well ahead holding pocket Jacks to Horak's Ace – Nine. Jiri flopped a pair of Nines and managed to spike an Ace on the river for a brief moment of excitement, only to realize the Ace completed Keeline's flush in spades.
And that was that. The WSOP 2016 Colossus winner was crowned, earning a bracelet and the first prize of $1,000,000, while Horak took home $618,000 for his runner up finish.
I'm elated.  I can't even think about what this means, not just the money, but the gold bracelet.  This is something I could not have imagined would happen just a few days ago. Sure, I thought it could happen and I thought I could win if I played well, but to have it go the way it went, well – that's more than I express how I feel right now.  It's going to take some time for this to all sink in. Ben Keeline for WSOP.com