How To Play $800 in Little-Known BetOnline Poker Freerolls Every 24 Hours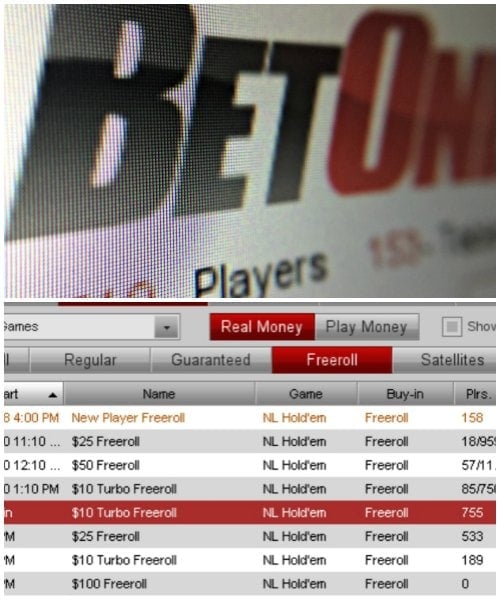 Really? BetOnline Poker freerolls add up to the largest no-restrictions events of its kind in the world?
Really – which comes as a mild surprise.
Although I like BetOnline quite a bit they aren't the largest poker site in the US, which perhaps explains the rationale behind trying to draw players through these.
Their marketing decision is your gain as these are the most attractive open-to-all freerolls online.
Why do I rate them as the best of their kind?
1. There are no gates for the un-deposited
They don't gate off freerolls for those who have earned something like 8,349 Rank 79 Superstar Hyper VIP points since the last full moon.
That sort of dubious practice is now commonplace almost everywhere else.
At BetOnline everyone with an account can enter every single one.
2. Much smaller fields than larger competitors
Freerolls also aren't typically the best value play for an online poker site, but, hey, they're throwing them out there to the tune of $800 a day.
The other key is that you'll only be facing fields of 800-1,500 players in each tourney. That's much smaller than their larger counterparts.
3. The prizes are simply bigger
The $200 and $300 open-to-all freerolls every day aren't going shatter any records, but it's a heck of a lot better than minuscule $10-only tourneys found elsewhere.
If you actually make a deposit the $5,000 private depositor freeroll is an excellent value with only 200-ish opponents.
How do you find each and every one of these BetOnline freerolls? Let's dive into it.
BetOnline Poker Freeroll Chart
These all take place every day at the same time listed aside from the New Player Freeroll, which is on Sunday evenings.
Freeroll Name
Prize pool
Time (EST)
Places paid
Open to all players
Average players
Link
New Player Freeroll
$5,000
Sundays @ 7 P.M.
TBD
Only new depositors
250
Register
Euro Nooner
$300
11:05 A.M.
TBD
Yes
1,500
Register
$200
5:05 A.M.
$100 Freeroll
$100
8:10 P.M.
40
Yes
1,300
Register
11:20 P.M.
$50 Freeroll
$50
8:10 A.M.
30
Yes
Register
3:10 P.M.
1,200
10:10 P.M.
$25 Freeroll
$25
1:10 A.M.
20
Yes
1,000
Register
3:10 A.M.
2:10 P.M.
6:10 P.M.
9:20 P.M.
$10 Freeroll
$10
12:10 A.M.
10
Yes
1,000
Register
2:10 A.M.
4:10 A.M.
6:10 A.M.
9:10 A.M.
1:10 P.M.
4:10 P.M.
7:10 A.M.
How to Play a Freeroll at BetOnline
Step 1
Visit the BetOnline website, sign up for an account, and download the poker software for either Windows or Mac.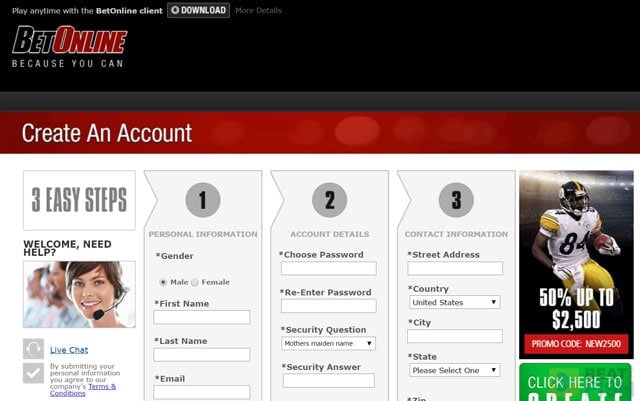 Step 2
After installing the software, launch it and sign into your account. In the main lobby window click "Tournaments" and then "Freeroll" to show all upcoming free-entry tournaments.
Highlight any event that is in "Registering" status and click "Register" in the bottom-right corner.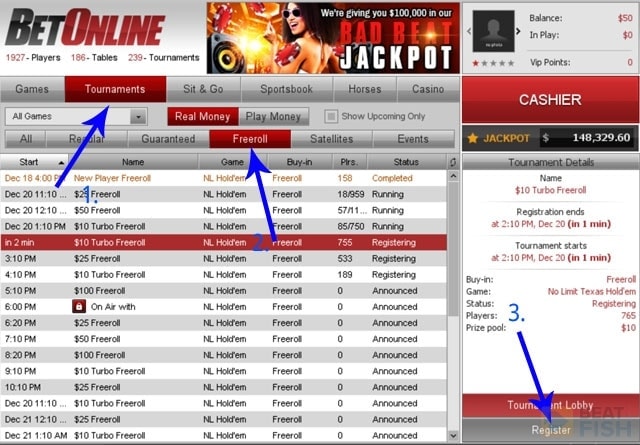 Step 3
You'll see this registration window pop up to confirm your entry and that there is no entry fee. Click "Register".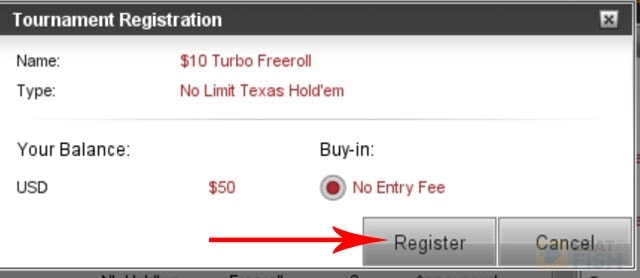 Step 4
You'll see this success message.

Step 5
When it's time for the BetOnline freeroll to begin the tournament window will automatically open and you'll take your place at the table. Enjoy! You can simultaneously play in as many freerolls as you want so check the lobby for others currently open for registration.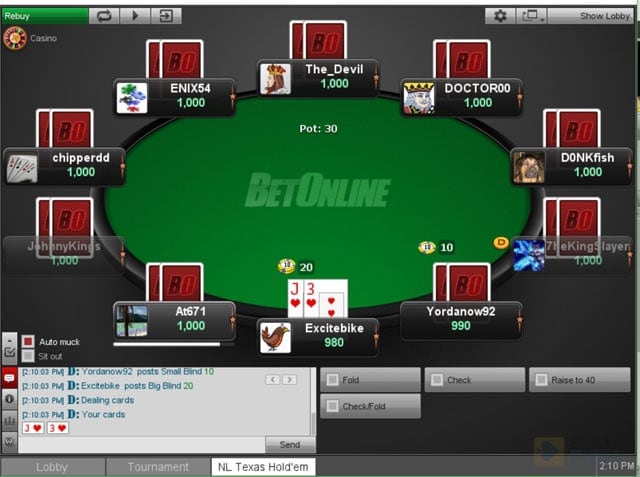 $5,000 New Player Freerolls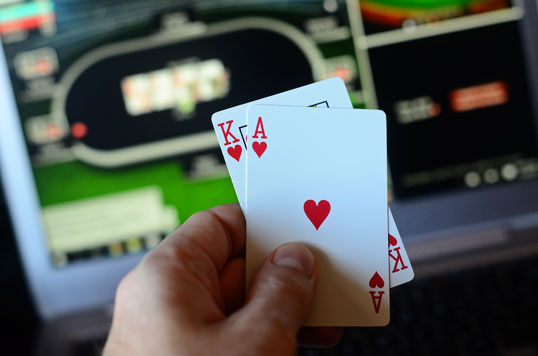 Although it takes a deposit to enter this is one of the best private depositors freerolls going anywhere right now.
One of the best private freerolls online right now
The key is in the prize-to-field ratio, which is excellent.
Most New Player Freerolls won't exceed 250-300 players yet the free prize pool is a guaranteed $5,000.
That effectively makes this a $16-20 buy-in tournament, which, of course, is free to enter for any new BetOnline depositor.
Once you make a deposit with BetOnline, you'll automatically receive a ticket to the next $5,000 freeroll. You can view it in the ticket section of the cashier. What I like that the poker room has done here is not put an expiration or a specific date on the ticket. You can hang onto it and play whichever Sunday you're available.
Easily the most valuable BetOnline Poker freeroll
One thing you might find surprising is that the number of players in these events is quite small (only a few hundred players), which means the ticket is quite valuable.
Since you get the entry even if you make the smallest deposit, it is definitely worth it to fund your account with at least the minimum of $25 to get your hands on the ticket.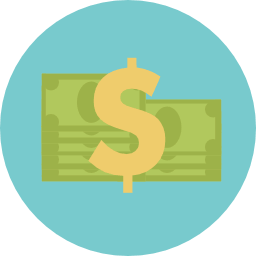 Open only to players making their first deposit
Start time: Sundays at 7:00 P.M. EST
Prize pool: $5,000
Fields: only 250-300 players
Rebuys/Add-ons: None
Euro Nooner Freerolls with $200-300 prizes
These are the showcase freerolls at BetOnline with, by far, the largest open-to-all prizes of the day.
Euro Nooner freerolls at BetOnline belong to a separate category, although they are still basically regular freerolls. Everyone can register and play, and there are no restrictions.
The only real difference is the prize pool, as the earlier Nooner offers $200 and the later one $300 for the players to share.
As you could probably guess, there are rebuys and add-ons, as with all BetOnline freerolls, but despite a relatively big prize pool the price is manageable: $0,50 and $0.45 respectively.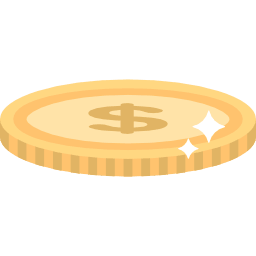 Open to all players
Start times: every day at 5:05 A.M. $200 Euro Nooner & 11:05 A.M. $300 Euro Nooner
Prize pools: $200 and $300
Fields: 1,500+
Rebuys/add-on: $0.50 for $200 Nooner & $0.45 for $300 Nooner
$100 BetOnline Poker Freerolls
Looking at this schedule of freerolls at BetOnline, you've probably come to realize you could be playing free tournaments around the clock. It would be a serious grind, but there is nothing stopping you if you have enough free time on your hands.
$100 Freerolls run twice a day and offer $100 prizepool distributed to the top 40 finishers.
A worthwhile grind for the bankroll-challenged
Like the $50 events, these attract a lot of players battling it out for what is a significant first place money for someone without a proper bankroll. However, rebuys cost $0.50 a pop and playing on a single bullet can be a bit tricky.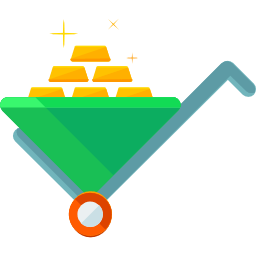 Open to everyone
Start times: every day at 8:10 P.M. and 11:20 P.M.
Prize pool: $100, distributed to top 40 players ($18 for the winner)
Fields: 1,300+ players
Rebuys/add-on: $0.50
$50 Freerolls
Similar to $25 tournaments, these BetOnline freerolls are different in terms of the prizepool and distribution of prizes. The top 30 players get paid and bigger prizes attract even more players.
The winner in these freerolls takes home $8, which is a decent start to building a bankroll.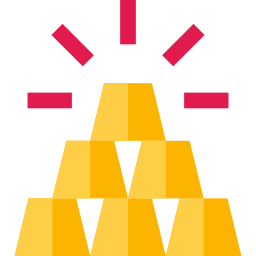 Open to everyone
Start times: every day at 3:10 P.M., 10:10 P.M., 8:10 A.M.
Prize pool: $50, distributed to top 30 players ($8 for the winner)
Fields: 1,200+ players
Rebuys/add-on: $0.25
$25 Freerolls with traditional blinds allow more strategy at the expense of more time
Similar to Turbo event, these $25 freerolls feature a slower structure with 10 minute levels (as opposed to 6). This leaves more room for play, but also means they take longer to complete so the choice is up to you entirely.
Larger prize pools and more competitors
These events are also open to everyone and pay 20 players in total, which is fine, since the prize pool is also larger. Not surprisingly, the interest for these events is larger than for the $10 ones, so you'll need to grind it hard if you want to start your BetOnline poker bankroll without risking your own money.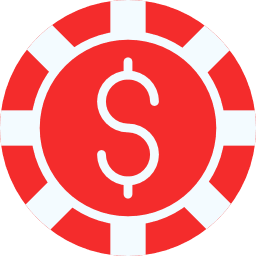 Open to everyone
Start times: every day at 6:10 P.M., 9:20 P.M., 1:10 A.M., 3:10 A.M., 2:10 P.M.
Prize pool: $25, distributed to top 20 finishers
Fields: around 1,000 players
Allows rebuys and an add-on at $0.10
$10 BetOnline Turbo Freerolls serve as a quick fix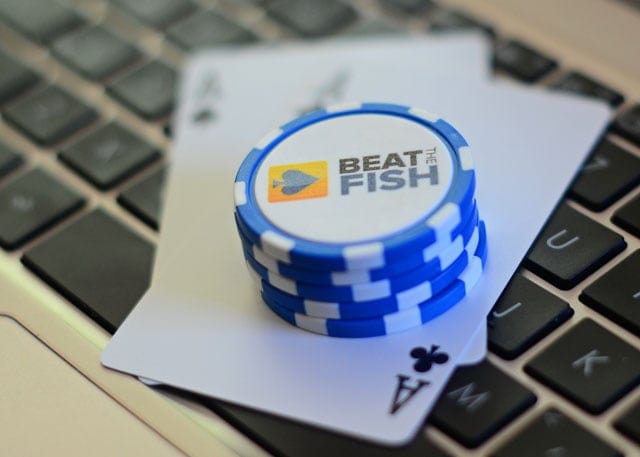 Although they offer the smallest prize pool, the $10 Turbo Freerolls represent a nice way to grind out some real money, given they run regularly so many times a day.
At least winners get paid a full $3
Only the final 10 players get paid, so regardless of how big the field is, the winner will get $3, and everyone making money will receive at least $0.50 for their efforts.
This is better than watering the prize pool down to fractions of a cent, as at least with $0.50 you can try and play for real cash.
Some of the busiest freerolls on the site
The downside of these events is they are open to everyone and fields are often close to 1,000 players. Also, unlimited rebuys are allowed for $0.05 apiece, and there is an add-on after the first hour of play (5000 chips for $0.05).
This gives a significant advantage to those who have at least some funds in their BetOnline accounts, but feels somewhat pointless when the prizes are already so low.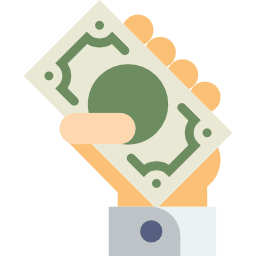 Open to everyone, no requirements
Start times: every day at 12:10 A.M., 2:10 A.M., 4:10 A.M., 6:10 P.M., 9:10 A.M., 1:10 P.M., 4:10 P.M., 07:10 P.M.
Prize pool: $10, distributed to top ten finishers
Fields: usually slightly under 1,000 players
Rebuys and an add-on at $0.05 a piece
BetOnline Freerolls Rating
Summary
BetOnline actually offers the biggest ongoing no-restrictions tournaments online right now with over $800 daily. Prize pools go up to $300 and the player numbers only range from 800-1,500. The weekly $5,000 private freeroll is a very good value with only 250-300 players usually competing. BetOnline is one of the US market leaders in terms of credit card deposit success rates.
New Player Freeroll

Euro Nooner

$100 Freerolls

$50 Freerolls

$25 Freerolls

$10 Turbo Freerolls
A lifelong poker player who moved online in 2004, Josh founded Beat The Fish in 2005 to help online poker players make more-informed decisions on where to play and how to win once they got there. He hopes to counter the rampant dishonesty in online gaming media with objective reviews and relevant features. Tech nostalgic. Fondly remembers the soup avatar at Doyle's Room.