3 Fatal Mistakes You Can't Make with Pocket K-K and Q-Q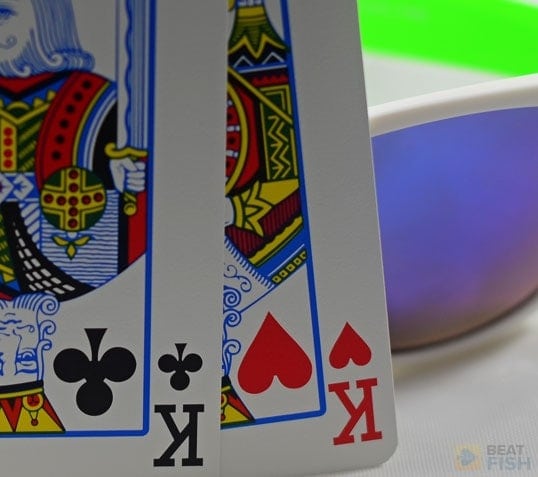 Pocket Kings and Queens are great to be dealt preflop in hold'em. They're made hands and you've got a big pair already, even if you don't improve. Unfortunately, they're also very vulnerable hands that can get you into a lot of trouble. For this reason, you should very rarely, if ever, slowplay these two pocket pairs. You're just asking your opponents to take your money if you do.
It's easy to get yourself in trouble with K-K and Q-Q
Suppose you get dealt Q-Q in third position. Naturally, you're going to play the hand, but how should you play it? In a no-limit cash game, suppose you just smooth call the minimum bet. Much to your disappointment, no one raises the pot behind you so you can reraise.
Instead, 4 other players call the minimum bet and both blinds stay in.
The flop comes down J-10-6 with two clubs. With an overpair to the board, you feel pretty confident right now. There are 7 players in the pot who've come in on the cheap. The small blind checks and the big blind makes a reasonable bet.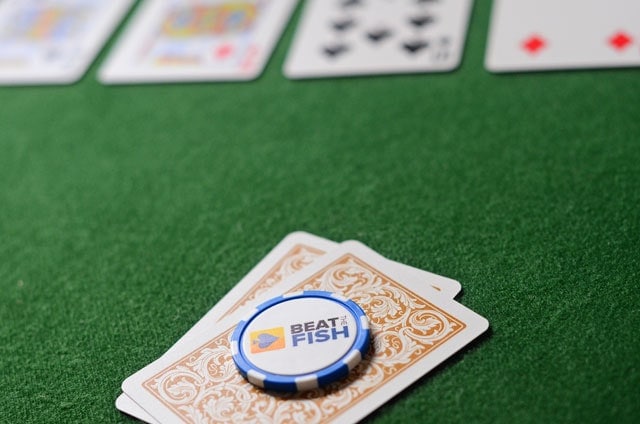 You raise him, and everyone folds to the button who goes all-in. The big blind calls the all-in bet and action is back to you.
This is a terrible situation for you, because while you have an overpair to the board, what could these guys possibly have to make that large of a bet?
You nervously call. The big blind turns over 10-6 offsuit for two pair, and the buttons turns over the 5-3, both clubs on a flush draw. The turn brings a K of hearts, and the river a 2 of clubs. The button rakes in the massive pot with his completed flush.
Don't let people see the flop cheap with pocket Kings and Queens
This type of hand is very common, especially in online poker. When you allow that many players to come in for the minimum bet, you're going to see all sorts of garbage hands stay with the hand. You can't even really fault the guy with the 5-3 – he's getting great pot odds to see a flop.
With 7 players seeing a flop of two more suited cards, you can be reasonably sure that at least one opponent has two more of them. Someone else could have a set or two pair. And sometimes you'll run into opponents who have slowplayed pocket pairs even bigger than yours!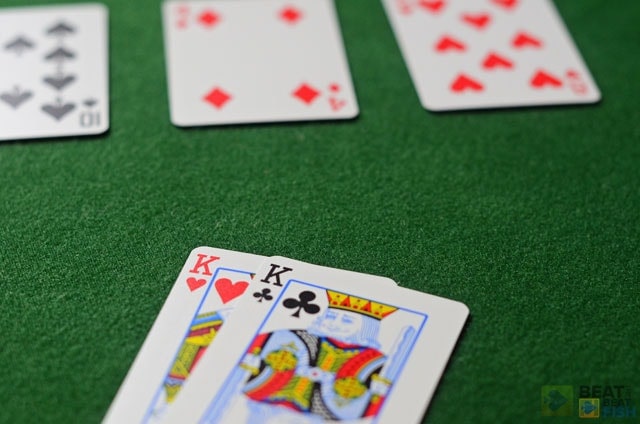 You'll have no reads on your opponents without raising pre-flop
The lesson is: you're not going to know where you stand with Q-Q or K-K unless you raise preflop! When you raise, you're going to thin the field out and those trash hands are going to think twice about staying in the hand. Raise it enough, and only the complete idiots and premium hands will stay with you.
Fire out a pot-sized raise from any position and see what happens. If you're in early position and get reraised, slow it down a little. With Q-Q, you'll probably just want to call the reraise and see a flop. He could have A-K, K-K, or A-A. When you have K-K, you can consider putting all your chips in at this point. K-K is a little safer because the only way you're beat at this point is if your opponent is holding Aces.
DON'T
...spend another penny on yet another poker book.
I'm giving away my 6-part course if you download it in the next 24 hours.
"The whole PDF on the Beat The Fish guide was absolute gold for me. Very impressed, has really made a difference to how I play my game from when I first started. Definitely built up my confidence in the game and helping me to stop spewing off chips." -Dylan Walsh
Final words of advice with pocket Kings and Queens
Be very careful on the flop with these two pocket pairs. Invariably, you're going to see an Ace come on the flop all too often when you have pocket Kings.
What are you going to do? Since you raised preflop, your opponent is likely to have called with big cards, perhaps an Ace-high hand.
If you're first to act after the flop, bet a small amount with the intent of getting more information. If he raises you with any authority, you should probably fold.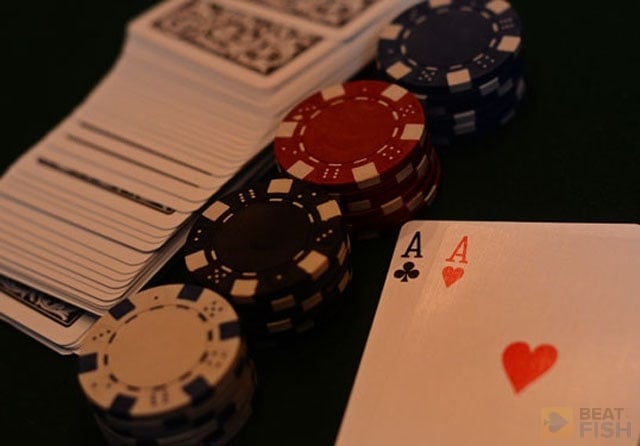 Running into Aces
You're also going to run into times where you have Q-Q or K-K and end up all-in against A-A. It seems to happen a lot because these are hands that people are willing to go all-in with preflop. The few times that these hands are dealt together, both opponents are usually going to end up all-in.
One quick note to consider about Q-Q: if you make a standard raise and get reraised all-in, do you think that your opponent is likely to have done that with a worse hand than Q-Q? If not, throw your hand away.
Play your Queens and Kings right: raise 'em hard preflop, and be willing to let them go if you get too much action for your liking or the flop brings an overcard.
A lifelong poker player who moved online in 2004, Josh founded Beat The Fish in 2005 to help online poker players make more-informed decisions on where to play and how to win once they got there. He hopes to counter the rampant dishonesty in online gaming media with objective reviews and relevant features. Tech nostalgic. Fondly remembers the soup avatar at Doyle's Room.