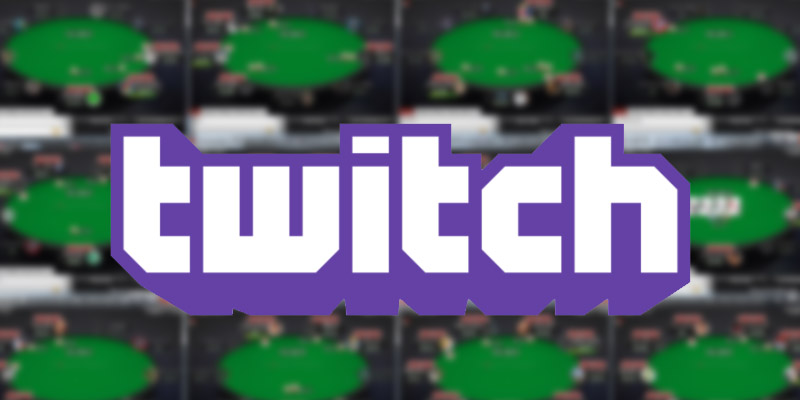 A fun and novel way to interact with the online poker community is to stream yourself playing on Twitch.tv. Getting started might seem daunting, but we're here to help make it easy.
In our poker streaming guide, we'll teach you everything you need to get up and running and how to grow your following. So, read on if you're ready to hop on the Twitch bandwagon.
Start a Twitch Account
This is pretty easy. Just head over to Twitch.tv and click on Sign Up. All you need to do is pick out a username and password, enter your date of birth and input your email address.
Make sure you pick a username that stands out. Some online players match their Twitch name to their username on their chosen poker site, making them easy to recognize.
Pick Out A Streaming Software
There are several different streaming programs out there, but you'll find that the vast majority of steamers use one of two options: OBS Studio or Stream Labs. You might hear people mention vMix but that's only if you're looking to stream 4K.
Stream Labs Vs OBS
When I had a Twitch channel, I used Streamlabs. I heard it was the better options, as it offered more customization and special features. However, it was a pretty big uphill shlep to really get to grips with the software and actually know what I was doing.
I've heard plenty of other streamers say that OBS is much better for beginners, even though Streamlabs is considered more "user-friendly". It might not come with all of the same bells and whistles as Streamlabs but I feel like I would have been able to get my stream up and running quicker if I had started with OBS.
Setting Up Your Streaming Software
Since OBS Studio is actually the best option for beginners, I'll walk you through how to set that up. Firstly, head over the OBS Project website and download the program. The program is only 72mb so it should be fine to download on most computers.
Configuration
You're going to need your stream key for the set-up. This is actually trickier to find than you'd expect:
Go to Twitch and click on your icon in the upper right-hand corner of the screen.
Select 'Creator Dashboard'.
Click on Settings on the left side of screen, and select Stream.
Your Stream Key is displayed at the top of the screen. Just click Copy.
Next, install OBS. This takes 5 minutes, tops. Once you're in, click on Tools in the menu bar and select Auto Configuration Wizard.
Just click through all of the recommended settings until you're at the screen where you input your Stream Key. Paste that in, wait a few minutes and you'll be good to go!
Got a 400 Error Code?
If you get an error that says "Failed to Authenticate Stream", there's an easy fix for this. Just click on File in the menu bar and then Settings. Disconnect your Twitch account and then re-enter your stream key. Then, it should all be working perfectly.
Audio Devices
OBS will automatically have your in-device microphone set up. So, just started talking and you should see the bars moving at the bottom of the screen. If they don't, or if you prefer to use another device, then just click on Settings and Audio to manually add a recording device.
Video Devices
The same applies for video recording. Your built-in webcam should already be hooked up, so you should see yourself in in OBS. If not, then repeat the same steps as above, but select Video this time.
Setting Up Your Stream
Get your second monitor setup and open your chosen online poker room on it. Make sure the OBS window is open on your first monitor or laptop.
'Scene 1' should already be setup in OBS, with all of the correct settings. However, you'll want to change the Display from your primary monitor to your second monitor where you'll be playing poker.
Just click on Display Capture at the bottom of your screen and change it to your second monitor.
You can also move the video capture box and Stream Chat boxes around until they are in a good position that allows your viewers to see you playing and what the community is saying without blocking any of the action.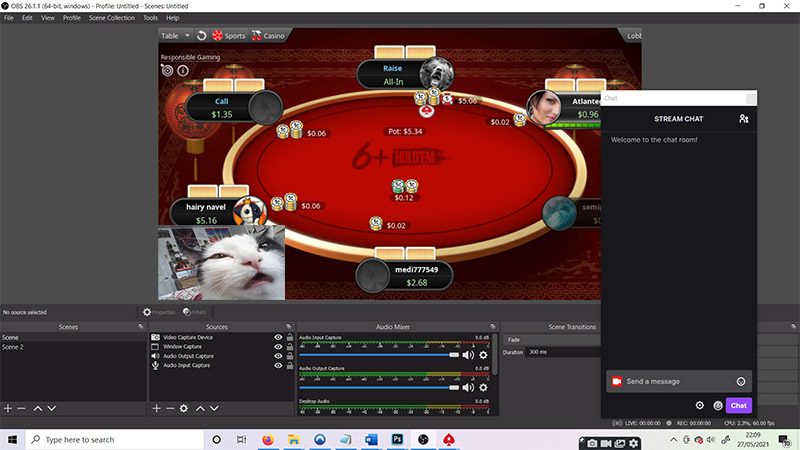 Do I Need Two Monitors?
Nope! You can use the Window Capture option when creating your scene, which will only capture your poker client rather than your entire screen. All this means you won't be able to multitable – but, it's a great way to start if you haven't got a second monitor handy.
Getting Your Stream Information Right
Now that you're ready to stream, you'll have to put a bit of thought into how you're going to get yourself found. This means picking out a good title and choosing the right tags.
Title
In the Stream Information box, type whatever you want the name of your Stream to be called – pick some descriptive but interesting.
Keep the most important information at the very beginning of your title. For example,  if you're playing in a tournament and are in the money, consider starting your Stream Title with "27 Left" – or, if you're playing in a big name tournament, lead with that "WPT Day 1…".
Just make sure you lead with the bit that will get potential viewers interested.
Picking Out Tags
There are hundreds of tags that you can use to categorize your stream. New tags are always being added, but these are the ones that will get you the most relevant followers for your Poker Stream:
Gambling Game
Cash Game
Texas Hold'em
Omaha Hold'em
Poker Mixed Games
Sit & Go
Multi-Table Tournament
Music
Talking all the time can get pretty tiring, so if you'd rather try to fill any silence on your stream with constant chatter, it's a good idea to have some music playing in the background. However, Twitch's rules about music are pretty strict, as you can only use:
Original music that you own.
Copyrighted music that you've licensed.
Other music, only if you're giving a vocal performance.
In the past year, many streamers have had their streams deleted and accounts suspend because they were playing copyrighted music in the background. So, you can't just play your favourite album off of Spotify or Youtube in the background while you play.
You will have to make use of Soundtrack by Twitch, a rights-cleared music tool. Here, you can find music that has been licensed for use in Twitch streams. It might not be the soundtrack to Mamma Mia but it'll be some nice music to play in the background while you stream.
Growing Your Channel
Now that your channel is up and running, it's time to grow your following. This is all about being active on Twitch and social media to get your name out there and get yourself known.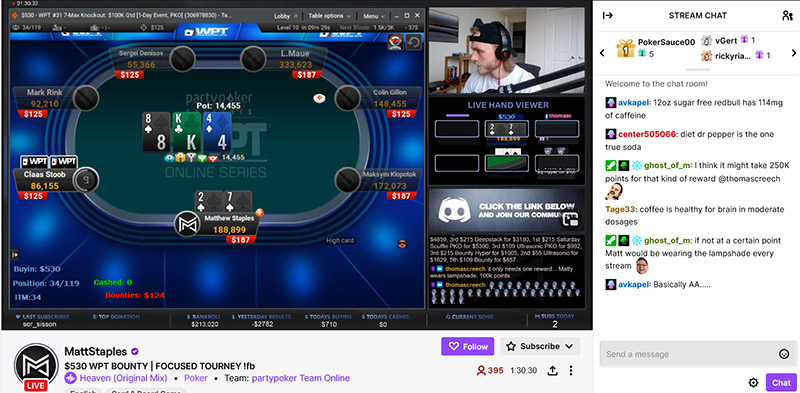 Post Great Clips and Highlights
On your Twitch homepage, your visitors can see your best highlights. So, make sure you always write down timestamps when anything of note happens. Bad beat, big win – anything that would get attention should be made into a highlight and posted on your homepage.
Get Involved in the Community
One of the best ways to make yourself known in the poker streaming community is to check out other streamers in the same realm. Be active on their chats and make a name for yourself as someone who is fun and interesting.
There are a few more involved ways to interact, as well:
Follow: if you're in another streamer's chat and notice some chatty characters, give them a follow. They might follow you back and check out your stream the next time you're online.
Cheer: you can spend bits to cheer on your favourite streamers. It gets you noticed a bit more among their viewers – other poker fans who might be interested in visiting your stream – and is a nice way to interact with the poker community on Twitch.
Host: when you host a channel, you're basically broadcasting their stream on your page. The streamer will get a notification that you're hosting them, and there is always the chance that they will host you back and expose your stream to a new audience.
Social Media
If you want to make a big push, getting involved in social media is the next step. Twitter is normally the best place to promote your channel and, there is an entire community of Twitch Poker players on Discord where you can network.
Youtube is where you'll want to post your best clips. Reposting the most interesting events that happen on your stream on Youtube will introduce you to a whole new audience.
Overlays
Overlays are a way to make your stream stand out from other poker channels and look super swanky in the process. If you're just starting out, on your first few streams, I'd skip this step. However, if you're starting to get a bit of a following and you really want to ramp things up, you can add a cool overlay to your stream.
In Streamlabs, you can find several overlays built-in to the software, however, they aren't really suited to poker. Most of the best ones require a subscription, anyways.
Google will turn up some great (although genertic) results for free overlays to get you started as a quick way to zhuzh up your stream. You can also customize your own using the following:
What's Your Angle?
When getting into streaming, many gamers think they need a good angle or special draw – but, it's really all about having fun and chatting with other poker fans. You don't have to worry about whether you're well-known enough or experienced enough; you just have to be passionate about the game and open to some conversation. So, just get out there and have fun!