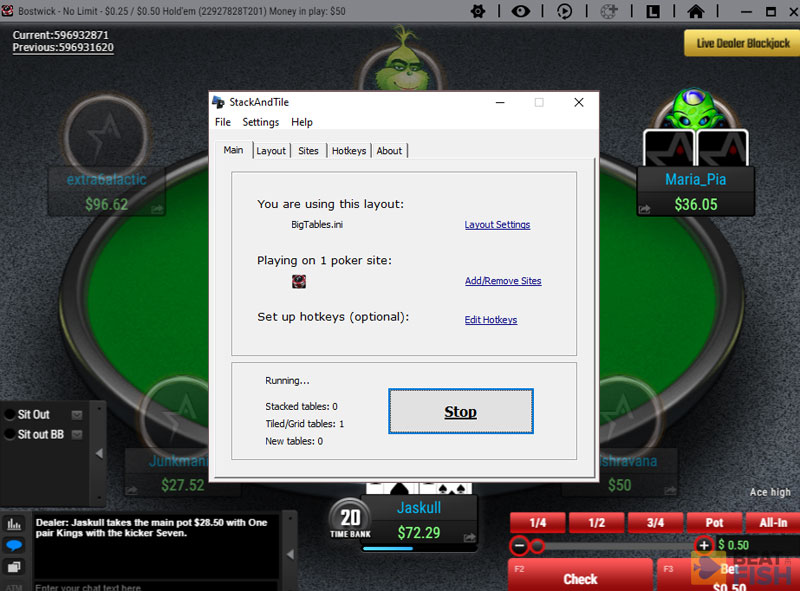 I'm going to be honest with you: I hate multi-tabling in online poker. I do it, but I don't like it at all. It's stressful and I feel rushed, which often causes me to make bad decisions. When I found out that Stack and Tile was software designed to help players multi-table, I wasn't very happy.
However, Stack and Tile is a piece of software that neatly stacks all of your poker tables up to keep you organized, speed up your play, and allow you to focus on your more important hands.
Although Stack and Tile works alongside your software from online poker sites, it isn't a traditional HUD (heads-up display). It doesn't give you unfair information on your opponents. It just organizes your tables better.
After spending several hours with Stack and Tile, I'd say it delivers on all accounts. Although I dealt with some teething issues while setting it up, StackandTile actually made multi-tabling bearable. It got me organized enough to make more winning decisions.
How to Use Stack and Tile
The first thing you should know about using Stack and Tile is do not skip the tutorial. I was very arrogant in my assumption that I could just click start, launch a poker site, and get going.

The first time I booted up Stack and Tile, I thought I could just jump right in. After fiddling around for longer than I care to admit, I decided to shut everything down and start again.
Once I did that, I paid attention to the tutorial and setting everything up was very easy. It's only a short tutorial but taking the two minutes you need to go through the poker software's basic features really makes all the difference in how quickly you grasp how Stack and Tile works.
Setting up Poker Site Layouts
When you set up the program, the first thing you'll do is create a layout. This is done by opening a single online poker table and having Stack and Tile detect the dimensions.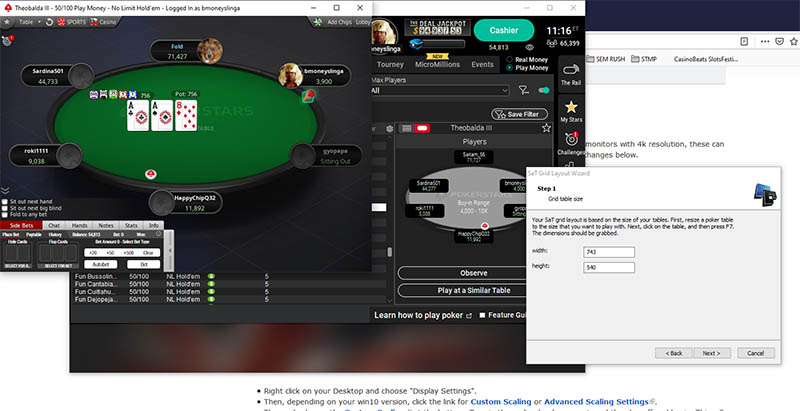 Then, you'll pick a site to include. Stack and Tile is compatible with just about every online poker site that I've ever heard of. As I scrolled through the list, I couldn't think of any site or skin that wasn't included.
You'll then be asked to press F9 to detect the table and F10 to detect the fold button. If Stack and Tile correctly folds the hand, then you're all set to go.
SaT Solutions for Windows 10 Users
I only had one issue when setting up Stack and Tile – figuring out how to get the tables to stack properly. This ended up being an issue with the scaling on Windows 10,but Stack and Tile helps you with some easy solutions in its FAQ.
I had to go through solutions 1 and 2 in the FAQ on Stack and Tile's website, but that eventually got things working the way they should. The fixes simply had me change some properties on my poker client and my desktop's display settings.
Another important thing to remember is that when you're setting up a new grid layout in Stack and Tile, resize your window so that it only takes up a small portion of the screen.
I made several new layouts when testing Stack and Tile, and this made the most difference in how easy it was to stack the tiles.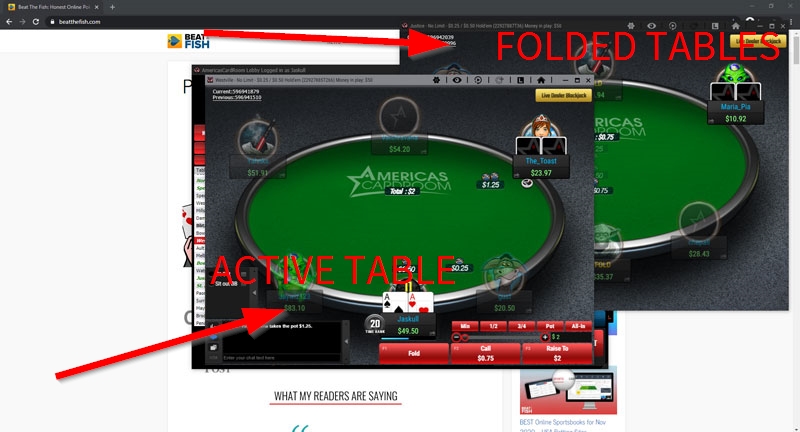 Which Poker Sites Stack and Tile Works With
One of the very best features of Stack and Tile is that it can work with literally any online poker site.

It has built-in support for around 20 poker networks and their skins. That should cover almost every popular or semi-popular poker site. You'll see those in the list within the software. The Stack and Tile developer also has excellent tutorials for setting up every poker site with built support.
Some of the supported poker sites include:
PaiWangLuo (Bovada and Ignition)
Winning Poker Network (Americas Cardroom)
BetOnline
888 Poker
PokerStars
Partypoker
Winamax
GGPoker
iPoker
However, if you're playing on a very small independent poker network or a newer site, like Global Poker, that Stack and Tile hasn't included yet, you can manually configure a new poker site yourself.
Click on the Other section in the list of poker sites, select Include Site, and run the wizard to create a new poker site profile.
Unlike many apps and pieces of software who release a product and never update it, Stack and Tile is updated at least every few months and sometimes as often as every week. These updates help to keep it functioning correctly when the poker sites put out software updates that might change the layout of the action buttons.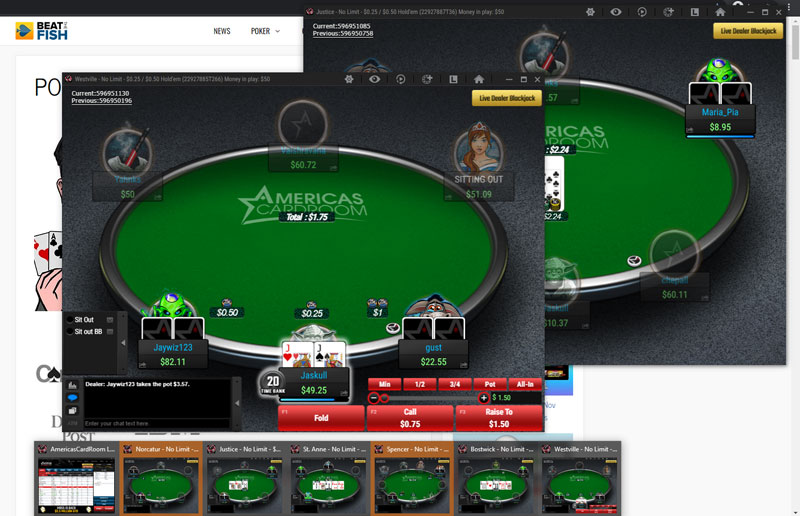 Stack and Tile in Multi-Table Poker Action
What Stack and Tile actually does is keep your tables in a neat little stack in the corner of your screen. When the action falls on you at one of your tables, it will pop out of the stack, you'll take your action, and then it will pop back into the stack.
Without Stack and Tile, the table that requires my action would simply jump to the top of the pile. That's fine when you're only playing on two tables, but I find that it's a bit disorienting.
Cycling through different hands as they appear in one spot on your screen just gets a bit confusing over time and, personally, it slows down my play.

The other multi-tabling option would be tiling, which I don't like at all. It's just a lot going on at once and, I don't act quickly as quickly as I'd like because my eyes are darting all over the screen.
The demo from the developer shows how it works:
When using Stack and Tile, I can quickly make my way through all of the hands I'm participating in by tucking my folded hands away at the bottom of the stack. The most important hands are prioritized and I know where I should spend more of my time and effort.
StackandTile Hot Keys
If you're already playing on sites like 888poker that already have built-in hotkeys, you might be reluctant to use new software. However, Stack and Tile has a ton of hotkey options. Using hotkeys in this program, you can:
Complete an action and stack the table
Complete an action and tile the table
Set 7 bet sizes
Activate the most urgent table
Stack all tables
Tile all tables
These are just a few of the different shortcuts available. You can literally do anything at the poker table when using hotkeys when Stack and Tile is running.
It really helped me manage multiple tables at once. It was easy to just tap a button and quickly fold my way out of a bad hand and only focus on the hands at the top of my range.
I wasn't clicking all over the screen, as the action fell on me on each of my tables. Once I memorized my Stack and Tile hotkeys (I wrote them down on a piece of paper), it made the whole process a lot more streamlined and much quicker than if I were using my mouse.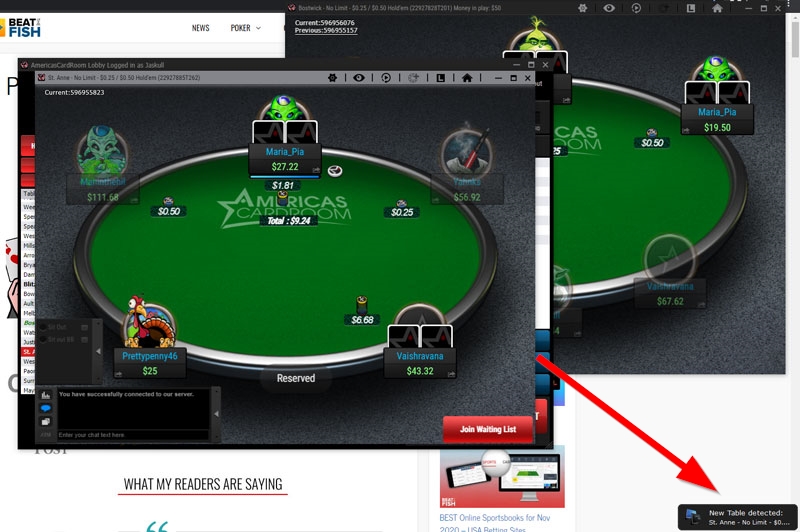 Tips for Using Hot Keys
Keep in mind that if you want to use Stack and Tile so you can browse the web in another window, you should limit your hotkeys to non-alphabetical characters. Otherwise, your computer will get confused, and a search for "Funny cats" will cause you to fold your hand.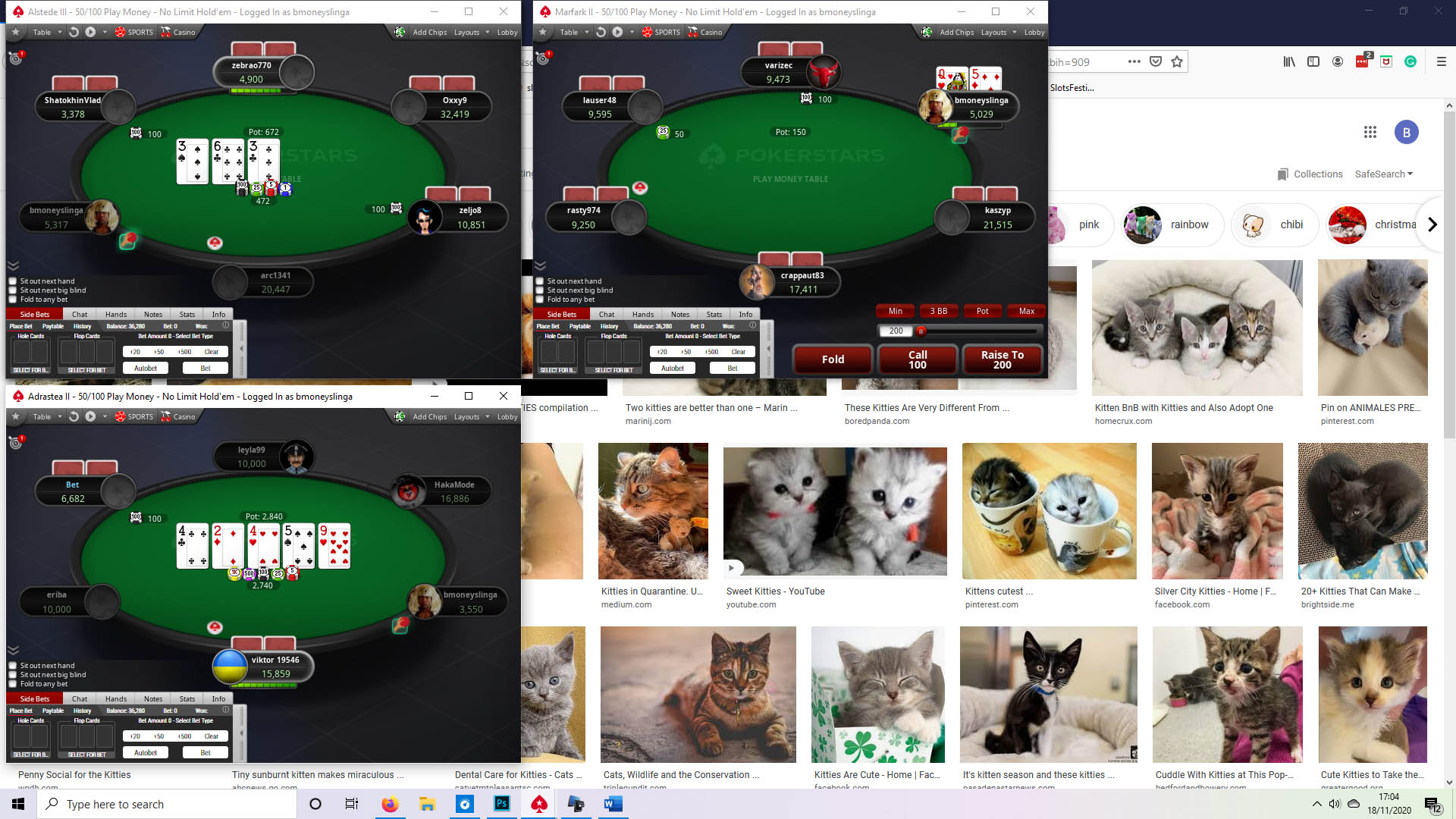 You can use all of the symbols, numbers, and F keys, so there should be plenty of other hotkey options.
Final Thoughts on Stack and Tile
Stack and Tile is one of the only third-party programs I'd use while playing poker online. It's not like a HUD or solver that will give you an unfair advantage over the other players; it's just a very handy tool that keeps you organized as you multi-table.
If you want to improve how many hands you play per hour, this is how you should do it.
While getting the software set up is a little bit arduous, it's definitely worth the time. I feel like I played a lot more hands than I would have with a regular grid-style setup.
Once I'd completed the learning curve and memorized my hotkeys, it felt like I was playing fast-fold poker rather than multi-tabling. Stack and Tile made multi-tabling feel less hectic and more fun. It's certainly poker software I'm going to integrate in my everyday play.
Stack and Tile is available as a lightweight download from the official site. There is a 14-day free trial available, after which you can either pay $8.95 a month for small-stakes games or $17.95 for no limits on game sizes. You get 3 months free with annual subscriptions.