The 100% Honest Unibet Poker Review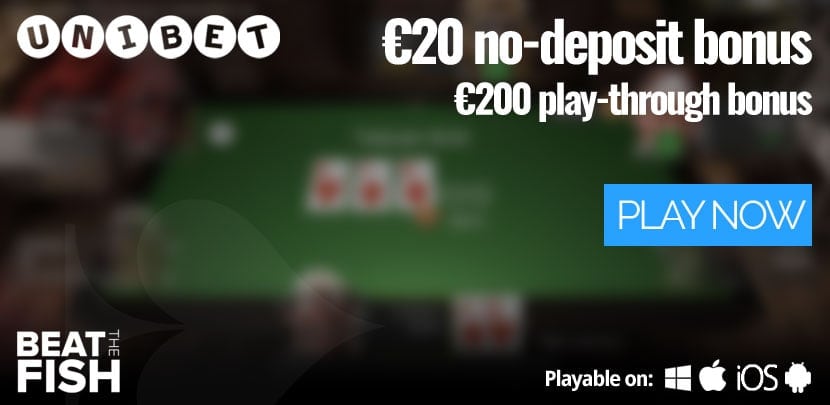 | | |
| --- | --- |
| | |
| | |
| | Unibet proprietary network |
| | |
| | €20 no-deposit bonus and €200 deposit bonus |
| | |
| | |
| | |
| | |
| | Texas Hold'em, Omaha, Banzai |
| | Windows, Mac, iOS, Android |
| | Visa, Mastercard, PayPal, NETELLER, Skrill, EntroPay, POLi, Bank Transfer, Paysafecard, Ukash |
| | Visa, Mastercard, PayPal, NETELLER, Skrill, EntroPay, POLi |
Unibet Poker
Bonus

Fish Rating

Deposits

Payouts

Tournaments

Software

Player Traffic

Player Support
Pros
The biggest no-deposit bonus online at €20 free
Free money can be used at real-money cash games
Heavy focus on casual players
No-download instant play option
A software theme that stands out
All HUD software banned
One of the softer player bases
Payouts in just hours using some methods
Cons
Somewhat low traffic in off-peak hours
Small tournament guarantees
A relatively small cashier
Telephone support was removed
Unibet Poker Overall
Surprisingly good choice for newer players
Established in 1997, Unibet Poker has been through many transformations until they finally decided to go solo a couple of years ago, focusing almost exclusively on recreational players.
Their entire site revolves around the idea that poker is supposed to be fun, and this shows in the way they do everything, from the design to the on-the-felt experience.
Mostly draws fellow casual players
Those just starting with online poker will probably find a welcoming home at Unibet Poker as they won't be met by many sharks waiting to seize their bankrolls.
Additionally, the poker sites also has some strong promotions for newcomers, making it one of the softer landing spots for brand new online poker players.
One of the better options for freerolls
In addition to free money you'll get for signing up, Unibet offers a full daily schedule of freerolls with no restrictions. All players, depositing and otherwise, are welcome to join.
Prize pools aren't huge, but there is a dozen of these events every single day, so players can enjoy poker and compete for real money prizes without having to deposit.
Not having to worry about HUDs is huge
With the switch to the recreational model, Unibet Poker decided to ban all HUDs and other tracking software.
This means that players you'll be playing against aren't able to keep track of your activity, which is the reason why you won't find many serious grinders over there.
Unibet is more of a site you play at when you want to relax and have fun (which doesn't mean there isn't money to be made). That's by design.
Marketing towards recreational players
Banning HUDs has been a key factor in helping to deter more experienced players and it helps Unibet Poker market themselves as friendly to casual players.
So far it has seemed to work in keeping games softer than average and cultivating a more casual-feeling site overall.
The free no-deposit bonus is the best online
All new Unibet players are welcomed with free €10 worth of tournament tickets and a €10 cash game ticket. There is no deposit required, so you can start your Unibet adventure with no risk whatsoever.
Simply register your account and you can try out both real-money small-stakes cash games and a real-money satellite tournament. This is real money and not play money that you'd get at a site like ze Donkhouse.
These kinds of promos used to be standard in the world of online poker six or seven years ago, but lately, it's become hard to find any good no deposit offers.
This makes the value of Unibet promo even greater as it really gives the chance to new players to test their metal without risking anything.
Unique software
One word to describe the Unibet Poker software is "different."
The designers clearly went for a relaxed, colorful look, emphasizing the fun elements of the game, targeting recreational players instead of hardcore pros.
While it may take some getting used to and the software isn't all that great for playing a bunch of tables, playing at Unibet is a fairly enjoyable experience overall.
Identity changes as often as you like
Another feature geared towards creating a more recreational-player friendly environment is the fact players are allowed to change up their alias up to three times a day.
This means that not only HUDs can't be used to track players' activity, but taking notes and such is completely pointless. Every time you play at Unibet Poker, it'll be a completely new game.
Unibet Poker Games
| Game | Minimum Limit | Maximum Limit |
| --- | --- | --- |
| No Limit Texas Hold'em | .02/.04 | €4/8 |
| Pot Limit Omaha | .02/.04 | €4/8 |
| Banzai | .005/.01 | 0.10/0.20 |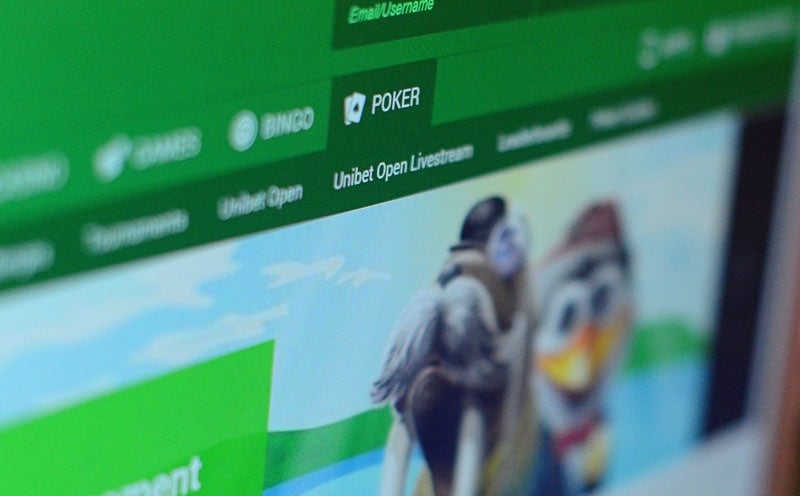 Unibet Poker's No-Deposit Bonus
In line with what seems to be a concerted effort to draw casual players, Unibet Poker actually perhaps gives the best instant bonus of any poker site I've ever played at in 13 years.
That's a bold statement, but I was really surprised at how much they're giving away before players even deposit.
You literally can build a bankroll without ever depositing and without ever touching a freeroll.
€10 free in real money for cash games
To start with, new players receive €10 in real-money cash game tickets simply for creating an account.
NL4 games only
The €10 is completely usable, but it is restricted for use on NL4 real-money tables, which have blinds of €.02/.04.
That seems pretty reasonable as you wouldn't be able to play much larger games with €10 anyway.
Before you might be tempted to complain about any restrictions or requirements, slap your mouse upside ya head… it's free!
How you convert that €10 to no-restrictions money
You can play NL4 cash games as long as you'd like so long as you can meet the minimum €2 buy-in.
To advance up to larger limits and eventually withdraw your winnings you'll need to see 750 flops.
That can sound imposing, but, again, this is free no-deposit money we're talking about! The fact that you can eventually withdraw it at all is an uncommonly generous offer.
I kind of like that it's an old-school way of clearing a bonus: total hands rather than rake.
Really, it will give you time to get to learn the feel of the games and software.
If you make it past 750 flops any winnings just convert into real money.
No hard expiration date is a win
The other excellent thing about the free €10? It doesn't actually have a total time limit before it expires. So long as you see a flop every 7 days it just keeps rolling over.
€10 more for U.K. Poker open satellites
The other part of the free bankroll is a €10 free UK Open qualifier ticket. The €10 can only be used for these events, but that's still a €10 live satellite entry completely for free.
For every 50 entrants in these events there will be a €500 prize package awarded. This covers the buy-in and expenses one of several live tournament Unibet UK Poker Tour stops.
Opportunities to use your free ticket usually occur twice a week.
In the software's tournament lobby you can easily check an option to only show events you can use the ticket on.
How to Get a No-Deposit Bonus at Uniber Poker
Visit Unibet Poker and click on any of the yellow "Register" buttons.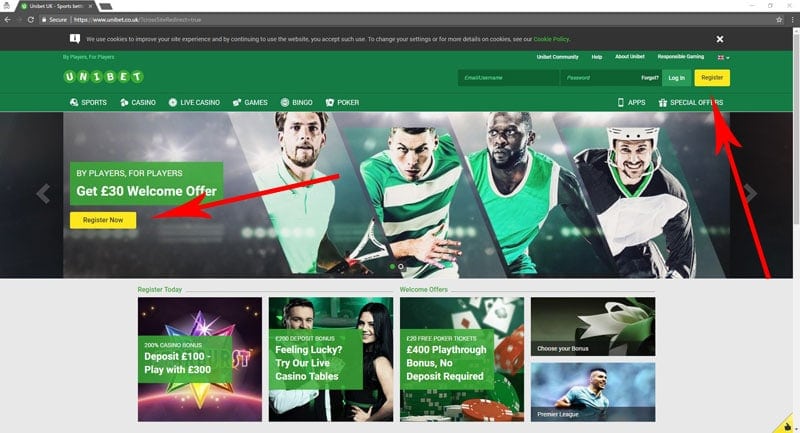 Fill out your personal details and continue to the final registration screen.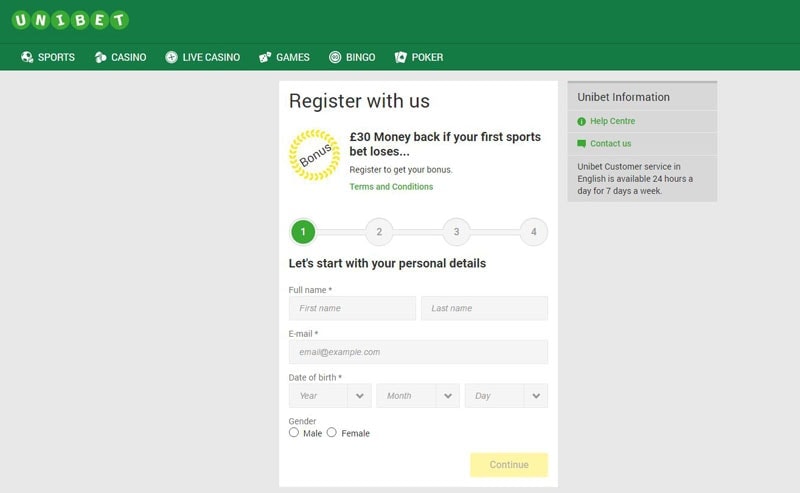 Once you've successfully created your Unibet account click the "Poker" navigation tab near the top. You can choose to download the full poker software for either Windows or Mac, but to get going faster just launch the Instant Play client. It loads quickly and looks exactly like the download version.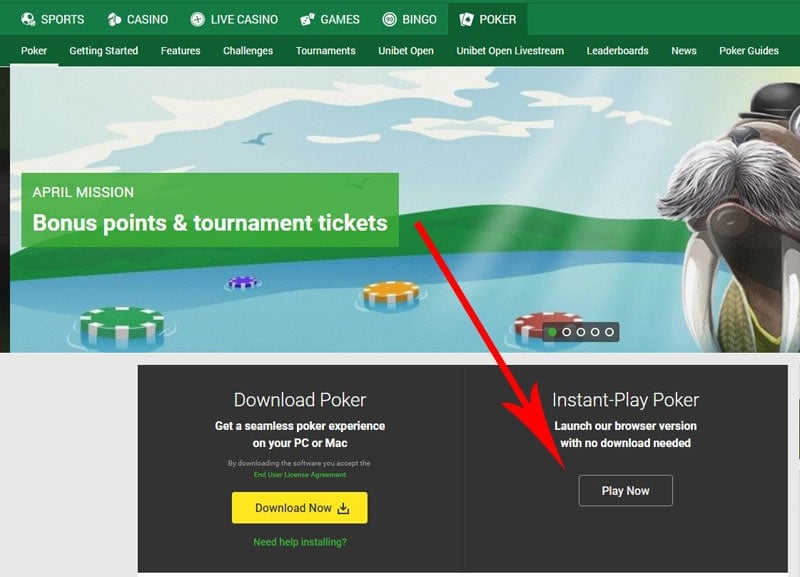 You'll see a new window open and take a few seconds to load all the assets.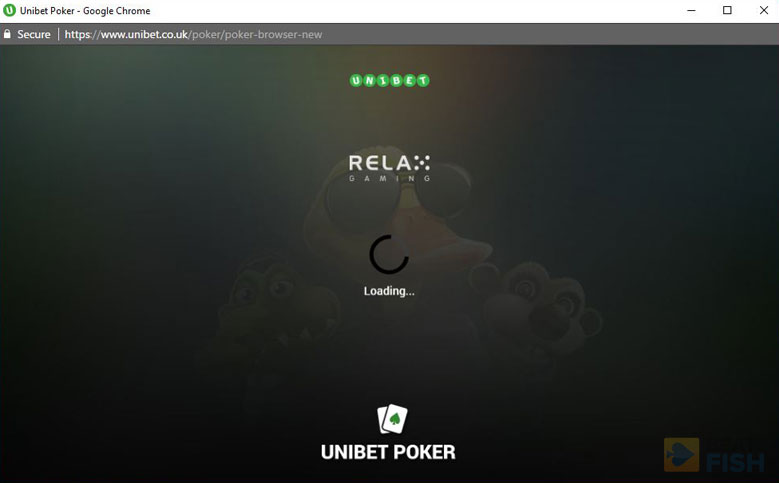 You can now dive straight into a NL4 cash game. Select Cash Game, Texas Hold'em, and double-click on NL4. Take note that I'm doing all this right from my browser.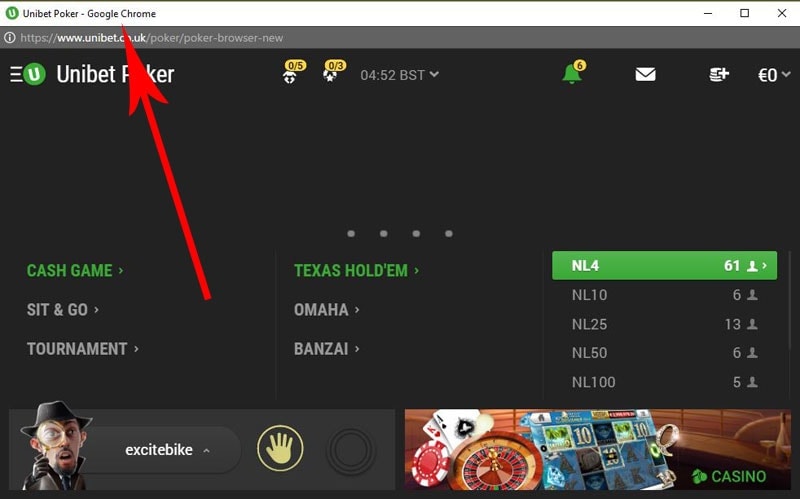 When you're prompted to buy in at the table the software opens for you, click "Ticket" and choose your desired buy-in. As you can see, the buy-in will come from your €10 NL4 cash ticket. On future sessions, the Ticket balance will reflect how much you've lost or built up. Here, I've won €2.25 so far.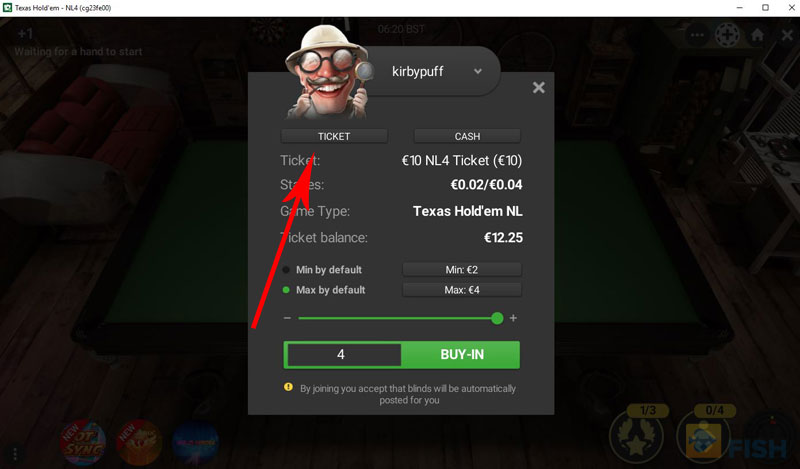 You're set. Enjoy some free real-money games and work towards the total of 750 flops in order to be able to play at higher stakes.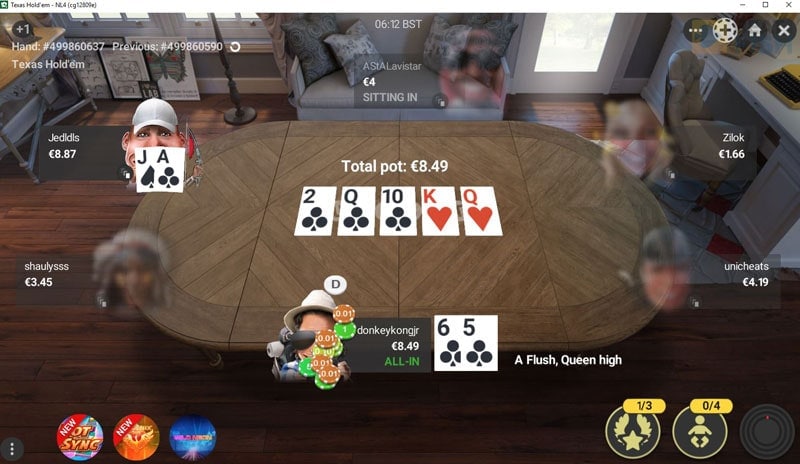 Unibet Poker Bonus
The deposit bonus doesn't depend on how much you deposit
In line with their general policy of catering primarily to recreational players, the Unibet Poker welcome package features several items that'll help you get started, but might not be that attractive to hardcore professionals.
One part of the bonus, however, that I really like is that Unibet did away with the 100% or 200% or whatever % looks best in a 100px font in a focus group. Just about every single poker site for years has followed that structure.
It's just €200 without complicated structures
The bonus is just €200 plain and simple, and is released depending on how much you play. If you deposit €10 and built it up you can still potentially earn the full amount. I like that they went against the trend with that.
While this bonus doesn't have as large of a cap as other sites it will especially appeal to players with smaller bankrolls due to how easy it is to release the first few batches of the bonus.
Welcome bonus structure
The bonus clearing rules are somewhat different than what you'll find at other sites, as they are more favorable for players with small bankrolls.
Here's the quick breakdown:
Make €2 in rake = get €1 of your bonus
Reach €10 in rake = get another €4 of the bonus
€50 in rake paid = €15
€150 in rake = €40
Reach €588 in rake and get the remaining €140
Players have a total of 60 days to clear as much bonus as they can.
It's obvious that this is a nice opportunity for players just starting their online poker adventure to get some extra cash fairly easy.
To get the full bonus, you'll have to put in a decent amount of play, although it is pretty much in line with all other sites out there (about a 30% return).
Private freeroll tickets
Freeroll tickets are also a nice touch, as you can turn even the smallest deposit into a workable poker bankroll with some skill and a bit of luck.
In addition to the bonus, all new Unibet Poker players will also get 4 tickets for €500 freerolls.
These tournaments are exclusive to new accounts, not older than one month, which means the number of players in them won't be that huge.
You'll usually be up against a few hundred players, meaning you'll have a realistic chance of cashing and padding that bankroll further.
€10 Unibet Open Qualifier
Even if you aren't ready to make a deposit just yet, there is no harm in signing up with Unibet just to claim the free €10 Unibet Open ticket.
While it will take some luck and effort to go all the way with this ticket, it's a free shot, so there is no harm in taking it.
The way it works is, you'll get your initial €10 ticket to play in the Step 2 qualifier. Find your way through the field and you'll end up with a €50 ticket for the Unibet Open satellite leading you to the final qualifier.
If you manage to get in the prizes in this one as well, you'll get to play in the main €250 Unibet Open Satellite, where you can win a €2,000 package to the next Unibet Open event, covering your buy-in, travel and accommodation.
Once again, it isn't easy, but it's free, so why not claim it?
Sports betting freerolls
If sports betting is also on your list of hobbies together with poker, you can merge these two nicely with the Unibet Betting Freerolls.
These run a few times through the week, and to get your ticket, you'll simply need to place a sports bet of €10 or more.
The guaranteed prize pool in these events is €500 and €1 rebuys are allowed for the first five levels.
With a few hundred players usually in the mix in these, a winner can expect to take home €100+.
It's worth noting that, apart from the first three spots, other players are mostly paid in tournament tickets between €1 and €10
Plenty of freerolls
Unibet Poker also features a very nice schedule of daily freerolls, which provides opportunities even for players who don't make a deposit.
Although prize pools are usually small (around €25 per tournament), these are a nice way to get acquainted with the software while still playing for tangible prizes.
The bounties added make a difference
There are about a dozen freerolls scattered throughout the day, and many of them are bounty events, where you'll get a few cents for knocking out another player.
While this may not seem a lot, if you play a lot of these, it can quickly add up and, together with some freeroll prizes, give you a bankroll to jump into some real money games.
High hand happy hours
Join the action at the NLHE and PLO cash tables during specific time frames and take a shot at winning 100 big blinds every 20 minutes.
All you'll have to do is be the player to show down the strongest poker hand during a particular timeframe, and you'll receive a cash game ticket worth 100 big blinds for the level you played when you won the hand.
UltimateBet used to do a similar promotion way back in the day (think 2005-ish), but I haven't seen anything else like it since.
Jackpot tournaments
A special treat for tournament players, Unibet Poker jackpot tournaments run every Monday at 18:00.
Play in both of these and if you reach the final table in both events, you'll receive extra prizes on top of whatever you win for your finishes in individual events.
Win both events and pocket an additional €2,500.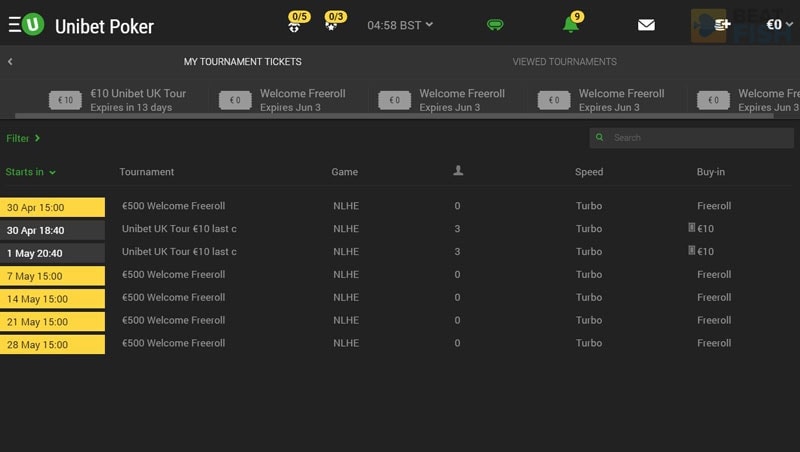 Unibet Poker Instant Play
I've been really pleased to see many online poker sites embrace no-download instant play in recent years. It gives unsure players and those on someone else's computer a way to still play real-money poker.
The Unibet Poker instant play client is excellent and is almost a carbon copy of the full download.
You can play for real money without downloading on any web browser using:
Chrome, Safari, Firefox, Edge, IE, and any other modern browser should load it smoothly.
All tournaments, cash games, and Sit and Go's are available on instant play. Also, the same graphical style in the full download is available on instant play.
Up to 4 tables can be played at Unibet Poker on instant play, but you'll have to juggle all of them in a single window. All of your hands and positions are shown in a small bar next to your current table. Clicking any of them brings that table up full-screen.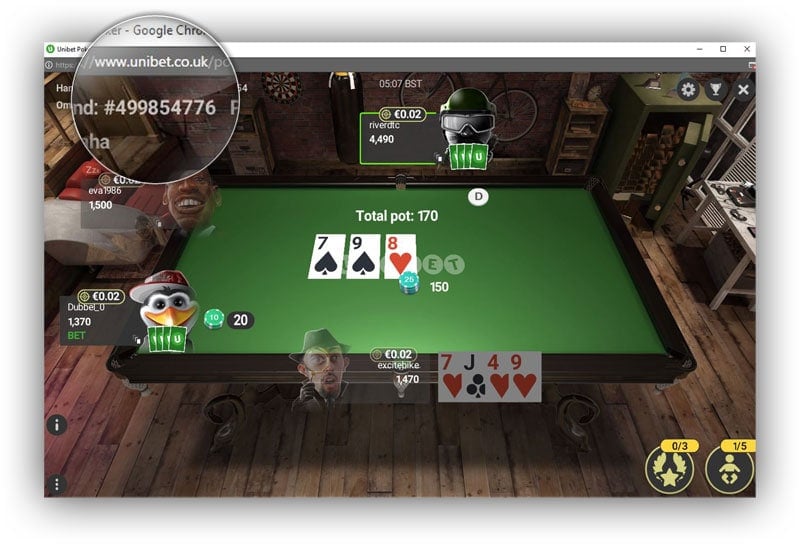 Unibet Poker Mobile App
The Unibet Poker apps stick with the same wacky graphic style that I'm such a fan of from the full PC download. In fact, the entire app is almost identical to the full PC version.
Once you sign up at Unibet Poker either with a computer, phone, or tablet, you can download the standalone app from either the iOS App Store or Android's Google Play.
It supports:
iPhone
iPad
Android phones
Android tablets
Actions are made with an easy red/yellow/green betting wheel and then a full slider for making specific bet amounts.
The same cash games, Sit and Go's, and tournaments from the PC version and instant play can be played from the Unibet Poker app.
Stability and responsiveness
I've had a very stable experience with the app and didn't find it to tax my iPhone 6 Plus much or drain its battery too quickly.
Although connection issues and slowdown seem to be the most common complaints of any poker site app I didn't run into any disconnects or sluggishness, even when playing at 4 tables.
Multi-tabling
I like how Unibet Poker handles playing multiple tables on mobile, giving you a vertical bar on the left side of the screen that shows all your hands at once and a red dot if it's your turn to act.
You can either tap on any hand to switch to that table or allow the app to automatically switch you when you need to give an action.
Unibet Poker Deposits
Variety of deposit methods
Unibet Poker features many deposit options for players from all over the world.
The way the site operates is that you'll only get the list of methods available to you based on where you've registered and play from to avoid any confusion.
Although a few options might be missing from the list compared to their competitors, most players will probably find it satisfactory.
It is also worth noting that Unibet constantly updates and changes their banking options and you can always double-check with the support if your preferred method somehow isn't offered.
The minimum deposit is a bit higher with e-wallets
While credit cards do feature a 2.5% fee, you can also deposit a low minimum of just €10 via this option.
If you want to use an e-wallet like Skrill or Neteller, the minimum deposit will be somewhat higher as you'll need to transfer at least $20.
Once again, this may seem a bit counter-intuitive to their model of catering to recreational players, but considering the market they primarily focus on, $20 isn't really that much money.
2.5% fee for credit card deposits
Credit cards are certainly among the most used methods for online poker deposits.
However, if you want to use this method with Unibet Poker, you might be charged a 2.5% fee.
Although this can, again, depend on your country of origin, this is probably the way for the poker site to offset additional charges connected to credit and debit card deposits.
While it may seem unfair or excessive, that's just how things work, so your best solution would be to use an e-wallet instead.
Unibet Poker offers quite a few options in this regard, so it shouldn't be too hard for anyone to find the right one for them.
Can I use PayPal with Unibet?
With PayPal finally allowing online gambling transactions, Unibet Poker started to offer this method as well.
Unfortunately, as of right now, only a relatively small fraction of players can use PayPal to fund their Unibet accounts, namely those playing from the United Kingdom and Australia.
If you are from those territories, however, both depositing and withdrawing via PayPal is incredibly simple and works just like any other PayPal merchant. I would recommend PayPal be your first choice if it's available to you.
Unibet Poker Deposit Methods
| | Minimum deposit $/€/£ | Available for deposits | Available for withdrawals | |
| --- | --- | --- | --- | --- |
| Visa | $10 | Yes | Yes | |
| Mastercard | $10 | Yes | Yes | |
| PayPal | $10 | Yes | Yes | |
| NETELLER | $20 | Yes | Yes | |
| Skrill | $20 | Yes | Yes | |
| EntroPay | $10 | Yes | Yes | |
| POLi | $10 | Yes | Yes | |
| Bank transfer | $10 | Yes | No | |
| Paysafecard | $10 | Yes | No | |
| Ukash | $40 | Yes | No | |
| | | | | |
Unibet Poker Payouts
Some of the fastest withdrawals out there
One absolutely great thing about Unibet Poker withdrawals is that you won't have to wait a long time to receive your money.
In fact, if you use e-wallets, you can expect the money to arrive within a couple of hours. This is definitely shorter than what you'll find with most sites, other than maybe PokerStars.
Always having access to your funds in a timely manner is probably at the top of most players' priority list so the near-instant payouts shouldn't be overlooked.
If you aren't a fan of e-wallets, you can still use credit cards and expect the money to hit your account within a couple of days, which is still close to the best in the industry.
Identity checks
With some of their latest changes, Unibet Poker has also introduced much tighter identity checks for their players.
Unless the amount of your withdrawal is really small, you can expect the poker room to request a proof of your identity and address.
In most cases, a photo ID and bank statement or utility bill with your name and address on it will do the trick.
Sometimes, players are required to provide additional documents before their withdrawals are released, but these are more the exception rather than the rule.
Your latest deposit method will be used first
With Unibet Poker, like with most online poker sites, there are certain rules about making a withdrawal.
Your money will always first be sent to the latest deposit method you used and you won't be able to send funds to someone else's bank account or credit card.
Although some of these options seem like a convenience, they can actually create a lot of problems in the long run, and Unibet is very strict about enforcing these rules.
If you try to withdraw to a credit or debit card that doesn't belong to you, your account might even get blocked.
Are there any withdrawal fees?
As far as I could tell, Unibet Poker doesn't charge any withdrawal fees, regardless of the method used.
Of course, your bank might still charge you for the money transfer or a conversion fee, but this isn't Unibet's doing.
Unibet Poker Fish Rating
A fish haven?
As already mentioned a few times in this review, Unibet Poker focuses heavily on recreational players.
This is especially true for lower limit tables, where you'll find a lot of first-timers trying out the free bonus and people who don't really know much about poker.
Additionally, at NL4 and NL10,  players are restrcited to playing eight tables at a time.
This may seem like a lot to some, but it is a turnoff for those really hardcore grinders. Again, that is by design.
Tracking the fish down
While there may be a lot of inexperienced players just looking to gamble at Unibet Poker, it may be hard for experienced players to find their regular "customers" at Unibet.
The site doesn't allow for any tracking software and players can freely change their aliases and avatars a few times a day.
Finding a few good targets at Unibet won't cut it, as you might not even know it's them the next time you're table-mates.
Unibet is dedicated to providing all of their players with fair and enjoyable playing environment and, while this is a valiant goal, it is also the one that won't do wonders for your win-rates.
Casino and sportsbook influence helps the Fish Rating
Unibet offers much more than just a poker room.
They have a full online casino and very popular sports betting site, and they are all a part of the same overall package.
People who play at Unibet Casino or place bets with their sportsbook can easily transition to poker, especially now that they've started offering the no-download instant play client.
Like with most sites mixing up casino, sports betting, and poker, you'll find plenty of loose players at Unibet poker tables, just looking to blow off some steam and give away their money.
If you catch them at the right moment, this can be a very lucrative proposition.
What about those Banzai games?
Banzai is a Texas Hold'em sub-type that Unibet Poker came up with.
These cash games are played exactly the same as standard No Limit Hold'em, but players can only buy in with 10 big blinds. So, at the highest level currently offered, you could only buy in with $2.
These games do seem very soft, as they most certainly don't attract sharks, but given how shallow the stacks are at all times, it will be hard to gain a significant edge over your opponents.
Most hands dealt with more than one player holding an average-or-better starting hand end up in all-in pre-flop situations.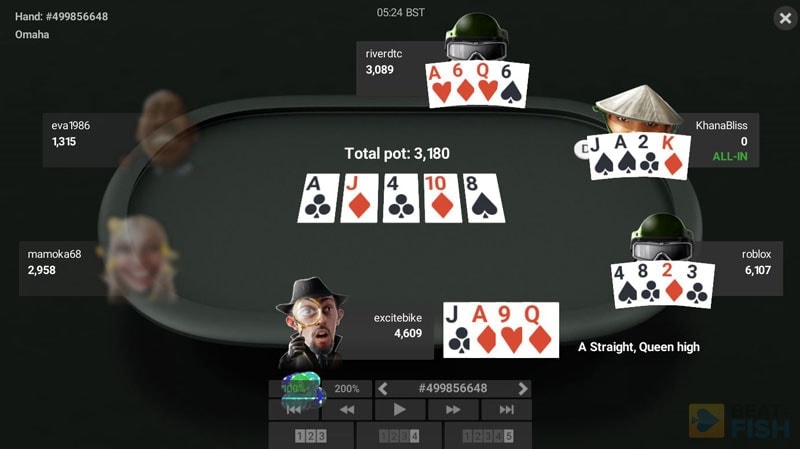 Unibet Poker Tournaments
An even tournament schedule around the clock
The first thing you'll notice when visiting the Unibet Poker tournament lobby is a really impressive number of tournaments. There is an event kicking off nearly every 15 minutes on average.
So, if you're someone who prefers Hold'em (and occasional PLO) tournaments, Unibet may seem awesome at a first glance.
Truth to be told, the room did go out of their way to ensure there are tournaments running around the clock.
That's commendable when compared to some other poker sites, where it's really hard to find a decent daily schedule, especially if you aren't planning on playing every event between $1 and $215 buy-in.
Affordable buy-ins
In line with their philosophy of catering to recreational players, almost every Unibet Poker tournament has an affordable buy-ins for small-stakes players.
You can join events for as little as €0.10, and the highest buy-ins, with the exception of satellites for Unibet Open live events, are at the €100 mark.
What this means is that you won't make a fortune in any particular Unibet tournament, but you don't need a huge bankroll to start grinding these and, thanks to small fields, you can expect your variance to be significantly lower than usual.
Low traffic and small guarantees
Sadly, the first impression doesn't tell the whole story and those looking to play tournaments seriously on Unibet Poker might be disappointed.
Once you start going through the list, you'll notice that most daily tournaments have really low guarantees and a fairly small number of players.
The usual guaranteed prize pools for Unibet events will be between €50 and €300, which is really small for tournament poker. I often had to look twice to make sure I wasn't seeing the buy-in rather than the guarantee.
However, these guarantees are in line with the average number of players playing in these events, which is somewhere between 40 and 200 with 200 really being a high point.
Unibet Poker highlight events
As you can already guess, you won't find too many huge events running regularly at Unibet Poker. However, they do have a few regular tournaments definitely deserving of a mention:
€90 Sunday Entitled: €4,000 guarantee, running on Sundays at 20:00. Usually around 50 players, with the first taking home around €1.5k.
€100 Saturday Stack: €5,000 guarantee, taking place on Saturdays at 20:00. Around 50 players, and close to €2k for the first.
€25 Daily €1,300: With €1,300 in the prize pool and affordable buy-in of €25, this tournament usually features the first place of around €400.
Many Unibet Open Qualifiers: If you want to get in on the live poker action, Unibet offers many qualifiers for their live events, and you can have your shot with as little as €1.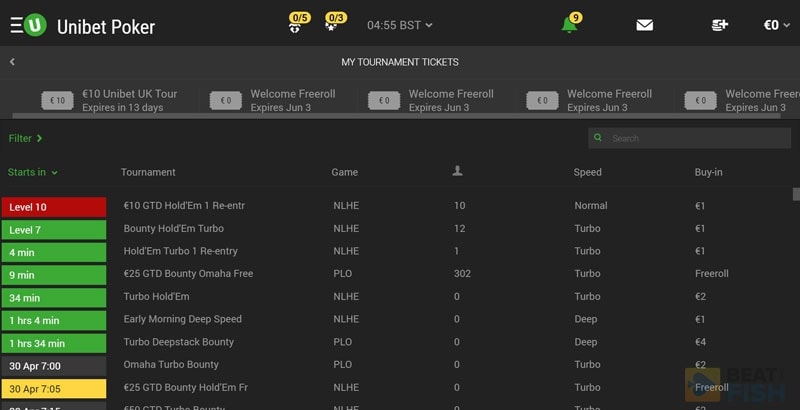 Unibet Poker Software
Let's face it: poker software over the past 5 years has lacked fun and originality. Most of them look and acts the same. That isn't necessarily a bad thing as they're mostly sharp-looking but bland, complicated, and predictable.
Using that as a springboard, I like the Unibet Poker software client most of all because it felt more unique than anything else I've tried recently.
Compatibility everywhere
To start with, Unibet Poker covers the full spectrum of compatibility:
Windows
Mac
Apps for iPhone and iPad
An app for Android devices
There is also a no-download instant play option that looks and works almost identically to the downloadable software. Multi-tabling and tournaments are supported and it works in any desktop browser.
Extremely simple lobby
Starting right away with the lobby, you'll notice how simplified the entire interface is.
Even though I didn't think I needed it, the lack of advanced options was actually a breath of fresh air.
No enormous table lists, buddy lists, or advanced features.
It feels like it was made for casual players, which is a decreasing population that online poker sites should be focused on wooing these days.
Quick Seat eliminates the hunt for players
Unibet Poker follows a trend that I love from poker sites over the past couple of years: quick seating.
You can't actually pick and choose which table you sit at, again encouraging casual players by eliminating "bum hunting".
Poor players can't be targeted and players can't wait around for better table metrics.
Change whoever you are whenever you want
One of the big standout features is that you can change screen names, or "identities" whenever you want.
You can create a new name and avatar at any time, which functions largely like anonymous tables to eliminate tracking software.
Bold graphics
The other big positive for me personally is the graphical style of Unibet Poker.
There are several dozen goofy caricatures to choose from and a couple dozen cartoon-like backgrounds.
It strikes me as lighthearted and exaggerated, which may be a negative to straight-laced grinders. To me, it makes playing here a little more fun and a little less serious.
Again, it feels like it was built for casual players, which is a smart decision long-term.
Inactive players are blurred and dimmed
It's minor to be sure, but I always like to see how poker sites choose to distinguish players who no longer are involved in a hand.
I like how Unibet Poker does it: fade and blur out inactive players, which makes it very clear who still hold cards.
The Disconnect (non) Issue
The recurring complaint I've seen about the Unibet Poker software on faceless Internet forums is disconnects. I tried out this site expecting to see them myself since so many players were howling about connection issues.
From my hours of play tests I didn't have a single disconnect using either the downloadable client or instant play, the latter of which surprised me most.
I'm guessing either Unibet fixed this issue recently or those players just love to spread misery about a self-inflicted problem.
Missions bring gaming achievements to poker
Another factor is making Unibet Poker feel more like a social game rather than a grind for profit is the Mission system. If you've ever earned achievements on Xbox or Trophies on PlayStation you'll be instantly familiar with it.
Meet a set of tasks like creating a new profile or seeing 50 flops and earn points. Accumulate enough points you'll receive cash rewards.
What Unibet Poker did to integrate these nicely is place the icons for all your active Missions across the top of every table.
Click on any of them to track your progress and an explanation of exactly how to complete each task.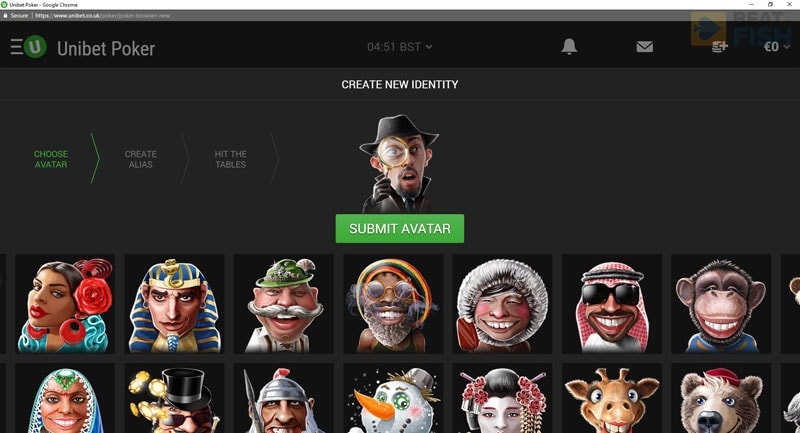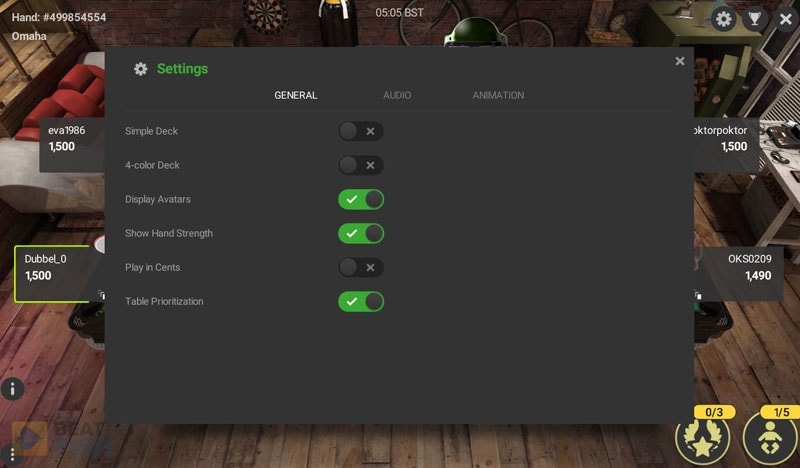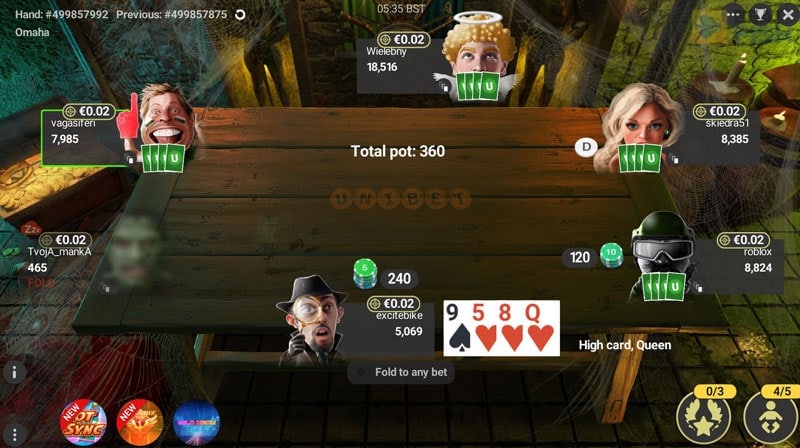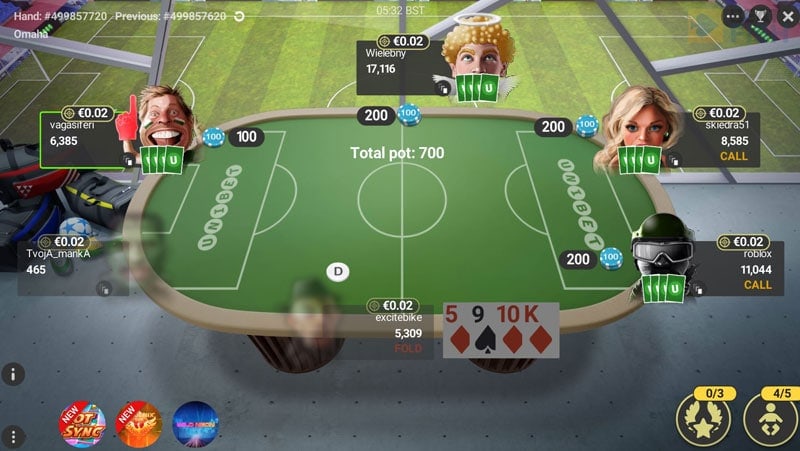 Unibet Poker Traffic
Average player numbers relatively high
Unibet Poker regularly finishes in the top 10 poker sites in the world in terms of cash game traffic, with the seven-day average of 750 players.
More on cash game traffic
If you are looking to play cash games at Unibet, you should probably stick to the peak European times of about 16:00-00:00 GMT as much as possible, as this is when you'll find the most action.
At the lower levels, from NL4 to NL25, you'll usually find a few hundred players battling it out at the felt, so you'll be able to find some seats.
Higher limits have limited action
Beyond NL25, however, things start to get a bit dicier. At NL50, for example, you'll usually only find a few tables running.
However, it's interesting that there isn't much difference between NL50 and NL400 in terms of player numbers at Unibet Poker, as there'll be a few dozen players seated at each of these levels.
Of course, some of these players are playing across levels to make up for the lacking action.
Active player numbers are a bit misleading
Despite of usually being in the top ten of traffic rankings, Unibet isn't doing that well when it comes to number of actual active players at the tables.
This is a bit of a testimony to the current situation in the online poker world, where most sites are struggling to keep their heads above water.
Of course, the numbers vary depending on the day (weekends are usually busier, especially Sundays) and the time of day. European evening times, between 19:00 and 00:00 are usually the most active.
Tournament numbers
Although Unibet Poker features a fairly decent schedule with very affordable buy-ins, their guarantees are small, so they don't attract many tournament players.
A usual Unibet event will feature around 50 players, and some of the biggest tournaments might gather 100 – 150 participants overall.
All in all, Unibet is probably not the best choice for those looking for big MTT scores, as they simply won't find them here.
Unibet Poker Support
A serious site that's been in business since 1997, Unibet Poker understands that keeping their players happy is essential for success. For that reason, you can expect their customer support to always be at their best behavior and try their hardest to assist you.
Up until recently, Unibet also offered phone support, but the phone support line seems to have been discontinued. That's certainly a puzzling and disappointing decision.
You can get assistance using a really extensive FAQ section, or you can reach out to live support agents via email or Live Chat, and they offer help in a number of languages, which is really convenient for non-English speaking players.
Unibet Poker History
1997
Unibet is founded by Anders Ström as an online betting and poker site
2001
Unibet extends its reach, making their site available in 12 different languages
2003
An online casino and live betting features are added to Unibet's offerings
2004
The company is listed on the NASDAQ OMX Nordic Exchange
2006
Unibet Poker joins the Microgaming Poker Network, one of the largest online poker networks in the world
2006 – 2014
Unibet Poker operates as a part of Microgaming as one of their larger skins, but blends in with the dozens of competing network partners
January 2014
Unibet Poker decides to leave Microgaming and become a standalone poker room, firmly deciding to change its overall approach to the game
2014
A new Unibet Poker software client is launched, focusing on recreational players, removing HUDs, and lowering rake at lower limits
2016
Unibet Poker decides to transform into a poker network, acquiring Stan James and Red 32
Decmber 2016
The company changes its name to Kindred Group to better reflect their overall approach to online gaming
Unibet Poker Strategy
Get comfortable
The first thing you'll notice about Unibet Poker is that this room is significantly different from any other poker site you've had a chance to play at (except maybe the now-defunct PKR, as there are some similarities).
So take your time to get acquainted with the software and how things work. The free €20 bankroll works perfectly for that.
With so many bright colors and vivid avatars all over the place, it can be easy to get distracted and forget about your primary goal as a poker player, which is winning money.
Under all the cheerful features, Unibet is still a real-money poker site with some eager fish waiting to donate their money.
Tournaments could be your gold mine
We've discussed how tournaments at Unibet Poker feature small fields and small guarantees, making them unappealing to more serious grinders.
However, this could be your golden opportunity to create a steady source of income, especially if you are an experienced MTT player.
One problem is that your maximum potential earnings are somewhat capped thanks to the typical number of entrants.
However, if you play poker on the side and this isn't your primary source of income, or if you also play at some other sites, Unibet Poker tournaments could give you a really nice ROI and help you build your bankroll from a very small deposit or even from scratch.
Brush up your observation skills
Since Unibet Poker doesn't allow HUDs and players can change their screen names almost as often as they want, it'll be impossible to keep track of the fish.
This means that if you want to maximize your value at Unibet, you'll need to learn to observe things quickly and adapt your game accordingly.
Unibet Poker's games will be much more similar to live casino games against people you know nothing about. You'll need to recognize who the good players are and who's there just to gamble.
Once you find your spots, try to get involved with them as much as you can before they leave the table. Once they do, you might lose them for good.
Take advantage of all the freerolls
With freerolls running around the clock, open to all players, and some exclusive freerolls that you can get tickets for fairly easily, there is no reason to skip on these tournaments, especially if you're trying to build that bankroll up.
Although experienced players will probably have a tough time staying patient with what can often devolve into lottery-style all-in fests, there's no reason why you can't have the freerolls open as second (or third) windows while you focus on your cash game.
Join as many freerolls as you can at Unibet Poker if you don't have a lot of poker money at your disposal and start growing that balance through the tiny bounties or, possibly, via top finishes.
Additionally, the experience you gather playing in these events could help you improve your overall tournament game, so it's really a win/win situation.
Ivan first started playing poker in 2006 and played professionally from 2010-2013. He holds a BA in English language and literature. Since joining the Beat The Fish team in 2016, Ivan has made a significant impact, leading the news section and contributing numerous feature articles.