How to Play No-Deposit Poker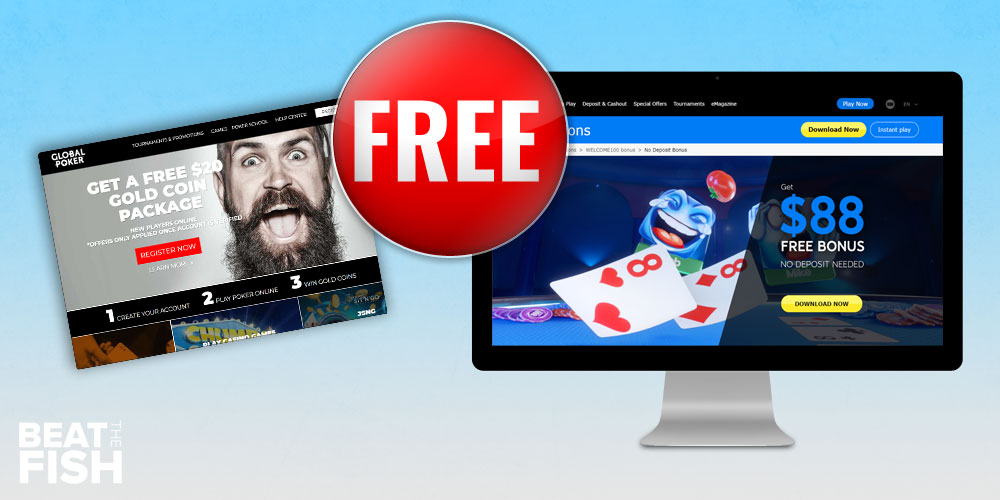 No deposit poker bonuses might sound like a myth, but it's no Loch Ness Monster. Free poker bankrolls really do exist, even if they're rare.
In my time playing at online poker sites, I've claimed some great no deposit offers, which provide free money to start your bankroll or tournament tickets. Sometimes you can get both from poker sites desperate for new players.
Let me show you exactly how take advantage of poker room offers without making any sort deposit. No-deposit bonuses come and go quickly, but this page will only list active deals.
How No Deposit Poker Offers Work
No deposit poker is a pretty self-explanatory term. The one thing that you should remember is that no deposit poker is almost always reserved for new players only.
Once you've signed up to a site with a no deposit offer and verified your account, your free money, bankroll boost, or tournament tickets will usually be credited to your account right away.
If you're more interested in playing a wide variety of casino games with a no deposit bonus, there are offers specific to slot games. These no deposit free spin bonuses allow you to play top slots for free at your favorite casinos – but, in this article, we're going to focus only on poker!
Is it safe to claim free cash?
When it comes to playing no deposit poker online, you have to be careful when it comes to which site you're signing up to. If a site has a no deposit poker offer that you'd like to claim, you should always read reviews about the cardroom first so that you don't get too tempted by overexaggerated bonuses. You should also check out forums to find out if an offer is too good to be true from other current and former members of that specific site.
A no deposit bonus should be just that: it should not require you to enter any banking details. If you encounter a poker site that does ask you for a credit card number before you have a chance to claim your offer, that should be a very big red flag.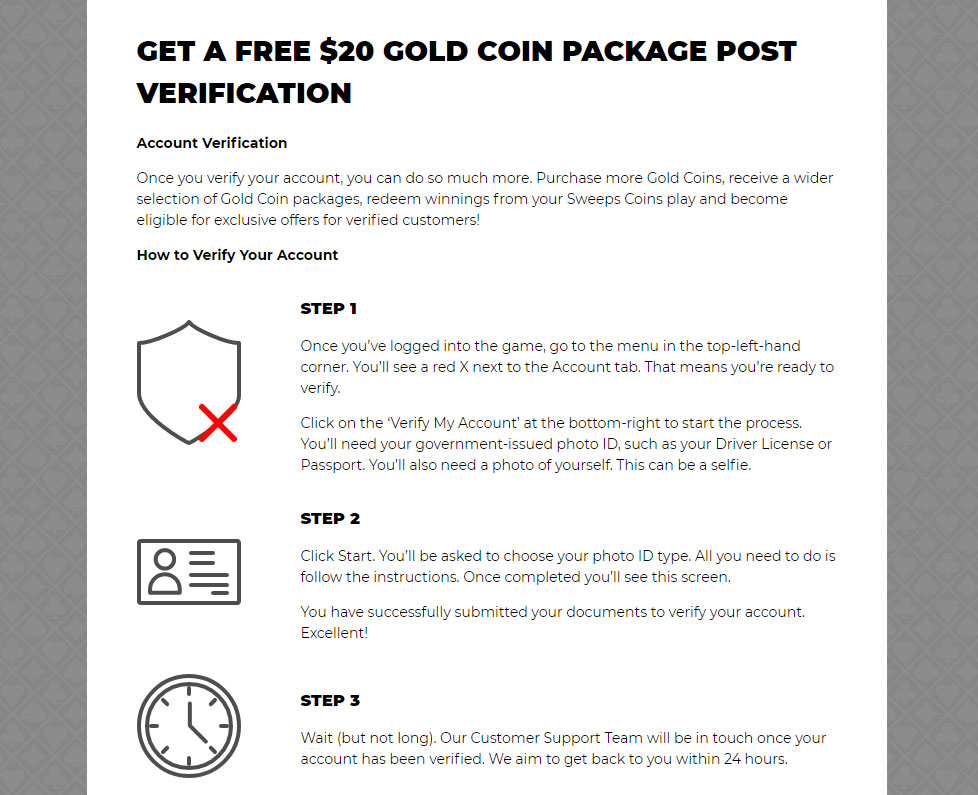 No Deposit Bonus Types
Online poker sites want to differentiate themselves from one another, offering a number of different ways to take part in no deposit poker games and tournaments. So, you should be able to find at least a couple of different no deposit bonuses.
These are a few of the most popular ones:
Account sign-up promotions give you free money
The most straightforward kind of no deposit bonus in the poker world comes when you first sign up to a site. After you've signed up for an online poker room and verified your account, you'll be able to claim a bonus before making your first deposit.
This type of bonus is usually worth $20 or less, but that's always a good start to try out real-money games without any deposits required.
Freeroll Tournament Tickets
In some instances, freeroll tickets are offered to new players who have yet to deposit. No deposit freeroll tournament tickets tend to range from $1 to $5, but you can sometimes find yourself playing for a portion of quite a hefty prize pool.
If you're a fan of tournaments, this is a type of no deposit poker bonus that you should keep your eyes peeled for. Americas Cardroom, for example, runs several $50 free prize pool freeroll tournaments every day.
With these poker tournaments that are free to enter, you get to try out the poker software and possibly win funds you can then use at the real money tables. Americas Cardroom offers a wide range of real-money poker games, including Texas Hold'em, Omaha, Stud and more. You can also take part in Sit n Gos, as well as many other poker tournament formats.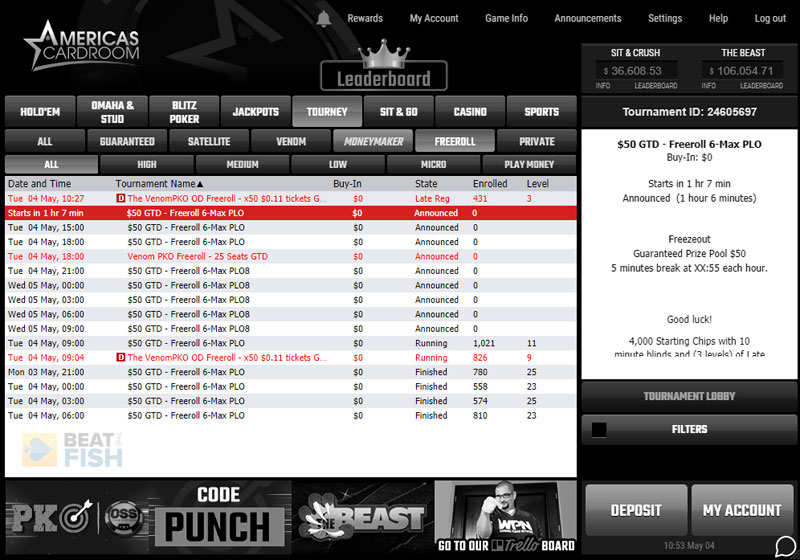 Refer-A-Friend for a bankroll bonus
This is a no deposit bonus that many people don't actually take into consideration. It's a pretty good way to get a little extra bonus boost, as you don't have to make a deposit to claim it; the friend that you refer does.
To refer a friend to your chosen online poker site, your buddy will have to complete the registration process. There are three different methods that sites use for awarding refer-a-friend offers:
You either have a code assigned to your account that they will have to quote during their sign-up
You provide your friend with a link that they must sign up through
The operator will simply ask your friend for the username or email address of the friend that referred them
Once your friend has made their first deposit, your account will be credited with either bonus cash or tournament tickets. This is normally instant but it can take a couple of hours.
Unfortunately, most poker sites require the referring player to have made one successful deposit to receive the free reward, but there may be exceptions.Still, it's one of the few online poker promotions that allow players to receive free cash and tournament tickets without requiring a deposit to be made immediately before the bonus is granted.
How to Find Referal Codes
You should also bear in mind that the poker community is very social, so it's not uncommon for players to share their referral codes on forums and Discord channels.
One of our favorite refer-a-friend programs comes from Ignition Poker. Whenever one of your friends signs up using your referral code, you can earn up to $100. If you're both using cryptocurrency, then an additional $25 is added to your bankroll!

No Deposit Bonuses for Existing Poker Players
It is incredibly rare for online poker sites to hand out no deposit bonuses for players who aren't entirely new. Once you're a registered player and you've already claimed your no deposit welcome bonus, the only true opportunity to claim a bonus is to use the refer-a-friend system (see above).
Every other type of online poker bonus will require you to make a deposit in some shape or form.
For example, entry into freerolls usually require players to have accumulated a certain number of bonuses in the previous weeks. Loyalty program offers depend on how much money you've deposited and played recently.
How to Claim No Deposit Poker Offers
No deposit poker bonuses are almost always simple to claim. There really isn't that much that you need to do in order to get the bonus cash into your account.
The first step is always registering an account. Here, you'll enter your details, like name and location. Online poker operators make it quick and simple to get signed-up.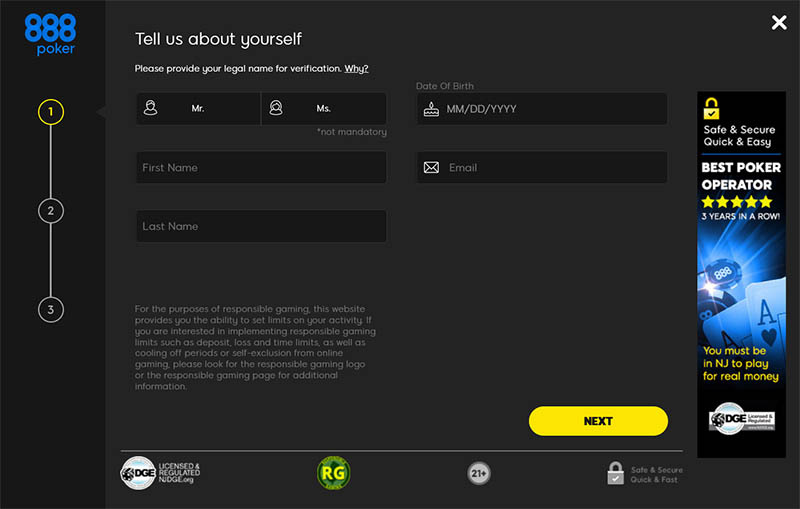 In some cases, you'll need to enter a no deposit bonus code in order to claim your bonus. Make sure that you double-check the terms and conditions of any site that you're signing up for so that you don't miss out on this crucial step.
Verifying a new account
Next, you will need to verify your account. Make sure your email address and phone number are correct because this is how they will get in touch with you. Most times, you'll just have to click a link or get texted a code and your account will be verified.
Sometimes, sites will have you visit your account portal in order to verify yourself. At Global Poker, this is the case – customers have to go to My Account and click on "Verify". You'll then be required to send a photo of your government-issued ID. Customer service will then send you an email to confirm your verification.
Although that might seem excessive, it's worth taking the few minutes to get $20 free. You're also done for verification when you want to receive your withdrawal eventually.
Once you've verified your account with the poker site, the bonus will be credited to your account. In most instances, this is done automatically and you can usually start playing with your bonus cash right away.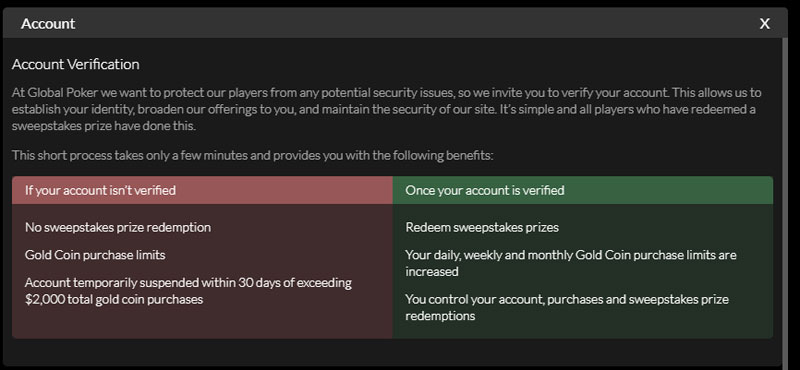 Don't be fooled by "Free Play" bonuses
In your search for no deposit bonuses, Google may point you in the direction of poker sites advertising a "free play" bonus. In most cases, these are actually bonuses that require you to make a deposit.
Make sure you read the terms and conditions at poker rooms before signing up. Otherwise, you'll have wasted precious time registering only to discover that there is, in fact, a deposit amount required to claim any offers.
The current best no deposit poker bonuses
In my online poker career, I've claimed more than my fair share of no deposit poker bonuses. Here are my current favorites, along with all the information you need to know about each offer:
Global Poker gives $20 completely free
For online poker players from the USA or Canada, you really can't beat the $20 no deposit bonus money from Global Poker. For registering and verifying your account, you get a free $20 Gold Coin Package. You get it within a day for playing in a cash game or in a tournament and you don't have to deposit a dime or use bonus codes. For more information on promo codes, check out our Bovada bonus codes guide.
You'll get 20 Sweeps Coins (SC) to play with. If you're not familiar with how Global Poker works, this is the site's own currency that is redeemable for cash. So, essentially, you're getting a $20 no deposit bonus just for making an account.
This is also valid on the mobile app. It's the biggest and easiest free bankroll bonus currently available.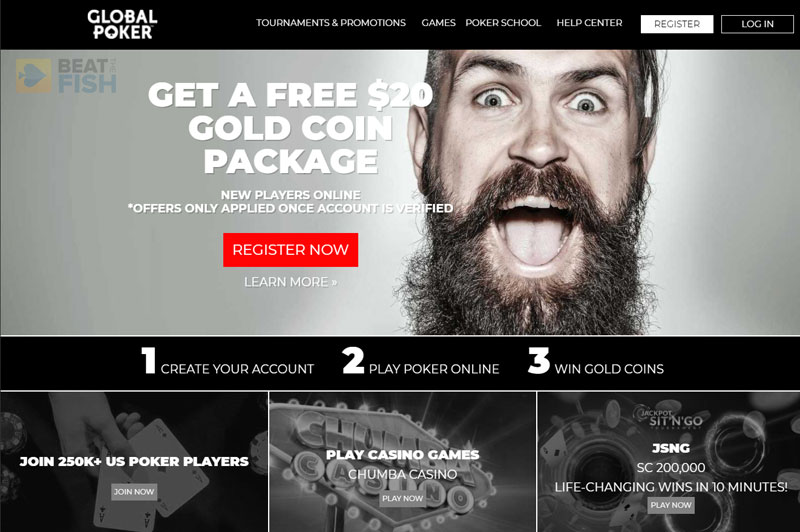 888 Poker gives $88 free with a catch
At 888 Poker, you have an $88 no deposit bonus. They don't accept USA users from most states, but those from the rest of the world can easily claim it. It consists of tournament tickets and cash:
40 $0.1 buy-in tournament rickets
4 $1 buy-in tournament tickets
$80 cash bonus
This isn't your usual no deposit bonus, though, as it isn't released all at once. Firstly, the tournament tickets are granted in three batches:
First Batch: 10 $0.1 buy-in tournament tickets and one $1 buy-in ticket, granted immediately
Second Batch: 10 $0.1 buy-in tournament tickets and one $1 buy-in ticket, granted three days after the bonus is claimed
Third Batch: 10 $0.1 buy-in tournament tickets and one $1 buy-in ticket, granted a week after the bonus is claimed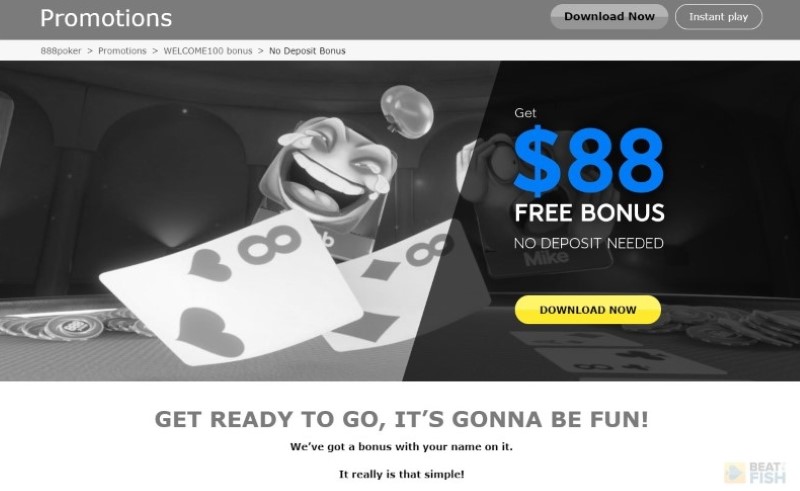 The biggest part of the bonus isn't easy to get
To claim the $80 cash, you have to earn Bonus Points. That's the catch with the 888 Poker bonus, as wagering requirements apply. You have to play at cash games or a lot of tournaments to cash it out. For every 100 Bonus Points you earn at a table, which is essentially the rake you contribute, you'll get $10 of the 888 no deposit bonus into your account.
So, while $88 sounds like a chance at a great no deposit signup bonus from 888, this promotion is only ideal for players who plan on spending most of their online poker time here.
If you're only looking to quickly try out the poker site and are checking out other options, this might not be the best option for you; otherwise, it's pretty fantastic. It beats what PokerStars and partypoker are doing, who don't give players anything without a deposit.
How to build your bankroll by playing no deposit poker
Now that you know how to play no deposit poker and where to find the best online poker games that don't require you to spend any cash, where do you go from here? Well, it's actually possible to build quite a significant bankroll by playing in freerolls and other no deposit poker games.
Play freerolls often
Before you have a bankroll that's big enough to support buying into cash games regularly, the first step is to play in freerolls frequently. You won't always land first place – or even cash – in no deposit poker tournaments. So, make sure you put aside enough time to play in enough events that even smaller prizes will add up and get you to your goal.
Put your winnings aside
When you're playing for the kinds of smaller prizes you tend to receive from freerolls, it's important that you keep your winnings to one side. Most players who are just starting out should aim to keep all of their winnings from no deposit poker in their bankroll.
It's advised not to withdraw your winnings, just so you're not tempted to spend it elsewhere.
Don't chase your losses
If you find that you're not building your bankroll as often as you'd like, you should keep your wits about you and don't lose your patience. Many players are tempted to get ahead quickly by playing in cash games or buying into tournaments when they really can't afford it.
If your budget doesn't allow for you to deposit, don't rush into spending money.
Play in satellites and qualifiers
As things begin to ramp up in your poker career and you're ready to take things to the next level, you can take the next step in an affordable way. Many online poker sites, namely Americas Cardroom, provide players with the opportunity to win their way into million-dollar tournaments by taking part in satellites that cost less than $1.
So, if you're looking fast-track your way to building a bigger bankroll, this is an effective way to do so without dipping into your winnings too much.
Frequently Asked Questions
✅ What is no deposit poker?
No deposit poker are games, tournaments and events at online poker rooms that don't require you to spend any money. Most of the time, the only offers available are match bonuses which require players to make a deposit in order to receive tournament tickets, chips or extra cash – but, this isn't the case when you play in no deposit poker games.
✅ Who do I contact if I have questions about no deposit poker?
If you're looking to claim a no deposit poker bonus at a casino or cardroom and you're unsure of what exactly the terms and conditions are, you should contact customer support of that site. A support agent will be able to answer any questions you might have.
✅ Who offers no deposit poker?
No deposit poker games are available to players in the US from a variety of sites, including Americas Cardroom, 888 and Global Poker. Although players in the UK have more choice when it comes to no deposit poker sites, there are still plenty of great options for players in the States.
✅ Who is eligible for no deposit poker?
Before you can take part in no deposit poker games or tournaments, you should always make sure you're eligible. Every site has different rules – for example, some sites only offer no deposit poker to new players while others only provide these games to those who have hit a certain loyalty level or those who have a specific promo code.
✅ Who decides the terms and conditions of no deposit poker?
It is ultimately up to the online poker operator to decide the exact terms and conditions of their no deposit offerings. So, if there is a specific rule that doesn't quite sit right with you with one online poker operator, you can always visit another site as the rules there will differ.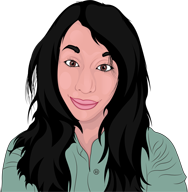 Bethany has been working in online gambling for over 13 years. She got her start in the industry as her first job after graduating from the Professional Writing Program at York University. Having written for many online gaming publications and worked with top casino operators, she has unique insight into the gambling market. Bethany maintains a personal interest in iGaming as she continues to play poker online as a hobby.