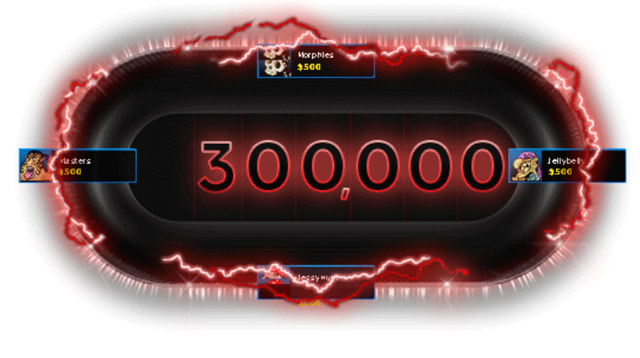 The debate about whether poker is a skill game or not has been going on ever since the game's popularity has grown to a degree where it attracted attention from a wider audience.

Over the years, both sides have presented their arguments and there were even particular court decisions and legislations dealing with the issue.
However, the latest invention by 888 poker certainly blurs the line. We give you BLAST Poker.
What is BLAST Poker?
When PokerStars decided to introduce Spin & Go tournaments, serious poker players were not happy.
There were forum threads and petitions, appealing to the industry leader to reconsider or alter their latest invention in such a way as to add more balance between the luck and the skill.
In case you are among a few who don't know, these lottery-like sit and go's award big random jackpot prizes, heavily favoring the luck factor.
Although the professional community wasn't thrilled with the idea, numbers at 888 Poker spoke for themselves: the company struck gold.
The allure of big prizes attracted streams of amateurs looking to gamble it up, which was the very premise of the format.
The rest of the industry stood on the sidelines, observing the success and other operators started introducing their own variations of the same idea.
888 Poker's BLAST is the latest such invention, but with a little twist, reducing the skill factor even further.
How BLAST Poker works?
The term BLAST Poker stands for 4-handed sit and go's where the prize pool amount is determined randomly, before cards are dealt, and can be up to 10,000 times the buy in.

The biggest BLAST sit and go's on offer have $30 buy in, so the largest potential prize for one lucky winner is $300,000.
So far, they don't seem all that different from Spin and Go's, right?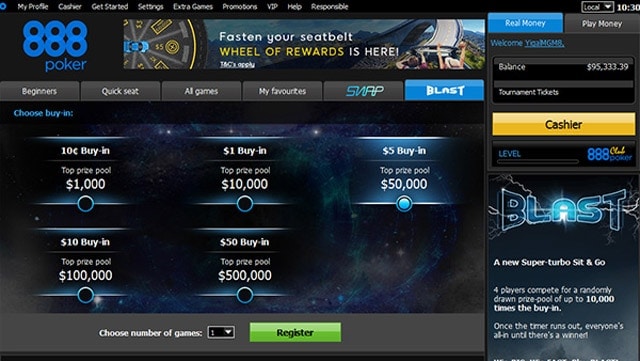 The Twist in blind structure with BLAST
All players start with the stack of 1,500 chips – this never changes. However, the number of blind levels and how long it takes for the tournament to complete will vary depending on the multiplier.
2x multiplier – three 2-minute levels
10x multiplier – four 2-minute levels
100x multiplier – five 2-minute levels
1,000 & 10,000x multiplier six 2-minute levels
So, what happens when the time runs out? One would expect for blinds to freeze and stay the same until the tournament completes, but this is not the case.
BLAST then turns into an all-in fest
Once the timer hits zero, all players will be put ALL IN.
Any skill considerations end here and it gets down to who gets the best cards.
Of course, if you managed to collect some chips before the time ran out, you'll have a slightly better chance, but you will have no control over what happens.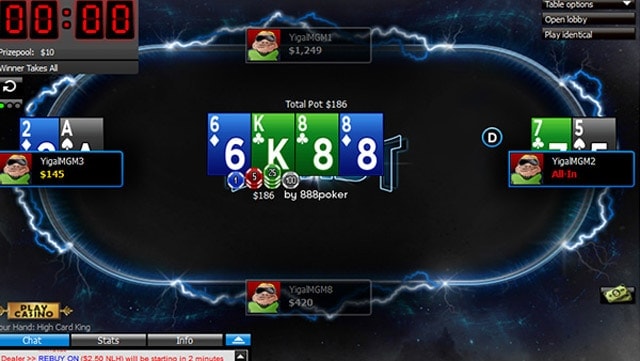 The biggest difference between 888 Poker's BLAST and other similar formats is the fact that prize pools are distributed more equally, so it is not a winner take all format, except for the 2x multiplier.
For two of the highest multipliers, all four players will get paid, 10x and 100x multipliers will pay three places, while the 5x multiplier pays 2 spots.
Is this poker or gambling?
If serious players disliked Spins, they will hate BLAST Poker at 888 Poker. There is no doubt that this kind of structure diminishes the edge even further and brings the playing field to a more equal level.
There is only so much one can do in such a short period, and if they fail to end the tournament before they run out of time, it will all be in the hands of poker gods.
On the other hand, this may well appeal to amateurs and those simply looking for some thrill.
With the fixed timer, they will know exactly how long it will take for a tournament to complete which is something many recreational players will actually cherish – on top of the possibility of winning a huge jackpot, of course.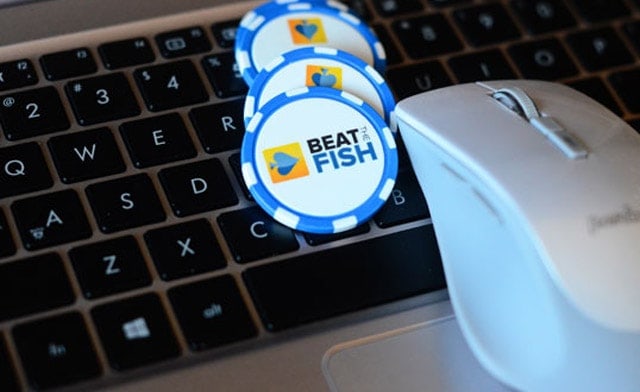 The question that arises is: where do we set the line, or is it just the case that nobody cares anymore?
BLAST shifts the balance of luck vs. skill in poker
Most people who have been playing poker for a while will agree that it is a skill game and that's exactly what makes it so appealing: you can actually be better than someone, not just luckier.
With these latest inventions, the focus is rapidly moving away from the skill and leans more and more towards pure luck.
Perhaps amateur players will fancy it for a while, but if we get to a point where it is just a crapshoot, what will be incentive for anyone to play poker instead of slots, roulette, or any other game where luck is the sole defining factor?
Is the industry doing itself a long-term disservice in favor of a short-term spike in player numbers?
Only the time will tell…
---
Note: there seem to be some discrepancies between what is shown in the pictures and certain numbers cited by 888 Poker (like the maximum buy-in and starting stack) although both of these come from the same source and I was unable to locate the BLAST Poker lobby myself in the client.