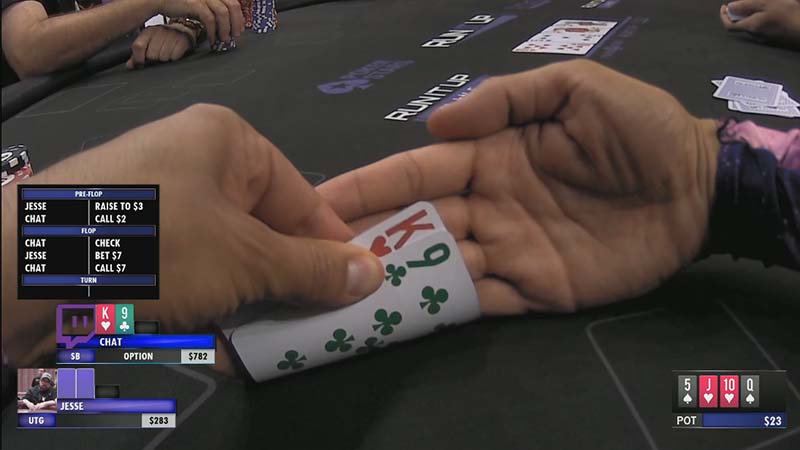 When playing a game of poker, you're not allowed to collaborate with other players. Usually, that's called collusion – but, tonight, it's called Chat Plays Poker.
Chat Plays Poker will be played as a four-handed poker tournament with Chris Moneymaker, Joe Stapleton and Jesse Fullen. The final seat will be taken by you – and, the rest of the Twitch community who will be deciding, as a group, how to play the hands you're dealt.
"We're truly giving the audience — all those chat experts I've heard from over the years — a chance to test their skills and see how they do in a real poker setting," says Jason Somerville, the brains behind Chat Plays Poker.  
How Chat Plays Poker Works
The voting is controlled by the host of the show, who decides which options to present to viewers. The polls will run for about 30 seconds and the results are then communicated to Derek Gomez, who will act based on what the viewers choose.
The audience will have many opportunities to choose how the player will act – but, not every decision will be up to them. To keep the game moving, Derek will decide on his own what to do in some situations. These are likely to be fairly easy decisions, such as whether or not to raise a pair of Aces.
Chat Plays Poker was thought up by Jason Somerville, a member of Team PokerStars Pro. He and his team at the Twitch channel RunItUp have been working on the project since the start of 2019.
As you can imagine, plenty of work has gone into developing a mechanism that allows members of the chat to vote.  The group has been testing the program for the past few months, and has seen a very positive response from viewers and participants.
"I've seen almost zero negativity about this idea. People think it's awesome. During all the testing we've done, people involved have been like, 'Wow, this is so much fun!'", Somerville says.
Participating in Chat Plays Poker
If you want to join in the fun, all you need is a Twitch account. Visit PokerStars' Twitch channel at any point during the game. You'll have to be viewing from your computer to take part, as the extension required is not available on mobile devices.
Once you're watching the stream, click on "vote on the action" and then "enable". The action will come around to you, and you'll have the option to bet/raise, check or fold.
The game should last a couple of hours and you can tune in at any time to take part.
Remember Twitch Plays Pokemon?
If the concept sounds familiar, then you've probably heard of Twitch Plays Pokemon. It was the first time a social experiment of this kind was carried out, when a group of Twitch viewers played Pokemon Red using commands in the chatroom.
1,165,140 people took part (giving the event the Guinness World Record for the most participants on a single-player online videogame), and they completed the game after playing for 16 straight days. It's estimated that the most players participanting at once was about 80,000.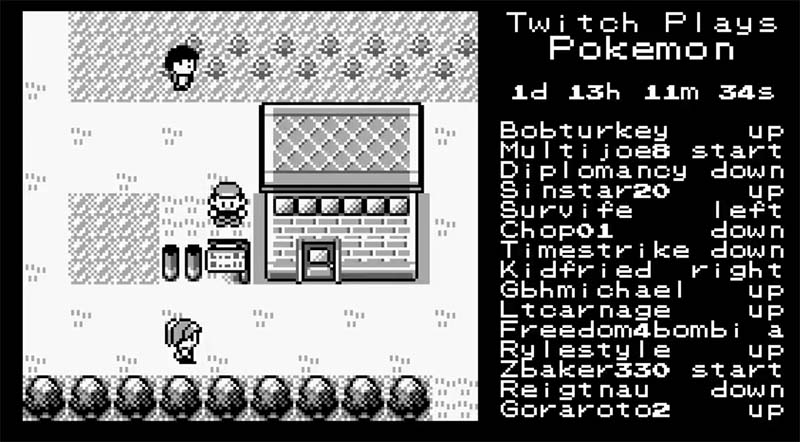 The stream was both ground-breaking and frustrating. As is to be expected when thousands of people are making the decisions for one character, many unexpected obstacles occurred – such as, getting the main character stuck in a maze for two days.
Since some decisions will be left up to the player himself, Chat Plays Poker is unlikely to suffer from these kinds of hiccups. However, it is still going to make for an incredibly interesting watch with plenty of unexpected action.
The event takes place at 8pm BST (3pm EST) on PokerStars' Twitch Channel. Tune in any time to join in the fun and become a part of poker history.