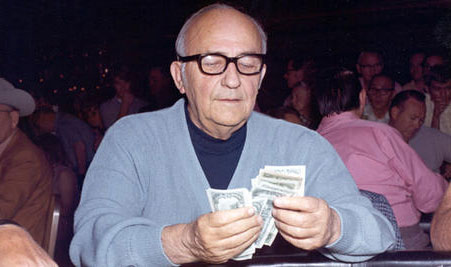 Johnny Moss is one of the most fascinating characters of poker's old guard, penning real-life stories that might be too cliche for Hollywood and, perhaps, adding a few more to the script for good measure.
Moss, the Grand Old Man of Poker, dominated an era of games where bad beats often cost someone at the table more than their wits and money. He was one of the founding members of the World Series of Poker, "winning" the inaugural event and, along with Stu Ungar, is one of two players to have won the Main Event 3 times.
Johnny Moss played in one of the most legendary games in poker history – that may never have actually happened. In short, it's a fascinating story that seems so far removed from today's version of the game but should never be forgotten.
The Origins of Johnny Moss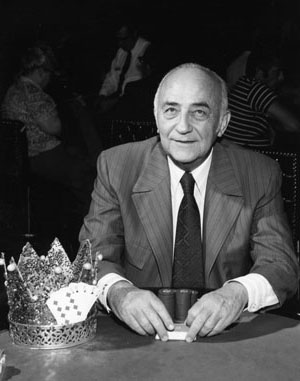 Johnny Moss was born in Marshall, Texas on May 14, 1907 – yes, just a four-flush away from the 19th century. In that area of the country that used to be such a nursery for card sharps and hustlers Moss credits being introduced to poker by gangs of cheaters when he was 10 years old.
Instead of using that knowledge to swingle high-rollers and inevitably end up on the wrong side of a pistol barrel he used his intimate knowledge of poker impropriety to guard back room games in Texas saloons.
Learning how to play the game as a teenager
As a teenager Moss was earning $10-20 per day to clean up games and gain invaluable insight into how to actually play the game.
Soon enough, Moss' instinctive poker excellence turned him into one of the original Texas rounders, traveling anywhere for a good poker game.
Unfortunately, regulated games were still decades away, which meant his gun never left his person, he uncovered dozens of cheating machines, and inspecting undressed men at gunpoint was routine. As Johnny Moss said himself, it wasn't far removed from the Wild West frontier days.
Cash Game with Nick the Greek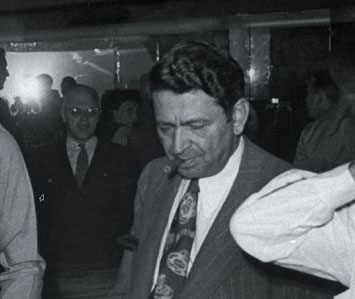 One of the most legendary cash games in poker history allegedly took place over several months in 1949 between Johnny Moss and Nick "The Greek" Dandolos. Dandolos was a high-stakes gambler and national celebrity, the likes of which we may never see again.
He is estimated to have won and loss more than $500 in his gambling career, more than $15 billion in today's money.
Benny Binion arranges the game
According to Moss, his close friend Benny Binion arranged the heads-up cash game between them. He said he was hesitant to play in the game at all.

Poker historians often claim that Binion set up the match as a tourist attraction and would later inspire the World Series of Poker 20 years later. In a 1995 article in Cigar Aficionado Moss described the heads-up match as marathon day-to-night sessions over several months, pausing only to sleep upstairs at the Horseshoe.
Moss claims to have won at least $2 million from Dandolos until "The Greek" finally had enough and told him, "Mr. Moss, I have to let you go." The quote and story is the stuff of poker legend.
Controversy on the lgendary cash game
However, did it ever actually take place? Author Steve Fischer raises some fair points, such as the fact that Benny Binion was still facing extradition for crimes in Texas and the Horseshoe didn't open until 1952, 3 years after Moss consistently recounted the cash game as occurring.
Neither "The Greek" nor Binion ever talked about the larger-than-life poker game, with Binion simply saying his memory wasn't what it used to be when pressed on the issue.
Perhaps age just robbed Moss of the accurate details. With all of the principal characters in the story long passed away it's unlikely we will ever know for certain.
WSOP Career of Johnny Mass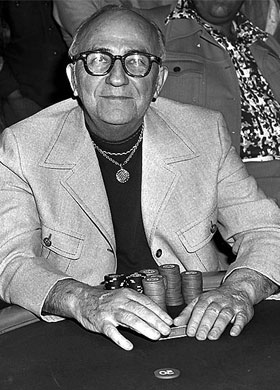 Johnny Moss was the winner of the inaugural World Series of Poker in 1970, although the format was very different than the multi-event freeze-out spectacle it is today.
Jack Binion, the son of Moss' childhood buddy Benny Binion, arranged a marathon cash game at the family-owned Horseshoe casino. Only 7 players participated, including Doyle Brunson and Amarillo Slim Preston, and they voted on a winner after the game broke up.
Legend has it that Moss won the vote to decide the second-best player after every player voted for himself on the first vote.
Moss also won the 1971 and 1974 WSOP Main Events, making him the only poker player in World Series history to have won it 3 times. With so few entrants in those lean early years, his total prize money for Main Event wins was a "paltry" $190,000.

He has also won 6 other WSOP events for a total of 9, a figure that puts him in fifth place all time despite passing away in 1995. In 1988, Moss set a still-standing record for oldest WSOP Event winner at 81 years old.
The Grand Old Man of Poker

Born in 1907 and passing away in 1995 at the age of 88, Johnny Moss was almost always the oldest man at the table by the time poker started taking over Vegas in the '70s.
His birthdate, but also his beloved standing by his peers, earned him the title of the "Grand Old Man of Poker".
Johnny Moss' Legacy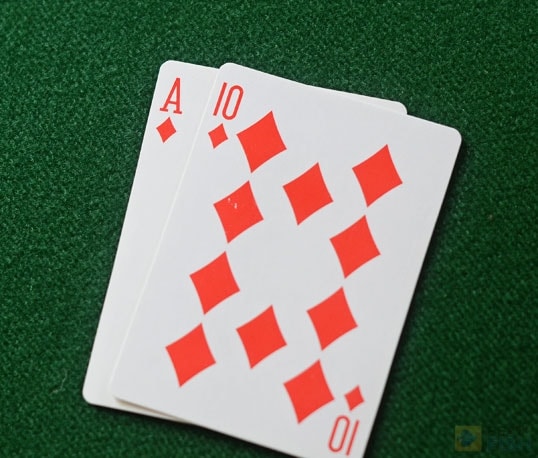 Simply put, Johnny Moss was one of the best poker players to have ever played. It seems like he left an impression on every player who crossed paths with the Grand Old Man of Poker on the felt before his passing in 1995.
Odds are they left a little piece of themselves in the form of high-value chips with Johnny as well.
Moss played in every WSOP from its inauguration in 1970 to 1994.
He is still one of the all-time leaders in WSOP bracelet wins with 9.
It's fun to imagine how many more he might have won if his birthday was pushed forward a couple of decades. When the Poker Hall of Fame debuted in 1979 Johnny Moss was one of the first inducted.
It's easy to forgot about those classic Texas rounders in today's poker world of corporate sponsorship and technology overload. It isn't so easy to ignore the indelible mark that Johnny Moss left on the game.
Moss is one of the best poker players to have ever played, won and lost untold millions, and left an indelible mark on the game.