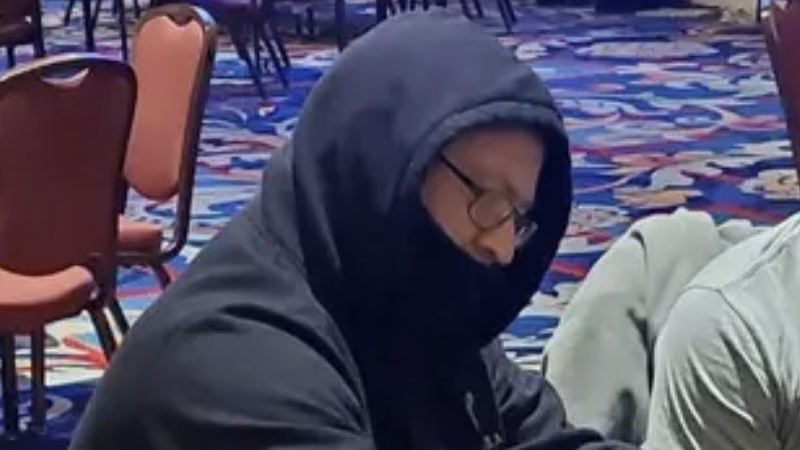 Mike Postle, who was accused of cheating poker players out of over $30 million, has returned to live poker by competing in a 50K tournament under an alias and wearing a disguise.
Mike Postle's cheating scandal at Stones Gambling Hall shocked the poker world, and you might think that he would never show his face at live tables ever again. However, less than three years later after the whole thing went down, Postle has been seen playing in a 500K guaranteed poker tournament in Biloxi – and he made it all the way to the final table before his true identity was uncovered.
Mike Postle Running Deep at the Beau Rivage Casino
The tweet that exposed Mike Postle playing in the tournament was posted by Angela Jordison. She was informed by another player named Maxwell Young, who had competed with him.
Good Morning Twitter! Welcome to 2023!

I woke up with a message from @Mawkswell

"Unreal just played with Mike Postle he was using an alias floor confirmed it was him"

Postle is in Biloxi. Final table resumes today…he is playing for 200k!@Angry_Polak @Joeingram1 pic.twitter.com/AE4yliakU0

— Angela Jordison (@Angelajordison) January 16, 2023
At first, you might not recognize him, and it seems that the casino even helped to conceal his identity. On the final day's chip counts, both his surname and his hometown were suppressed; he managed to register under this first and middle name only. He's even wearing a prosthetic nose!
However, the floor confirmed his identity. It's also known amongst the poker community that Postle's middle name is Lawrence, and it would be just too much of a coincidence if it somehow turned out not to be him.
In any event, he managed to make it all the way to the final table of the Million Dollar Heater Main Event. He was busted in 7th place, winning $32,703 after being slow-rolled by an opponent named Brock Gary.
A video of the hand begins on a flop of 6s 4h 5c with Postle shoving in his whole stack for 10s 10h. Gary tanked for about half a minute before calling with 6c 6h, knocking Postle out of the tournament. However, the poker community wasn't too pleased, complaining that the slow roll could have lasted at least another five minutes.
In the video, you can even hear someone comment: "that's for all the cheating you've done".
A Rundown of the Stones Cheating Scandal
In autumn 2019, poker player Veronica Brill accused Postle of cheating on live streams broadcasted from the Stones Gambling Hall. The story spread and dozens of other players came forward with similar experiences when playing with Postle.
The poker community weighed in on the scandal, with pros and bloggers all analyzing videos of Postle's play. Even mathematicians and statisticians joined in, and it was widely accepted that cheating had indeed taken place – but there wasn't any hard evidence.
So, when over $30 million in lawsuits were filed against Stones' owner King's Casino, the cases were eventually (and unfortunately) thrown out. Postle maintained his innocence but the poker community will not forget the scandal.
Are Mike Postle's Winning Being Held?
Today, some outlets are reporting that Postle's winnings are being held by the casino. This has not been confirmed, however, but it would be an interesting turn of events.

Many onlookers have commented that Postle should not have been permitted to play in the first place. It certainly makes sense that a player found to be cheating should be banned from live poker venues in the same way that cheaters online are banned across entire poker networks. PokerStars has banned online cheaters from live events, and land-based casinos are known for banning blackjack players that are suspected of card counting.
This situation certainly highlights the importance of establishing a country-wide poker integrity commission, similar to the PIC at GGPoker. Known cheaters should be held accountable for the actions and not permitted to continuing profiting from a game that they have used to scam other players.