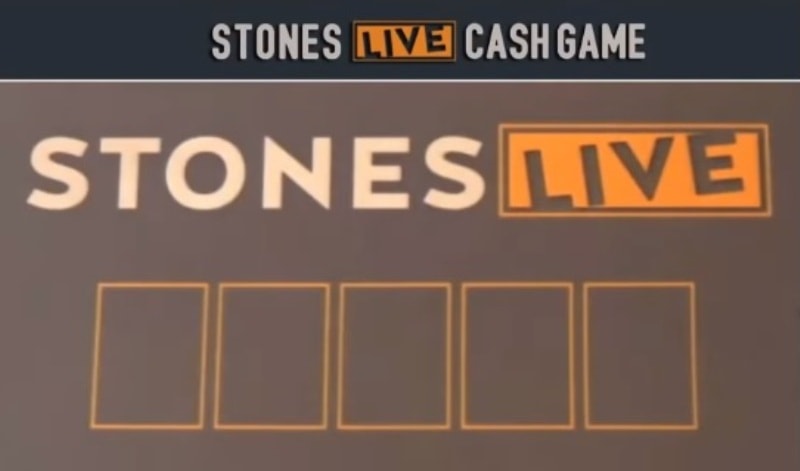 After cheating allegations have been made a few days ago against Mike Postle, a local professional poker player, Stones Gambling Hall has suspended all poker livestreams with immediate effect due to thorough investigation.
This popular casino from North California is famous for their "Stones Live" poker streams that people seem to adore. However, after this scandal, both the audience and the players who participated in their games can't help but wonder whether they've been played.
How Did Stones Live Get in This Mess?
For those of you who just came across this scandal and have no clue about it, all the information is available on the web. You might want to check it out since this is something you don't see every day. But if you don't feel like reading about it, let us quickly brief you.
Several days ago, Veronica Brill a.k.a. Angry Polak, a former worker at Stones Live and occasional commentator on their games, noticed some questionable actions by the mentioned player Mike Postle. She expressed her doubts via her Twitter account, which resulted in a flood of different reactions.
The next thing that got our attention was a long YouTube video created by Joey Ingram. In this 5-hour-long video, Ingram is following Postle's moves and commenting on them. In the end, he finishes on a note that something suspicious was definitely going on.

After multiple attacks and angry comments, Stones Live hired a team to investigate the scandal, but to no avail. The team finished the investigation with zero evidence against Postle, which caused a new series of attacks. Ingram, again, publicly addressed the issue in one of the interviews he gave:
"The guy is potentially on a livestream doing this, making hundreds of thousands of dollars, taking money from players. And then it leads to the question: Are there other people that are doing this? Did this happen to me when I played in these games? It just makes you wonder what else is going on out there."
Stones Live Involved in Cheating?
Some other professional poker players had to agree with Ingram, which made people from Stones Live take this matter seriously and organize a new investigation conducted by outside experts. For this purpose, Stones Gambling Hall wrote a tweet saying: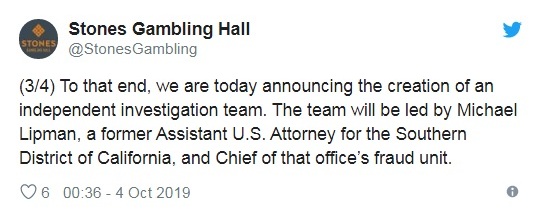 However, some resources claim that this independent investigation team is not as independent as Stones Live claims. Michael Lipman, the man leading the investigation, is a criminal defense attorney who already represented Stones Live in the past, as well as Stones Live's previous owner.
This connection between Stones Live and their new investigation team might just be a sign of trust. Unfortunately, people don't see it that way; many think that someone from the Stones Live team is involved in Postle's cheating.
Considering this new investigation was the first step, the second one had to be even more serious. That's when Stones Live decided to stop the broadcast of their poker games.
Postle Has No Evidence to Avoid Cheating Allegations?
Mike Postle has already stated that he is not guilty despite the accusations. Also, he had some supporters who took his side and tried their best to defend him after the first wave of accusations.
Nevertheless, when some professional poker players like Doug Polk joined Ingram in his public request to bring Mike Postle to justice, Postle's supporters lowered their voices.
Taking into consideration the fact that Postle has decreased the use of social networks and allegedly deleted some of his private accounts, he will definitely have a hard time proving his innocence and explaining how he managed to win the top prize in 95% of games he played throughout the season.
While we wait for Stones Live to share the results of the new investigation, the raging masses woke up California's Gaming Control Board that might in the end be the final judge in this scandal.