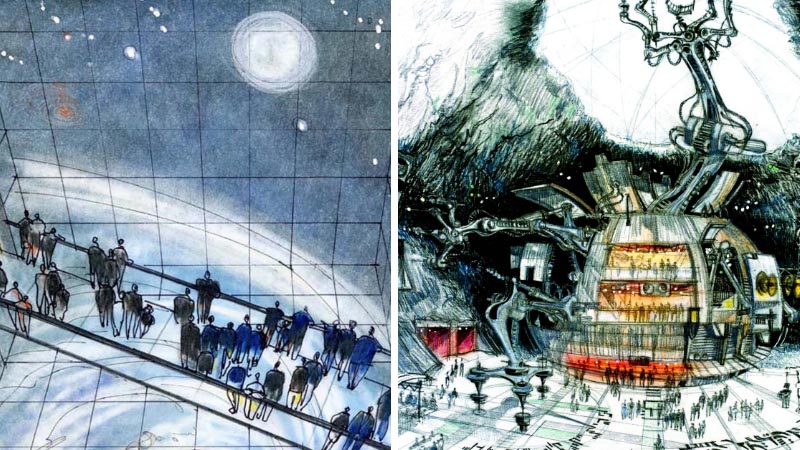 If you want to take a ride into space with either Virgin Galactic or Blue Origin, you'd have to a be a multimillionaire, but a new casino resort aims to bring a lunar experience to the masses. Moon World Resorts Inc will be spending $5 billion to build a casino resort in Las Vegas, which will house an "active lunar colony", a hotel built in a 735-foot tall replica of the moon and all sorts of other space-themed facilities.
Plans for Moon Resorts Las Vegas
The Moon Resorts Las Vegas property will span 5.5 million square feet. The moon-shaped hotel will house 4,000 rooms, among other impressive highlights:
A 75,000 square-foot spa
50,000 square-feet of food and beverage outlets
A 2,5000 theatre
A 10,000 square-foot arena
75,000 square-feet of retail space
150,000 square-feet allocated for nightclubs and lounges
Those are just some of the more standard casino resort feature that you'll find in the upcoming Moon Resorts Las Vegas property. There will also be plenty of intergalactic-inspired elements.
There will be a planetarium at the resort, which might sound unusual but this won't be the first casino to have one. Connecticut's Casino of the Sky currently houses the largest indoor planetarium dome which shows fiber-optic displays of the celestial bodies in our galaxy.
Another interesting feature will be a lunar-themed nightclub that will be located right underneath a spaceship. A moon shuttle rollercoaster ride will also orbit around the outside of the venue.
Active Lunar Colony
As if a casino resort with a planetarium and space-themed rollercoaster ride wasn't outrageous enough, Moon Resorts Las Vegas will also be home to an active lunar colony. It will replicate the colonies that are currently being planned by space agencies around the world, and guests will be able to explore the area using a moon buggy.
"People want something unique, something different, something 'Wow,'" – Michael Henderson, co-founder of Moon World Resorts, Inc.
Bringing Back Themed Casinos
Over the course of the past few years, we've seen gaming operators begin "de-theming" their casinos. For example, Station Casinos have toned down the railroad theme in their casinos, and all new venues tend to have a more generic aesthetic.
Casino developers go more for a "feeling" nowadays, when it comes to designing their properties. So, it's very unusual for a new Las Vegas resort to have an outright theme.
We wonder if this will inspire a new trend in the land-based gaming market – but, it will depend on how successful Moon Resorts Las Vegas is and if the venue has long-standing appeal. So, it will be well over a decade before we could potentially see an actual shift towards themed casino resorts.
When Will Moon Resorts Las Vegas Open?
The construction of Moon Resorts Las Vegas is estimated to take about four years. So, it is predicted to open sometime in 2026 or 2027.
Moon Resorts Las Vegas will be one of four Moon-themed properties to be built by Resorts World Vegas. The other locations are planned for China, Spain and the Middle East.