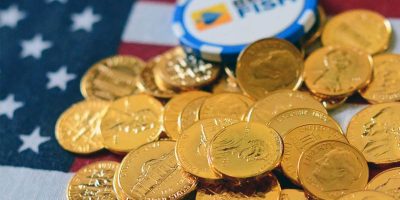 The New York Jets have announced that top sportsbooktop sportsbook WynnBET will be the team's official sportsbetting partner. As part of the deal, the two brands will work together to enhance the experience of fans of legal betting ages with new venues and media programs.
The Green Room
The main aspect of the deal between the New York Jets and WynnBET is the Green Room. This is an all-inclusive area at Jets home games with food and drink provided to ticket holders over the age of 21.
It is being touted as a "luxury club space" that will measure 4,8000 square feet. In it, sports fans will enjoy an immersive sportsbetting experience, with players able to access all of the information and tools necessary to wager.
The Jets' Podcast Network
One of the more unique features of the deal revolves around podcasts, as WynnBET will be the presenting sponsor for the Jets' podcasts on all sorts of platforms, including:
YouTube
iHeartMedia
Spotify
Google Podcasts
Apple Podcasts
The betting platform will also be the title partner of the Jets' official podcast. In addition to presenting the views and analyses of hosts Eric Allen and Leger Douzable, the podcast will also feature ambassadors from WynnBET as recurring guests.
"We also expect Jets fans to enjoy the compelling new content on the Jets Podcast Network and benefit from the WynnBET relationship on gameday and throughout the entire football season" – Jeff Fernandez, President of Business Development and Ventures for the New York Jets
Just about every sponsorship deal includes some sort of VIP venue – but, we've never seen podcasts come as part of the deal. So, we're very interested in how this will turn out.
WynnBET's Recent Sportsbetting Push
WynnBET has been working hard to secure itself a position as a leading sportsbook in the United States. From lounges to commercials to online gaming, the sportsbetting brand has been sticking its finger in a lot of pies across the American sports industry.
Earlier this year, WynnBET joined the NFL as a sportsbook partner. Along with BetMGM, FoxBet and PointsBet, the company will be able to broadcast commercials during NFL games.
We've also seen WynnBET open a sportsbetting themed lounge at Richmond Raceway, and make plans to launch a free-play game on the Detroit Lions' mobile app.
As the market opens up, there is huge potential to top sportbetting operators to experience tremendous financial success. Experts have estimated that legalized sportsbetting would be worth $55 billion a year, so it comes as no surprise that WynnBET is moving mad.
Since the NFL season is now underway, we're sure to see more sportsbooks coming out of the woodwork in regulated markets with new tools and experiences for punters. WynnBET is certainly leading the way, and other sportsbetting operators across the country could certainly take inspiration from the brand's various integration ideas.