All About Oklahoma Sports Betting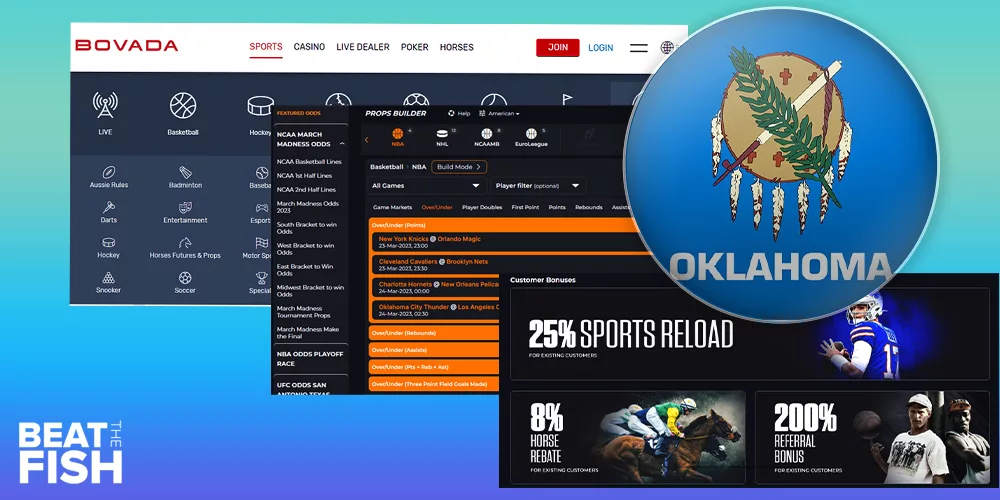 As the world of sports betting continues to change, Oklahoma looks like it could be one of the next states to launch regulated sports books. In recent years, the Sooner State has seen a push to legalize sports betting, and now it looks like it's finally happening.
| Site | Sports Betting Welcome Bonus | Sportsbook Available in Oklahoma? | |
| --- | --- | --- | --- |
| Bovada Sportsbook | 75% up to $750 | yes | Play Now |
| BetOnline | 50% up to $1,000 | yes | Play Now |
| WagerWeb | 50% up to $1,000 | yes | Play Now |
| MyBookie | 100% up to $1,000 | yes | Play Now |
In our in-depth Oklahoma sports betting guide, we'll cover all the latest developments regarding laws that will legalize and regulate sports wagering in the states, as well as advise you on the best sportsbooks to use. So let's dive in and take a closer look at the latest in Oklahoma sports betting.
Bet On Sports in Oklahoma Now
If you're looking to get in on the action before sports betting is officially legalized in Oklahoma, there are several options available to you.
Here, I'll take you through which bookmakers are available to bettors in Oklahoma and what benefits they offer. So, you can decide for yourself which is the best place to bet.
Bovada Sportsbook – Best All Around Sportsbook for OK Bettors
For more than 15 years, I've been using Bovada sportsbook to place bets. In my opinion, it is the easiest platform to work with when it comes to betting, and it works great on mobile. In fact, it's ranked #1 on my list of the Best Mobile Sportsbooks.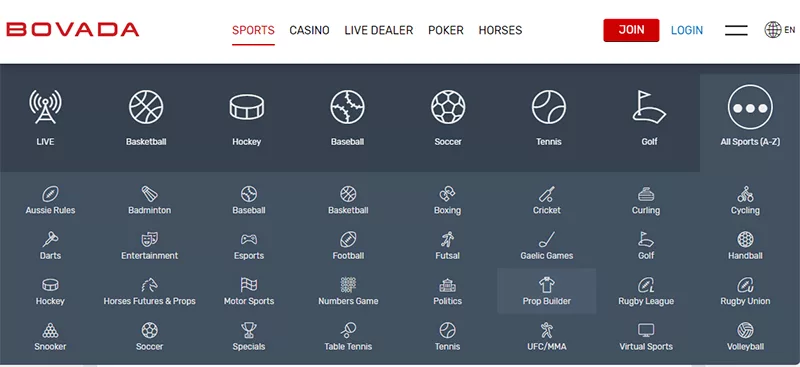 The platform is incredibly intuitive with a useful search function that allows you to look for matches by the teams or athletes involved. Bovada also offers live betting and quick Bitcoin transactions.
Great Reputation
For some time, Bovada has been an illustrious name in the sports betting world. They have built up a strong reputation among American bettors, providing a vast selection of markets, including baseball, basketball, soccer, hockey and more.
Wide Array of Options
There are loads of betting options, bonus offers and side bets available for any match, and the odds are highly competitive, especially for NHL and NBA matches.
Bovada's mobile site is also very good, meaning you are able to place wagers on your phone while you are away from your computer. It was in 2000 that the original Bodog was established, but due to some legal and organizational issues in the US, the name was changed to Bovada and Bodog is now the biggest sports betting site in Canada.
Some Drawbacks
The downside is that it sometimes can't handle busy periods. In fact, the whole website can crash during major sporting events – but this is still pretty rare.
Despite this, I still keep using Bovada as my main sports betting site. It's difficult to find a better operator out there for US bettors.
WagerWeb – Best Bonuses
If what you're looking for is a great range of bonuses, then WagerWeb is the place to go. Here, you'll find some of the most impressive offers that I've encountered in the online sports betting world.
There are five different welcome bonuses available to players at this sportsbook at all times:
100% Welcome Bonus up to $500.00

15x Rollover
 Available for Bitcoin and MoneyGram deposits only
• Refer a friend and get it twice.

 50% Welcome Bonus

12x Rollover
 Available for Bitcoin and MoneyGram deposits only.

30% Cash Reload Bonus

Min Deposit $75, Max Bonus $500.
12x rollover

Customers' Favorite Bonus

Available for Bitcoin deposits only
20% Cash or 30% Free Play
Min Deposit $75 – Max Bonus $1,000. 10x rollover
Get 1% cash back on total bets
 Available for all deposit methods

10% Cash or 15% Free Play Bonus

Min Deposit $50 – Max Bonus $1,000.
6x rollover
Get 1% cash back on the total volume of bets
Available for all deposit methods
This is definitely one of the best selections of offers out there. However, I have one main gripe – you have to contact customer service to receive your bonus. It isn't awarded automatically like it would be at other online betting sites.
BetOnline.AG – Best Sportsbooks Payouts
If you have a need for speed (with regard to payouts, that is), BetOnline.ag is the place to go. They are considered an industry leader in terms of providing quick payouts, processing bitcoin withdrawals within 24 to 28 hours.
Their selection of bonuses are also pretty impressive, offering $25 in free play for live betting and a 100% crypto bonus for new players.
MyBookie – Best for Prop Bets
I understand that prop bets might be your main reason for betting online and, if that's the case, I've got you covered. Have a look at MyBookie – which offers up the impressive Prop Builder tool.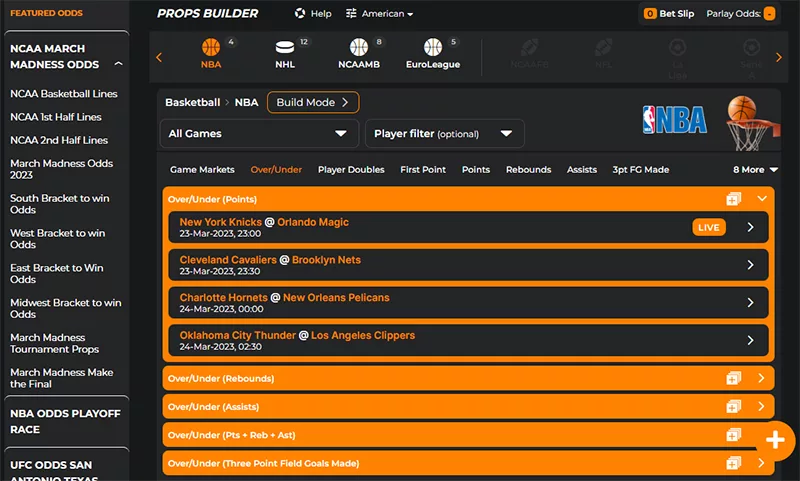 MyBookie Prop Builder provides a vast range of props from a variety of sports leagues, making it super easy to construct custom parlays and add money line options. In addition, the tool gives you access to comprehensive player statistics and other important details so that you can assess the most suitable bets and make informed decisions.
Even if you're a beginner in the world of sports betting, this tool is perfect for making prop bets.
Frequently Asked Questions
✅What is the legal status of sports betting in Oklahoma?
Sports betting is not yet legal in Oklahoma, although lawmakers are very keen to provide gaming tribes with the ability to launch their own sportsbooks. Matthew Morgan, chairman of OIGA (Oklahoma Indian Gaming Association) also backs the plan.
✅ Where is the best place to bet on sports online in Oklahoma?
Currently, there are a number of great online sportsbooks that are available to bettors in Oklahoma, including BetOnline.ag and Bovada. You can read my full list of recommendations in the Beat The Fish Oklahoma sports betting guide.
✅ When will regulated sports betting launch in Oklahoma?
If you'd like to bet on sports at Oklahoma's local tribal casinos, then you will have to wait a few months. When a new sports betting bill is proposed, it can take quite a while before sportsbooks are able to be launched. It is likely to be sometime towards the end of 2023 or the beginning of 2024 – hopefully in time for the next Super Bowl in February, or at the latest, the Kentucky Derby in May.
✅ What sports can I bet on in Oklahoma?
The online gambling sites that currently cater to Oklahoma sports bettors offer a huge range of markets. So, whether you're into more mainstream sports like basketball or have more niche interests like track and field, swimming, tennis, bowling and even softball, you'll be able to wager at the sites I'm recommending in the BeatTheFish Oklahoma sports betting guide.
Overview of Oklahoma Sports Betting
Oklahoma is home to several professional sports teams, including the NBA's Oklahoma City Thunder as well as the Tulsa Oiler. The state's distance from Texas also means there are plenty of NFL fans backing the Dallas Cowboys and the Houston Texans football teams, as well as MLB fans supporting the Texas Rangers.
As such, sports betting in Oklahoma is a big topic of interest for local residents. With more and more states legalizing sports betting, it's only natural that Oklahoma would be among them.
The push to legalize sports betting in Oklahoma is being led Rep Ken Luttrell and Governor Kevin Stitt. They have proposed a number of bills in the past, and the latest House Bill 1027, which would allow tribal casinos to operate sportsbooks, looks the most promising.
Is Sports Betting Legal in Oklahoma?
As of right now, sports betting is not yet legal in Oklahoma. House Bill 1027 is the main bill that would aim to legalize sports betting in the state. It is still in its early stages, but if it passes through all of the levels of lawmaking, sports betting in Oklahoma will become legal.
Once the legislation is passed, sports bettors in Oklahoma will be able to place bets in-person at brick-and-mortar sportsbooks, similar to the betting market in New Mexico, as well as online via mobile and desktop apps similar to those available in Louisiana.
The bill would allow for multiple sportsbooks to open with different tribes like the Cherokee Nation and Comanche , which will give bettors more options and more competitive odds.
Timeline of Sports Betting Laws in Oklahoma
2019: Governor Stitt and the state's gambling tribes came to a disagreement about their gaming compacts. This was the first time that sports betting was proposed in the state, as Stitt mentioned launching sportsbooks as part of the new compact.
2020: Sports betting on tribal land was approved by the governor, via compacts signed with the Otoe-Missouria Tribe and Comanche Nation. However, Mike Hunter, the state's Attorney General, shuts this down and only permits tribal casinos to operate the types of gambling set out in the Tribal Gaming Act. Unfortunately, sports betting is not listed.
2022: HB3008 is brought forth by Luttrell. It makes its way through the committee but does not make it past the House.
2023: House Bill 1027, which would give tribal casinos the ability to operate sportsbooks, passes the House Appropriation subcommittee. The full Appropriations and Budget Committee will need to hear the bill, and its supporters are confident that it will get further than HB3008.
Understanding Oklahoma Sports Betting Laws
Before diving into the world of Oklahoma sports betting, it is essential to understand the legal framework that governs it. In the grand scheme of things, Oklahoma has quite a short history of gambling – since all forms were banned up until 1916.
While decriminalizing gambling seems like it would be a big step, little progress was made until 1963 when the state passed the horseracing act. Then, it would be another 50 years before any further progress would be made – when local tribes were given the green light to launch their own casinos in 2003.
One year later, the Oklahoma lottery was launched. Following that, the state permitted online lottery sales – but only for foreign customers. It was quite a progressive move, and shows that lawmakers in the state have some very inventive ideas when it comes to legalized gambling.
In 2020, Governor Kevin Stitt worked on laws that would include legalized sports betting operations as part of tribal gaming compacts. Unfortunately, the bills did not make it past the courts.
This leads us to today, with Rep Ken Luttrell's HB 1027 making great progress towards getting sports betting legalized in the state of Oklahoma.
According to a recent poll, 44% of Oklahoma residents supported the legalization of sports betting. Lawmakers also seem particularly keen, and I would be surprised if tribes were not given the green light to run sportsbooks this year.
The potential economic impact of legalizing sports betting
One of the main arguments in favor of legalizing sports betting is the potential economic impact it could have on the state. According to a study conducted by Oxford Economics, legalizing sports betting in Oklahoma could generate up to $50 million in annual revenue for the state. This revenue would come from taxes on sports betting revenue as well as increased tourism and economic activity generated by sports betting.
Additionally, legalizing sports betting could create new jobs in the state, particularly in the gaming industry. This could provide a much-needed boost to the state's economy, which has been hit hard by the COVID-19 pandemic.
Opponents of sports betting legalization, however, argue that the potential economic benefits are overstated. They point to the fact that the tax revenue generated from sports betting is often offset by the social costs of gambling addiction and other related issues.
They also argue that the revenue generated from sports betting is unlikely to make a significant impact on the state's budget, which has a total annual revenue of over $7 billion.
Benefits of Legal Sports Betting in Oklahoma
The legalization of sports betting in Oklahoma would bring some huge economic benefits to the state. Currently, a significant portion of the money generated through gambling in Oklahoma goes towards funding education – so, sports betting would bring in millions more to the state's schools.
So, kids on the cheerleading team, marching band, pep band, color guard and drill team will benefit from the tremendous economic benefits of bringing legal sports betting to Oklahoma.
Furthermore, legal sports betting also provides an opportunity for sports enthusiasts to place bets on their favorite teams and sports events without fear of legal repercussions. With a regulated sports betting market, sports enthusiasts can place bets confidently and without fear of being scammed.
Which Sites Are Likely to Launch in Oklahoma?
Based on the way in which legalized sports betting has come together in other states, I can make some predictions about how regulated sportsbooks will look when the market goes live. These are some of the operators that I suspect will launch sportsbooks in the state.
Fanduel in Oklahoma
Since FanDuel currently operates as a Daily Fantasy Sports (DFS) operator in Oklahoma, the brand already has its foot in the door. So, when the time comes for the local gaming commission to begin licensing operators, FanDuel is likely to be one of the first companies to get the green light.
We've also seen FanDuel successfully enter other nearby gambling markets like Arkansas and Colorado, so the brand is likely to make its way across the border as soon as OK senate passes the regulation of sports betting.
OK DraftKings Sports Betting
DraftKings is another brand that runs DFS operations in  Oklahoma already. Like FanDuel, the brand has demonstrated its commitment to providing users with top-notch gaming services within the state and its ability to provide safe, secure and entertaining betting activities in other states like New Jersey.
BetMGM Sports Betting in Oklahoma
BetMGM is also a contender for obtaining a license in Oklahoma, as it already has a very wide reach across the United States. The sportsbook has already gone live in nearby states like Kansas, Pennsylvania, Tennessee, and Michigan. Should Oklahoma also venture into online casino games, BetMGM would be well-positioned to become a leader in this arena.
Responsible Gambling in Oklahoma
Sports betting in Oklahoma will come with a number of regulations designed to protect bettors. These include age verification measures, responsible gambling measures, and other consumer protection measures. All of these measures are designed to ensure that sports betting in Oklahoma is safe and secure for all bettors.
Bills proposing the regulation of Oklahoma sports betting outline a number of responsible gambling measures that operators must include in their services, such as self-exclusion and deposit limits. These measures are designed to help bettors gamble responsibly, and they will be enforced by the state.
Comparing the Best Oklahoma Sports Betting Websites
When comparing the best Oklahoma sports betting websites, there are several factors to consider. So, while I highly recommend all of the sites I've listed above, it's up to you to ultimately decide where to register. Here are some considerations to keep in mind:
Variety of Markets and Bets
The first factor to consider is the variety of sports events offered by the sportsbook. A good sportsbook should offer a wide range of sports events to bet on, including popular sports like professional and college football, basketball, hockey, soccer and baseball.
This becomes especially important if you're into more niche sports like cricket, rugby, lacrosse, golf and even flag football, as well as combat sports like boxing, MMA, UFC and WWE, so you should certainly browse the lobby to see which markets are available to bet on.
User Experience
Another factor to consider is the user interface. A good sportsbook should have a user-friendly platform that is easy to navigate – but, this does mean different things to different people. So, be sure to have a browse around any sites or apps that you are considering opening up an account with.
Promotions and Bonuses
This is likely the first thing that you will be looking at when deciding whether or not to register at a specific online sportsbook – and, I don't blame you. There are some impressive offers out there that give bettors great value for their money including match bonuses, free bets and cashback.
Tips for Successful Sports Betting in Oklahoma
Sports betting can be a fun and exciting way to enjoy your favorite sports events while potentially earning some extra cash. However, it is important to approach sports betting with a strategy to maximize your chances of winning. Here are some tips for successful sports betting in Oklahoma:
Do Your Research
Before placing any bets, it is important to do your research. This includes understanding the teams and players involved in the sports event you want to bet on, as well as the betting odds and the sportsbook you are using.
Set a Budget
It is important to set a budget for your sports betting activities to avoid overspending. Set a limit on how much you are willing to spend on sports betting each month and stick to it.
Use Multiple Sportsbooks
Using multiple sportsbooks can help you find the best odds and promotions for the sports events you want to bet on. This can increase your chances of winning your bets and maximize your potential earnings.
Bonuses and Promotions Offered by Oklahoma Sports Betting Websites
At the OK sportsbooks I've recommended, there are some impressive bonus offers up for grabs. These are the promotions that I would suggest keeping an eye out for and claiming whenever you have the opportunity.
Free Bets
Free bet bonuses are one of the most popular sports betting bonuses offered by sportsbooks in Oklahoma. These bonuses allow you to place a bet without risking any money of your own.
The concept is simple:  if the bet wins, the customer gets to keep the winnings. If the bet loses, the customer doesn't lose any money.
While sportsbooks will typically offer a free bet to new customers, sometimes exclusive free bets are given to existing customers as part of exclusive offers. So, make sure you follow your chosen brand on social media so you don't miss out when the opportunity arises.
One thing to keep in mind when claiming a free bet bonus is that very specific rules might apply. For example, the free bet may only be valid for a specific period of time or used on specific events. So, be sure to read the terms and conditions carefully.
Cashback Bonuses
Cashback bonuses allow customers to receive a percentage of their losses back to them. For example, a sportsbook may offer a 10% cashback bonus on losses up to $100. If a customer loses $100, they would receive $10 back as cashback. It's a great deal, if you're someone who plays regularly.
If a sports gambling operator is feeling particularly generous, the money is paid out to your cash balance rather than your bonus balance. This means that no wagering requirements would apply.
Deposit Bonuses
A deposit bonus is the most common type of offer at Oklahoma sports betting sites, and they are awarded to customers who make a deposit into their sportsbook account. Basically, how it works is – the operator will match a percentage of the deposit amount, up to a certain limit.
For example, a sportsbook may offer a 100% deposit bonus up to $500. If a customer deposits $500, they would receive an additional $500 in bonus funds.
Loyalty Bonuses
Loyalty bonuses are designed to reward loyal customers for their continued business. These bonuses can take many forms, including free bets, cashback offers, and deposit bonuses. Loyalty bonuses are usually awarded based on the customer's betting activity over a certain period of time, such as a month or a year.
So, in some situations, it's certainly worth it to stick with the same online sportsbook. The more you play with a particular operator, the more perks you can claim from the loyalty program.
Conclusion – The Future of Sports Betting in Oklahoma
Oklahoma is on the verge of legalizing sports betting, and the news is sure to be welcomed by sports bettors in the Sooner State. In the meantime, bettors in Oklahoma can already place bets with BetOnline.ag and Bovada Sportsbook.
All-in-all, the future of sports betting in the state looks bright. If House Bill 1027 passes all of its hurdles, it could lead to the legalization of other forms of gambling, such as online casinos and poker rooms. This could be a huge boon for the state, as the revenue generated by these forms of gambling could be used to fund public programs and services.
So if you're a sports bettor in Oklahoma, keep an eye out for the latest developments in the state's sports betting scene. It looks like sports betting in Oklahoma is closer than ever to becoming a reality.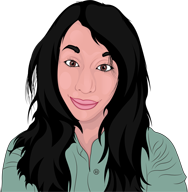 Bethany has been working in online gambling for over 13 years. She got her start in the industry as her first job after graduating from the Professional Writing Program at York University. Having written for many online gaming publications and worked with top casino operators, she has unique insight into the gambling market. Bethany maintains a personal interest in iGaming as she continues to play poker online as a hobby.