The Legendary Johnny Chan is More Than Just Rounders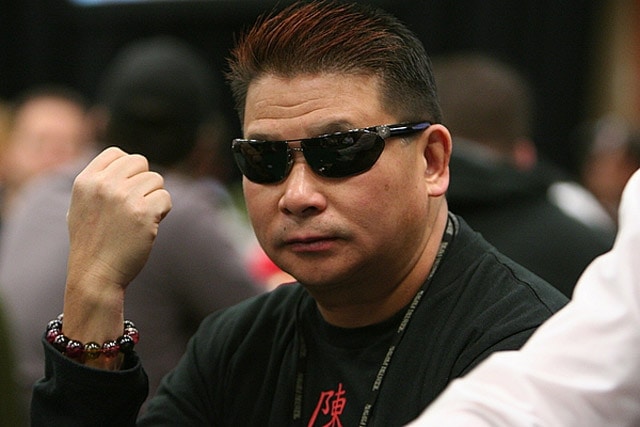 Still considered to be one of the top professional tournament and cash game players in the world the "Orient Express" sports a swagger that can be backed up by his abilities at the table. He was essentially the first Asian breakout poker player and is the self-proclaimed role model for Asians on the current poker circuit.
Despite his 10 WSOP bracelets (a number that he shares with a fellow poker legend Doyle Brunson and the one and only Phil "No Home Jerome" Ivey), he may be best known by non-poker players for his cameo appearance in the poker movie Rounders, starring Ed Norton and Matt Damon.
Johnny's fame set in stone by "Rounders"
Chan boasts one of the best showings ever at the World Series of Poker Main Event, winning back-to-back titles in 1987 and '88 while sporting those oversized '80s sunglasses. His trap set for Erik Seidel during heads-up play in the '88 Championship is predominantly featured in Rounders.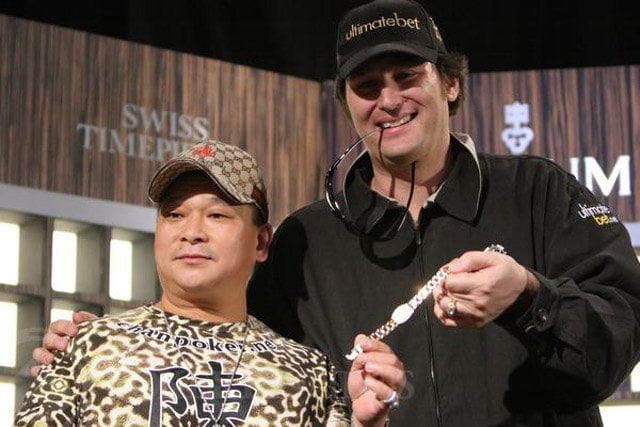 He almost made poker history by winning 3 titles in a row but was edged by then-24-year-old Phil Hellmuth in '89. Other major accomplishments include winning the second version of the Poker Superstars Invitational in 2005, beating out a couple dozen of the best poker players in the world.
Johnny Chan and his lucky orange
Seen most often in the '80s and '90s in his designer track suits, Chan mostly sports flamboyant (costly) and colorful shirts at the table. He certainly isn't a frugal character and won't shy away from spending his winnings on frivolous pleasures.
"The Orient Express" is also famous for keeping his lucky orange next to him at the table, but the reasoning didn't stem from superstition.
Back in the smoke-filled and less glitzy days of the poker room, Chan would keep the orange at hand and use its fragrance to break the persistently unpleasant vapors that would envelop non-smoking poker players.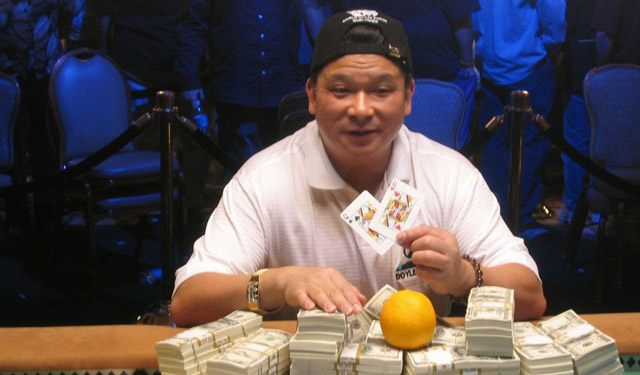 From emigration from China to poker stardom
Johnny Chan and his family emigrated from Hong Kong, and China before that, to Houston, Texas as a child. After struggling to learn English and help his father with the family restaurant business, Chan made it to the University of Houston.
The call of Vegas soon cut his academic career short, and instead Chan took a beating at the Blackjack and poker tables. Learning from players like Doyle Brunson and Chip Reese at the high-stakes tables, Johnny Chan finally honed his skills and won his first WSOP bracelet in 1985.
He's never looked back and continues to use his observant and aggressive style to be successful in both cash games and tournaments. Mostly, he's a friendly and outgoing character that appeals to audiences and fellow players.
You can catch him playing in the largest and most exclusive cash games in Vegas, best captured by GSN's High Stakes Poker.
A lifelong poker player who moved online in 2004, Josh founded Beat The Fish in 2005 to help online poker players make more-informed decisions on where to play and how to win once they got there. He hopes to counter the rampant dishonesty in online gaming media with objective reviews and relevant features. Tech nostalgic. Fondly remembers the soup avatar at Doyle's Room.