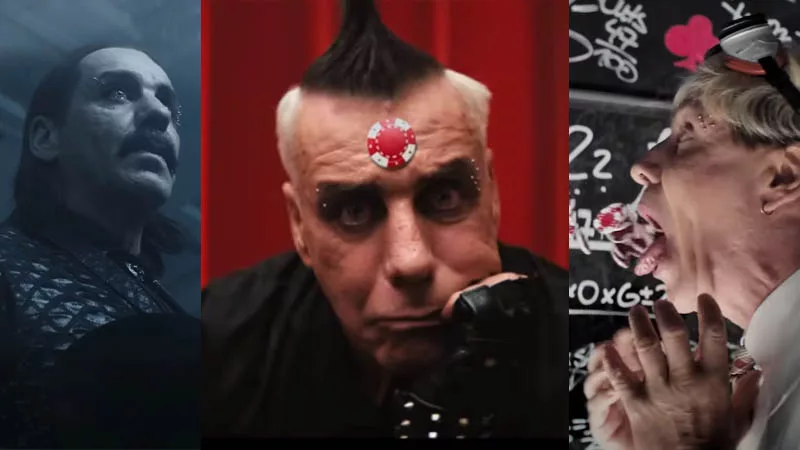 Most online poker commercials are pretty similar. They either depict a group of friends sitting around a table or a celebrity poker ambassador chatting away, but GGPoker's latest commercial deviates from the norm in a big way. Starring Rammstein frontman Till Lindeman, the commercial takes us on a twisted adventure through the minds of four poker players.
The Craziest Poker Ad We've Ever Seen
It's a four-minute advert, where five versions of Lindemann sit around a poker table, totally unlike any other online poker advertisement I've seen before. Scenes flash back to each player's past, and there are scenes of a sword fight, a nun giving communion to a tiny scientist and a woman swimming in poker chips.
The dialogue makes a few references to poker but doesn't really mention anything about the GGPoker brand – but, Lindemann does state that each player represents a different style of play.

Still, it's more like lyrics to a Rammstein song than advertising copy:
I can laugh again
It isn't hard
I don't cut, not even you
Luck waits for no one
No blood on any card
Stopped freezing in daylight
Started walking in the night
Secretly looking at the stars
I think I like myself again
Control my rage
Guess I'm doing okay
Go to the beach every now and then
Can laugh again
It isn't hard
Control my rage
Think I'm doing okay
You see me in the sun again
Full house, pockets clean
The games are on
Back always against the wall
With a straight after all
Control my rage
Know I'm good
It's like if you combined one of those obscure perfume commercials with an industrial metal music video. I mean that in the best way possible, too, as it's the kind of advertisement that will really turn heads.
Directed by Specter Berlin
GGPoker has made a huge production out of this extra-long online poker advertisement, and even enlisted in a well-known music video director. Specter Berlin wrote and directed the commercial (or, we think it would be more appropriately called "short film").
Berlin has directed a number of music videos for Rammstein, including Deutschland and Adieu. As such, it's a very well-crafted piece of film, as each character has their own backstories and motivations. The visuals are also pretty stunning – even if actual product is completely bonkers.
Attention from the Metal Music Community
The advertisement has gained plenty of attention from metalheads around the world. It has been covered in LoudWire, Revolver and Louder Sound – so, GG Poker will definitely be getting attention from a new audience.
Check out the advertisement here: