Blockchain.Poker: Where You Should Play Now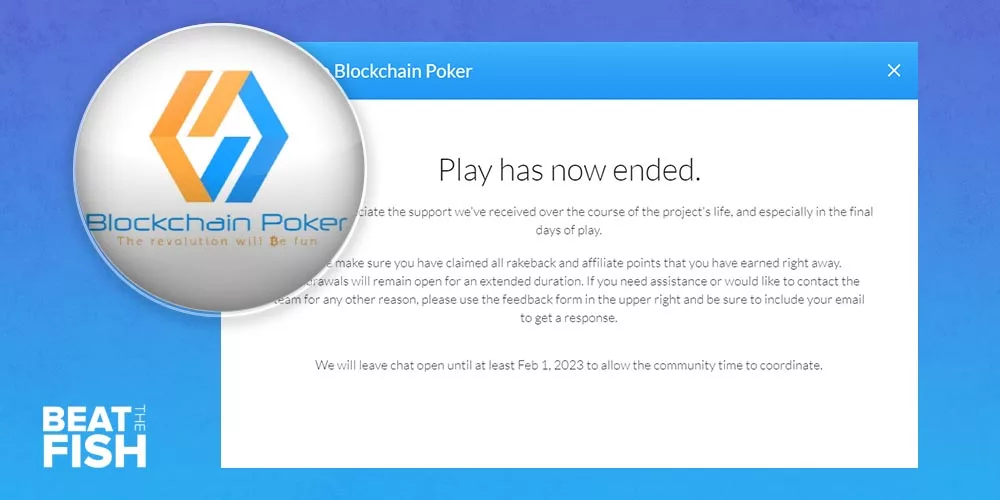 In December 2022, crypto poker players around the world were devastated to hear the news that Blockchain.Poker was shutting down. It was a very popular platform that had become the go-to for players looking to play online poker games with cryptocurrencies, and many players were left wondering where to go next.
Here, I'll be exploring the reasons why Blockchain Poker shut down and point you in the direction of which cryptocurrency poker sites you should consider playing at next.
| Site | Offer | Min Deposit | Bonus Code | |
| --- | --- | --- | --- | --- |
| Bovada Poker | 100% Match Bonus up to $500 | $20 | PWB500 | Claim Now |
| Ignition Poker | 150% Match Bonus up to $1,500 | $20 | Not required | Claim Now |
| Americas Cardroom | 100% Match Bonus up to $2,000 | $25 | ACRBTF | Claim Now |
| BetOnline | 100% Match Bonus up to $1,000 | $50 | NEWBOL | Claim Now |
| Sports Betting Poker | 100% Match Bonus up to $1,000 | $20 | NEWSB | Claim Now |
| | | | | |
Why Did Blockchain.Poker Shut Down?
Blockchain.Poker was a popular platform among online poker players for its security and anonymity features, as well as being one of the few platforms that used cryptocurrency as its main payment method. However, Blockchain Poker faced some challenges that ultimately led to its closure.
Lack of Licensing
One of the main reasons was the increasing regulation of the online gambling industry. Since Blockchain.Poker was not licensed, making it difficult to continue operating in many jurisdictions.
Even sites that operate in a "grey area" (as in, they do not have a license from a specific state like New Jersey or Nevada) are still licensed elsewhere. For example, Curacao and Antigua are hotspots for crypto poker and casino operators to obtain licenses, so these sites at least have someone to hold them accountable in terms of fairness and player safety – but Blockchain.poker had not even sought out a license in one of these areas.
Increase in Competition
Another reason was the increasing competition in the online poker industry. New platforms were emerging, offering better user experiences, more games, and attractive bonuses. With a very "no frills approach to online poker", Blockchain.Poker was not able to keep up with this competition, and this led to a decline in its user base.
It seems like the poker room was quite a small operation with a fairly limited budget. So, it would have been difficult to keep up with larger sites like Coinpoker.
Technical Issues
It was pretty obvious that Blockchainpoker was not a very big operation – so, of course, there were technical issues that simply could not be dealt with. Players would often complain about slow loading times and frequent crashes, which are always going to turn players away.
Alternatives to Blockchain.Poker
If you were a regular player on Blockchain.Poker, you might be wondering where to go next. Fortunately, there are many alternatives to consider. My main recommendations are:
Bovada
One of the biggest advantages playing with crypto currency at Bovada Poker is simply its ease of use, with an incredibly easy process of using cryptocurrency to fund your account. Bovada Poker accepts a variety of cryptocurrency tokens, including Bitcoin, Bitcoin Cash, and Litecoin (basically – all the 'coins' and then some), with most transactions processed within minutes no matter what country you're playing from. It's certainly one of my favourite bitcoin casinos.
High-Quality Gaming Experience
At Bovada Poker, you can expect a high-quality gaming experience with a wide variety of games to play for the chance to win impressive prizes. Bovada Poker offers a range of poker variants, including Texas Hold'em, Pot Limit Omaha, and Seven Card Stud. In addition to cash games, Bovada Poker also offers plenty of tournament variants including multi-table tournaments and sit&gos.
The software at Bovada Poker is top-notch, with fast and reliable gameplay and a user-friendly interface. Whether you're playing games of chance and luck on your desktop computer or mobile device, you can expect a seamless gaming experience at Bovada Poker.
Exclusive Bonuses and Promotions for Cryptocurrency Players
At Bovada Poker, cryptocurrency players can enjoy exclusive bonuses and promotions. Whether you're placing bets at the casino, poker room or sportsbook, there is a special welcome bonus targeted to you – and, it's only available if you're depositing using your crypto currency wallet.
Ignition Poker
Ignition Poker has a similar focus on players who prefer to make deposits and withdrawals using currencies that employ blockchain technology. While it offers high-quality software like Bovada and exclusive bonuses, there are some other great stand-out features that will appeal to former Blockchain Poker players.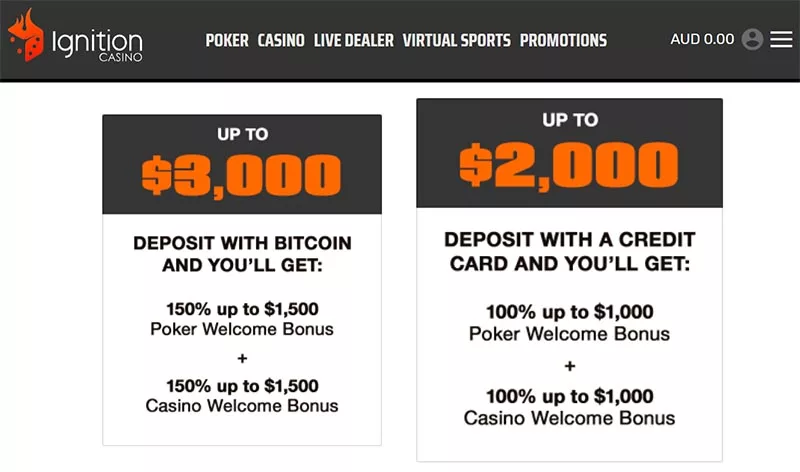 Anonymous Tables
It's not every day that you see anonymous tables at online poker sites – but, Ignition Poker brings this rarity to the masses. This was one of the major selling points of Blockchain Poker and why some players are hesitant to move on, but you can play 100% anonymously here at Ignition Poker.
Ignition Poker Tournaments
Ignition Poker is home to some of the biggest and most exciting online poker tournaments in the industry. The site offers a range of daily, weekly, and monthly tournaments with guaranteed prize pools ranging from a few thousand dollars to over a million dollars.
Some highlights include:
Weekly Crypto Depositor's Freeroll with a $2,500 prize pool
The Super Millions tournament series, where $8m in prize pools is up for grabs every year
$150K Guaranteed tournaments  every week where you can enter for as little as $1
BetOnline.Ag
BetOnline Poker is one of the most popular platforms for players who prefer to fund their accounts with cryptocurrency. It even accepts some of the rare cryptocurrencies, so this is a fantastic choice for those of you who are into some smaller niches.
This is also a great site for traffic, ranked in the Top 5 in the United States, so you'll find plenty of competition at all times of day. Even at the higher limits (up to $5/$10), you'll find plenty of action, and there are some interesting variants here like Americana, 32 Card Draw and several Stud options.
I'd also recommend this site if you like to dabble in sports betting. There is a comprehensive sportsbook available here where you can wager on traditional sports and esports.
Americas Cardroom
At Americas Cardroom, you'll find some of the best crypto poker tournaments in the online gaming market. Freerolls are held on a daily basis and you have the opportunity to win your way into some huge tournaments with prize pools worth millions. 
As such, this site caters to all types of poker players – from pros who are looking for a huge payday to those of you who are just starting out and wanting to build your bankroll from scratch.
There are all sorts of unique game modes that you won't find at other crypto poker rooms, including fast-fold variants (where you are moved to a new table with new cards from a new deck as soon as you fold). You'll also find spin & gos, where you can bluff your way to a random jackpot.
Crypto Bonuses At Americas Cardroom
A generous welcome bonus is available to players who sign up to Americas Cardroom here and use the code ACRBTF. Up to $2,000 can be earned no matter what type of deposit method you use.
Crypto Poker FAQ
✅ Who developed this crypto poker site?
The origins of Blockchain Poker are pretty elusive. No one really knows who started or owned Blockchain Poker – one of the many reasons players moved to other online poker platforms.
✅ Why did Blockchain Poker shut down?
A number of issues led to Blockchain Poker's closure, but the main reasons were the lack of regulation and licenses as well as the increase in competition from other crypto poker brands.
✅ Is there anonymous play at Blockchain Poker?
Yes, one of the benefits of playing at Blockchain Poker was that it was anonymous. However, even though the site no longer operates, you can still play anonymously at sites like Ignition Poker.
✅ What are the best cryptocurrency poker sites?
Even though Blockchain Poker was hugely popular among crypto pokercrypto poker fans, there are still plenty of great options out there. I'd recommend Ignition Poker for its anonymous tables and generous promotions or Americas Cardroom for its fantastic selection of tournaments and freerolls.
What to Consider When Choosing a New Crypto Poker Platform
When choosing a new online poker platform, there are several factors that you should keep in mind. It's not all about whether or not a site accepts bitcoin transactions; there are lots of decisions that should come into play.
1. Payments and Limits
If you were playing at Blockchain Poker, it's likely because it was a platform that focused solely on crypto currency poker cash games. Fortunately, moving on won't be that difficult because some of my favorite online poker sites, while also accepting fiat currencies, also put a significant emphasis on crypto deposits.
For example:
Americas Cardroom offers players the ability to make deposits and withdraw their winnings with over 60 different types of cryptos
Bovada Poker offers players a welcome package worth up to $3,750 for players depositing using crypto currencies
BetOnline.ag offers a 100% crypto bonus and unlimited 35% crypto reload bonuses
Deposit and withdrawal limits should also be considered when deciding where you should play next. At any crypto poker club, limits are very wide-reaching, but they can vary depending on where you play.
So, you should always check the maximum and minimum limits for banking transactions. This could be the determining factor of where you decide to register.
2. Security
You should choose a platform that is licensed and regulated – something that Blockchain Poker definitely was not. The good news is all of the sites that I recommend here at BeatTheFish are licensed.
Whether you're considering signing up at Sportsbetting Poker or Black Chip Poker, Americas Cardroom or Ignition Poker, they are all licensed poker websites and they are known for having a stellar reputation in the poker world.
3. Game Variety
The variety of games available on the platform is an important consideration. You should choose a platform that offers a wide range of games and tournaments, including your favorite variants.
The game selection at Blockchain Poker was very limited and, if you're moving on to another site like Ignition Poker or Americas Cardroom, you'll be pleased to see the wide range of games available. So, make sure you have a look through our online poker reviews to see if the poker variants you enjoy playing are available.
Mainstream Poker and Niche Variants
Whether you're looking to play Texas Hold'em, Omaha High-Low, Five-Card Stud or Seven-Card Stud, you'll be able to find these at just about all of the crypto poker sites that we recommend here.
If you're interested in playing some more niche variants, like HORSE and Single-Draw poker games, then you may struggle. However, Americas Cardroom offers mixed games, which can include Badugi.
This is a game that I would highly recommend trying out at crypto poker sites, as it turns traditional poker on its head by awarding the win to the player with the lowest hand. So, your queen, jack and king are of no use here – it's all about trying to land a 4-3-2-A of spades, hearts, diamonds and clubs (meaning an unsuited hand). 
Are Casino Games Available?
One thing that Blockchain Poker definitely did not have was table games and slots – and, while this isn't necessary for any online poker site to offer its players, it's a nice thing to have if you're the kind of player who likes to mix things up a little bit.
If this is the case, then I would recommend Bovada or Ignition Poker. Both of these online poker brands also operate as online casinos with slots, live dealer games, video poker variants like joker poker and table games. Users can log in using the same account to access both casino games and poker games – making it even easier to enjoy a wide array of games.
4. Bonuses and Promotions
Bonuses and promotions are offered by online poker room offers to give you more value for your money – and, this was one of the big benefits of playing at Blockchain Poker, because there were some impressive offers available, including 50% rakeback no deposit bonus offers that provided free chips to players.
So, if you're looking for a similar experience out of your new bitcoin poker site, you should choose a platform that offers attractive bonuses and promotions.
One of the main drawbacks of Blockchain Poker was that its variety of bonuses did not change very often. Fortunately, online poker rooms like Americas Cardroom and Bovada are always offering up a number of new promotions on a regular basis.
5. User Experience
Luckily, when it comes to UX, the only way is up. Blockchain Poker was not known for being a sophisticated operation in the slightest. So, now, you have the opportunity to choose a platform that offers a great user experience with a clean and intuitive interface that is also easy to navigate.
This really all comes down to personal preference. So, you may need to download the poker client or the app of the brand you're considering joining to get a feel for which one you enjoy the most.
Getting Started at a New Crypto Poker Site
Now that you know what site you want to choose as a replacement for Blockchain Poker, it's time register and get playing!
Get Your Wallet Ready
If you were a member at Blockchain Poker, it's likely that you already have a wallet. Still, this could be a good time to explore other options, as crypto technology is always expanding with new developments from business owners and tech developers – and you can find plenty of recommendations in my Bitcoin Poker Sites guide, where you will find any and all information that you could possibly want to know about playing poker with bitcoin and other cryptocurrencies.
Setting up a Cryptocurrency Wallet for Online Poker
Once you've chosen a cryptocurrency wallet, setting it up is a straightforward process. The exact steps will vary depending on the wallet you choose, but in general, you'll need to follow these steps:
Download and install the wallet software or app.
Create a new wallet by following the on-screen instructions.
Write down your wallet's private key (also known as your wallet address) and keep it in a safe place.
Fund your wallet by purchasing cryptocurrency from a reputable exchange.
Depositing Cryptocurrency into Your Online Poker Account
Once your wallet is funded, you can deposit cryptocurrency into your online poker account. To do this, you'll need to log in to your online poker account and navigate to the deposit section. From there, you'll need to select the cryptocurrency you want to deposit and enter the amount.
In some cases, you'll be required to complete the KYC process to verify your identity. This is usually done before you make your first deposit – for security purposes.
Online poker operators make it incredibly simple, and there are no fees that apply, so you shouldn't have any trouble getting your online poker account funded. Once you've made your deposit, your funds should be available for use almost immediately.
Don't Forget to Claim Your Bonus
At all of the crypto poker sites I've listed here, you'll be able to claim a generous welcome bonus if you're making a deposit using any cryptocurrency. So, don't miss out on the opportunity.
Any bonuses that you claim at sites like Americas Cardroom and Ignition Poker can be claimed at the cashier. There is a promo code field that appears when you make a deposit, and all you have to do is enter the code and get playing!
Conclusion – Blockchain Poker May Be No Longer, But There Are Some Fantastic Alternatives Out There
The shutdown of Blockchain.Poker was a sad day for the online poker community, as the site's popularity really soared in recent years. Fortunately, there are many alternatives to consider, including Bovada, Ignition Poker and Americas Cardroom.
In fact, I would recommend these online poker rooms even if Blockchain Poker were still in operation. These sites are the creme-de-la-creme for crypto poker players, with a huge range of games, generous tournaments and lucrative promotions.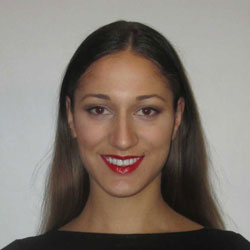 Milica is a former volleyball player with a passion for writing. Along with sports, she is interested in the online gaming industry. Milica joined the Beat The Fish team in 2019, contributing numerous feature columns, breaking news stories, and independent gaming site reviews.