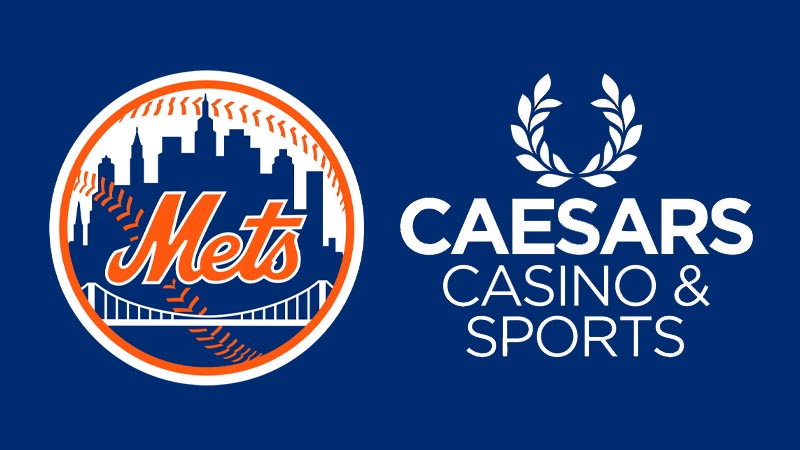 The New York Mets have announced that Caesars Sports Betting as their Official Betting Partner. This marks the start of a multi-year partnership, which will benefit both baseball fans and Caesars customers.
Terms of Caesars Deal with the Mets
One of the major perks of Caesars Deal with New York Mets is that members of the Caesars Rewards program will be able to receive all sorts of unique benefits. Based on other deals of this type that have recently been made, it's likely that players who earn rewards in the program will be able to cash them in for tickets and merch. It opens up a whole new range of opportunities when it comes to rewarding bettors.
New Citi Field Sportsbook
As part of the deal, Caesars will be opening a new sportsbook lounge at Citi Field. Planned to open later this year, the 13,000-square-foot venue will feature a multi-tiered dining room as well as an outdoor patio. It will be an upscale venue that is sure to attract existing Mets fans as well as those who are new to the sport.
"The Mets' fanbase is one of the most loyal in baseball and this partnership offers us the chance to treat those passionate fans like Caesars. We look forward to opening our space at Citi Field during an exciting time for the franchise" – Chris Holdren, Co-President of Caesars Digital.
Caesars Sportsbook Making Its Mark
As the market continues to expand across America, Caesars has been working hard to make its name known in the sports betting world. The brand now operates sportsbooks in 23 states  – more than any other gaming brand – and shows no signs of slowing down.
In addition to its new deal with the New York Mets, Caesars also teamed up with the PGA in Michigan. This will make the operator a sponsor of five golf tournaments in the state while providing unique experiences for those enrolled in Caesars Rewards.
Last month, we also saw Caesars partner with the New York Racing Association. Together, the pair will launch a dedicated horseracing app that will not only allow users to wager on racing but also cover events.
Many other betting operators have been teaming up with big names in the sporting world, and we're sure to see more of these types of partnerships coming soon. This is a very exciting time in the industry, as sports betting expansion continues, and we'll be here to keep you updated along the way.