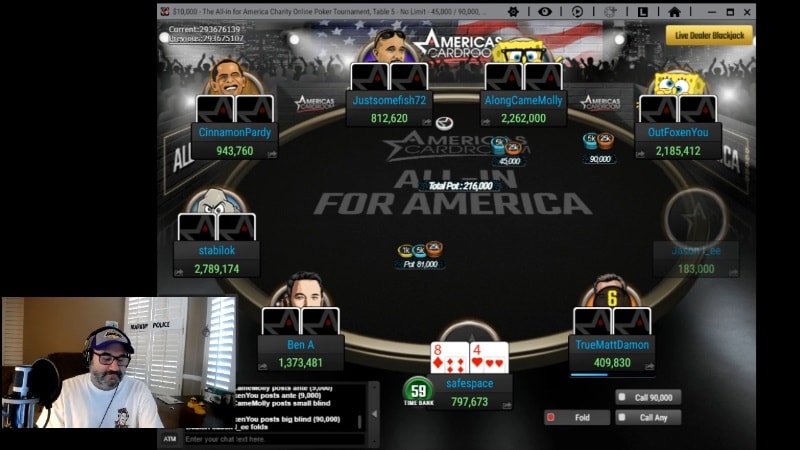 Childhood friends from Boston and Academy Award winners Matt Damon and Ben Affleck decided to use their star power to help families who are struggling due to losing jobs. Several stars and celebrities took part in the online poker tournament on Saturday for the largest agency that feeds the hungry, Feed America.
The official amount that was raised was revealed on Wednesday, along with how the game was organized. People that participated in the poker tournament had to pay $10,000 to secure a seat at the tournament.
Affleck and Damon called on their many friends in the entertainment industry to lend a hand to the cause, and the lineup was very impressive. Football legend Tom Brady put on his poker face, as did Adam Sandler, Jason Bateman, Tobey Maguire, Adam Levine, Bryan Cranston, Sarah Silverman, Jon Hamm, Jason Mewes, Kevin Smith, Cheryl Hines and her husband, Robert Kennedy Jr.
Along with that star-studded lineup, many professional poker players also played from the comfort of their homes.
Texas Hold 'Em Tournament Had Surprising Results
The game was hosted by professional poker hosts and commentators Michael Loncar and Justine Kelly. Although many of the actors and celebrities showed some impressive techniques, the tournament was won by a professional poker player, Ebony Kenney.
Kenney, a close friend of Affleck, has a very interesting resume. Besides being a professional poker player, she's also a model and actress, worked as a casino dealer in Vegas, and is the star of a poker TV show, "Poker Tube Girl."
She is a single mother of two children and was born, raised, and currently lives in Fort Meyers, Fla. Her mantra is, "My goals are to be proud of who I am and to be happy with every decision I make."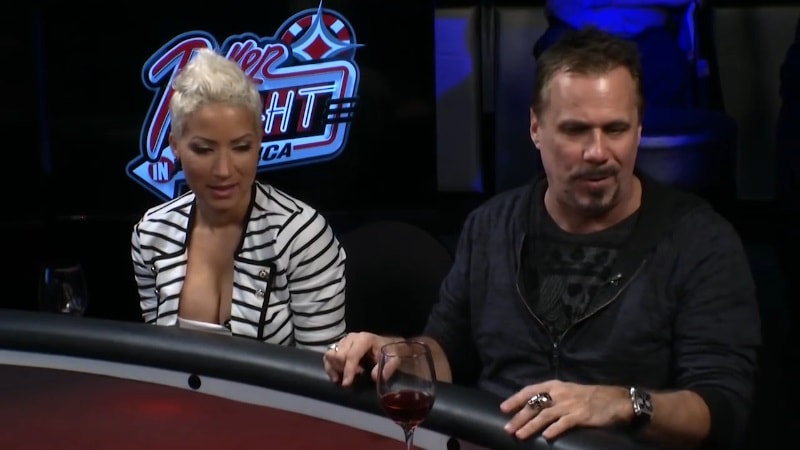 One of the standouts from the tournament was 64-year-old actor Bryan Cranston, best known for his role as Walter White in AMC's "Breaking Bad," and Hal in "Malcolm in the Middle."
A Few Actors Had Very Impressive Showings
Cranston was surprisingly impressive, Loncar said, coming in fifth place. Kevin Pollack, a comedian and actor who has appeared in over 80 movies, including "A Few Good Men" opposite Tom Cruise, and "Grumpy Old Men" with Jack Lemmon and Walter Matthau.
Pollack was the top performing actor in the tournament, coming in second right behind Kenney. Maguire also was a top performer in the tournament, and after the game said, "I was so honored to be able to raise money for such a worthy cause, I think we should all be doing this every day until there is no more hunger in this country."
Affleck announced the tournament on Twitter a day before the event. He said, "Excited to announce that I have joined forces with Feed America, to raise money for folks who need it most. Join me and some familiar faces as we face off in a friendly online poker tournament. Watch live tomorrow at 11 am Pacific time. With 100% of the proceeds going to Feed America."
Affleck said that his team has already raised a million for Feed America, and there is still a huge need at "this crucial time." Americans have been standing for hours in food lines, from coast to coast, and millions of Americans file new unemployment claims weekly, as the pandemic has forced the economy to stagnate, forcing businesses to close and employees to be laid off.
In one month, Feed America has given over $112 million and 94 million pounds of food to food banks all over the country.