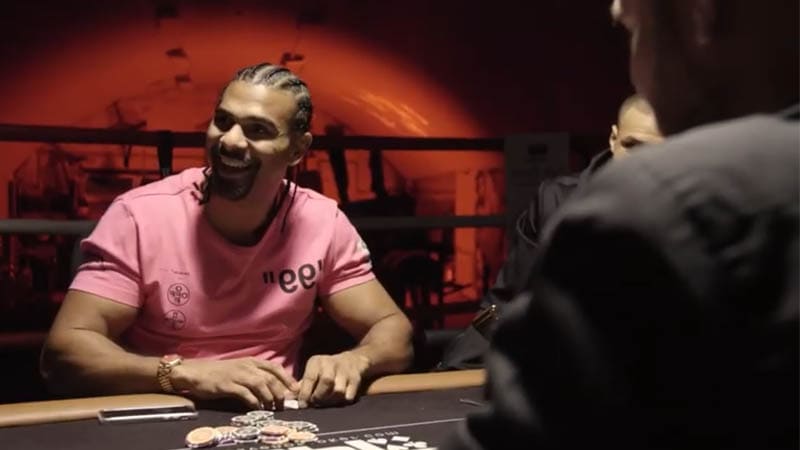 In 2018, David Haye announced his retirement from boxing and started on a new career path as a professional poker player. He quickly set a goal to take down the 2019 GUKUPT, being coached along the way by of Grosvenor Casino pros.
Now, you'll be able to take an insider look at his journey as Haye went from a poker novice to a respectable 40th-place finish in one of the biggest poker tournaments in the United Kingdom in the new documentary David Vs Goliath. You'll be able to watch it starting tomorrow, April 17, 2020, on Amazon Video.
Haye's Poker Journey
When Haye hung up his boxing gloves, he didn't have much experience playing poker although he had a passion for the game. Word spread that he was looking to try out a new career and Grosvenor approached him, offering professional support in the form of poker coaches to help Haye achieve success in the poker world.
Made my mark in the boxing world, but how about poker? ?

DAVID VS GOLIATH streaming on @primevideouk from April 17th ??#DavidvsGoliath #GrosvenorWithYou #GrosvenorCasinos #GrosvenorPoker pic.twitter.com/oO8LfASiDb

— David Haye (@mrdavidhaye) April 15, 2020
Haye quickly started training with Grosvenor's coaches. The team included successful players like Jeff Kimber, Katie Swift and Joe Beevers, who took him to a casino to play poker for an entire weekend. According to the former boxer, he "lived and breathed" the game for 48 hours.
"From the moment I woke up every day I thought about poker. When I went to sleep I dreamt about poker."
After just four months of coaching, he made his debut at a GUKPT side event in Blackpool. Unfortunately, it was a bit too soon for him and he busted out of the tournament very quickly. Most runners didn't even know he was there, as he left very quickly after losing all of his chips.
Try, Try Again
While he experienced a pretty dire knockout in his first tournament, Haye didn't give up. He continued to train and went on to compete in an event in the Asia Poker Tour (APT) – with a much better result.
Over 500 runners entered this tournament and Haye managed to beat out most of them. While he didn't make it to the final table, he landed in 28th place. The prize was only worth a few hundred pounds but he was thrilled.
"I strangely was more excited and proud to cash my £532 poker winnings then my last few multimillion pound PPV boxing purses".
It was quite a poetic win, as it took place one year after his final boxing match. So, it was certainly a sign that he should continue on his poker path.
Just three months later, the GUKPT Goliath rolled around. He didn't place as highly as he did in the APT, earning the 40th place of just over £2000. However, there were over 9000 runners this time around, making his placement that much more meaningful.
David Vs Goliath on Amazon
To follow his journey more closely, you'll be able to watch the David Vs Goliath on Amazon Prime tomorrow, April 17, 2020.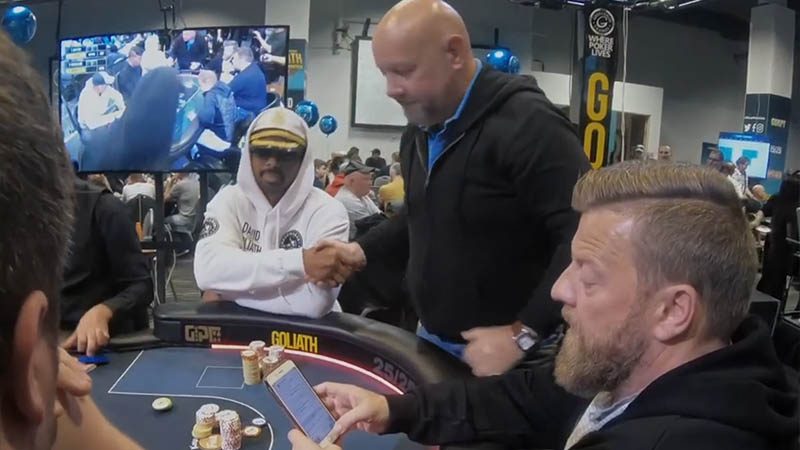 This is the second poker documentary to be released on Amazon Prime this year. Poker Queens made its debut in March, and takes a look at the careers of many of the world's most successful female poker players like Jennifer Tilly and Liv Boeree.