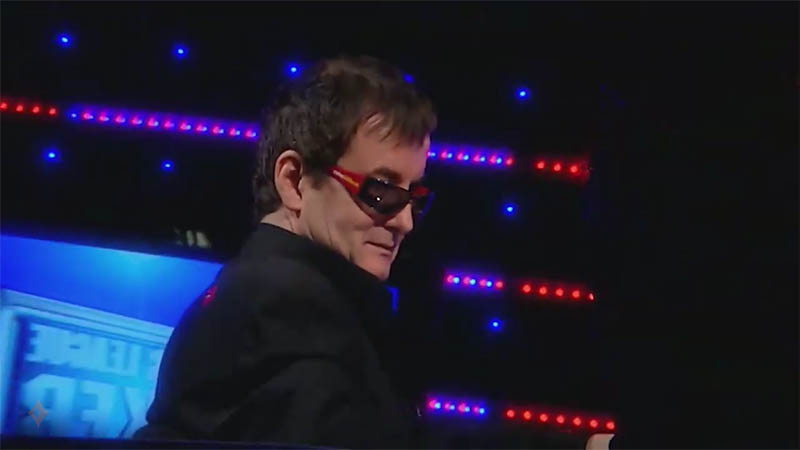 Dave "The Devilfish" Ulliott has been one of the most influential and entertaining players in the poker world, credited for helping poker gain popularity across Europe. Even after his untimely death in 2015, he continues to have a presence in the poker market and won't soon be forgotten.
Now, thanks to a new documentary, we can get a glimpse into the life of the late, great Devilfish.
Documentary Details
The documentary has been created by partypoker LIVE in association with Dusk Till Dawn, a large brick-and-mortar poker room in the UK. Interviews with several poker players and industry big-wigs will let us know more about the story behind this legendary player.
You can take a look at the trailer here:
The Devilfish documentary will be available to watch on partypoker LIVE this month.
The Life and Times of Dave Ulliott
Dave Ulliott was born in Kingston Upon Hull on 1 April, 1954 – a fitting April Fool's birthday for the outspoken and outlandish pro. Poker has had a place in his life since he was 16-years-old, when he was introduced to three-card brag poker at the Fifty-One Club casino in Hull.
He primarily played in home games but, eventually, his peers began excluding him. They were tired of losing to the talented Devilfish.
It was in 1990 that Dave met Gary Whitaker at Napoleon's Casino in Leeds. Six nights a week, the pair traveled to London with Whitaker taking a 10% stake in his action. This was the beginning of his career as a poker pro.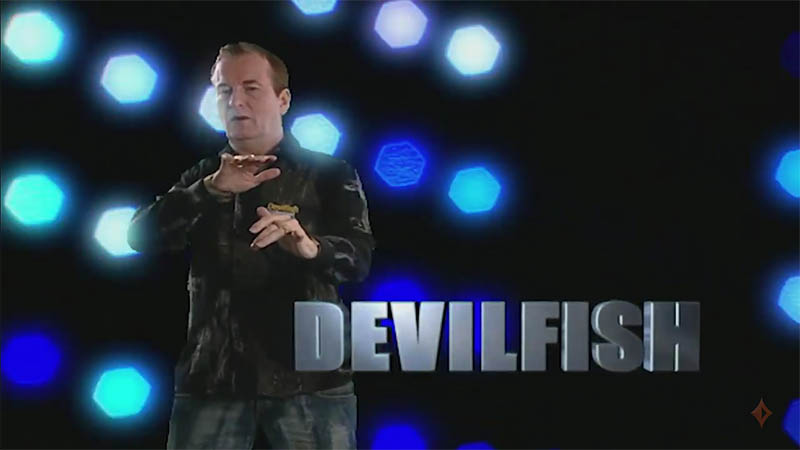 Becoming a pro and the "Devilfish"
In 1993, Dave cashed in his first official poker tournament in the Grosvenor Spring Classic. It was only a small £200 win but it put him on the map and pushed him to develop his tournament poker skills.
Eventually, he was ready for  the big time and travelled to Las Vegas for the 28th World Series of Poker in 1996 – where he placed first in the $2,000 Hold'em Pot Limit event.
It was around this time that Dave was given the name Devilfish, bestowed upon him by a friend named Stephen Au-Yeung. He was named after a poisonous fish that can be deadly when eaten if it isn't prepared properly.
Anyone who played against him would agree that it was an apt moniker.
He quickly became a beloved member of the poker community in the UK's East Midlands, and gained notoriety in the greater international market by appearing on the first season of Late Night Poker where he earned the £40,000 top prize.
Since then, he's been a household name in the poker industry, well known for his sense of humor and being a fierce competitor on the felt.
The Legacy of Devilfish
In February 2015, he was diagnosed with colon cancer and the disease took his life on April 6, 2015. It has been over three years since the poker world lost one of its most influential, talented and charismatic players – but, Devilfish will not soon be forgotten.
He's largely recognized as one of the godfathers of poker in Europe, as evidenced by his induction into the Poker Hall of Fame in 2017.
RIP to the devilfish. He was the life of any party or poker table he was at.

— Erick Lindgren (@EdogPoker) April 6, 2015
RIP @Devilfish2011 if you knew Devilfish, then you loved him. He's a poker legend who is going into #PokerHallOfFame I'll miss you Fish!

— phil_hellmuth (@phil_hellmuth) April 6, 2015
Dave Ulliott lived an incredible life, and this new documentary is highly suggested viewing for any poker fan. It will be wonderful to see him on our screens again to learn more about his life and poker career.