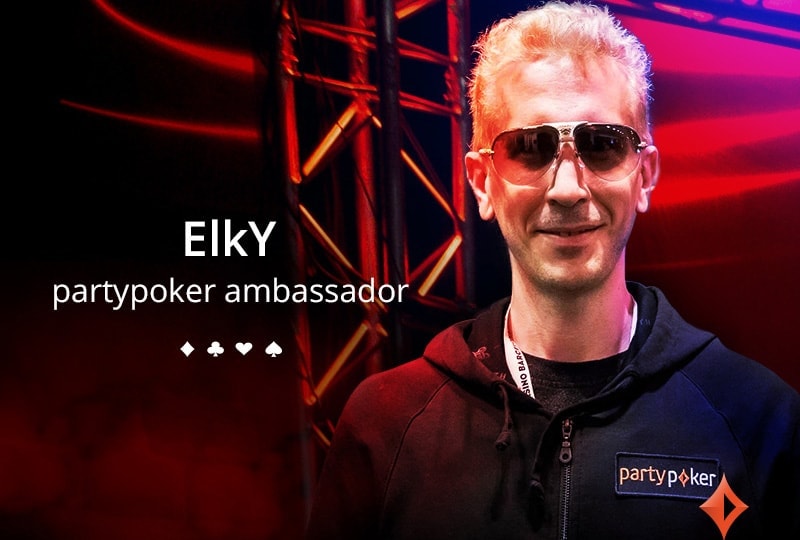 We haven't heard too much from 'ElkY' since his announcement about leaving PokerStars. The seasoned gamer turned poker-pro had been a part of PokerStars Team Pro for over a decade before deciding it was time for him to move on.
When 'ElkY' parted way with the Stars, he said he was leaving his options open for the future. However, it didn't take long for another online poker giant to seize the opportunity and sign up the Frenchman, as he was announced as the latest addition to Party Poker just a few days ago.
In good company
One of the main things Bertrand Grospellier cited as his reason for leaving PokerStars was the fact the pros were no longer actively involved in the decision making process. Although he left with no bad blood between him and the company, the French pro did say it took away some of his enthusiasm.
Although many friends and even more fans were interested as to where 'ElkY' would go next, he refused to give any definitive answer, leaving all options on the table.
We don't know how many options Grospellier was considering and what they were, but he ended up signing for Party Poker, joining their already strong team of professionals, featuring the likes of Sam Trickett, Fedor Holz, Jason Koon, and Patrick Leonard.
Bringing back the 'Poker First' mentality
In the official statement accompanying the announcement, the French pro explained he was very enthusiastic about the future prospects with Party. He emphasized the company's 'Poker First' mentality, which should help boost the overall experience for the fans and players across the globe.
Party Poker's Tom Waters was equally enthusiastic about 'ElkY' coming on board, explaining he was a perfect ambassador for the game, with a huge amount of experience in France and on the global scene alike. In his words, the French pro will be instrumental in their future plans.
Party Poker expanding to new markets
While the world of online poker is currently in a peculiar state, with many players losing their confidence in the market leader, PokerStars, Party Poker has been doing a lot to strengthen its position in the global and European scene.
Many of the changes the room introduced attracted seasoned players who recognized that, perhaps, Party could become what PokerStars once was.
Now, Party Poker is looking to further establish its presence in Europe through the launch of a new liquidity pool, which should unite players from Spain and France. Apart from this major step, the company also plans on upgrading their .fr and .es clients and boosting their MTT schedule over the summer.
Is Party doing it right?
There is no denying that Party Poker has been making some interesting changes that work out to the players' benefit. In the current climate, this is certainly nice to see and brings back the hope that online poker could possibly go for another mini-boom.
By signing 'ElkY,' the room hopes to add another recognizable face to the team, which should help with their long-term expansion and growth plans.
How do you feel about this decision. Do you think Bertrand 'ElkY' Grospellier will add value to Party Poker and actually help them where they want to go? Feel free to share your thoughts on the topic in the comments' section below.